Microsoft's multi-billion dollar investments in ChatGPT-creator OpenAI benefit Bing a lot. From a search engine written off by everyone for many years, Bing made a comeback and is now a threat to Google. The search engine, nonetheless, isn't the only Microsoft product that has been evolving recently due to the company's AI ventures. There's also its Edge browser, which has received a set of new interesting features this week. Here's everything you can try now and the new features to expect.
Image Creator in Edge sidebar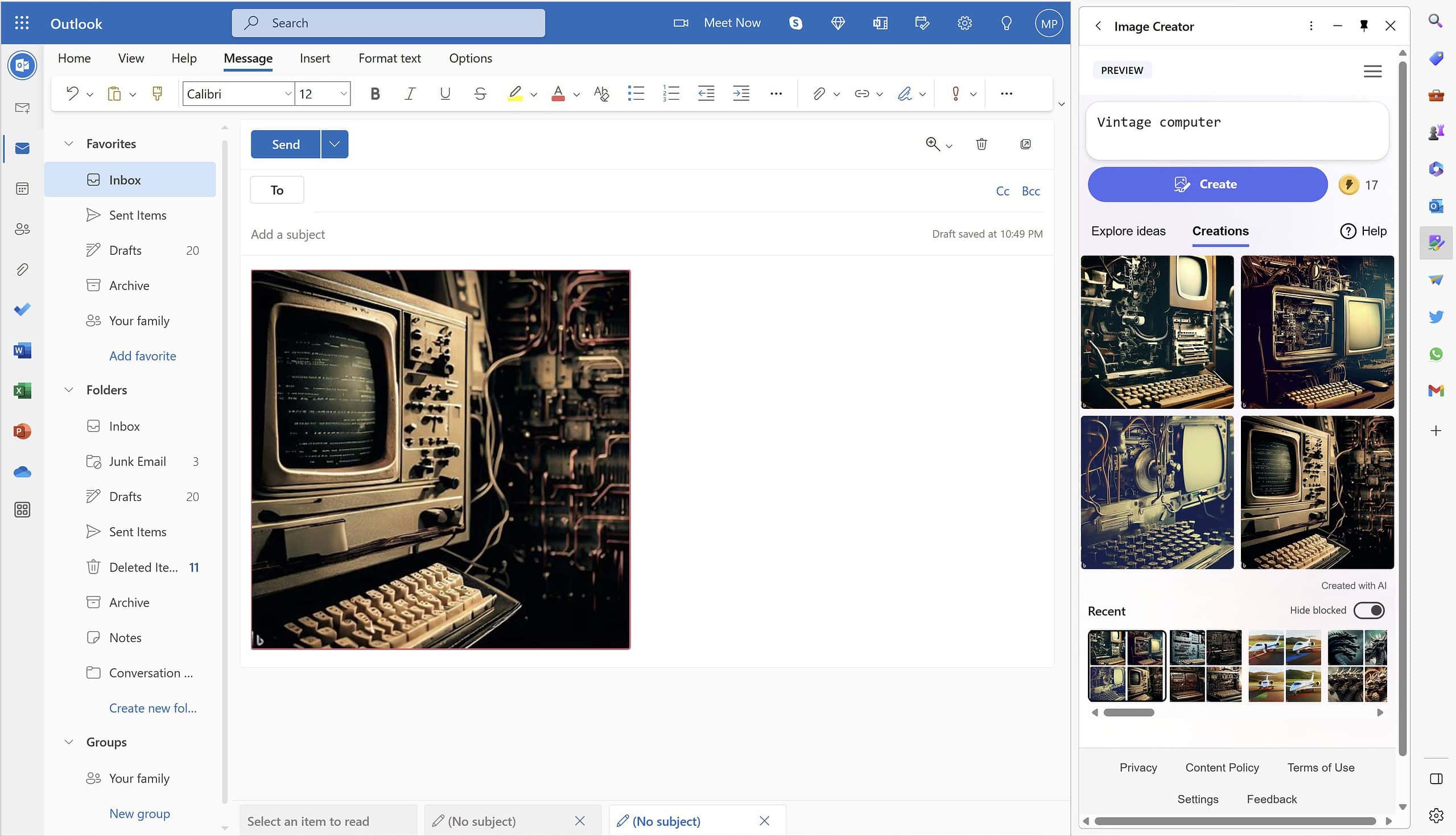 Microsoft's Image Creator, powered by OPenAI's DALL-E model, was first introduced in Bing Chat's Creative mode. Its arrival is undeniably a success, prompting the company to push things further by integrating it directly into Microsoft Edge. Recently, Microsoft's Mikhail Parakhin revealed the company's test in giving the Image Creator a dedicated icon in the Edge sidebar.
According to Microsoft, this is being rolled out globally to every desktop Edge user, making Edge "the first and only browser with an integrated AI image generator." It can be enabled in the sidebar by clicking the + sign and turning on the toggle beside the Image Creator icon. 
According to Parakhin, the idea behind this is to allow users "generate the image and insert it right into whatever you happen to be editing." And through this feature, it is now possible for users to create new images by just submitting instructions and commands to Bing's chatbot using natural language. The Image Creator can provide four images from a single command entry, and there's currently no limit to the number of images Bing can provide. The images can be copied and downloaded, but note that they also come with a Bing watermark.
Microsoft Edge Drop
Microsoft wants to allow you to access your browsing data and files across your devices without trouble. Edge's Drop feature is the company's solution for this. After a series of tests, it is now available to users.
Edge Drop is a space where users can "drop and access" their files, including photos, notes, and other data types. The Drop icon can be enabled after clicking the + sign in the Edge taskbar. Once launched, users can simply drag and drop their files to add content to Drop. This makes shifting between devices easier without missing access to these files as long as users only use one Microsoft account in mobile and desktop (PC, Mac, iOS, and Android) versions of their Edge browsers.
Web image saving and editing within Edge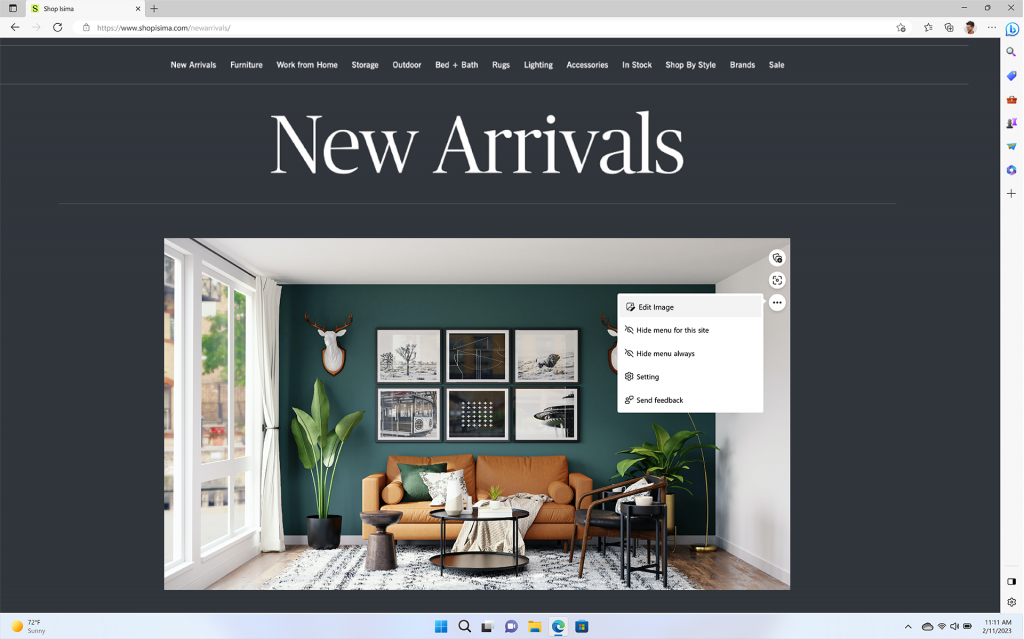 You'll soon be able to save and edit web images in Edge. It will be an exciting feature in the browser in the future, and it could arrive as early as this month.
Once available, it could improve the browsing experience of Edge users, given many use the web to search and download images for a wide variety of purposes. With this function, users can save time editing images without leaving the browser and launching another app or program. 
According to Microsoft, these functions will be easily accessible in the right-click functions. Some of the image-editing functions that will be available are cropping, lighting and color adjustments, and adding filters. Even more, the company said it would also offer the option to instantly "Edit image" when they hover over a picture on the web.
Efficiency mode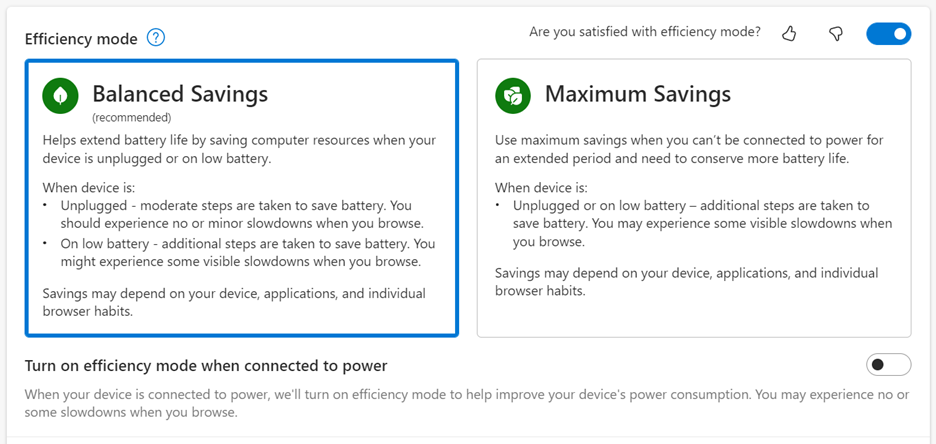 Microsoft also wants to make Edge an energy-friendly browser for everyone. As such, it offers the Efficiency mode, allowing users to save and regulate their machine's energy when browsing the web.
Microsoft recently updated the mode to make it more effective in determining the right moment to "kick in." According to the company, a low battery will now trigger the Efficiency Mode, which will activate the power-saving features "when you're interacting and not interacting with the browser." Even more, the software company said the mode would also work even when the device is connected to a charger.
Microsoft also introduced more options for users to choose how they want Efficiency Mode to work on their devices. Specifically, Edge users can choose to activate Balanced Savings or Maximum Savings. The former will help save energy while ensuring a good browsing experience. Conversely, the latter will help users conserve power in the best way possible, but it could impact the browser's performance.
Continuing Bing conversation from the Edge sidebar
According to Microsoft, it recently made an update to Bing and Edge, giving it "the ability to pick up a convesation in sidebar where you left off, so you can continue in your flow without losing context when you move to sidebar." With this, users should be able to shift between the sidebar chat and Bing Chat without losing the conversation context with the bot.
Edge essentials
Microsoft announced a new tool called "Edge essentials." According to the company, it now ships to Canary users and a portion of Dev channel users running Edge 112. This will bring a heart pulse icon on the toolbar, replacing the Performance Hub in Edge. The tool provides details about the browser's performance and status and other useful functions while browsing the web. Some of the tool's features include a built-in online safety reporting feature and browser performance status. The tool also provides suggestions to help improve the browser's performance through the Performance Detector. According to Microsoft, it would allow the feature to introduce more recommendations in the future.
Split Screen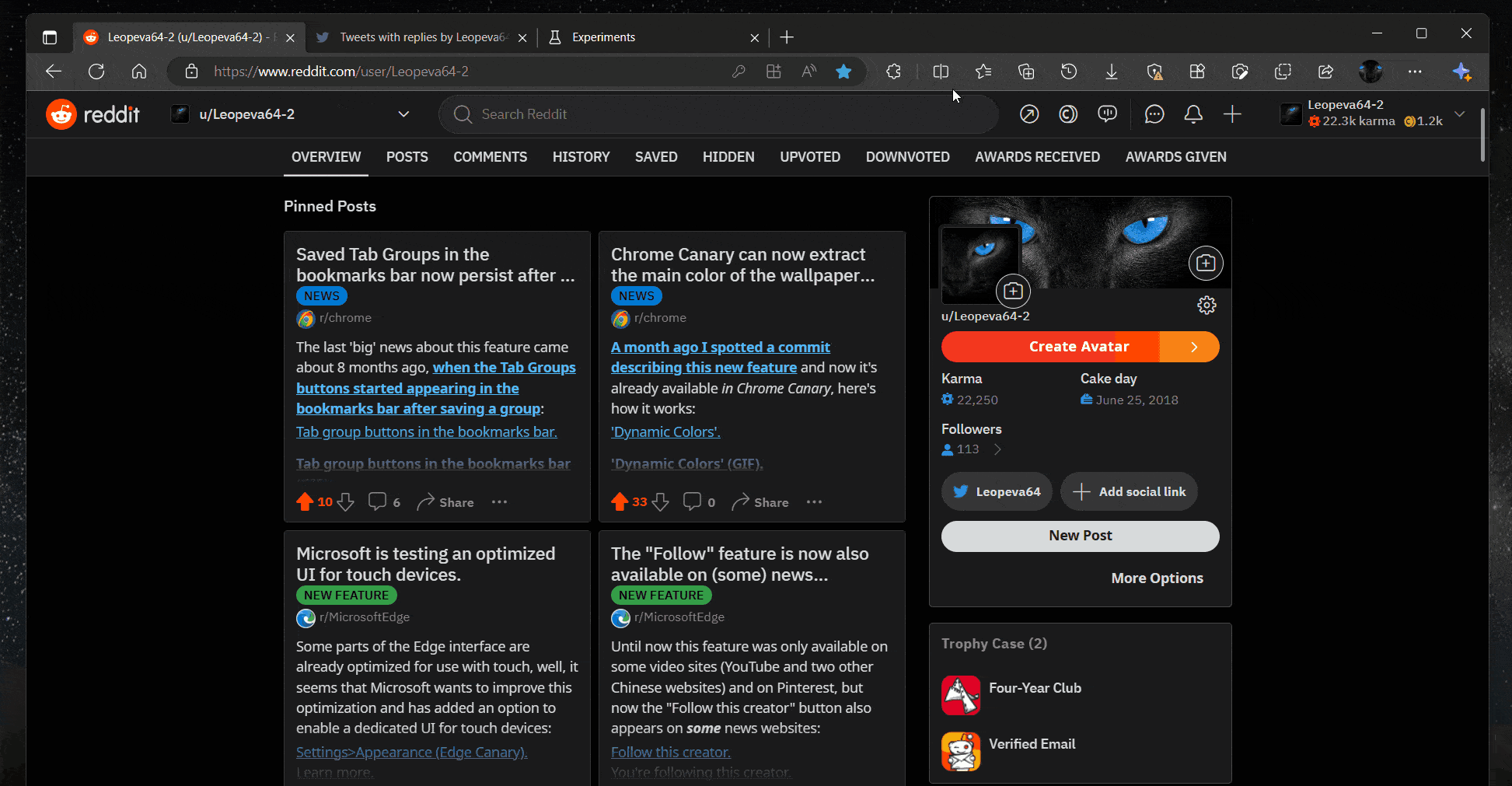 Edge's Split screen feature is one of the most exciting features we've all been waiting for. It allows users to open two tabs side by side in a single window. The test started in January this year and reportedly started rolling out to non-Insiders this month across different platforms, including Windows, Mac, and Linux. As we have noted before, some might compare the Split screen to Edge's sidebar. However, the two function differently, with the Split screen giving users access to the browser Settings and the ability to resize the tabs conveniently.