Your computer builds up temporary files, useless data, and registry entries as you use it for various tasks, which might eventually cause performance to suffer. Here is where having access to the best PC cleaner for Windows 10 can make a huge difference in your overall experience.
PC cleaner software enables you to automatically remove junk files, optimize settings, and improve your PC's overall performance.
In this guide, we will cover the best PC cleaner software for Windows 10, including free and paid software.
How did we choose the best PC cleaner?
To get usable and accurate results, our software testing team, with more than ten years of experience in the field, has spent time testing each aspect of the software.
Below, you can see the features we tested for and how they worked, but also features not found in some software.
Check out the two tables below to get a quick overview of the software's capabilities, and then dive into the detailed description of the software to get a glimpse of how it works.
Comparison Table
– Free Apps
Here are the best free PC cleaner options for Windows 10:
| | | | | | |
| --- | --- | --- | --- | --- | --- |
| Best Free PC Cleaner | Disk Cleaner | App Uninstaller | Startup Manager | Browser Cleanup | File Shredder |
| Microsoft PC Manager | Yes | Yes | Yes | X | X |
| CCleaner | Yes | Yes | Yes | Yes | Yes |
| CleanMyPC | Yes | Yes | Yes | X | Yes |
| Tweaking Repair | Yes | X | X | X | X |
As you can see, the apps we chose offer some great features which will surely be helpful.
Explore some of the best premium apps below.
– Premium Apps
Below, you can find a helpful overview of the best Premium PC cleaners for Windows 10:
| | | | | | | |
| --- | --- | --- | --- | --- | --- | --- |
| Best Premium PC Cleaner | Disk Cleaner | App Uninstaller | Startup Manager | Browser Cleanup | File Shredder | Pricing |
| Fortect | Yes | X | X | Yes | X | $33.95 |
| IObit Advanced SystemCare | Yes | Yes | Yes | Yes | Yes | $29.99 |
| Ashampoo WinOptimizer | Yes | Yes | Yes | Yes | Yes | $50 |
| Iolo System Mechanic | Yes | Yes | Yes | Yes | Yes | $20.99 |
We've included options with prices covering any user's possible needs and marked each software that uses a specific feature type.
Now that we understand our free and premium software options, let's dive into the details of all these tools and find the best PC cleaner for Windows 10.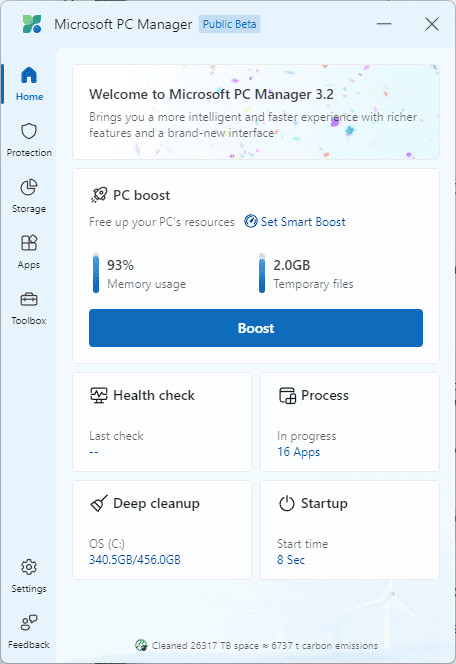 Microsoft PC Manager is a robust PC cleaner tool created by Microsoft to cover this aspect of Windows OS requirements. This might be the best PC cleaner for Windows 10, and it's completely free!
This app uses various features that ensure system security and improved performance. This can be achieved using junk file remover, startup optimization, and resource management.
Pros
Developed by Microsoft – ensures compatibility
Real-time protection and privacy controls
User-friendly interface
Completely free
Cons
Support and third-party reviews are limited
It doesn't include advanced optimization features
2. Fortect – Best PC cleaner with real-time monitoring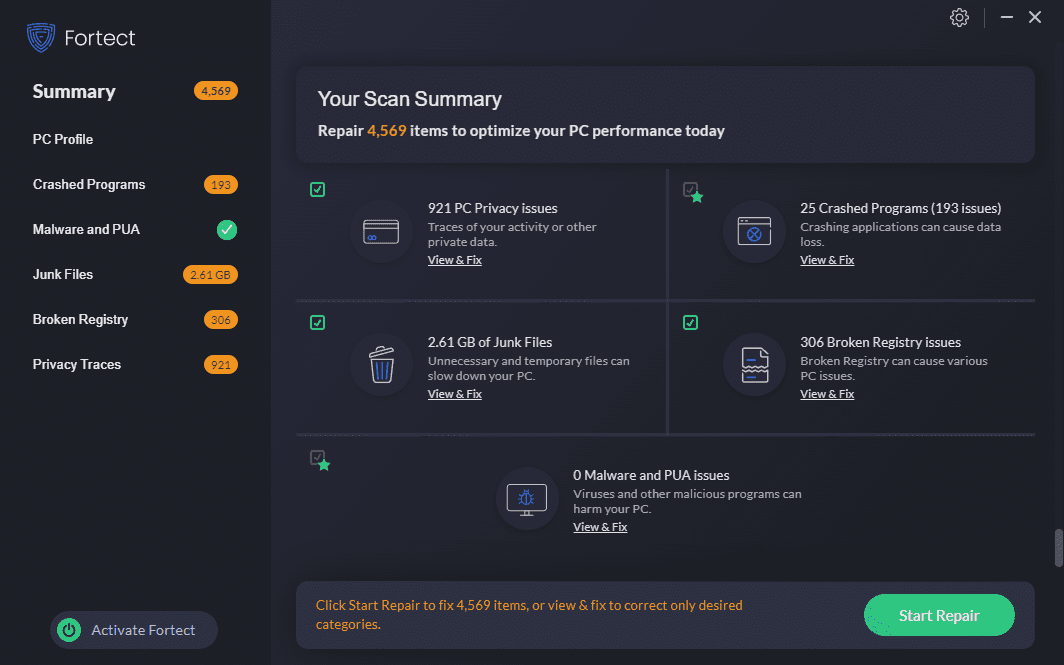 Fortect is a reliable PC cleaner software with many features that ensure your system's stability and safety.
You can use Fortect to remove junk files, temporary data, and other clutter accumulating on your PC over time. Everything is wrapped up nicely in a user-friendly interface, ensuring fast deployment of any safety or cleaning measure.
Pros
Powerful cleaning and optimization
User-friendly interface
A lightweight build ensures fast processing
Real-time system monitoring and optimization tools
Cons
It does not have as many advanced features as other options
Limited information online
IObit Advanced SystemCare is another mighty PC cleaner software, all wrapped nicely into a user-friendly interface with quick access to any option.
This app ensures you can successfully clean, optimize, and protect your Windows 10 system from third-party and external threats. The powerful disk cleaner ensures that your disk is as good as new, while the registry cleaner covers all aspects of the registry.
Pros
Wide range of optimization tools
Real-time malware protection
Privacy controls
Automatic system maintenance with scheduled scans and repairs
Includes a toolbox with helpful system optimization and troubleshooting features
Cons
The advanced features are only available in the paid version
The installation process might try to bundle other software
4. CCleaner – Best freemium PC cleaner
CCleaner is one of the most well-known PC cleaner apps; for good reason: the app is a powerhouse of options, making it a worthy entry on the best PC cleaner for Windows 10 list.
You can use CCleaner to optimize your PC's settings, manage startup programs, clean your disk to remove junk files, and even fix registry errors by replacing the corrupted files.
Pros
Effective removal of temporary files and browser caches
A powerful registry cleaner is included
User-friendly interface
Removes traces of online activity and cookies
Includes customization options
Cons
Had some privacy concerns due to data collection in the past (it has been resolved)
The free version might seem too limited for some users
5. Tweaking Repair – Best lightweight All-in-one PC cleaner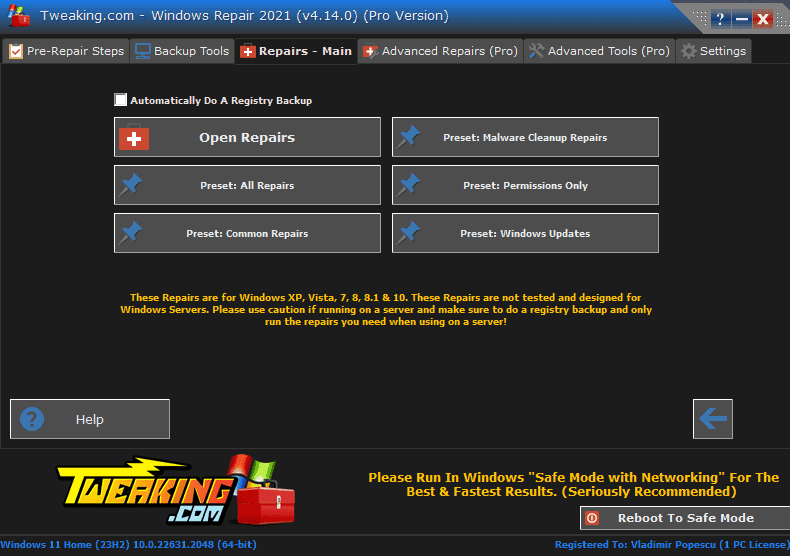 Tweaking Repair offers users of Windows 10 the perfect combination of identification, cleaning, and optimization features, making this app a worthy contender to the best options in this list.
Tweaking takes you through a step-by-step process that includes SFC and CHKDSK command processes, ensuring you start your PC repair on the right foot. Additionally, it can remove malware, manage and refresh registries, and control all aspects of user management.
Pros
Powerful PC cleaner with a wide range of options
In-depth customization features
Registry repair, backup, and restore
Cons
The interface might be overwhelming to new PC users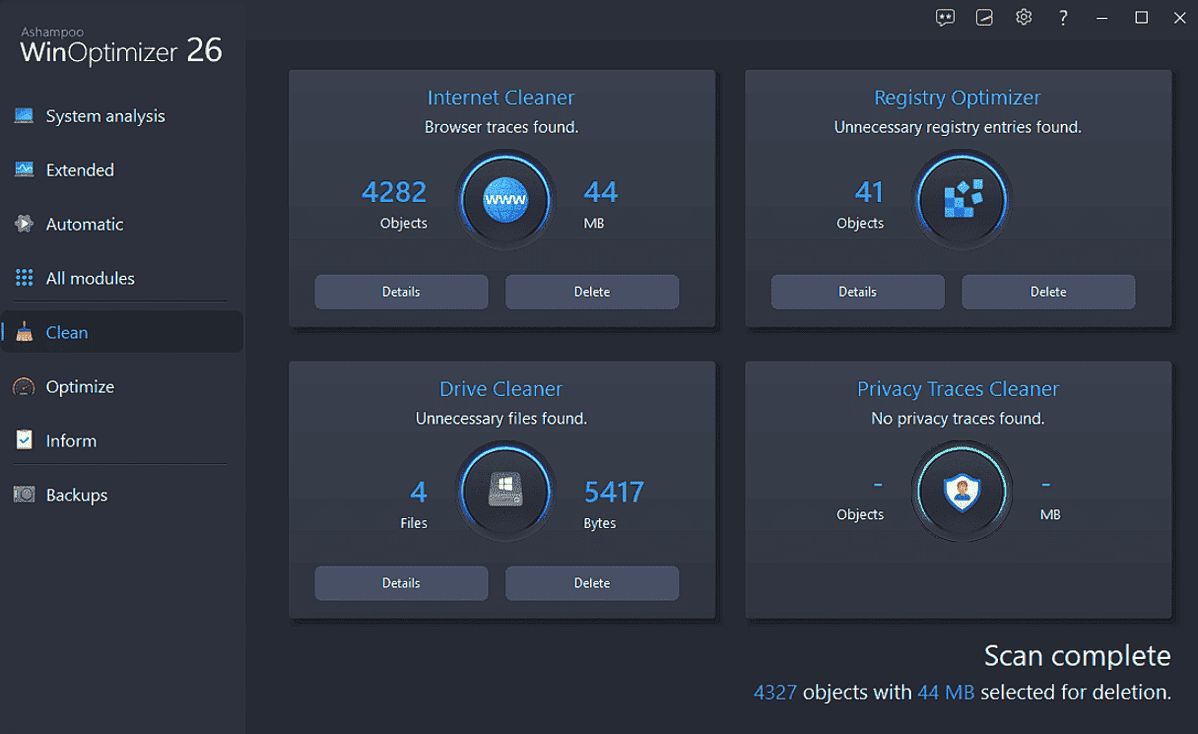 Ashampoo WinOptimizer provides users with valuable tools to maintain and support their Windows 10 experience over time.
It includes a registry optimizer, a disk cleaner, privacy protector, and it can even fix any possible registry errors, making it an excellent choice for Windows 10 users.
Pros
Wide range of cleaning tools
User-friendly interface with well-organized features
System analysis
File recovery
Backup management
Cons
Some users have reported high strain on RAM during system optimization
The free version's functionality is limited
7. CleanMyPC – Easy to use with good results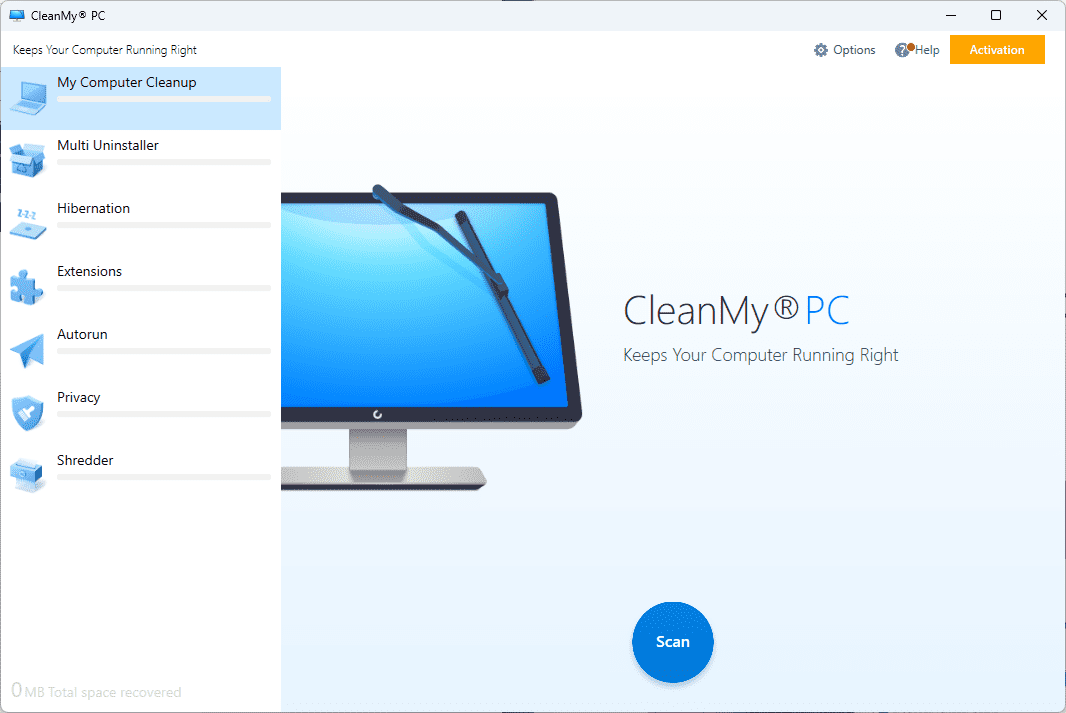 CleanMyPC is another feature-rich PC cleaner created for Windows 10 devices that scans and cleans specific areas of your PC's hard drive.
This app covers many aspects, including junk file removal, repairing invalid registry entries, and removing apps that have not been used lately.
To top it off, you also get access to valuable tools that deal with startup configuration, uninstalling apps, and shredding essential files.
Pros
User-friendly interface
Cleaning tools for junk files, registry issues, and app leftovers
Includes startup optimization
Uses secure file deletion
Cons
Some false positives have been reported during the scanning process
The trial version is minimal, so a paid version is recommended for increased functionality
8. Iolo System Mechanic – Privacy protection and malware detection
Iolo System Mechanic is another powerful PC optimization tool that covers a wide range of features, all designed to improve your experience on Windows 10.
You can use this app to clean junk files, repair registry issues, and optimize the list of apps that start with your OS. Additionally, you can defragment drives and even protect your privacy online.
Pros
Optimization suite with a wide range of features
Real-time optimization and system monitoring
Efficient privacy protection
Malware detection
Cons
The interface can be overwhelming for new users
A few of the advanced features can be found only in the paid version of the app
Does Windows 10 have a computer cleaner?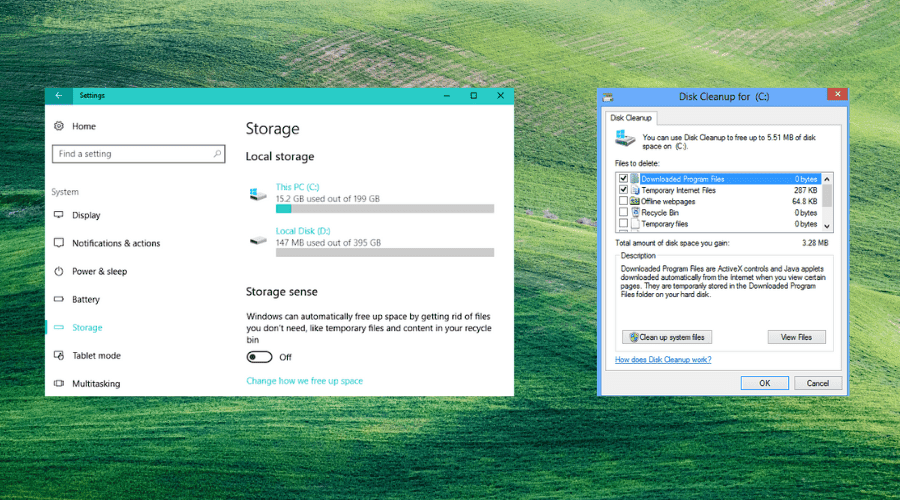 Although Windows 10 doesn't have built-in cleanup software, you may use alternative apps to keep your OS's features up-to-date and optimized.
These capabilities can assist you in cleaning your device, but we advise you to look into alternative software choices for the best results.
The Windows 10 default tools are listed below:
Storage Sense – Clears temporary files, old system files, and files in the recycle bin.
Disk Cleanup – Deletes any unnecessary files, including temporary, Windows update files, etc.
As mentioned, the built-in tools are essential, so we recommend you choose another software option for improved performance and reliability. The same tools are available for cleaning Windows 11.
Is there a better free cleaner than CCleaner?
CCleaner is one of the best free PC cleaner software, but a few other options can help you achieve great results.
You can check out the newly-released Microsoft PC Manager, which offers a good set of features and was released directly from the creators of your OS.
Is it safe to use a PC cleaner?
Yes, using a well-known PC cleaner on Windows 10 can be safe and will help you considerably if used correctly. You can clean up your computer of unnecessary software, fix registry errors, and startup management.
Even though hundreds of software options are on the market, and it gets confusing, this list provides you with a comprehensive set of helpful options for Windows devices.
---
PC cleaners are essential for improving the stability of Windows 10 devices, as they provide an easily-accessible customization and optimization options, ensuring that your PC runs smoothly. Knowing which is the best PC cleaner for Windows 10 can help tremendously.
Using the software presented in this guide will ensure that your PC's long-term stability and performance are maintained.
Please choose the best PC cleaner for your needs by exploring the details of each of them from this guide.