Artificial intelligence is changing the way we create art, and graphic design is no different. With some good text prompts or skeleton designs, you can create multiple professional design variations in an instant.
Whether you're a business looking to cut costs, a graphic designer that wants to augment your existing work, or someone with no design skills at all, these AI tools graphic design pros use offer spectacular results.
1. Adobe Firefly – best AI tool for graphic design overall
If you want professional results, then a trusted software brand like Adobe is a great place to start. Along with Sensei, Firefly is its first major foray into generative AI art and the beta is in full swing. The possibilities are endless for designers.
It can produce all varieties of art using text prompts, but you can easily focus on graphic design elements by choosing 'graphic' as the content type. Of course, depending on the style of design, photorealism, or something artier might still be a suitable choice.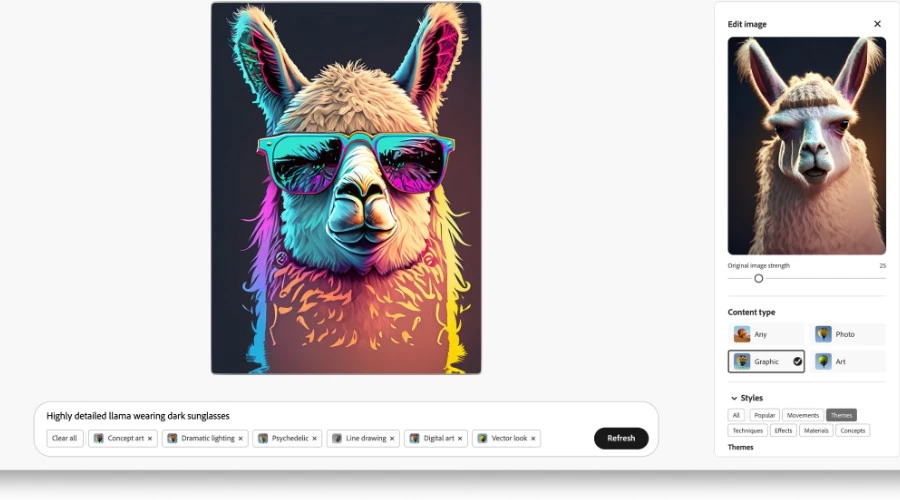 Because it's so quick, you can easily play around with multiple content types and there are endless sub-styles to really refine your ideas. You can also select different colors and tones, lighting, compositions, and aspect ratios.
Other useful features for graphic designers include instantly recoloring vector art and adding effects and textures to text. If you have used AI art generators before, you'll know how typography is almost non-existent, so this is a welcomed feature. It's also much faster than 3D rendering.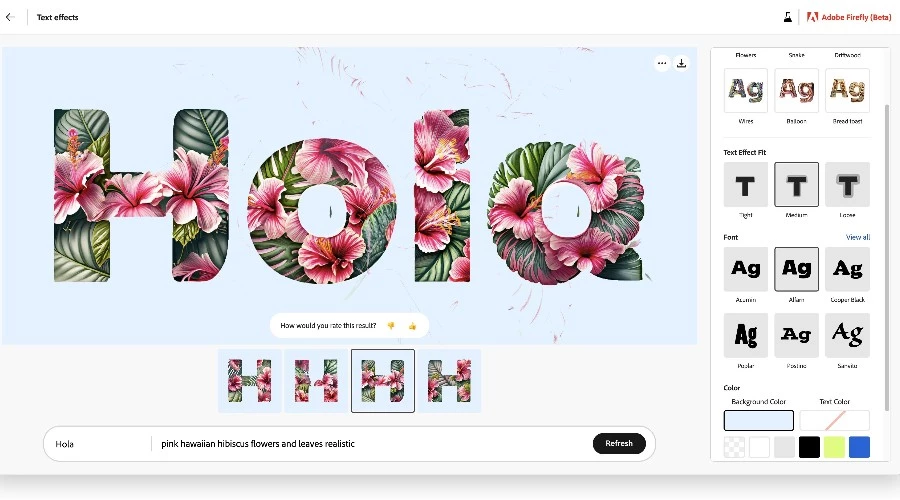 You don't need to be an Adobe whiz to use Firefly. In fact, it's one of the simplest but most powerful AI solutions on desktop. However, if you do already use other Adobe programs for graphic design, it's the perfect companion to bring your ideas to life before adding any final touches.
2. Fotor AI – Best online art-based AI tool for graphic design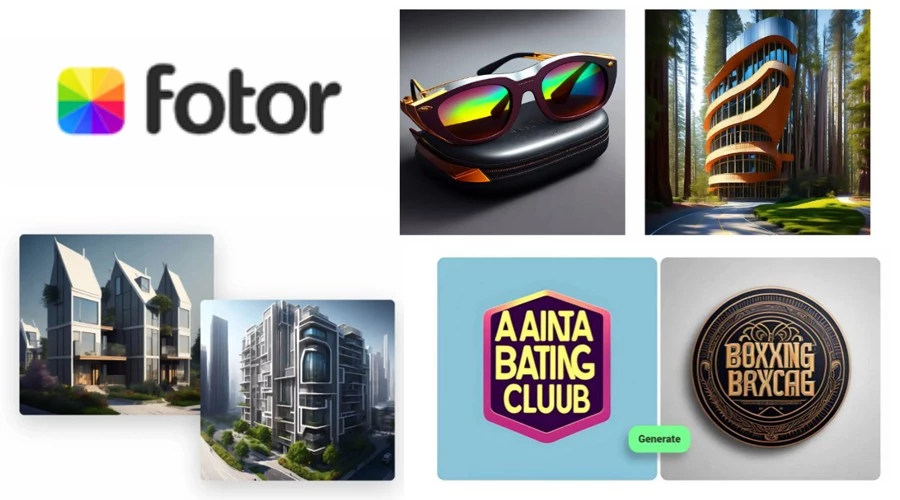 Fotor is an excellent all-round AI art generator and can be a great companion for any graphic designer. Perhaps you want to quickly bring ideas to life before developing them yourself or showing clients. Or maybe you want to quickly visualize the same concept in different styles.
By using the right prompts and style selections, this powerful tool can generate logos, posters, product mockups, architecture, and even interior design.
What's more, you don't necessarily need to have any design skills to get professional results. Just make sure to use as much detail as possible in the description.
Each prompt will create multiple versions to choose from. Click on any of these to use the toolbar for further refinement. Fotor also has lots of additional image editing tools which can be used on your new AI designs or other images.
As with most AI art generators, text on logos and designs will be garbled. However, Fotor still does a good job of positioning it in the right place. All you really need to do is replace it later.
You get full rights to finished designs. Because it's AI-generated, you're also guaranteed that it's unique.
3. Designs AI – Best AI tool for graphic design for small businesses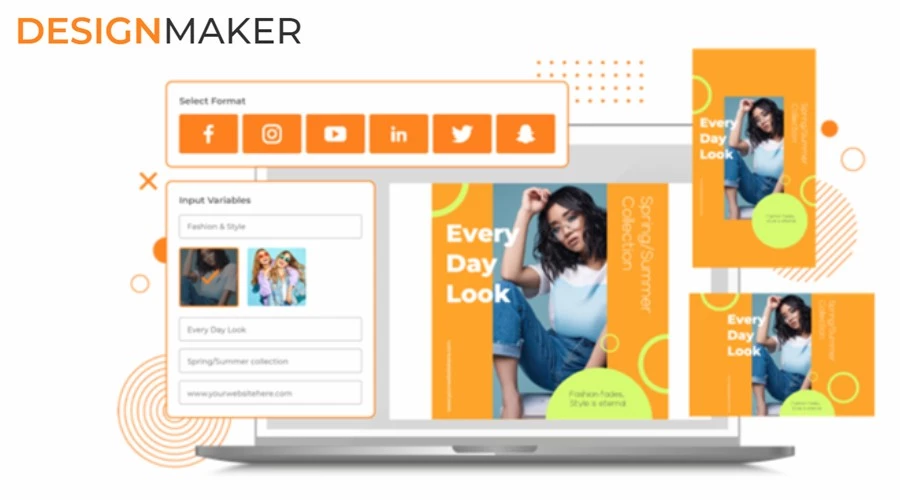 Designs.AI provides an entire suite of AI design tools, helping you create AI logos, videos, banners, and other marketing materials. A lot of its features rely on templates, but the AI keeps things unique and helps tailor designs to your individual preferences.
To get started, you must enter a business name, choose an industry, and a general logotype. This can be a shape, text design, or even just the business initials. This then becomes the main feature of the design.
Designs.AI provides access to 170M stock images, 10,000 graphics, and countless shapes, icons, frames, and stickers.
Once a design has been generated, you also get full control over modifying it in the editor. Quickly change icons, colors, and other elements until it really catches your eye.
One helpful feature is the ability to preview the design in different formats or mockups. For example, on product packaging, a storefront sign, or a flyer. You can also export in multiple sizes and formats.
Overall, Designs.AI is the perfect option for small businesses or individuals that don't have graphic design experience or the budget to hire a designer. Those with design experience might want something more advanced that lets you augment your own work.
Make use of the limited free plan or sign up for the premium service from $29/mo and get a 30-day money-back guarantee.
4. Jasper Art – Best AI graphic design tool for marketers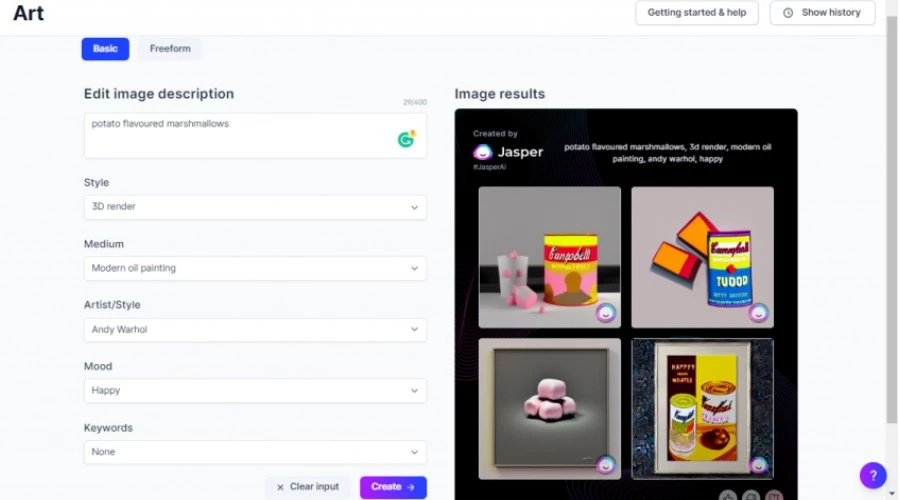 Jasper AI now has an art tool as part of its AI marketing solutions. It functions much like DALL-E, Midjourney, and other prompt-based engines. Simply describe the kind of image or design you want, and the AI generates it for you.
Your graphic design project may need to meet certain criteria, so to make things easier, many options can be selected from dropdown menus. This includes the medium, multiple styles, and mood of the image.
Once happy with the input, click Create and up to 4 variations will be quickly generated. You can then tweak these, regenerate them, or start again from the beginning.
The main drawback is that text and typography do not work in any meaningful way when using the art generator. So, if you need to apply any text to a design, you'll have to do it later with a separate program.
If you're a business or marketer that needs written and graphical content, Jasper provides both services. However, you cannot pay for Jasper Art by itself. Fortunately, all plans provide 7 days for free, and you can generate a few images for free without signing up.
5. Canva AI – Best AI graphic design tool that supports text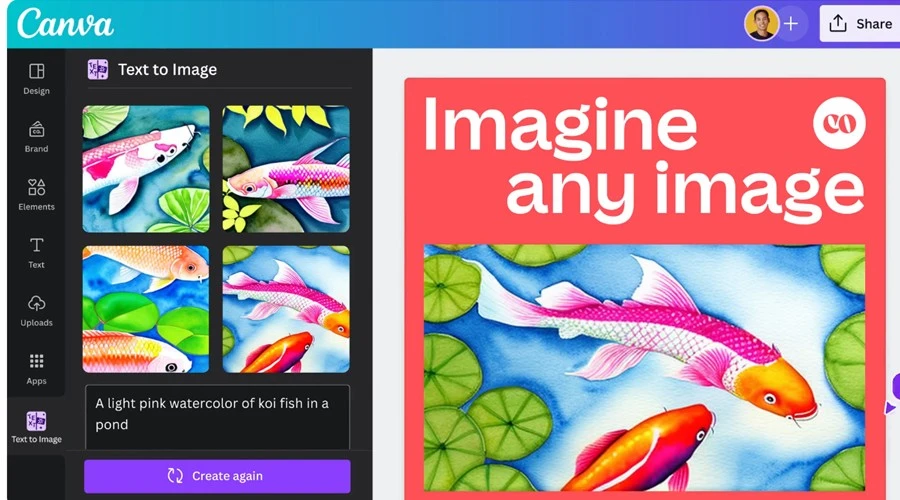 Canva has long dominated the online design tool space, allowing users to easily create unique graphics and marketing materials using a huge library of templates and stock elements.
Now you can make unique designs and variations even faster with its generative AI engine and other AI tools. These include a background remover, custom template maker, image upscaler, and more.
To start from scratch, enter a prompt and choose from the different elements and styles, such as Watercolor, Sketch, Neon, Color Pencil, or Retrowave.
When the AI has worked its magic, you can easily work on different layers, apply filters, and use its other design tools.
Because Canva uses AI alongside its already successful design suite, you can easily add text the traditional way, which is something many AI image tools overlook. You can also access millions of icons and other elements.
With Canva, you get a full user account with storage space, sharing features, and support for teams.
You can create up to 50 AI designs before you must pay for a premium plan. This allows 500 generations a month.
6. AutoDraw – Best for basic AI sketching
As its name suggests, Google Creative Lab's AutoDraw automatically finishes your drawings and design sketches using AI.
It does this by making suggestions of what it thinks the rough sketch is. Simply click on the correct answer and it draws the object properly. The results can be described as basic but high quality.
In our example, I made the worst drawing of a house possible, but in seconds it generated this instead!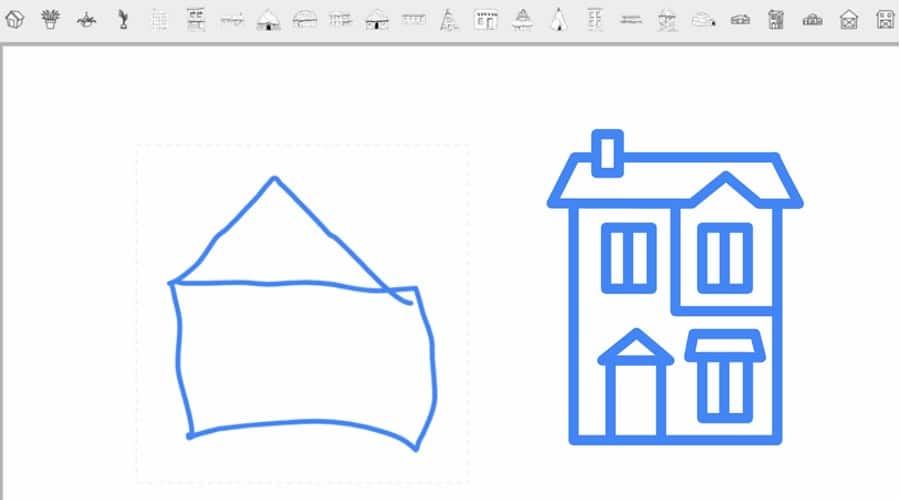 While it lacks shadowing and any kind of abstract elements, it's a quick way to get a solid sketch completed. You might use it at the idea stage, to create basic icons and templates, or just to save time in your workflow.
You can stop auto-drawing at any point and add to the image yourself using freehand. It also has color fill, resizing, and the ability to add basic shapes or text. When finished, right-click the image or go to the options menu to download it.
AutoDraw is completely free to use, and it remembers where you left off if you close the site. However, it doesn't have an account feature so it's not the best for long-term projects.
7. Khroma – Best AI color picker tool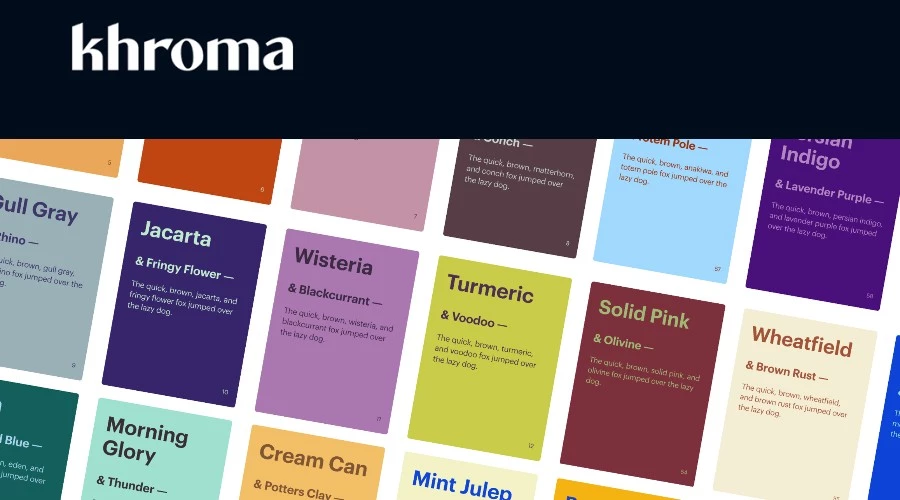 Khroma is another free tool that saves designers time by automating the color palette process.
It takes away the guesswork by offering an array of pre-defined color schemes. Whether you're looking for complementary, analogous, or triadic color combinations, Khroma has you covered. This feature alone can save a significant amount of time during the design process.
What truly sets it apart is its AI-driven color suggestions. This analyzes your uploaded images or provided keywords to generate personalized color palettes. This is a game-changer when you're aiming to capture a specific mood or match your design to a particular concept.
Once you've chosen a scheme, the ability to adjust color variations, saturation, and lightness directly within the tool is a thoughtful touch that allows for a high level of customization.
Furthermore, Khroma offers seamless integration with popular design software and platforms, by providing color names, hex codes, RGB values, CSS code, and WCAG accessibility.
8. Fronty – Best AI tool for web design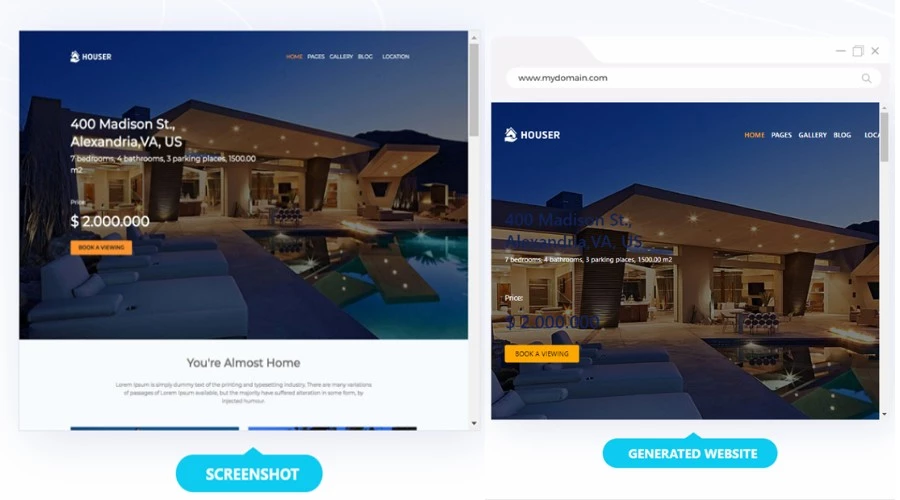 Fronty bridges the gap between graphic design and web design by using AI to convert images into usable HTML CSS code.
This saves developers considerable time and effort by automating the initial stages of turning a design concept into a functional site. It also helps those that are graphically minded but don't know how to code.
The tool's code generation is impressive, accurately translating design elements while maintaining responsiveness across various screen sizes. It has a user-friendly interface, instant preview, and integrates with other design tools.
This real-time interaction fosters a sense of collaboration between designers and developers, which is a notable advantage.
However, there may be some cases where fine-tuning the code is required, especially for more complex designs. Developers will likely still need to add interactive elements, backend functionality, and other advanced features manually.
In that sense, it is a useful companion tool but not a complete replacement. Overall, Fronty AI shows great potential in streamlining the web development workflow.
The service is available on a freemium model, giving free users a subdomain, 200mb of hosting, and a 5-page limit. To remove Fronty branding and get unlimited pages, plans start at $4.45 a month.
9. Flair AI – Best AI product photography tool
Flair AI helps businesses create high-quality marketing assets quickly and easily. It focuses on product photography, social media graphics, and other branded content that is tailored to the specific brand and style of the business.
The AI algorithm works by first understanding the brand's style and aesthetic. It then uses this information to generate marketing assets that are consistent with the brand's identity.
For example, if a brand is known for its minimalist style, Flair AI will generate product photography that is clean and uncluttered.
It also allows businesses to customize their marketing assets to a specific campaign or goal. For example, you can generate a set of social media graphics that promote a new product launch.
From scratch, it works best by uploading product photo assets and then using the text prompt to create unique content. This example takes a cosmetics bottle and puts it on a "mound of moss surrounded by flowers against a jungle with sunlight streaming down on it."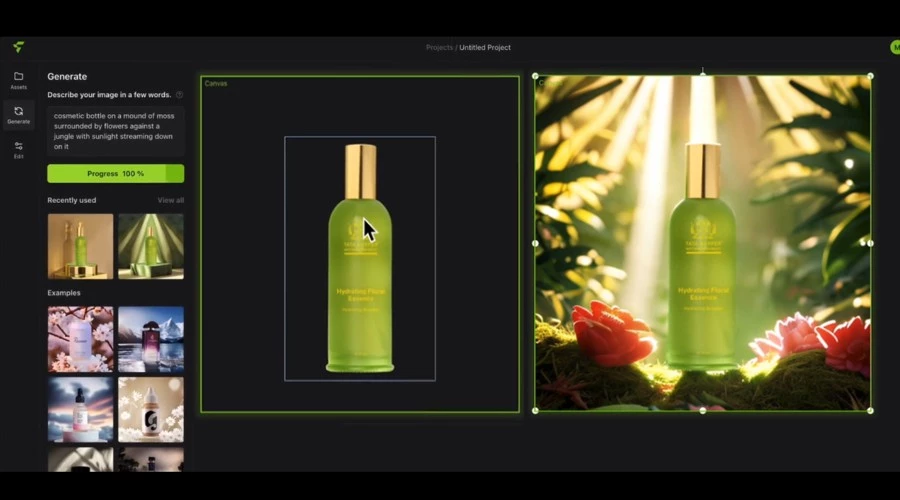 During this process, it can auto-remove backgrounds and upscale photos to a higher resolution by filling in the noise with AI.
Plans start from $10 a month but you can generate 30 images for free to test it out.
10. Alpaca – Best Photoshop AI graphic design plugin
The Alpaca Photoshop plugin is perfect for professional graphic designers that want to use AI within their current Photoshop workflow.
It can take your black-and-white sketches and turn them into complete high-resolution colored designs and artwork in seconds.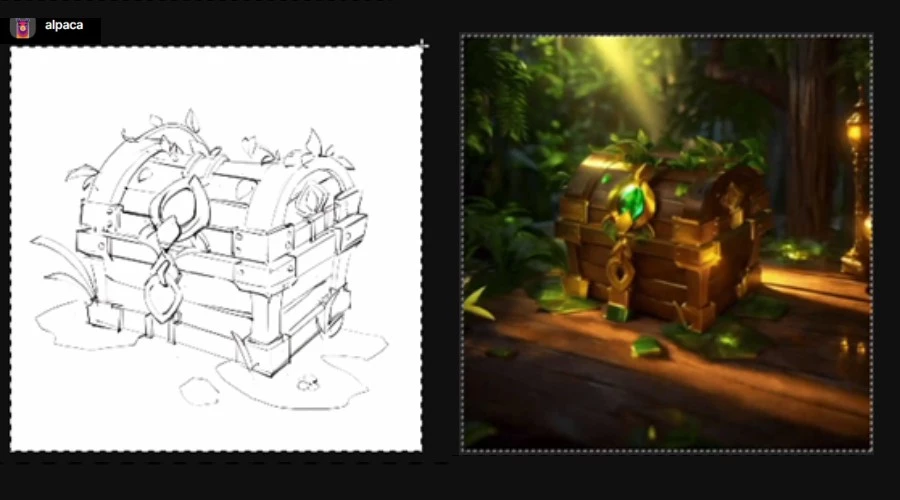 It also lets you select specific areas of your sketch to render. For example, you might have a drawing of a person or character without much facial detail. Simply highlight this area and describe what you want it to look like in its finished state. The AI will do the rest of the work.
The same processes can breathe life into technical drawings or architectural designs, so you can envision what they might look like in real-world environments.
Near-instant variations help quickly refine ideas and experiment with different styles and compositions. This boosts creativity and saves hours of time.
Of course, being a Photoshop plugin also means you can benefit from all the industry-leading image editing features at the same time.
Conclusion
Thanks to AI, the days of graphic designers toiling all day to come up with ideas and mock-ups for clients have been streamlined. Even non-designers can use the same AI tools graphic design experts use and get similar results.
Whether you want full-blown AI tools graphic design experts and beginners alike can use, or companion tools for certain design elements, there's something for everyone in the list above.