The seeds of AI art have been around since at least the 60s, but nobody then would have dreamed you could type a simple prompt in your web browser and get a high-quality and unique piece of artwork in return.
Indeed, the rise of artificial intelligence models that can generate images is both exciting and worrying, depending on your outlook for traditional artists.
However, what's for certain is the technology is here to stay and these AI art statistics shed more light on its growth and impact.
The Most Eye-opening AI Art Statistics
Thought you understood the AI art landscape? These stats are the quintessential did you knows.
The first significant AI art generator can be traced back to the 70s.
Stable Diffusion surpassed 10 million users a day in October 2022.
It's easier to spot an AI-generated cat than an AI-generated human.
The highest-valued AI-generated NFT sold for $1.1 million.
89% of artists believe copyright laws need to be updated to reflect AI
AI Art Popularity Statistics
These AI statistics take a closer look at the size and popularity of the leading AI art platforms.
1. Stable Diffusion surpassed 10 million users a day in October 2022.
(Source: Forbes)
Stability AI's open-source image generator Stable Diffusion revealed more than 10 million daily users in October 2022, making it the most popular tool of its kind in the world. The company is now valued at more than $1 billion.
2. MidJourney is the second most popular AI image generator.
(Source: Discord)
With over 17.9 million registered members on its Discord channel and millions active at any given time, MidJourney is the second most popular generative AI image tool behind Stable Diffusion.
3. Dall E has over 1.5 million users, despite being paywalled.
(Source: OpenAI)
Although it was created by the same team behind AI chatbot leader ChatGPT, the image generator DALL-E is much less active than the likes of Stable Diffusion and MidJourney. This likely has nothing to do with the quality of its art, and more to do with the fact that users have to pay at least $15 for credits to use the platform.
Nonetheless, the last time OpenAI released figures, DALL-E had more than 1.5 million users actively creating over 2 million images each day.
4. Google search interest for AI art peaked in December 2022.
(Source: Google Trends)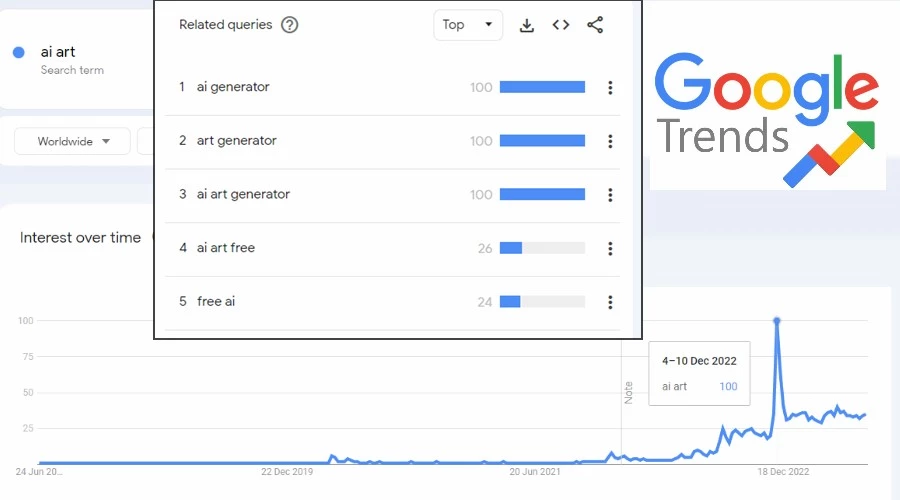 The number of people searching for 'AI art' on Google has steadily increased since the release of the major image generators, but it saw a particularly large spike in December 2022.
The top related queries are naturally for AI generators.
5. WOMBO Dream is the most popular AI art app on mobile.
(Sources: Google Play, WOMBO)
Of roughly 16 functional AI art/image generator apps on Google Play, Dream by WOMBO is the most popular with over 10 million downloads. When combined with iOS downloads, the company claims to have 60 million users, who have generated 1.5 billion artworks.
6. MidJourney has the most popular official website.
(Source: SimilarWeb)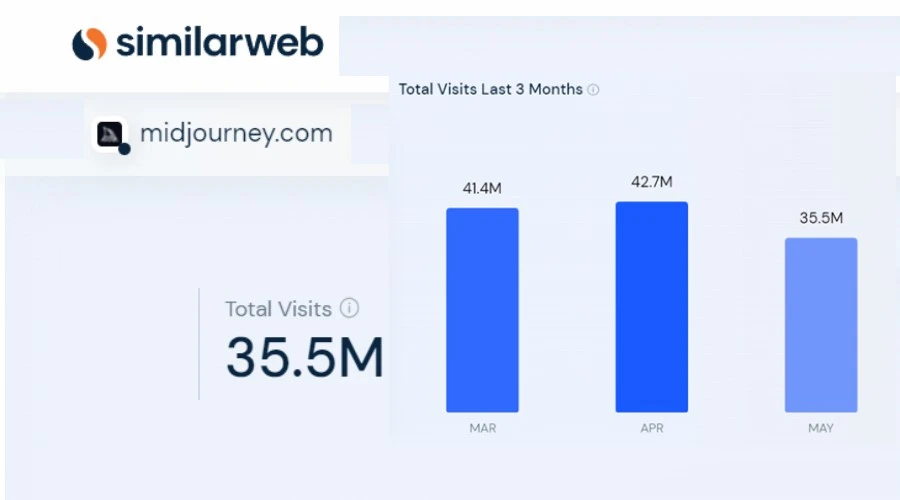 Although you cannot actually generate art and images on MidJourney.com, it has the highest traffic, with 35.5 million visitors in May 2023. This is followed by Labs.OpenAI.com, which is the main page for DALL-E 2, with 21.7 million.
Due to its open-source nature, Stable Diffusion's official site only had 3.9 million visitors despite having more average users than any other platform. The web version of Dream at Dream.AI had 3 million visitors.
Historical AI Art Statistics and Facts
Although AI art generators seemed to pop up overnight, the history of AI art has gone through many phases.
7. The first significant AI art generator can be traced back to the 70s.
(Source: Kate Vass Galerie)
Harold Cohen's pioneering work on AI art dates back to the 1970s at the University of California in San Diego, where he developed the AARON system. This combined Cohen's painting and newfound computer programming skills in an attempt to codify the act of drawing.
It was able to create simple black-and-white art, which Cohen then colorized.
8. Google released DeepDream in 2015, leading to several photo-to-art apps.
(Sources: Slate, Digital Trends)
Despite falling behind the AI art race, Google actually preceded the current leaders with its convolutional neural network DeepDream. This is able to find and enhance patterns in images, resulting in trippy dream-like creations.
This was quickly followed by mobile apps like PRISMA, which used AI to turn photos into Picasso and other art styles.
9. OpenAI's DALL-E was the first mainstream text-to-image generator.
(Source: NBC News)
The text-to-image AI generator is still a relatively new concept. OpenAI was the first to popularize it when DALL-E version 1 was launched in January 2021. The name pays homage to surrealist artist Salvador Dalí.
10. The AI art copyright debate existed as early as 1985.
(Source: Pittsburgh Law Review)
You might think questions surrounding AI art and copyright only emerged in recent years, but law professor Pamela Samuelson was pondering such things back in 1985. Her article, "Allocating Ownership Rights in Computer-Generated Works," argues that rights should be held by the user of the generator program.
However, Samuelson did not foresee the problem of artists' original work being used to train the programs themselves.
Financial AI Art Statistics
These stats take a closer look at the AI art market and the money being made.
11. The AI market as a whole is expected to reach nearly $2 trillion by 2030.
(Source: NextMSC)
While AI as a market has never been quantified, the AI market as a whole is currently valued at $100 billion. This is predicted to grow to nearly $2 trillion by 2030, with image generators, chatbots, and mobile apps all playing an important role.
North America is expected to lead the regional market share.
12. The highest valued piece of AI art sold traditionally went for $432,000.
(Source: BBC News)
In 2018, a painting called Portrait of Edmond Belamy was sold at auction house Christie's in New York for $423,000. It was created by an AI algorithm, which was trained on 15,000 portraits painted between the 14th and 20th Centuries. To date, it is the highest-valued piece of AI art.
13. The highest-valued AI-generated NFT sold for $1.1 million.
(Source: iNews)
In 2021, a so-called robot artist called Botto generated four works by artificial intelligence that sold for a combined $1.1 million. Unlike previous records, the works were sold as NFTs for cryptocurrency.
Botto's founder, Mario Klingemann, believes AI art won't even need human input in the near future.
14. At $20 billion, OpenAI is the highest-valued AI company.
(Sources: Reuters, BOXMINING, Photutorial)
OpenAI, which created ChatGPT and AI art generator DALL-E, was last valued at $20 billion, making it the highest-valued AI company of its kind.
Jasper AI, which has an art component, was last valued at $1.5 billion, Stability AI is worth at least $1 billion, and Midjourney is estimated to have made at least $250 million from subscriptions.
15. AI game asset generator 'Gen AI Engine' recently raised $6 million.
(Source: TechCrunch)
Scenario, a startup in San Francisco, recently raised $6 million in seed capital for its Gen AI Engine. It's aimed at game developers and game asset artists, enabling them to generate new assets based on their own art styles.
AI Art vs Human Art Statistics
While there is no doubt that human-created art is still dominant, AI art is quickly evolving. Will algorithms, mathematical equations, and machine learning ever surpass innate human creativity?
16. 56% of those who have seen AI art say they enjoy it.
(Source: YouGov)
While only 27% of surveyed Americans say they have seen AI Art, 56% of those that have, say they enjoyed it.
Opinions are divided about whether AI art is better or worse than human-only creations: 34% say it is better, 29% say it isn't, and 31% believe the artwork to be of a similar standard.
17. Over 50% of people can still recognize when art is AI-generated.
(Source: Yale Daily News)
There's one thing that traditionalists still have on their side. A lot of AI-generated art has that uncanny valley quality that says, something isn't quite right.
Indeed, in a survey of Yale undergraduates, respondents could tell the difference between AI-generated and human-created art an average of 54 percent of the time.
18. It's easier to spot an AI-generated cat than an AI-generated human.
(Source: Tidio)
Another study by Tidio found that while 69.5% of respondents could recognize a cat image generated by AI, only 30% could recognize the same for a human portrait. Meanwhile, enthusiasts who frequent Reddit's AI community were much more likely to distinguish real images from AI images.
However, as the leading models are trained on more and more data, it will be more difficult to spot the difference.
19. AI creations are fooling experts and winning awards.
(Source: BBC News)
Boris Eldagsen refused to accept the winning place in 2023's Sony World Photography Awards "creative open" category, after admitting his entry, entitled Pseudomnesia: The Electrician, was generated using AI. Fellow photographer Feroz Khan told the BBC that "even experienced photographers and art experts can be fooled".
Controversial AI Art Stats and Facts
From copyright infringement and loss of jobs to deep fakes and propaganda, AI art is shrouded in controversy.
20. Half of Americans think AI art will bolster fake news.
(Source: YouGov)
With examples from Donald Trump to Pope Francis going viral on social media, more than 50% of surveyed Americans think AI art will be used to spread fake news and hoaxes. Six in ten also think the same for text generators like ChatGPT.
21. Most Japanese artists fear AI will impact their livelihood.
(Source: Arts Workers Japan Association)
In a survey of roughly 25,000 Japanese artists, 94% were concerned that AI could have harmful effects, such as job replacement or copyright infringement.
22. Netflix caused backlash by using AI art in an Anime short.
(Source: Mashable)
In a clear example of artist fears, Netflix used an AI generator to create the backgrounds for its short Anime, The Dog & The Boy. The streaming service said it was done because of a labor shortage, while critics claim it was a crude way to get around paying for human artists.
23. Marvel's Secret Invasion opening credits used AI art, sparking backlash from critics.
(Source: Collider)
The VFX house behind the opening credits for Marvel's Secret Invasion series came under fire for using AI art. Although the company claims no real artists were put out of a job, fans and critics were also vocal about how the artwork was disappointing and poor quality.
24. Artist Greg Rutkowski was used as an AI art prompt 93,000 times without permission.
(Source: MIT Technology Review)
One of the key debates around AI art is whether incorporating an existing artist's style is actually copyright infringement.
Famous Polish digital artist Greg Rutkowski hit out at Stable Diffusion in 2022, when it was discovered that his name was used as a prompt around 93,000 times, ahead of Michelangelo, Pablo Picasso, and Leonardo da Vinci.
25. Most AI art generators are trained on a dataset of 5.85 billion images called LAION-5B.
(Sources: ArtNet, LAION)
AI image generators have to be trained on existing images to learn the patterns, styles, and parameters of art. The biggest of these, LAION-5B, is more than 150 terabytes and contains 5.85 billion CLIP-filtered image-text pairs.
This includes the artwork of Peter Doig, Damien Hirst, Jenny Holzer, Alex Katz, Jeff Koons, Kerry James Marshall, Cindy Sherman, and many more.
26. 89% of artists believe copyright laws need to be updated to reflect AI
(Source: Book and Artist)
Indeed, in the age of AI, the vast majority of artists feel copyright laws are outdated and don't reflect the capacity of AI to steal existing works for use in their models or create new works in the same styles.
Interestingly, it was more about consent than compensation, with 72.6% wanting AI generators to ask for permission before using their artwork to train algorithms. 53.5% would also want financial compensation in return.
27. Getty Images claims Stable Diffusion used over 12 million of its copyrighted images.
(Source: Photutorial)
Stock image company Getty Images recently filed a lawsuit against Stability AI for allegedly using over 12 million of its images as data for Stable Diffusion to train with. This was recognized when some text prompts resulted in the Getty Images copyright watermark appearing on the generated images.
Further investigation suggests images from Depositphotos, Dreamstime, iStock, and Alamy, have all been fed into the learning model.
Conclusion
In light of these AI art statistics, the phenomenon shows no sign of slowing down, and debates about the intersection of human creativity and machine intelligence will continue to rage on.
How will the adoption by artists and corporations and enforcement of new laws and regulations shape what is estimated to be a multi-billion-dollar market?
Sources