Architectural designs, graphics, and artwork can be a challenge for AI, especially when it comes to the finer details. However, with the right tools and prompts, you can visualize even the most complex concepts.
Having tested the leading artificial intelligence solutions on the market, these top picks will help you find the best AI image generator for architecture and other building-related imagery.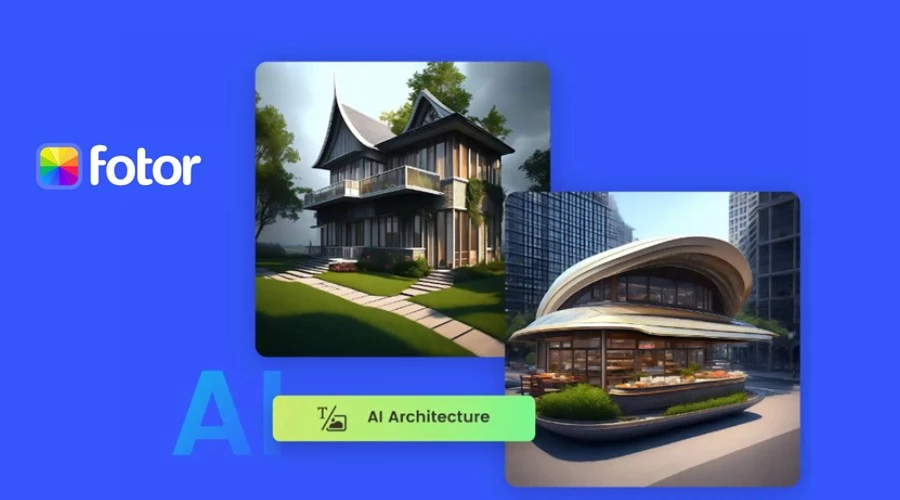 Architectural designs and images are just one of many styles that can be generated by Fotor's AI tool.
This web-based solution can be tried for free and has a beginner-friendly interface. Simply use the text box to enter prompts for the image, choose from three aspect ratios, and then select one of the preset styles. Photography or 3D works well for architecture.
You can also describe a common style with the prompt. For example, using the terms interior design or floorplan creates stunning top-down interiors.
With a premium account, it can output up to 8 images per prompt. These can then be quickly regenerated to get different results or you can click different styles to instantly change the images.
It also supports image-to-image, which lets you upload an existing photo or blueprint. The latter can turn your concept sketches into a photorealistic image in seconds.
Fotor offers a range of image editing tools alongside the AI generator, so you can tweak your architectural designs under one platform.
If you want to convey your ideas effectively and quickly explore new design concepts, Fotor is the solution for you. Get access from $9.99/mo or $2.99/mo (billed yearly) for 200 credits.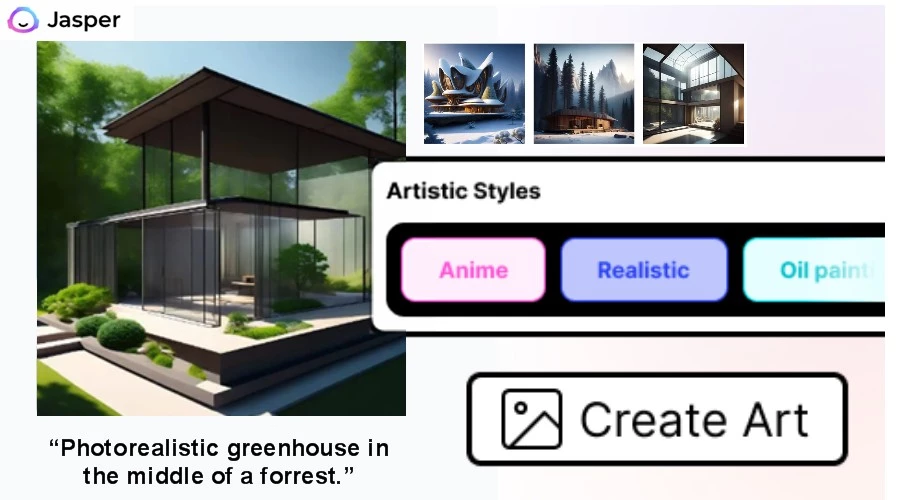 Although it started life as a written content generator, Jasper AI has evolved into an impressive AI image generator too. It can create realistic and original architectural designs and concepts from just your text input.
Along the way, it lets you apply different styles and tweak attributes until the result is just as you envisioned.
To get the best results, text prompts should be ordered by subject, description, then style. For example: A white stone house, on the beach, at sunset, in a photorealistic style.
You can quickly master Jasper Art by browsing its internal gallery, which includes effective prompt formats to get similar results.
One subject that you should avoid trying to generate is text or signage. This mostly comes out garbled, which is an issue for most AI image generators. However, you can easily add these later in a regular image editor.
Jasper AI is available for individual creators ($49/mo) or teams ($125/mo), with a 20% discount for committing to a year.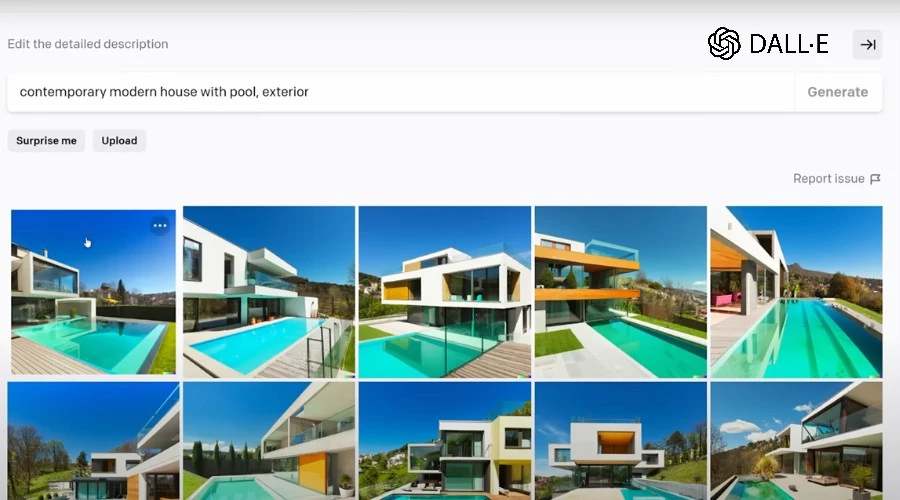 From the makers of ChatGPT, OpenAI's DALL-E image generator is now in its second release and is the perfect tool for AI-generated architecture.
A simple description can produce technically accurate and photorealistic images, allowing you to quickly visualize your ideas and share them with clients.
You can also upload your own existing photos or designs and select the areas you wish to edit or retouch. Say goodbye to spending hours creating design variations manually.
Using an existing image is also a quick way to visualize new architecture in an existing area. For example, you could upload a photo of an empty lot of land and generate a new home to be built there.
The process is quick and efficient, but the more details provided, the better the results. When an image stands out from the pack, clicking on it lets you refine things further and create new variations from this base template.
DALL-E 2 works on the credit model, so you must spend at least $15 for 115 credits, which is well worth it for professionals.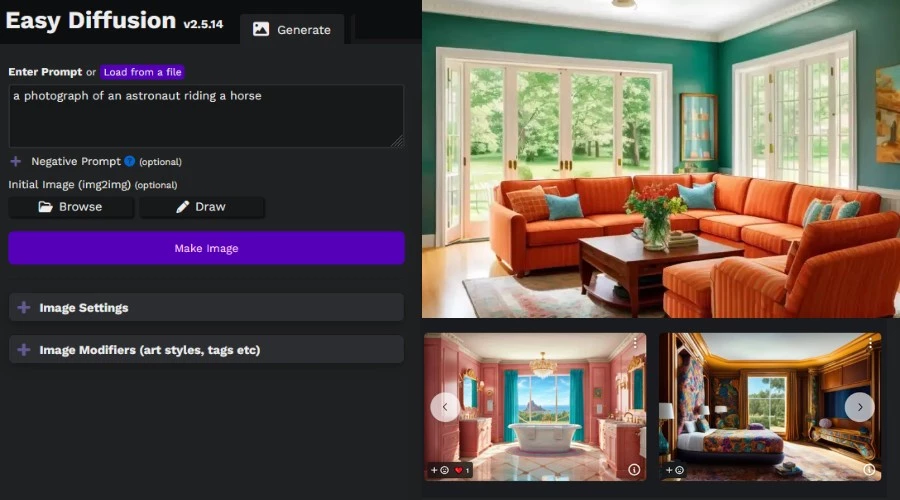 Stable Diffusion is an open-source AI image generator, which means you can use different learning models for different purposes.
For architecture, there are several impressive options to choose from, including:
Lora – This is described as an architectural magazine photo style similar to Architectural Digest. By using the Lora model and using prompts like "archmagazine photo of" or "archmagazine 3D render of", you can generate stunning interior photos.
dvArch – This model lets you use trigger words to generate specific building styles, such as dvArchModern, dvArchGothic, and dvArchVictorian.
ubranscene15 – This model focuses on bustling city designs, which is perfect for urban planners. It is capable of generating full-blown cityscapes with multiple skyscrapers. The results are even more impressive when combined with modernarchi15 and urbanaerial15.
Because Stable Diffusion is open-source, you must go beyond the basic web demo to get the most out of it. You'll find many different interfaces created by users, but the simplest to install locally on Windows is called Easy Diffusion.
This provides a familiar text box, image uploader, and settings. There's also an area to download and merge different models, so you can use the architectural suggestions above.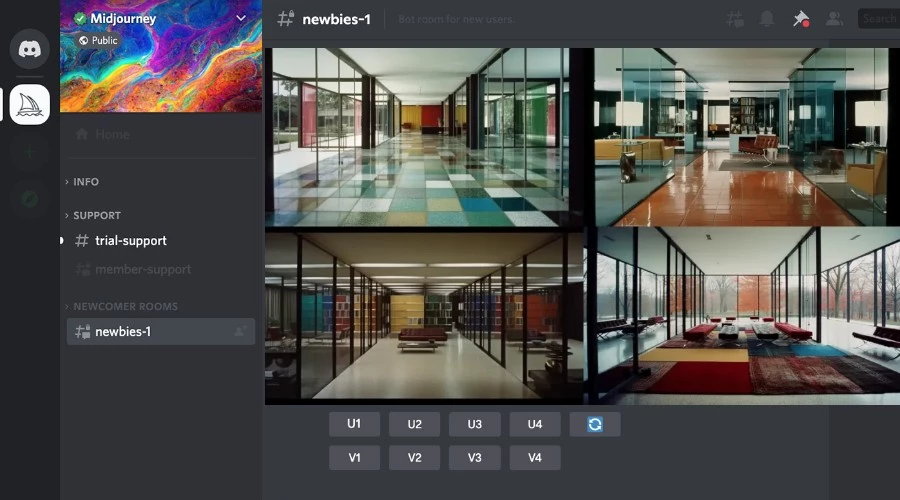 MidJourney has evolved so far that it is now difficult to distinguish its AI creations from real photos and designs.
Indeed, version 5 is being used by professional architects to speed up rendering, simplify their workflows, and generate inspirational designs.
However, success is dependent on mastering prompting. Vague and broad descriptions will still produce alien-looking structures, so it takes time to learn the proper language of AI.
The general order should be: [Description of main subject], [background and environment], [architectural style, time period, famous architect or photographer's name], [other parameters].
This can be confusing, so following a detailed prompting guide will help you get the hang of it.
As well as text-to-image, you can also upload an existing image or blend different images together to generate unique results.
Instead of a website, mobile app, or local installation, MidJourney runs on the Discord messaging app. Plans start from $10/month, or $8/month (billed annually).
Conclusion
Hobbyists and professional architects are starting to embrace artificial intelligence to quickly generate design ideas and augment their existing work.
Choosing the best AI image generator for architecture depends on the type of design you desire and your AI skill level.