There are many AI generators on the web that can produce beautiful artwork. However, if you want a more hands-on experience, some desktop suites are also available.
These often come with additional editing tools and the ability to generate more images than their cloud counterparts. PC software also gives you more control over your creations.
Having tested all the most popular desktop solutions, these top picks will help you find the best AI art generator for Windows.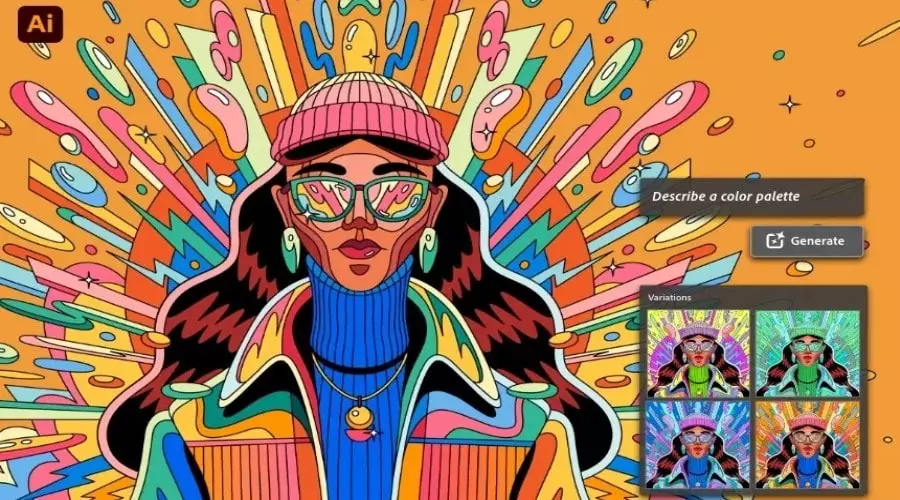 Editing giant Adobe has now entered the AI space on Windows and knocked it out of the park with Firefly.
The tool has been trained on Adobe's own vast image library, so the results look and feel much different than the average web AI bot that often uses the same underlying algorithms and data.
On the face of it, the text-to-image generator functions like most other AI art generators. You enter a descriptive prompt and then 4 results are quickly displayed onscreen. However, its toolbar provides endless opportunities to fine-tune your creation.
First, you choose an overarching content type such as photo, graphic, or in this case, art. Then you can pick different styles, themes, effects, materials, etc.
These are added to the text field like tags and can just as easily be crossed off as you play around with different options.
Unlike the typical web model, the user is under no pressure to master complex prompts and you aren't restricted by credits. You get full reign to regenerate and edit your creation.
With Firefly, AI can also be applied to text effects, recoloring, 3d-model to image, and image extension. This uses AI to expand an existing image. There is also a fill option to remove or insert new objects within an image.
Firefly is currently available in Beta as part of Adobe Express.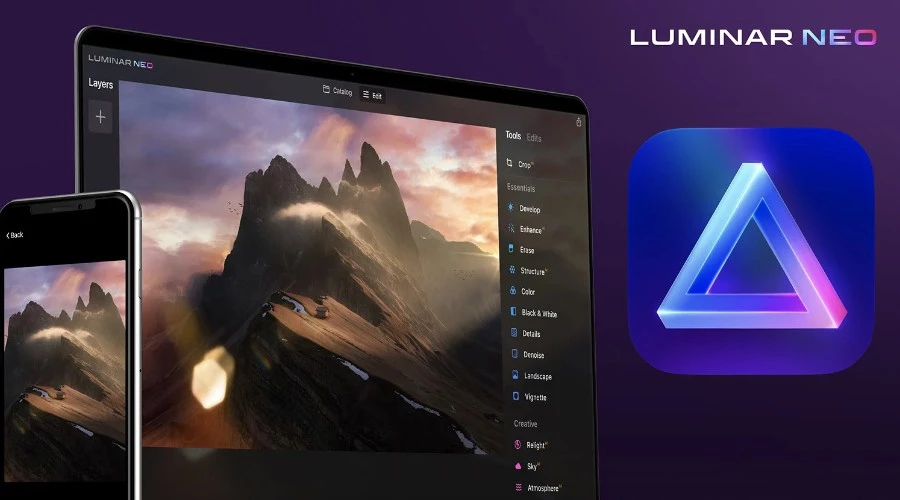 Skylum's Luminar NEO deserves an honorable mention. Although it's aimed at photographers rather than traditional art styles, its use of AI is too impressive to ignore. It also helps bridge the gap between raw photography and photorealistic AI art.
Luminar uses a template system that lets you adjust one image and apply the same settings to other shots. With stunning presets like sky augmentation and background atmosphere, you can generate unique landscape art even if your underlying imagery is bland.
Other AI options include background and noise removal, sharpening, and upscaling. The latter can take a low-resolution image and improve the quality with incredibly accurate estimations.
Its powerful tools can also be applied to portraits, with easy eye color changes, blemish removal, and full-blown styles that alter almost every aspect of the photo – more of which can be purchased from the online marketplace.
Those with Adobe Lightroom or Photoshop can use Luminar NEO as a plugin, but the software also stands on its own.
Lifetime access costs $149, but there are also affordable subscription options.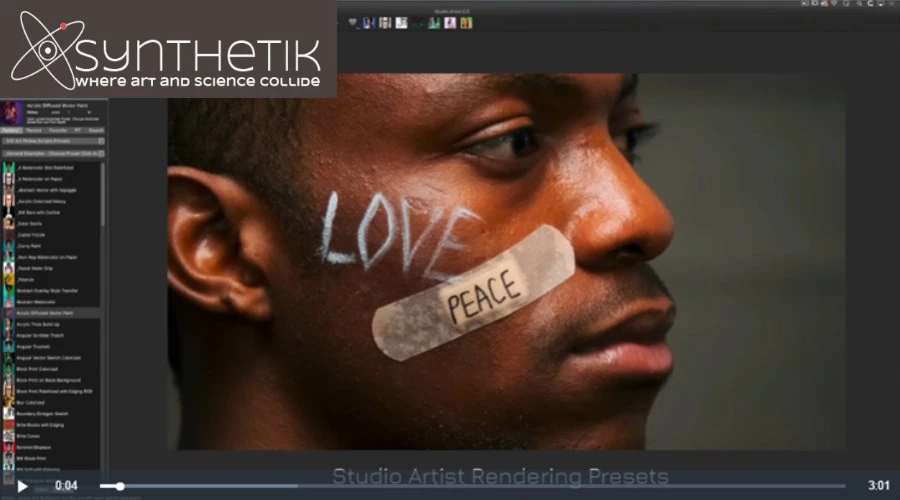 Studio Artist from Synthetik is a powerful AI software that can generate regular art and animation.
It does this with 10 distinct tools, the first of which includes an automated and assisted painting mode. Auto uses AI to turn existing photos or images into painted-style art.
Then you can touch up these creations (or paint an image from scratch) with assistance. Think of it like having a professional stopping you from making a mistake.
It can also generate sketches, vector art, and mosaics, along with endless presets, styles, and effects.
The generative abstract art processor features hundreds of modules that you can combine together to generate unique abstract procedural imagery and visual processing effects.
You can even automatically turn your art into NFTs, so you can control digital ownership.
Studio Artist is a great choice for those that are familiar with editing software and want the benefits of AI alongside traditional tools. However, beginners or those that want to generate art with simple prompts may want to look for something a bit simpler.
Studio Artist 5.5 can be purchased for a one-time $199 fee, with discounts and free options for educational institutions.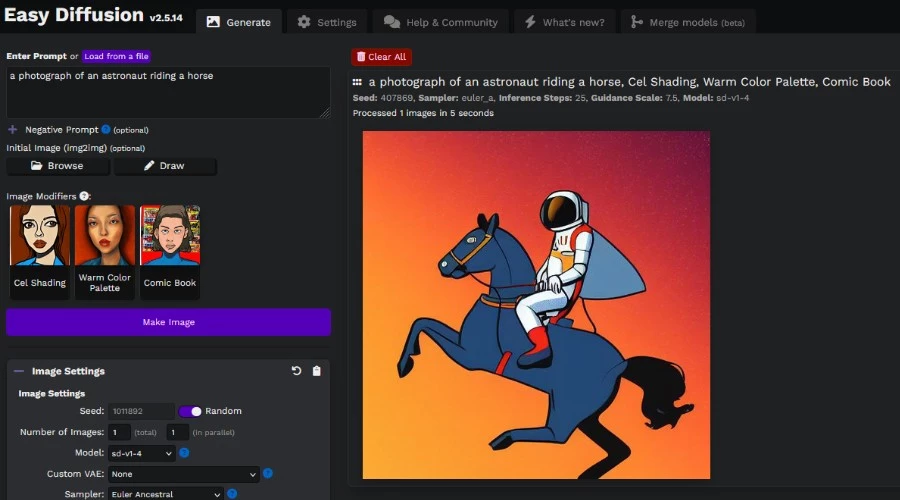 Stable Diffusion is a popular deep learning, text-to-image generator, which is perfect for art. It does not have a fixed interface and can be found on the web and within several apps. You can also install it locally on Windows with no limitations.
This lets you have more control over prompts and other parameters, and it can also generate far more images at once. The only catch is you need a GPU with at least 4GB of dedicated memory.
To get started you can download and install the GIT and Python prerequisites and the latest Stable Diffusion models.
Alternatively, you can use the Easy Diffusion interface which is based on Stable Diffusion and does all the hard work for you.
It comes with two main input methods:
Text prompt, where you can describe what you want and what you don't want (negative prompt). E.g., a forest landscape with no 'green trees'.
Image-to-image, where you upload an existing image and combine it with a prompt to transform it into a unique artwork.
You can then select two preset styles in addition to any style-related prompts already entered. This will generate at least 10 images that can be saved to your PC or sent directly to popular cloud hosting sites.
For newbies, it can take a while to master all the settings, such as the different models and sampling methods. You also get full control over the size, resolution, etc., using sliders.
However, it's one of the most versatile AI art generators on the market, and it's totally free!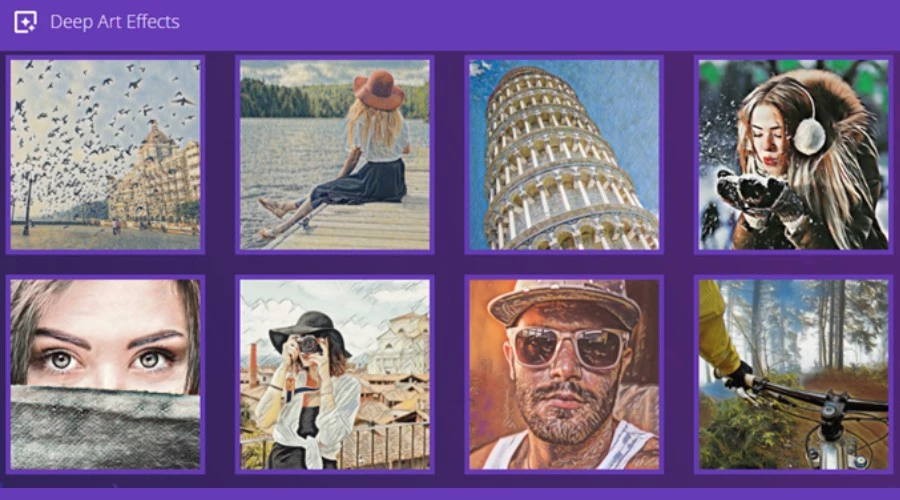 While it is not a full-blown AI art generator, Deep Art Effects for Windows uses an AI model to turn existing photos into stunning artwork.
Simply import any photo including existing artwork. Then choose from over 100 different art styles to automatically transform them into something unique. This includes everything from watercolors and pencil drawings to abstract art and comic book styles.
More than just a filter, the end result is often indistinguishable from a piece of art created from scratch.
The user-friendly software includes a toolbar of parameters that can tweak results. For example, add more intensity to the art style or scale it back closer to its original state. Or, perhaps you want to add more brightness or contrast?
As an AI model, it can learn new styles from images you import. E.g., import a famous work by Van Gogh and its style can be applied to another completely unrelated image.
This is particularly useful if you have your own style of artwork and want a shortcut from your imagination to what the finished piece might look like.
Other features include AI image upscaling, colorization, and even a video AI editor.
Deep Art Effects is available for a one-time $129 purchase, while subscription plans start from $9.90/mo.
Conclusion
Choosing the best AI art generator for Windows depends on your needs. If you want to generate complete artwork just from a text prompt, something like Adobe Firefly or Easy Diffusion is the best option. You can also check our curated picks on best AI tools for anime characters or NSFW.
For a more traditional image editing experience with AI integration, Studio Artist or Deep Art Effects fit the bill.
If your art ever ventures into photography or photorealism, Luminar NEO is the best AI photo editor on the market.