Artificial intelligence generators have rapidly evolved to where anyone can create spectacular artwork. However, to get the best results with platforms like Midjourney or Stable Diffusion, you need to know how to use prompts effectively.
These are the text descriptions required to tell the AI what to generate. Get it right and your art will be almost indistinguishable from traditional pieces made by a professional. Get it wrong, and you're left with an alien-looking mess that's impressive in its hideousness.
Fortunately, middleman tools called prompt generators can help you perfect your prompts before going live.
The AI art prompt generator you use will depend on the AI engine and art style, but the following are considered the best.
1. PromptHero – Best AI art prompt generator overall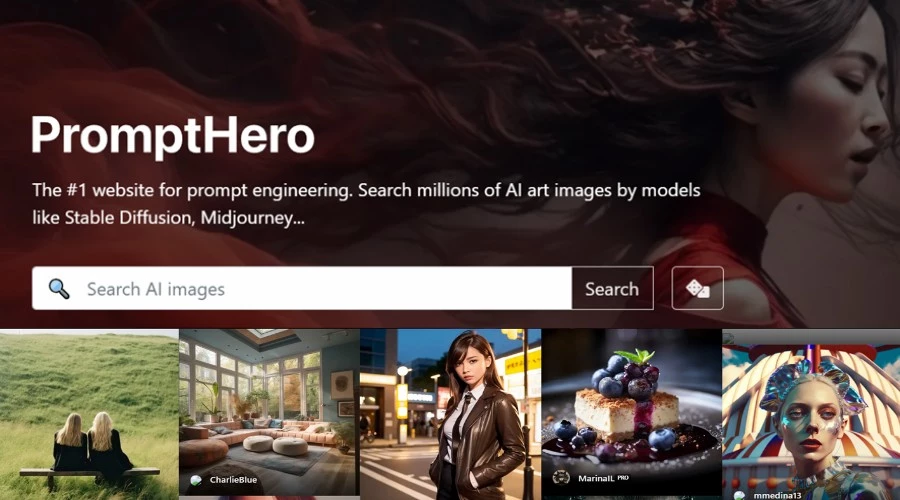 PromptHero does it all, from art to chatbots like ChatGPT. However, it's the art where it excels, and it offers one of the largest libraries of usable art prompts on the web.
You can search by keywords, art style, AI model, or simply browse by category. When you find an image you like, all you have to do is click on it to reveal the exact prompt and what AI model it was used on.
You are then free to use it yourself. Just copy and paste it over. Because of the nature of AI, the result will never be exactly the same, even if you use the exact same prompt. However, the quality and style will be just as good.
This prompt generator is free but to generate new art, you will need access to a good art generator.
Fortunately, a PromptHero pro account gives you generation credits for different AI models without having to install them or go through their own platforms. You can also save prompts for later.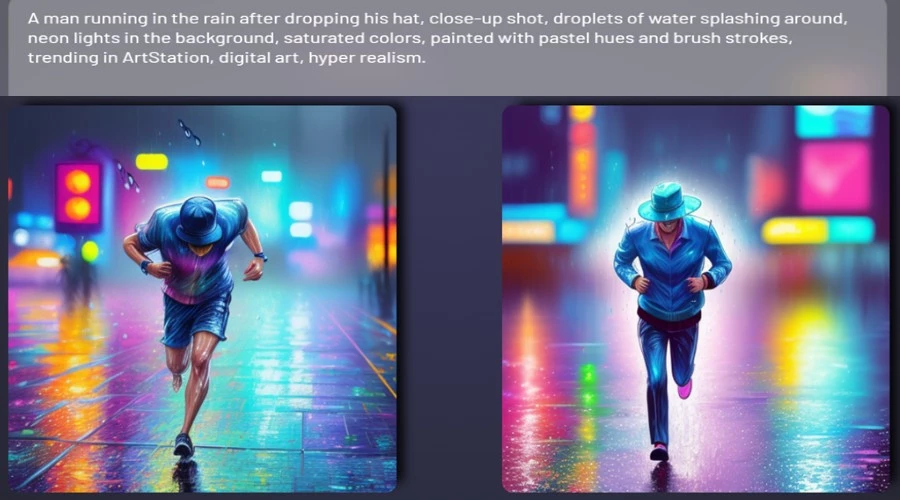 This AI art prompt generator from Xquissive is simple but one of the most effective. It lets you type a broad, basic prompt and get three specific and detailed versions that can be plugged into DALLE-2, Stable Diffusion, or Midjourney.
Its purpose is to get over creative blocks and start thinking in terms of working prompts. It's also perfect for beginners, who have yet to master prompting or aren't even familiar with art styles like pixel art or expressionism, for example.
Typing the basic idea of a man running in the rain after dropping his hat, generated a much more detailed prompt:
A man running in the rain after dropping his hat, close-up shot, droplets of water splashing around, neon lights in the background, saturated colors, painted with pastel hues and brush strokes, trending in ArtStation, digital art, hyper-realism.
The first results using Stable Diffusion are already impressive and provide an excellent starting point for developing the idea further.
3. PromptoMania – Best image-to-prompt generator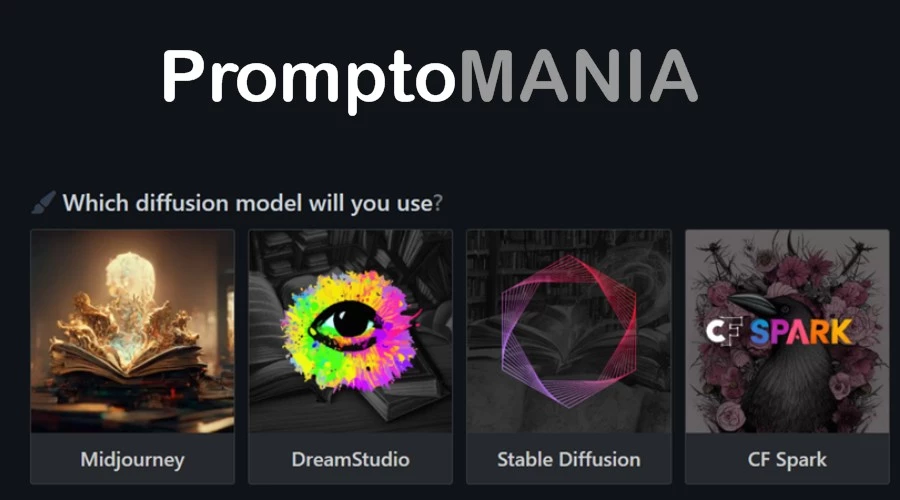 PromptoMania helps craft prompts that work well with Midjourney, CF Spark, DreamStudio, and Stable Diffusion. Simply select the AI engine you will be using, then provide a few details and PromptoMania does all the hard work for you.
You can also upload an existing image to generate prompt ideas based on it. This is to help mirror the image-to-image option offered by many AI art generators.
It guides you in choosing a base style, mimicking other artists, image sizes, and other important parameters for generating good AI art.
For Midjourney alone, there are over 100 artists to choose from, 14 technical parameters to configure, and endless possibilities. It also offers interactive tutorials to help you at every step along the way.
PromptoMania is free and you can save prompts by creating an account. However, you must use the AI art generators themselves to generate images from the prompts.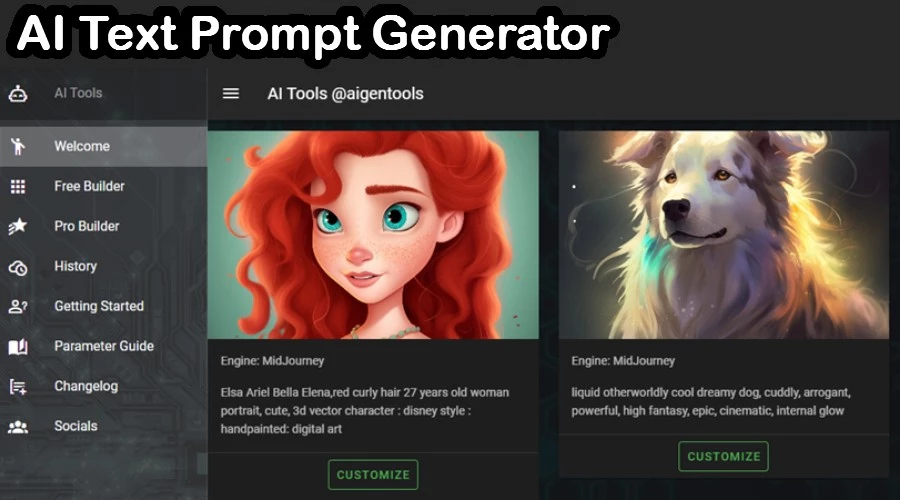 This tool does a great job of both inspiring and generating prompts for AI art.
For beginners or those out of ideas, simply scroll down the page or browse deeper into its galleries to find artwork you like. Then click customize and you can view the prompt used to generate it and tons of fields and options to tweak it for yourself.
It has built-in support for all the leading AI art generators, though to make use of Midjourney, DALL-E, etc., you must already have their memberships. Alternatively, you can plug straight into free generators like Craiyon or Neural Love.
The tool has a free prompt builder and a pro builder that unlocks over 1,000 styles, 1,500 artists, and 500 ready-made prompts.
To get started, choose an existing prompt, or enter your own from scratch. Then click on a subject or action to browse the free categories and add to the prompt. This can be done multiple times to add further detail. You can then easily copy the final prompt or save it to history.
Its parameter guide has excellent tips for creating effective prompts.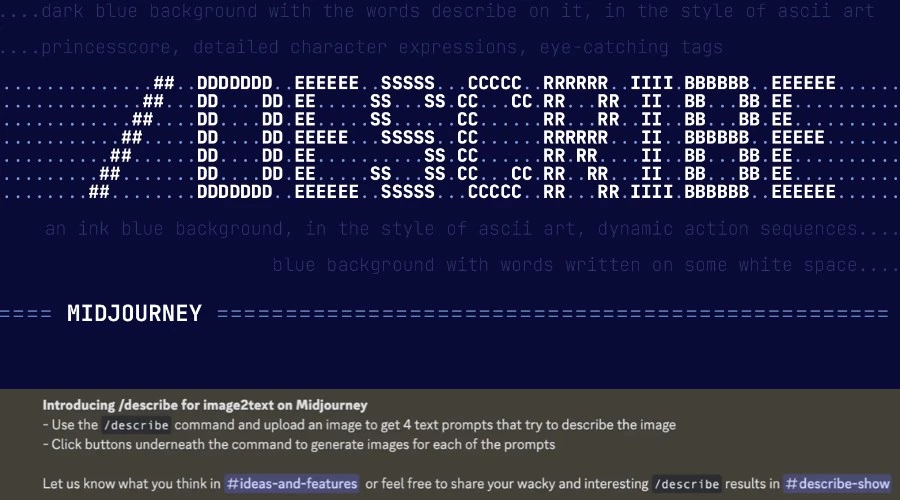 The Midjourney 'Describe Command' has effectively reverse-engineered the AI art generator to tell you what prompts to use to generate a type of artwork you already like.
It works by uploading an existing image and entering the /describe command. This then provides four text prompts that can be used to recreate the image.
This is useful for learning the key terms and phrases for certain styles, and objects, and how to order your prompts. What's more, you can click the prompt suggestions to get generating new art, which quickly speeds up the process.
If you're ever stumped for prompt ideas but have existing images on hand, this is the perfect way to get the ball rolling.
Of course, this is a native command to Midjourney, so you cannot use it for another AI engine like Stable Diffusion.
Conclusion
When you don't know where to start with artificial intelligence, using an AI art prompt generator from this list will help you learn what text to enter and give you the inspiration to create anything you desire.
These tools are especially useful when you want to make the most out of your free or first premium credits because it's easy to waste them when not sure how to create good prompts.