8 Best AI Photo Editors in 2023
10 min. read
Updated November 2nd, 2023
Published September 13th, 2023
---
Readers help support MSPoweruser. When you make a purchase using links on our site, we may earn an affiliate commission.
Read the affiliate disclosure page to find out how can you help MSPoweruser effortlessly and without spending any money. Read more
Living in our day and age requires content creators to produce visually stunning images to compete on the market and stand out from the crowd. Whether you're a professional photographer, a social media influencer, or simply a beginner trying to enhance your photos, AI photo editor software becomes invaluable.
There are a lot of useful AI apps that cover a wide range of user needs, including but not limited to AI image generators for architects and even for clothing designers.
Even more, you can start an art business on Etsy with the help of AI or create unique art from your Windows device, and all you need to bring to the table is your unique perspective and creativity.
These powerful tools combine the power of artificial intelligence with your creativity, and thus, ordinary images can be transformed into extraordinary ones.
Below is an efficient overview of the capabilities of our guide's first five software options. You can explore the table and then move on to read in-depth information about each of them.
Comparison Table
Software
Feature Set & Capabilities
Ease of Use
Performance & Speed
Compatibility
Price & Licensing
 Fotor
 – Specialized in AI-based enhancements
– Built-in AI filters
****
 Fast
 – Web
– App
– Cross-platform support


– Free version 




– Premium

Luminar Neo
 – Advanced AI features for professionals
 ***
 Very Fast
 – Desktop use & cross-platform support
 – One-time subscription
Canva
 – Versatile templates
– AI enhancements
– Easy to use
 *****
Very Fast
– Web
– App
– Cross-platform support
– Free version
– Premium
Pixlr
– AI-powered tools for color correction
– Includes background removal and retouching
 *****
 Very Fast
 – Web
– App
– Cross-platform support


– Free version 




– Premium

 PicWish
 – Great set of AI-powered tools
****
 Fast

– Web




– App 


– Cross-platform support
– Free version limited by credits
– Premium
Now that we have a general idea about the software we chose after hours of testing, we are ready to dive deeper into the subject.
This guide will cover some of the best AI photo editors on the market, so explore them all!
1. Fotor – Your Photo Enhancement Partner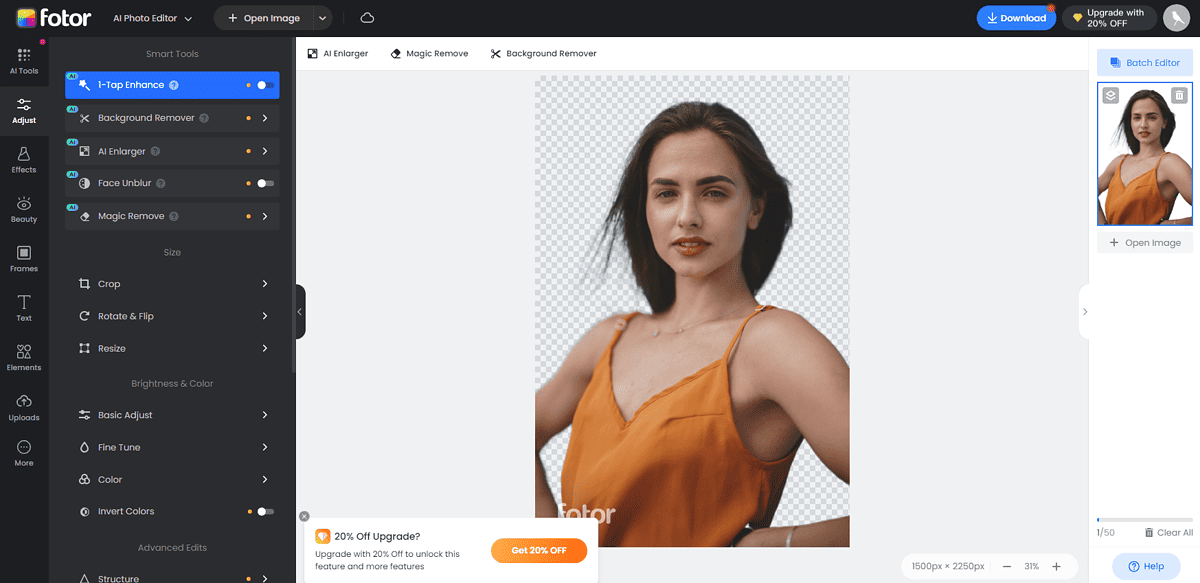 Fotor is another powerful image editing app with comprehensive AI tools such as a 1-tap enhancer, background remover, AI enlarger, Face Unblur, and Magic Remove. All these tools make it simple for users to edit, create, and optimize any photo they want. This powerful and helpful software allows users to enhance pictures with just one click, retouch photos, and even add filters.
The similarities between Fotor and Canva are uncanny, and even the menus look the same, but their capabilities have a few differences. Fotor is a bit less known than Canva, so downloading the edited photos is impossible on Fotor without a paid account.
Below is a screenshot of all the AI tools that help Fotor users easily create, edit, and enhance their photos.
If you're interested in these tools' capabilities, get a Fotor paid license and create fantastic AI avatars, delete elements from photos with AI, and even create customizable AI-generated faces from scratch.
Pros
Specialized in AI-based enhancements
User-friendly interface which ensures easy navigation of the features
Free access to its core features
Available as an app or on the web
Cons
It doesn't contain as many advanced features as other apps
2. Luminar Neo – Premium AI Photo Editor for Professionals
Luminar Neo is a great AI photo editor that was made for professional photographers seeking to elevate their work to a new level. With this tool, you get access to cutting-edge AI tools like AI sky replacement, allowing you to turn a dull photo into a work of art effortlessly. Retouching portraits is incredibly easy with AI-driven enhancements, ensuring the subjects always look their best.
The software's user-friendly interface ensures you can quickly understand and apply the respective options, even if you're new to professional editing. The capabilities of this app can be used for portraits, landscapes, and more, making it an excellent choice for photographers.
Pros
Advanced editing features designed specifically for professional photographers
Includes AI-powered tools for sky replacement, portrait retouching, and scene relighting
Performs very well in complex editing tasks
Cons
It comes at a higher cost, making it unsuitable for budget-conscious users
Steeper learning curve than other software options
3. Canva – Best Free AI Photo Editor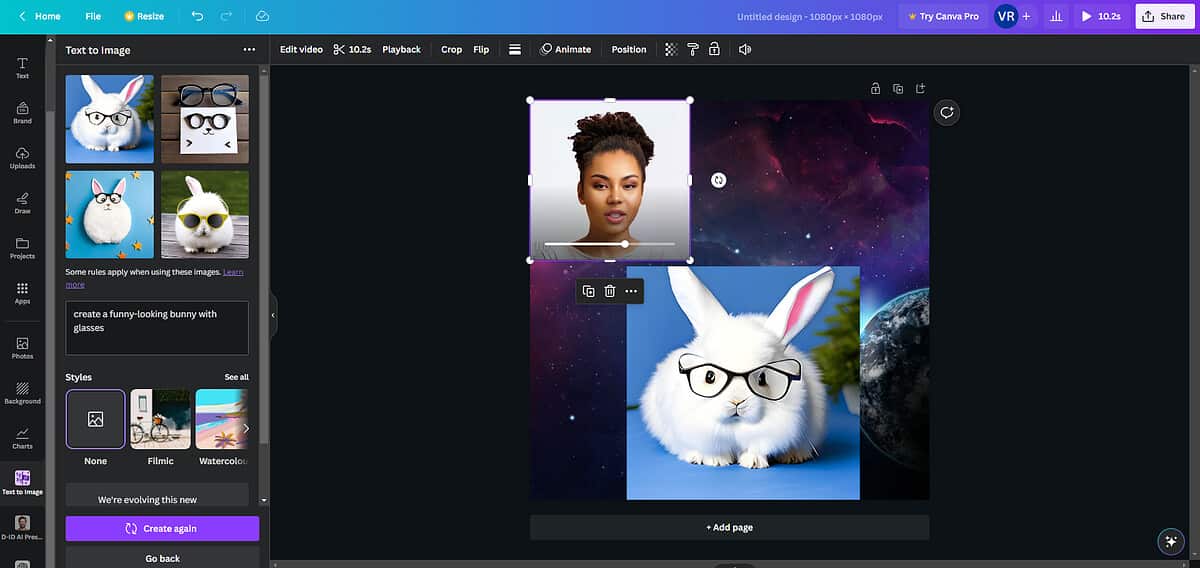 Canva is one of the most well-known image editors on the market, offering users a wide range of free backgrounds, effects, fonts, and many other valuable elements. Canva has also added some fantastic AI-powered features that make editing photos incredibly easy and intuitive.
The incredible amount of templates makes it ideal for creating social media posts, marketing materials, and personal art projects alike.
Below are the AI tools Canva offers, covering everything from AI Presenter,  Text-to-Image creation, and even a DALL-e integration. All you have to do is click the respective feature to add it to an existing or new project.

Make sure to explore all the features of these tools and take advantage of their AI-powered capabilities to simplify your project creation.
Pros
User-friendly interface which makes it accessible to beginners and professionals
Wide range of built-in templates for a variety of design needs
Powerful and valuable AI enhancements, which improve images and graphics easily
It can be used online or as an app on mobile devices
Cons
It lacks advanced photo editing features
Some premium features become available only with a paid subscription
4. Pixlr – A Comprehensive AI Editing Suite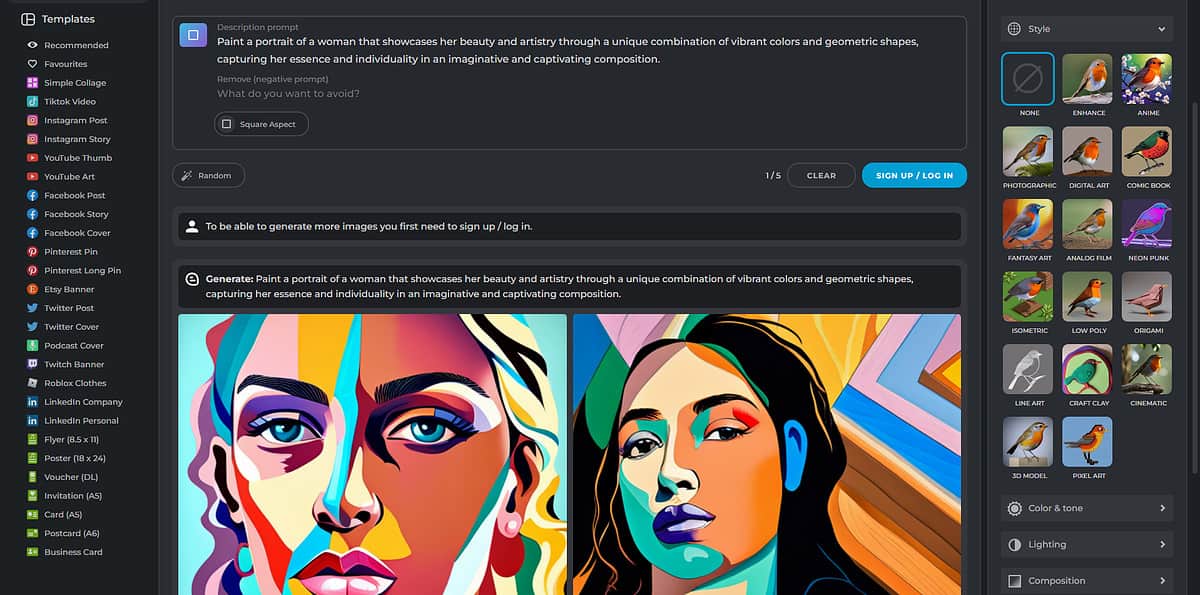 Pixlr is another excellent toolbox of great features for users wanting to edit, create, or enhance their images, and it offers two distinct versions: Pixlr X, an easier-to-use image editor with fewer advanced options, and Pixlr E, the advanced image editor.
As this suite is designed to cater to beginners and professionals, both variants mentioned above are easy to understand. Still, the integration of AI-driven tools makes this app so powerful. These elements ensure that all users can create amazingly intricate designs with just a few clicks of the mouse.
Below, you can see the complete set of applications PIXLR offers, including an AI photo masher, background remover, and even a batch editor to edit multiple images simultaneously.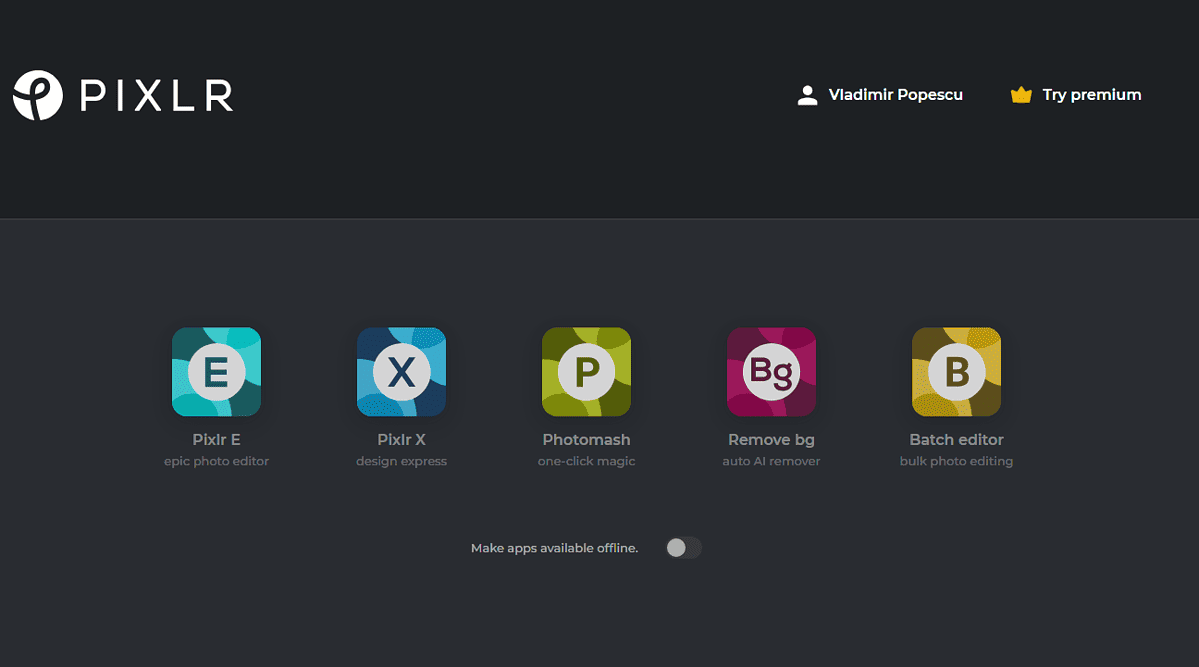 Feel free to use the tools mentioned above to enhance the colors in your images, remove backgrounds, and retouch all aspects of a portrait in just a few minutes.
Pros
Wide range of editing tools, making it helpful to beginners and professionals
User-friendly interface simplifies the editing process
Performance is excellent, with fast results and no lagging
Accessible on the web and through mobile platforms
Cons
The free version only allows three projects to be saved
5. PicWish – Versatile AI Photo Editor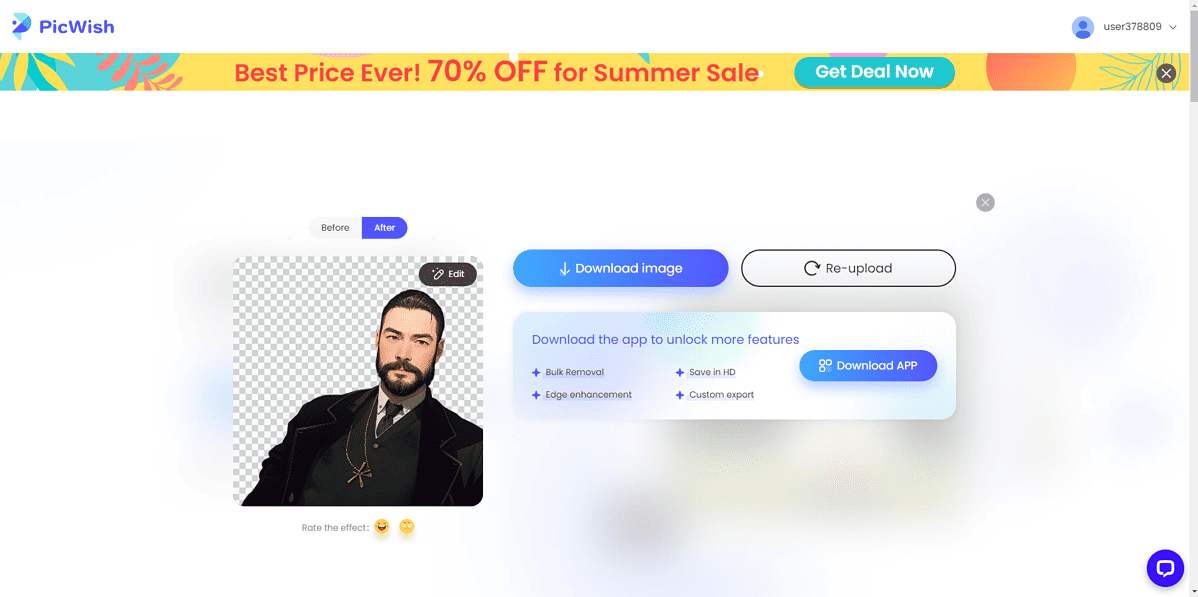 PicWish is a great AI-powered photo editor that lets you use the services freely, even though credits will impose limitations. The software is powerful and versatile enough to be considered one of the top AI photo editors on the market, even though it just reached the 4th position.
Below, you can see the entire set of AI tools offered by PicWish. All of them can be extremely useful, especially for people who don't want to or can not use more complex apps to achieve the same results.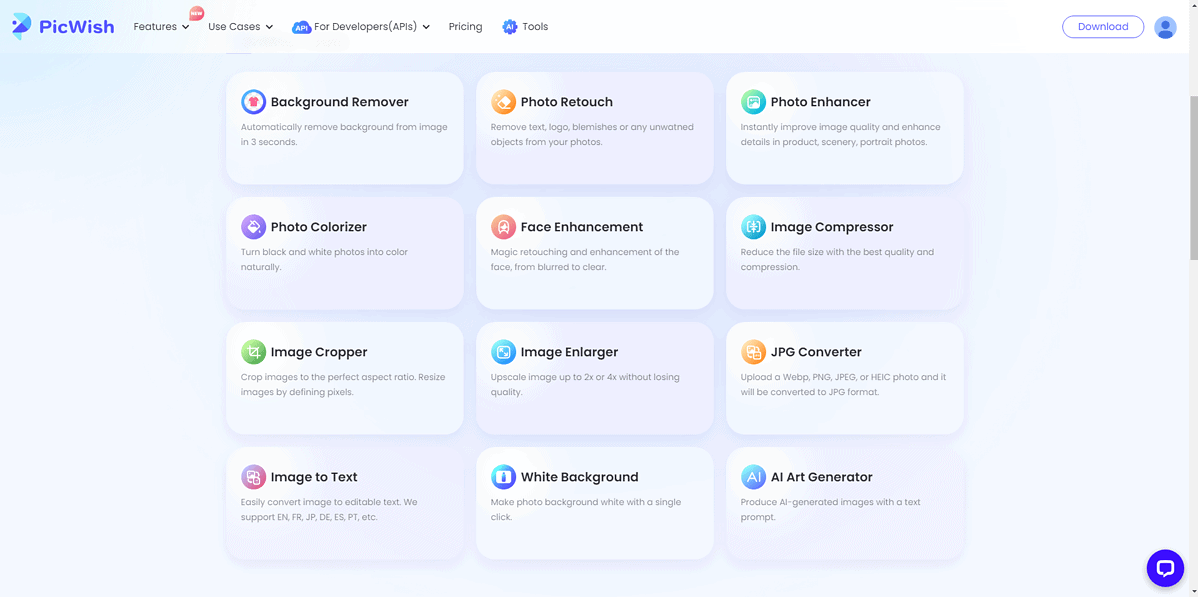 Take advantage of PicWish's AI capabilities and edit, create, enhance, and convert your images to any result.
Pros
Great AI features covering a wide range of tasks
Designed to be easily accessible for users of different proficiency
An excellent option for users wanting to experiment with unique edits
Cross-platform compatibility
Cons
Pricing and subscription details may vary depending on the type
6. VanceAI – Powerful AI Suite for Photographers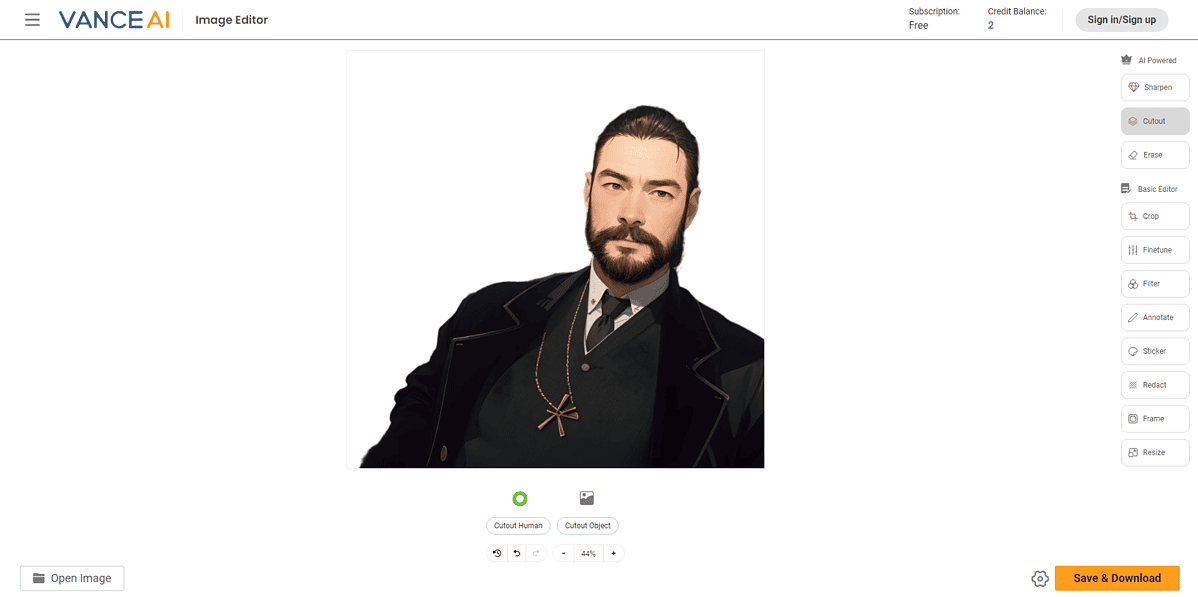 Photographers who need to upscale images frequently (amongst other actions) use VanceAI because of its versatility and ease of use. This tool is powered by an AI algorithm that, for example, can expand photos while maintaining clarity and sharpness. This is essential for photographers who must produce high-resolution content or print large-format photographs without losing quality.
The upscaling procedure is made simple by the user-friendly platform provided by VanceAI, making it available to users with various levels of technical ability.
Below, you can see the fantastic set of AI-enhancers, transformers, and restorer features that VanceAI has.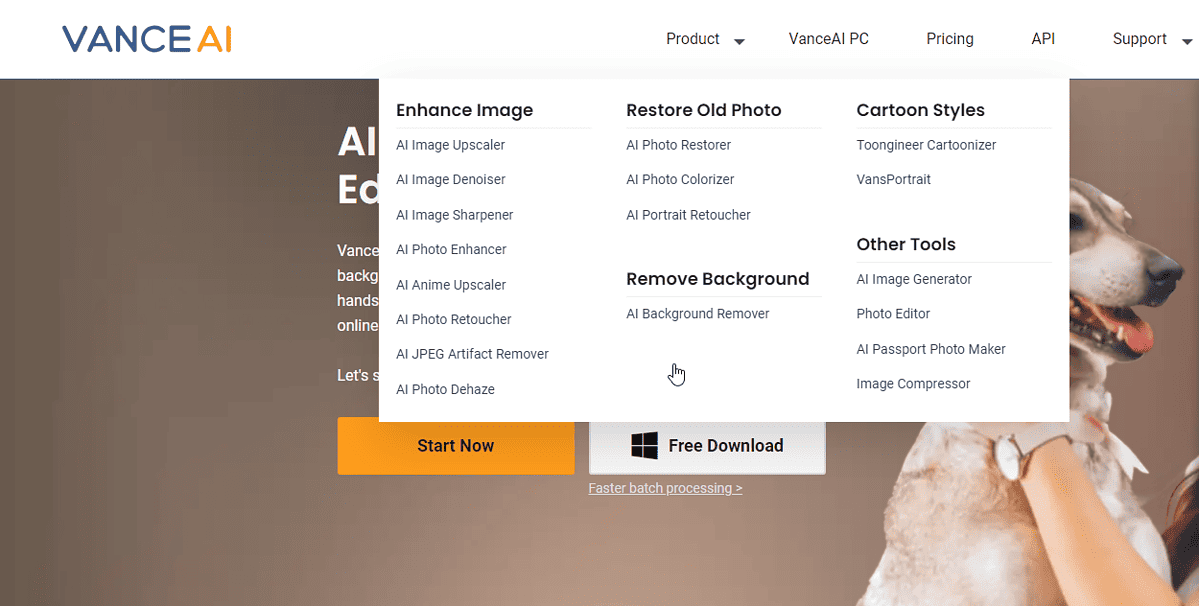 As you can see, VanceAI covers all aspects of photo editing and manipulation using AI, so check it out today!
Pros
Can preserve sharpness and quality when upscaling images
Includes a variety of other AI-powered photo tools
User-friendly interface
Provides users with quick results
Cons
Its functionality is limited compared to other software
Lacks advanced editing features
7. Autoenhance.ai  – Simple AI Photo Enhancer for Beginners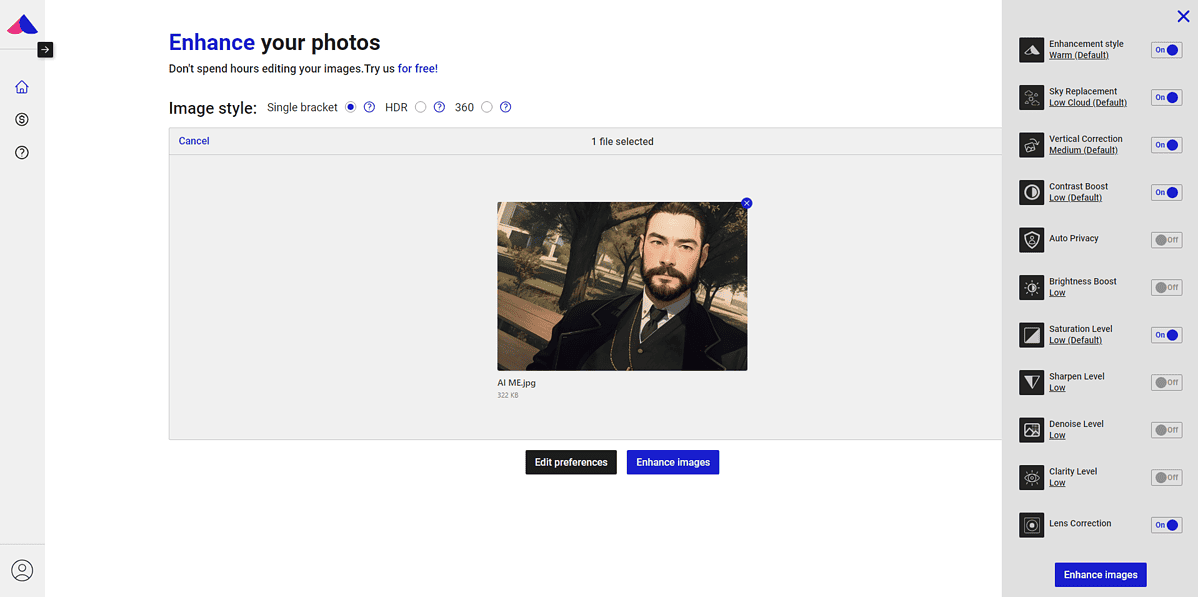 The purpose of Autoenhance.ai is to make photo enhancement more efficient. It examines photographs rapidly and makes AI-based modifications to raise their quality. This is an excellent option for anyone who wishes to save time without sacrificing image quality, but the features are limited compared to other AI tools.
You can quickly turn your average photographs into spectacular visuals using Autoenhance.ai. Its automation and easily accessible options make it a valuable tool for hobbyists and time-constrained professionals.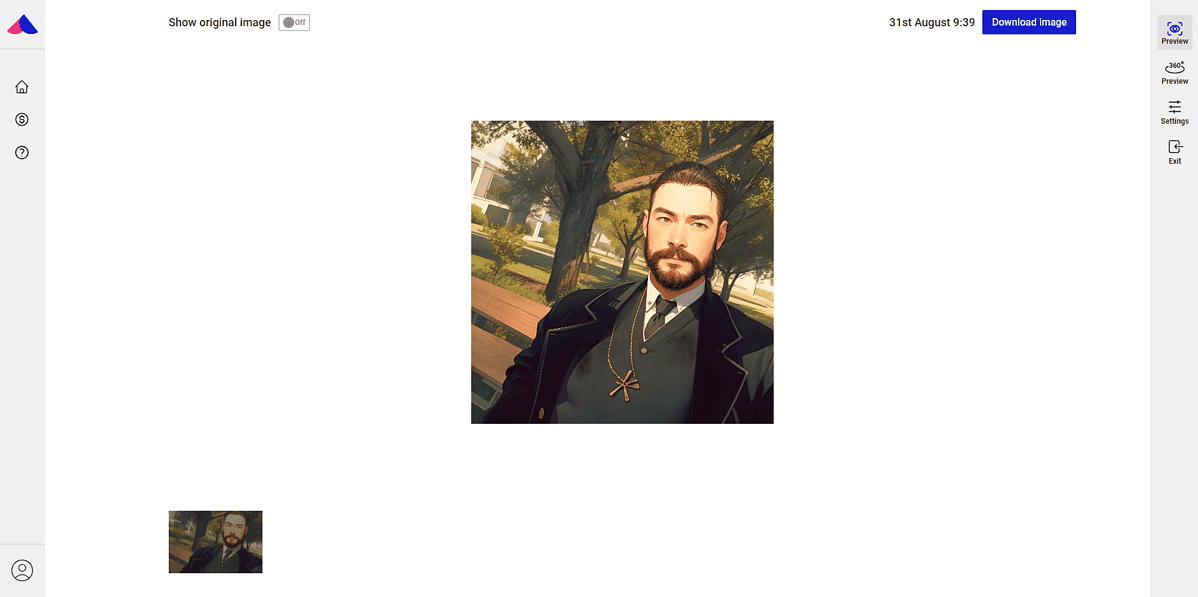 Because this AI tool doesn't contain many AI-powered apps, we chose to show you the result of an enhanced image using the software. We can assess that the picture looks brighter and clearer, but its capabilities are limited, making it useful only for specific tasks.
Pros
Focuses on automatic enhancements using AI-powered analysis
Easy-to-use platform suitable for users wanting a quick fix
Images are processed quickly
Accessible cross-platform
Cons
It doesn't include the same level of customization as other apps
Automation may limit creative control
8. DeepAI – Cool AI Image Editor with Quick Results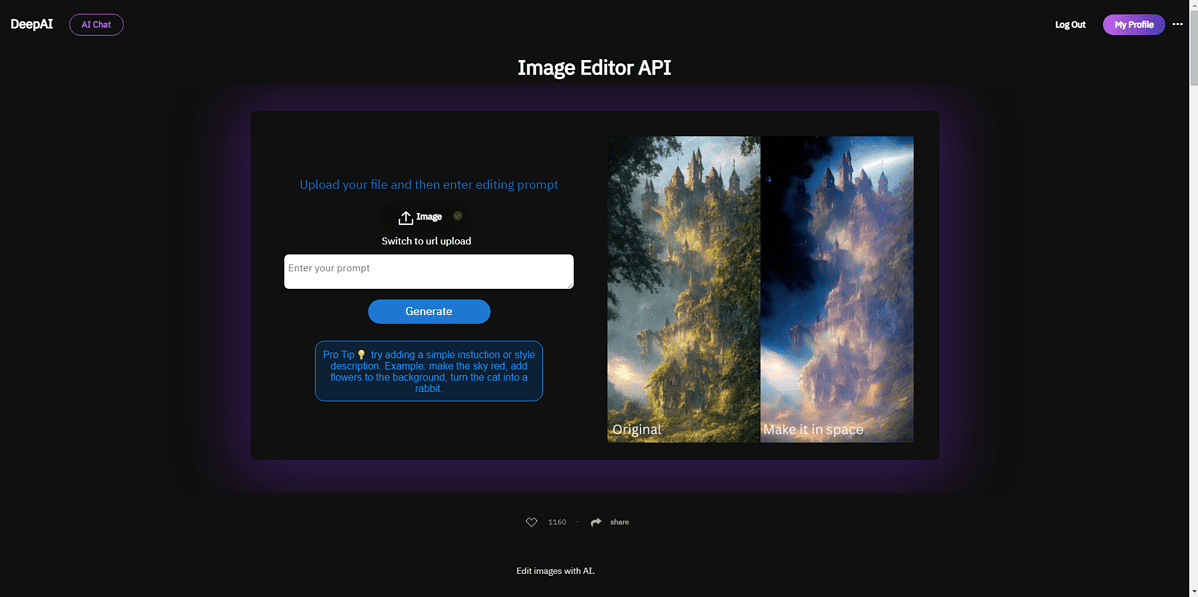 Your photographs' artistic potential can be unlocked using a tool like DeepAI. It sets itself apart by allowing users to add, remove, and modify any elements from the uploaded pictures using a text prompt. Using DeepAI, you may create entirely new visual experiences or transform your photographs into intriguing pieces of art that imitate the styles of well-known painters.
DeepAI offers the tools to easily do this, whether you want to play with surreal artwork or give your photographs the look of an old-school oil painting. Because of its user-friendly interface, it is usable for both beginners and more experienced users alike.
As you can see from the image above, we uploaded a stock picture of a woman and asked the AI to add a pair of glasses. Even though the picture does look okay, other AI tools from this list can produce better results.
Pros
Easy-to-use AI-powered image editing
Text-to-image format allows for creativity
You can freely download any produced images
It can help you enhance photos with built-in features and text input
Cons
The resulting images are not always high quality, and changes are not applied optimally
---
As AI image editing evolves constantly and more capabilities are added, choosing the right tools for your task can be overwhelming. Still, these types of articles help you make an informed decision.
Whether you're a beginner searching for AI editors that offer simple and efficient results or a pro searching for advanced capabilities, these AI photo editors have you covered.