Is Copilot the best AI companion out there? Help us find out by answering a couple of quick questions!
| Sponsored |
Technology makes everything easier, including portrait photography. In this day and age, anyone can make great-looking shots, even without significant skill or experience. Just take a look at an Instagram feed.
If you have an idea, rest assured – there is a tool that will help you realize it in a snap, and we will help you find it. However, since the abundance of programs and tasks to solve is immeasurable, we have to be more specific to get the best result.
In this article, we will take a look at some of the best portrait editing software for PC, from all-around apps to more specialized software. Keep in mind that this is not a rating. Every tool we present is good in its own right. Without further ado, let's begin!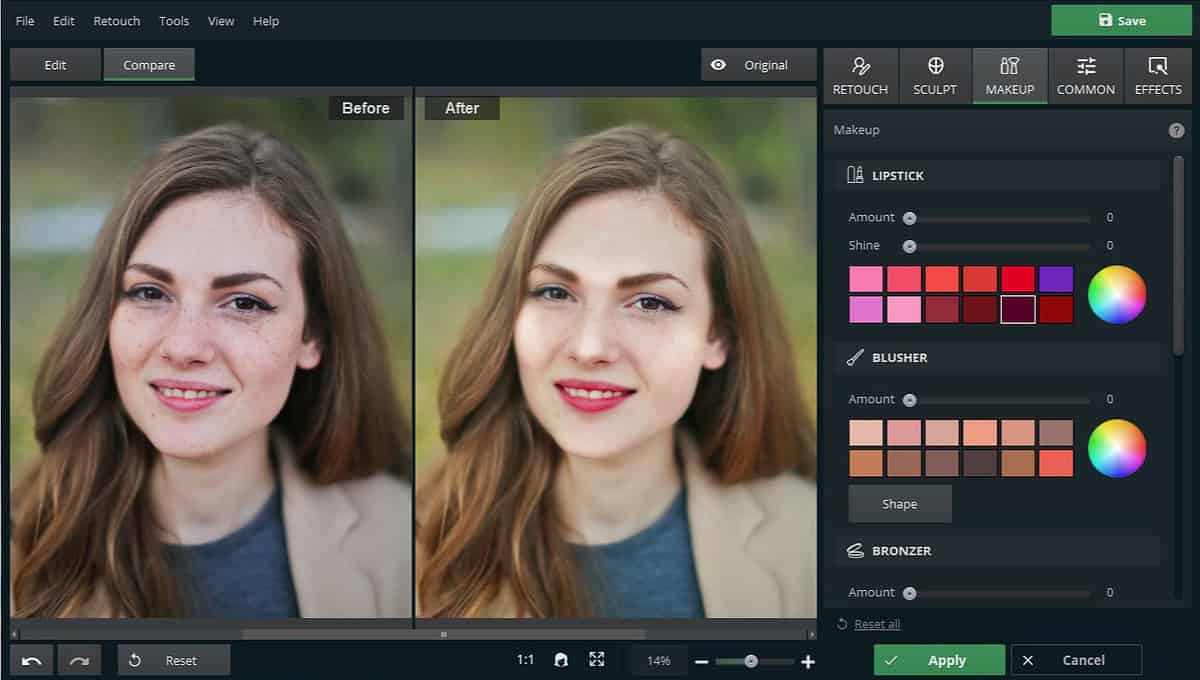 PhotoDiva is an easy-to-use portrait editor that offers a lot of effective tools. It is designed to provide pro-level editing results to casual users. Lots of one-click effects help you improve your overall appearance – remove blemishes, glare, redness, and more. Healing Brush, face and body sculpting, and other advanced tools will provide even greater control over the model's appearance.
PhotoDiva also presents editing tools to edit the image as a whole. You can swap backgrounds, crop and rotate the image, as well as apply artistic filters. And comprehensive slider settings will let you enhance the picture's clarity and color.
100+ one-click photo filters and effects
Automatic AI-powered retouch tools
Virtual makeup and hair dye application
Easy background removing or swapping
Non-destructive workflow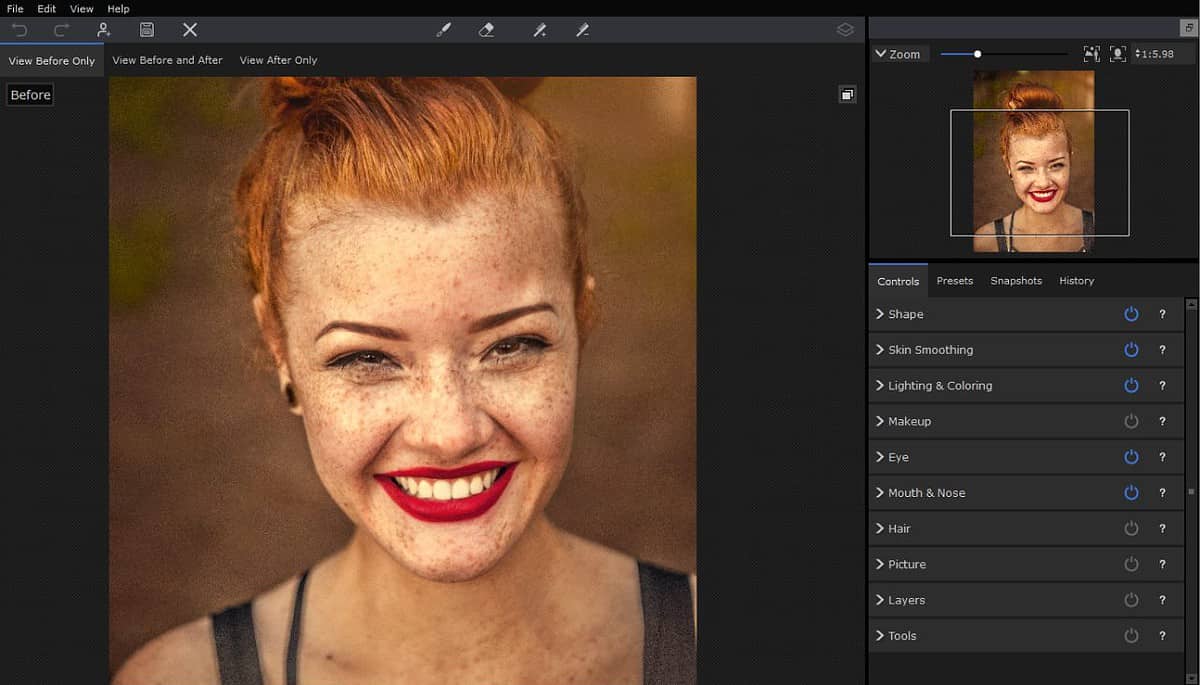 Portrait Pro is one of the best Windows 10 apps specializing in editing faces. It provides a lot of tools for manual retouching, along with AI features. Skin smoothing, wrinkle reduction, teeth whitening, makeup application, and even mild face editing are just a few of its features.
Portrait Pro can edit portraits that contain numerous faces. The application runs quickly and is generally stable, but it really strains your hardware. In addition, for its narrow focus, some customers may find Portrait Pro to be extremely expensive.
AI face detection and image filtering
RAW images processing
Natural skin improvement
Realistic virtual makeup
Batch processing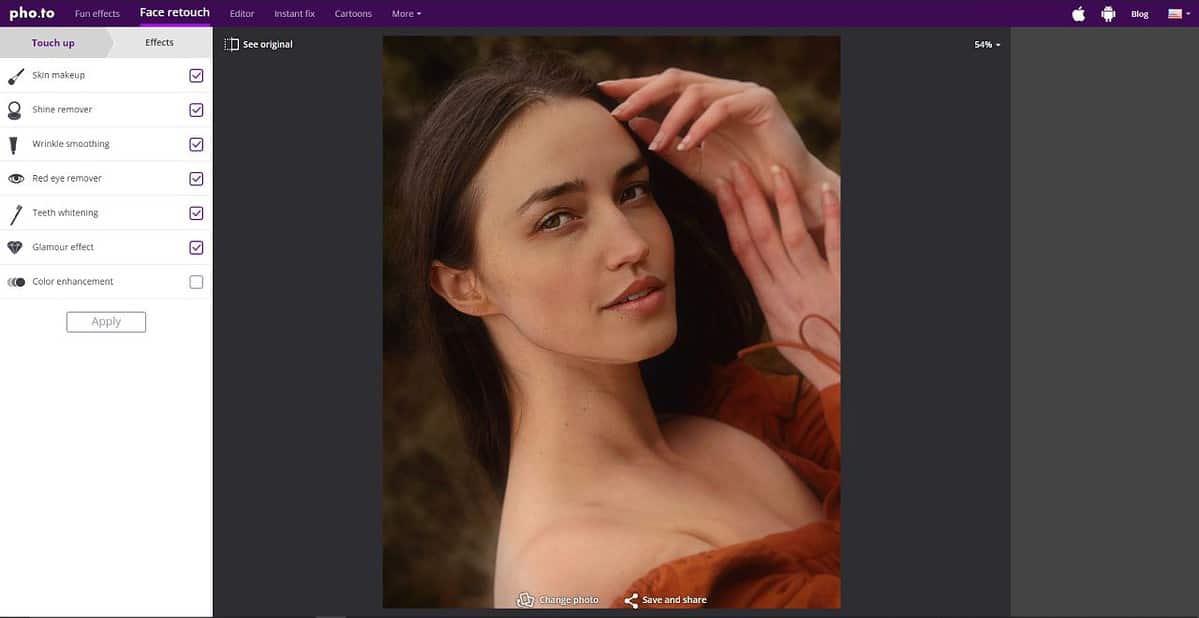 Makeup.Pho.to is web-based portrait software that helps remove skin defects, fix the color of teeth and eyes, and do much more. All of these face-retouching effects are totally automated with sophisticated face detection technology. It can even process images with multiple faces.
The "Glamour effect" option allows you to improve the portrait with a soft focus effect, give your skin a tanned appearance, and blur the background. Furthermore, the platform offers a lot of other one-click effects.
Fully automatic face retouching and makeup
Eye color and sharpness enhancement
The overall tone and color improvement
Over 40 stylish visual effects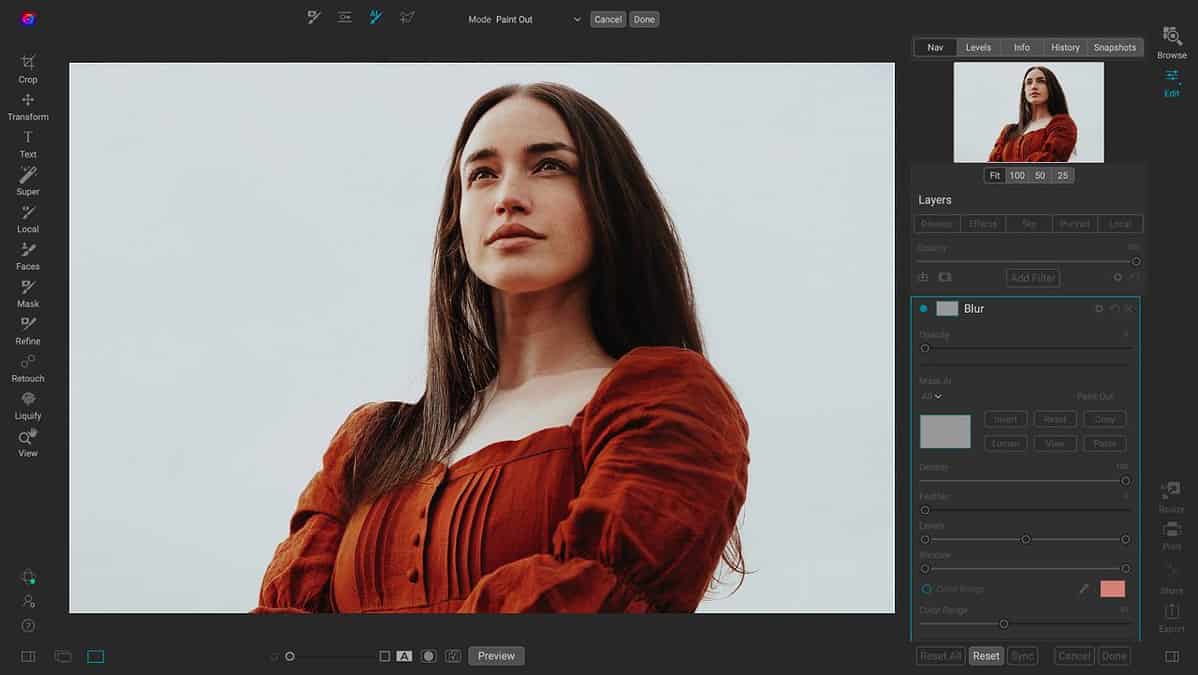 ON1 Photo RAW is a portrait editor for Windows with an asset management system, which is a lifesaver if you have to work with a great number of shots. You can add and adjust keywords and metadata and label your favorite photos. The interface is overall very comprehensive and adaptable.
This app offers a dedicated AI feature to enhance portraits automatically. It allows you to edit facial features, swap backgrounds, apply layers, and make other improvements. On the downside, ON1 Photo RAW has a notable but manageable learning curve.
The dedicated portrait AI feature
Effective asset management
Layering and masking tools
High-quality presets and effects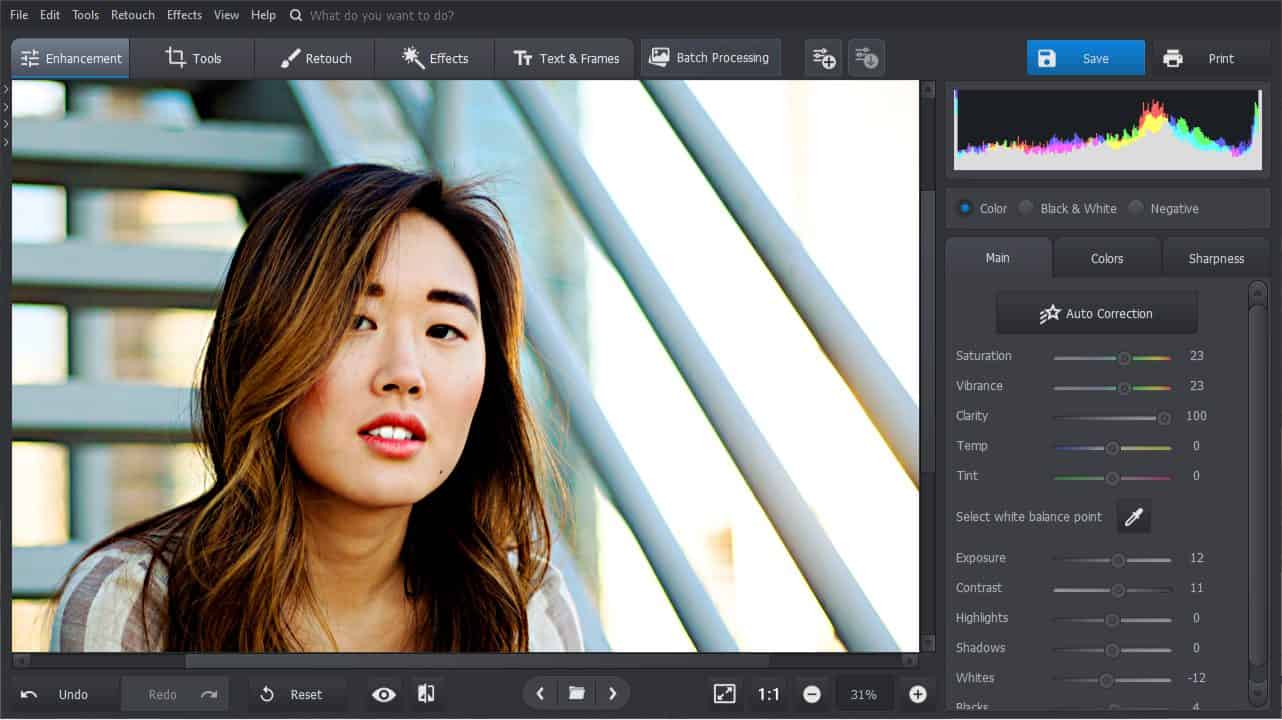 PhotoWorks is designed for a wide casual audience, and since portrait photography is quite popular, it includes a dedicated portrait photo editing module. It comes with numerous presets that may be used with just one click and provide very natural-looking results. There are also plenty of manual tools for those who want more control over the result.
Moreover, PhotoWorks also supports local adjustments, face and body sculpting, and much more. Also, this software provides every conceivable option for improving photos, from the most basic, like cropping, to the most complex, like the Curves or an easy backdrop change. You can even edit your portrait shots in batches, which is great for saving time.
450+ supported RAW formats
180+ photo filters & effects
One-click portrait enhancements
Retouch and sculpt tools
Easy background swapping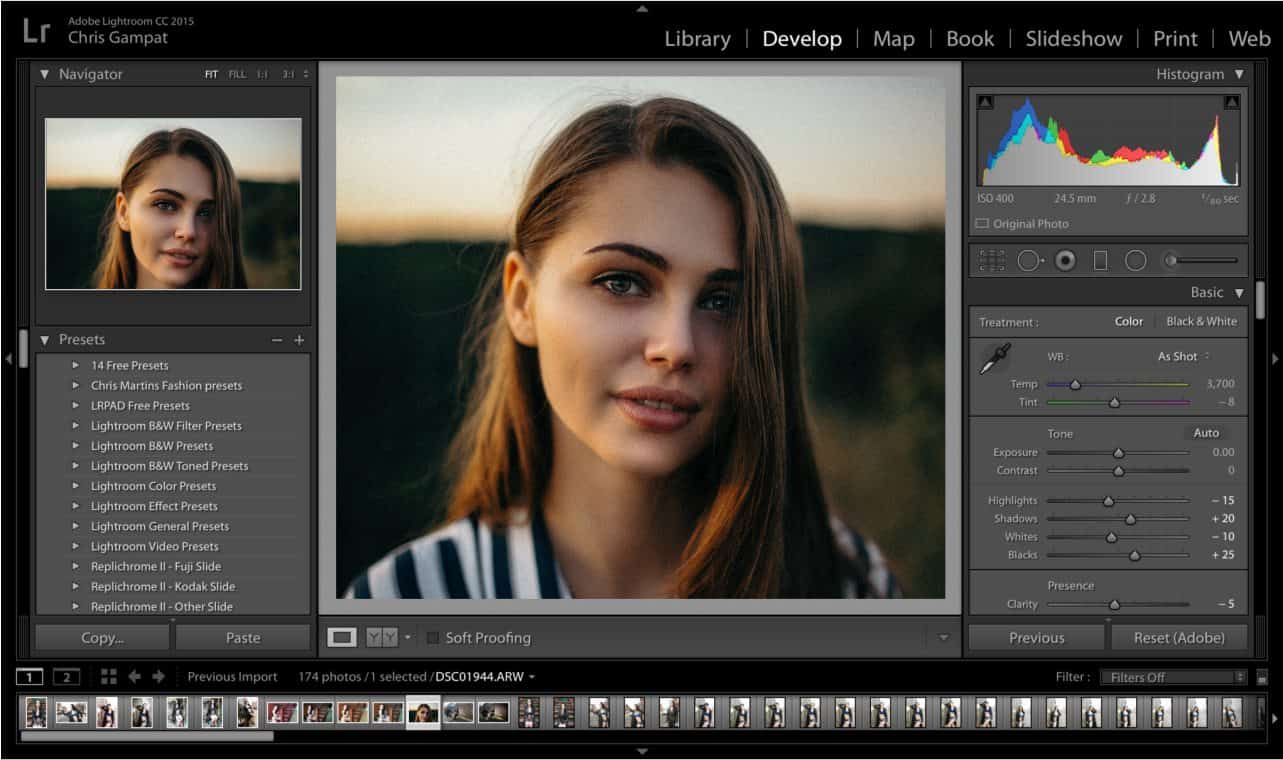 Much like other Adobe products, Lightroom needs no introduction. This well-known portrait editor for PC and Mac has everything a seasoned photographer may require. Even though there aren't many special portrait tools, they are sufficient to greatly enhance a portrait picture.
Lightroom encourages users to edit faces using local adjustments and masks since few dedicated presets are available. If you don't mind getting meticulous, Lightroom is a good option. But consider other apps if you require a headshot right away.
Effective asset management
Layering and masking tools
RAW images processing
Batch processing
Final Thoughts
By now, it should be obvious that in 2023, there will be a wide variety of portrait editing software available for Windows 11 and older. Since not every tool can meet all of your needs, it is advisable to test free trials available for the tools, so you can get a feel for them and figure out what would work best. Hence, weigh your options and make the wisest investment in the best portrait editing software for Windows for you.