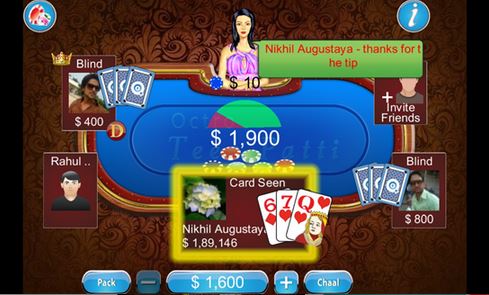 Octro games has released their popular Teen Patti online card game for Windows Phone devices. You will play with real players from all around the world.
Teen Patti by Octro is multiplayer card game that you can play with bots (computer) and with your Facebook friends anywhere in the world. You can play in public room or in a private room where you can invite your friends and decide the bet per point. In the Teen Patti game you win or lose chips. The chips have no real cash value. The game does not involve real gambling. It is completely free. If you lose all your free chips, you can buy more chips to play for longer period.
Download it for free from Windows Phone Store here.
Read more about this game after the break.

Ranking of the cards from high to low is:
1. Trail or Set (three of same rank),
2. Straight Flush (pure sequence or run),
3. Straight (sequence or run),
4. Color (flush),
5. Pair (two cards of same rank), and
6. High Card.
The main features of Teen Patti by Octro are
1. Play with real players anywhere in the world
2. Create private rooms
3. Easy and refreshing interface to play the moves like Blind, Chaal and Show
4. Live in-game chat and exchange gifts.
Teen Patti is sometimes called Teen Pathi in South India.