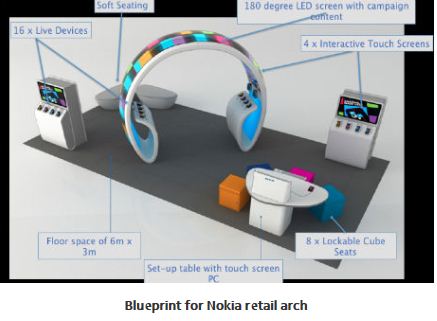 Nokia is pulling out another marketing trick out of its bag for promoting Nokia Lumia Windows Phones. I guess this is going to be huge and make impact more than others. Nokia is planning to set up a  retail experience near London Olympic Stadium where thousands of visitors can experience these new devices.
The new Nokia Lumia phones will shine at the London Olympics 2012 site from today where up to 750,000 people a week will be able to get hands-on with the handsets.

A headphone-shaped arch like the one unveiled at Nokia World 2011 has been installed at Westfield Stratford, the shopping mall located at the gateway to the Olympic stadium.

The innovative retail experience, which opened yesterday, will be seen by visitors from all over the world and is set for a global launch.

It is designed to allow shoppers to see, touch and play with the Lumia 800, ask questions about it, and then go to one of the nearby phone shops to buy it.

The new owners will then be free to go back to staff at the arch for help to transfer contacts and other media from their old phone.

The outside of the arch is a screen which carries information and advertising for products, making an eye-catching attraction for customers.

The Lumia 800 would be an ideal phone to use at the Olympics because of its amazing camera and Maps software which will guide users around the site.

Westfield Stratford has already become the busiest shopping centre in the UK since opening in September and has 730,000 visitors a week.
More at Nokia Conversations.