Combining artificial intelligence with human creativity has created many applications with various capabilities, including Discord AI art generators and even amazing 3D AI art generators.
Among AI generator types, AI girl generator tools have also been made, allowing users to create virtual female characters from scratch.
The results are incredibly realistic, and different tools allow users to customize every image characteristic, no matter if you want to create AI art for Etsy, or revamp your YouTube channel with some great thumbnails.
AI girl generator tools use complicated algorithms to bring virtual characters to life, imitating human features, expressions, and styles. These tools can benefit creative expression, gaming, storytelling, and animations.
1. SoulgenAI – Best AI girl generator overall
If you're looking for the best AI girl generator, SoulGen should be at the top of your list of options.
This NSFW art generator is powerful and reliable, and it's packed with a lot of features that help you create AI-generated content. One of the most important feature of SoulGen is that it provides the option of creating images of Real Girls or Anime Girls. Its ability to produce adult images of real-life girls or anime-styled characters makes it one of the best AI girl generators.
SoulGen is also among the top choices when it comes to AI anime generators. This online tool allows you to generate AI NSFW manga, like hentai, from text input or provided prompts without limitations. Even more, you can also remove any blurred images.
This efficient AI NSFW art generator is also quite simple and easy to use by anyone. You only need to enter your prompts as text tags and select the desired style to get excellent results. Furthermore, you may also see a lot of images that other users worked on.
Price
SoulGen is a free NSFW AI image generator. However, to fulfill your requirement of creating NSFW content, it is good to consider buying its pro version, which costs $9.99 monthly or $69.99 annually.
2. Promptchan.ai – Great girl generator options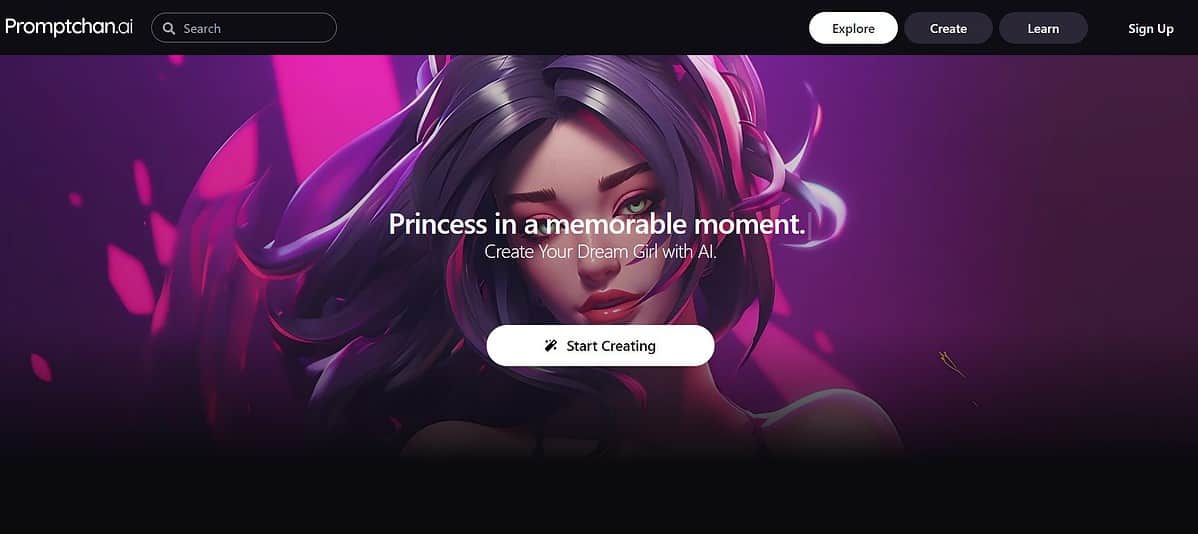 Promptchan AI
is the most advanced AI girl generator tool. Promptchan is free and fully uncensored, bringing all your wildest fantasies to life. With this web app, you may create anime/hentai and fantasy images with just a few clicks.
Furthermore, you can explore over 3 million hentai images made by other users. Just click the Clone button on your favorite image to copy all its settings and make your changes. Promptchan simply makes AI creation easy, you don't need any graphics editing skills.
An outstanding feature is that you may also upload any image and use the built-in editor to make your sexy changes. For instance, removing clothing is as easy as checking a box.
Key features:
Acces to over 3 million images from the community
Clone images and prompts made by others
Choose from Anime/Hentai, Realistic, and Fantasy art styles
Upload your own images and edit them
Change the position of your AI waifu by using the readily available pose templates
Pricing:
Price Start: Creating for free today
Premium plans: Starting at $5.99
3. Seduced AI – Great quality NSFW artwork
SeducedAI is clearly one of the best and most advanced NSFW AI generators out there. It covers both softcore and hardcore adult content, providing you with the freedom to explore specific fetishes and positions.
You can also upload your own images to replicate poses or reimagine explicit scenes with added details and different styles. Whether you're into hyper-realistic or anime/hentai content, SeducedAI has you covered. Plus, it allows you to combine multiple extensions (fetishes) to create unique content that suits your preferences.
The main features of Seduced.AI are:
Very easy and comprehensive steps for content creation
Huge set of available images
Unlimited number of possible combinations
Pricing:
The prices start from $10/month for 120 credits and go up to $50/month for 750 credits. You need one credit to generate an image.
4. Charat V – Best for VTuber Character Creation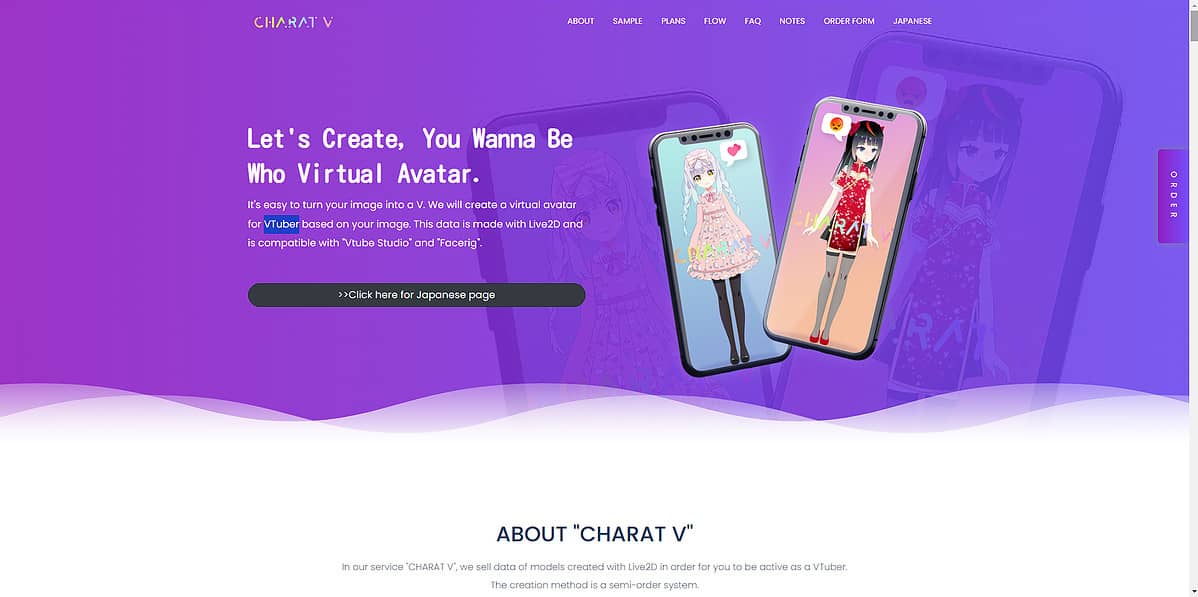 Charat V is a revolutionary piece of AI software that captured the attention of writers, artists, and other creator types by offering users the possibility of creating a customized VTuber Live2D model, which can be used in various settings.
Using the Charat Genesis feature, users can create full-body models that include basic animations, which can be used seamlessly inside Vtube Studio, PrpLive, Facerig, and Animaze. The delivery of the finished product usually takes around one week but doesn't surpass 30 days.
After importing the data from Charat into one of the software options above, you can start streaming or shooting videos with your new character.
Pros
Great range of character customization options
Creates full-body Live2D models with basic animation
Delivery usually takes a week
High-quality results with a wide range of customization for Premium plans
Compatible with Vtube Studio, PrpLive, Facerig, and Animaze
Cons
Some users might find the anime style not too useful
The free plan only includes limited customization options
5. Veed.IO – Best Character Creator with Video Tools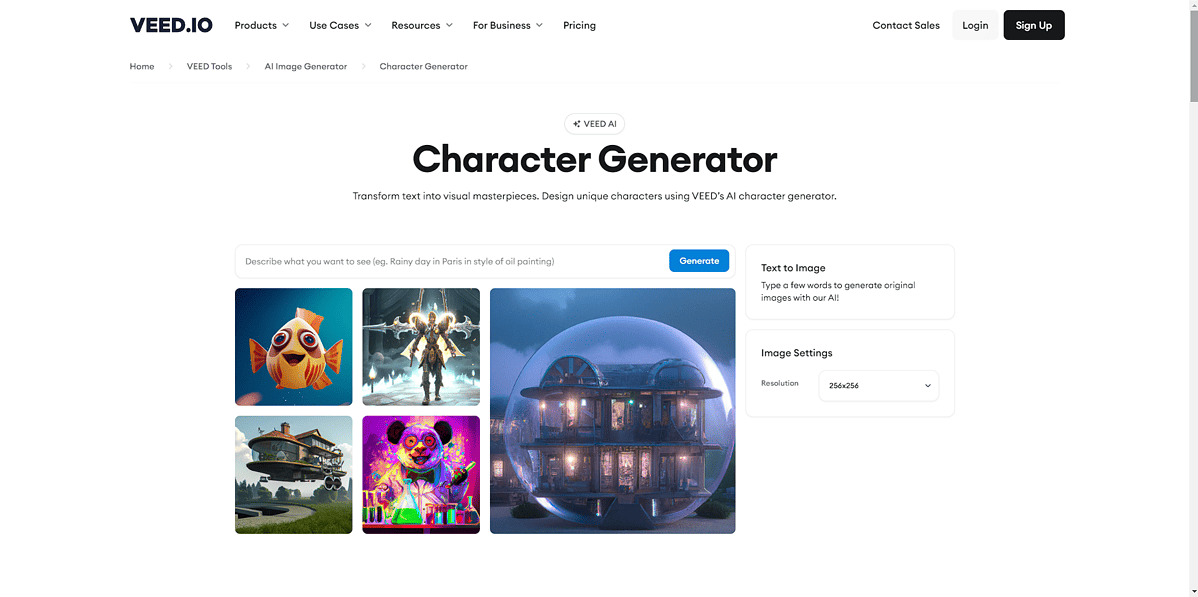 Veed.io is an AI girl generator and video-creation platform with a character generator, allowing users to create unique characters with just a text prompt.
Whether you're a proficient designer or want to have some fun exploring the results of your prompts, the Veed.io Character Generator will keep you occupied for hours.
Users can choose from a few resolutions for the results, including 256×256, 512×512, and 1024×1024, making it useful for various activities. Even more, you can also edit the image by using the built-in Image Editor.
The editor comes with various unique tools, including video audio samples, the capability to add subtitles and text, and even pre-created templates.
Pros
Powerful video-creation platform with a variety of AI customization tools
AI-powered editing tools for teasers, explainer videos, etc.
Unlimited number of text-to-image creation
Option to download the character image or integrate it into a video
You can add music, text, sound effects, etc.
Cons
The large amount of customization options could overwhelm beginners
---
Choosing the right AI girl character creator software will make a massive difference in your creation process, whether you're a professional looking for inspiration or a novice enjoying the AI-image generation capabilities of this outstanding technology.
The software options we recommended in this guide covered a variety of possible fields, including creating characters for your virtual YouTube narrator, video editing and customization, and protecting the needs of both professionals and amateurs alike.
Feel free to share your choice using the comment section below this article.