AI has certainly taken the entire world by storm. With the rise of tools and technologies like ChatGPT, Midjourney, DALL-E, and many others, the world of AI is continually expanding across industries, including design and animation.
Even if a lot of users recently expressed themselves negatively over the use of anime details created by AI in a Netflix short, the need for such tools is rising.
A lot of AI anime generators are available in the market. Choosing the best AI anime art generator is not always an easy decision to make, especially if you are willing to pay for it. Therefore, the goal of this article is to discuss the best free AI anime art generators in 2023 to bring your imagination to life.
7 Free AI Anime Generators to Create Stunning Art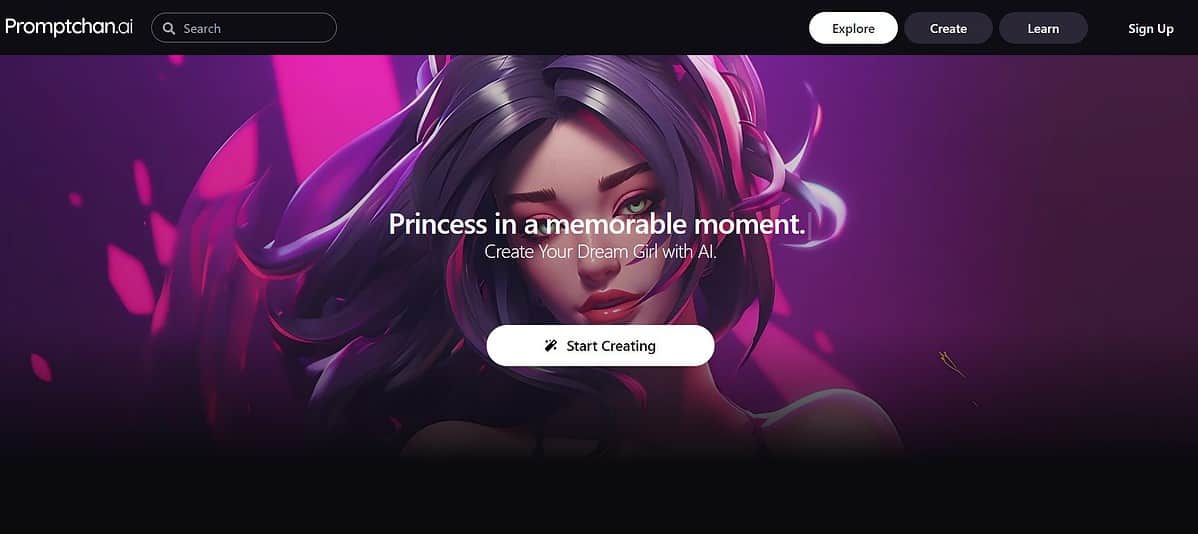 Promptchan AI
is the most advanced Anime Image Generator. Promptchan is free and fully uncensored, letting your wildest fantasies be brought to life. Create anime/hentai and fantasy images.
Explore over 3 million hentai images made by the community. Simply click the Clone button on your favorite image to copy all its settings and make your changes – AI creation has never been easier.
Upload any image and use the powerful new Edit tool to make your sexy changes. Want to remove clothing? It's as easy as selecting a box.
Key features:
Explore 3 million+ images from the community
Choose from Anime/Hentai, Realistic, and Fantasy art styles
Clone images and prompts made by others
Upload your own images and edit them
Use pose templates to easily position your AI waifu
Pricing:
Price Start: Creating for free today
Premium plans: Starting at $5.99
SexyAI is a lightning-fast AI art generator capable of producing high-quality images including NSFW content. Besides the quality outputs and fast generation speed, the best thing about it is that it's FREE!
It has a clean and user-friendly interface making it easy for anyone to successfully generate their desired image result. SexyAI also offers the world's first NSFW AI Video generator as well along with several other advanced features like priority queue, image variations, and batch imaging which are available to subscribing members.
To generate, simply enter a prompt and click the generate button. There's also an option to enter a negative prompt which removes unwanted content from your image.
The online tool offers 10 different models (listed below) to choose from, including the most cutting-edge models, like SDXL. Each model allows you to create all different types of wonderfully vivid and explicit images.
Realistic / Porn
Realistic / Artistic
Realistic
Hentai / Anime
Homoerotic V2
Furry
Reliberate
Realistic Vision
DreamShaper
Babes
Experimenting with the differing outputs from each model will help you to generate any type of NSFW images you desire.
SexyAI is very capable of generating all image types including hentai, anime, furry, and sci-fi/fantasy. The web app also has a vibrant and rapidly growing discord community boasting over 10,000 members since it launched in April 2023.
The members are extremely helpful with prompting and generative educational topics.  SexyAI launched in March 2023 and has generated over 500M images so far!
Price
FREE! Pro Membership costs $10 per month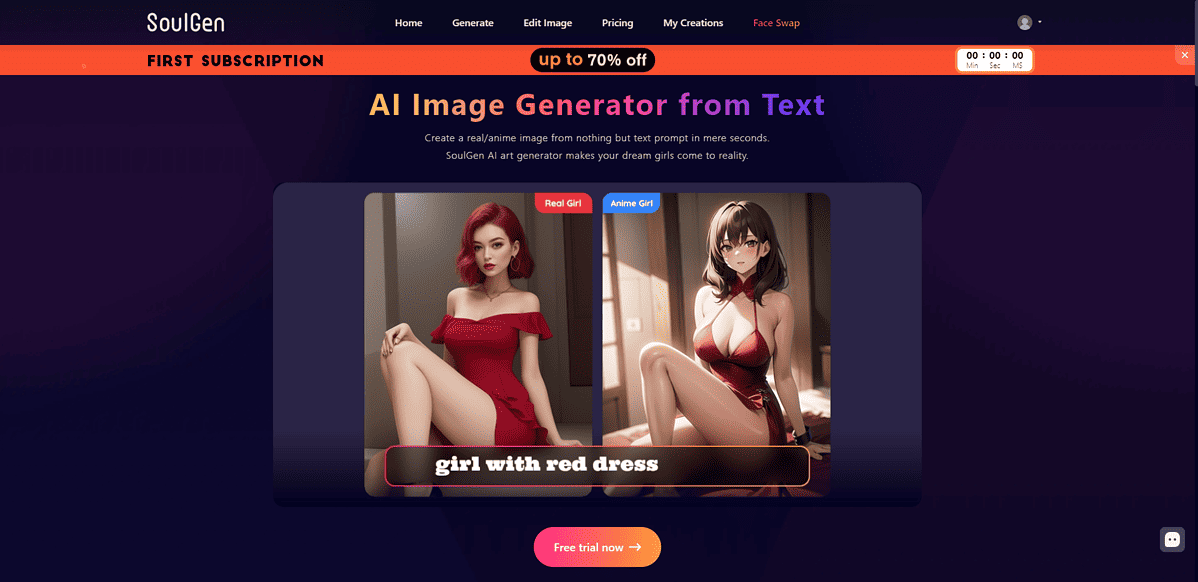 SoulGen AI is an online AI anime art generator that specializes in generating realistic and anime NSFW images. It provides options to create AI anime characters, edit generated image and expand photos.
You can easily generate AI anime girls by entering text prompt within seconds. Besides, you can also customize your imaginary hentai girl's appearance on the AI image generator. Type what you need, and AI will do magic on the hair color, clothing, pose, etc.
Moreover, SoulGen AI supports image editing and extending. So, you can not only ask AI to draw brushed parts on your anime picture, but also add new elements based on the uploaded image. With SoulGen AI art anime generator, you can bring your description to life with stunning and intricate anime character designs.
Key Features of SoulGen AI:
AI generated anime image from text prompt
Anime & real girl style options
Reference tags for custom character appearance
Celebrity lookalike option for realistic girl generation
Built-in image editor, available for changing objects
AI image extender to generate new elements
Price
Limited FREE trial for AI generated anime images. $9.99/ month or $69.99 for 12 months. 70% off for the first subscription.
Getimg.AI is another anime AI art generator that is gaining popularity mainly due to the fact that it's trained on multiple models. As a result, it is capable of generating AI art and AI anime characters from your prompts.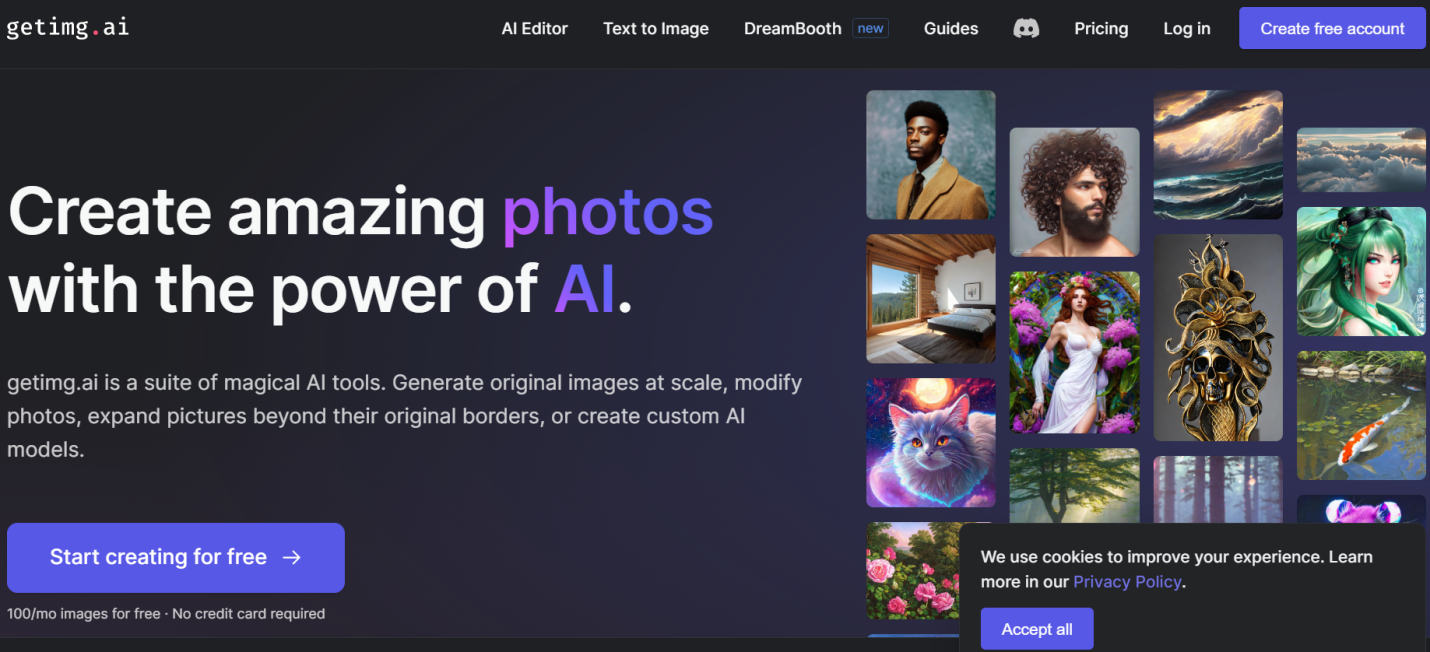 One of the unique features of Getimg.AI is that it has a ControlNet feature that is capable of image-to-image generation. It is capable of preserving the primary attributes of the original image while enhancing the entire layout.
The main features of Getimg.AI are:
Supported by state-of-the-art GAN technology.
Various customization options.
Quick and free anime avatar generation.
Pricing:
Free trial option. But it needs a subscription for 12$ per month after the credits expire.
With Cartoonize you can go from photo to cartoon in one click. With its set of tools, you may turn your photos into truly unique art.
In fact, you can use the cartoonizer, sketches, and hundreds of other specialty filters and effects to transform your images. Using Cartoonizer, you can also remove the background, crop and resize the images, and adjust or replace color to beautify your photos.
Here are some of its most important benefits:
Extensive library of high-resolution stock photography
Premium vector graphics and diverse icon sets
AI cartoonizer to turn your photos into works of art
Pricing:
Free option with limited functions. A subscription starts from $4.99 per month.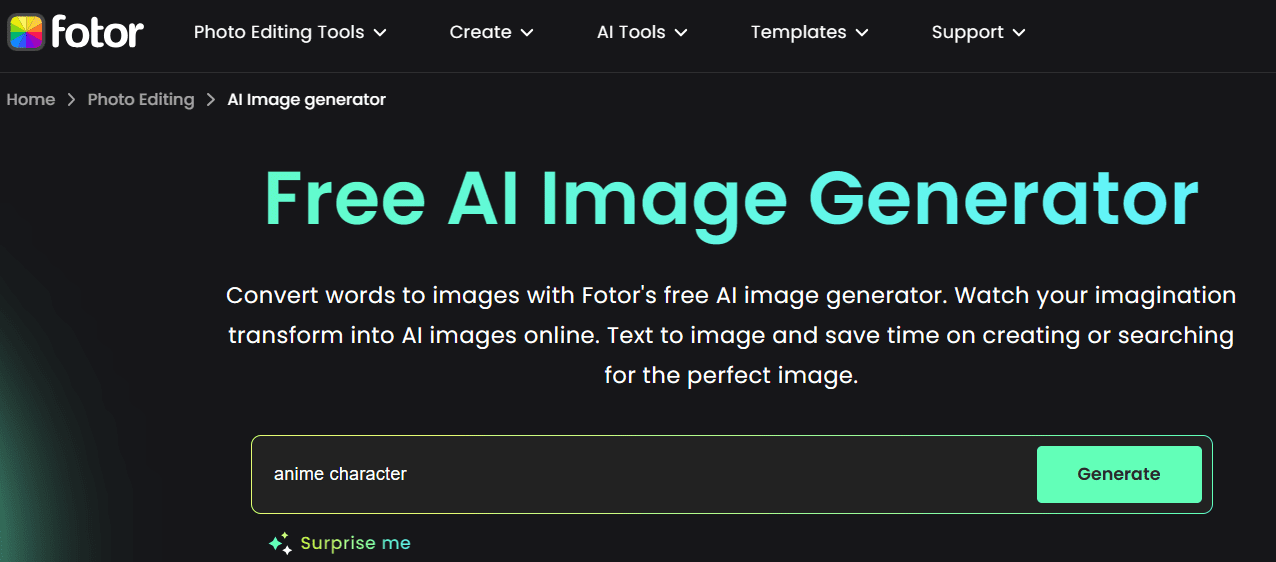 Fotor is an AI-powered Image Generator that helps you edit photos with free online photo editing tools. Using its free version, one may crop photos, resize images, and add text, effects, or filters to the selected photo. Whether you want to create a design or a collage of searched items, it's all possible using Fotor.
The interface of Fotor is easy-to-use and lets you search for any things online, including anime characters. With this tool, you will get access to classy anime characters that you haven't viewed before. If you want, you may also remove the background from any image, or enhance an image to make it vivid and sharp.
Key features:
Lets you remove an object from any image, along with adding amazing effects to your chosen photos.
Supports cropping, resizing, and enhancing photos to make them look more bright.
Makes aesthetic photo collages with Fotor's collage maker in no time.
Supports generating completely new images purely based on your imagination using the text-to-image feature.
Pricing:
This fictional image generator tool works on credits and you get a free credit of 5 after you sign up using your email id. This software also lets you generate images using the five credits you get before. After your free credit expires, you need to purchase the credits based on your needs. The plans available at Fotor are as follows –
Monthly: 200 credits at $9.99, 500 at $19.99, 1000 at $35.99, 2000 at $59.99
Yearly:  200 credits at $2.99, 500 at $5.99, 1000 at $10.83, 2000 at $17.99
Canva Pro is the paid version of the widely used Canva web application. This is more of an all-in-one kind of application and lets you generate anime characters that look very original and real. Working on Canva Pro is quite simple as it allows separately adding texts, changing backgrounds, filling with different elements, and a lot more other things.
You don't need to worry about the technicalities of the AI algorithms as all of the work will be done in the background. Just go for this tool and you will be amazed by what it can do for you.
The following are the prominent features of Canva Pro:
Create custom anime art from your photos.
Offers free as well as paid versions.
Pricing:
It offers a free version and paid version starting from 49$ per month.
FAQs about AI Anime Art Generators:
1. Is there a Free AI Animation Generator?
All of the AI anime art generators mentioned above offer trial versions in which you can obtain free credits to create anime characters of your choice.
2. How Do AI Art Generators Work?
AI art generators are powered by machine learning algorithms. These algorithms are responsible for analyzing a massive amount of data from numerous sources, such as photographs, paintings, and art.
The working of an AI art generator mainly starts with pre-processing the input data and turning it into a mathematical representation that can be understood by the generator. Various techniques, such as neural networks and evolutionary algorithms, are then used to generate new artwork as per the prompts using the existing examples.
3. How To Use AI Anime Generator?
All of the tools follow similar steps. Take one as an example:
Launch the official website and visit the Generate option.
Sign in if you have already subscribed to a package or use the "Free Trial" option.
Enter the prompt as per your requirements and use the different pre-existing tags to make the results more accurate.
Select the number of outputs you want. You can also choose the option of an anime girl or real-girl image. Moreover, you can also upload a look-like image to obtain an animated picture.
Click on the Generate option to obtain the results and save them for later use.
Start to Make AI-Generated Anime
It is evident that AI is changing the world in many ways. Both the personal and professional usage of AI art generators is expected to keep increasing in 2023 and beyond. The 7 best AI anime generators discussed in this blog post are all meant to help you create anime characters and AI art quickly and easily. You should definitely give them a try to fulfill your AI anime generation requirements, even if some big names from the industry are worried about the usage of such tools. But at the end of the day – it is not forbidden to make a hobby out of creating anime, right?