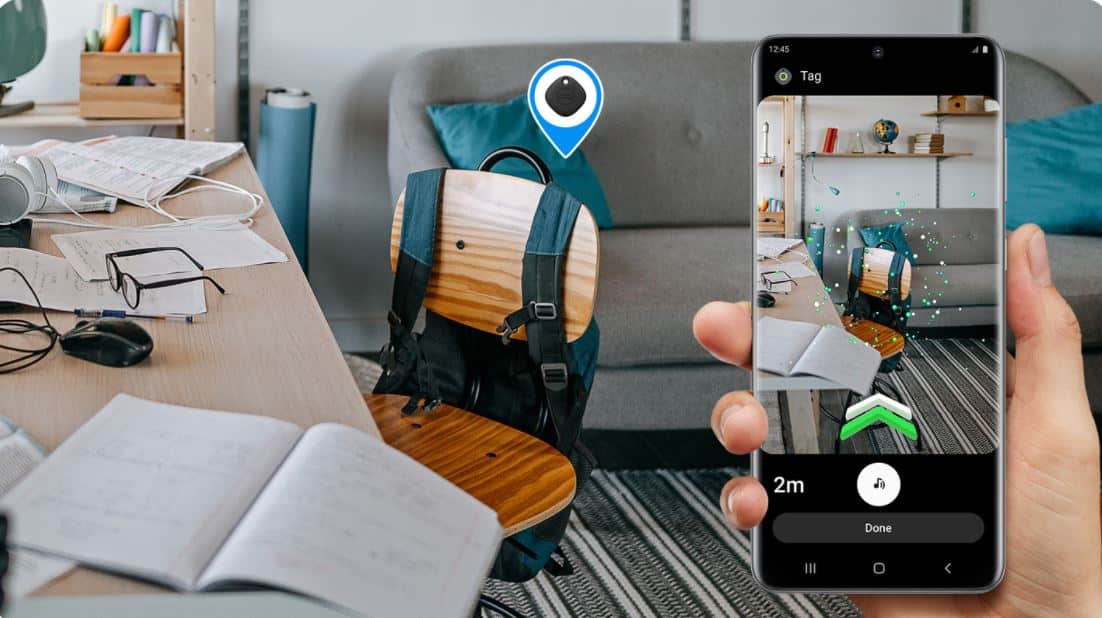 Last month, Samsung announced Galaxy SmartTag+ tracker, a competitor to Apple AirTag. The Galaxy SmartTag+ features both Bluetooth Low Energy (BLE) and ultra-wideband (UWB) technology so you can find your products with greater accuracy. You can also use AR to get visually guide towards where your missing product is located using your smartphone's camera. The new Samsung Galaxy SmartTag+ is now available for order from Samsung.com.
AR Finding gives you a uniquely visual way to locate a lost item with a SmartTag+ attached. It even lets you know you're close with a glimmering green light when you're at the destination. It shows you the way on your phone screen through the SmartThings app.
Bluetooth powered SmartTag+ attach easily to keys, bags, or personal belongings. If you think your lost item is nearby but can't quite find it, tap the ring button on your mobile and follow the familiar sound of your ringtone calling for you at the volume you set.
Is your tagged item out of range? Even when offline, you may be able to use nearby devices to find it for you through those who have opted into the Galaxy Find Network. You can even use other devices you own to locate your items.
With SmartTag+, your smart home just got way more convenient. SmartTag+ can control various SmartThings devices with just a click of a button, so you can turn on compatible lights in your home before you even step inside.
You can order the Galaxy SmartTag+ from Samsung.com.