Are you seeking a detailed CCleaner vs TuneUp comparison? If so, you're not alone! 
It's not uncommon to have a slow PC and be unable to find the right system cleaner. CCleaner and TuneUp are two popular PC optimization tools but which one fits you better? I've used both extensively and noticed some significant differences between them.

I'll walk you through their features, ease of use, and pricing in detail. I'll also share my own experience with these apps along the way to help you make an informed decision. 
So, let's get down to business!
CCleaner vs TuneUp – Features
Let's dive deep into the key features of CCleaner and TuneUp, and compare them in detail.
Performance Optimization
CCleaner and AVG TuneUp both optimize system performance on your computer. CCleaner does so by cleaning and decluttering your system. It cleans your computer's junk files, registry, browsers, and a lot more. 
TuneUp also improves your PC's performance but it offers a broader range of tools for that. For instance, its Automatic Maintenance feature performs various tasks on a schedule. These include cleaning up junk files, updating software, and defragmenting the disk. 
Moreover, AVG Tune Up also stands out with its Startup Optimizer and Deep Clean features. Startup Optimizer identifies and disables unnecessary startup programs to boost your computer's startup time. Whereas, Deep Clean removes junk files that are hidden in deep system folders.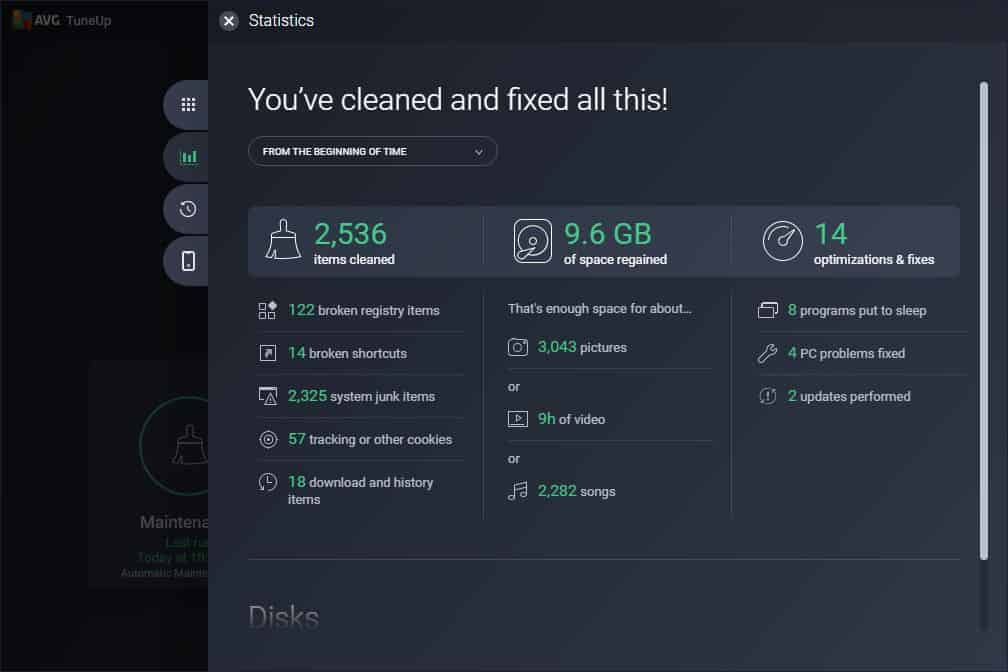 In simple words, both CCleaner and AVG TuneUp improve your system's performance. While CCleaner cleans junk to do that, TuneUp also packs other performance optimization features like Deep Clean. 
Junk Cleanup
Though both CCleaner and TuneUp help with junk cleaning, TuneUp is more advanced. Speaking of CCleaner, it removes temporary files, cookies, and other browser data. It also cleans up junk files from system folders like the Recycle Bin and the Downloads folder. 
TuneUp, on the other hand, removes a wider range of files, including:
Temporary files

Cookies

Browser history

Log files

Unused software installers

Duplicate files

Empty folders

Broken shortcuts.
I'd say that CCleaner is still pretty good for basic tasks. But if I needed a more versatile cleaner, I'd choose TuneUp. 
Registry Cleaning
Registry cleaning is a sensitive process as it involves editing and removing redundant items from the Windows Registry. To ensure your PC Optimizer doesn't delete registry entries improperly, a reliable cleaner is a must. When it comes to CCleaner vs TuneUp, both have registry cleaners but TuneUp's is more trustworthy and versatile. 
CCleaner's registry cleaner removes invalid registry entries, like orphaned keys and broken references. However it doesn't perform a deep scan of the registry, and sometimes, it doesn't identify all registry problems. But it does stand out with its backup feature that ensures all changes made to registry entries are reversible.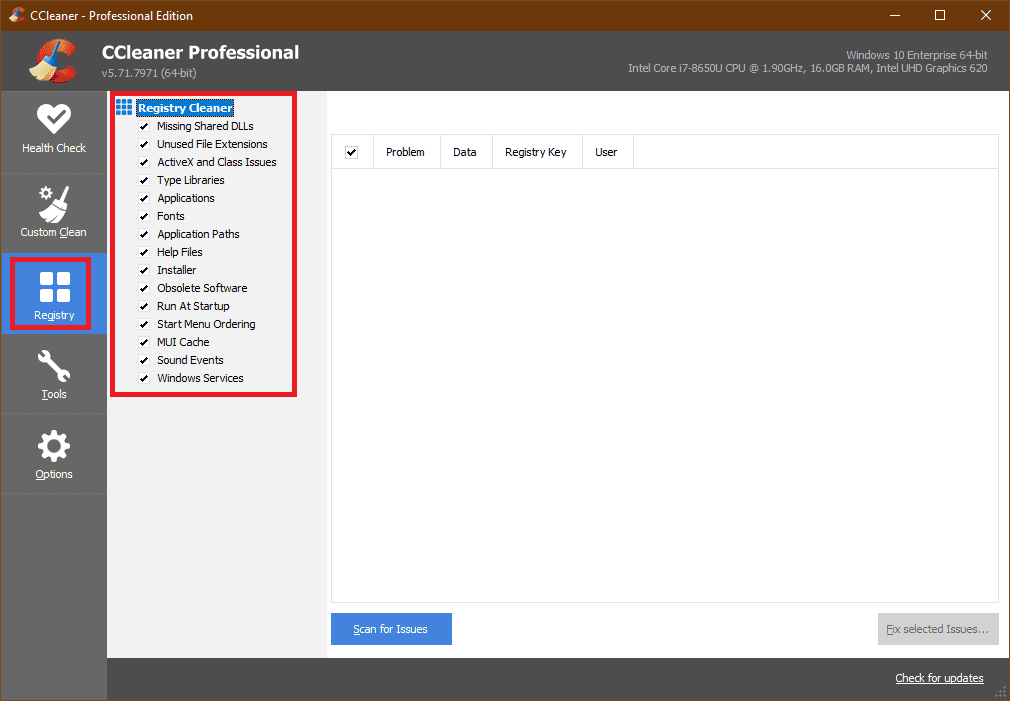 On the other hand, AVG TuneUp's registry cleaner is quite advanced. It identifies a wider range of registry problems, including invalid entries and corrupted keys other than broken references. In my experience, TuneUp's registry cleaner is also more powerful than that of CCleaner. 
Startup Manager
CCleaner and TuneUp both pack startup manager tools to reduce your computer's start-up time. CCleaner's version is intuitive and easy to use. It gives you a list of startup programs and lets you choose which ones to enable to disable. 
AVG TuneUp gives more flexibility in Startup management. Other than enabling or disabling programs, it also lets you rate them based on their impact on your PC's startup time.

Software Updates
Like most PC optimizers, CCleaner and TuneUp both include software update features. CCleaner's software updater scans your computer for outdated apps and provides links to download updates manually.

TuneUp's software updater does the same thing. But it can also automatically download and install updates for you.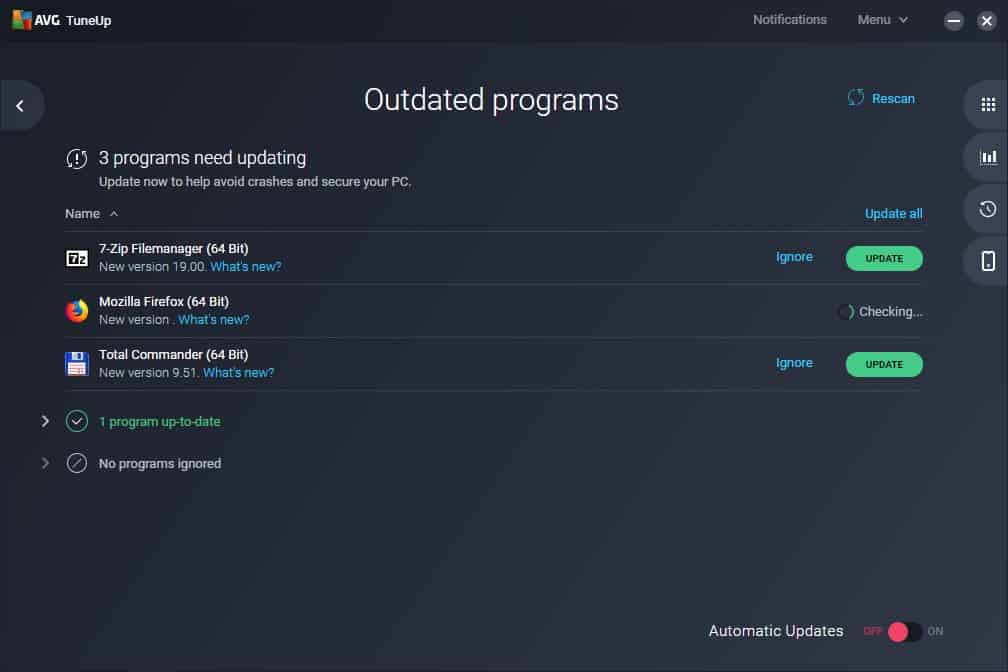 Browser Cleanup
Most PC optimizer apps go beyond improving your PC's performance and also provide a safer browsing experience. CCleaner and TuneUp are no different. 
CCleaner can clean browser history, cookies, cached files, and other temporary data in popular web browsers. This way, it helps you maintain privacy and improve your browser's performance. Also, it lets you manually control which data to remove.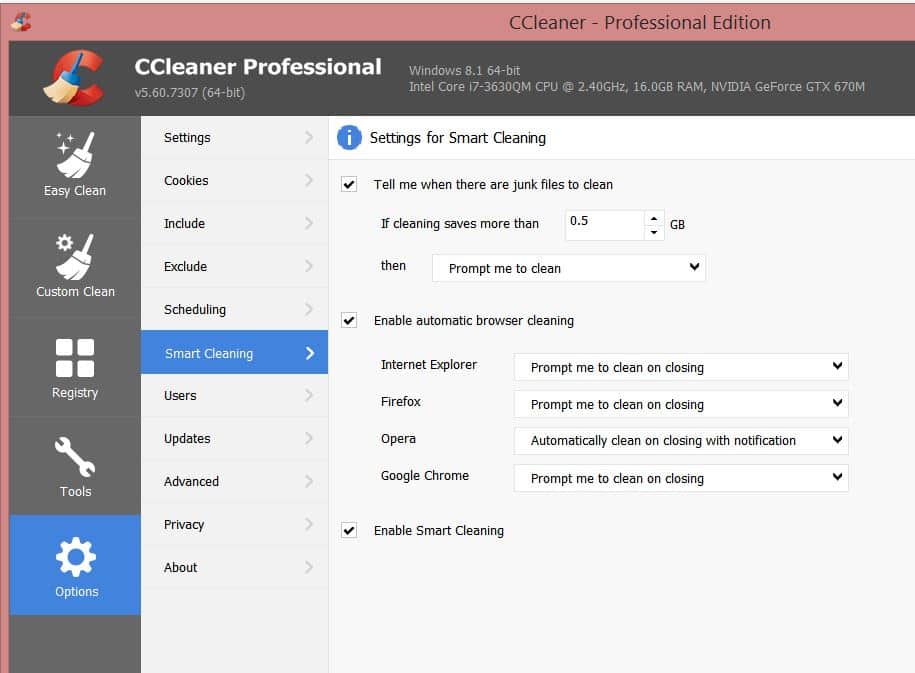 On the other hand, TuneUp not only clears browsing data but also manages browser extensions and plugins. It alerts you about potentially unwanted or harmful browser add-ons. So, if you want more browsing safety from your PC optimizer, TuneUp is the way to go. 
Software Uninstaller
If you don't regularly uninstall extra apps on your computer, you'll collect quite a few in no time. The worst part is, they slow down your PC over time. Both CCleaner and TuneUp offer software uninstallers to overcome this issue. 
CCleaner's tool provides a list of rarely-used and unwanted programs on your computer. You can choose to uninstall them individually. 
On the other hand, TuneUp also lists information about each program, like its size and usage frequency. But other than that, it's similar to CCleaner's uninstaller.
Drive Wiper
If you want to securely erase the contents of a drive or specific files, a drive wiper might come in handy. 
CCleaner and TuneUp both include a drive wiper. However, TuneUp's tool has more options as it lets you choose between quick wipes and more thorough data destruction. 
I personally find CCleaner's wiper to be good enough for most users. But if you need top-level privacy, TuneUp is a better pick. 
Ease of Use and User Interface
If you're going to use a PC optimizer tool regularly, it has to be user-friendly and intuitive. When it comes to CCleaner and AVG TuneUp, both are well-designed tools at a glance. But still, they have their differences. Let's explore them below. 
CCleaner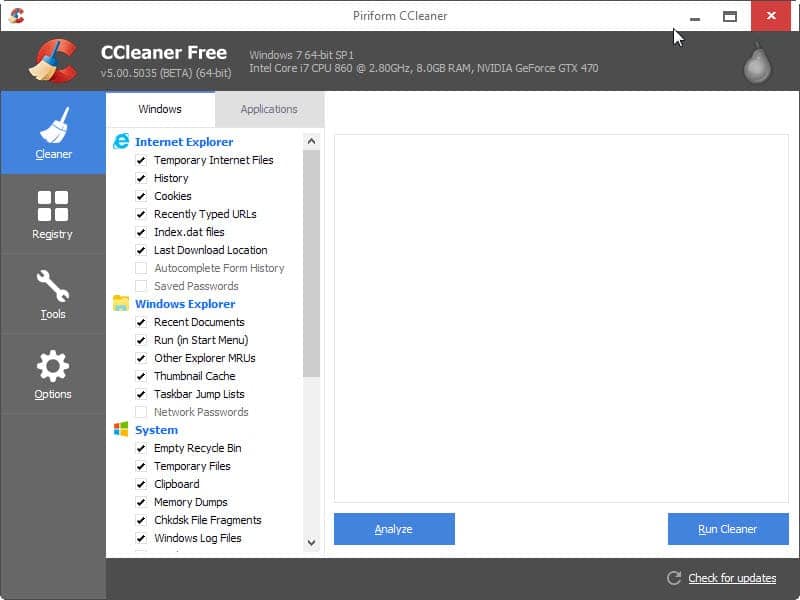 CCleaner is more beginner-friendly as it offers fewer features compared to TuneUp. It packs an intuitive sidebar that allows you to navigate to different menus quickly. The Cleaner menu lets you select various folders, files, and locations to scan and clean junk. 
Moreover, within the Tools menu, you'll find the following options:
Software updater

App uninstaller

Browser plugins

Disk analyzer

Duplicate finder

System restore

Drive wiper.
Now, let's move on to TuneUp. 
AVG TuneUp
Its interface is a bit more advanced. Right away, it gives an overview of how well-tuned your PC is (in percentage). Moreover, you get these options right on the main menu:
Maintenance

Speed Up

Free Up Space

Fix Problems

All Functions.
Within the All Functions menu, you can access a wide variety of advanced features. Since TuneUp has far more functionalities and details than CCleaner, it's a better fit for professionals and tech-savvy users. 
I personally prefer CCleaner's minimal and clean interface. But there are times when I want more options like Automatic Maintainance and Deep Clean. In such a case, TuneUp's advanced features come in handy. 
Pricing
When comparing CCleaner vs TuneUp, there's a considerable difference in pricing. CCleaner offers the following plans:
Free

– This plan is free to use for anyone. However, it only includes basic features like privacy protection, PC health check, and driver updater. Secondly, you can only use it on one Windows PC. 

Professional – This yearly plan costs $24.95 and throws in a range of advanced CCleaner features. You can also use it only on one device.

Professional Plus – This yearly plan starts at $39.95. It offers all the cleaning and optimization features. Plus, it supports three devices at any time (PC, Mac, and Android). 
Good to Know: CCleaner offers a 30-day money-back guarantee with all its paid plans. However, its professional package also comes with a free trial. 
On the other hand, TuneUp includes all the features we discussed earlier in both of its plans. These include 24/7 automatic maintenance, software uninstaller, software updater, deep clean, and more. Still, there are slight differences:
1 Device – This plan starts from $29.99/year and only allows a single Mac device. 
10 Devices – Starting at $34.99/year, this plan lets you install and use TuneUp on up to 10 devices. Plus, it supports Windows and Android too.
Good to Know: TuneUp also offers a 30-day money-back guarantee. Moreover, both plans come with a 7-day free trial. The best part? It doesn't require a credit card. 
CCleaner vs TuneUp – Head-to-Head Comparison
Here's a bird's eye view of the CCleaner vs TuneUp comparison:
| | | |
| --- | --- | --- |
| Aspect | CCleaner | AVG TuneUp |
| Platforms Supported | Windows, Mac, Android | Windows, Mac, Android, iOS |
| Pricing | Starts at $24.95/year | Starts at $29.99/year |
| Free Version | Yes | No (Free trial available) |
| Automatic System Maintenance | No | Yes |
| 1-Click PC Tuning | Yes | Yes |
| Deep Disk Cleaning | No | Yes |
| Registry Cleaner | Yes | Yes |
| Software Update Feature | Yes | Yes |
| Sleep Mode | No | Yes |
| Performance Optimizer | Yes | Yes |
| Automatic Software Uninstallation | No | Yes |
| User Interface | Simple and user-friendly | Feature-rich, a bit complex |
You may also be interested in:
Verdict
In my testing, CCleaner and AVG TuneUp both stood out as capable PC optimization tools. One notable difference is the cost, with CCleaner being more budget-friendly. It's a solid choice for users who prefer simplicity and don't need a lot of features.
On the other hand, AVG TuneUp has a more advanced suite of features, like automatic maintenance and deep cleaning. If you're a tech-savvy user who wants greater control and optimization capabilities, it's worth considering TuneUp. 
Whichever option you pick among CCleaner vs TuneUp, be sure to regularly update your programs and drivers for optimal performance!