For the best web browsing performance and privacy, it is important to use browser cleaner software regularly.
This is because browsing the web every day will soon cache a lot of data and store cookies in the background that you may not even realize. Sometimes it's helpful. For example, if you visit a site regularly the cache will already have its images and other info saved, so it loads quicker.
Cookies can save your login session, so you don't have to keep reentering your usernames and passwords.
However, the drawback is all this data can start to take up space over time and even impact browsing speed. Furthermore, many cookies are invasive, track your browsing activity, and breach your privacy in numerous ways.
Do I need a browser cleaner?
Yes, most users can benefit from browser cleaner software, even though most browsers allow you to delete cookies and cached data. The best software goes beyond built-in browser cleaning. Common features include:
Cleaning all your different browsers at once.
Managing browser plug-ins and other settings.
Cleaning all the temp files missed by the browser.
More choices over what to delete and what to keep.
Extra features like blocking tracking cookies and safe browsing modes.
Full system cleaning and optimization.
What is the best browser cleaner tool?
After putting the leading browser cleaner software through its paces, we narrowed down the best of the bunch. Here's what we found.
1. CCleaner – Best overall browser cleaner software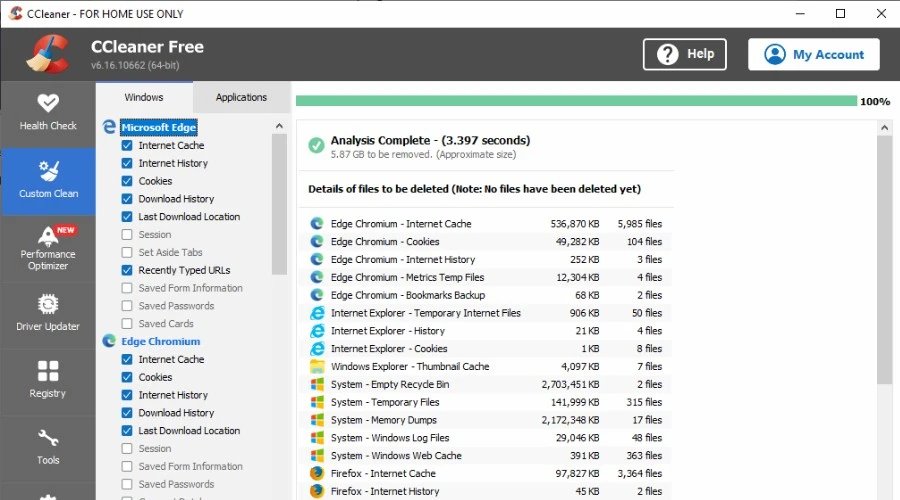 CCleaner is a comprehensive system cleaner and optimization suite that does a lot more than just clean your browsers. However, that particular feature is one of the best of the bunch.
To focus on your browsers, click the Custom Scan tab on the left. This opens two more tabs, Windows and Applications. Internet Explorer and Edge are found under the Windows tab. Here you can select from 11 different options to clean, including cache, browsing history, download history, cookies, saved forms, index.dat files, error dumps, and much more.
Non-Windows browsers like Chrome and Firefox are found under the Applications tab. You get many of the same cleaning options too.
One of the great things about CCleaner is you can analyze how much space will be cleared before running the program. Then simply click Run Cleaner and it works its magic in seconds.
You can also manage browser plugins under the main Tools tab. It's surprising how many add-ons and extensions you've forgotten about and should be removed. Now you can get rid of them for all browsers in one program.
CCleaner has endless features for cleaning and optimizing Windows, not just browsers. You can update drivers, fix the registry, disable startup programs, set restore points, and even wipe your hard drive.
The software is free, but the premium plans add extra features like auto browser history cleaner, internet tracker blocking, and data recovery. Plans start from $29.95.
2. Wise Disk Cleaner – Best browser cleaner with disk defrag features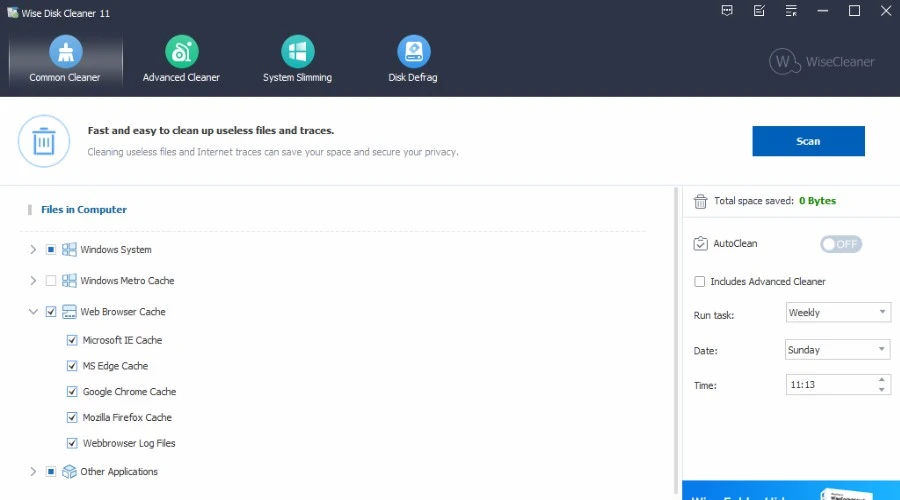 Wise Disk Cleaner is a powerful Windows system cleaner that also gets rid of junk browser data.
Unlike when you natively delete the browser cache, Wise Disk Cleaner gets rid of all known remnants, including browsing history, hidden cache files, all cookies, log files, and other temp files that are usually missed.
It works with Microsoft Edge, older Internet Explorers, Chrome, Firefox, Opera, Safari, and most other popular browsers.
Because it cleans all junk files left by the Windows components and other applications, it can get rid of old browser entries in the Registry, folders in Program Files, and installers left behind in your downloads folder.
By using Wise Disk Cleaner, your web privacy will remain secure, and your system will run smoothly.
Beyond browser cleaning, Wise also does a fill disk defrag, which reorganizes where files and data are stored on your hard drive sectors. This improves overall system performance, including browser startup time.
You can try Wise Disk Cleaner for free, but for a full suite of system maintenance tools, consider upgrading to Wise Care 365 for $39.95 a year.
3. Glary Utilities – Best all-in-one Windows utility suite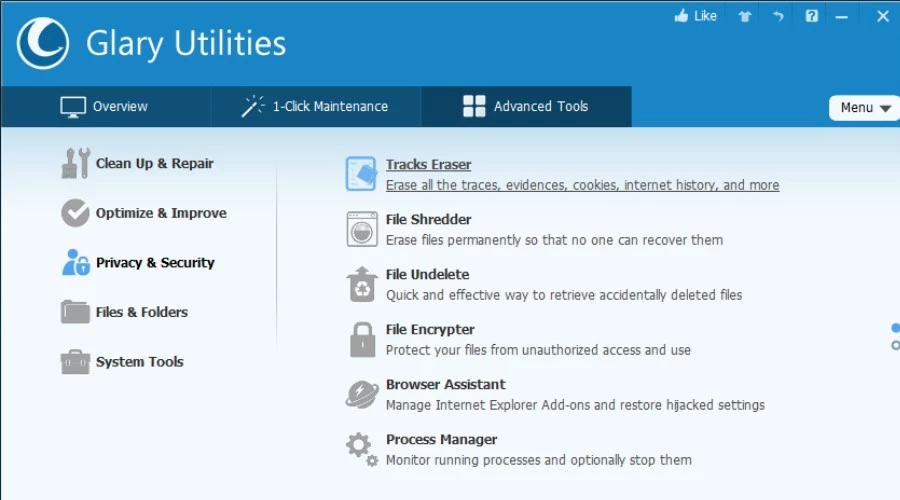 A long-running name in PC optimization, Glary Utilities is still one of the best at cleaning web browsers and the rest of your system for that matter.
Its main browser tools can be found under the Privacy & Security tab. Firstly, Tracks Eraser will wipe all cookies, browsing history, and other internet caches. Secondly, the Browser Assistant helps recover hijacked browsers and revert all settings to normal following a malware infection.
Glary Utilities is one of the largest collections of Windows tools under one roof and can do everything from cleaning the Registry to fixing bad hard drive sectors.
The free version is all you need to clean your browser, but it may be worth upgrading to the Pro version for real-time internet protection and full access to all its other tools for life.
4. BleachBit – Best browser cleaner software for Firefox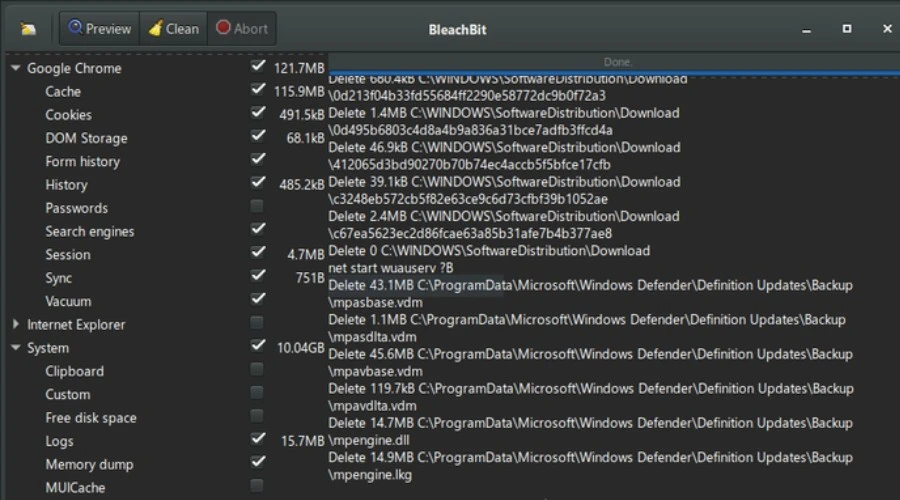 BleachBit is a free and open-source system and browser cleaner. It can clean up your browser cache, cookies, and history from browsers like Firefox, Chrome, and others. It is available for both Windows and Linux.
BleachBit pays special attention to intrusive cookies to prevent websites from tracking you. It also nukes your browsing history to protect your privacy and prevent others from seeing what websites you have visited.
Best of all, the software shreds files to prevent them from ever being recovered.
It gives you full control over what to delete or you can go for a full clean to ensure everything is wiped. Simply go to the left pane, select the Web Browsers category and in the right pane, select the files and folders that you want to clean for your browser. Click the Clean button and it takes just seconds to complete.
BleachBit is a powerful privacy tool that goes beyond simple file deletion. It can wipe free disk space to hide all traces of deleted files, and its special vacuum feature is perfect for making Firefox faster by deleting its SQLite databases.
Note: This should only really be used when starting a fresh profile or deleting unused profiles, because it will reset user preferences and other data you may want to keep.
5. Auslogics Browser Care – Best dedicated browser cleaner software
Unlike many other tools, Auslogics Browser Care is dedicated solely to cleaning and optimizing your web browsers without any extra features to confuse the process.
With Browser Care, users can easily control various browser settings, remove unwanted add-ons or extensions, and improve privacy and security for Google Chrome, Firefox, Edge, and Internet Explorer. You can also set your preferred homepage and default search engine directly from the Browser Care interface.
As for browser cleaning, it gives you total control over browser history, cookies, and cache, and does an excellent job at finding tracking cookies and other privacy-invading elements. It also has a password manager feature and the ability to create backups of your browser settings and configurations.
This is useful if you delete data by accident or if something goes wrong during optimization. The optimization feature lets you quickly apply recommended browser tweaks and fixes to enhance performance.
Ultimately, Auslogics Browser Care is a free and easy-to-use tool that can help you keep your web browsers clean, optimized, and protected. The only drawback is only works up to Windows 10.
6. Click&Clean – Best browser cleaning extension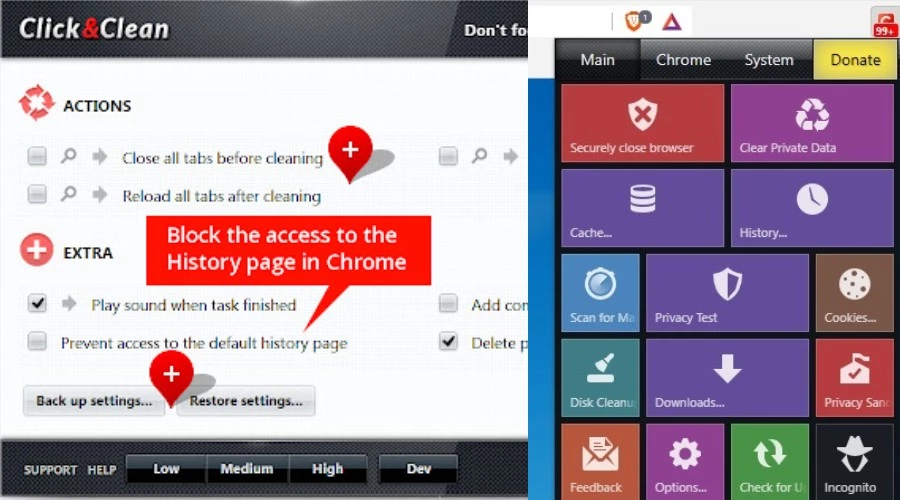 Rather than a full software suite, Click&Clean is a helpful browser extension that provides privacy and cleaning features for Google Chrome and Firefox. Its primary function is to clear browsing data, such as browsing history, cookies, cache, and other temporary files, with just a few clicks. In fact, the one-click clean & close feature allows users to quickly shut their browser and remove all browsing data instantly.
Users can also customize which types of data they want to clear. This includes options to clear browsing history, cookies, cache, download history, and more. You can select specific items to delete or use the default settings for a comprehensive cleanup.
You can access many of your browser's settings and features within the extension page, making it easier to manage preferences without navigating through menus. Here you can use the Security Check to scan for potentially harmful browser extensions and settings.
You can even test how private your browser currently is to make sure all settings are working, and nobody can track you.
The ability to create and restore backups of your browsing history and other data makes sure you can revert back to all previous settings in the rare chance something goes wrong.
7. Privacy Eraser – Best browser cleaner software for privacy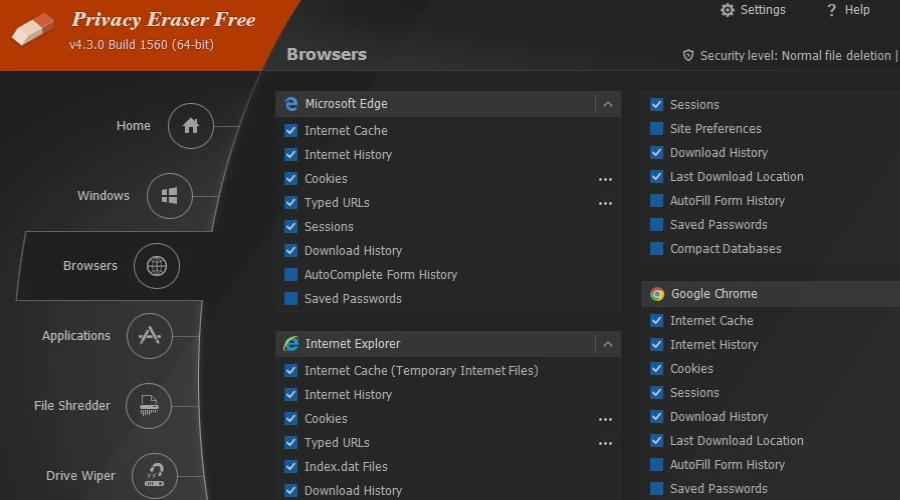 Cybertron Privacy Eraser is available for Windows 11 back to Vista. It is a freemium software, with a free version that offers limited features and a paid version that offers the full works.
Its main purpose is to protect your privacy by deleting browsing history and other computer activities. It supports all major web browsers, including Chrome, Microsoft Edge, Firefox, Internet Explorer, Safari, and Opera.
With the click of a button, Privacy Eraser removes browsing history and personal data, cleans Windows caches, and deletes all temporary files. It also offers several security methods for overwriting files with dummy data, so if anyone were to check, they wouldn't know any data has even been deleted.
Another excellent feature is the ability to erase data automatically upon closing your browser, which is useful if you suspect someone is about to immediately check what you were doing.
Privacy Eraser also operates silently in the background, detecting opportune moments to initiate cleaning processes within your Windows system.
What is the best browser cleaner for Google Chrome?
As the most popular browser in the world, you may be wondering what the best Chrome browser cleaner is. Fortunately, all our picks work well with Chrome. As a full software suite, CCleaner is the best option.
It can remove the cache, browsing history, download history, cookies, temp files, sessions, saved passwords, and databases.
However, if you just want a simple browser extension Click&Clean is the way to go. This is also available on Firefox.
Conclusion
Browser cleaning is still important even though browsers themselves have improved their built-in features. The best browser cleaner software for you will depend on your goals.
CCleaner is a good all-rounder, though Privacy Eraser and Click&Clean have the added benefit of auto-cleaning when you close the browser. BleachBit stands out on Firefox due to its SQLite support, while the other picks are packed with extra system cleaning and optimization features.
Many have free options, so try them out for yourself!