Is Copilot the best AI companion out there? Help us find out by answering a couple of quick questions!
Looking for the best Windows 10 & 11 optimizer software? This type of tool can improve your system's performance by removing, tweaking, and customizing how your device's software and hardware operate. However, with so many available options, it can be hard to choose the right one.
Luckily, I'm here to help you out. I've tested over 25 tools and finalized my list with the top 8 best Windows optimizers. You can learn more about my research process below. But for now, let's look at my top picks!
What Are the Best Windows 10 & 11 Optimizer Software?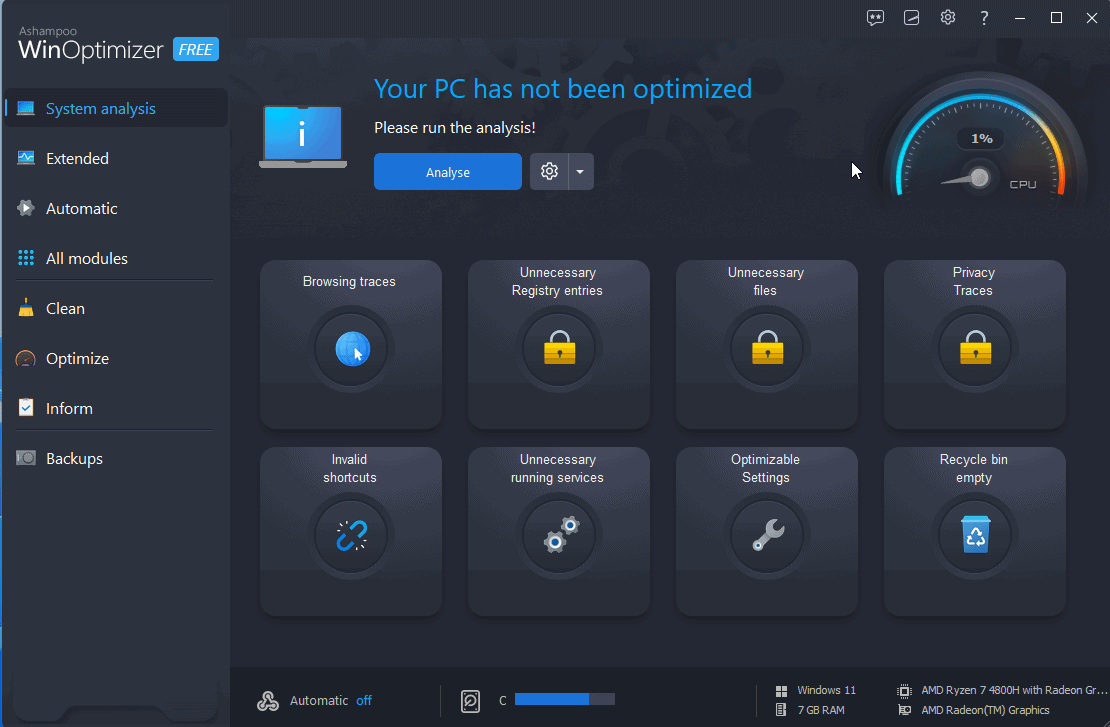 Ashampoo WinOptimizer is an excellent optimizer software that offers a great range of useful features that cover the needs of both beginner and experienced users.
It acts more like a suite of tools specifically designed to scan, optimize, and improve your PC's overall performance.
Ashampoo WinOptimizer has a well-designed and easy-to-understand interface that looks very pleasing.
It ensures you can quickly access any of the features.
This software includes a One-Click Optimizer, which does exactly what it says on the tin.
This process employs a quick scan and identifies any elements in your system that can be optimized.
Furthermore, Ashampoo WinOptimizer includes a File Wiper tool that completely deletes personal data.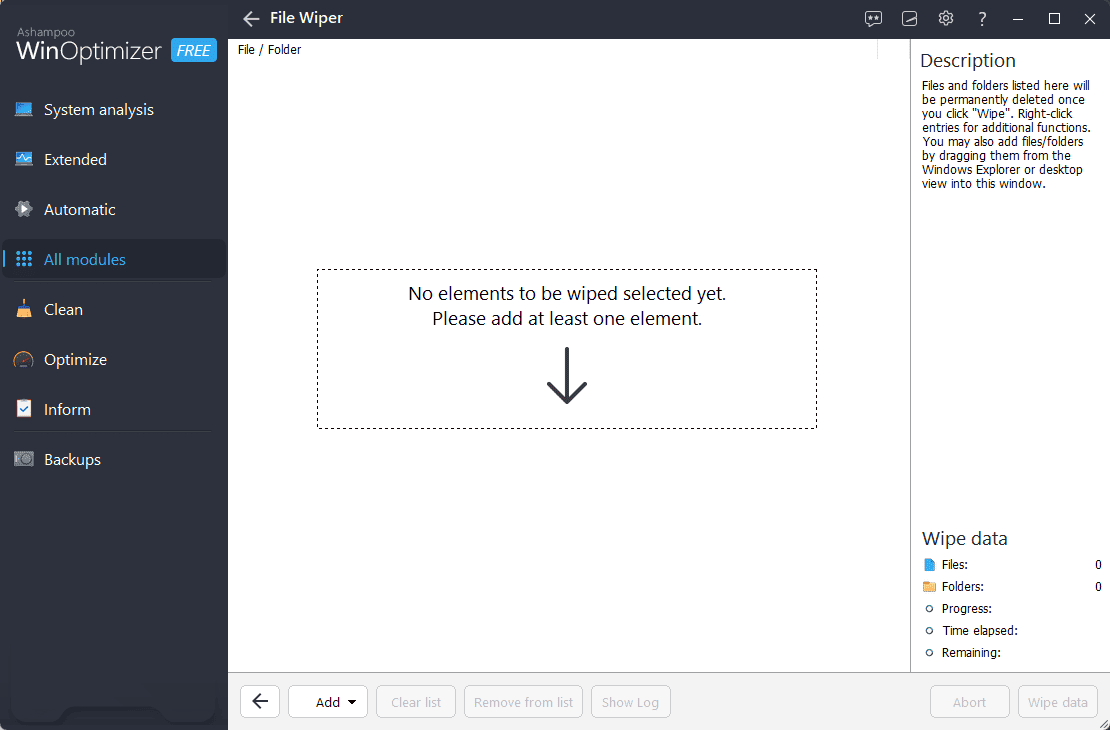 What surprised me was the built-in Privacy Manager and Win10 Privacy Control features. Privacy Manager acts like a PC warden, ensuring your device's telemetry data, folder sharing, and remote access information are safe and secure.
The Boot Center module allows you to easily disable location services, Cortana, cloud syncing, and other components.
Pros:
The interface is easy to use
Includes a file shredder and backup tool
Great one-click optimization feature for fast scans
Includes a suite of other valuable tools like AntiSpy and Win10 Privacy Control
Easy to uninstall and without any files left behind
Cons:
The best features of this app are found in the premium version
The number of features could be overwhelming for some beginner users
2. Outbyte PC Repair – Powerful PC Optimization & Maintenance
Outbyte PC Repair is an exceptional app that ensures your system will always be maintained and performance will be kept on point.
It provides you with an incredible array of optimization tools. Everything is stored within a user-friendly interface with easy access.
This tool can help you free disk space, improve the overall speed of Windows, resolve various system issues, and protect your privacy.
One of the most critical features of this type of software is its capability to scan your PC, and Outbyte is no different.
This helpful app can scan your entire PC and identify faults. Once that's done, it automatically starts addressing these issues.
The built-in Power Tools ensure that you can also uninstall applications from the same all-encompassing interface.
Pros:
The interface's design ensures easy navigation, even for beginners
Can remove junk and unused apps
Optimization can extend the device's battery life
The price is affordable and comes with a money-back guarantee
Even though the uninstallation process can be confusing, there are no files left behind
Cons:
The initial scan takes a while
The tray icon of this software can't be used to exit the software completely
3. AVG TuneUp – Comprehensive PC Optimization Tools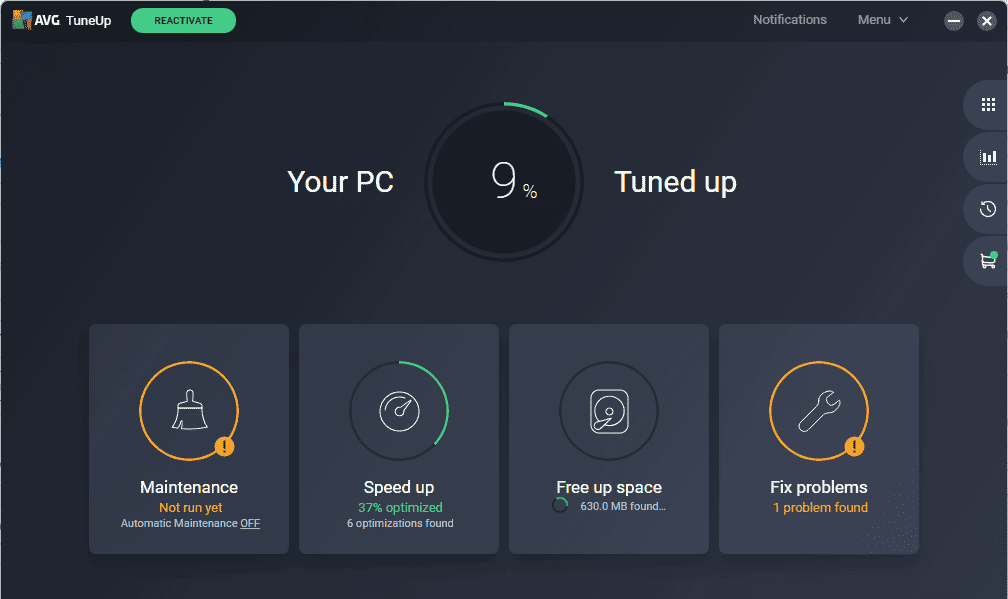 AVG TuneUp is another excellent optimizer software fully compatible with Windows 10 & 11 systems. You can consider it a digital toolbox of varied capabilities, and having it at your disposal can make a massive difference in the overall performance.
When I opened the software, I was pleased to find an easy-to-understand menu with clear options and capabilities.
AVG TuneUp automatically cleans up your system by removing unnecessary files and optimizes various options for better performance.
Moreover, AVG TuneUp includes valuable tools that can contribute to your system's stability, like a Disk Doctor.
This feature ensures that your disk is maintained without errors around the clock. You can also use this powerful app to perform disk defragmentation and optimization.
AVG TuneUp has a free trial version, allowing you to try the software for seven days without any card information.
The premium version of this app unlocks even more amazing features, and the frequent discounts the company offers can be advantageous.
Pros:
The interface is easy to navigate, nicely designed, and simple
Includes extra tools like a Disk Doctor and disk defragmentation features
Automatically performs maintenance and cleaning tasks
A license can be used for up to ten devices
The uninstallation process is streamlined, and no data is left behind
Cons:
The free version is limited but can be tried for seven days to check its capabilities
Relatively pricey
4. Razer Cortex – Ensures Maximum Gaming Performance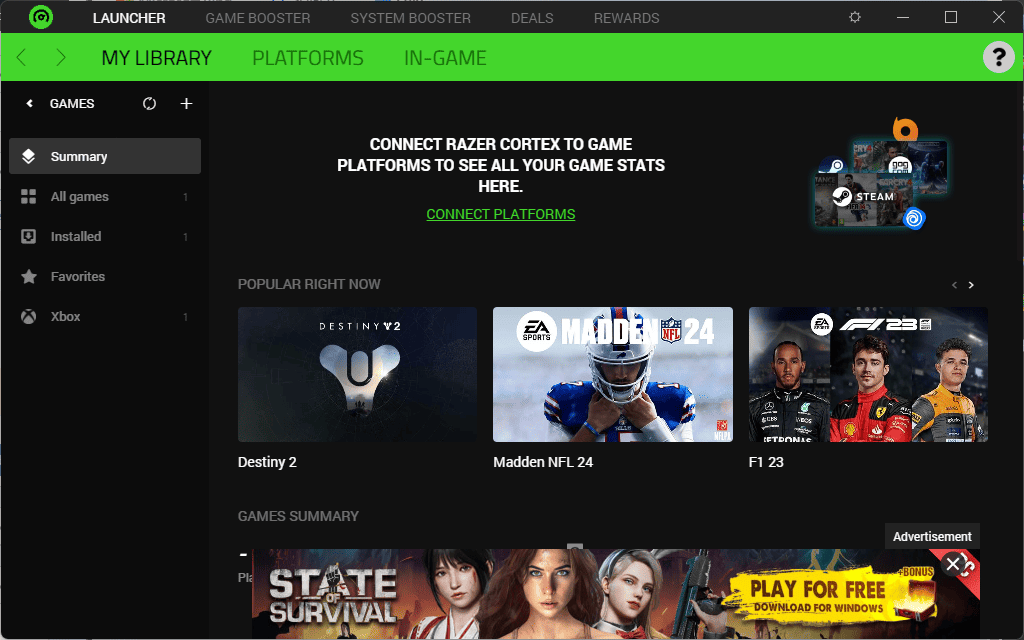 Considering the widespread passion for gaming, not including a game optimizer in this list would be a travesty. For this reason, I've explored the well-known Razer Cortex software and tested its capabilities on my PC.
The user-friendly interface ensures that anybody can use this tool and optimize their gaming session in a few minutes.
What's more, you can explore and download various games covering the latest releases. The developers have also included seamless compatibility with all major gaming platforms.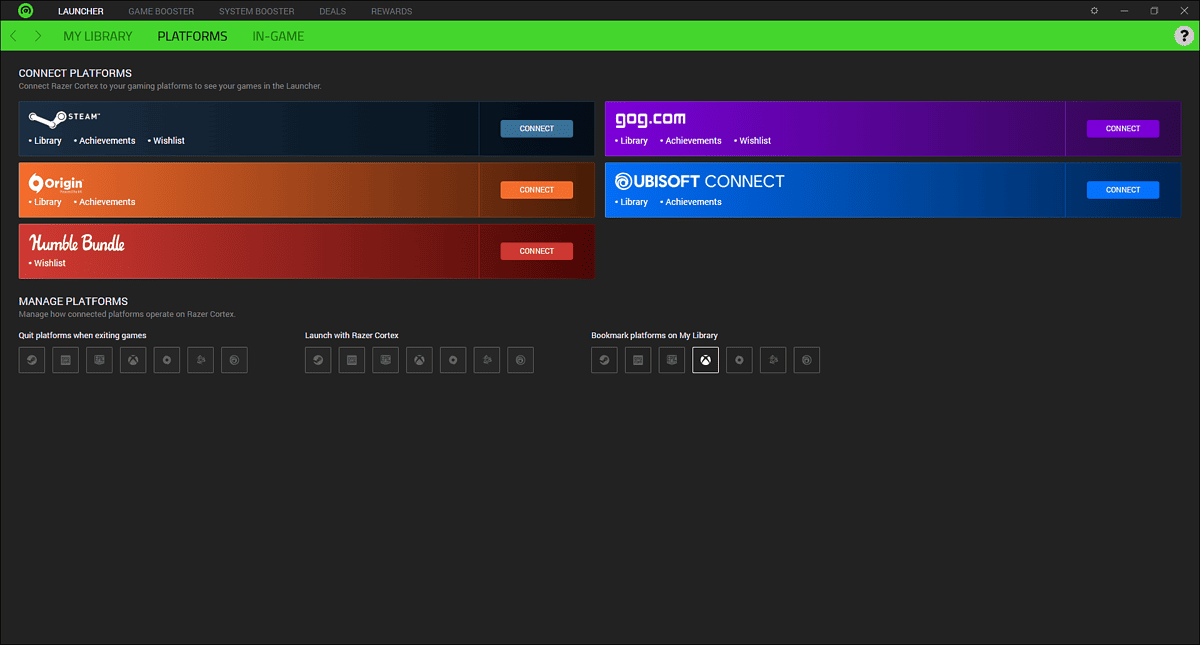 One of the most essential features is the Game Booster. It manages and stops any non-essential apps when gaming. In turn, the closed apps optimize the amount of RAM required and make gaming smoother.
Another fantastic feature is the System Booster, which can help you remove junk files from games, corrupted or damaged registry entries, recycle bin files, and more.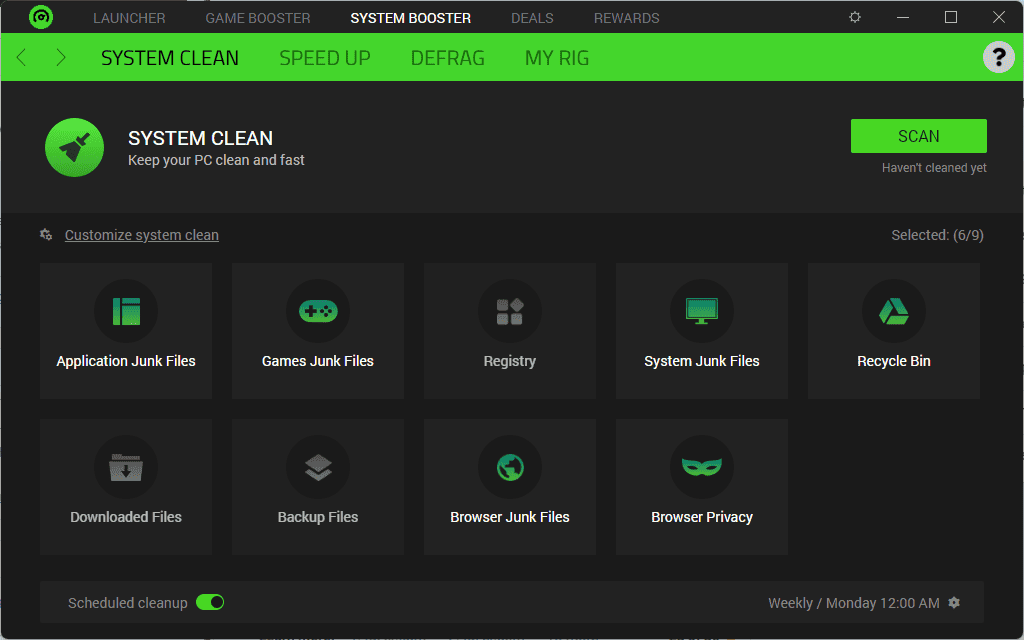 This section also includes Speed Up, Defrag, and system information tools, which allow you to optimize your PC's performance even more.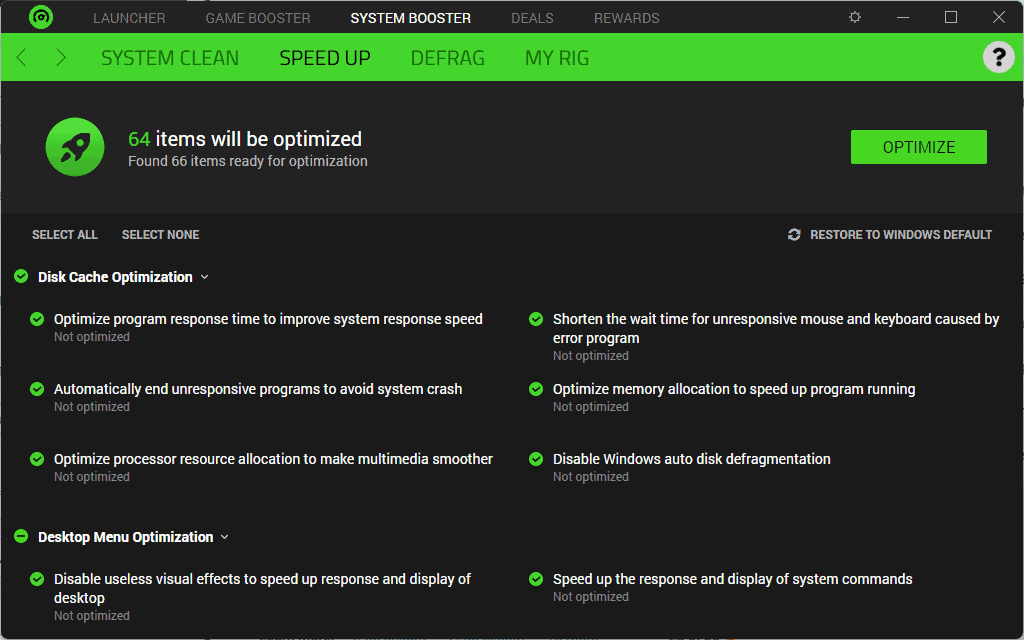 Below, you can observe the My Rig section, which shows you a detailed view of your system's information and hardware.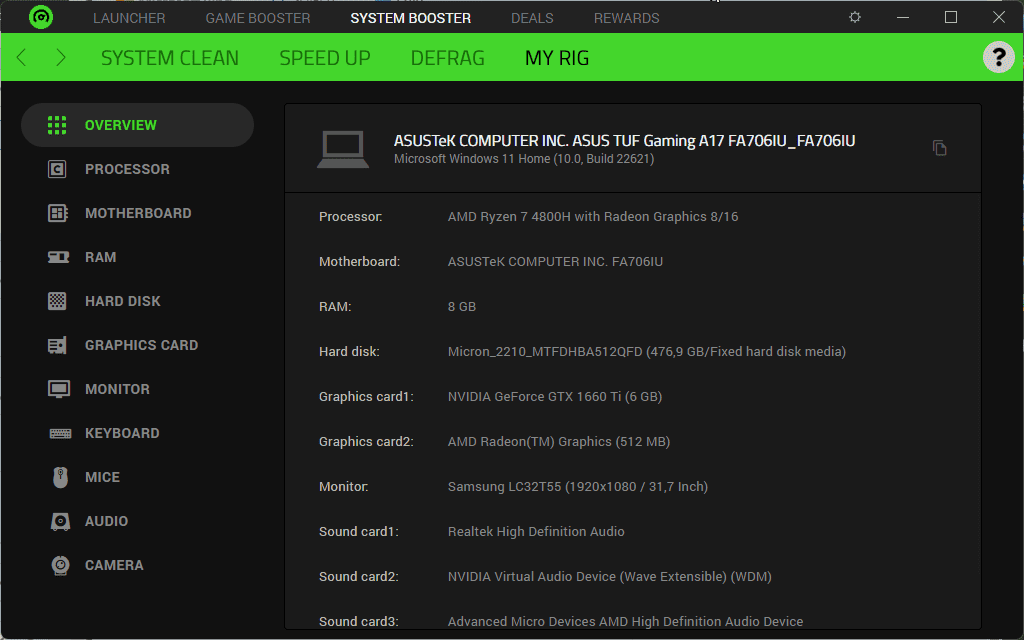 What caught my eye even more was the Deals section. You can find some fantastic giveaways and offers on the latest games on the market.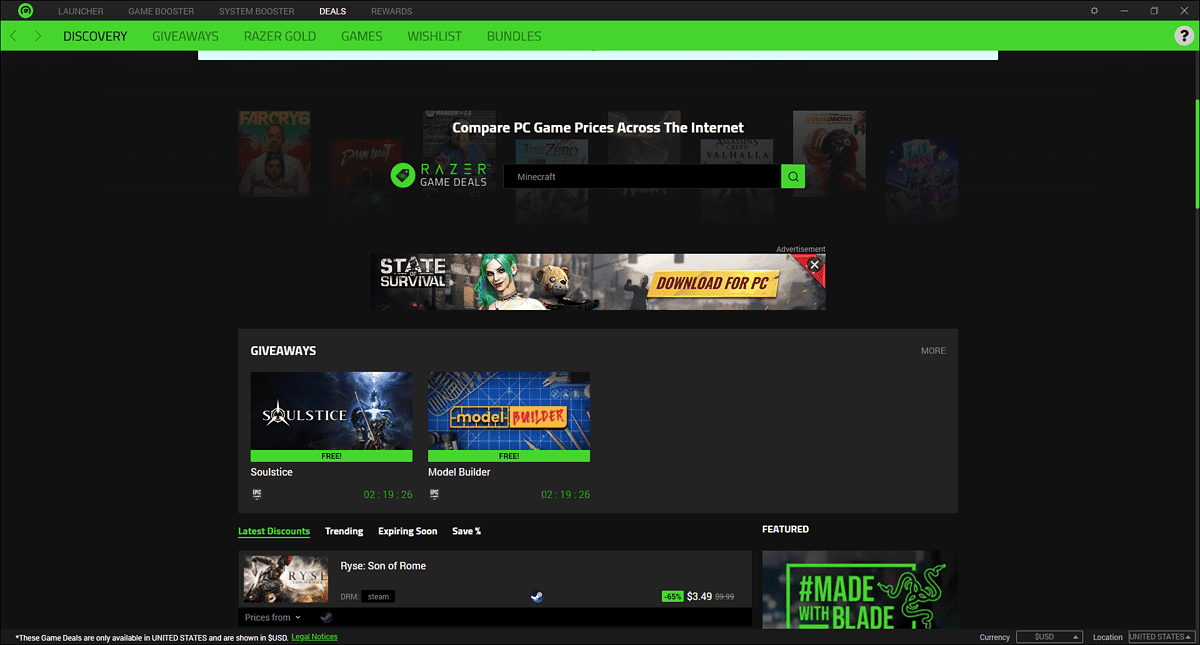 Pros:
Completely free to use and with no ads
Includes system recommendations for more control
Improves game frame rates by using powerful machine-learning algorithms
Built-in system information tool
You can defragment your HDD for better data reading speeds
Cons:
It doesn't provide a real-time monitoring feature
It's not designed for non-gamers
5. Glary Utilities – Best Free Windows Optimizer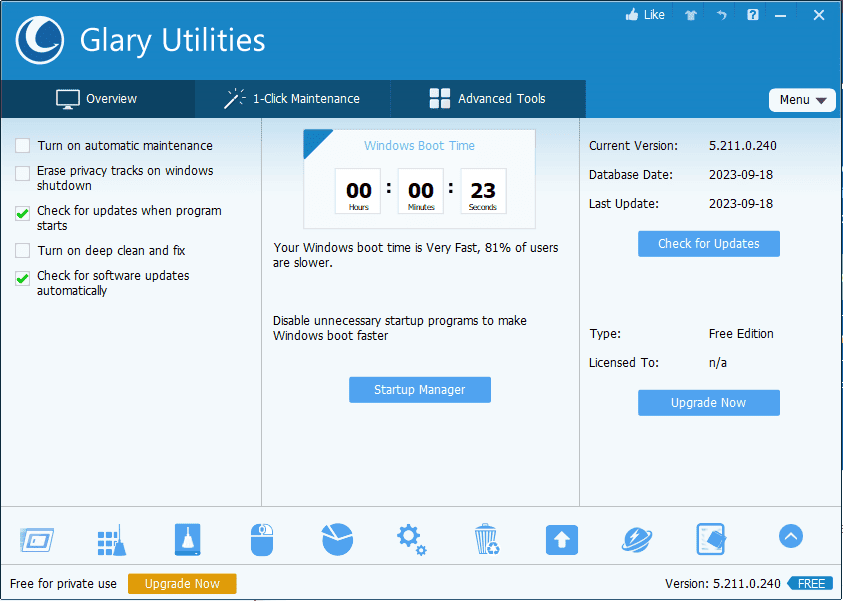 Glary Utilities is one of the most efficient free optimizers, which works perfectly on both Windows 10 and Windows 11.
As soon as you open the software, you'll be greeted by a user-friendly interface that shows you a helpful overview of your system.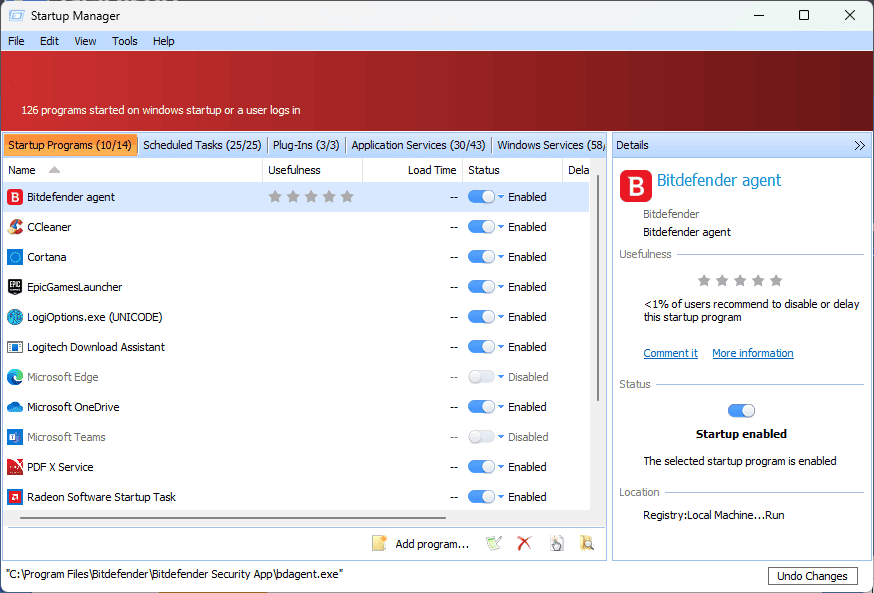 The Startup Manager allows you to customize how your Windows device starts, eliminating any software that clogs up the system for no reason. This will improve your PC's booting time, thus making it faster.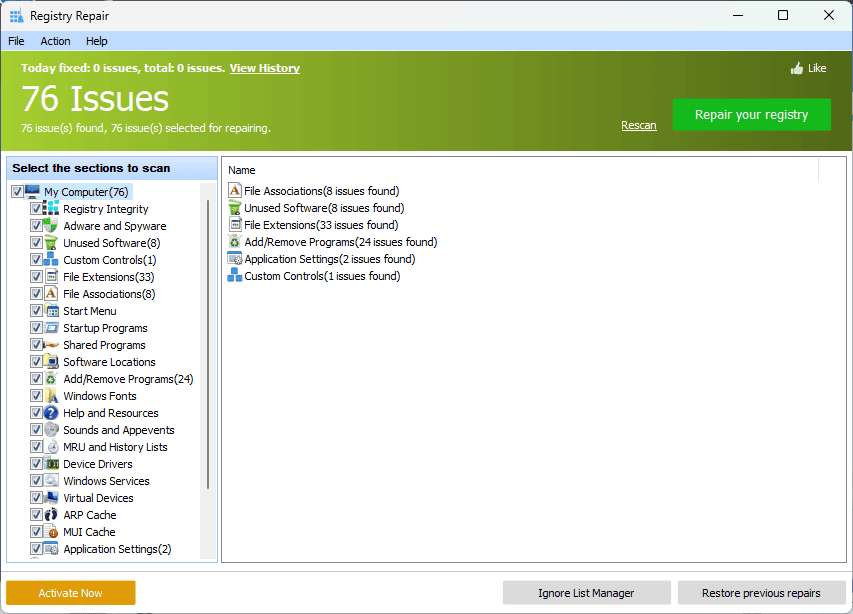 The Registry Repair tool scans your entire registry, checks for possible issues in the configuration, and fixes any corrupted items.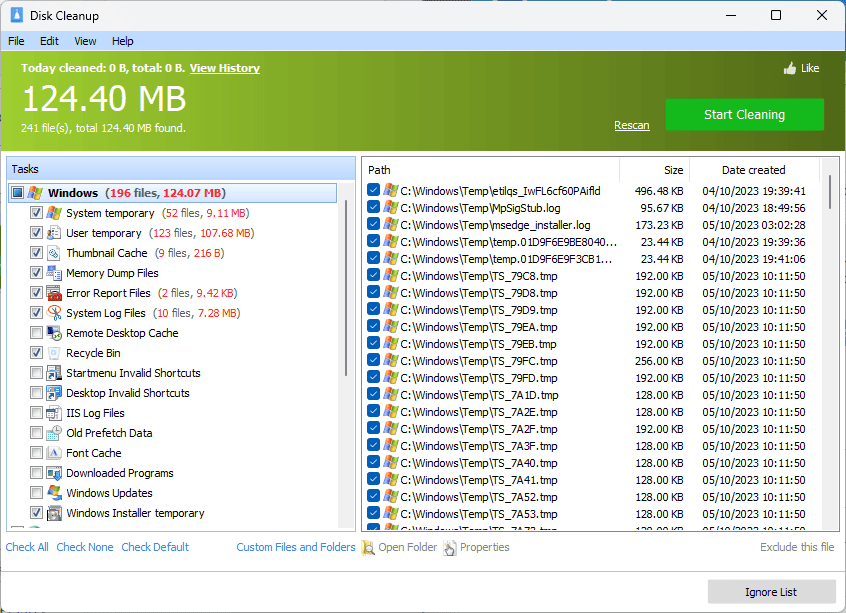 The Disk Cleanup tool ensures that no temporary files, app caches, or other elements clog up your system.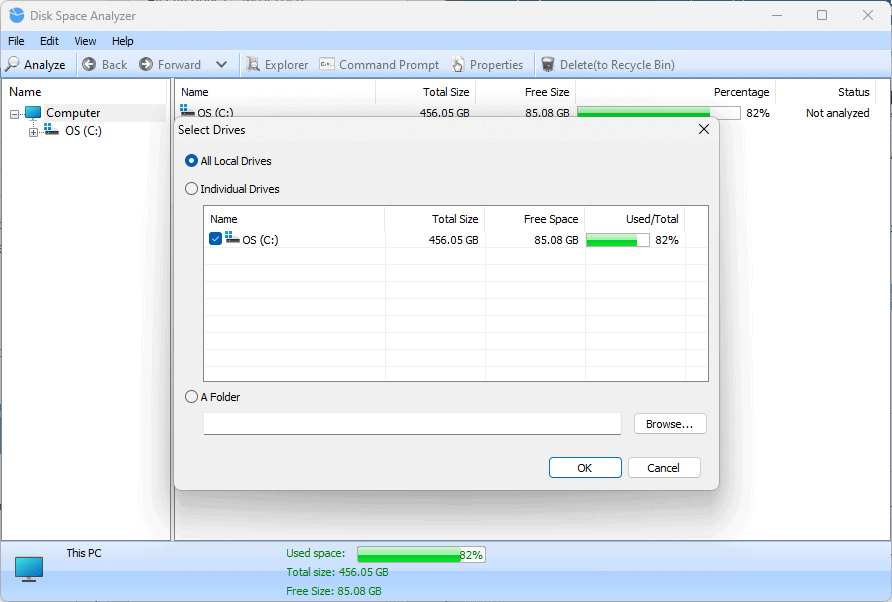 To cover all possible needs, this software also has a built-in Disk Space Analyzer.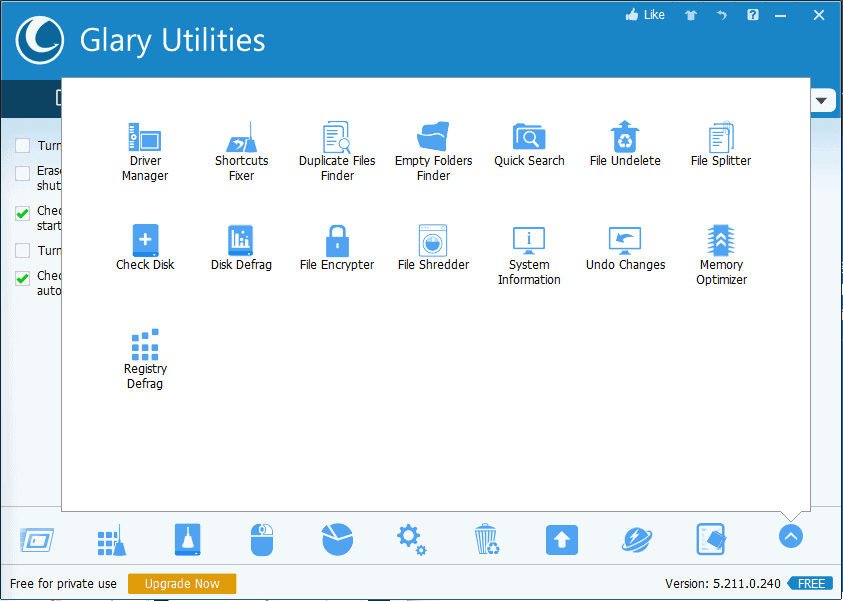 Glary Utilities also offers other unique tools, including a Driver Manager, Duplicate Finder, File Shredder, and File Splitter. You can see the rest of the options in the image above.
Pros:
Completely free to use
Includes an enormous number of free tools and built-in apps
Covers everything from managing startup, registry repair, disk cleanup, etc.
1-click maintenance feature, which ensures quick results
Excellent advanced tools like disk cleanup, shortcuts fixer, privacy tracker, etc.
Cons:
IObit Advanced System Care is another excellent software choice for PC optimization with many features. This comprehensive suite of tools is designed to refresh your PC and improve its performance. The user-friendly interface ensures easy access for everyone.
The software can scan your PC thoroughly and identify areas where it can be improved. All you need to do is click the large Scan button on the interface.
It monitors various areas, including privacy features, junk files, corrupted shortcuts, and many others.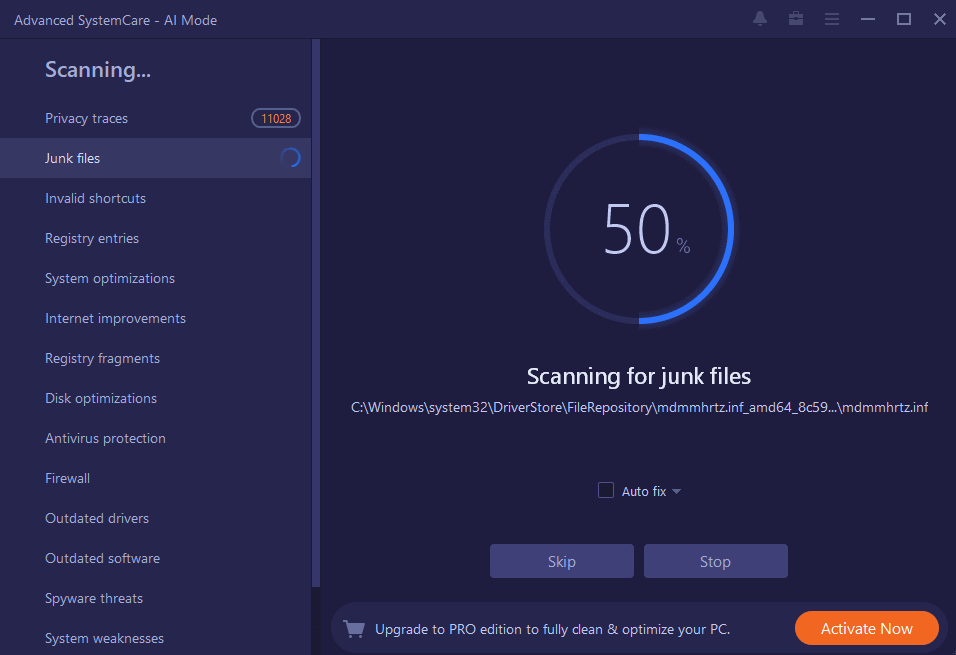 The registry scan took the longest, but it hasn't surpassed 2 minutes either.
As you can see below, the software also identified 17 of system optimizations:
As for drivers, it picked out 20 outdated components: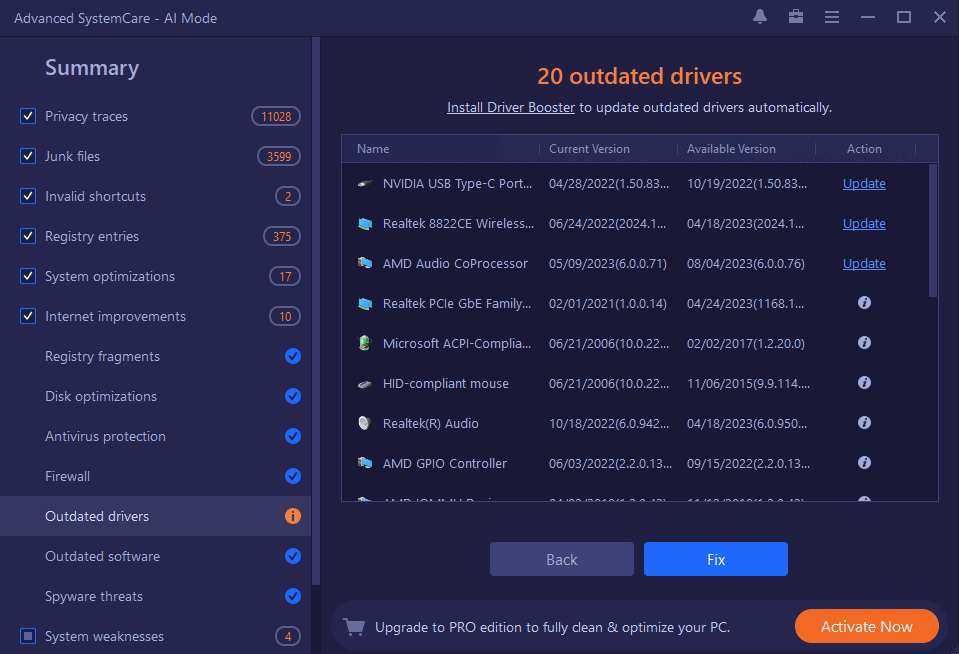 The software also covered my antivirus protection, firewall state, checked for outdated software and spyware threats.
Moreover, the Boost section automatically boosts your RAM, startup, hardware, and more.
Pros:
User-friendly interface with easy access to all options
Can enhance your PC's speed to the maximum level
Cleans registry, checks for updated software and drivers
Scans your security level and offers suggestions
Fast scanning feature covering a wide range of aspects
Cons:
The installer tries to bundle a VPN and screen recorder software
The installer also pushes the installation of Easy Desktop
Iolo System Mechanic is another great PC optimizer that works both on Windows 10 and 11.
Its main menu is split into four sections, each with specific capabilities and a Settings option. Let's explore these sections now.
As you can see, the Performance section includes the Deepclean option. It covers a variety of PC needs, including an internet booster, internet cleanup, Windows cleanup, and more.
The Toolbox section contains various tools that can improve your PC's performance, like an Advanced Uninstaller, Search & Recover, Bootable USB, etc.
During my testing process, I was impressed by the LiveBoost feature. It optimizes how your PC uses power.
Among the plethora of features, you can also access antivirus and privacy settings.
The password manager ensures you won't get locked out of any account while protecting your data from third parties.
Pros:
Once you purchase a license, you can use it on unlimited devices
Wide range of scanning options with customization
You can repair issues with just one click of the Scan button
Removes bloatware and optimizes privacy
Improves computer speed and stability
Cons:
Quite pricey compared to other options
The structure itself could be confusing for some beginners
8. CCleaner – Great Redundant Files Remover With Extra Tools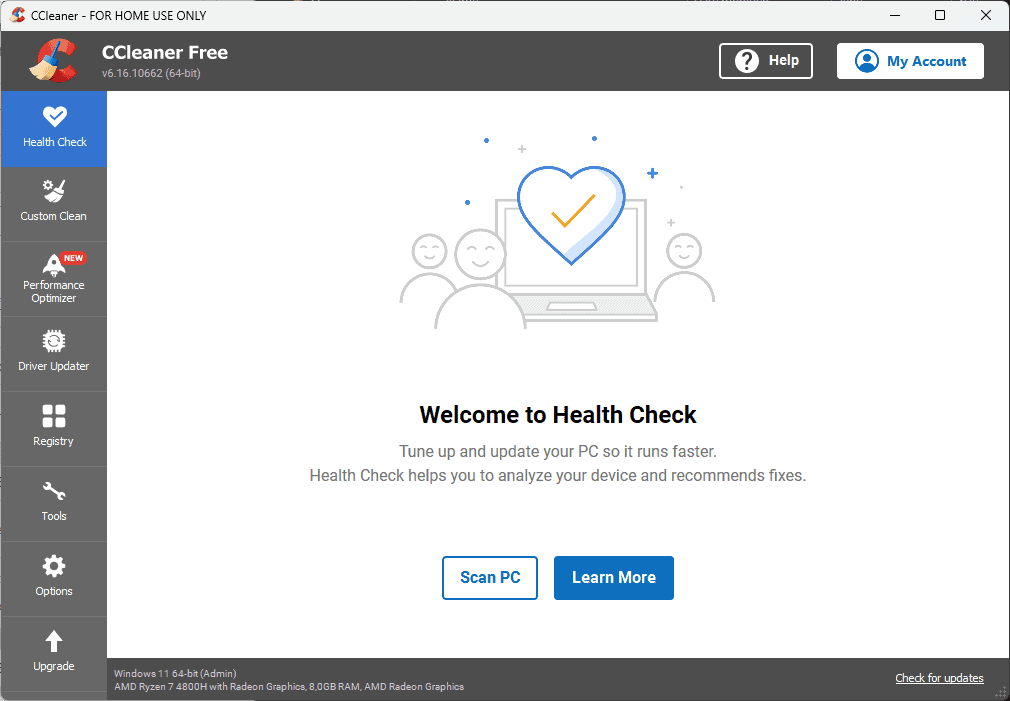 CCleaner is another well-known tool that has helped users optimize their PCs for the last ten years. This software not only provides you with a quick and accessible way to perform these tasks but also an excellent user interface with easy access.
Once you open the software, the default view will be the Health Check. I started scanning the PC to see what the software identified. Below, you can see the results of the scan.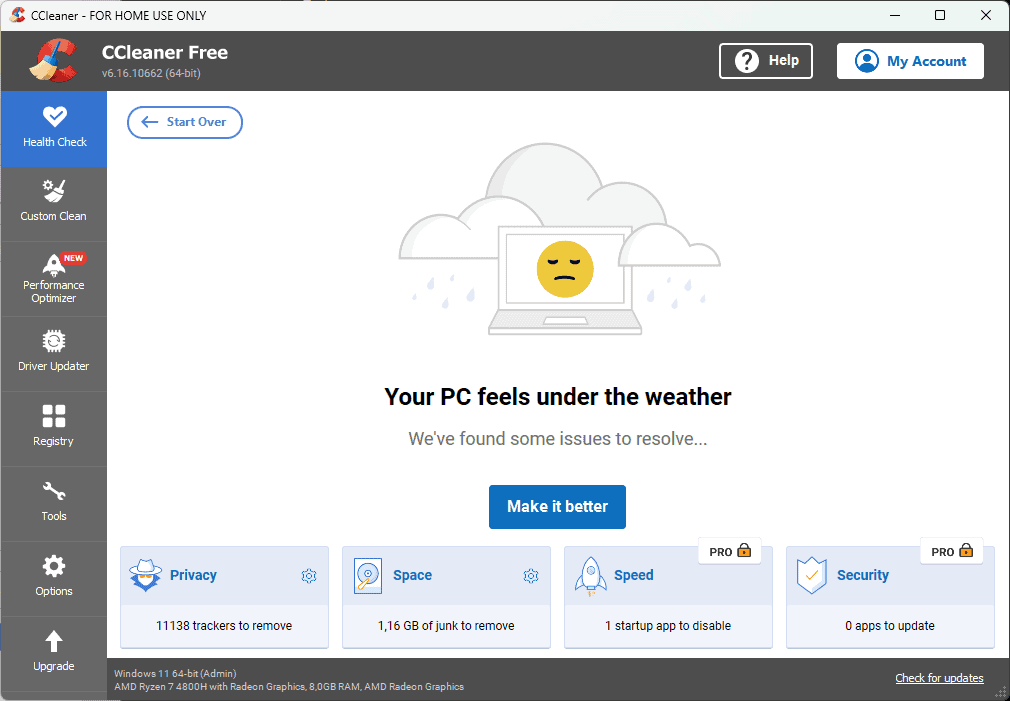 As you can see, the Speed and Security elements are marked with a lock, meaning those features can only be accessed through the Pro version of CCleaner.
My favorite part of CCleaner is the Custom Clean section. It enables you to customize the cleaning process according to your needs. The section is split into two parts: Windows and Applications.
On the other hand, the Applications part is also instrumental, allowing you to customize how your other apps are cleaned.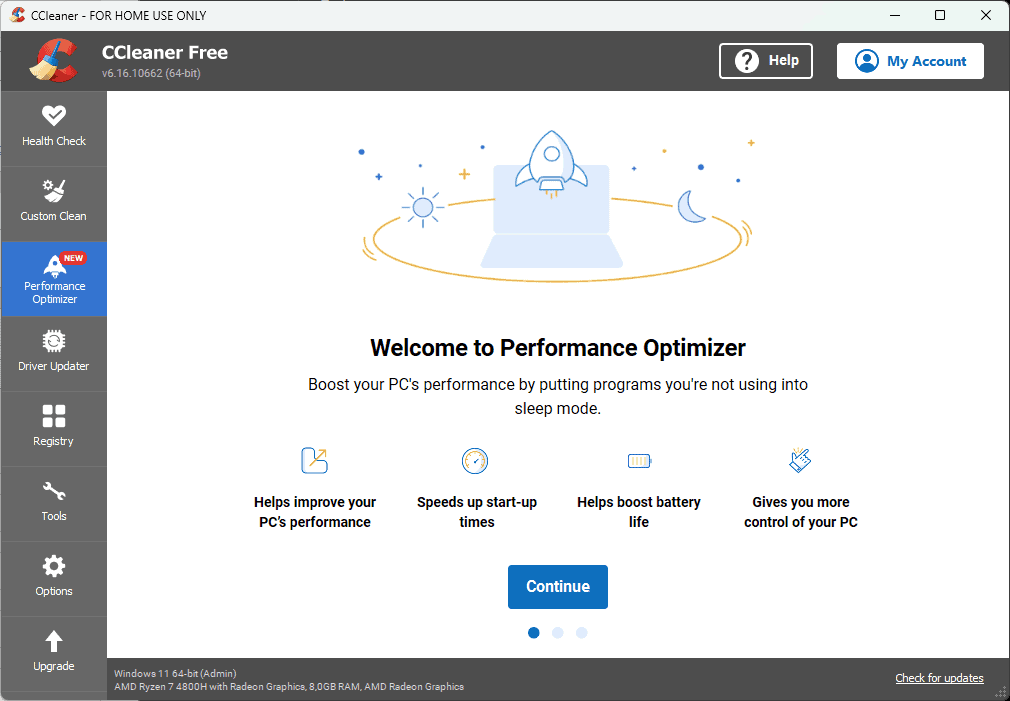 The powerful Performance Optimizer allows you to improve your PC's performance, speed up the start-up process, and even boost battery life.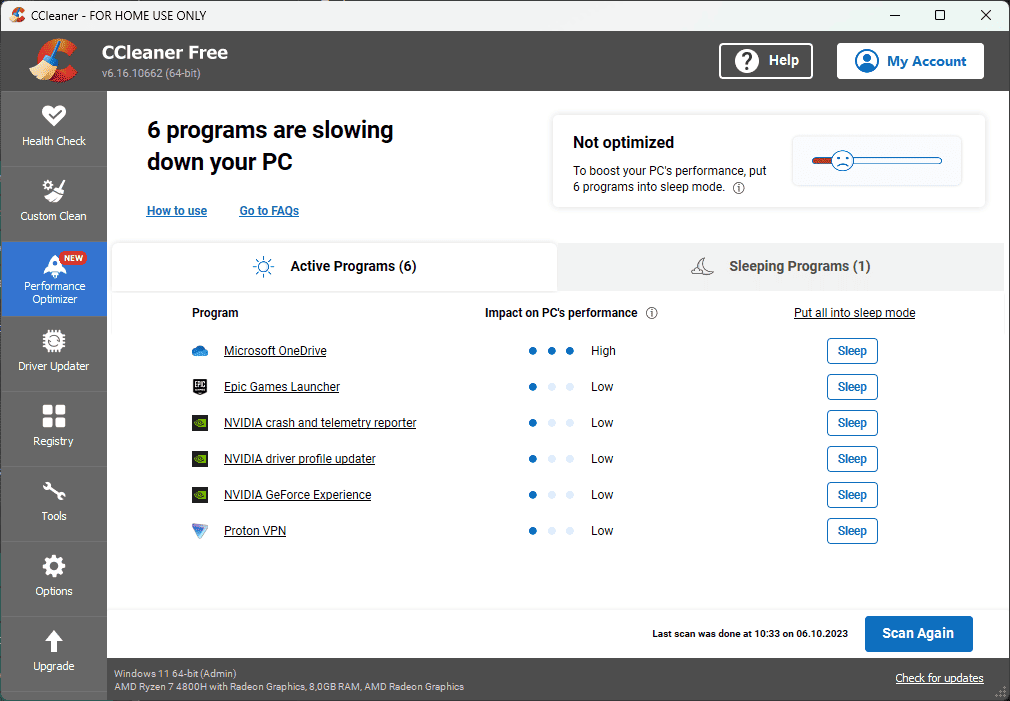 CCleaner covers essential aspects like driver updates, registry editing, and other valuable tools.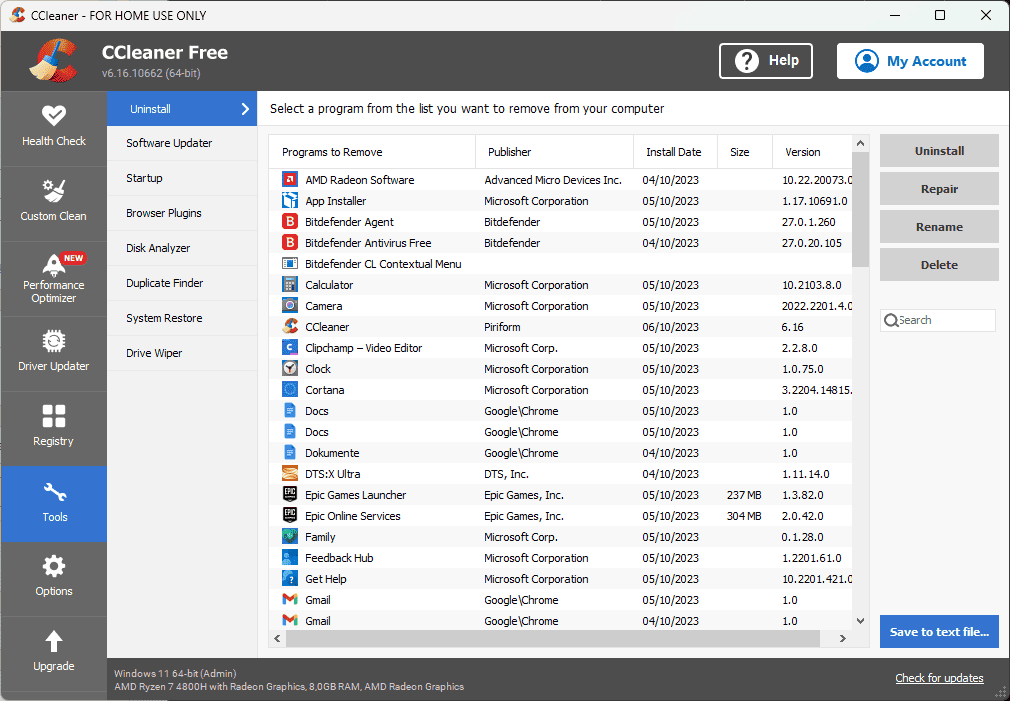 These include a software uninstaller, software updater, startup editor, browser plugin manager, disk analyzer, etc. The rest of the features can be observed above.
Pros:
User-friendly interface
Automatic health checker tool for your PC
Allows you to customize the cleaning process with a dedicated section
Includes a powerful Performance Optimizer, driver updater, and registry editor
Allows users access to a wide range of other tools like a software uninstaller, disk analyzer, drive wiper, etc.
Cons:
After installation, a pop-up appears suggesting that you install AVG Antivirus Free
The software could prove too complicated for some beginners
You may also be interested in: CCleaner vs Avira
Testing Parameters
I explored the capabilities of more than 25 software options and chose only 8 for this guide.
Here are the parameters I considered when making my choice:
I began by downloading all the software to my PC and evaluating their ease of installation.
Each software was analyzed from the perspective of how user-friendly and intuitive the UI is.
I tried out all the important features (disk cleaning, registry repair, system optimization, etc.).
I performed a CPU and RAM consumption assessment was performed before and after applying each setting.
Checked if the software is compatible with Windows 10 & 11 operating systems by using a VM (Virtual Machine).
Finally, I uninstalled each software to check if any residual files were left behind on my HDD.
| Software | Effectiveness and Performance | Safety and Reliability | Feature Set | Compatibility | User-Friendliness |
| --- | --- | --- | --- | --- | --- |
| AVG TuneUp | ***** | ***** | Great Features | Windows 10 and 11 | **** |
| Ashampoo WinOptimizer | ***** | ***** | Very Comprehensive | Windows 10 and 11 | ***** |
| Outbyte PC Repair | ***** | ***** | Good Features | Windows 10 and 11 | **** |
| Razer Cortex | **** | ***** | Useful for Gaming | Windows 10 and 11 | ***** |
| IObit Advanced System Care | **** | ***** | Comprehensive | Windows 10 and 11 | ***** |
| CCleaner | ***** | ***** | Versatile | Windows 10 and 11 | **** |
| Iolo System Mechanic | **** | ***** | Comprehensive | Windows 10 and 11 | ***** |
| Glary Utilities | *** | **** | Useful | Windows 10 and 11 | *** |
Note: 5-star (*****) ratings are the maximum score that can be obtained for each section.
---
Choosing the right Windows optimizer for Windows 10 and 11 can be daunting, especially if you're unsure how to test them.
That's why I took the time to explore more than 25 Windows optimizer apps. I've included everything you need to know about each software option and picked versatile tools, covering a wide range of user needs and requirements.
Feel free to share your choice in the comments below!