Is Copilot the best AI companion out there? Help us find out by answering a couple of quick questions!
Are you looking for a comprehensive CCleaner vs Avira comparison? My experience with these tools might help you.
Like many, I rely on my computer for everything from work to entertainment. Ensuring my PC operates at its peak is crucial, and that's where PC optimization tools come into play. I've come across many PC optimization tools – CCleaner and Avira are among the more popular ones.

Both these tools boast a wide array of features designed to enhance your computer's performance. However, choosing the right one for your specific needs can be tricky. That's where I'm going to help you.
In this guide, I'll go over all the vital features, ease of use, pricing, and more. I'll share my personal experience with both tools, shedding light on their strengths and weaknesses. Let's jump right in!

Specifications of the Device Used for Testing
| | |
| --- | --- |
| Operating System | Windows 11 Pro Insider Canary Channel |
| RAM | 8 GB DDR4 |
| Processor | 11th Gen Intel(R) Core(TM) i5-1135G7 @ 2.40GHz |
| System Type | 64-bit operating system, x64-based processor |
CCleaner vs Avira – Features
Both CCleaner and Avira come with free and pro (paid) versions with slightly different sets of features. Now, let's compare the major ones:
Performance Optimization
I kicked things off by testing the performance optimization capabilities of both tools. Avira System Speedup was quick to identify six sluggish startup applications and a whopping 36 GB of data that begged to be cleared. You can disable the performance-reducing apps and clear the unnecessary data easily.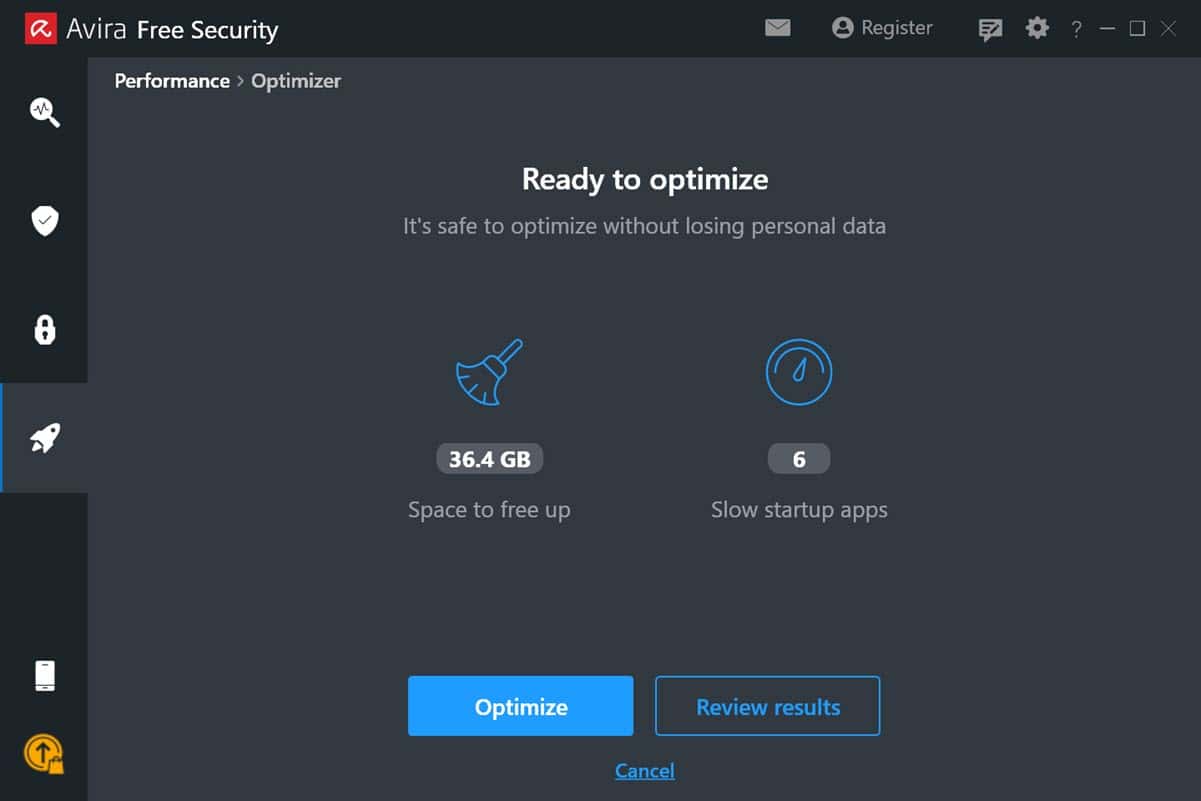 CCleaner, on the other hand, pinpointed 12 applications that were responsible for the system's sluggishness. There's also a direct button to make these apps sleep.
Furthermore, the performance scan results were noteworthy. However, unlike Avira, it doesn't scan for junk files under this feature. There's a separate Custom Clean section for it.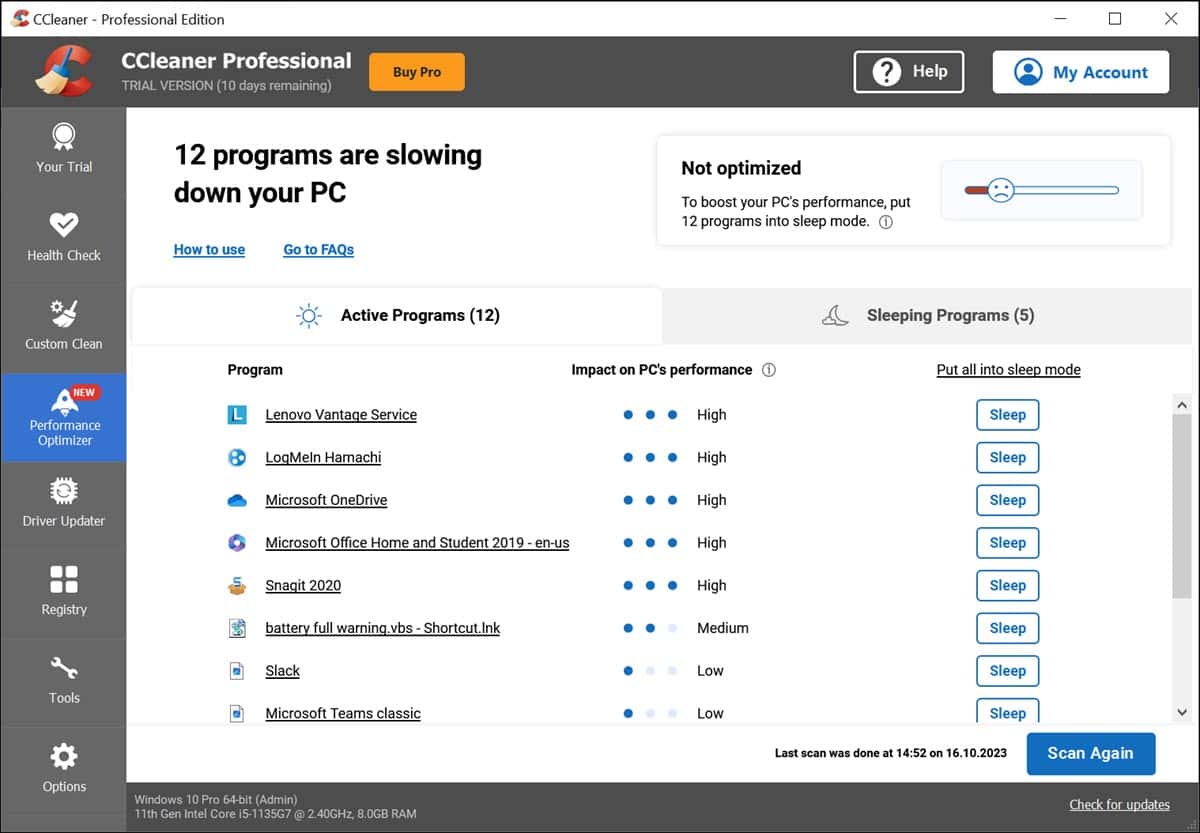 Driver Updater
When it came to driver updates, CCleaner flexed its muscles. It found 18 outdated drivers on my system. I can get them all at once with the "Update all" button.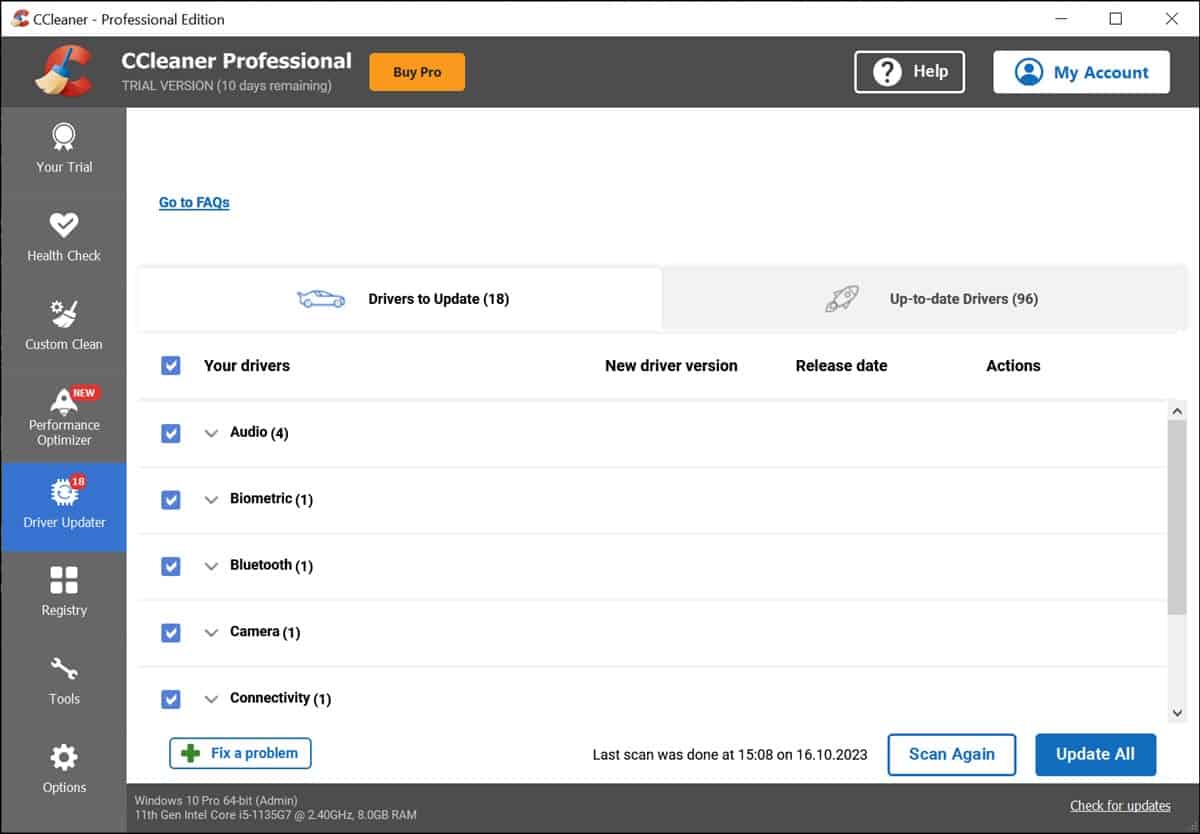 Avira System Speedup, however, hasn't reported any outdated drivers on the same system.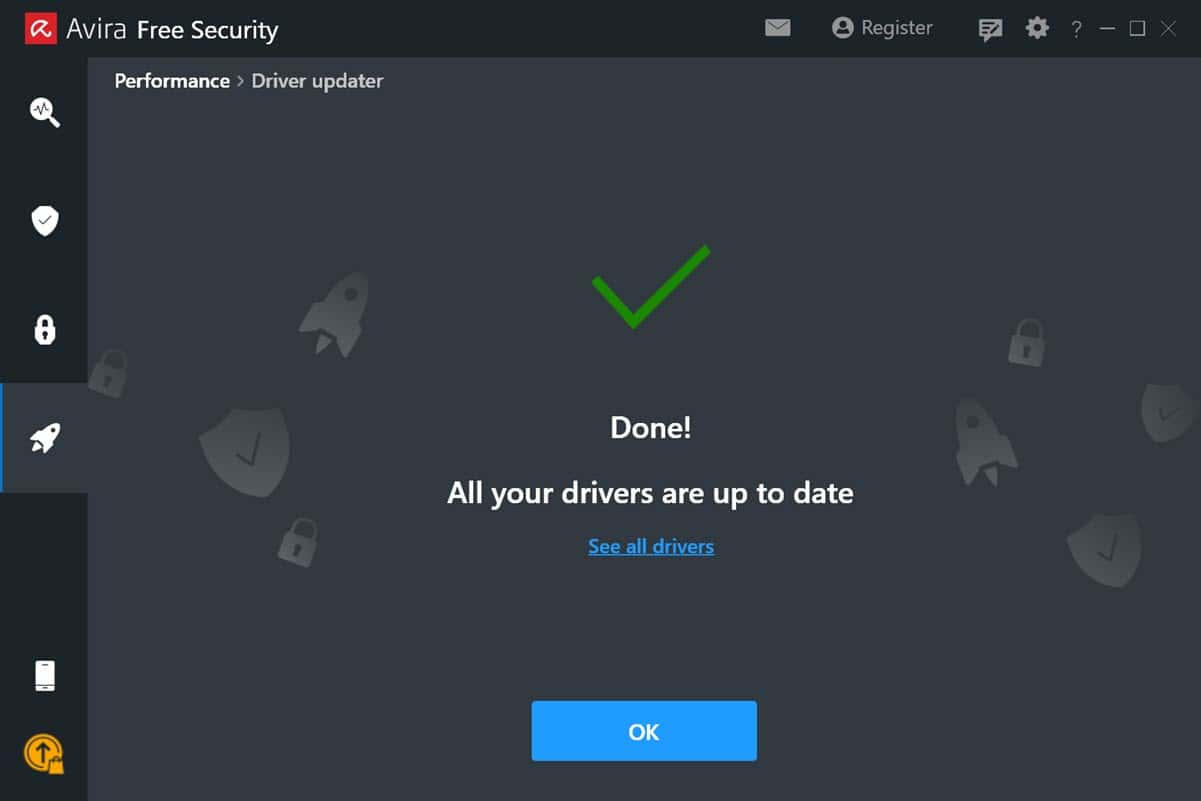 Software Updater
In the software update department, CCleaner proved to be a competent player, detecting five outdated applications.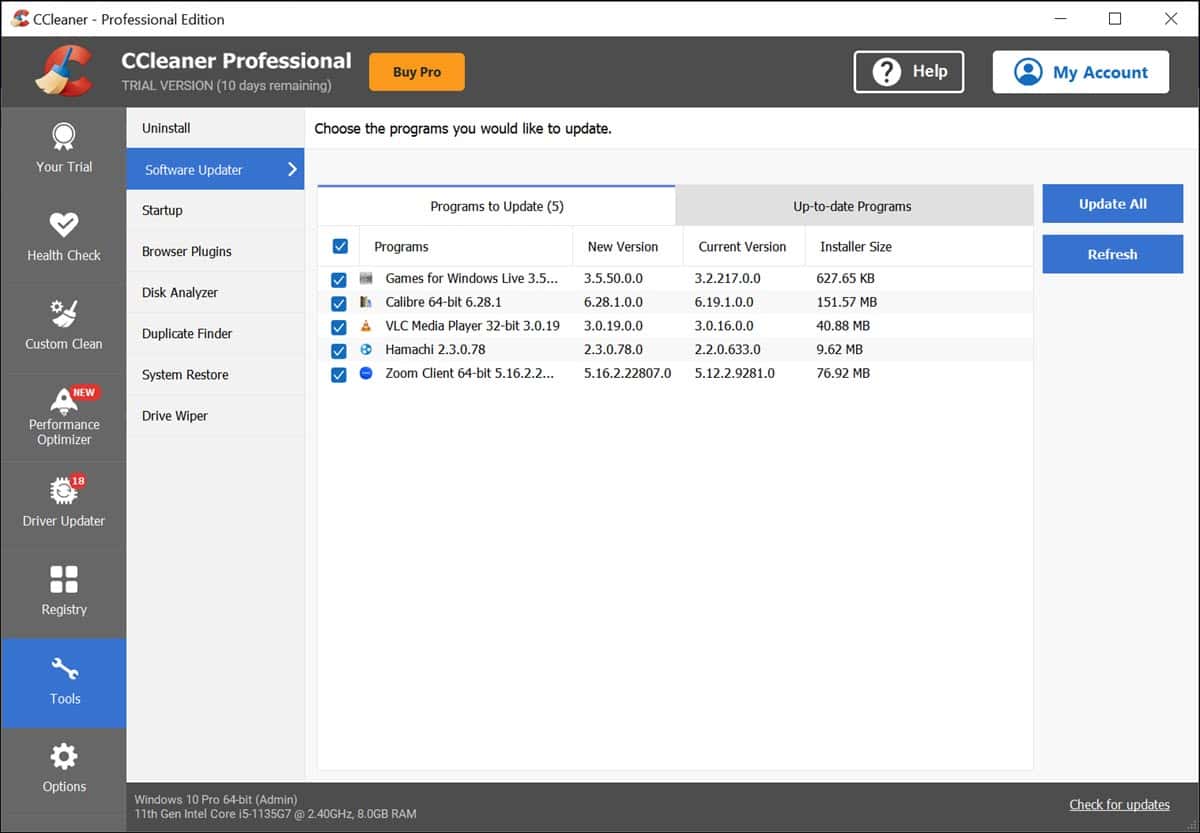 Avira Speedup surprised me by identifying a dozen outdated applications, including critical Windows Updates. It was a testament to its thoroughness.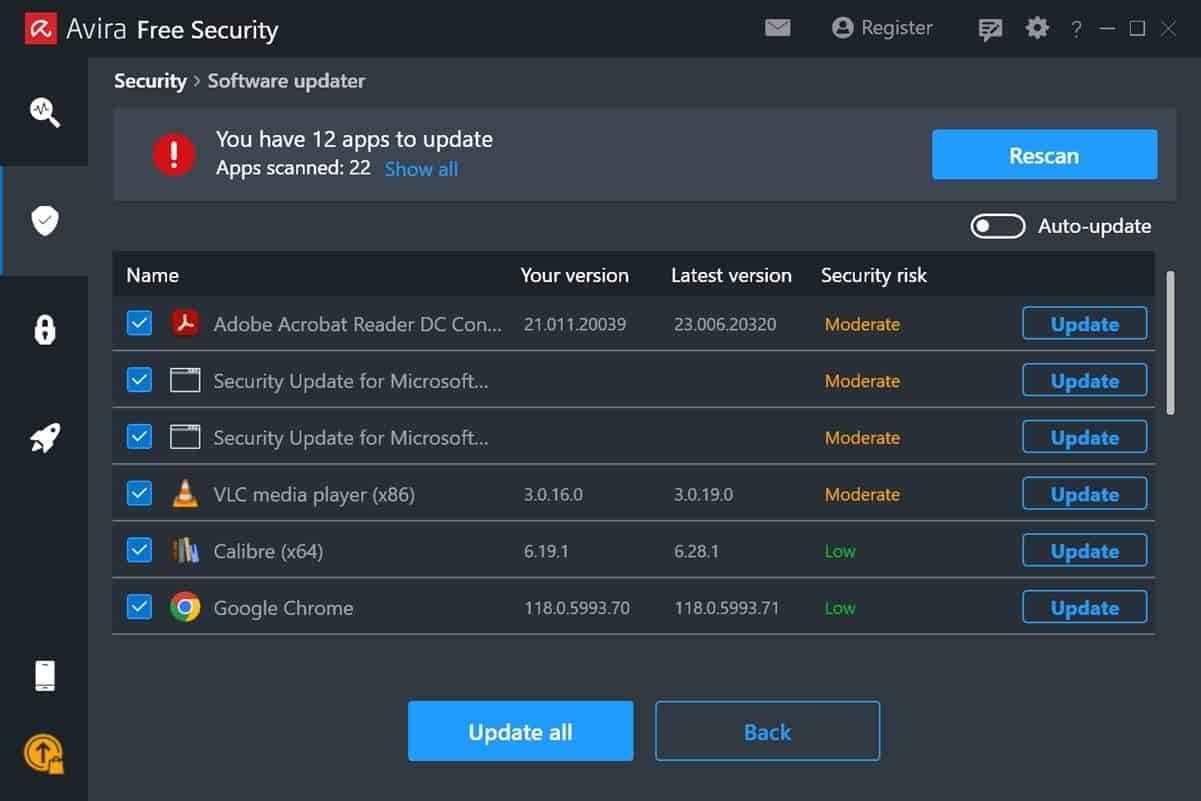 Uninstaller
CCleaner continued to impress with its built-in program uninstaller. It doesn't just stop at regular software. It can efficiently uninstall Windows apps, too, simplifying the process to a single click.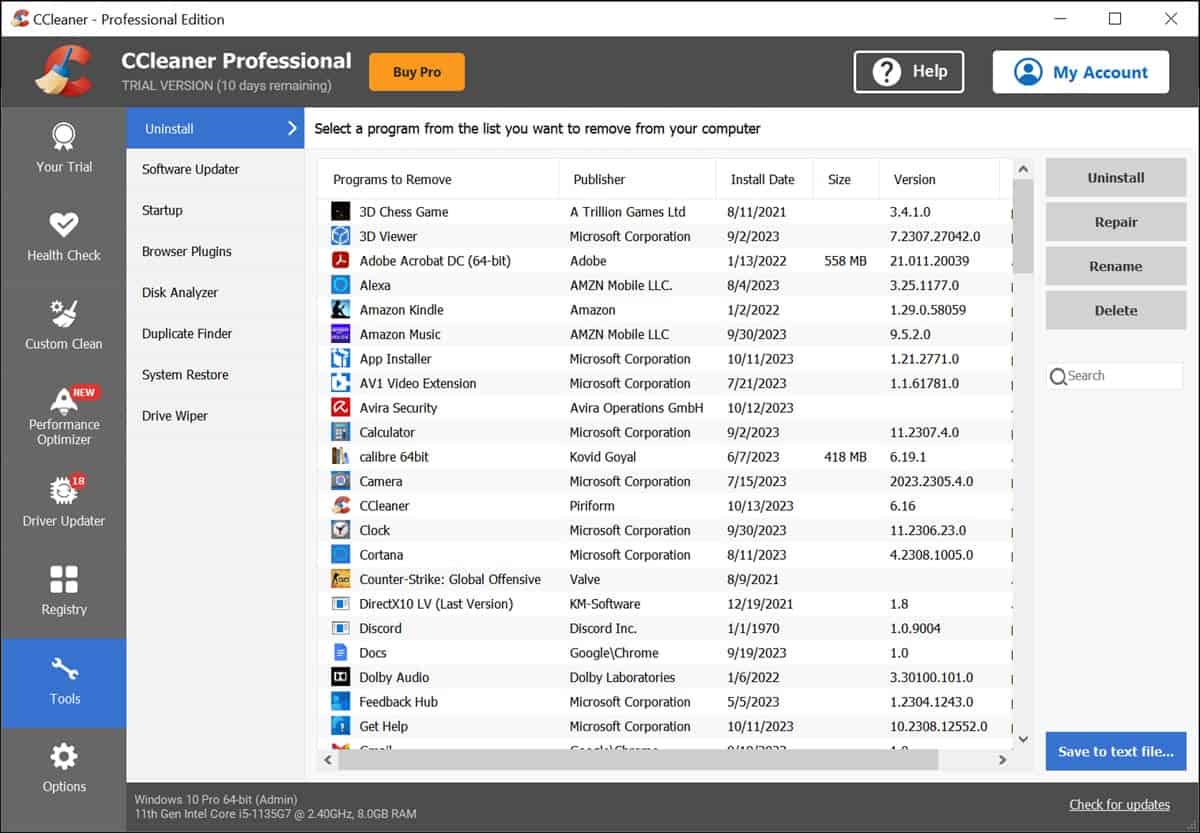 Avira, however, doesn't have a dedicated uninstaller feature, leaving it a step behind.
File Shredder
A file shredder can be a vital tool for those wanting to delete sensitive files permanently. Here's where Avira System Speedup takes the lead. While CCleaner lacks this feature, Avira ensures that deleted files are beyond recovery. That makes it a top choice for those concerned about data security.
Ease of Use and Interface
Let's begin with the UI. Both CCleaner and Avira offer user-friendly interfaces, making them accessible to novices.

CCleaner's layout is simple and straightforward, perfect for those looking for quick navigation. All major features are present on the home screen.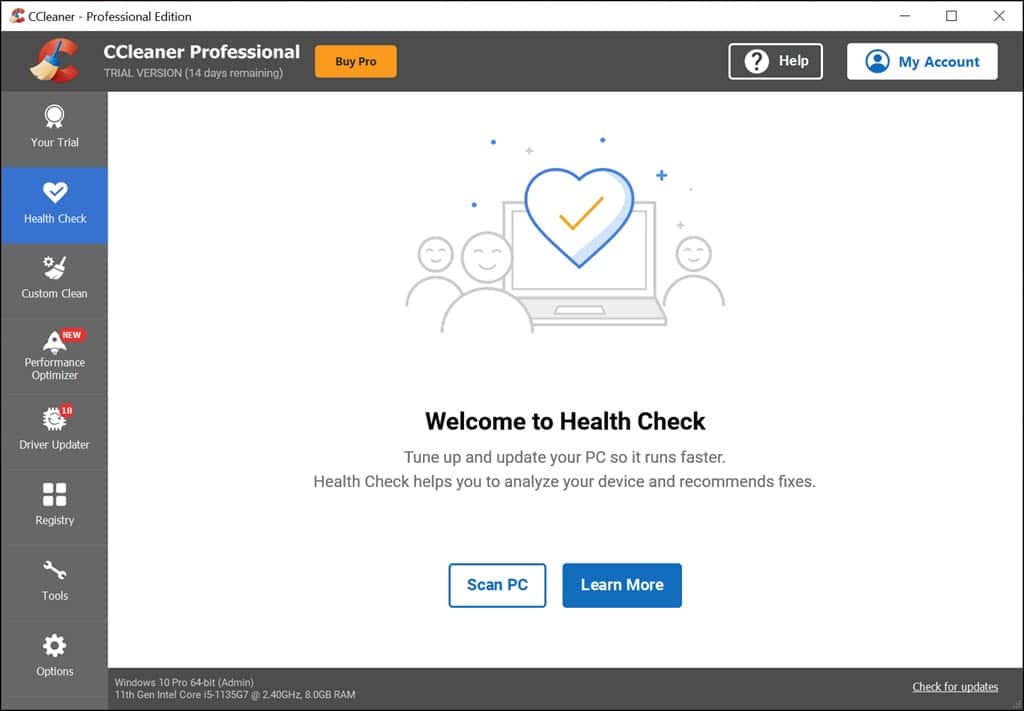 For more options, you can switch to the Tools tab. Having used CCleaner extensively, I can vouch for its user-friendly interface. Even if you're not particularly tech-savvy, you'll find it easy to navigate.
Avira System Speedup offers an equally intuitive design. When you launch the app, all major features can be found on the left pane. Under the Status tab, you'll find the "1-Click Optimization" Scan button. 
The Security, Privacy, and Performance tabs contain all the other tools.
Pricing
CCleaner's Pricing
CCleaner offers a free version with essential optimization features, making it accessible to budget-conscious users. For those looking to unlock advanced tools, the Professional version is available for an annual subscription fee. Here's the breakdown of CCleaner's pricing:
For PC:
CCleaner Professional (for a single device):

$29.95/year

CCleaner Professional Plus (for 3 devices): 

$49.95/year
For Mac:
CCleaner Professional (1 home Mac Professional subscription): 

$29.95/year
While CCleaner provides a 15-day free trial for its Pro version, Avira System Speedup doesn't.
Avira's Pricing
Avira follows a similar path, providing a free version that covers the basics of PC optimization. Avira Prime expands the offer with a comprehensive security suite.
This premium package is available for monthly subscriptions, annual subscriptions, and 2-year subscriptions. The price depends on the number of devices. As such, it ranges from 23.95 € to 41.95 € (1-year subscription) for 1 to 5 devices. You can also subscribe for one month for as low as 2.95 €.
CCleaner vs Avira – Head-to-Head Comparison

To get a clearer picture, let's put these two tools head-to-head:
| | | |
| --- | --- | --- |
| | CCleaner | Avira |
| PC Health Check | YES | NO |
| One Click Optimization | NO | YES |
| Essential PC Cleaning | YES | YES |
| Software Updater | YES | YES |
| Driver Updater | YES | YES |
| Battery Saver | NO | YES |
| Registry Cleaner | YES | NO |
| File Shredder | NO | YES |
| Startup Optimizer | NO | YES |
| Duplicate Finder | YES | YES |
| Schedule Clean | YES | NO |
| Browser Cleaning | YES | NO |
| Drive Wiper | YES | NO |
| Disk Analyzer | YES | NO |
| Hyper Boost | YES | NO |
| Uninstaller | YES | NO |
| Lowest Price | FREE | FREE |
You may also be interested in: CCleaner vs IOBit Advanced System Care
Verdict
So, which one should you choose?

CCleaner is a fantastic option if you're after straightforward PC optimization with the convenience of updating all your drivers and software. It's ideal for the beginner users.
Avira, with its comprehensive toolset, is perfect for advanced users who are seeking a deep dive into system optimization. If you're passionate about squeezing every bit of performance from your PC, Avira is the way to go.
Overall, both tools are two of the best PC cleaners and promise to enhance your system's efficiency, with slight differences. Hopefully, this CCleaner vs Avira comparison will help you make an informed decision!