Searching for a detailed comparison of CCleaner vs System Mechanic? My experience with these tools might be useful to you then. 
As someone who relies heavily on my PC for both work and entertainment, keeping it in top condition is crucial. PC optimization tools are a great way to ensure stability.

When it comes to Windows PC cleaners, CCleaner and iolo System Mechanic are two of the most popular names. I've used both for a while, so continue reading to find out about their features and how they compare.
Specifications of the Device Used for Testing
| | |
| --- | --- |
| Operating System | Windows 11 Pro Insider Canary Channel |
| RAM | 8 GB DDR4 |
| Processor | 11th Gen Intel(R) Core(TM) i5-1135G7 @ 2.40GHz |
| System Type | 64-bit operating system, x64-based processor |
CCleaner vs System Mechanic – Features
Performance Optimization

Both apps have decent performance optimization tools. CCleaner impressed me by identifying 12 sluggish startup applications.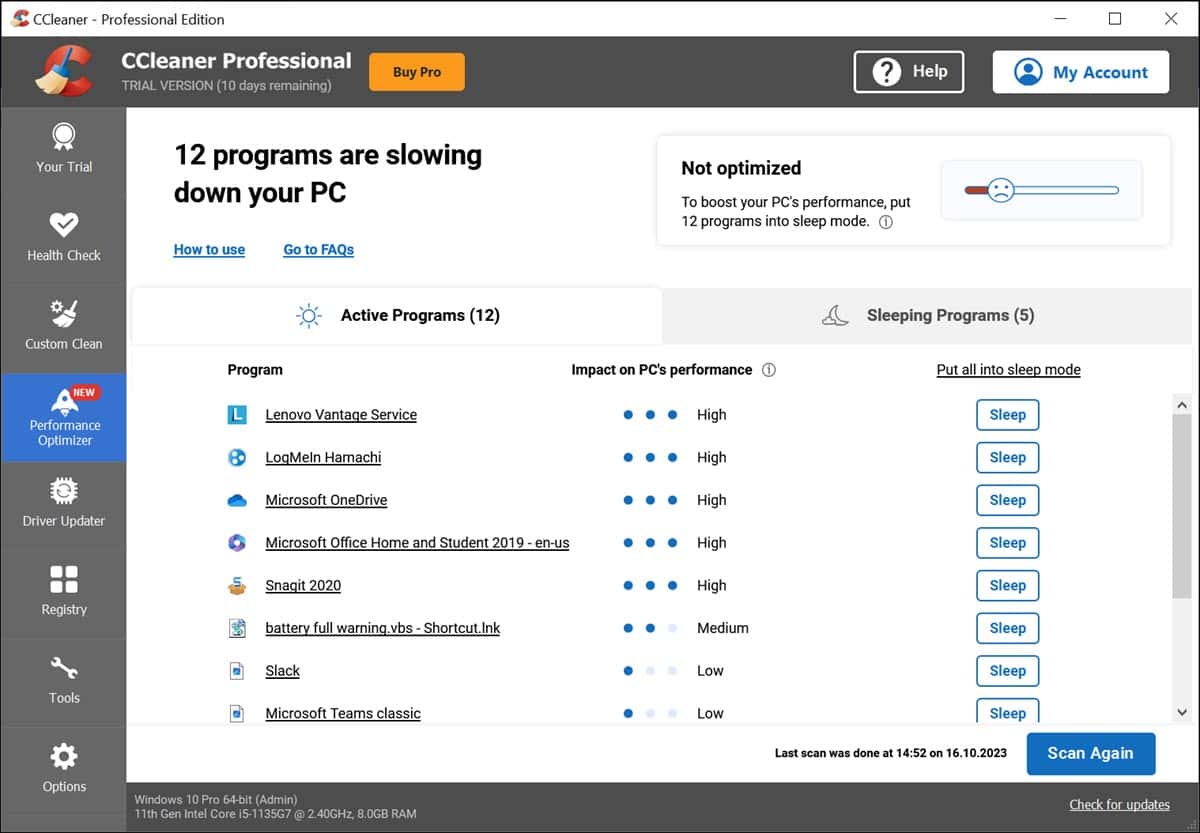 Then, I turned to the iolo System Mechanic. To my surprise, it flagged a staggering 62,185 system performance issues and resolved 62,155 of those.
But what truly set it apart was the Process Scanner feature, which scans for resource-consuming processes running in the background. It's a valuable tool for those who want to take control of their system's performance.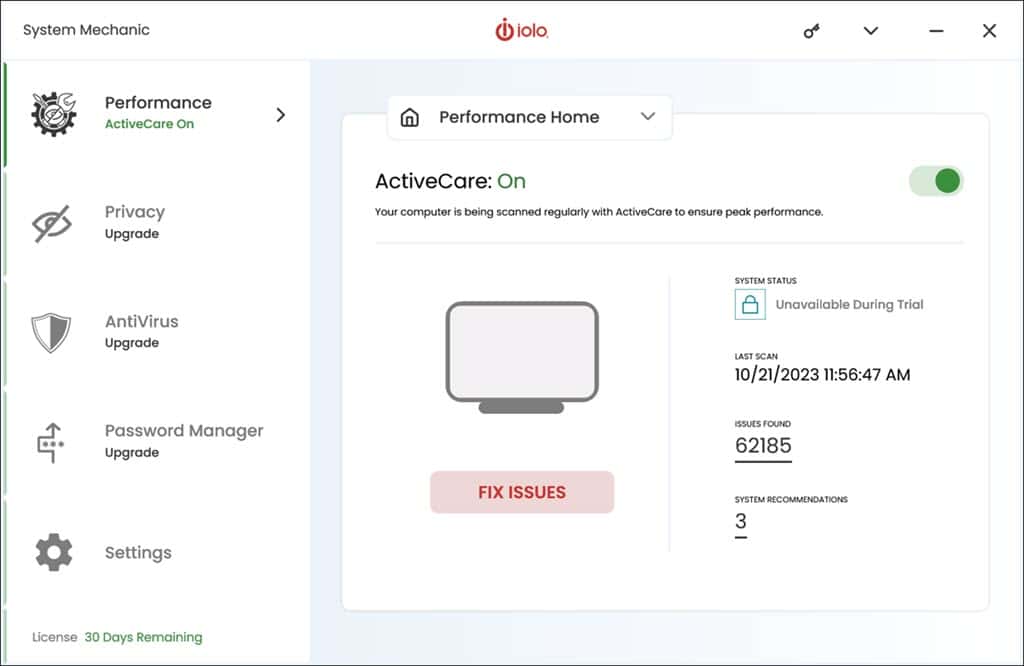 Startup Optimizer

CCleaner is equipped with an advanced Startup optimizer that lets you control everything from startup apps to scheduled tasks, Windows services, and context menu entries. It's a comprehensive tool for managing what launches with your system.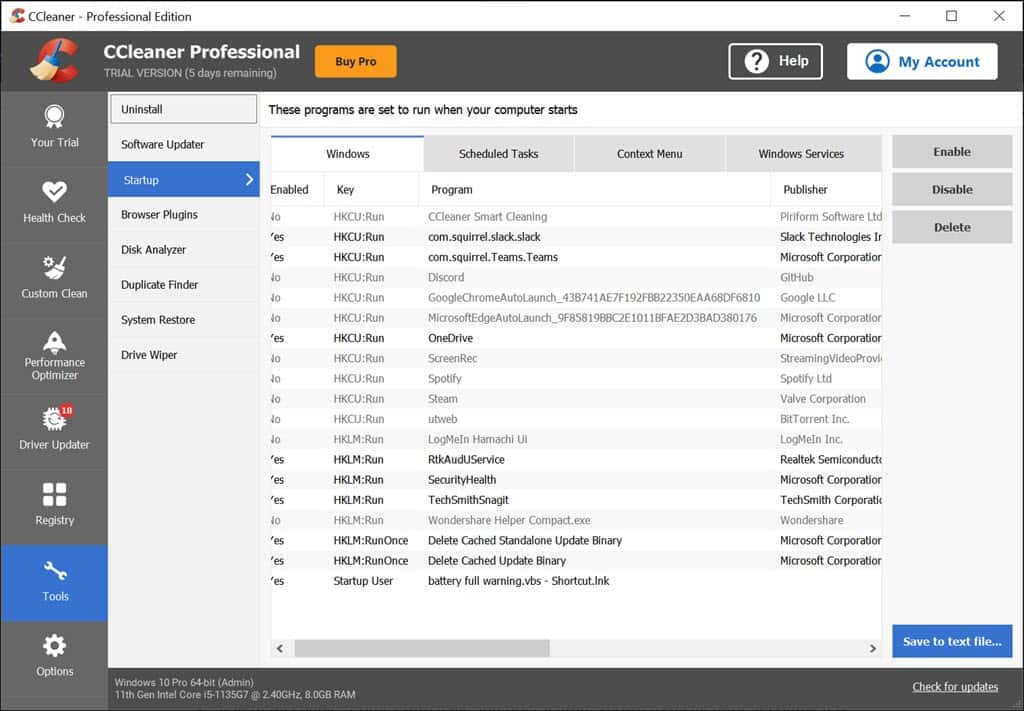 System Mechanic, on the other hand, offers a user-friendly Startup Optimizer. It allows you to enable, disable, or delay the startup programs to enhance boot times. What I found intriguing was the "Community Choice" section, which offers insights into whether an app is suitable for the system startup.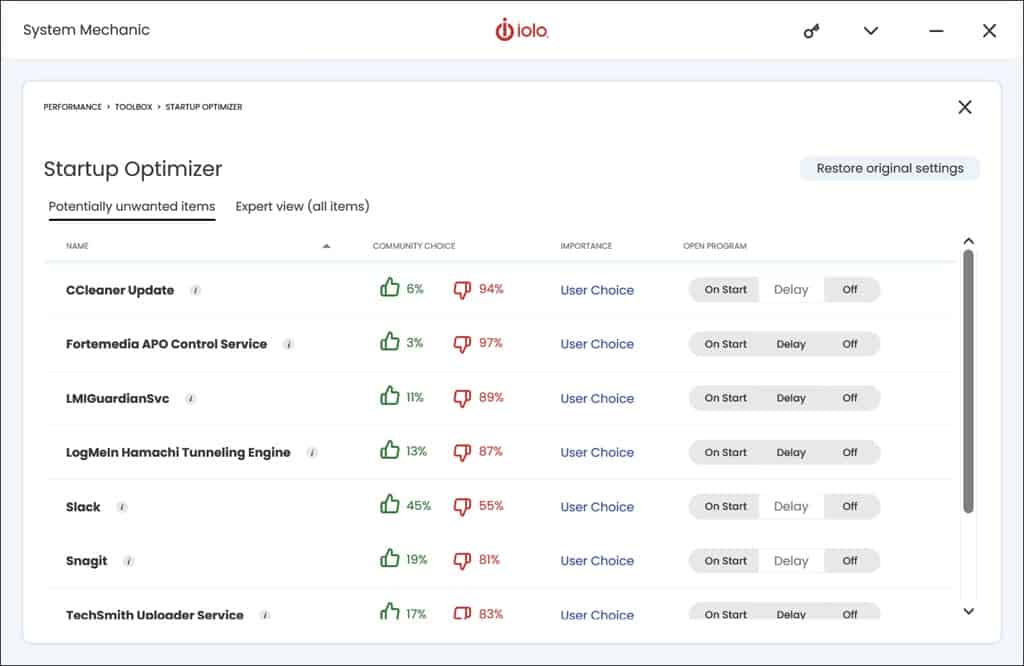 Uninstaller

When it comes to uninstalling software, both tools offer robust solutions. CCleaner comes with a program uninstaller that can efficiently eradicate regular software as well as Windows apps with a single click. It's quick and straightforward.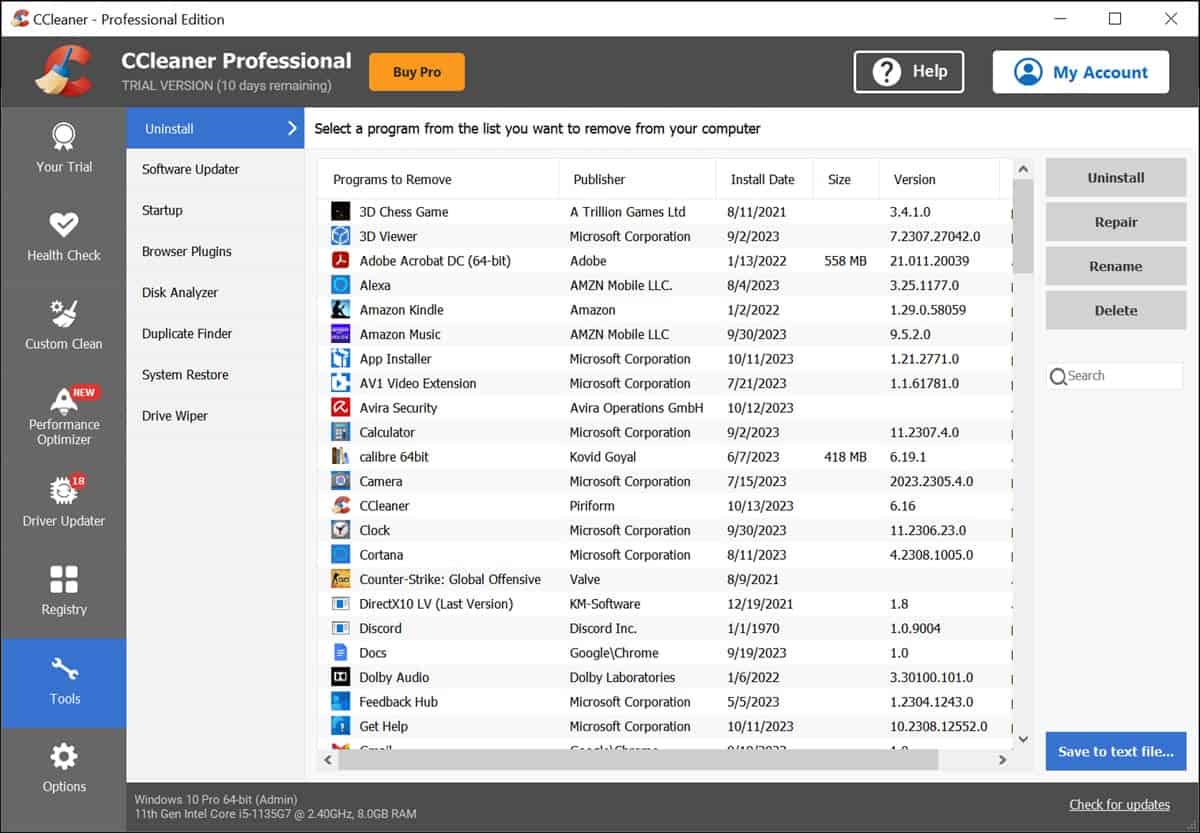 System Mechanic, on the other hand, offers a more advanced uninstaller. What's impressive is that it doesn't just remove the application but also clears the residue left behind by uninstalled apps. Plus, it can even uninstall Windows updates, providing better control over your system troubleshooting.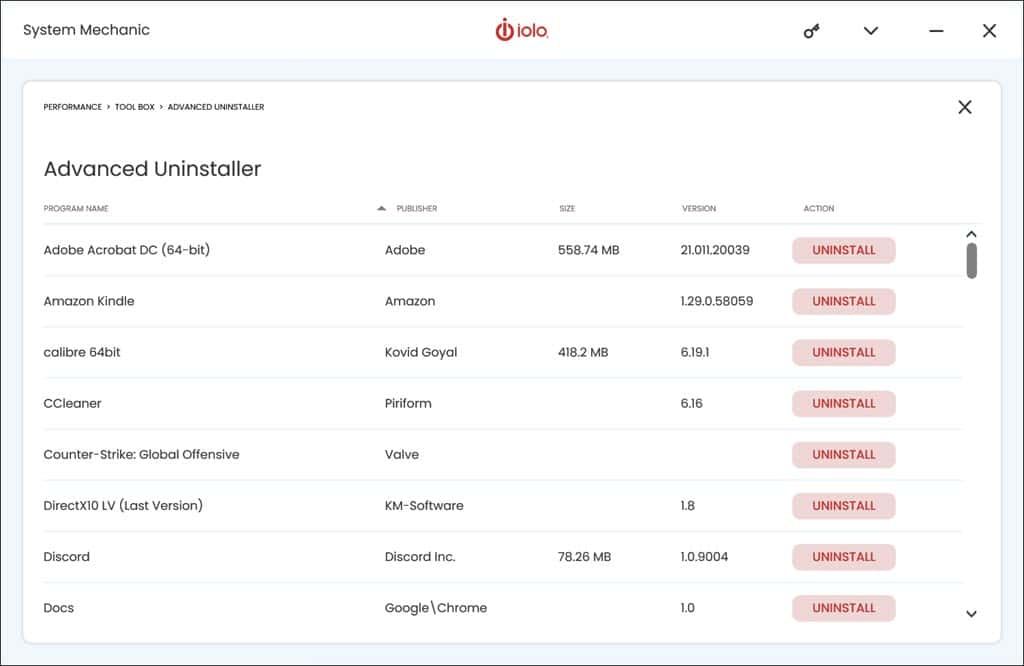 PUP Scanner

PUPs (Potentially Unwanted Programs) can sneak into your system and degrade performance. CCleaner, unfortunately, doesn't have a dedicated PUP scanner and remover.
System Mechanic, on the other hand, comes with a Deceptive Program remover. It's a valuable tool for keeping your system free from pesky PUPs. I found 2 unnecessary programs with it.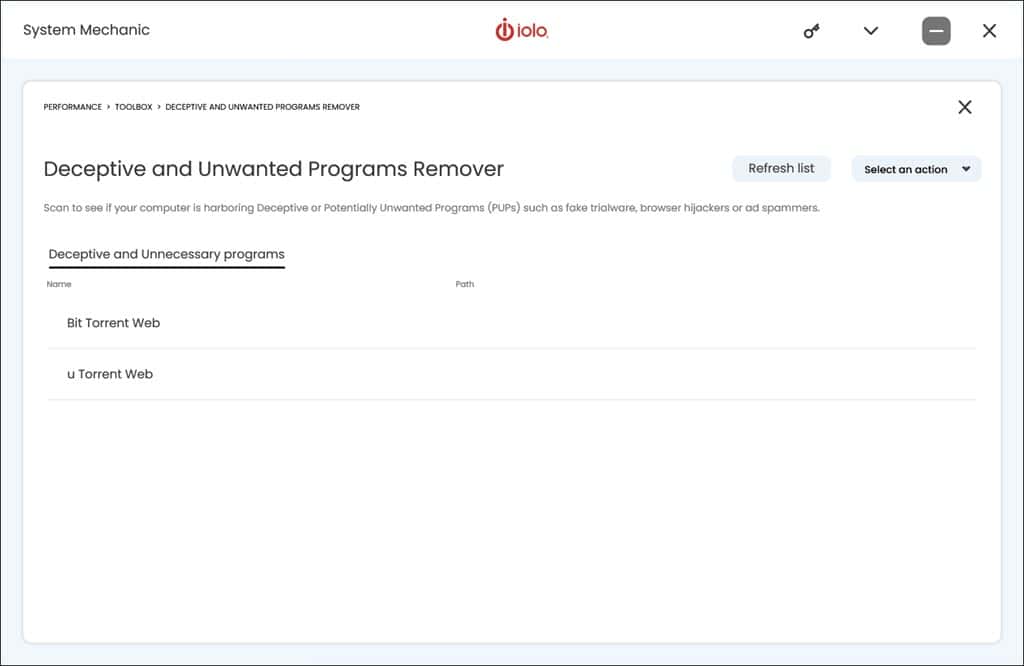 Driver Updater

CCleaner performed admirably in the driver department, identifying 18 outdated drivers on my system. It also offers a convenient "Update all" button for swift fixes.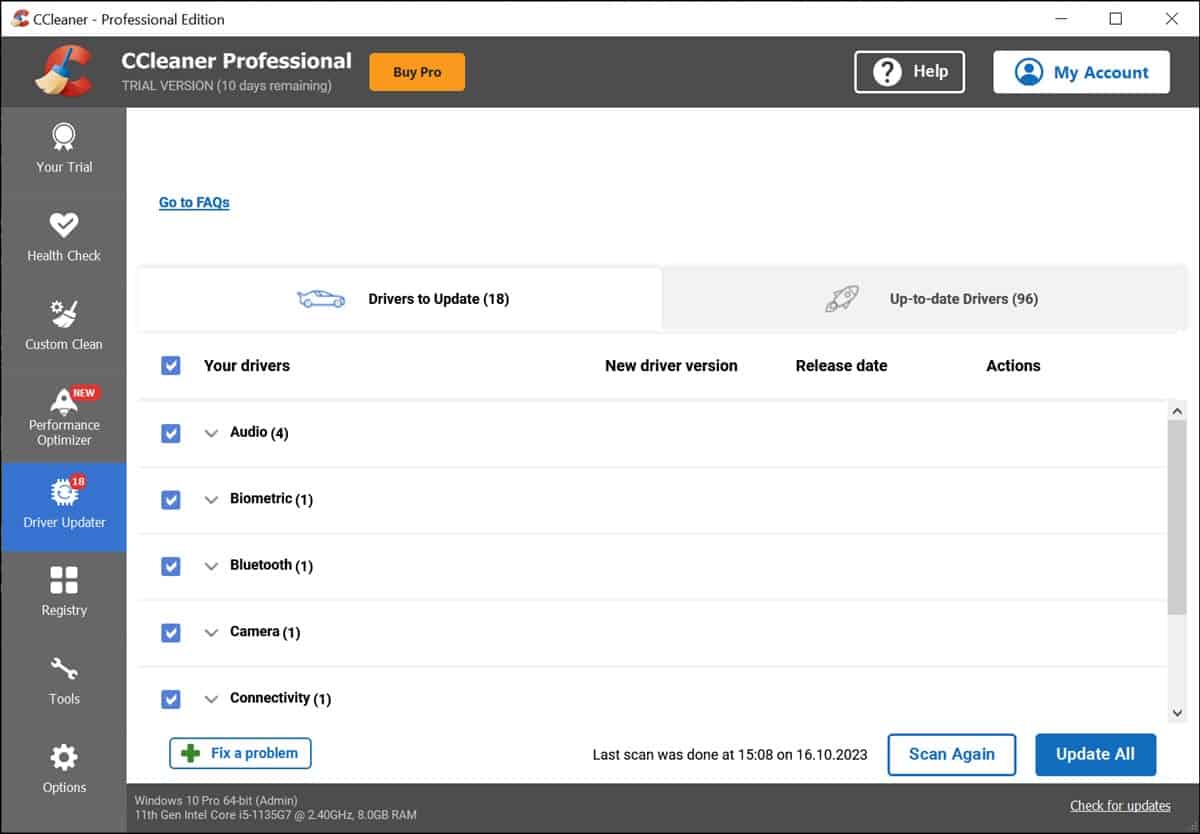 In contrast, the basic version of System Mechanic doesn't provide this feature. This might be a slight drawback for those looking to keep their drivers up to date.
File Shredder

In the realm of file shredding, the System Mechanic takes the lead. While CCleaner lacks this feature, System Mechanic has the Incinerator. It ensures that deleted files are beyond recovery, which is vital for privacy-conscious users.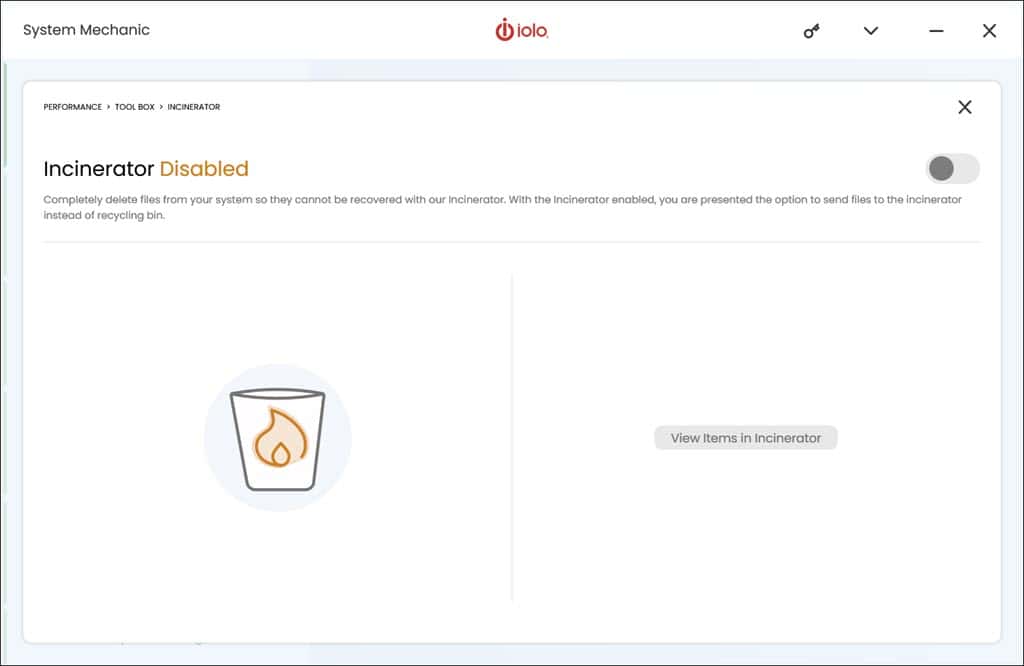 Ease of Use and Interface
Both tools offer user-friendly interfaces, catering to users of varying technical proficiencies. However, there are some slight differences:

CCleaner
First, let me tell you about the installation. Installing CCleaner was a breeze. The tool doesn't come bundled with any unwanted software, thankfully.
Just download the CCleaner installer file, run it, and follow the on-screen instructions. Remember that CCleaner has different installer files for the free version and the pro (paid) version.
CCleaner's user-friendly layout offers a seamless and intuitive experience. The home screen conveniently hosts all the essential features, including Health Check, Custom Clean, Performance Optimizer, and Driver Updater.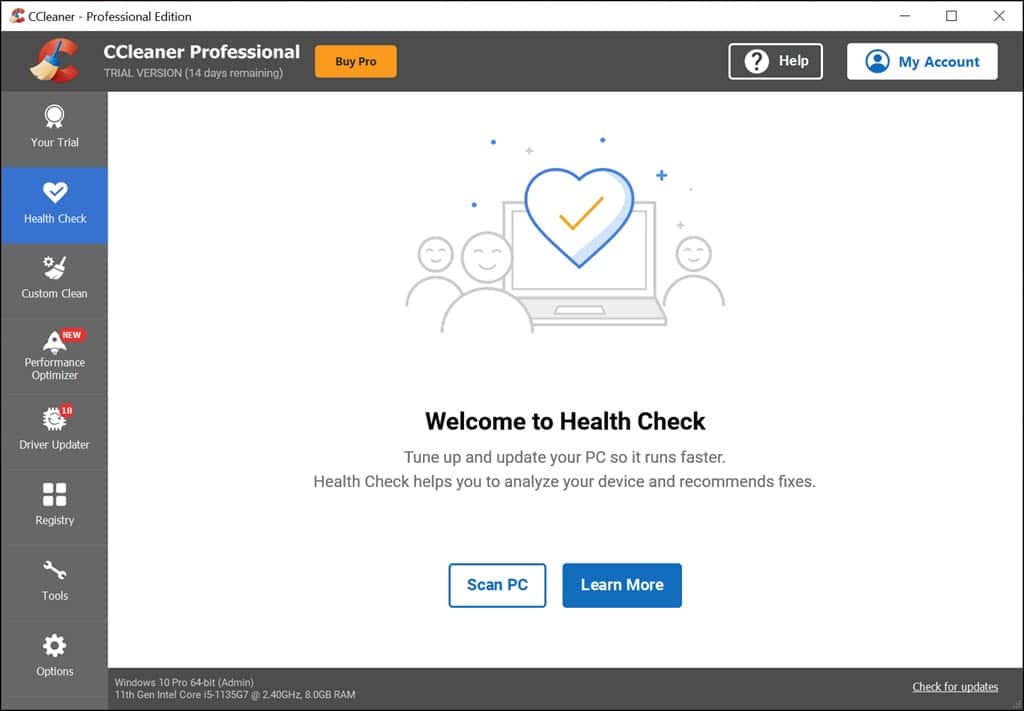 To access additional options, simply navigate to the "Tools" tab.

System Mechanic
Installing the System Mechanic was equally straightforward. Once the setup file is downloaded, installing the software takes just a few clicks. Similar to CCleaner, System Mechanic doesn't include any bundled software.
However, it's worth noting that when I launched the app for the first time, System Mechanic asked me to activate the application by registering through email. Without activating the program, I wasn't able to access any section, not even the Settings. Surprisingly, there isn't any option to skip this event.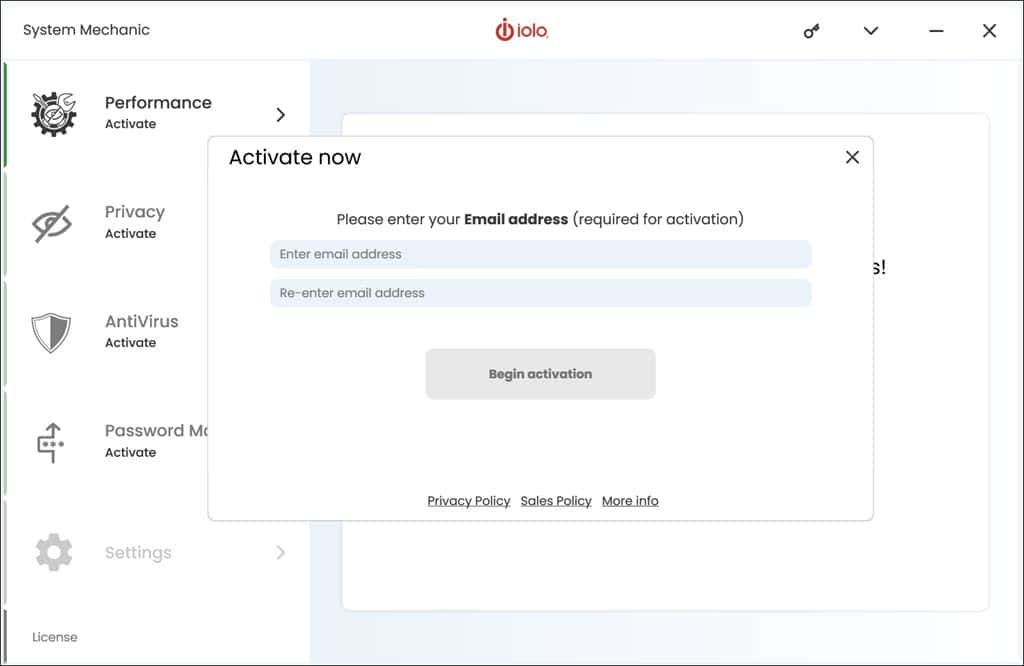 The interface is pretty basic and straightforward. The home screen has a Performance, Privacy, Antivirus, Password Manager, and Settings section. However, most of them are only accessible by upgrading.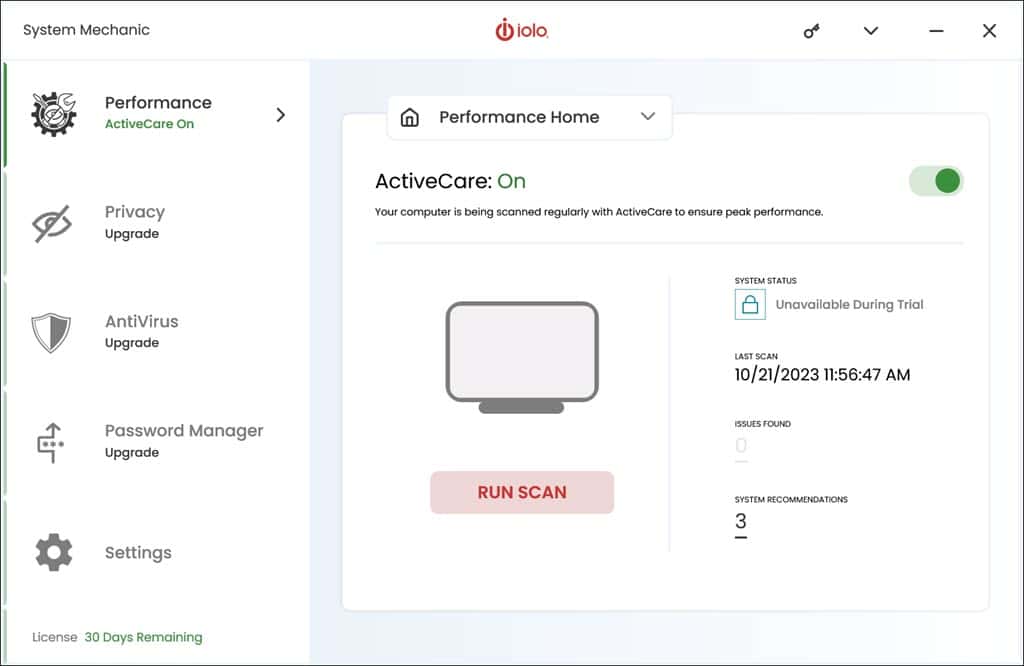 All the major PC tuning features are under the Toolbox section of the Performance tab.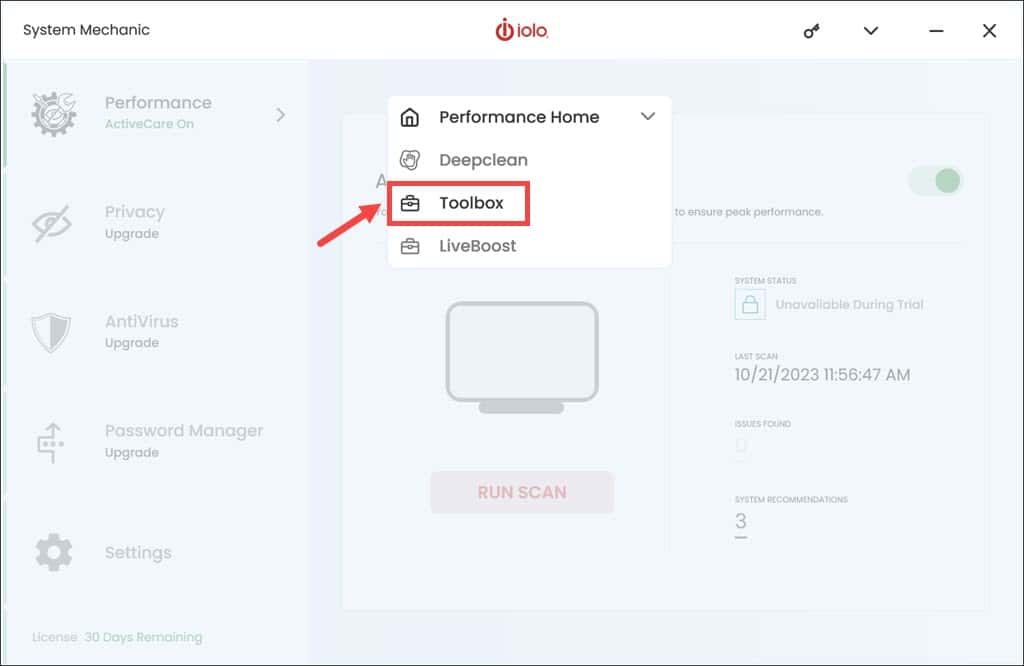 Pricing
CCleaner Pricing
CCleaner offers a free version with essential optimization features which is enough for regular users. If you're looking for advanced tools, the Professional version is available for an annual subscription fee. There's also a 15-day free trial available.

Here's the current price structure for the CCleaner Pro version:
For PC:
CCleaner Professional (for a single device): 

$29.95/year

CCleaner Professional Plus (for 3 devices): 

$49.95/year
For Mac:
CCleaner Professional (1 home Mac Professional subscription): 

$29.95/year
iolo System Mechanic Pricing
System Mechanic follows a different pricing model. It provides a free version with basic features but offers three paid tiers: System Mechanic, System Mechanic Pro, and System Mechanic Ultimate Defense. Each tier offers a wider array of features, and is available for an annual subscription.
Here's the current price structure:
System Mechanic:  

$14.99/ year

System Mechanic Pro: 

$20.99/year

System Mechanic Ultimate Defense: 

$23.99/year
Alternatively, you can try it out with the 30-day free trial.
CCleaner vs System Mechanic – Head-to-Head Comparison

To offer a clear, side-by-side comparison, here's a table summarizing the key features of both tools:
| | | |
| --- | --- | --- |
| | CCleaner | System Mechanic |
| PC Health Check | YES | NO |
| Performance Optimization | YES | YES |
| PUP Scanner | NO | YES |
| Software Updater | YES | NO |
| Driver Updater | YES | NO |
| Network Scanner | NO | YES |
| Registry Cleaner | YES | NO |
| File Shredder | NO | YES |
| Startup Optimizer | YES | YES |
| Duplicate Finder | YES | NO |
| Schedule Clean | YES | NO |
| Browser Cleaning | YES | NO |
| Drive Wiper | YES | NO |
| Disk Analyzer | YES | NO |
| Hyper Boost | YES | NO |
| Uninstaller | YES | YES |
| Free Trial | YES 15 days | YES 30 days |
| Lowest Price | FREE | FREE |
You may also be interested in:
Verdict
It's time to conclude this CCleaner vs System Mechanic comparison.
If you want a straightforward PC optimization tool with a user-friendly interface, Iolo System Mechanic is an excellent choice. You can upgrade to its paid versions for more features such as Antivirus, Password Manager, and more.
On the other hand, CCleaner is a comprehensive solution with a wide range of features, making it suitable for users who want to delve deep into system enhancement. It's especially valuable for those who prioritize system performance, security, and file privacy.
So, both tools offer robust solutions, and your choice should align with your PC optimization goals. Feel free to share your experiences with the apps in the comments below!