We can safely assume you're experiencing performance issues on your Windows 10 computer. In this case, the problem is most likely caused by an overcrowded and probably fragmented Windows registry, and the fix will imply using a good registry cleaner for Windows 10.
Because the Windows registry functions as a crucial database for your system, which includes settings and configurations of every software you use, including the OS itself, managing and cleaning the registry is extremely important.
Registry cleanup software can help you with this task. The best registry cleaners for Windows 10 are covered in this in-depth article, including free and paid tools.
After reading this guide and finding out which is the best registry cleaner for Windows 10, you will be prepared to deal with any performance issues, so let's dive in!
PC Registry Cleaners Comparison Table
Free
Premium
1. Fortect – Best paid registry cleaner for Windows 10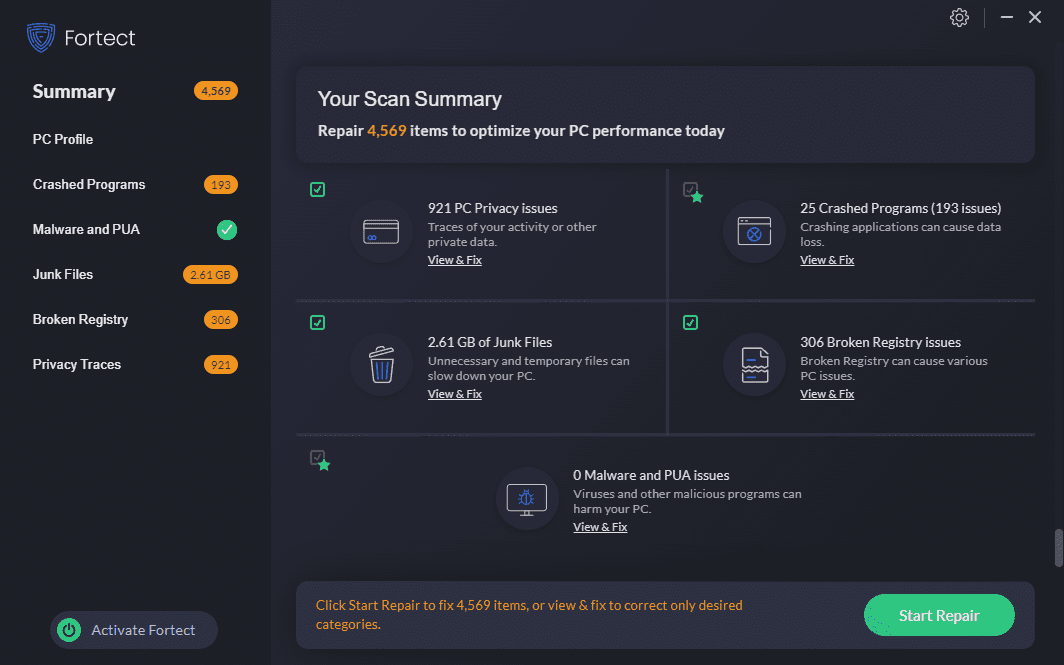 Fortect is one of the best premium solutions for users searching for in-depth registry cleaning software. The powerful scanning algorithms that power this app searches your system and identifies any registry files or DLLs that might be missing or became corrupted.
Then, using the excellent repair engine, this powerful app replaces or fixes the respective files by using a fresh version of the files from the comprehensive Fortect database and adding it to your system.
Pros
In-depth scanning for registry issues
Advanced scanning ensures all registry issues are found
Prioritizes the removal of stubborn errors
User-friendly interface for users with all levels of proficiency
Cons
The advanced features are included only in the paid version, but the free version is competent
=> Get Fortect
2. Tweaking – Comprehensive system repair options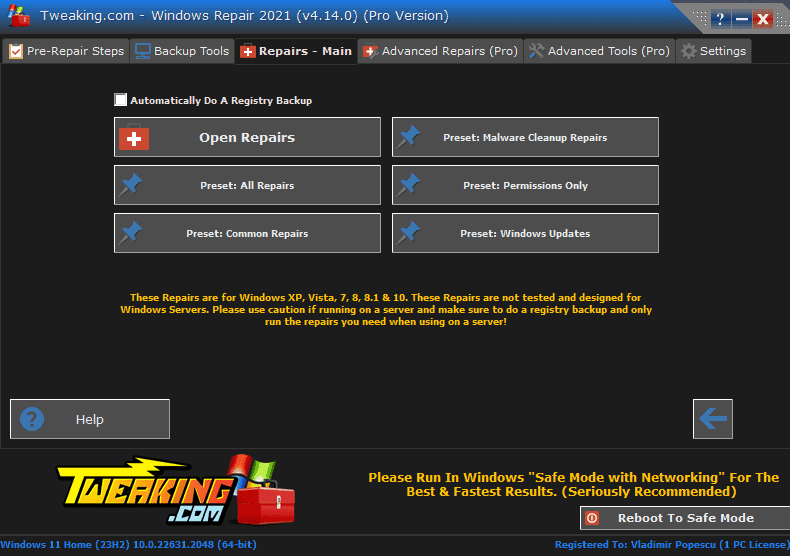 Tweaking is not just another registry cleaner, even though it covers this task without any problem, but an all-in-one system tweaker and fixer. This powerful software ensures everything from backing up and restoring registry files to managing and editing user accounts on your device and everything in between. You can safely copy this software on a USB drive and thus have a Windows 10 portable registry cleaner available.
Pros
Step-by-step software structure ensures streamlined processes
A vast array of system optimization tools
Registry backup, restore, and fixing
Includes access to system repair tools
Cons
The wide range of features might feel overwhelming for some users, but the step-by-step approach helps.
=> Get Tweaking
3. CCleaner – Best free registry cleaner for Windows 10
CCleaner is probably one of the most versatile tools on the list, covering many other tasks besides registry cleaning. This software can help you manage your system cleaning, startup management, browser cookies, and cache removal.
Pros
Removes temporary files, cookies, caches, etc.
Powerful registry cleaner and restorer
User-friendly interface
Comprehensive PC cleaning features
Cons
A few of the advanced features are available only in the premium version
=> Get CCleaner 
4. Iolo System Mechanic – System optimization and security suite
Iolo System Mechanic is not just a simple registry cleaner but a powerful and versatile suite that covers a wide range of user needs, thus influencing the performance of your system. Besides registry cleaning, this software covers real-time monitoring, which can be very helpful.
Pros
Wide range of optimization tools included
Real-time monitoring of threats
Privacy protection features
Frequent updates
Cons
Premium pricing, which might not be suitable for some users
5. Wise Registry Cleaner – Focuses on error detection and safety
Wise Registry Cleaner is an open-source Windows 10 registry cleaner that will improve the efficiency of your system by tweaking and repairing any corrupted registry files, thus ensuring a better-functioning device. The automatic backup feature ensures that you can always revert any changes, and the user-friendly interface makes it easy to use.
Pros
Prioritizes safety
User-friendly interface
Automatic backup feature for peace of mind
The software also has a free version
Cons
Some advanced features are missing in the free iteration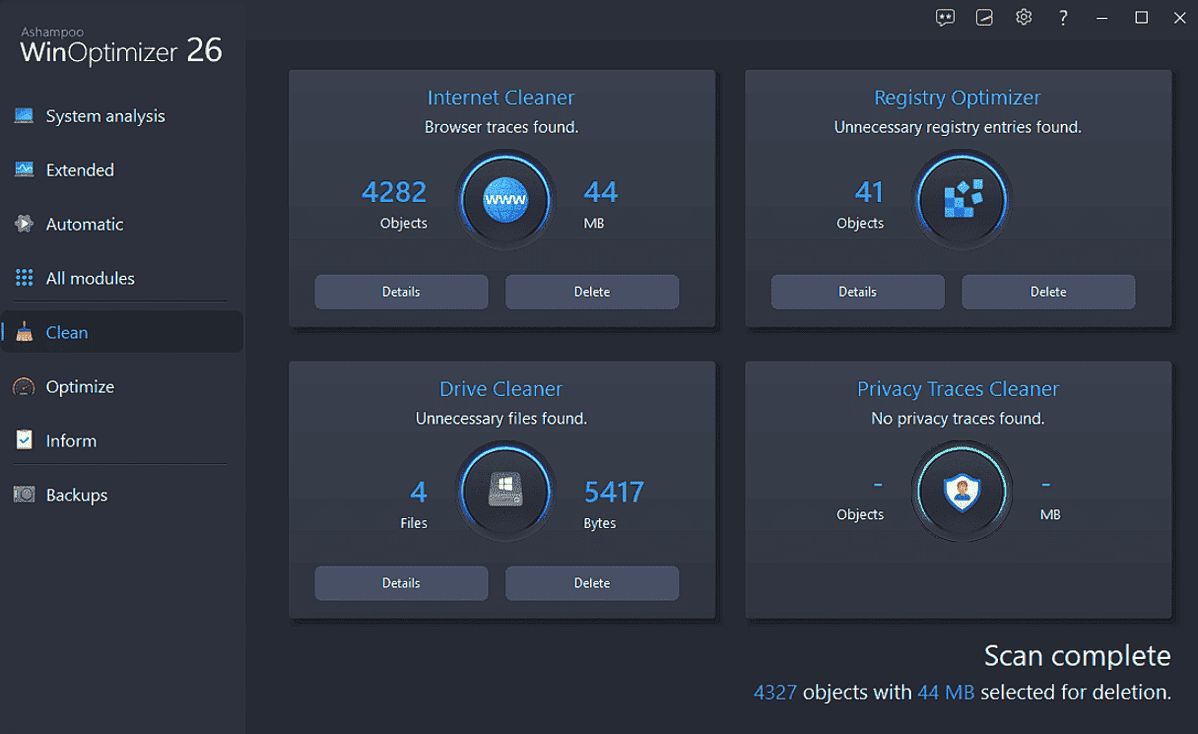 Ashampoo WinOptimizer uses an all-in-one approach to system optimization, covering your registry cleaning needs while offering access to other features. The user-friendly interface ensures that anybody can use the software, and the regular updates provide system stability.
Pros
It contains a wide range of valuable tools for Windows 10
User-friendly interface
Regular updates are released
Privacy protection features
Cons
Suited for users who want to invest in a good optimization software
Auslogics Registry Cleaner is another powerful registry cleaner for Windows 10 which offers users a quick way to identify and resolve any issues affecting their PC's performance.
The intuitive interface enables quick access to all options, while the software also allows users to undo any changes to their registry. This can be extremely useful, especially if you're a beginner in this field.
Pros
Excellent registry cleaner features
User-friendly interface
Easily back up your registry before fixing
Completely free to use
Cons
=> Get Auslogics Registry Cleaner 
8. Glary Utilities – Comprehensive system optimization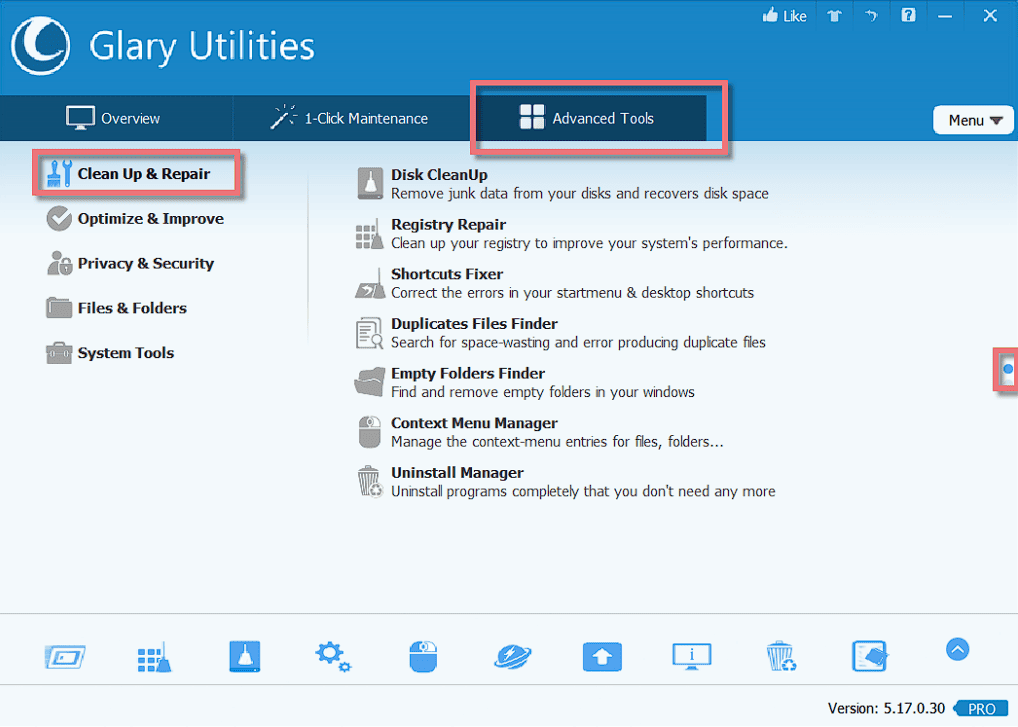 Glary Utilities is another versatile and stable optimization software that covers registry cleaning and other powerful features. The user-friendly interface makes it usable for users with varied proficiency, and the extra features provide peace of mind.
Pros
Great set of optimization tools
Simple interface with easily-accessible menus
Updates are provided regularly
Includes disk cleanup, startup management, etc.
Cons
Some tools are locked behind a paywall
Does Windows 10 have a registry cleaner?
In a nutshell, Windows 10 doesn't have a built-in registry cleanup, but there is a tool that also checks the registry called DISM (more on this topic below).
Any software option you might choose from the list above is strong and fulfills this need while efficiently optimizing the registry in your system, so consider this aspect.
As mentioned previously, employing the built-in Windows 10 registry cleaner using CMD will involve using the DISM command:
The tool will start scanning your system and fixing any issues, including the registry.
Note: This method is not as efficient as employing third-party software from the list above, but it can still help your system until you choose a specific software to cover this need.
---
Choosing the suitable registry cleaner for your PC can make a huge difference and enable you to improve your Windows 10 performance without investing in new equipment.
Our guide covered some of the best software options, including free and premium software. Feel free to share your experience with us using the comment section below.