Is Copilot the best AI companion out there? Help us find out by answering a couple of quick questions!
Wondering which is better, CCleaner vs AVG Cleaner? These two tools are well-known PC optimizers and cleaners that can improve your device's performance.
We all know that as we use our PCs, unnecessary files and programs accumulate, making our systems slow over time. But don't worry; software cleaners can be your ally in this fight against clutter and inefficiency.
However, finding the perfect tool can be challenging. As someone who has used both CCleaner and AVG Cleaner for a long time, I can tell you there are quite a few differences between the two. In this article, I'll go over their features, ease of use, pricing, and other details to help you make the best decision. So, let's go!
CCleaner vs AVG Cleaner – Features
CCleaner
CCleaner is a popular device maintenance and management tool that helps keep your computer running smoothly. It offers a wide range of features, such as a driver updater, PC health checks, and automatic app updates.
CCleaner also provides a free version with essential privacy protection capabilities like cleaning tracking files and browsing data. However, in this article, I'll review the Professional version with various additional features.
AVG Cleaner
AVG Technologies is a well-known brand specializing in cybersecurity and utility software applications for desktop computers and mobile devices. The company was founded in 1991 and later merged with Avast in 2017. AVG typically offers freeware, earning revenues from advertisers and users who opt for paid versions to access additional features.
Regarding antivirus software, AVG has a strong reputation in the market. Although AVG Cleaner is trustworthy, it's not as widely recognized as CCleaner. Since it's from the same company as Avast Cleanup, it's not surprising that these two products are so similar.
Now, let's explore the most significant features provided by both tools:
CCleaner can scan your computer to identify outdated or missing drivers and provide recommendations for updates or downloads.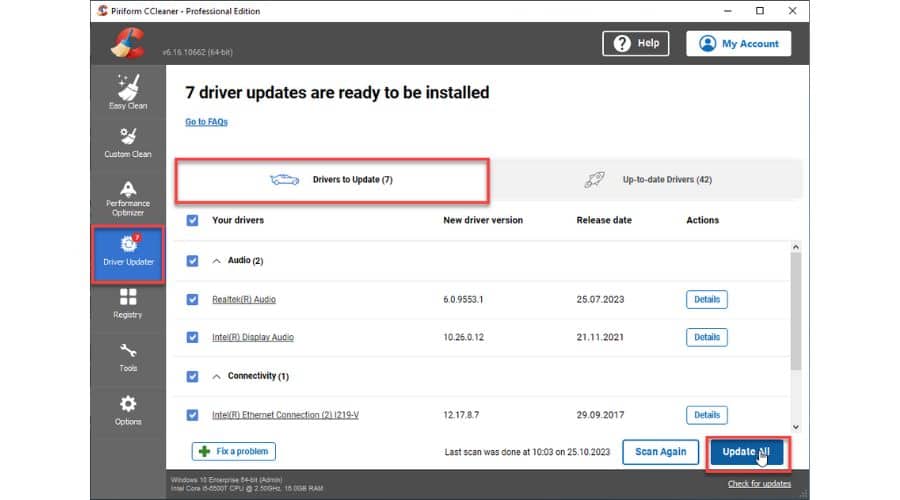 AVG Cleaner doesn't include this tool but requires a separate purchase. In my view, CCleaner emerges as the winner due to this useful feature.
After clicking a button, CCleaner scanned my Windows Registry and generated a report of 1111 issues. I had the option to either fix them all at once or individually. However, I highly recommend creating a backup before any intervention.
Luckily, CCleaner offers an option to make a backup before cleaning the selected issues.
AVG Cleaner's regular maintenance scan optimizes the Windows Registry by identifying and fixing broken entries. Unlike CCleaner, it doesn't have a separate category for cleaning the registry. In my case, it detected and fixed 229 issues.
Additionally, you can use AVG Cleaner to clean broken shortcuts, system junk, browser cache, tracking/other cookies, and browsing/download history.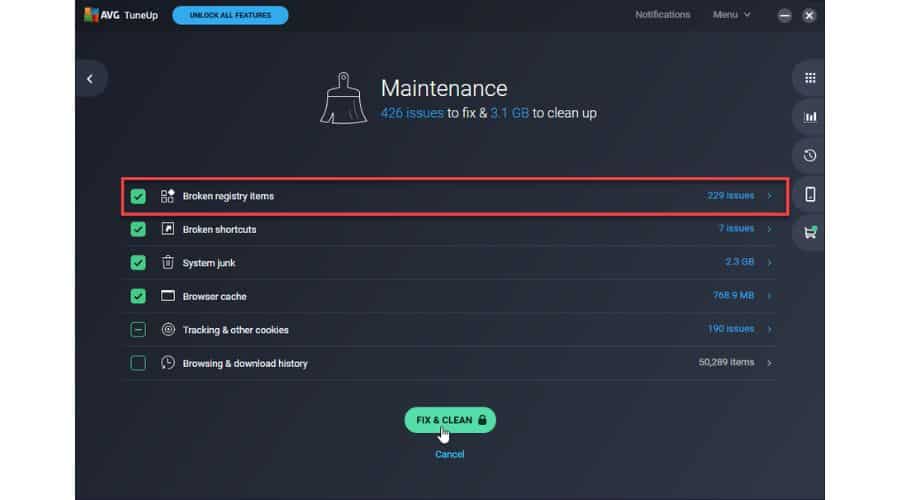 CCleaner surpasses AVG Cleaner with its advanced registry toolset, while Avast Cleaner can only detect and delete broken registries.
Browser Cleaner
CCleaner deletes browser search history, cookies, cache, and unnecessary application files. It automatically deleted my browser history when I closed it.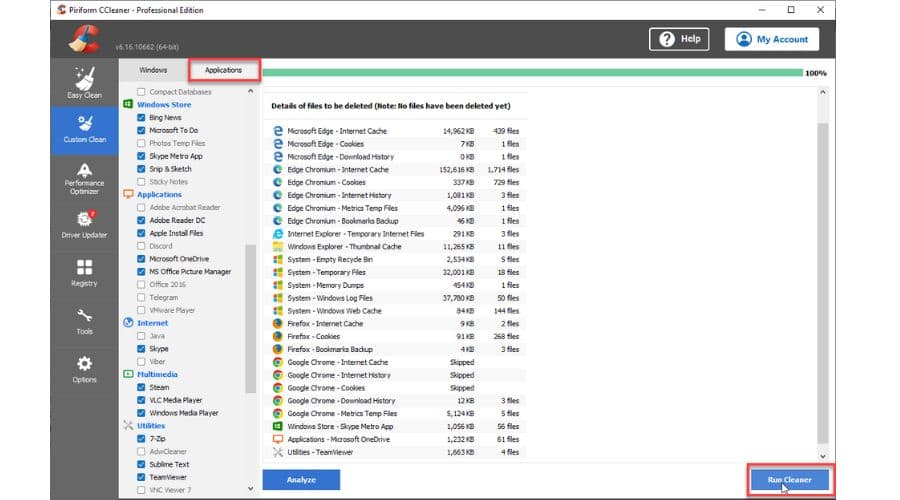 AVG Cleaner also has a tool that helps you get rid of online traces and temporary data from popular web browsers. However, it's important to note that it only works on web browsers. On the other hand, CCleaner Pro works on both web browsers and applications, so it's a better option if you're looking for a more thorough cleanup.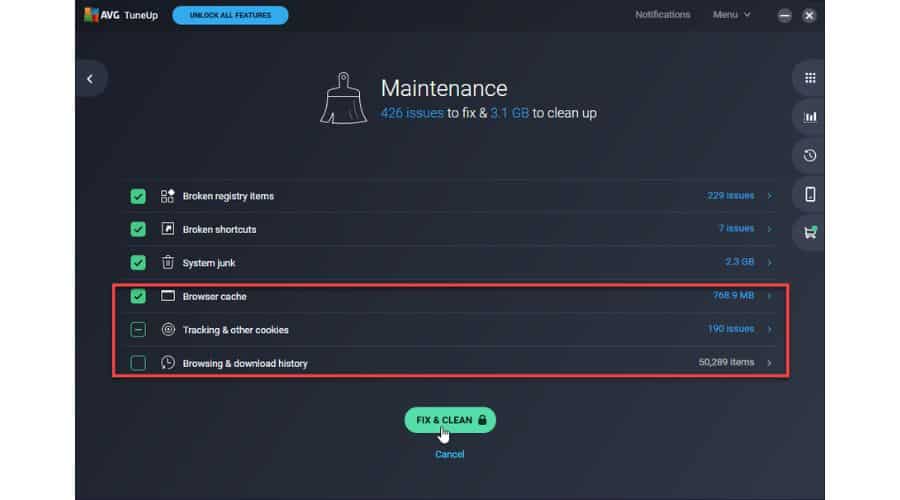 Uninstall Apps
CCleaner's Tools Menu provides options to uninstall, repair, rename, or delete installed programs, similar to Programs and Features in Control Panel.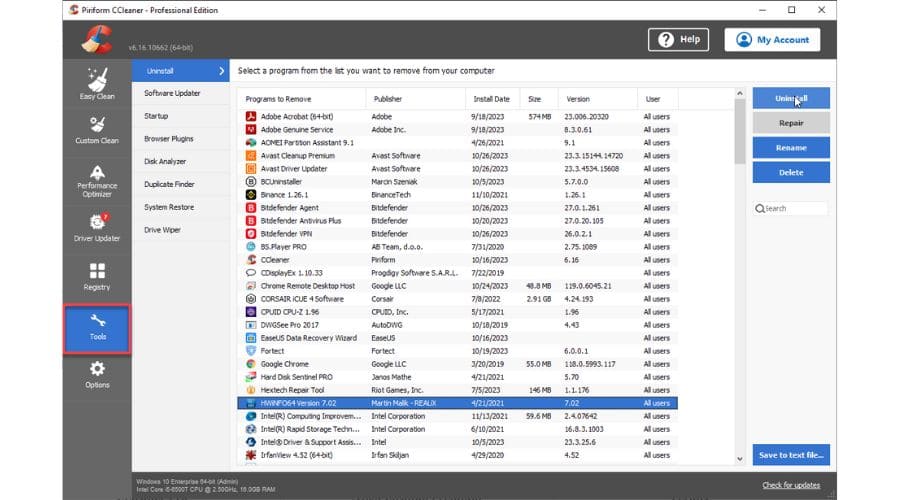 If you're looking to free up some disk space, AVG Cleaner can also help you out. You can find this feature in the Speed up section of the main window. It helps you identify unwanted apps and remove them from your device.
Additionally, you can schedule automatic uninstallation of unnecessary apps at a time that's convenient for you. From my experience, AVG's advanced uninstallation process is more detailed and thorough, making it a great tool to keep your device clutter-free.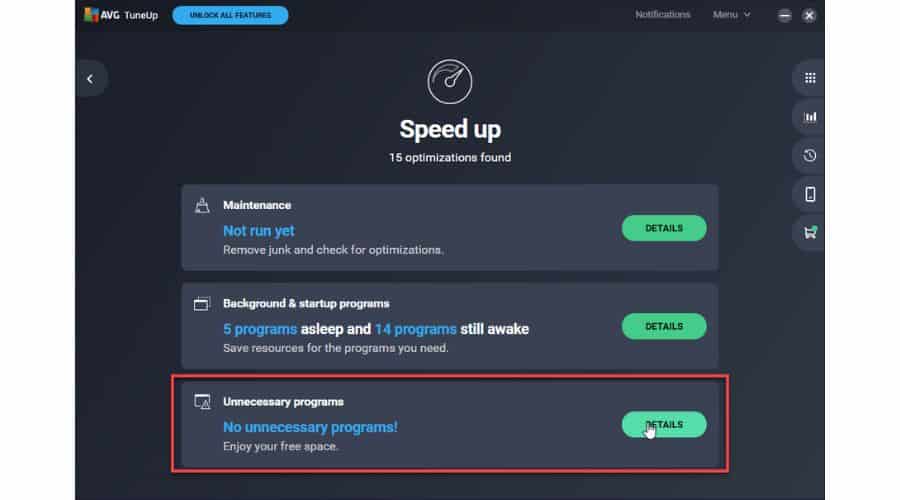 Clean System Junk
CCleaner Pro scans your system for unnecessary files and removes them with just one click. This includes temporary and other unnecessary files. All you need to do is select the Easy Clean and Analyze button from the main menu.
After a quick system scan, CCleaner will provide you with the option to clean all the junk files with just one click of your mouse. Simply click on the Clean All button, and the app will take care of the rest.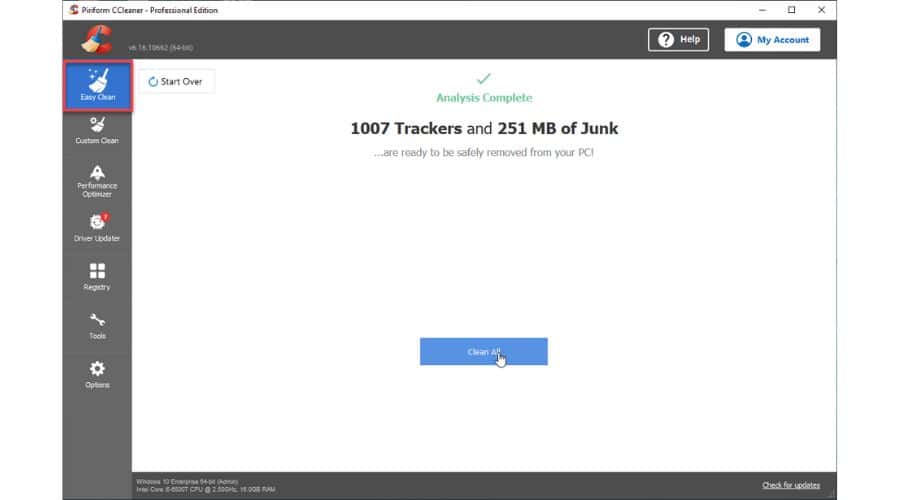 AVG Cleaner scans your PC for different types of system junk files as well. Once the scan is complete, you can choose which files you want to delete and which ones you want to keep.
The software checks for downloads, old system files, temporary programs, program log files, and other unnecessary stuff that's taking up space on your PC. To access this feature, simply select Free up space from the main menu and then click on System junk.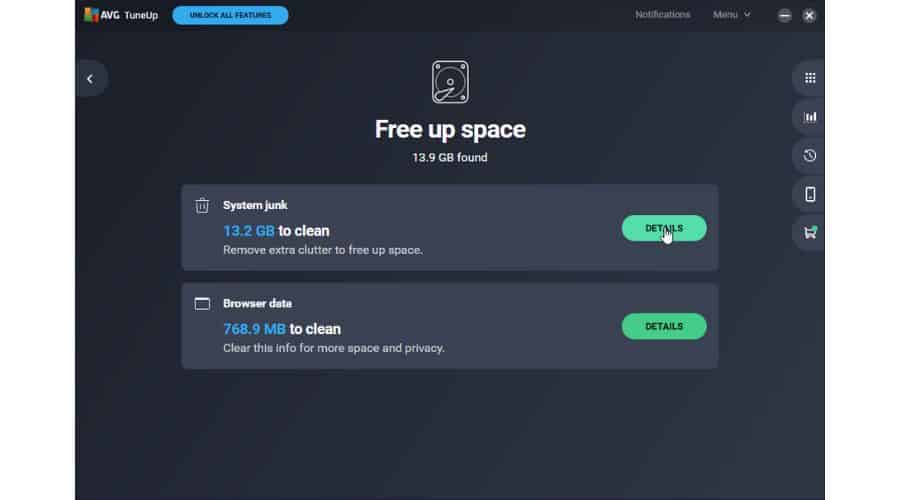 In my experience, I've found that AVG Cleaner does a great job of cleaning up junk files. Its selection tools are really user-friendly and make it easy to choose exactly what you want to remove.
Scheduled Maintenance
To set up automatic maintenance in CCleaner, go to the main menu and select Options, then Cleaning Schedule. From there, you can choose  Cleaning reminders or Automatic cleaning. You can customize the schedule to fit your needs and preferences.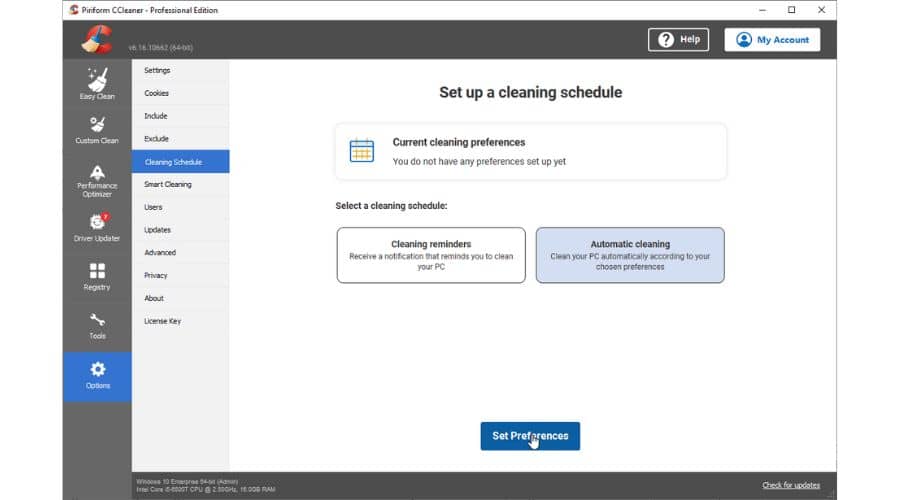 AVG Cleaner also supports automatic maintenance. To access this option, select Menu>Settings>Automatic Maintenance. However, AVG Cleaner doesn't have Cleaning Reminders like CCleaner.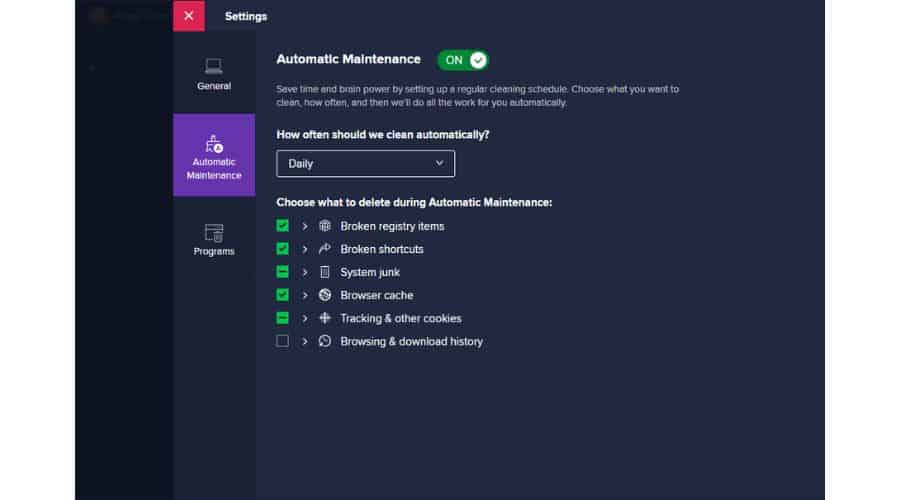 CCleaner Pro stands out in this area because it provides more cleaning scheduling options than AVG Cleaner.
Performance Optimizer
CCleaner's Performance Optimizer lists all the programs that consume system resources. It's essential to identify any unwanted startup and background programs that can significantly increase Windows boot time.
To prevent these programs from consuming resources, you can use the Sleep mode feature. It safely turns them off and ensures your system runs smoothly.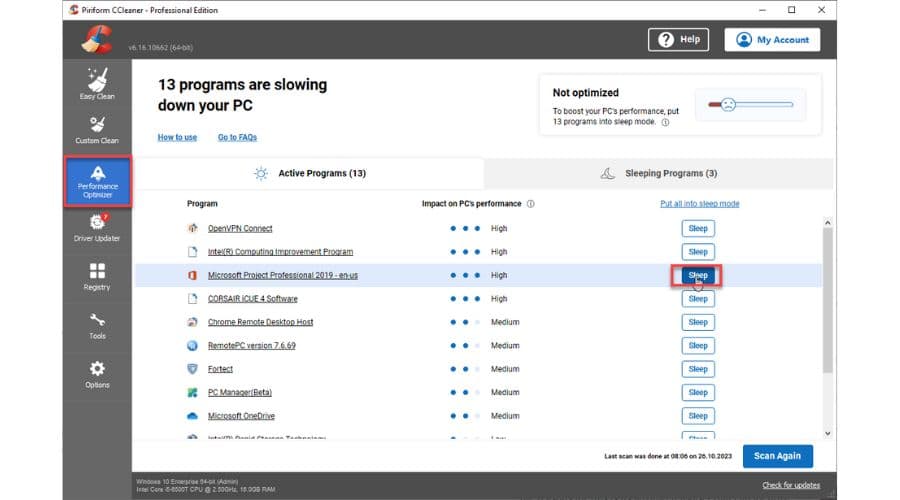 AVG Cleaner also lets you prevent unnecessary programs from starting up with your computer. This functionality significantly improved the boot time of my Windows system. I found this feature in the Speed Up section of the main window.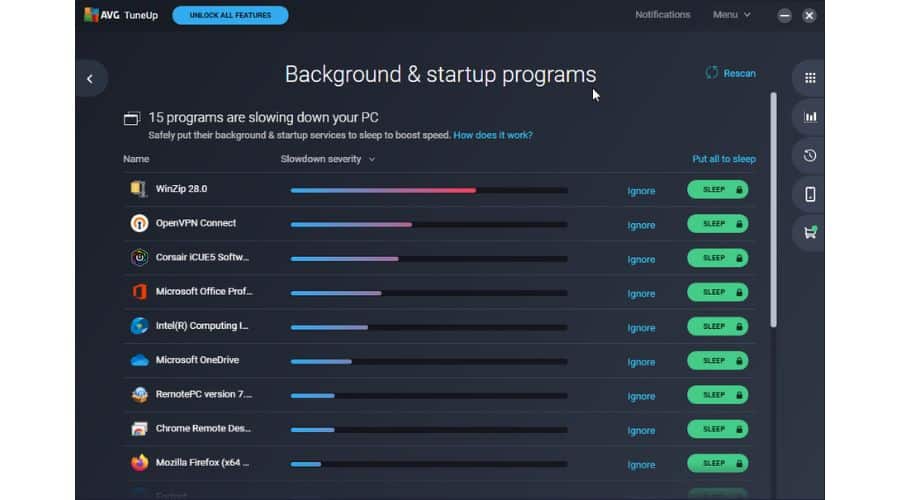 I discovered that both AVG Cleaner and CCleaner Pro are effective at removing unnecessary background and startup programs.
Software Updater
You can access the Software Updater in CCleaner by navigating to the Tools section. It constantly monitors all of your installed applications for available updates. You'll be presented with a list of all the updateable programs, and you can choose to update them either manually or automatically.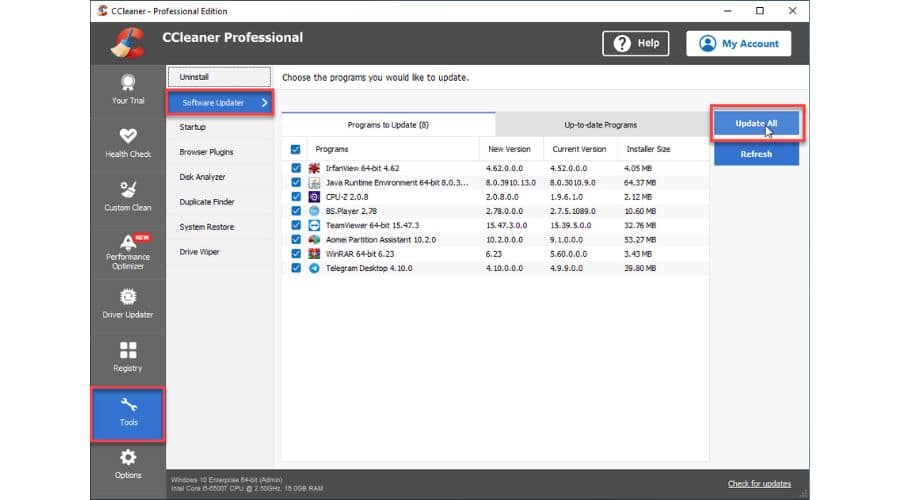 I want to bring to your notice that a similar feature is available in AVG Cleaner, named Outdated Programs. You can find it in the Fix Problems section on the main interface. I've noticed that the list of programs requiring updates is comparatively shorter than that of CCleaner.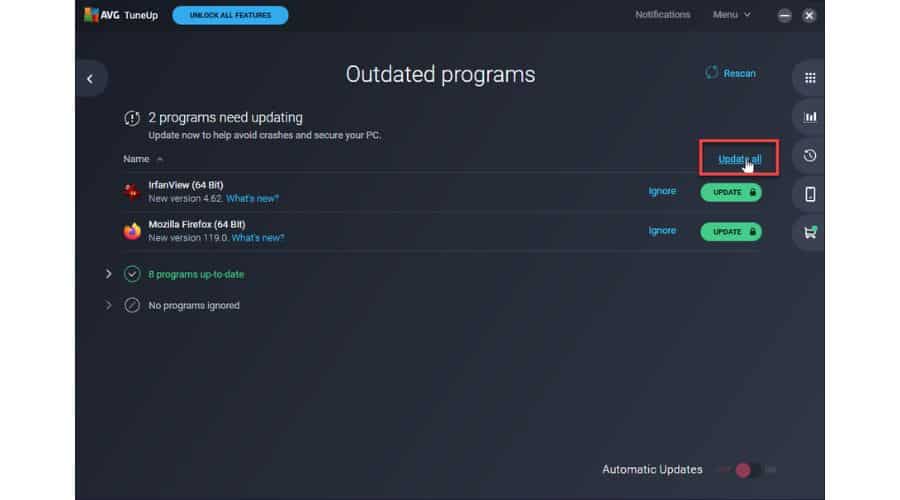 Ease of Use and User Interface
Upon launching CCleaner, you'll be greeted by an intuitive interface that provides access to a wide range of functions. You can manage your software and navigate through the system without any hassle. Although the CCleaner Pro interface may seem outdated by today's standards, it's conveniently organized, allowing you easy access to all optimization tools.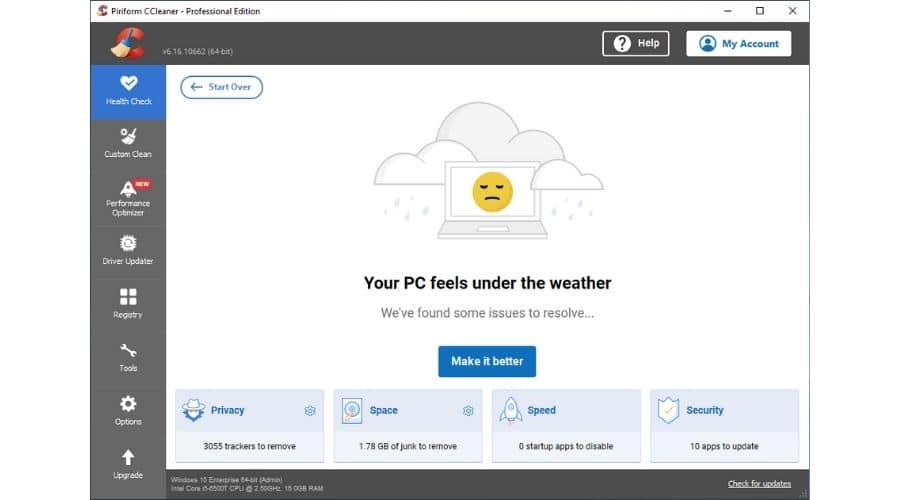 On the other hand, AVG Cleaner is an easy-to-use software you can download and install seamlessly. All features are accessible from a single menu with a visually pleasing interface. The dashboard has four quick optimization functions (Maintain, Speed up, Free up space, and Fix issues.)
Overall, I favor AVG Cleaner's sleek and user-friendly interface.
Pricing
Now, let's see how the two compare regarding pricing plans.
CCleaner
CCleaner offers two versions: Free and Professional.
Still, the free plan lacks many functions included in Professional, but it'll satisfy undemanding users just fine.
You can subscribe annually, with different pricing plans available depending on the number of computers you want to cover.
One-year license for one PC – $24.95
One-year license for three devices – $39.95.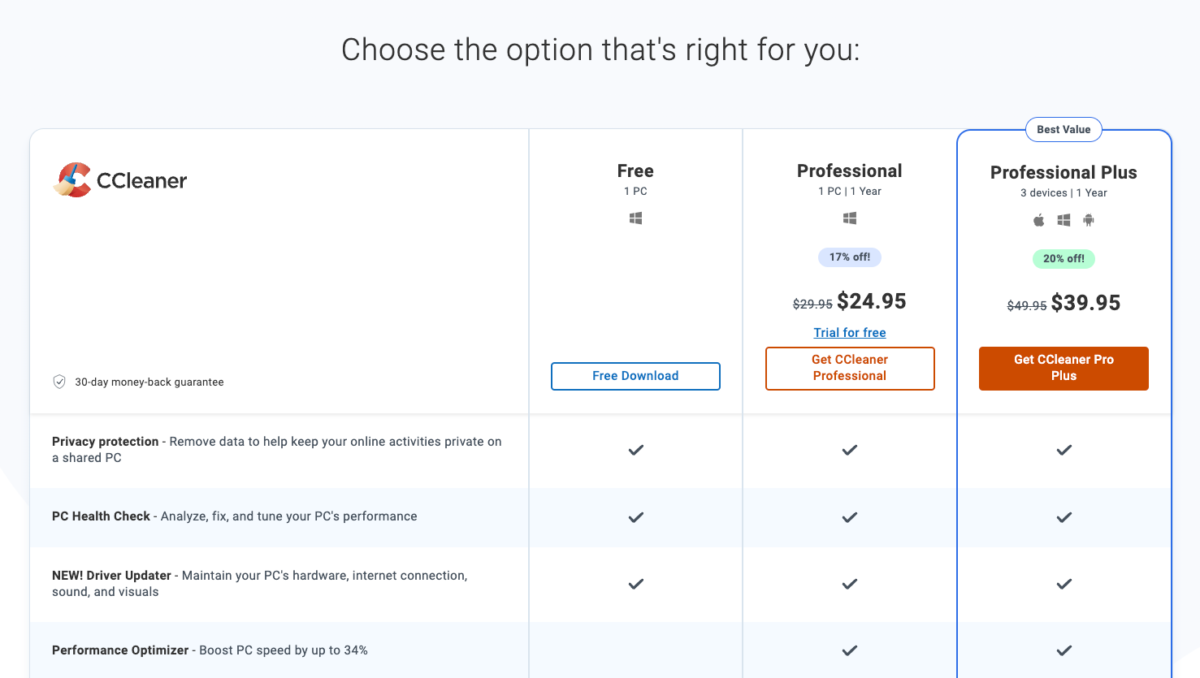 You can pay using PayPal or credit/debit card. Additionally, you can take advantage of a 14-day free trial.
Overall, the purchase process is quick and easy. You just need to provide basic information such as your full name and email address. Once you've done that, you'll receive an activation key via email to complete the process.
AVG Cleaner
AVG Cleaner has a fairly simple pricing structure:
One-year license for one PC – $29.99
One-year license for ten devices – $34.99.
The price is the same for all operating systems, including Windows, Mac, and Android.
However, it doesn't offer a free version like CCleaner, only a 7-day free trial.
If you come across a good discount, AVG Cleaner is a product worth considering. However, if you want extended computer optimization for a relatively competitive price, CCleaner Pro is the better choice.
CCleaner vs AVG Cleaner – Head-to-Head Comparison
Here's a handy comparison table covering all the most important features:
| | | |
| --- | --- | --- |
| Features | CCleaner Pro | AVG Cleaner |
| Registry Cleaner | Yes | Yes |
| Disk Cleaner | Yes | Yes |
| Software Updater | Yes | Yes |
| Driver Updater | Yes | No |
| Disk Defragmenter | No | Yes |
| Windows Registry Backup | Yes | No |
| Sleep Mode For Unused Apps | Yes | Yes |
| Bloatware Removal | No | Yes |
| Automatic Maintenance | Yes | Yes |
| Duplicate Finder | Yes | For Mac only |
| System Restore | Yes | No |
| Free trial | Yes (14 days) | Yes (7 days) |
CCleaner slightly outperforms AVG Cleaner due to its additional tools, such as Driver Updater, Windows Registry Backup, and System Restore. On the other hand, AVG Cleaner offers a Disk Defragmenter and Bloatware Removal.
You may also be interested in:
Verdict
Although both offer similar features, CCleaner Pro is a bit cheaper and has additional functionalities that make it a popular choice.
On the other hand, AVG Cleaner is known for its speedy optimization functions and antivirus applications. You can protect up to 10 devices with a single subscription, including Windows, Mac & Android. Furthermore, AVG Cleaner has some features that CCleaner Pro doesn't have.
However, if you only need to protect up to 3 devices, CCleaner Pro Plus could be an excellent choice for you. Ultimately, the decision depends on your specific requirements and budget. Take your time to choose the tool that best fits your needs.
Hopefully, this CCleaner vs AVG Cleaner comparison has helped you make an informed decision. Feel free to share your choice in the comments below!