Are you trying to optimize the performance of your system and searching for the best PC cleaner for Windows 11? A seamless user experience requires a clean, well-functioning computer.
It's crucial to optimize your system's performance while using Windows 11.
You can delete unnecessary files, speed up startup procedures, and increase system speed using some of the best PC cleaners for Windows 11. Let's examine some options.
Comparison Table
– Free Apps
Below you can see a set of the best free PC cleaner apps and how they compare among themselves:
| | | | | | |
| --- | --- | --- | --- | --- | --- |
| Best Free PC Cleaner | Disk Cleaner | App Uninstaller | Startup Manager | Browser Cleanup | File Shredder |
| Microsoft PC Manager | Yes | Yes | Yes | X | X |
| CCleaner | Yes | Yes | Yes | Yes | Yes |
| BleachBit | Yes | Yes | Yes | Yes | Yes |
| Wise Disk Cleaner | Yes | Yes | Yes | Yes | Yes |
| Tweaking Repair | Yes | No | No | No | No |
– Premium Apps
Now let's have a look at the best Premium PC cleaner software options:
| | | | | | | |
| --- | --- | --- | --- | --- | --- | --- |
| Best Premium PC Cleaner | Disk Cleaner | App Uninstaller | Startup Manager | Browser Cleanup | File Shredder | Pricing |
| Fortect | Yes | X | X | Yes | X | $33.95 |
| IObit Advanced SystemCare | Yes | Yes | Yes | Yes | Yes | $29.99 |
| Ashampoo WinOptimizer | Yes | Yes | Yes | Yes | Yes | $50 |
| AVG Tune-Up | Yes | Yes | Yes | Yes | Yes | $69.99 |
| CleanMyPC | Yes | Yes | Yes | No | No | $39.95 |
As you can see from above, you have plenty of options for choosing the best PC cleaner for Windows 11, so read the description of each product and find the one that fits your needs best.
Let's dive into the features and capabilities of some of the best Windows 11 PC cleaner software on the market!
1. Fortect – Great cleaner with virus protection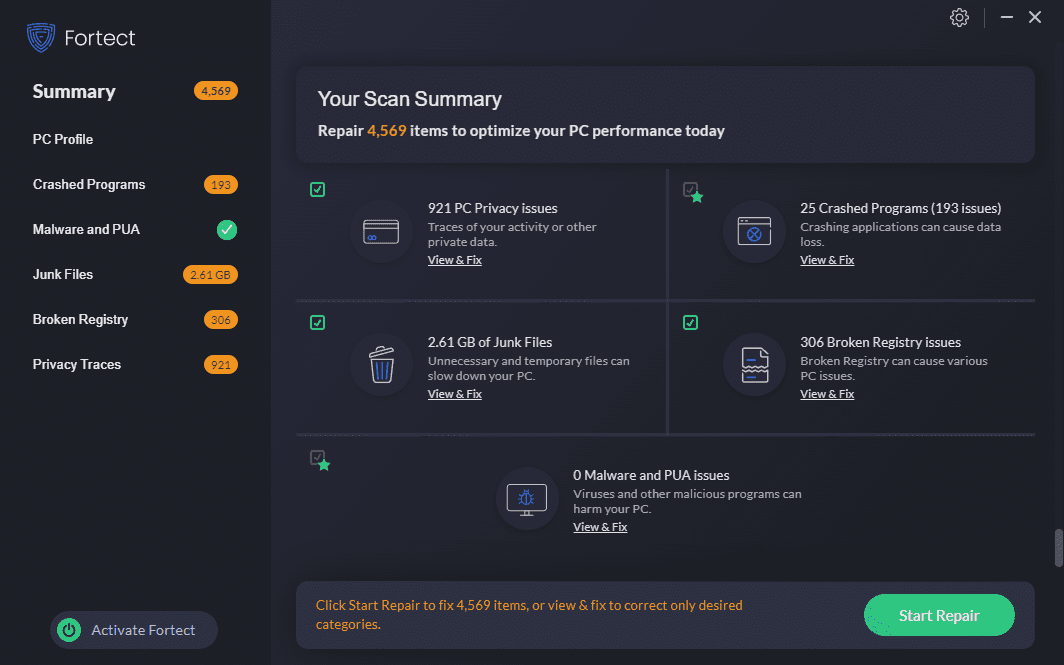 Fortect is a powerful PC optimizer and cleaner that provides several tools to improve system performance.
It provides junk file check and removal, corrects registry issues, and offers real-time spyware and virus protection.
Advanced algorithms in Fortect assure complete system cleanup and its user-friendly interface makes it appropriate for novice and expert users.
Pros
Powerful system cleaning and optimization
Easy-to-use interface
Offers real-time protection against malware and spyware
Can create custom scanning and cleaning setups
Cons
The advanced features are only available for the premium version of the app.
The trial version is a bit more limited than in other cases.
---
2. CCleaner – Best freemium PC cleaner
Millions of users worldwide use CCleaner, a well-known and trustworthy PC cleaner. It provides a full suite of tools to enhance your Windows system, making it one of the best PC cleaners for Windows 11.
CCleaner is a feature-rich PC cleaner that checks for invalid registry entries, unused files, and temporary data. By erasing traces of internet activity, it increases system speed, helps free up crucial disk space, and improves privacy.
This app can be classified as a freemium and has limited features, including tools for cleaning up the system, removing junk files, and optimizing performance.
The CCleaner Professional adds more useful features like real-time monitoring, automatic updates, and priority customer service.
The user-friendly design of CCleaner and its strong cleaning capabilities make it a fantastic option and might be the best PC cleaner for Windows 11.
Pros
User-friendly interface with easy access to all settings
Powerful cleaning capabilities
Includes a helpful registry cleaner
Privacy protection features
Customizable cleaning features
Cons
The free version lacks some advanced features
Some of the features require technical knowledge
A full-featured PC optimization suite, IObit Advanced SystemCare offers several functions to enhance system performance.
It eliminates trash files, optimizes registry settings, controls startup applications, and offers real-time virus protection. One-click optimization makes Advanced SystemCare user-friendly for both inexperienced and seasoned users.
Pros
One-click optimization option for fast results
Real-time protection against malware and other threats
System optimization capabilities
User-friendly interface
Cons
Some advanced features are only available in the Pro version
Expert-level users should use other additional tools
4. Microsoft PC Manager – Best free PC cleaner for Windows 11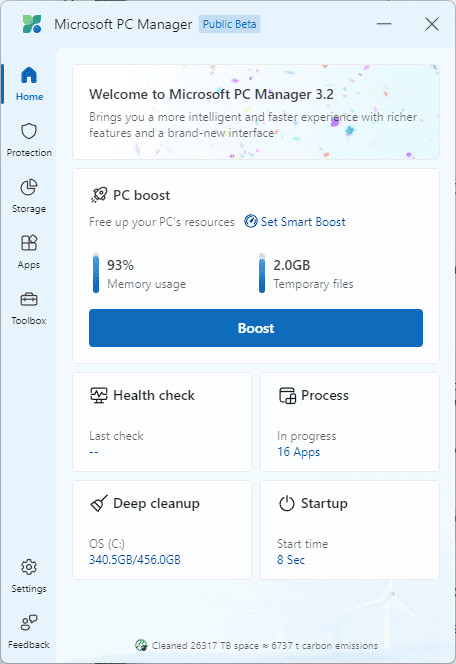 Microsoft PC Manager is a PC cleaner that Microsoft themselves recommends for use with Windows 11. It provides a seamless cleaning experience designed for the most recent version of Windows.
This Microsoft PC cleaner is a convenient and effective device-clearing tool created especially for Windows 11 users. It performs junk file scans and cleanup while optimizing system resources and enhancing general performance.
Users who want a dependable cleaner from Microsoft will find PCManager a practical option because of its user-friendly interface and integration with this OS.
Pros
Completely free
Developed by Microsoft
Specially optimized for Windows 11 machines
Integrates seamlessly with this OS
Efficient junk file cleanup
Can optimize PC resources usage
Cons
The advanced features are limited compared to other software options
Some users could prefer having more cleanup customization options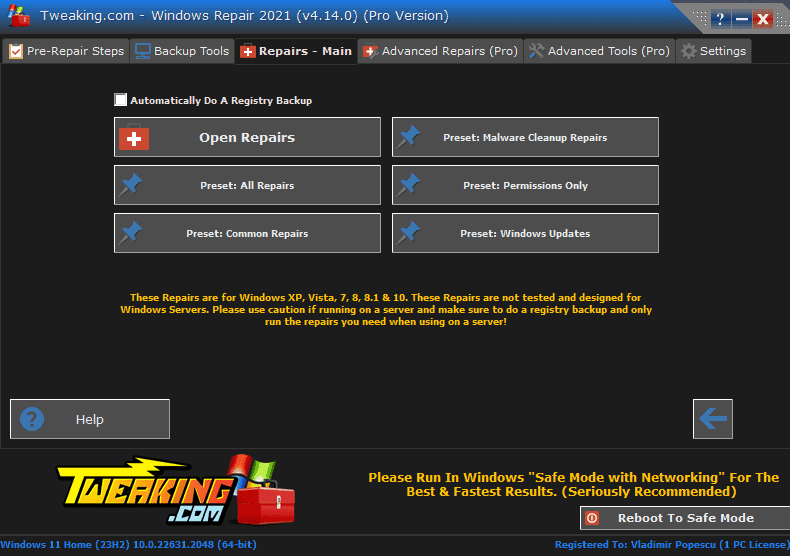 Tweaking Repair is another powerful PC cleaner and optimizer software that doesn't take much of your system resources to run. It works perfectly on almost all Windows versions, starting with XP and ending with Windows 11.
This versatile toolset includes a wide array of functions, including repairing Windows corrupted files, creating backups and editing your registry, modifying the way Windows works and looks with tweaks, and even malware cleanup.
You can't go wrong with Tweaking, so check out its capabilities!
Pros
Powerful all-in-one toolkit with great results
Registry backup and restore
Performance and visual tweaks
Malware removal
Windows updates repair
Cons
The user interface might be complicated for novice users
6. Ashampoo WinOptimizer – Recommended for multiple-machine setups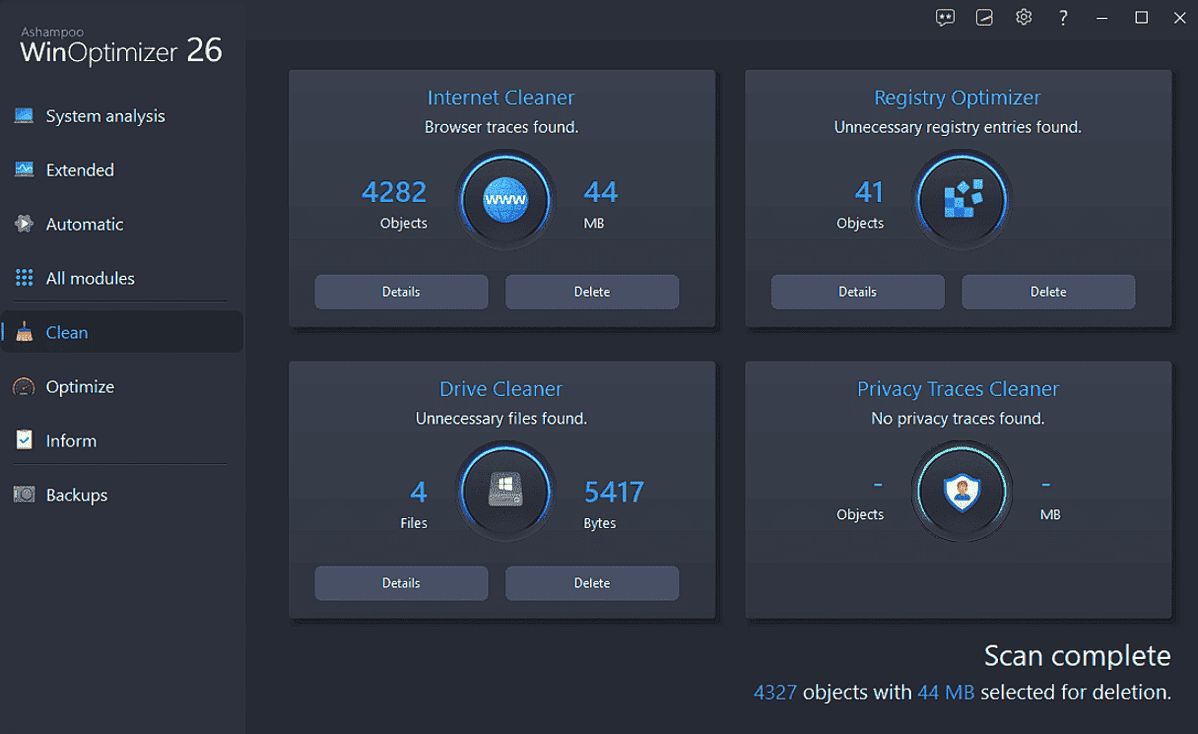 Ashampoo WinOptimizer is a robust PC cleaner with various Windows 11 optimization features. It eliminates trash files, corrects registry issues, controls system settings, and enhances system functionality.
The user-friendly design of Ashampoo WinOptimizer and its rich features set make it a popular option among Windows 11 users.
Pros
Wide-range of optimization features
Easy-to-use software interface
Includes deep cleaning capabilities
Good range of system customization options
Cons
Some of the advanced features require technical proficiency
It can be expensive for some users
7. Wise Disk Cleaner – The second-best free PC cleaner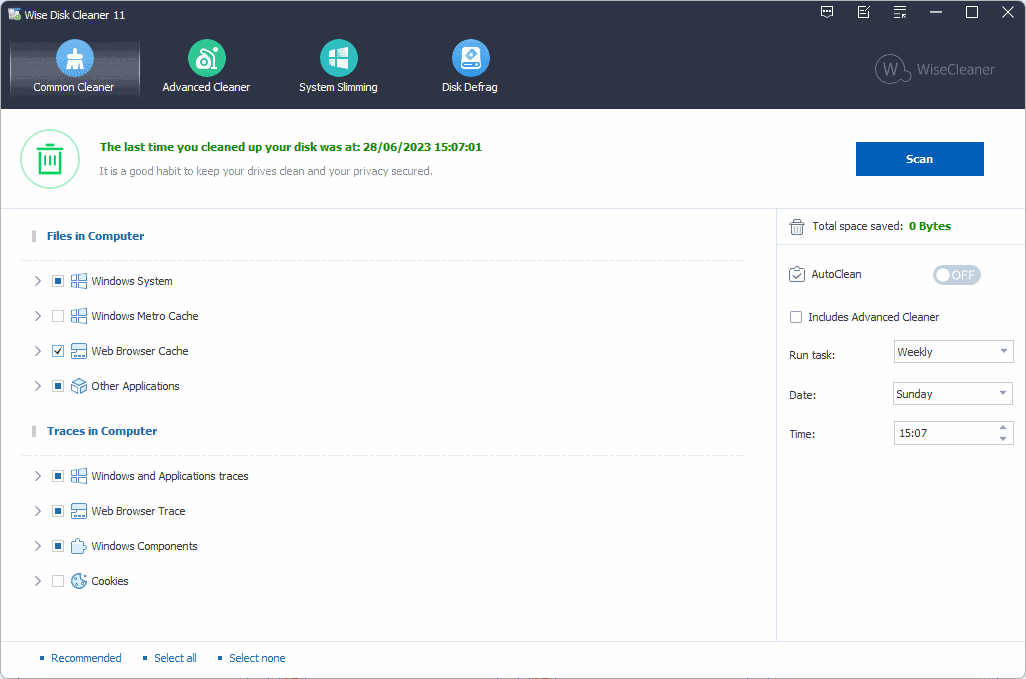 Wise Disk Cleaner is a small, effective, and free PC cleaner that focuses on clearing up disc space by deleting unnecessary files.
It scans your system for temporary files, trash files, and other unused clutter and provides a method to free up critical storage space. This app is well-known amongst Windows 11 users because of its efficacy and simplicity.
Pros
Lightweight and very fast
Allows you to customize cleaning options
Powerful disk cleanup with deep scanning features
Cons
The limitations of the Free version at stronger than those of other apps
The user interface is not very intuitive
8. CleanMyPC – Versatile and effective cleaner
CleanMyPC is another great paid PC cleaning software that offers one of the easiest-to-understand user interfaces on the market while ensuring great results.
This lightweight cleaner removes unwanted files and pieces of leftover software, optimizes start-up times, and includes a registry fixer.
Pros
Easy-to-use interface
Great cleaning tools
Registry optimization
Secure file deletion tool
Software uninstaller is included
Cons
Automatically adds a Secure Erase option to context menus, and can't be removed
9. BleachBit – Free open-source disk cleaner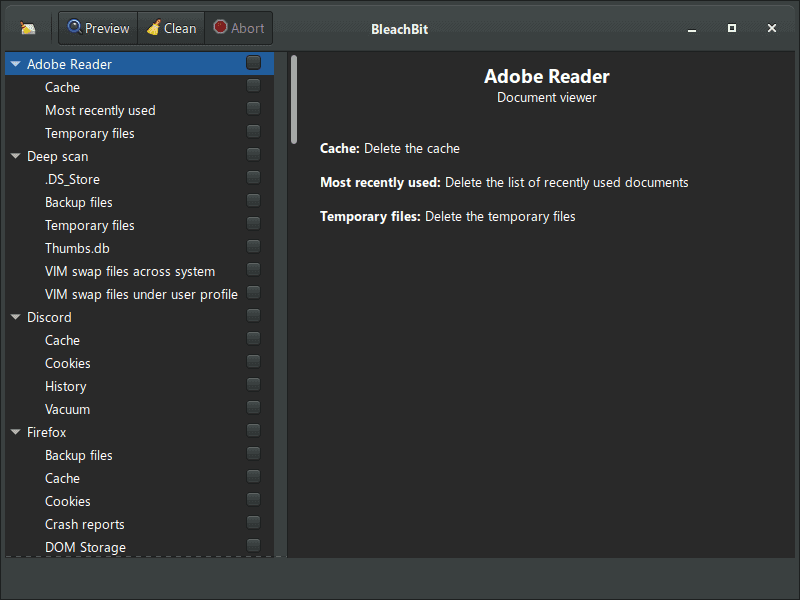 BleachBit is a free and open-source PC cleaning software with a privacy and security emphasis. This app lets you delete any leftover files, refresh your browser history, and remove any evidence of online activity.
Windows 11 users can use its powerful cleaning capabilities while enjoying the app's focus on online privacy.
Pros
Completely free and open source
Provides deep cleaning capabilities
Strong privacy protection features
Supports a wide variety of apps
Cons
The user interface can be a bit complicated at times
It does not include any advanced features when compared to paid software
10. AVG Tune-Up – Includes real-time system monitoring
AVG Tune-Up is another powerful PC optimization tool that covers a variety of features that are helpful for Windows 11 PC and their users.
This software cleans junk files, provides real-time monitoring of the situation, and optimizes system settings to make your PC configuration fit your needs exactly.
Pros
Easy-to-use interface
Real-time system monitoring
A large number of optimization features
Automatic maintenance scheduling options
Cons
Can be expensive
Additional tools might be required for a complete PC cleanup
Does Windows 11 have a PC cleaner?
No specific built-in PC cleaning app is included with the Windows 11 OS. It does, however, include particular maintenance tools that may improve system performance:
As your device's HDD uses your PC almost every second of the time, keeping it in top shape is very important.
Press Win + E to open the File Explorer.
Choose This PC from the sidebar.
Right-click one of your hard drives and choose Properties.
Inside the General tab, click the Disk Clean-up button to initiate it.
Click Clean up system files, and tick the boxes next to the elements you want to clean from the list.
Open the File Explorer, right-click on the drive you want to scan, and choose Properties.
Open the Tools tab, click the Check button, followed by Scan Drive.
Follow the on-screen instructions to finish the drive scanning process and fix any potential errors.
Press the Win + E key combination.
Inside File Explorer, choose the drive you want to defrag, right-click it, and open its Properties.
Choose the Tools tab, and click the Optimize button in the Optimize and defragment drive section.
Click Optimize again to start the defragmentation process.
To simplify this process, the team at Microsoft created the PCManager tool, which offers some great Windows cleaner features, and all are included within just one app with a user-friendly interface; the best thing is that it is also a great PC cleaner for Windows 10, make sure to check it out!
What PC cleaner does Microsoft recommend?
Microsoft recommends PCManager, a PC cleaner they developed specifically for Windows 11.

You can find more information on the app by checking out software suggestion #3 from the abovementioned list.
What happened to Disk Cleanup in Windows 11?
The Storage Sense feature has replaced Disk Cleanup in Windows 11. This element automates the process of disk cleaning in this OS.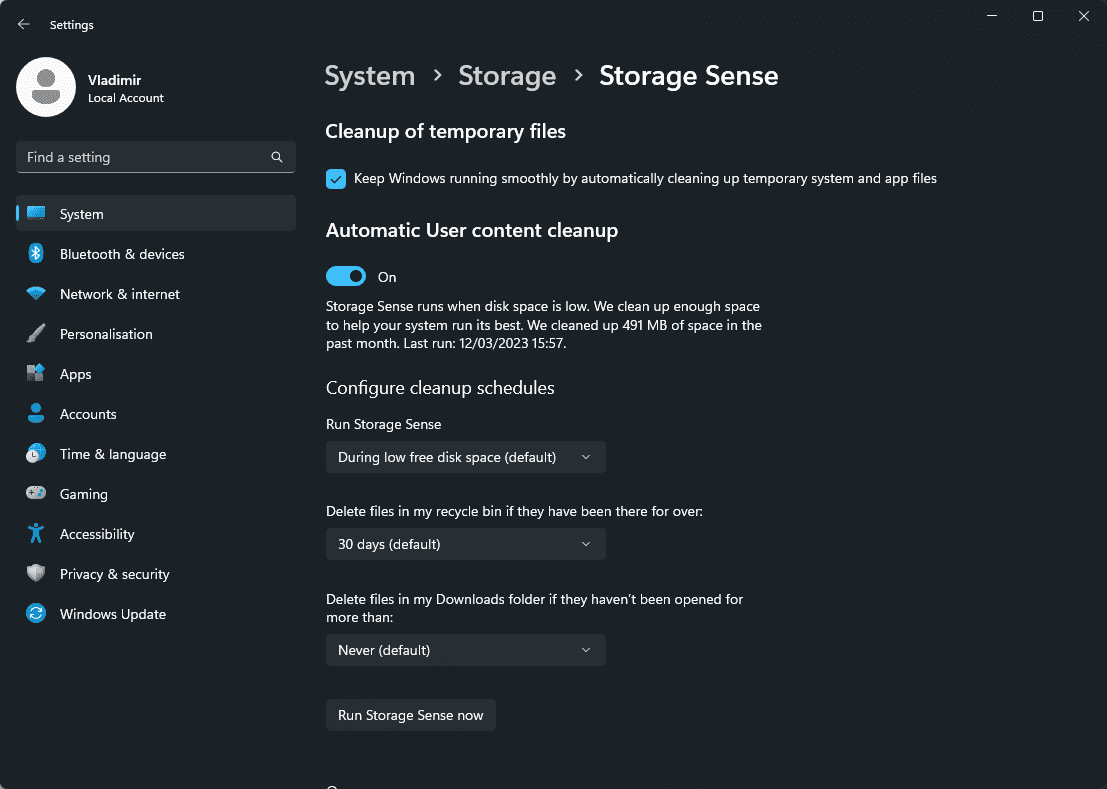 Storage Sense is a Windows app that assists in managing online and offline storage on the system by automatically eliminating temporary files, emptying the Recycle Bin, deleting trash files, cleaning the Downloads folder, and more.
---
In conclusion, keeping your Windows 11 PC running smoothly depends on maintaining a clean and optimized system.
You can boost system speed, liberate disc space, and increase privacy by utilizing a trusted PC cleaner, such as CCleaner, PCManager from Microsoft, IObit Advanced SystemCare, and others.
When selecting the best PC cleaner for Windows 11, consider your unique requirements and preferences, and read the entire information presented.