Is Copilot the best AI companion out there? Help us find out by answering a couple of quick questions!
Looking for a comprehensive CCleaner vs Avast Cleanup comparison? Both are among the more popular cleanup tools that aim to improve device performance. As you work tirelessly on your computer, unnecessary programs and files can accumulate, gradually dragging your system down.
PC cleaners are your ally in the fight against clutter and inefficiency, allowing you to eliminate redundant files and optimize your workflow. However, choosing the right tool can be challenging. I've used both CCleaner and Avast Cleanup for years, and I've noticed quite a few differences between the two.
Below, I'll delve into their features, ease of use, pricing, and other details. Ready?
CCleaner vs Avast Cleanup – Features
CCleaner
CCleaner is a popular device maintenance and management tool that helps keep your computer running smoothly. It provides many features, including a driver updater, PC health checks, and automatic app updates. CCleaner was developed by Piriform, a British software company acquired by Avast in 2017.
Furthermore, it offers a free version that only provides essential privacy protection by cleaning tracking files, and browsing data. In this article, I'm reviewing the Professional version with a wide range of additional features.
Avast Cleanup
Avast Cleanup is a tool for managing devices developed by Avast Software. While best known for its antivirus software, Avast offers many other product lines.
Avast Cleanup has two versions available: a free and a paid Premium version. I'll evaluate the Premium version based on specific criteria in this review.
Let's see what are the most important features offered by both tools:
CCleaner can scan your PC for outdated or missing drivers. The software will tell you which ones need updating or downloading. I found seven outdated drivers and updated them quickly.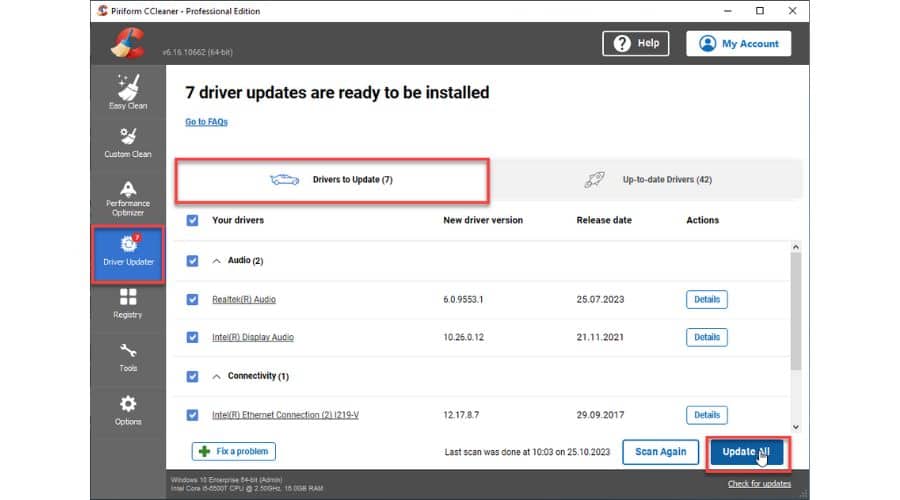 On the other hand, Avast Cleanup does not have this feature as part of the package but a separate tool that must be purchased. In my opinion, CCleaner wins here because of this helpful feature.
I click a button to scan my Windows Registry, which generates a report of 1111 issues. I can fix them all at once or individually, but here I advise you to make a backup before any intervention on the Registry, which CCleaner offers as an option before cleaning (Review selected Issues).
Avast Cleanup optimizes the Windows Registry by fixing broken entries as part of Avast Cleanup's regular Maintenance scan. Cleaning the Windows Registry is not a separate category as in the case of CCleaner. In my case, it found 93 issues. In addition, you can also clean Broken shortcuts, System junk, Browser cache, cookies, and history.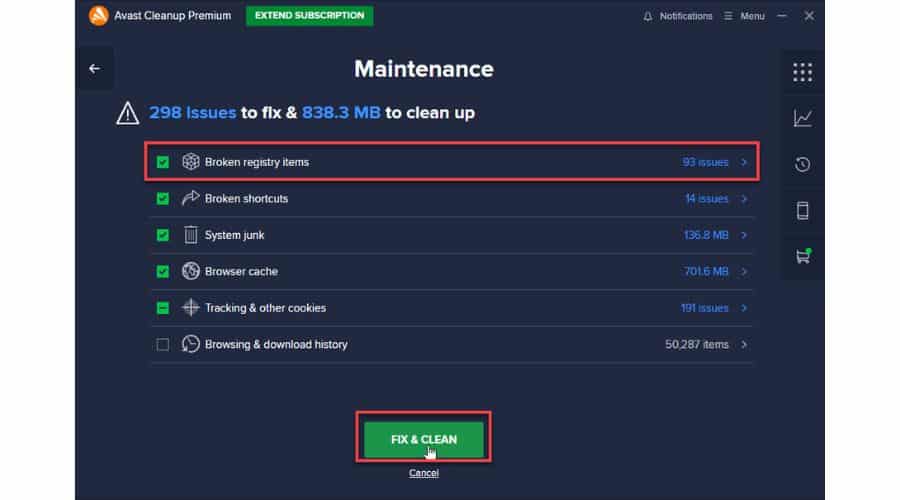 CCleaner has the upper hand over Avast Cleanup. Its advanced toolset can identify issues related to the registry and resolve them. On the other hand, Avast Cleanup can only efficiently detect and delete broken registries.
Browser Cleaner
CCleaner protects my privacy by deleting browser search history, cookies, cache, etc. If I want it, CCleaner automatically deletes my browser history when I close it. In addition to the browser, CCleaner can delete unnecessary popular application files.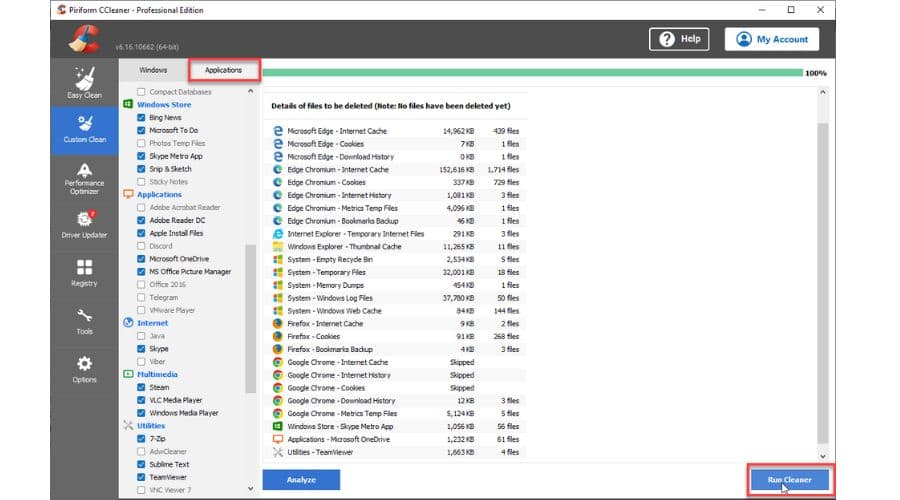 Avast Cleanup successfully removes online traces and temporary data from all the popular web browsers. I noticed that Avast Cleanup Browser cleaner only works on web browsers, whereas CCleaner Pro works on both web browsers and apps. Both offer browser cleaning features, but CCleaner Pro is more comprehensive. It works on both web browsing and applications.
Uninstall apps
From Tools Menu, CCleaner lists installed programs that can be uninstalled, repaired, renamed, or deleted. This option is similar to Programs and Features that you can find in the Windows Control Panel.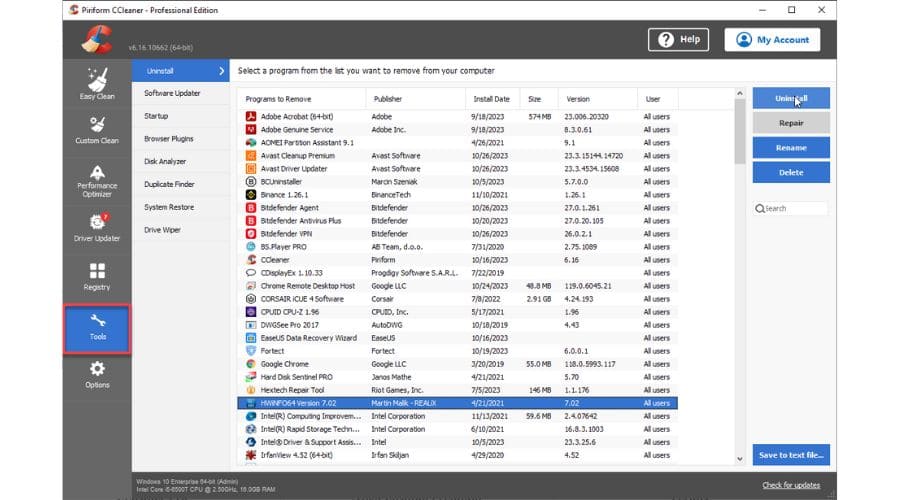 Avast Cleanup identifies and helps you uninstall unwanted apps, freeing up disk space. This feature is found in the "Speed up" section of the main window. You can set a preferred time for the automatic uninstallation of unnecessary apps. In my experience, Avast's advanced uninstallation process is more detailed.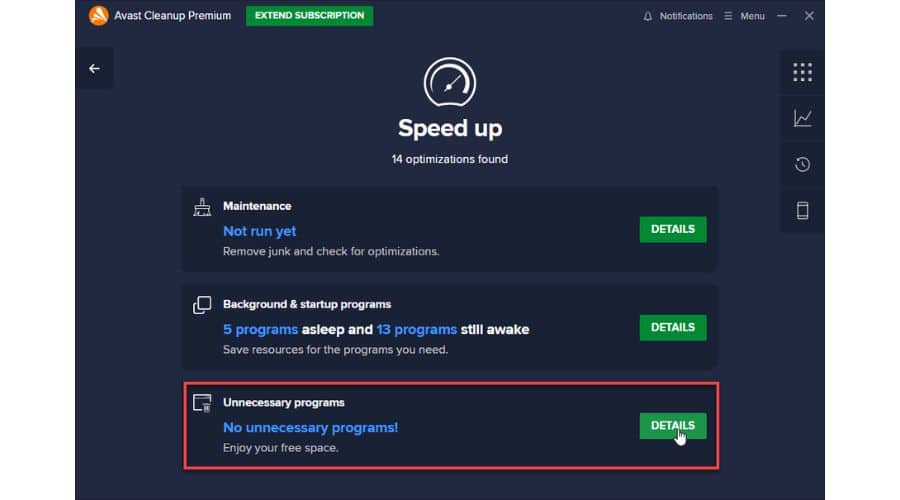 Clean system junk
CCleaner Pro scans the system for unwanted files and removes them with one click, including temporary and system files. From the menu, select the Easy Clean and Analyze button. After a short system scan, CCleaner will offer to clean the junk with one click of the mouse (Clean All).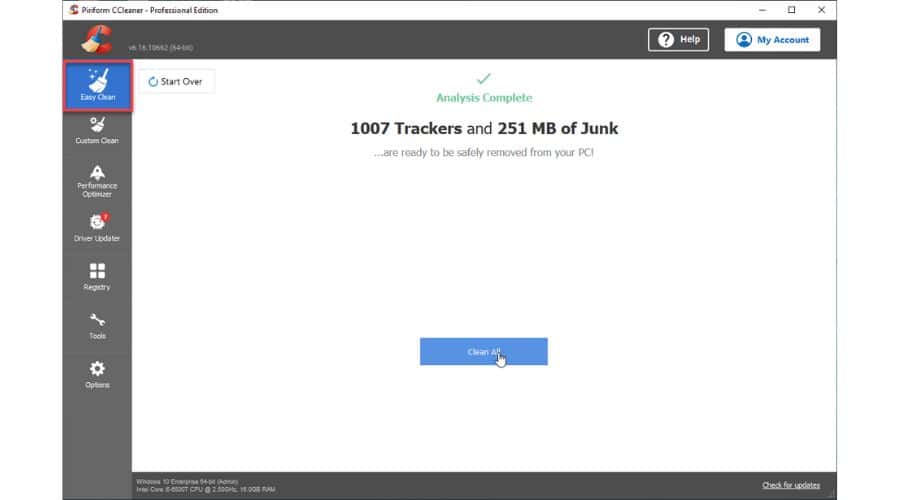 Avast Cleanup scans your PC for various types of system junk files. Once the scan is complete, you can choose which files to delete and which ones to keep. The program checks for downloads, old system files, backup files, log files, dump files, temporary programs, system files, program log files, and other unnecessary files. To access this option, select 'Free up space' from the main menu and then 'System junk.'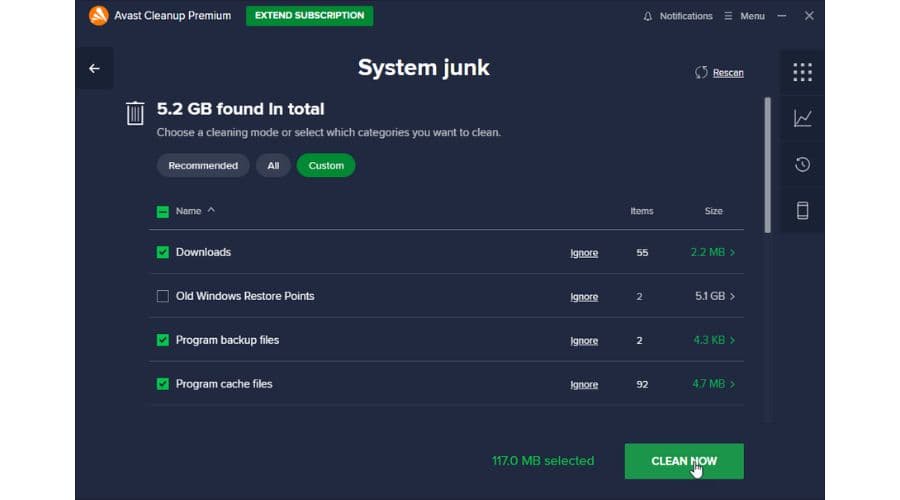 From my experience, Avast Cleanup Premium is better at cleaning junk files. The tools are efficient, and the detailed list helps select the files that need removal.
Scheduled Maintenance
CCleaner Pro automatically performs efficient maintenance. From the main menu, choose 'Options' and then 'Cleaning Schedule'. Here you have the options 'Cleaning reminders' and 'Automatic cleaning'. You can schedule a time for the checkup and cleaning according to your preferences.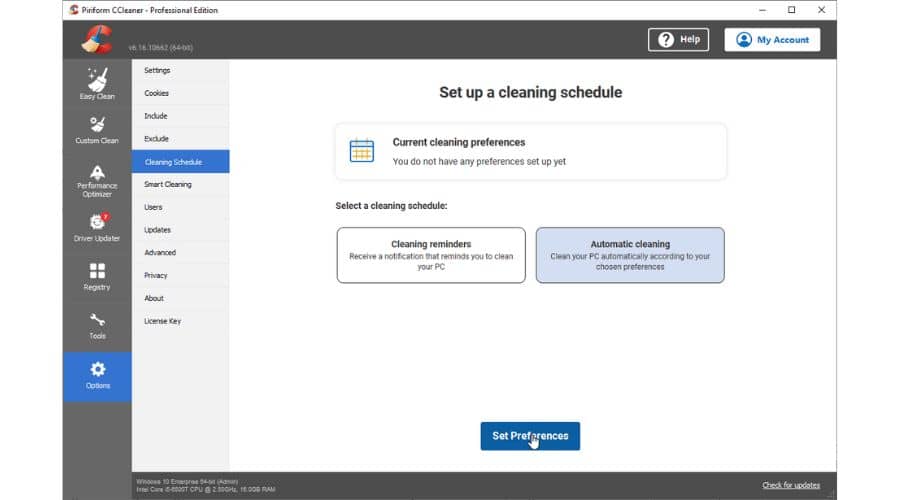 Avast Cleanup Premium also supports automatic maintenance. To access this option, select 'Menu>Settings>Automatic Maintenance.' However, Avast Cleanup doesn't have Cleaning Reminders like CCleaner. For the Automatic maintenance feature, I choose CCleaner Pro because it provides more cleaning scheduling options than Avast Cleanup Premium.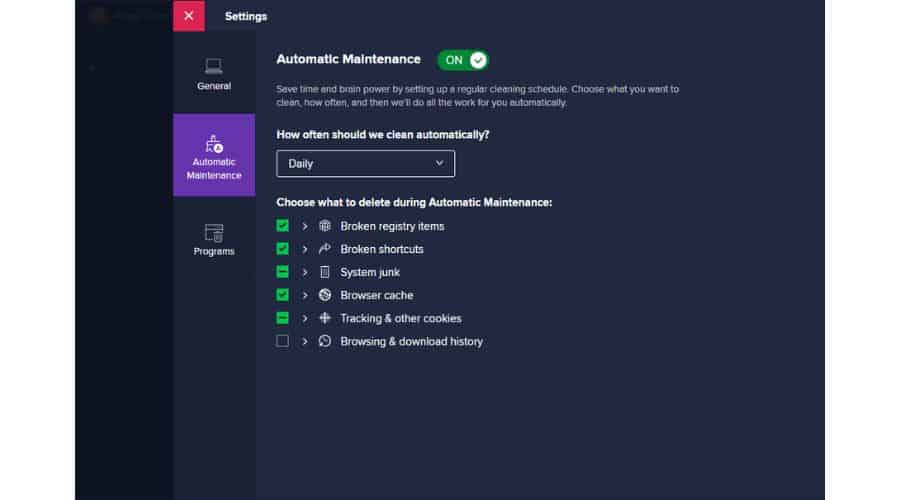 Performance Optimizer
CCleaner Pro provides a Performance Optimizer option that lists all programs that consume system resources. Unwanted startup and background programs can significantly reduce the performance of your system and increase Windows boot time. I use the Sleep mode feature to prevent these programs from consuming resources, which safely turns them off.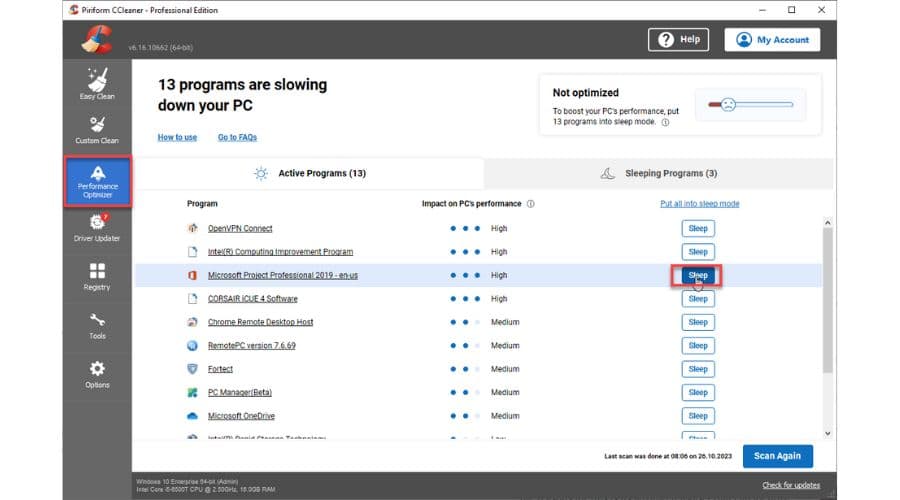 Avast Cleanup allows me to select unnecessary startup programs that silently run in the background and prevent them from launching. As I expected, this functionality significantly enhances the boot time of Windows. You can find this feature in the Speed Up section in the main window.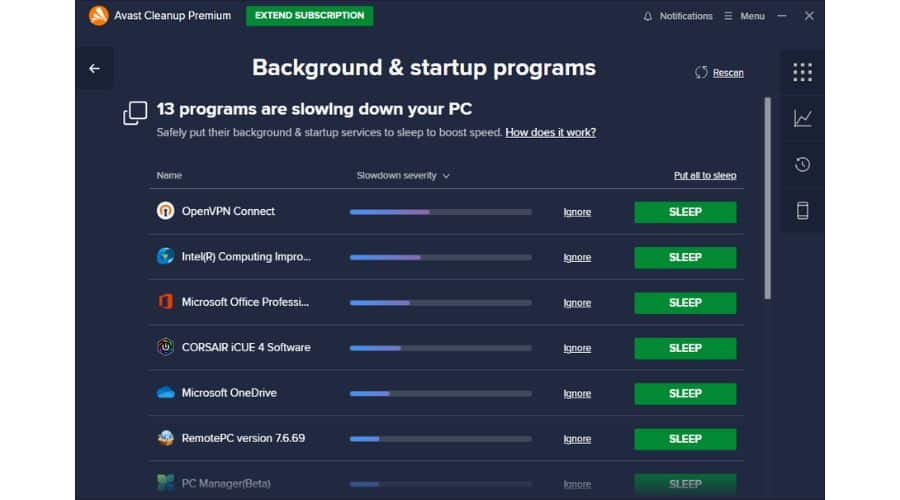 I found that both Avast Cleanup Premium and CCleaner Pro efficiently remove unnecessary background and startup programs.
Software Updater
The Software Updater can be found under the Tools section in CCleaner and monitors all apps for available updates. There, you get a list of all programs that have an update available online and can choose to update them manually or automatically.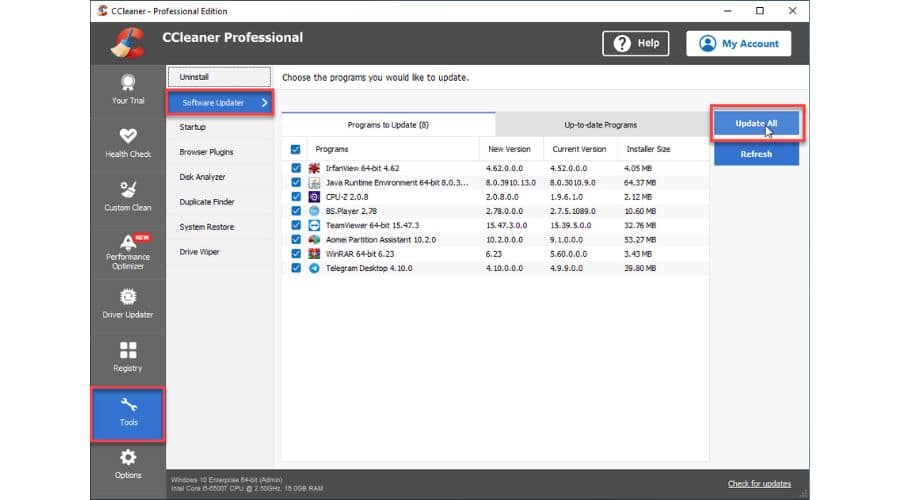 In Avast Cleanup, the feature is named Outdated Programs. I found it under the Fix Problems section from the main window. I noticed that the list of programs that need to be updated is much shorter than with CCleaner.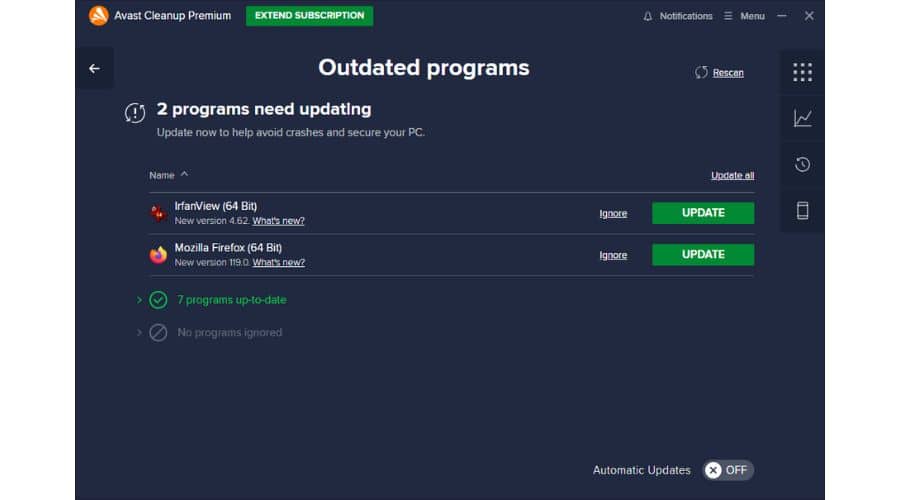 Both utilities work effectively to update outdated software. However, I prefer CCleaner because of the longer list of programs that need to be updated here.
Ease of Use and User Interface
When launching CCleaner, you'll be welcomed by an intuitive interface. It grants you access to a wide range of functions. You can efficiently manage your software and navigate through the system without hassle. The CCleaner Pro interface may appear outdated for today's criteria, but it's conveniently organized, making it easy to access all optimization tools.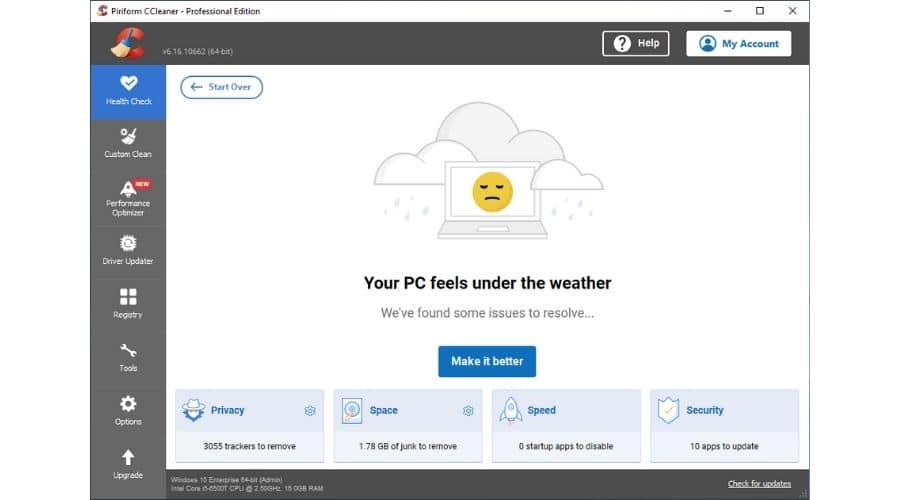 Avast Cleanup Premium is a highly user-friendly software that's easy to download and install. You'll see all the features in a single menu. Moreover, the UI is visually pleasing, with a well-organized dashboard with four quick optimization functions. It also features a meter that shows the current level of system tuning.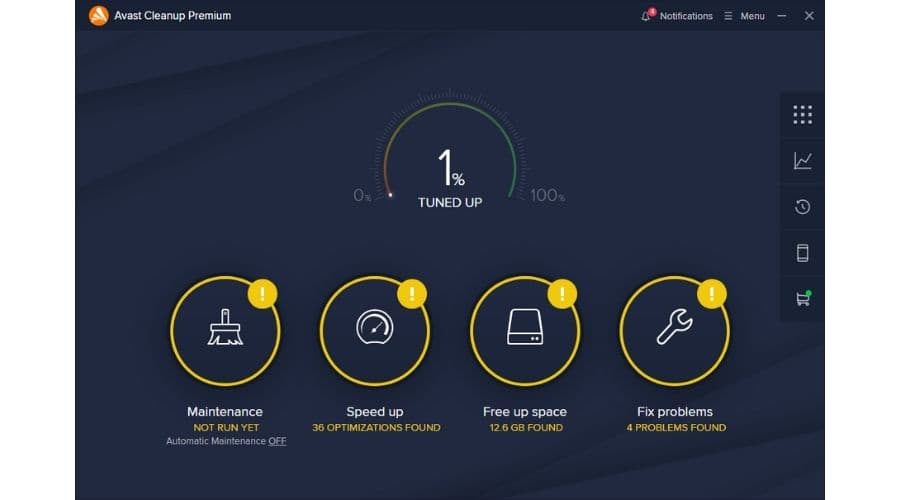 Avast Cleanup Premium stands out in this category because it combines ease of use with a sense of style.
Pricing
CCleaner
CCleaner comes in two versions: Free and Professional. The free plan lacks many features included in Professional.
Moreover, you can only subscribe annually, with different pricing plans available depending on the number of computers you want to cover:
One-year license for one PC – $24.95
One-year license for three devices – $39.95.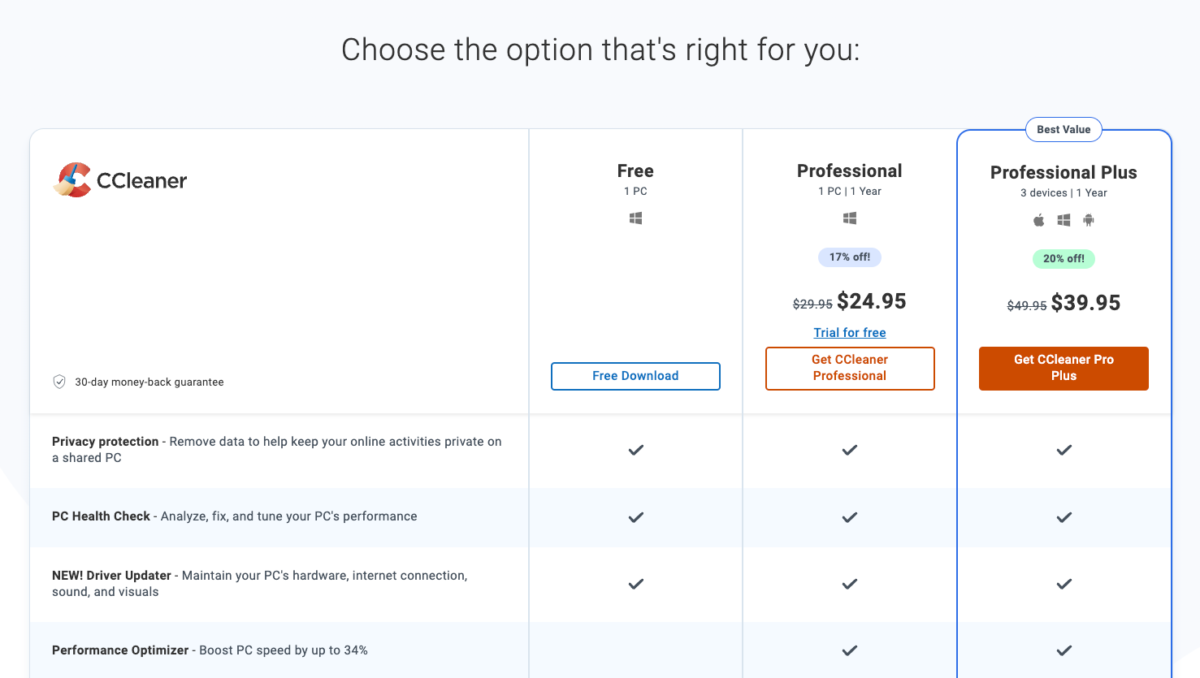 You have the option to pay either through PayPal or using your credit/debit card. You can try out the Professional version thanks to the 14-day free trial.
To complete the purchase process, you must provide basic information, such as your full name and email address. Once you do that, you'll receive an activation key via email.
Avast Cleanup
Avast Cleanup has a fairly simple pricing structure:
One-year license for one PC – $29.99
One-year license for ten devices – $34.99.
The price is the same for all operating systems, including Windows, Mac, and Android.
However, it doesn't offer a free version like CCleaner, only a 30-day free trial.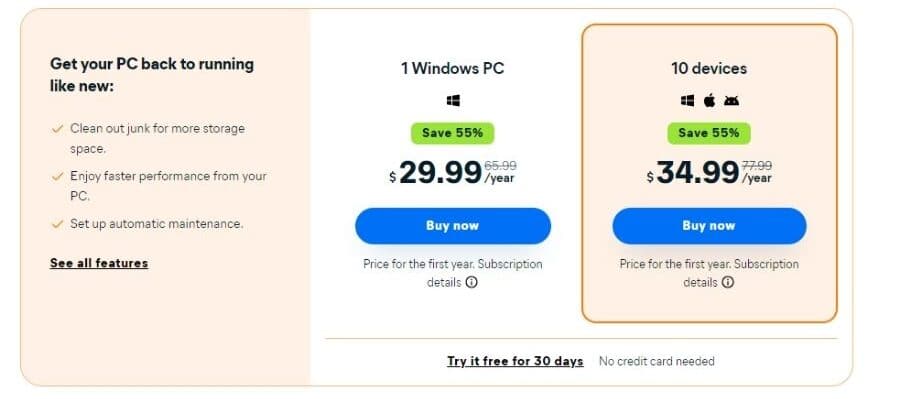 If you happen to find a good discount, Avast Cleanup is a product worth considering. However, CCleaner Pro is the better choice if you want an extended period of computer optimization for a relatively competitive price.
CCleaner vs Avast Cleanup Head-to-Head Comparison
Here's a handy comparison table covering all the most important features:
| | | |
| --- | --- | --- |
| Features | CCleaner Pro | Avast Cleanup Premium |
| Registry Cleaner | Yes | Yes |
| Disk Cleaner | Yes | Yes |
| Software Updater | Yes | Yes |
| Driver Updater | Yes | No |
| Disk Defragmenter | No | Yes |
| Windows Registry Backup | Yes | No |
| Sleep Mode For Unused Apps | Yes | Yes |
| Bloatware Removal | No | Yes |
| Automatic Maintenance | Yes | Yes |
| Duplicate Finder | Yes | For Mac only |
| System Restore | Yes | No |
| Free trial | Yes | Yes |
Based on this table, CCleaner has a slight advantage over Avast Cleanup. It has Driver Updater, Windows Registry Backup, and System Restore tools. Meanwhile, Avast has a Disk Defragmenter and Bloatware Removal.
You may also be interested in:
Verdict
Are you looking for a way to optimize your PC's performance? Avast and CCleaner are two great software options that can help you with that.
Both tools offer similar features, but CCleaner Pro is a bit cheaper. It has additional functionalities that make it a popular choice among users. On the other hand, Avast Cleanup is known for its speedy optimization functions and antivirus applications. You can protect up to 10 devices with a single subscription, including Windows, Mac & Android. Additionally, Avast Cleanup offers features that CCleaner Pro doesn't have.
However, if you only need to protect up to 3 devices, CCleaner Pro Plus could be an excellent choice for you. Ultimately, it all comes down to your specific requirements and budget. So, take your time and choose the tool that best fits your needs.
Hopefully, this CCleaner vs Avast Cleanup comparison will help you make up your mind. Feel free to share your choice in the comments below!