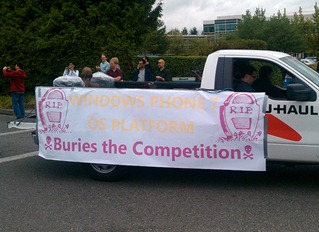 Business Insider reports from an AppNation panel on mobile platforms which included developers and marketers from app companies, as well as reps from other parts of the mobile industry like carriers and chipset makers.
While for those present the first and second mobile platform was clear, the third was no longer Blackberry.
Based on Microsoft's resources and the Nokia deal, Windows Phone 7 was now a clear contender. "Microsoft is buying developers and it will buy distribution" one said.
In response developers are taking the resources they put into RIM and gradually moving them over to Windows Phone. This has been confirmed recently by a survey by AppAccelerator in which Windows Phone 7 overtook Blackberry in developer interest. Distimo estimated Marketplace will overtake Blackberry App World within the year.
RIM has also been seeing market share losses in USA, while Windows Phone 7 has been seeing gains. Significantly, when the audience was asked  "does anybody think RIM will still be around in 2015" the response was silence.
Update: As if to underline the prediction RIM  lowered its profit forecast for the first quarter of 2011 Thursday amid weak shipments of its BlackBerry devices. RIM also said it expects revenue to come in slightly below its previous guidance of between $5.2 and $5.6 billion.
RIM blamed the earnings and revenue shortfall on weaker than anticipated shipments of its BlackBerry phones. The company also said that more of its sales have shifted toward lower cost handsets. Trading in RIM shared were briefly halted after the announcement, and when resumed fell more than 10% in after hour trading.
RIM's QNX-powered handsets are also at present rumoured to be delayed, with their 6.1 OS expected to be renamed Blackberry OS 7.0