Windows Phone March 2011 Market Share
Nielsen have published some market research which shows that Windows Phone (which includes Windows Mobile and Windows Phone 7, but surely WM sales are miniscule now) has hit 7% of new smartphones sales in March 2011. An NDP survey in Q4 2011 had shown Windows Phone had only 2% market share in that period.
At 7% it is around half the 15% market share of  RIM in USA, with Windows Phone 7 only available on AT&T, T-Mobile and Sprint. The numbers will likely see a significant surge when Windows phones become available on Verizon and opens up the possibility of Windows Phone overtaking RIM sales soon.  Significantly RIM had dropped in market share from 19% to 15% over the preceding 3 months.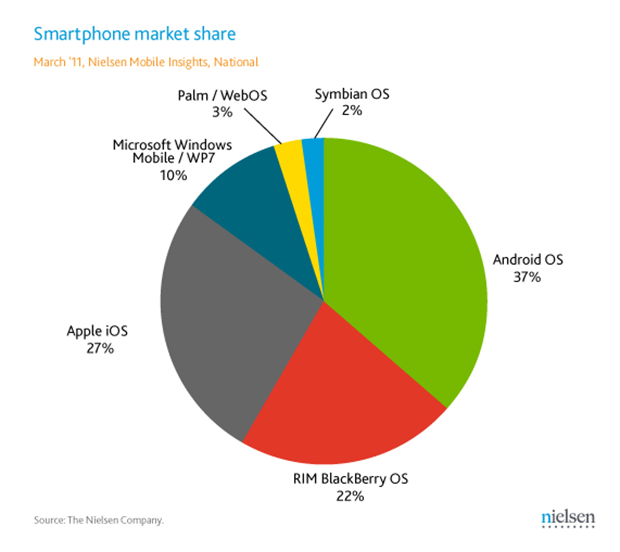 Windows Phone installed base March 2011
Further good news is that Windows Phone's installed base slide has been halted, as sales of new Windows Phones at least match the rate at which Windows Mobile users are abandoning the old platform.
Earlier installed base numbers collected between November 2010 to January 2011 had shown Windows Phone at 10%, and this number is still true in March 2011.  This is in stark contrast to RIM, which saw its installed base drop from 27% of smartphone owners in the earlier period to only 22% in March 2011, 3 months later.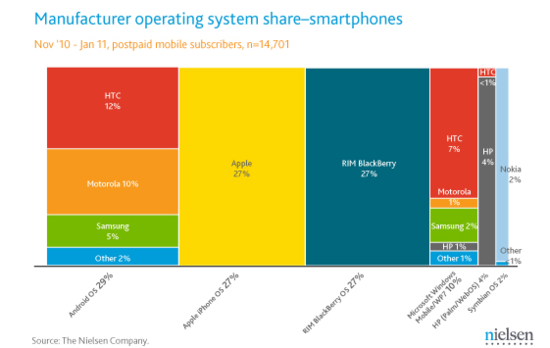 Windows Phone installed base Q4 2010
Nielsen also reports that 6% of consumers want a Windows Phone, which is a drop from 7% in Q3 2010, but then of course Windows Phone 7 had not launched yet, and presumably the 6% in Q1 2011 are much more likely to actually buy a handset.
A full 20% are also undecided, and it is up to Microsoft's marketing to convince a chunk of those to go Windows Phone 7.
So, in summary, Windows Phone 7 sales are already a significant chunk of US smartphone sales and are keeping pace with the market, unlike RIM or Palm, and should see further increases with both carrier expansion and new buzz due to the upcoming Windows Phone 7.5.