Discover the Top 6 Best Generator for Jigsaw Puzzles
9 min. read
Updated September 26th, 2023
Published September 26th, 2023
---
Readers help support MSPoweruser. When you make a purchase using links on our site, we may earn an affiliate commission.
Read the affiliate disclosure page to find out how can you help MSPoweruser effortlessly and without spending any money. Read more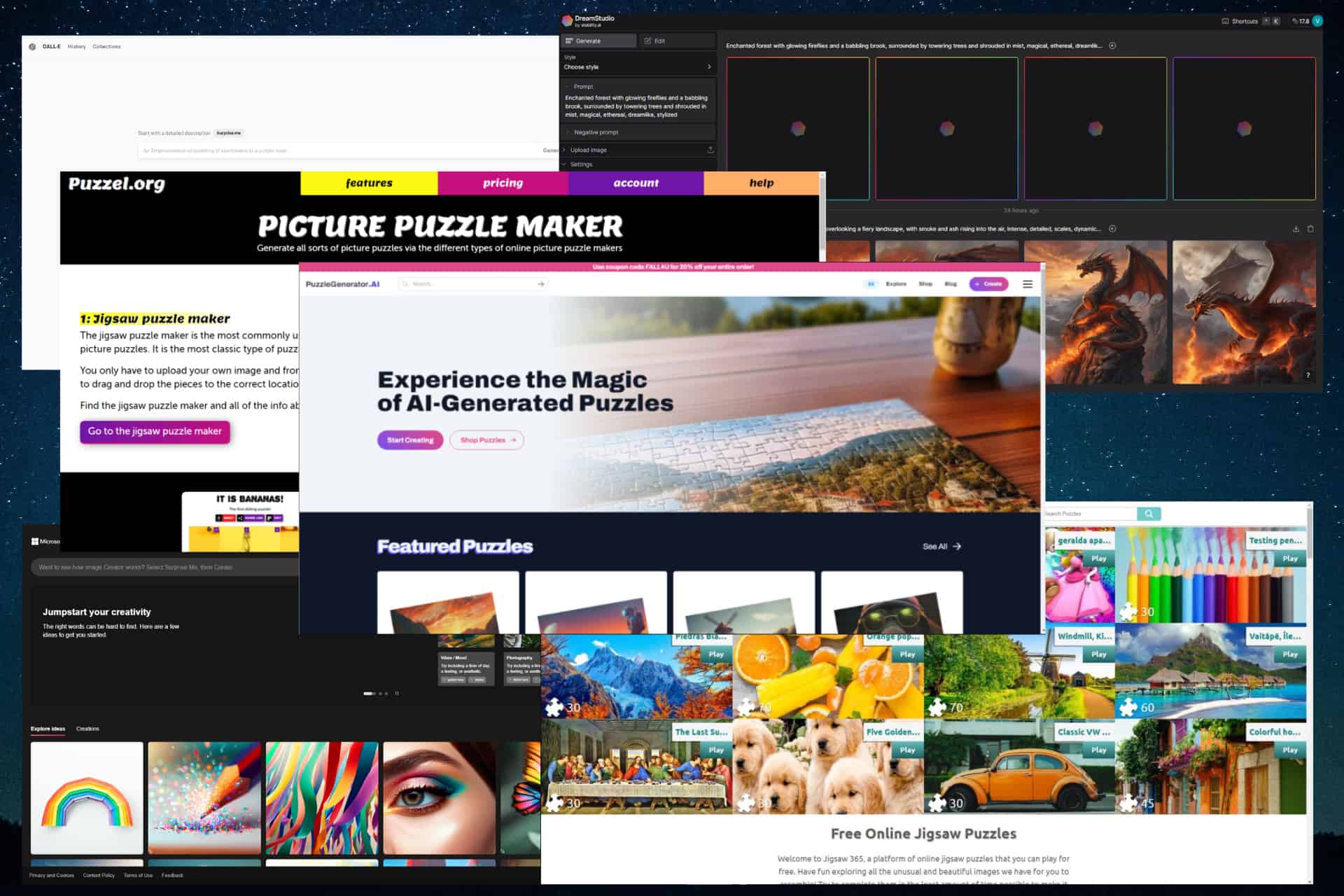 Artificial intelligence has impacted a wide range of fields and, thus, our lives and how we can create, manage, and distribute valuable content to our readers, family, and friends. The same principles apply when creating art, starting a t-shirt business, creating a logo for your company, and even having AI take care of multiple aspects of your sales department.
Creating jigsaw puzzles is no different than the fields mentioned above, and AI has simplified this process considerably. For this reason, today, we will look at some of the best AI art generator tools for jigsaw puzzles. Surprise your family and friends with a customized jigsaw puzzle, and take your game night to the next level.
These tools use text prompts to create stunning images, which can then be transformed into puzzles, so let's dive right in and explore their capabilities. We have included some specialized AI-powered puzzle generators and some text-to-image generators that can be used for the same task.
1. PuzzleGenerator – Best Overall AI Art Generator for Jigsaw Puzzles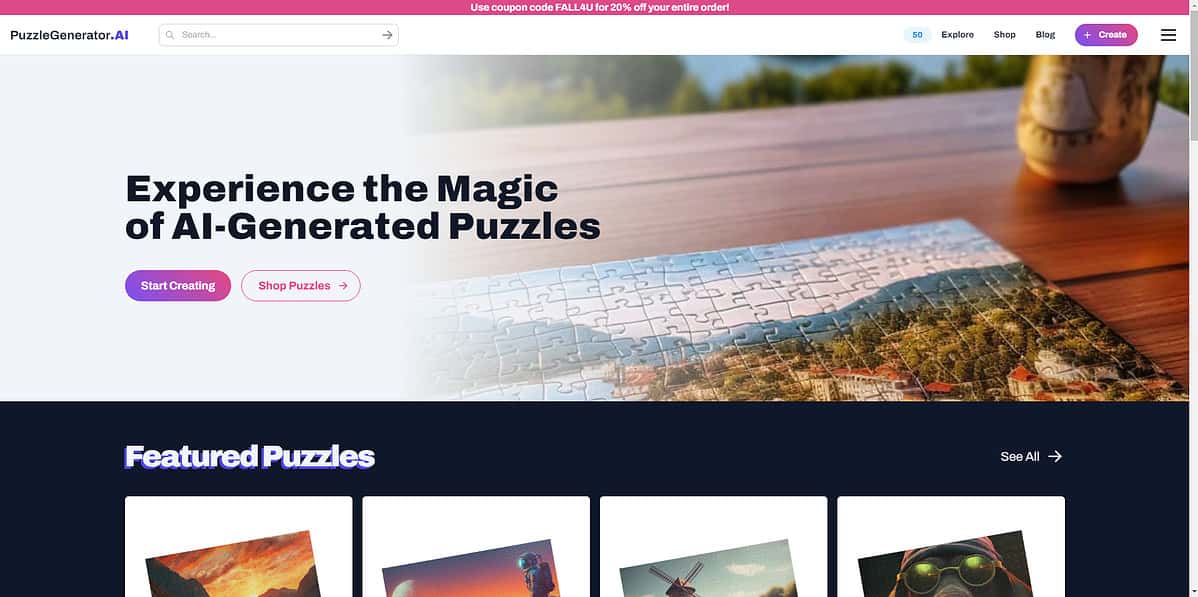 PuzzleGenerator is a unique AI art generator for jigsaw puzzles that uses the power of artificial intelligence to create customized puzzles. This tool works by text input, and as soon as you enter your prompt, the AI will use the information to generate an image for a puzzle.
Below, you can see the main menu of this great jigsaw puzzle generator, which includes a good set of customization fields to ensure that you get the best results out of your prompt.
As with other text-to-image AI generators, you must start by writing a prompt or choosing the Suprise Me button, which will randomly generate an image.
Once you write the prompt and add Stop Words (elements that you don't want to be included in the results), you can also easily choose how many images you want to be generated from one to four.
The two sliders presented above make this AI-powered generator stand out from the crowd, which includes Prompt Guidance and Quality & Details options.
The first option allows you to customize how exactly the results will follow the previously written prompt, and the latter is the equivalent of 'steps.' It will determine how qualitative you want the results to be, with higher-quality images taking a bit more time to generate than the alternative.
Pros
Includes a text-to-image AI-powered feature
Generates customized jigsaw puzzles in seconds
Good customization options for end result
Quality results with good resolution
Cons
Even though it is user-friendly, beginners might see the customization options as a bit confusing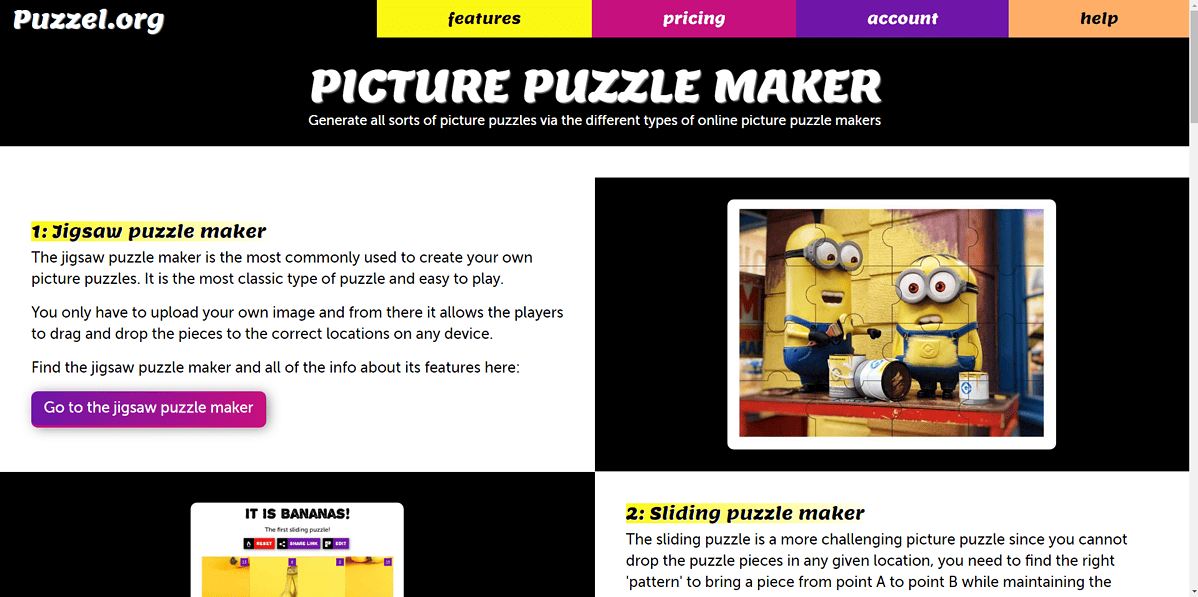 Puzzel is a puzzle platform that offers its users a variety of valuable and fun tools but also includes a picture puzzle maker, which can help you generate fantastic jigsaws from an image you upload.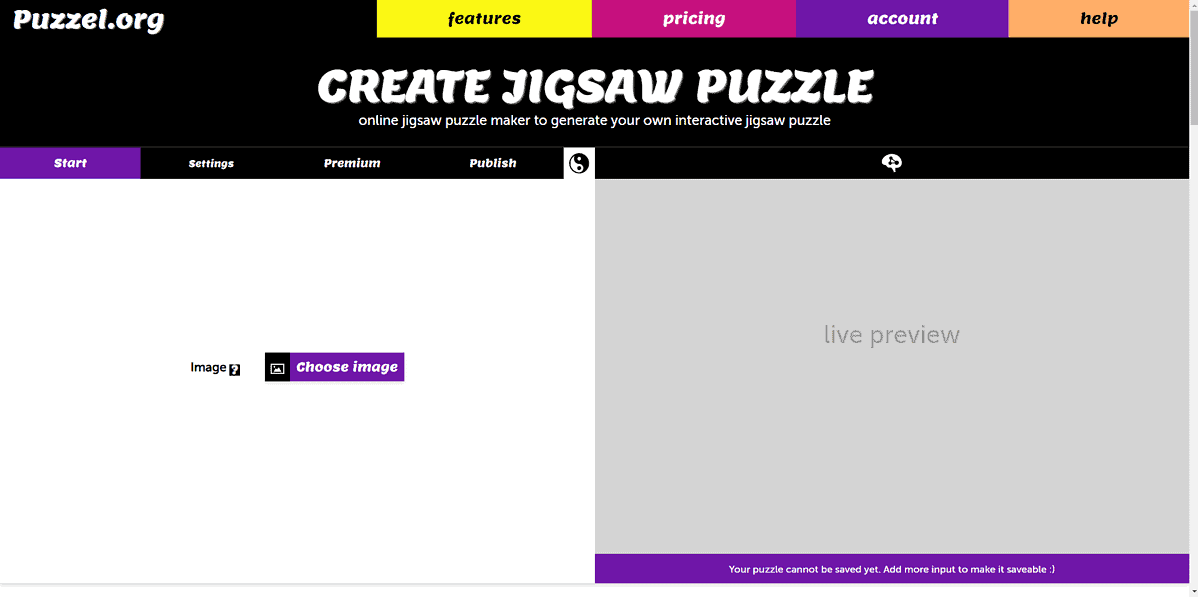 The platform provides a helpful preview of the image you just uploaded and allows you to customize the format by clicking the Settings button at the top.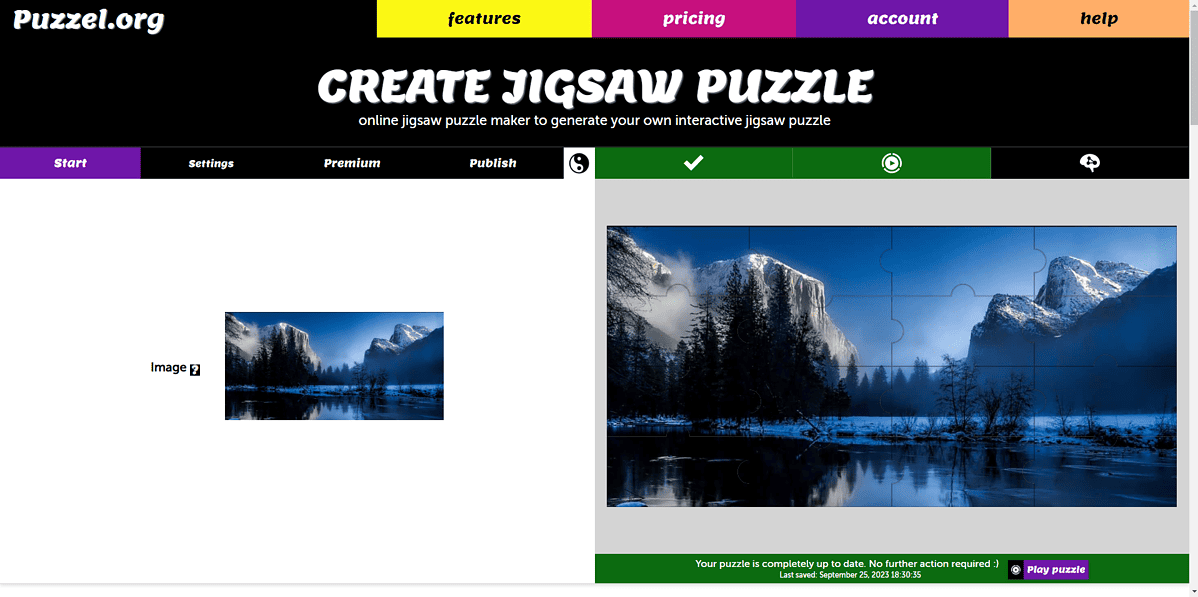 You can use photos of one of your favorite family, nature, or friends. Still, you can also combine its capabilities with a text-to-image AI generator to create unique, customized, and one-of-a-kind puzzles.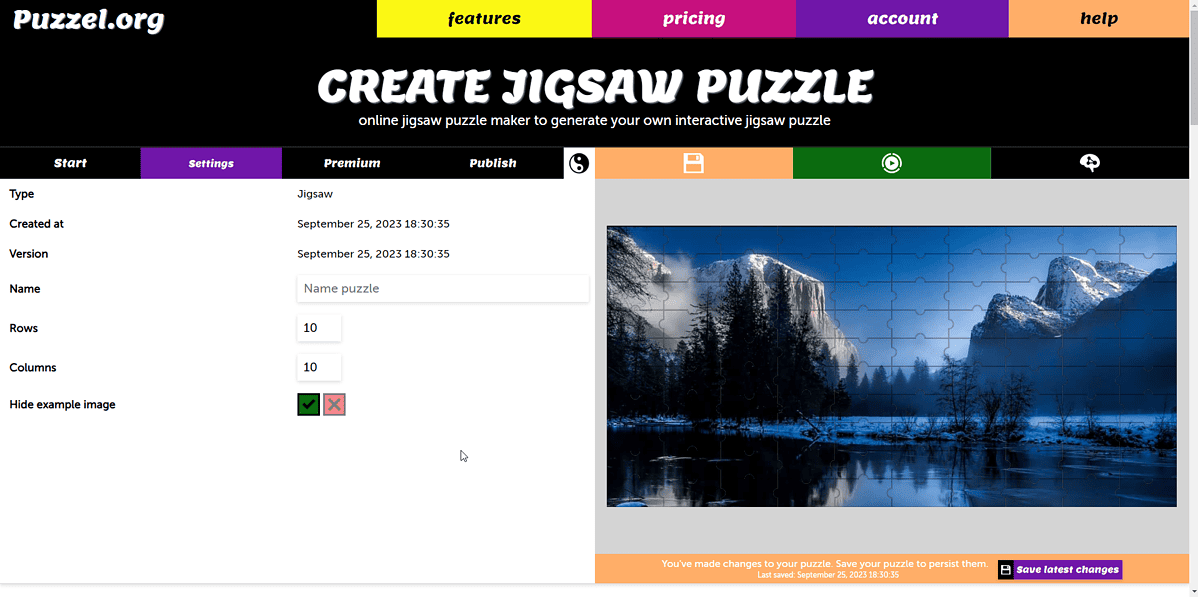 Modifying the values like Rows and Columns will create a far more complex puzzle than before, and you can customize it to your desire.
The platform offers access to a few puzzles, including jigsaw puzzles, sliding puzzles, crossword puzzles with pictures, word search puzzles, etc.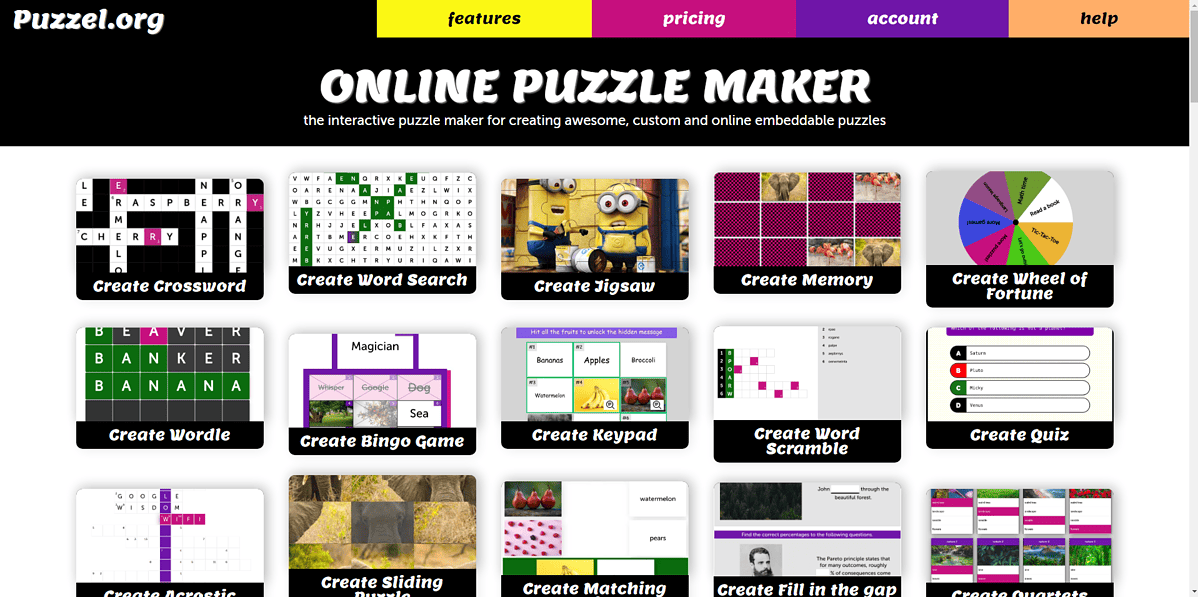 All you have to do to start playing with your customized jigsaw puzzle is to upload the image of your choice, modify the options to choose how many pieces should the jigsaw puzzle be formed from, and then start playing!
Pros
Fantastic array of puzzles of varied type
Can create and also play already-created puzzles
Good customization options for output
Can upload images to create custom puzzles
Cons
It doesn't include a text-to-image generator
3. Jigsaw 365 – Best Online Customized Puzzle Creator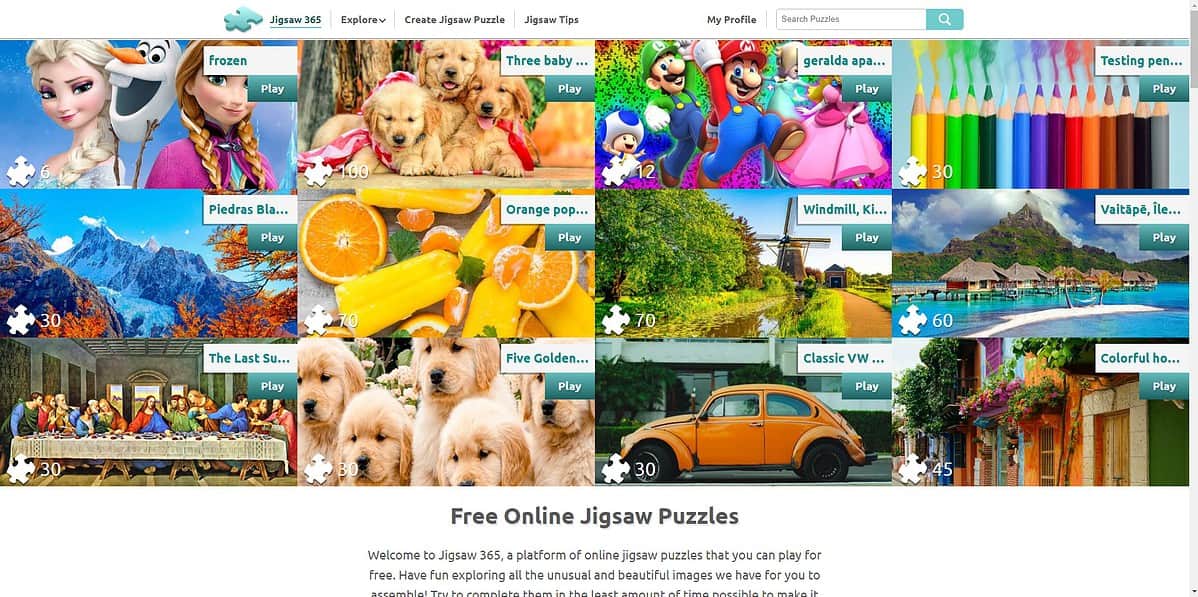 Jigsaw 365 is another fantastic tool that allows you to create customized jigsaws by using your own images. Still, it also contains many other features like daily puzzles (each for one calendar day) with various variability and styles.
The Jigsaw creation feature enables you to easily upload an image you want to have transformed into a jigsaw puzzle and presents you with the individual pieces and a timer to solve it.
As you can see from the image above, every upload will require you to be the owner of the respective image, thus ensuring that no copyright issues arise. The platform also doesn't accept any images depicting violence, racism, nudity, and other adult content.
Once you uploaded an image and ticked the copyright box, you can hit the Validate Image button to move on to the next step.
This stage requires you to add a name for your puzzle, choose the number of pieces you want the puzzle to be made of, and select if you want the image to be listed and used by others on the platform.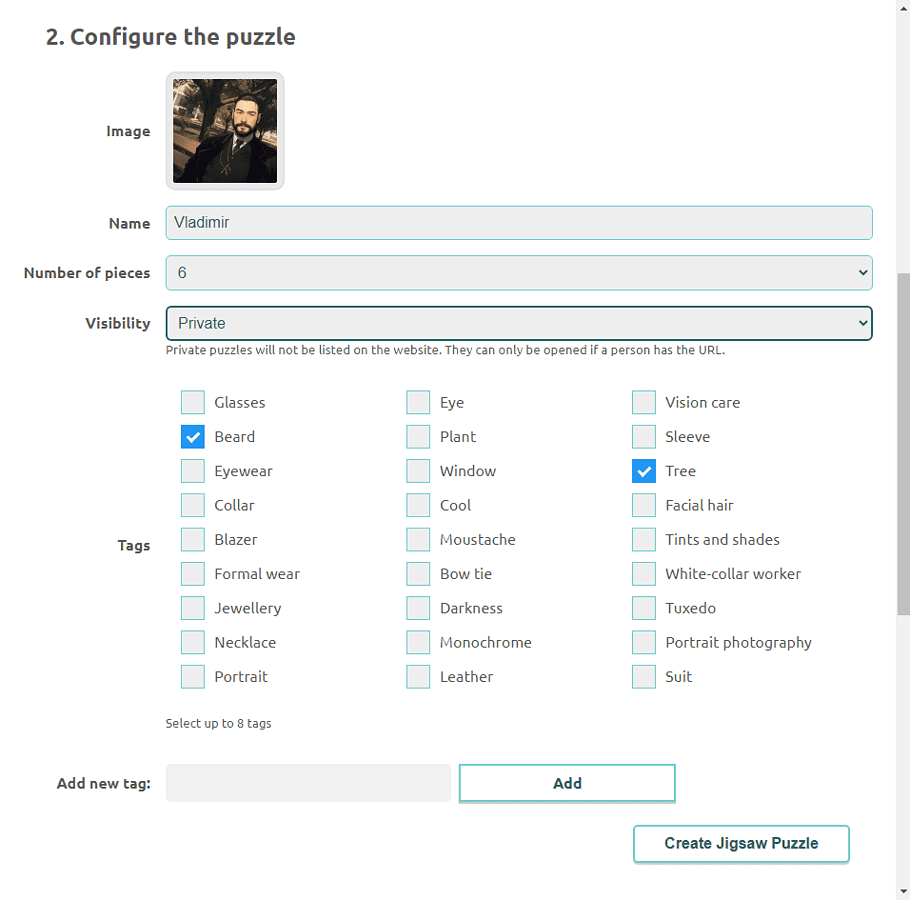 If you agree to this idea, you must tick the boxes next to some tags, ensuring that other users can reach your creation.
Below, you can see the result of our previous steps: a jigsaw was created from the image we provided and with the settings mentioned above.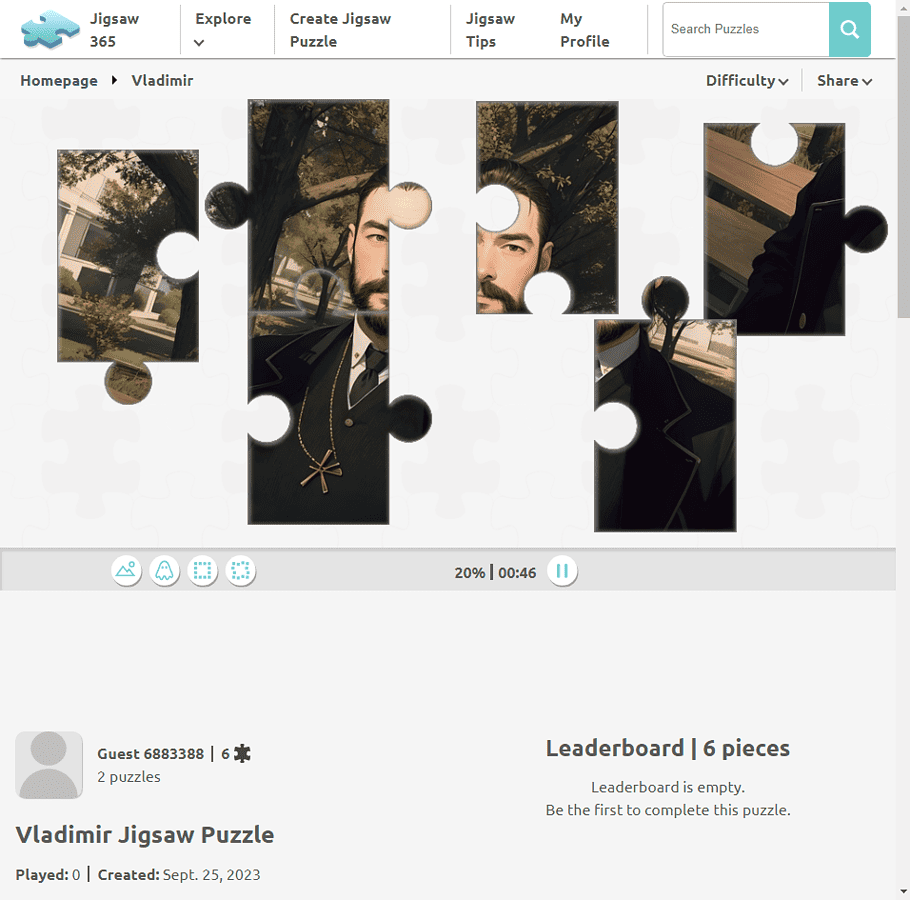 As you can see, the website also has a timer measuring how long it takes you to solve the puzzle.
Pros
Easy to use
Automatically creates puzzles based on your photo upload
Customization options for size and split of puzzles
Fast results
Cons
It doesn't include an image generator
4. Bing Image Creator – Amazing AI Art Generator for Puzzles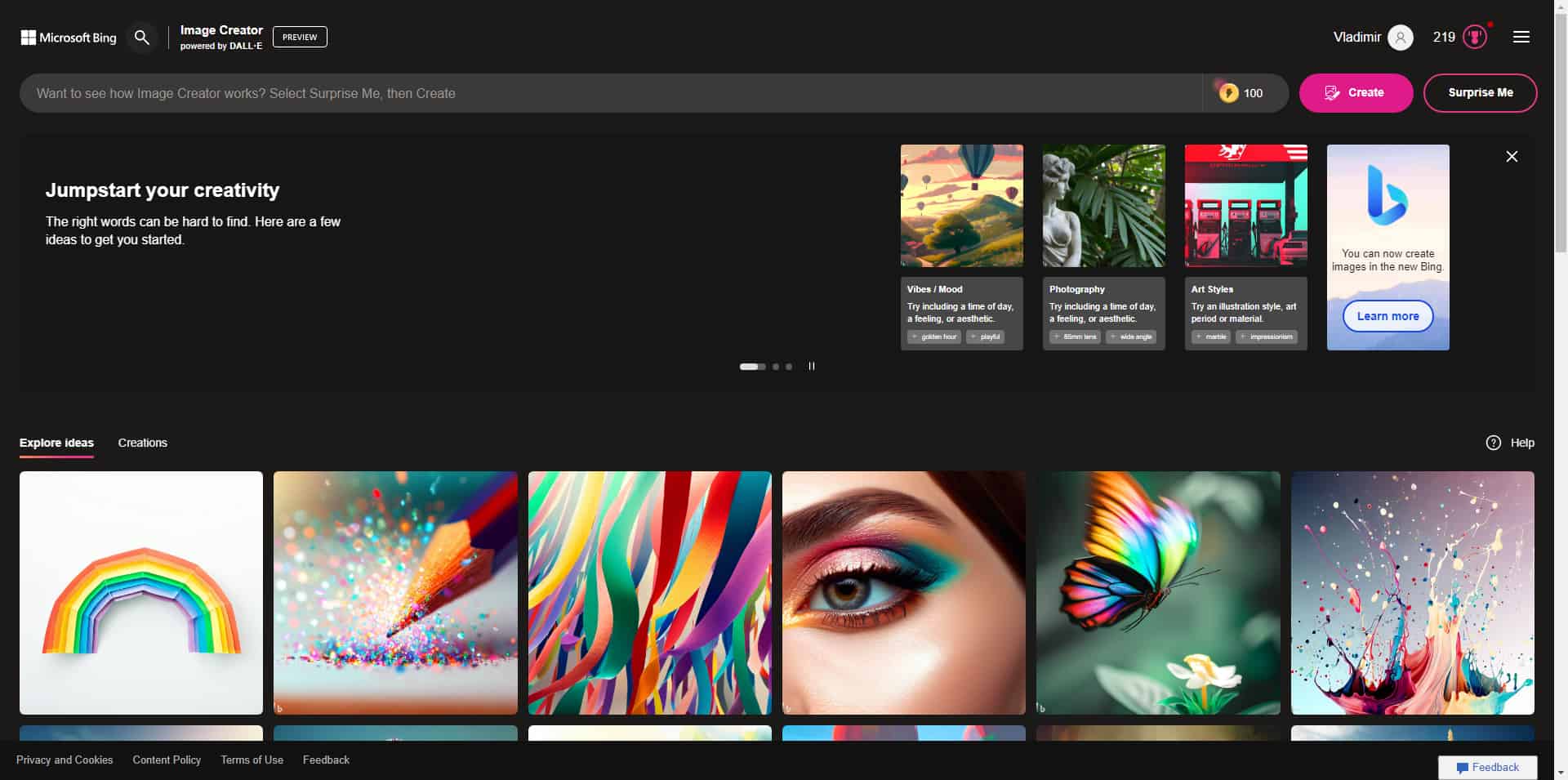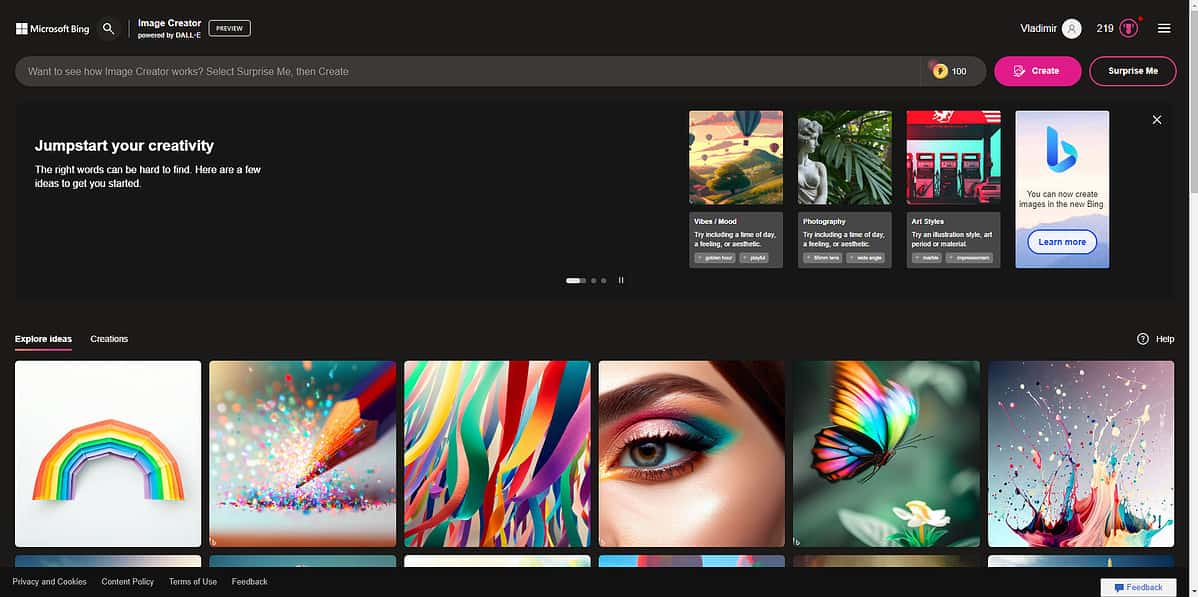 Bing Image Creator is a powerful AI art generator that uses the capabilities of DALL-E 2 to create unique art from text input. Bing AI is known explicitly for creating detailed images with high-quality results based on a short text prompt.
The generation process only lasts about 15 seconds, so you can quickly and efficiently create unique images for your puzzle.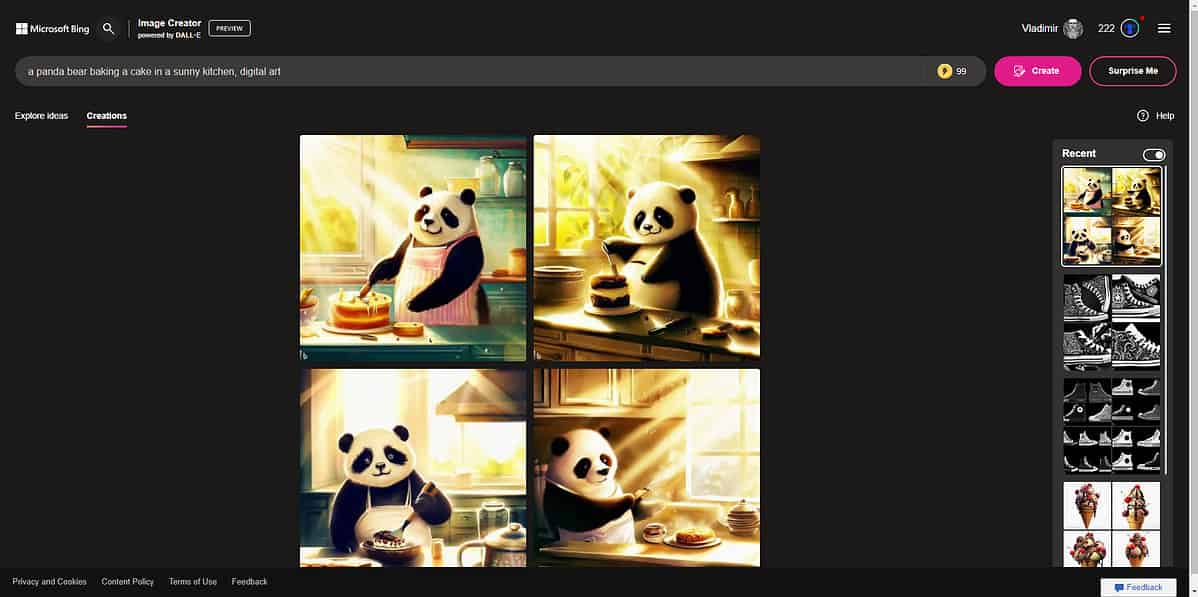 The free and intuitive platform is a perfect stop for beginners and experienced artists. To use it, you will be required to sign into your Microsoft account, and once you do, a world of art possibilities opens up instantly. You can generate various images with different art styles, including highly detailed realistic images and abstract designs.
One feature that caught our eye is the so-called 'boost' system. Users start with 25 boosts, which are used to create images instantly.
Once you finish these boosts, the time required for image generation increases considerably. That said, users can easily earn more boosts by using the Microsoft ecosystem, such as reading top stories, using the Microsoft Bing AI, and completing daily tasks.
Bing Image Creator is a perfect choice for people who want to use AI to create high-quality art to be used for jigsaw puzzles.
Pros
Creates unique, high-quality art from text prompts
Great customization options
Daily boosts that allow fast image generation
Reward points for using the Microsoft services
Cons
Microsoft throttles image processing speed, removing it only with boosts
5. DreamStudio – Text-to-Image Generator For Puzzles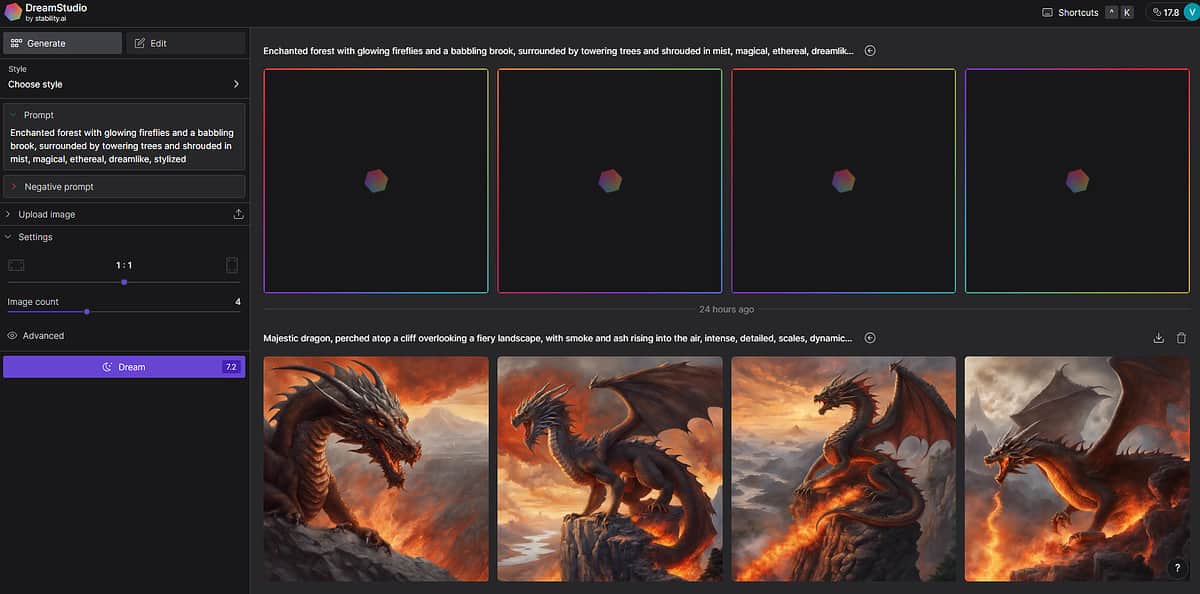 DreamStudio is another amazing text-to-image AI art generator that can be used ideally for creating puzzles because of its high-quality results, efficient customization options, and fast generation speeds.
DreamStudio allows you to create images from visual prompts, expanding the influence of this tool and offering some fantastic results.

This AI-powered app is even more accessible than other similar tools because it is cheaper, and even though it is user-friendly and allows easy access to options, it requires a bit of a learning curve to master.
To start, you only need to write a description of your idea, modify the settings, and click the Dream button.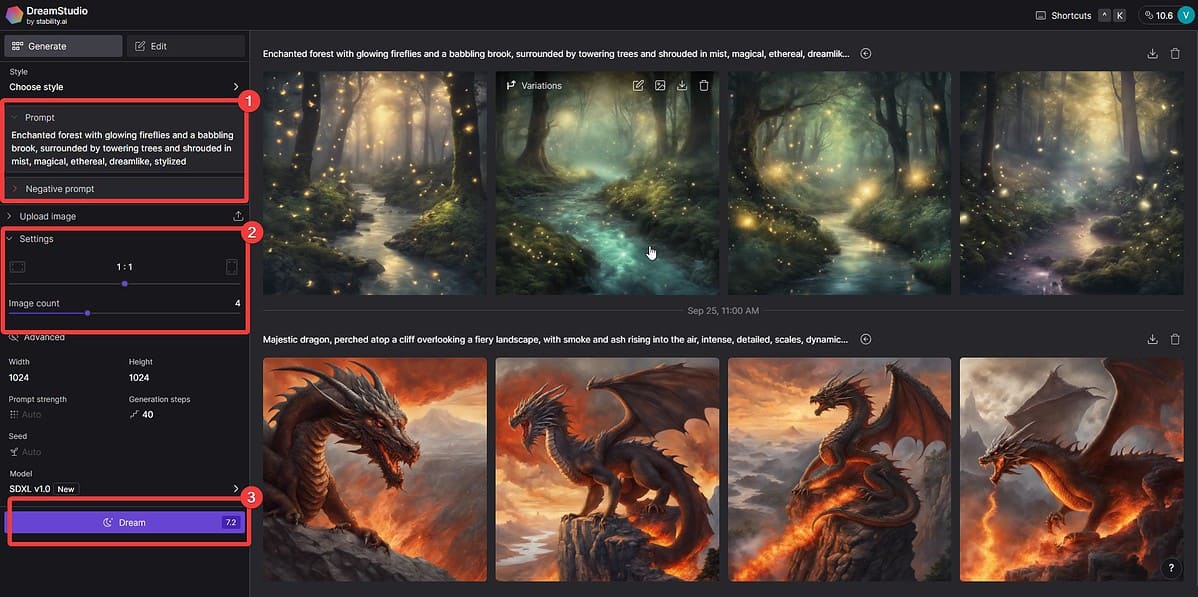 The AI takes over from that point and generates some amazing images based on the previously written prompt, and in a second, you will see the results.
The platform is free to use, and its user-friendly design makes it compatible with experienced and beginners. When opening an account with DreamStudio, you will automatically be awarded 200 free credits to explore the AI's capabilities.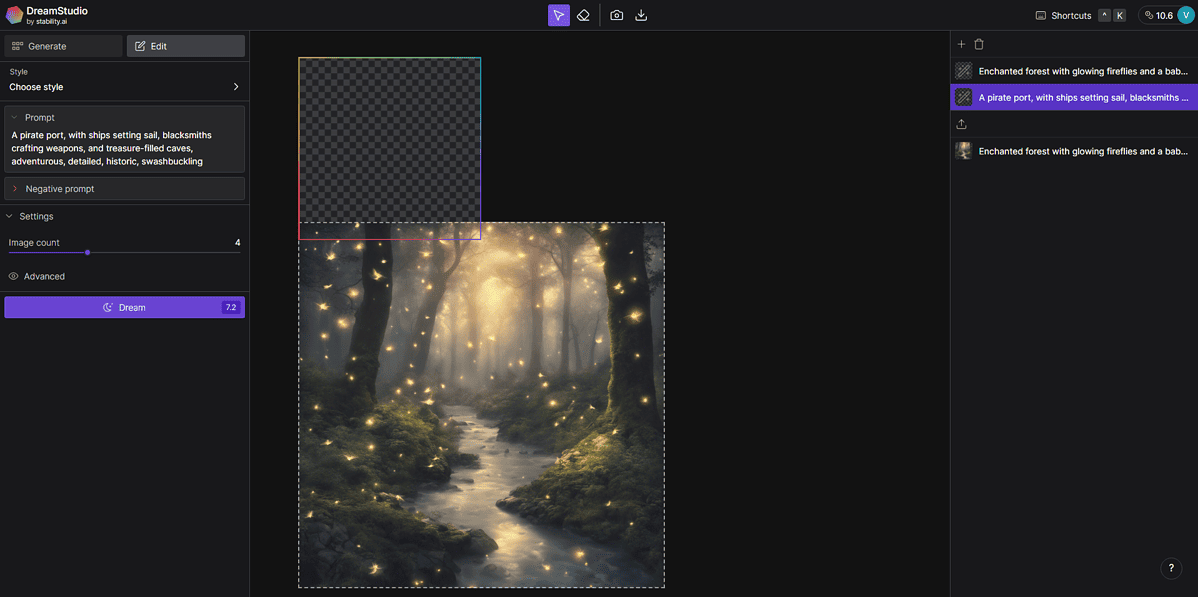 As opposed to other similar software recommended in this software, DreamStudio acts more like the first stage of your puzzle creation, which involves preparing the image.
Pros
Great suite of generative design tools
The generated images are free to use in a commercial setting
Easy to use for beginners and professionals
Cons
More customization options would be helpful
6. Dall-E 2 – AI Art Generator for Custom Puzzles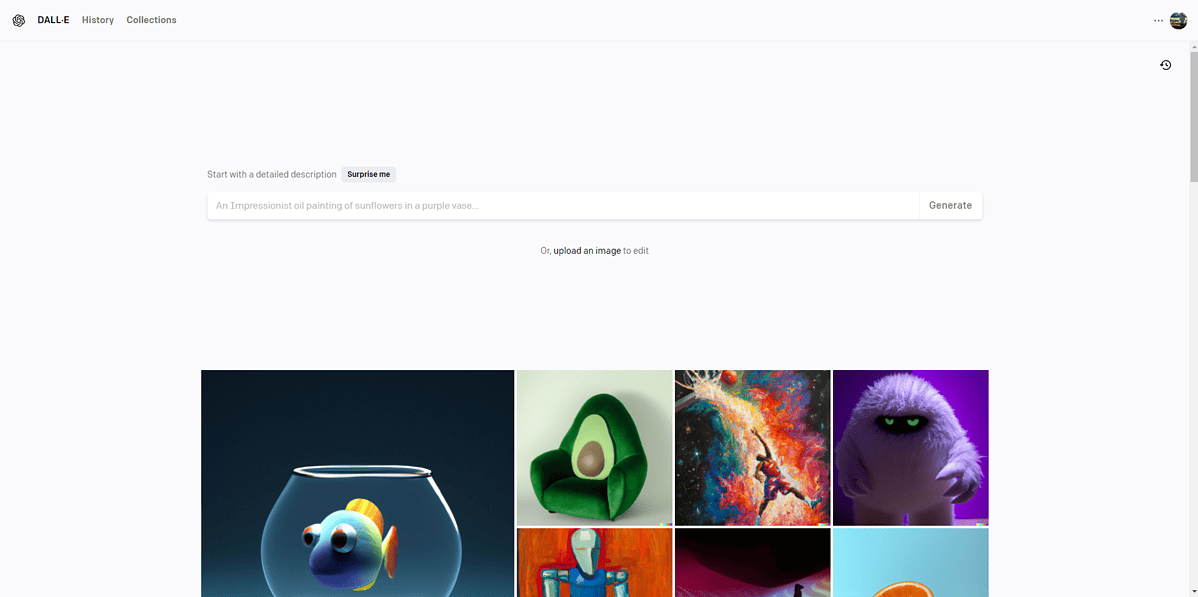 OpenAI developed Dall-E 2 and offers users a fantastic opportunity to create AI-powered images from just a text prompt. Dall-E's capability to transform text into amazing images makes it one of the best AI art generators on the market. It allows users with different expertise levels to create unique personalized jigsaw puzzles.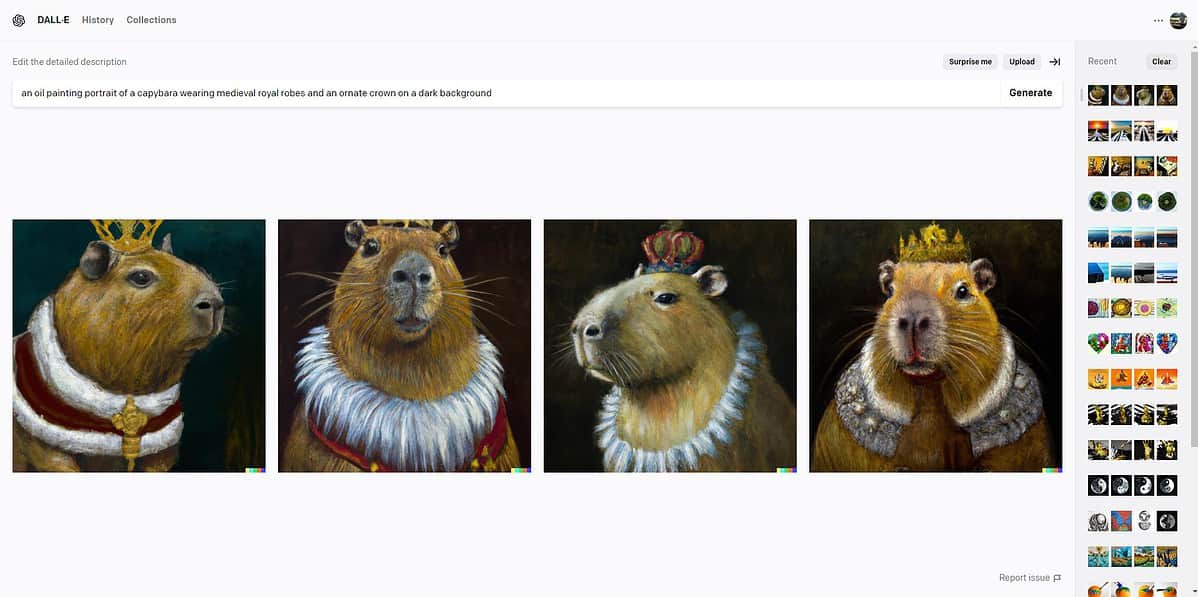 Dall-E 2 takes your text description and, depending on the details described, uses the algorithms it was trained with to attach visual elements to the descriptions. This engine is primarily known for its ability to understand the subject, angle, background, location, and concepts described within the text prompt.
Even though Dall-E 2 is trained on only 3.5 billion parameters, its predecessor, Dalle-E, used information from 12 billion data points. Even if that's the case, the latest version produces images with up to 4 times more clarity and better resolution than its predecessor. Even more, the new iteration ensures a more qualitative photorealistic result.
Even though the app doesn't create literal jigsaw puzzles, it offers you everything you need to make it, so give it a try today!
Pros
Great image generation with good image quality
Good customization options
All your art is stored on the server
Cons
Customizing results can be cumbersome at times
---
As you can see, we've included a variety of types of software in this article, which include AI-powered text-to-image tools, actual image-to-puzzle generators, and even a tool that combines the effectiveness of these two types into one.
For example, you could use one of the text-to-image creators to get the image you want for your jigsaw puzzle, run it through a tool like Puzzel or Jigsaw 365, and have fun with the digital puzzle.