A compelling and eye-catching logo is crucial for any business, regardless of the field. Your logo is often the first contact your potential clients will have with your business. As in the case of meeting new people, the first impression counts more than any other factor; thus, the logo design is crucial.
As AI evolves exponentially, using this technology to create unique logos has been a game-changer for designers across the globe and, by default, businesses. Creating an AI logo also considerably reduces the price of this service, ensuring that you can create unique logos without breaking the bank.
The same principles apply to other AI-powered creation processes, users can generate pixel art, create anime-style art, and even render amazingly complex buildings with a few mouse clicks.
Whether you are a writer needing to generate book covers for your latest work, a game designer looking to create unforgettable characters, or a visual artist or designer looking to be inspired, AI has got you covered.
Even more, the future of AI looks interesting, with Microsoft designing a unique AI-powered smart backpack, so we are very curious about how this technology will be used.
Before we find out, let's dive into some critical questions regarding today's topic: the best AI art generators for business logos.
Can AI create a business logo?
Yes, AI can create a business logo with just a few questions or prompts required. AI logo generators use machine learning to analyze patterns, colors, shapes, and typography in some of the most celebrated and well-known logos. Then, the AI will combine all this information into a unique logo for your business.
How many businesses used AI to create their logo?
It's hard to tell how many businesses employ this technique to create their logo. However, it's worth noting that the first software in our list, called Looka, is used by more than 20 million businesses. This information suggests that the number of businesses that use AI to create their logos is substantial, and these numbers are on the rise as AI permeates more and more of our lives.
Here are some valuable examples of companies that have used AI for a logo refresh: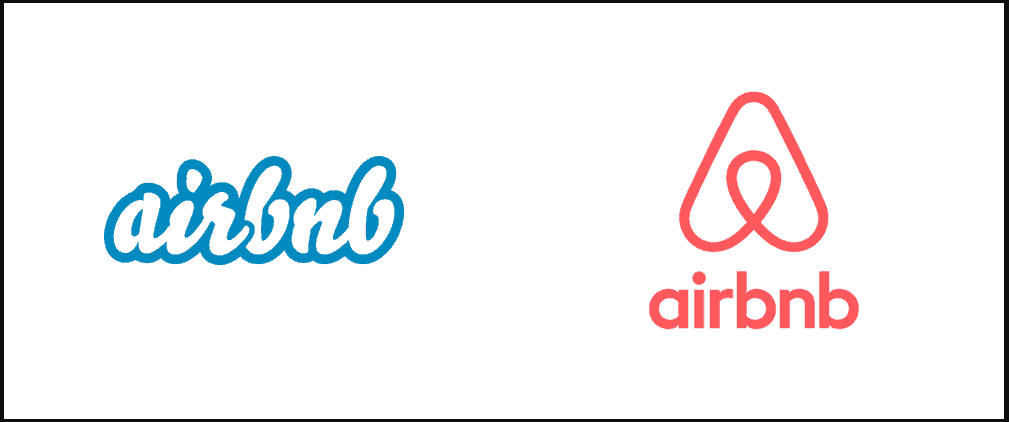 Used machine learning algorithms to analyze thousands of user-generated images of Airbnb listings, and the logo was redesigned in 2014.

Utilized their AI system called Watson to create a new logo in 2018. Watson analyzed the history of IBM, its values, and its brand identity to generate a logo that fits the company's approach to innovation.

The AI algorithms helped the company refine the visual elements of the company's iconic golden arches, ensuring perfect proportions and colors.
Used AI to subtly change its logo's proportions and letter spacing in 2015. Even though the change was subtle, the chance has increased the logo's readability and visual appeal.
These examples evidentiate the value AI tools have brought to companies over time, allowing them to quickly refresh their brand identity and create superb logos that resonate with their consumers.
How did we choose the best AI-powered logo generators?
For us to make an informed decision about the best AI logo generators for businesses to include in our list, we tested more than 15 options and only picked 5 of them.
We analyzed the number of features, ease of access, versatility, and steps required to reach a final result. Some other critical factors are how fast the product was generated, how creative the results are, and how professional-looking it is.
Scroll down to find out which software options made the cut for the best AI tools to generate business logos.
What are the best AI tools to generate logos for businesses?
1. DesignEvo – Effortless & Professional Logo Creation
DesignEvo is our second pick for this list, offering users more than 10,000 templates that can help anyone create amazing, unique logos that will only take a few minutes. This powerful app is designed with efficiency and speed in mind, enabling users to finish the creation process in under 5 minutes.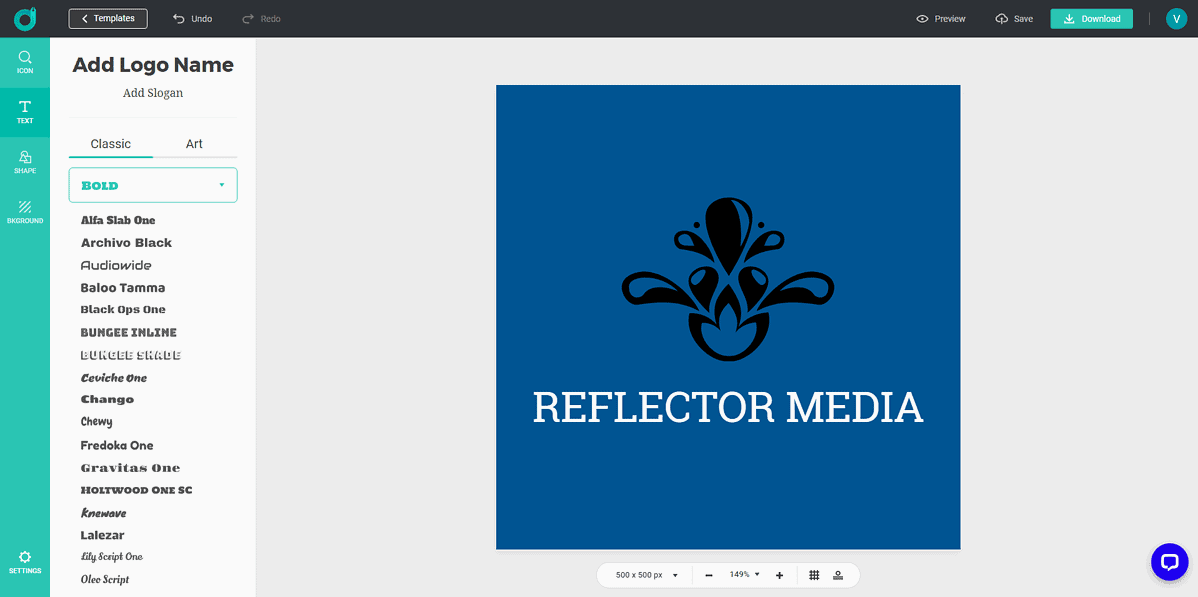 This platform ensures that you will always have new elements to explore, as it is filled with various resources that we haven't reencountered during our testing process. The database of resources includes millions of free vector icons, more than 100 fonts with various writing styles, and a helpful set of color combinations that include gradient and solid colors.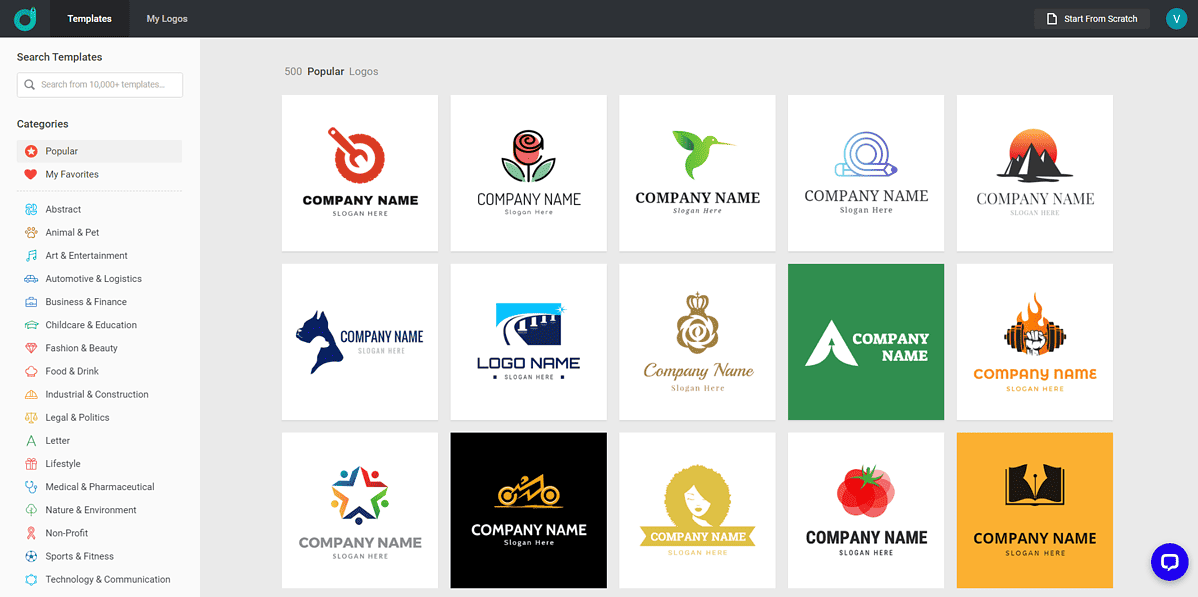 It doesn't matter your company's style, field of business, and goals, as the DesignEvo platform will easily have the elements you need to craft unique professional logos.
It includes elements related to technology, sports, fashion, food, etc. Moreover, the available well-designed templates simplify the creation process even more, even though we recommend modifying them as much as possible to stand out.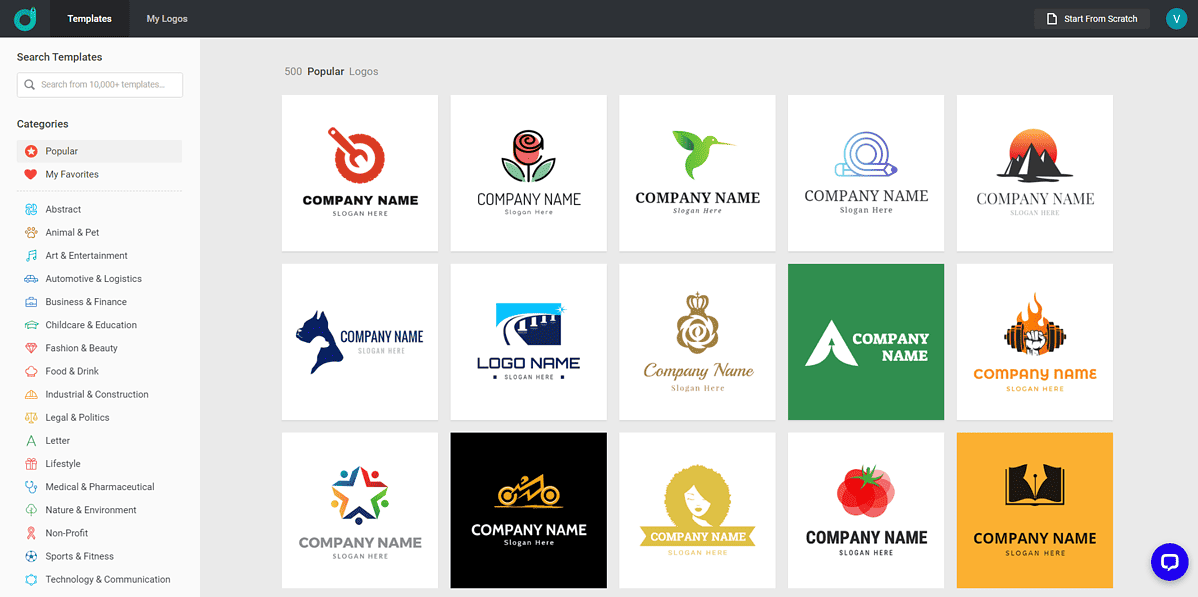 To round this section up, DesignEvo includes millions of vector icons and amazingly stylish fonts that allow you to create endlessly.
After the logo is created, DesignEvo allows you to download high-quality SVG and PDF files and even the exact fonts you used in your designs, simplifying the process of creating brand assets.
Pros
Free and easy to use, allowing users of all experience levels to create logos
Extensive set of designs, templates, vectors, fonts, etc.
Great customer service
Cons
The free features are limited, so users are inclined to pay for more features and high-resolution assets
Some users mentioned that it is time-consuming when starting a project from scratch
2. LogoAI – Smart & Automated Logo Designer
LogoAI is another useful AI platform that offers users a way to generate professional logos, which take much less time and offer great results. To start using this tool, write your brand's name and add a tagline if you want one included in the finalized logo.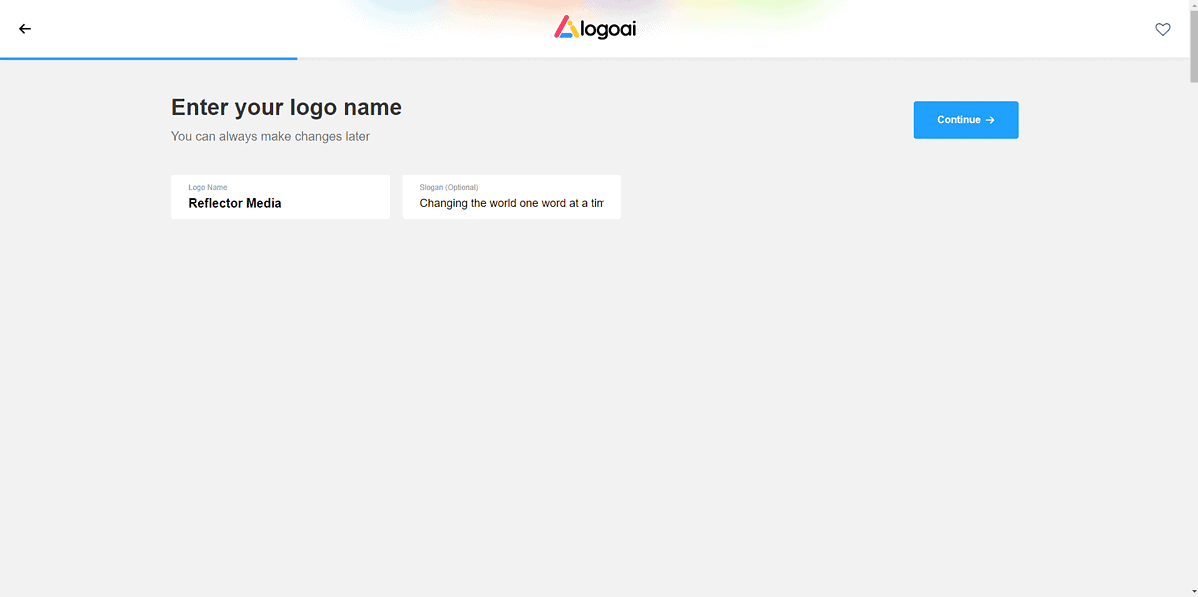 After this process is completed, you can select all the aspects of your design, and the AI-powered tool will generate a vast array of design possibilities.
Once you have chosen a logo, you can modify the fonts and symbols used and even explore some new logo color combinations by using the variations in the options. This ensures you choose the design you like most and then download it as a high-quality JPG, transparent PNG, PDF, and vector file.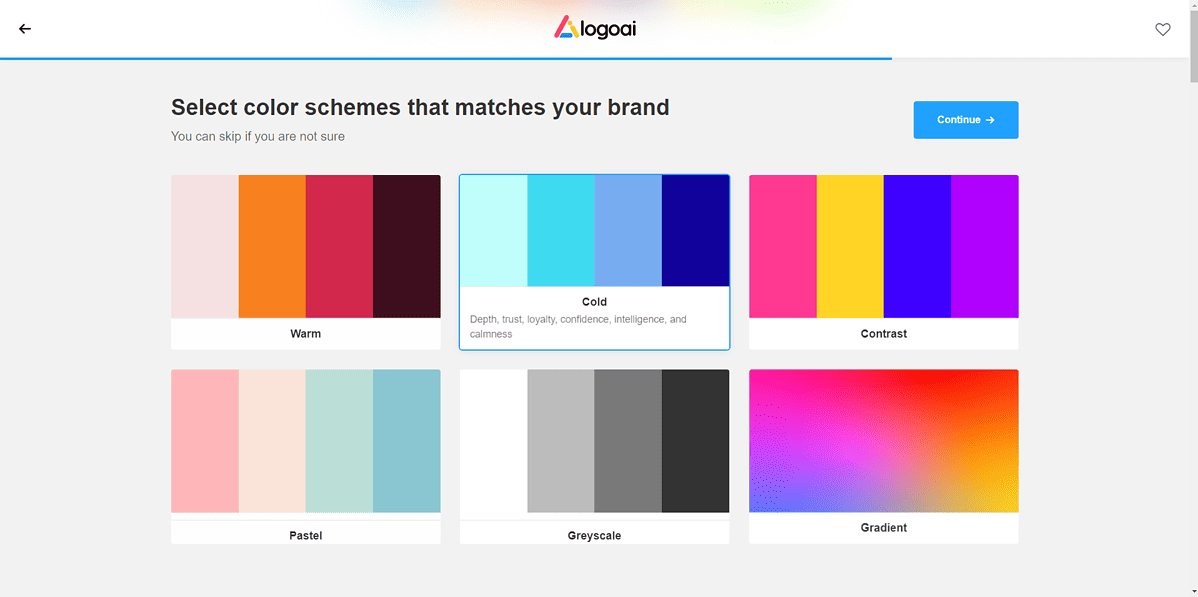 Added to the services described above, LogoAI also offers users a way to create stationary and brand promotion materials for social media and other environments. The developers of the app claim that they have helped over 940,000 businesses to create more than one million logo designs.
Use this fantastic platform to quickly generate, edit, and promote your brand in any environment you see fit for your type of business.
Pros
The logo design process is free, and users pay only to download files
All subscription packages include a transparent PNG download file
Contains hundreds of customizable logo templates
Unlimited changes to their logo within 3 days after purchase
Cons
It doesn't include a free logo download option
High-resolution downloads are limited to the Professional and Brand packages
3. Looka Logo Maker – AI-Driven & Customizable Logo Designs
Looka Logo Maker is our top pick of the best AI logo generator tools for businesses, and it allows users to create unforgettable and unique logos with just a few clicks.
The creation process starts by adding your company's name to the app and selecting the industry you're part of. This allows the AI to analyze other businesses from that industry and offer you tried and tested suggestions. Afterward, you can easily choose suitable logo styles, colors, and symbols, and the AI will use this information to generate fresh and customized logo designs.
After completing this process, you can customize the results by modifying the colors, fonts, and even the layout of the elements. This process is ensured by the user-friendly interface with clear menus and options, making it accessible to users of all proficiency levels.
Once the design of the logo is completed, Looka will create a brand kit with your new logo, allowing you to see how the logo looks on different items. These include high-resolution logo renderings and can be used endlessly as SVG and EPS vector files to upscale them without losing quality. This ensures that you can scale your logo according to your needs and have the perfect format for business cards, t-shirts, billboards, etc.
Looka also offers useful social media templates, which are extremely handy and allow you to maintain a consistent presence across various platforms. If you're subscribed to Looka's Brand Kit, you can modify the logo as often as needed.
Pros
It produces amazing-looking logos in a short time with a large number of style variations
Easy to set up your profile and use the app
Fantastic customer service with quick and helpful responses
Cons
The number of manual customization options is limited
Some users might consider Looka to be pricey when compared to other options
4. Wix Logo Maker – Intuitive & Personalized Logo Generator
Wix Logo Maker is our pick for the last position on our virtual podium. It offers users an AI-powered tool that enables them to create and customize professional logos for free, even though the service is not entirely free.
To start your logo creation process, enter the brand's name and add an optional tagline to complement the logo. After, you can choose the type of industry you're working in, and the AI uses this information to understand what you might be looking for in a logo.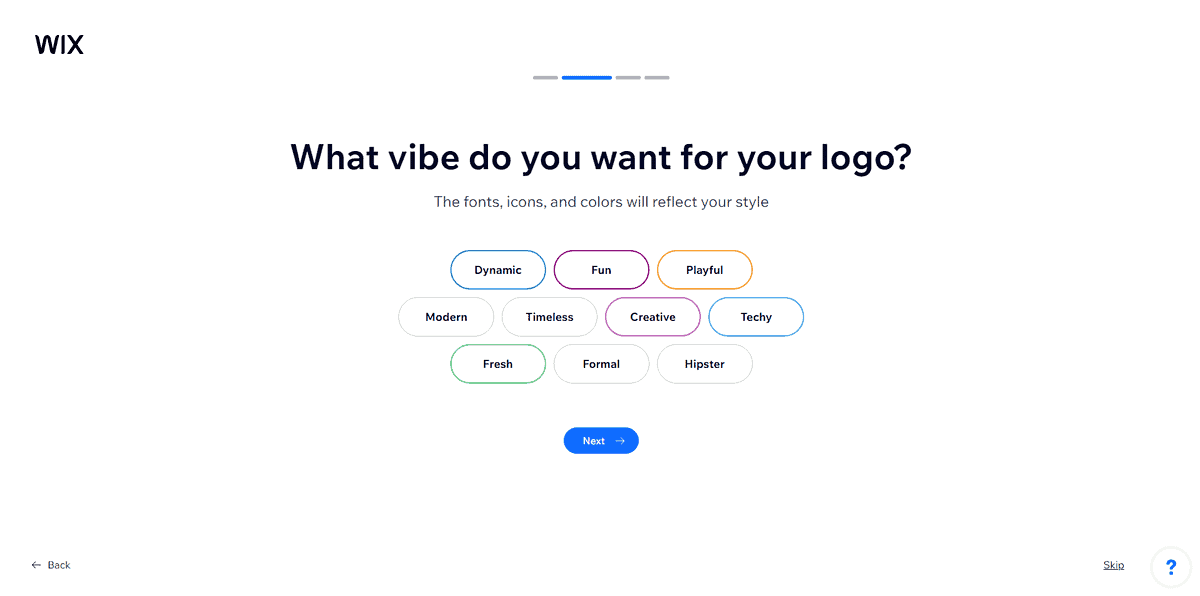 To continue, you can choose an option from the list of styles, telling the Wix AI how you envision your logo and what elements it should consider more important than others. After choosing a logo from the list that suits your needs, you can customize its appearance by modifying the fonts, colors, icons, and other features. This customization process is extremely important if you want to stand out from the crowd of companies.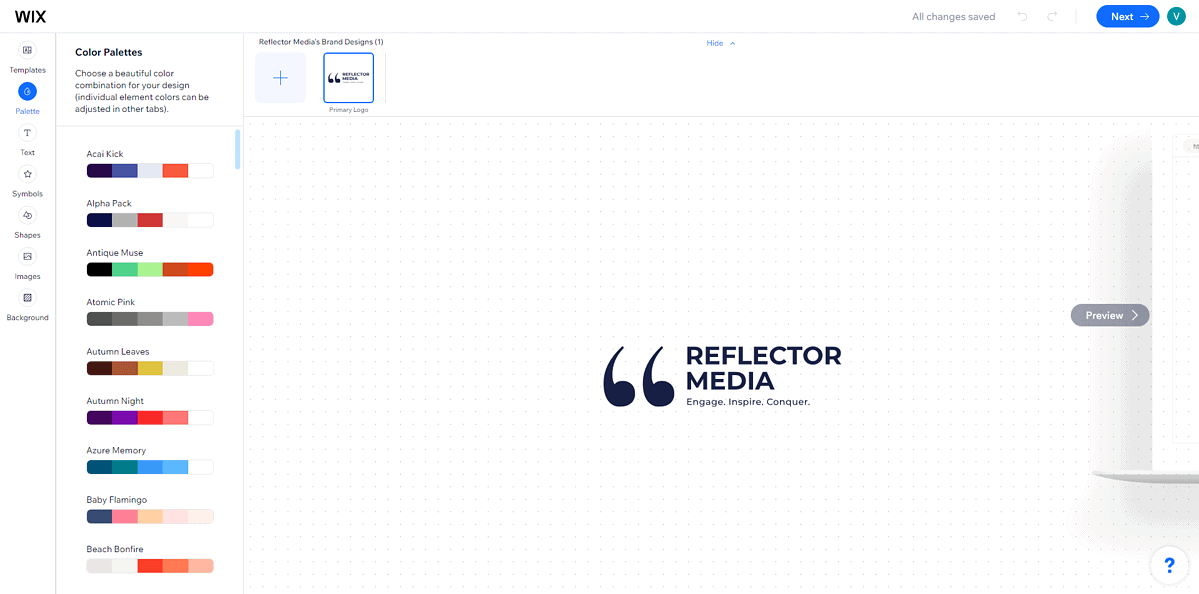 After the logo creation process, you can download a high-quality image file and use the custom logo anywhere.
To simplify the merchandise creation process with your new brand logo, Wix allows you to print your logo on various high-quality items like mugs, tote bags, t-shirts, stickers, etc. The company can deliver all these merchandise items straight to your door.
Other than the logo maker, Wix offers a variety of other tools like a videomaker or paystub generator, allowing you to expand your business to a new level.
Pros
The software is free to try and easy to use by any user
Includes a broad range of AI-generated styles with customization options
The completed logos can be downloaded as high-quality image files
Cons
Even though the software has a free trial, it is not entirely free
Some users found that it can be time-consuming to create a logo from scratch
Tailor Brands Logo Maker is a useful online AI-powered design tool that can help you create an original and exciting professional logo. As with other tools, you can start the process by adding your brand's name and the company's tagline if you have one. Then, you will be asked to select the industry in which your company operates. This process will ensure that the created logos fit the respective industry.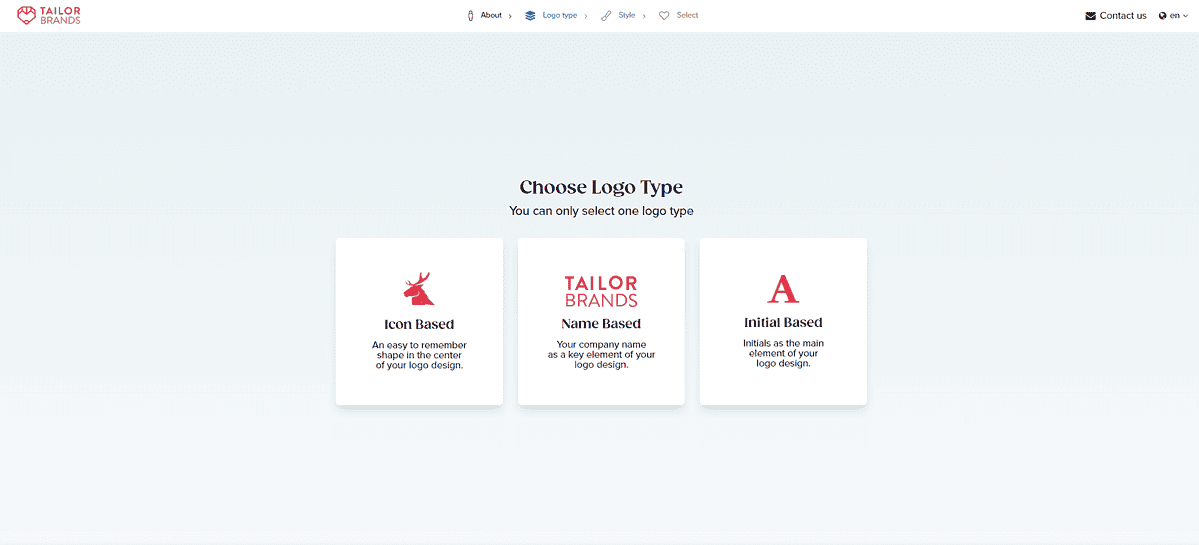 You can quickly go through the various style options, and Tailor Brands will create the logo to fit your choices. Once you pick a logo that you like, you can customize it in its entirety. This includes modifying fonts, colors, and icons, bringing the design closer to your imagined idea.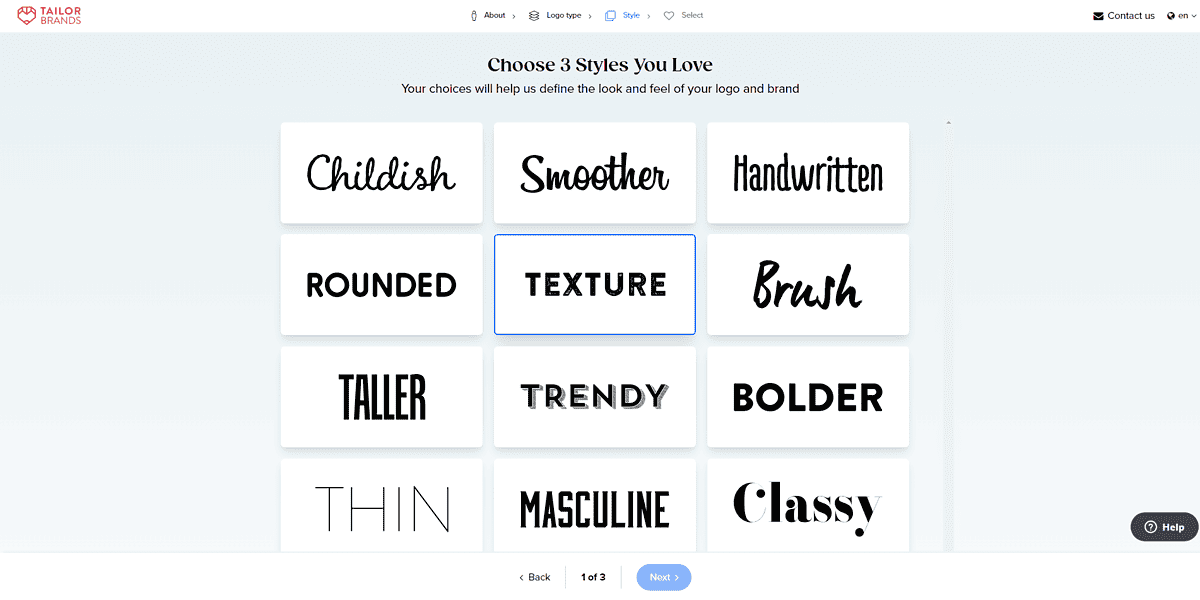 After creating your logo is completed, you can download high-quality image files that can be used to create any promotional merch for your company.
Like similar software, Tailor Brands allows you to print your logo on stickers, t-shirts, mugs, etc.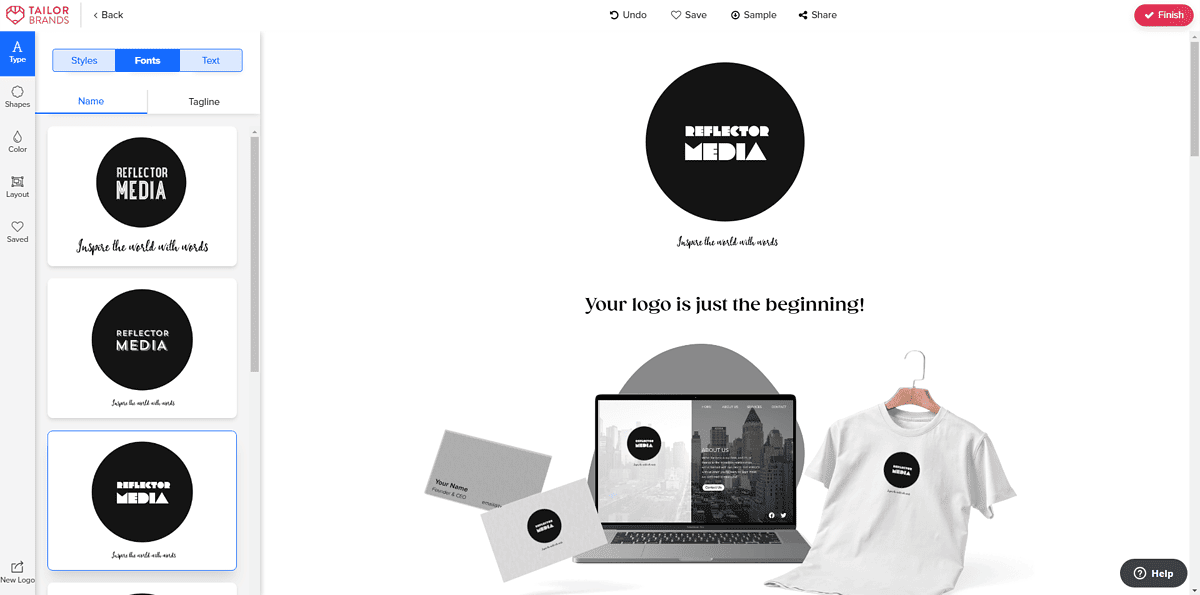 The company will create your products with your personalized logo and then send them to you with a delivery company.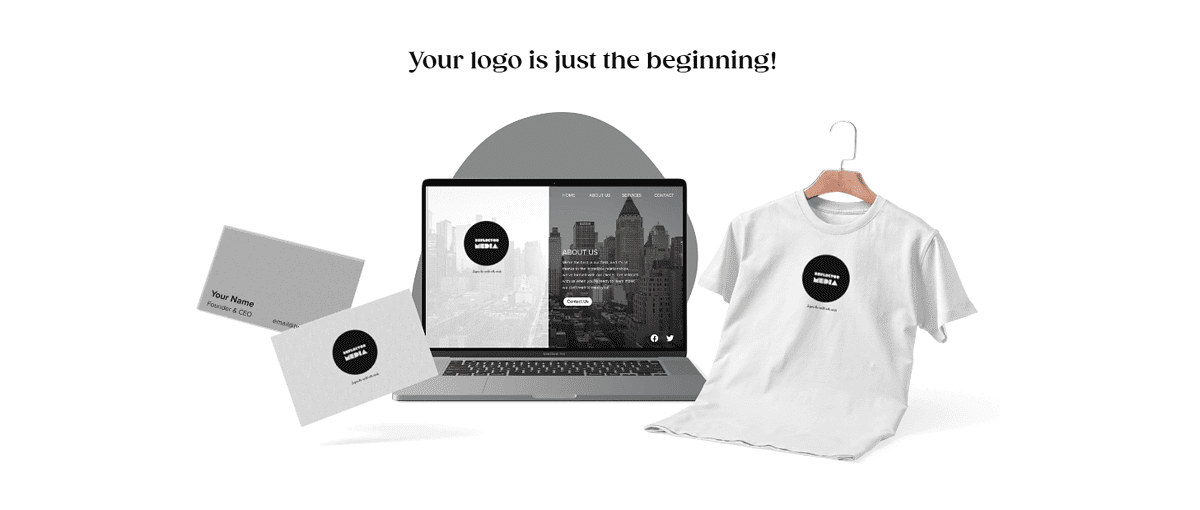 Pros
Free to try with advanced customization options
Includes a large number of styles and other valuable assets
The results can be downloaded as high-resolution images
Cons
It has a free trial, but the service is not free, as any other changes to your brand's logo will require a payment
Some users have reported that the customer service was unsatisfactory
---
As you can see, creating a logo that stands out for your business has never been easier. Thanks to the AI logo generators, you can craft unique and memorable logos that impress your audience while promoting your company's ethos.
Instead of spending hours, or probably even days, to create a logo from scratch, these AI tools offer you quick access to various styles, fonts, assets, and quick results in just a few minutes of work.
Let us know which software we described above fits your company's needs and how many logos you have generated with them. You can do so by writing a comment below.