Sales prospecting, the process of identifying potential customers, is the cornerstone of a successful sales endeavor, and AI technologies have elevated this process to an entirely new level.
With AI for sales prospecting, you can train sales reps while improving their prospecting skills with large databases of information that can be presented instantly, and they can be integrated into AI sales tools for even more efficiency.
In this context, AI uses machine learning and data analysis to identify, sort, and prioritize leads based on the collected data. Your sales department will make decisions more precisely, based on actual data, and with higher efficiency, so let's dive right in!
1. Seamless AI – Best Overall AI Tool for Sales Prospecting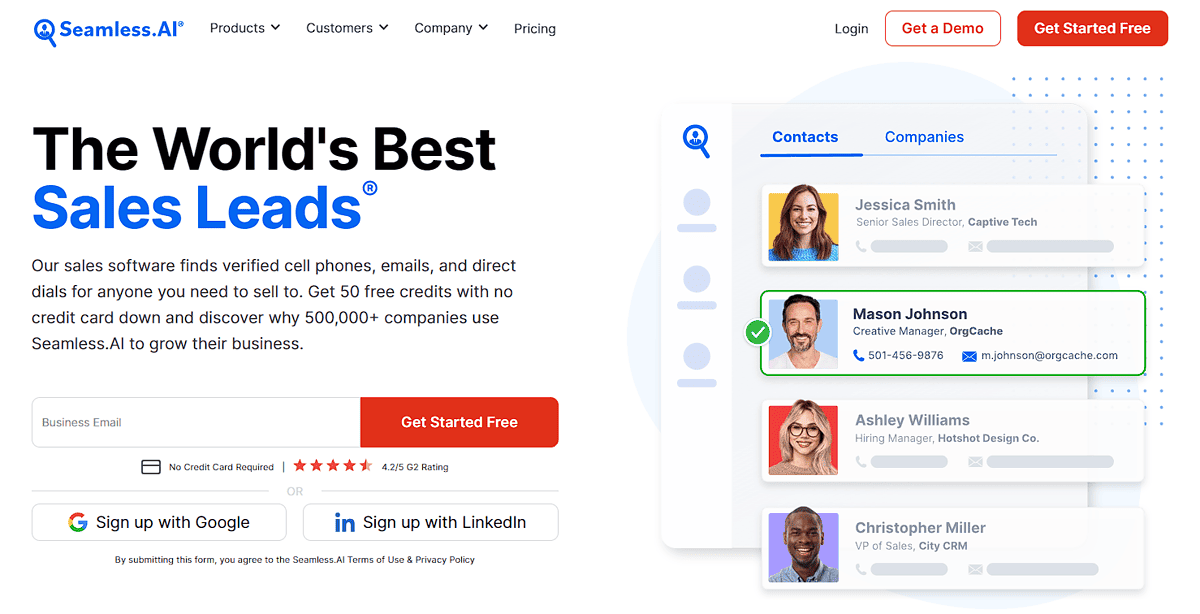 Seamless AI is our top pick for the field of AI for sales prospecting, as it offers some handy features. This tool can provide a wealth of helpful information about your leads, including their contact details, company information, and even social media profiles. This tool stood out during our testing phase because it can extract actionable insights from the data, making it easier to understand your prospects and thus increasing the chance of conversion.
This tool delivers accurate and updated information, ensuring that your sales team always has actual data to make decisions with. Seamless AI's database covers millions of businesses, making it a fantastic choice for companies searching for a vast pool of potential clients.
The user-friendly interface and the powerful search feature ensure that your sales team will have complete control over the app while integrating perfectly with other CRM and sales tools.
Another critical element is the app's ability for predictive analytics. It gives your sales team the edge by knowing how to prioritize and dose their efforts on specific leads based on their conversion potential.
Pros
Provides detailed information about leads, including contact details, company information, and social profiles
Helps sales reps better understand their prospects
Offers real-time updates, which permits your sales team to make informed decisions
Integrates with other CRM and sales tools perfectly
Cons
Some users might find Seamless AI to be expensive
Hubspot's SalesHub manages to integrate customer relationship management (CRM) with AI-driven sales prospecting, making it one of the best apps for this topic. Even though it was placed in 2nd after our testing, this app deserves the name of 'hub,' as it encompasses managing leads, tracking interactions, and sending highly personalized emails.
One feature that stood out is the app's ability to track emails, informing you every time the lead opens an email and thus ensuring that your follow-up will be timed perfectly.
Because this tool was designed with ease of use in mind, it also offers a handy lead management feature, which provides a centralized view of all interactions. You can then store, organize, and analyze lead data without spending too much effort gathering the information.
The AI comes to life when dealing with personalized email campaigns, as it can recommend email templates and content based on the lead information and general behaviors. It can also automate follow-up sequences to simplify the lead-nurturing process, ensuring no lead goes unchecked.
Pros
Integrates seamlessly with Hubspot's CRM
Includes an email tracker informing your reps when emails are opened
User-friendly interface suitable for all users
Helps in creating personalized email campaigns
Cons
More advanced features are included only in the premium version
Some users might need some time to understand the app's features fully
3. LeadFeeder – Website Visitor to Leads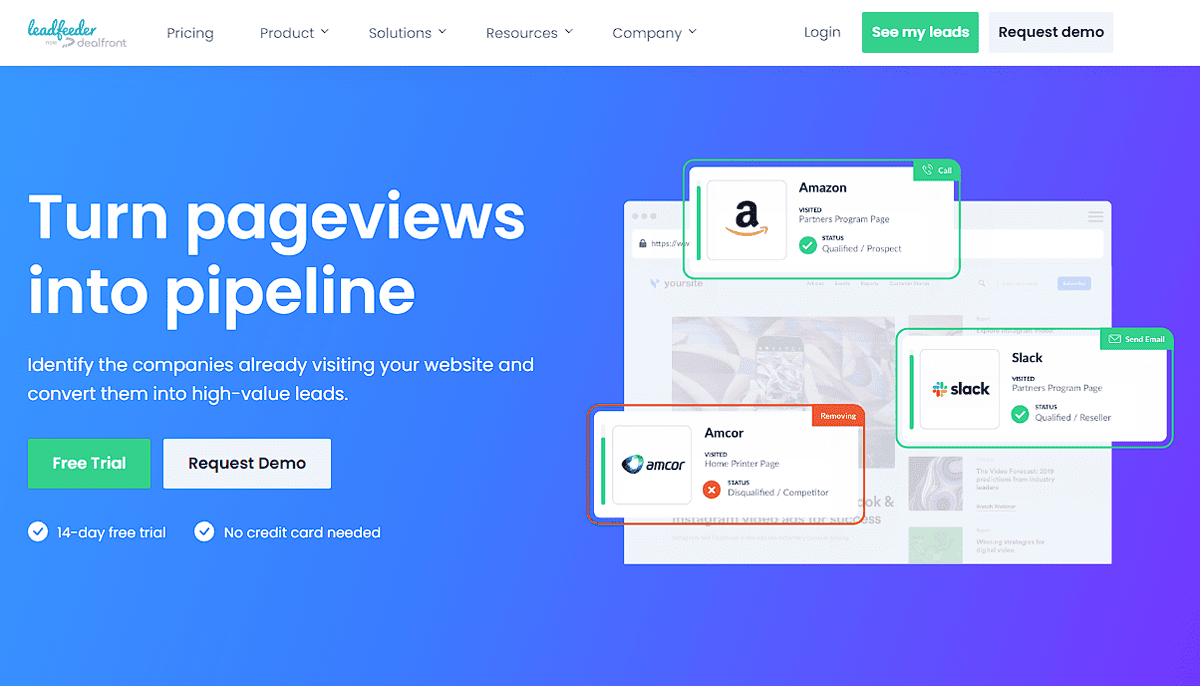 LeadFeeder is a powerful AI tool that can help B2B businesses that want to transform visitors into leads. This software impressed us during our testing because it can seamlessly connect with Google Analytics, offering your sales team a new depth of information that can be applied to any decision. What makes it remarkable is that it can show you which companies visit your website and thus allows you to tailor your outreach strategy to suit the business's needs.
To further round this app, LeadFeeder's intuitive interface simplifies the lead management process. This is done by categorizing your leads based on the engagement level. This information can be used to prioritize specific follow-ups and coordinate your sales department's resources better.
LeadFeeder can also seamlessly connect with other CRM systems and marketing tools, ensuring no data is lost between platforms while creating a bridge between your sales and marketing teams.
Pros
Integrates perfectly with Google Analytics (GA)
Automatically categorizes leads based on their level of engagement
Integrates nicely with CRM system and marketing automation tools
Cons
It doesn't provide comprehensive contact details
Pricing can be too much for businesses on a tight budget
4. Lusha – Contact Details Finder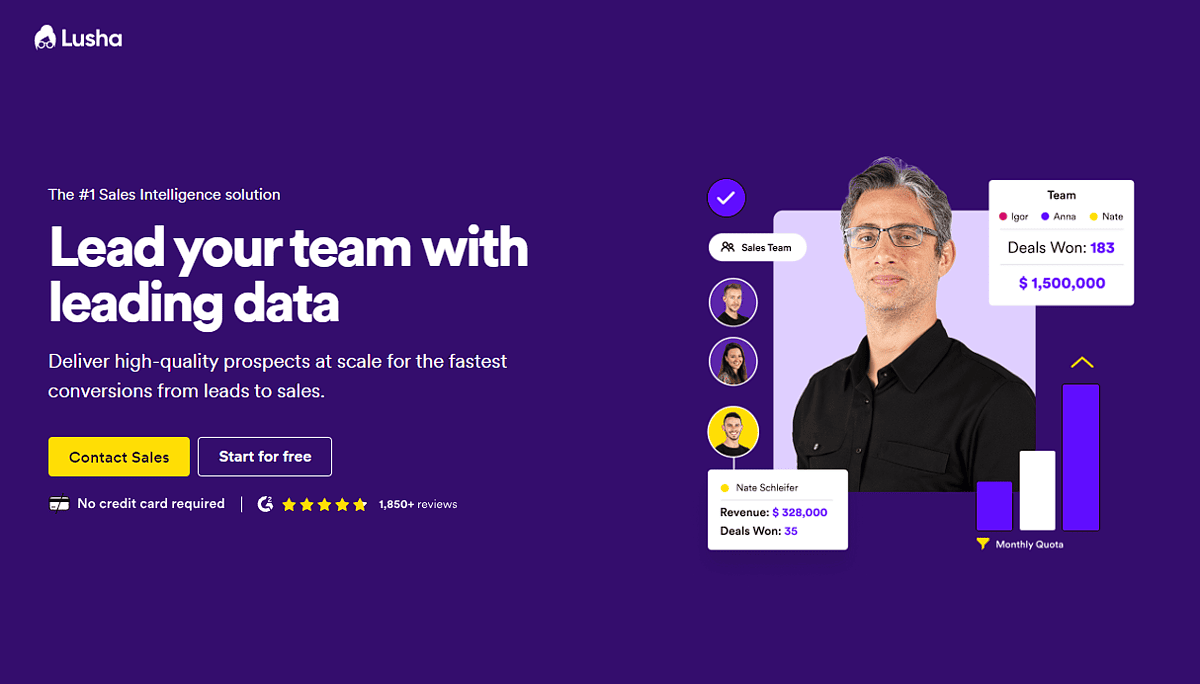 Lusha was designed to provide sales and marketing departments with contact information for leads. We were amazed at how easy it was for Lusha to help us find direct phone numbers and email addresses for our leads.
Unlike other options, Lusha works as a Chrome extension, making it accessible and easy to use. When you activate the extension and open a LinkedIn page or company profile, Lusha will automatically display the contact information it found. This can help your sales team make their working days more efficient and create the opportunity for leads.
Lusha has a vast database from which it gathers contact information, which is extremely useful, but that's not all: using this app enables you to verify and easily update your contact details, ensuring that all outreach processes have updated and accurate information.
Pros
Specialized in finding direct phone numbers and email addresses for leads
The Chrome extension can be handy when exploring LinkedIn or other similar platforms
Allows users to verify and update their contact details
Cons
Being a browser extension could pose some issues on certain websites and platforms
It doesn't provide as much company-related information as other tools
5. Gong.io – Conversation Analytics for Sales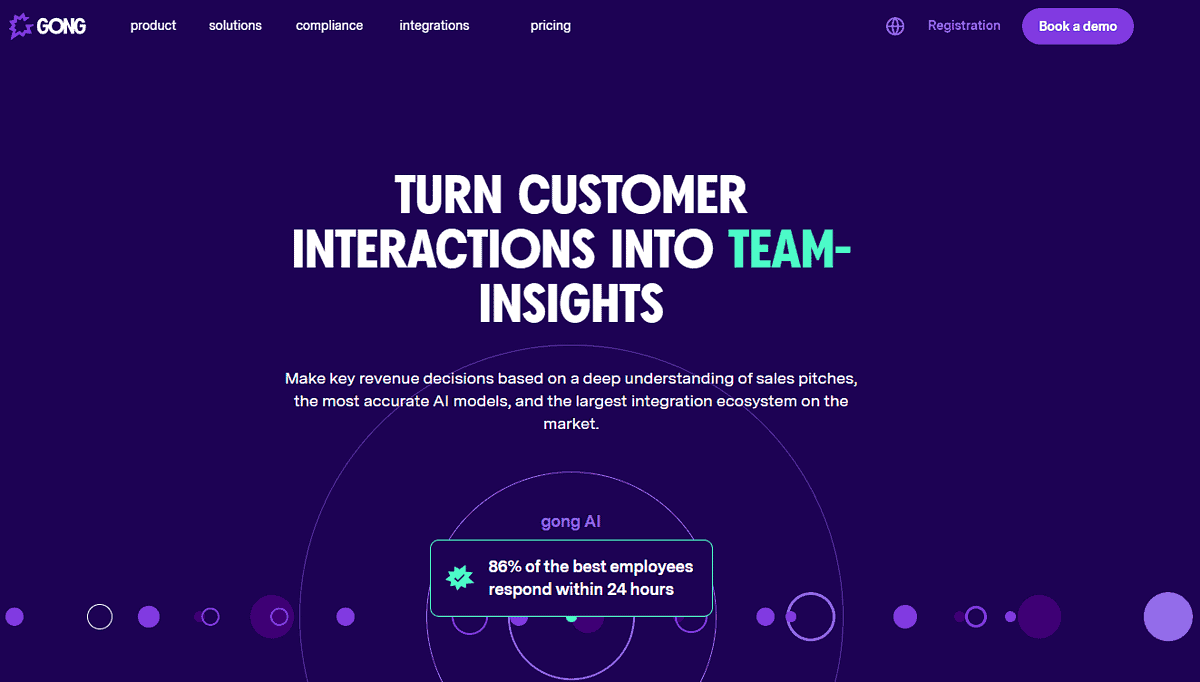 Gong.io stands out from the crowd of AI-driven apps from this list by taking a unique approach: it focuses on conversation analytics. This tool was designed to thoroughly analyze sales calls and meetings, allowing users to create impressive sales strategies and conversations.
One of the most critical features of Gong.io is its ability to transcribe every word spoken during a call or meeting while evaluating factors such as tone of voice, keywords, and conversation flow. This ensures that the app's feedback can be used as improvement recommendations.
The insights this app provides for sales managers and team leaders make it easier than ever for them to identify patterns, coaching requirements, and areas where the sales team excels.
Like similar apps, Gong.io integrates perfectly with all CRM and communication platforms, ensuring that data transfers are done optimally and no lead escapes through the cracks.
Pros
The conversation analytics provide in-depth information about sales calls and meetings
Transcribes and analyzes every word spoken during sales interactions
Integrates with a variety of CRM and communication platforms
Cons
The advanced features might require time to understand fully
Pricing can be on the higher side, which is not suitable for all budgets
How to use AI for sales prospecting?
Here are some of the most important principles and advice regarding using AI in your sales prospecting process:
Data quality is paramount – Make sure that the date your input in your AI prospecting tools is of the highest quality possible. Inaccurate or outdated information can lead to wasted time and lost leads.
Personalization makes a considerable difference – Even though AI can automate various tasks, personalization should not be overlooked. Tailor each message to each lead while covering their specific needs and pain points.
Continuous learning is critical – Always keep informed about the latest AI advancements and rethink your strategies. As the AI landscape evolves exponentially, adopting new features early can make a difference with your competition.
Focus on lead nurturing – AI will identify leads, but your sales team is responsible for nurturing them through the sales funnel. Create a well-analyzed nurturing strategy that keeps your leads engaged at all times.
Balance automation and human touch – Finding the right balance between automated AI processes and human intervention can make a huge difference. Over-automating interactions could make your outreach seem robotic.
Employ data security and compliance practices – Ensure data security and compliance with the GDPR. Choose only AI tools that adhere to these regulations to avoid unnecessary complications.
Now that we've covered the basics let's explore some fantastic AI tools that employ the above principles.
Benefits of Using AI-powered Sales Prospecting
Before we dive into the tools, it's essential to understand the advantages of employing AI in your sales prospecting process:
Time efficiency – AI saves your sales reps a lot of time by automatically performing data collection and analysis
Increased accuracy – The number of human-related errors is reduced considerably
Improved personalization – AI can craft customized messages for each lead by using the collected data
Scalability – The large number of lead volumes an AI-powered app can handle can't even be compared to that of humans doing the same task
---
By exploring these top AI sales prospecting tools, you can decide which fits your company and sales goals better and employ them as quickly as possible.
Use these AI tools to take your prospecting process to the next level and observe their transformative impact on your sales. Feel free to share your choice with us by using the comment section.