In today's fast-paced business world, efficiency is the key to success. Every moment saved can lead to more sales, a better overall customer experience, and thus more solid company-client relationships.
One of these critical areas where time is essential is generating sales quotations. This is where AI (Artificial Intelligence) steps in, helping revolutionize how businesses create and manage their sales quotes using an AI sales quotes generator.
Whether you refer to this process as generating an AI sales quote or an AI sales quotation, our list is here to help. The difference between these two terms is relative; people consider a 'sales quote' a less binding and more friendly way of saying the same thing. A sale quotation could be a bit more professional and might involve some legally binding factors that must be considered.
Even more, AI can be used in various other sales-related fields, including but not limited to AI sales training software and even AI sales email generators.
In this guide, we will explore the fantastic features of AI sales quote generator software, their benefits, and how they are transforming the sales landscape.
Can AI generate quotes for sales teams?
Yes, specialized AI software can quickly and efficiently generate quotes using your company's powerful machine-learning algorithms and real-time data.
Usually, a good AI quotation software will automatically be integrated with your company's CRM software, thus streamlining the process. Below is our selection of the best AI sales quote generator software.
| | | |
| --- | --- | --- |
| Software | Feature | Real-Time Pricing |
| GoAutonomous.io | Real-time Pricing Optimization | Yes |
| HubSpot Quote Software | CRM Integration | No |
| QuoteRules | Complex Pricing Management | No |
| Proposify | Professional Templates | No |
| OsmosCloud | Dynamic Personalization | Yes |
| Responsive.io | Market-Adaptive Pricing | No |
| ServiceInSync | Service-Centric Quotations | No |
What is the best AI generator for sales quotes?
1. GoAutonomous.io – Best Overall AI Sales Quotes Generator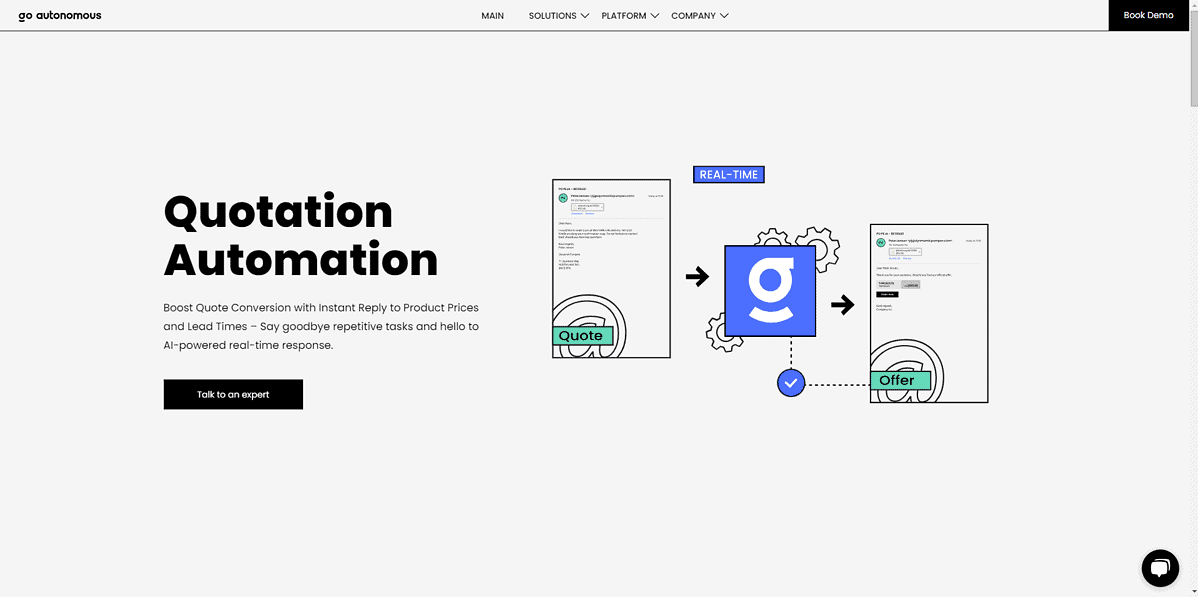 GoAtuonomous.io is an advanced AI sales quotation generator designed to supercharge your sales efficiency while focusing on real-time pricing and personalized sales quotes. This software ensures that each customer interaction is customized to their style and needs.
Even more, to streamline the entire process, GotAutonomous connects seamlessly with CRM systems, thus allowing the whole set of data collected about the client to be used for swift quotation generation.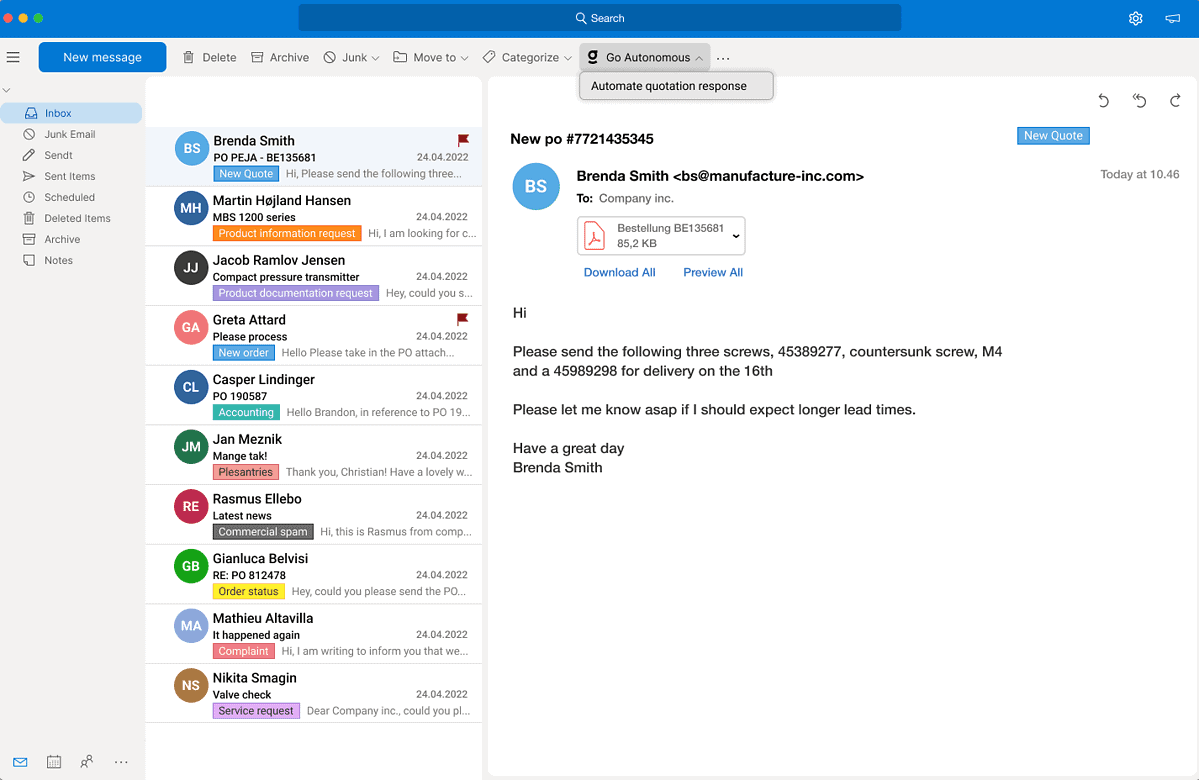 One of the most critical features of this app, and the one that convinced us that it should be in the 1st place on our list, is its ability to adapt to market fluctuations in real time. This ensures your pricing will remain relevant, competitive, and attractive to clients.
The user-friendly interface ensures that your company can quickly adapt to the software while also allowing the software to cover the needs of smaller and bigger companies.
Pros
Offers real-time pricing updates, ensuring competitive quotes
Perfect range of customization options for quote generation
Cons
The advanced features might require a learning curve
2. HubSpot Quote Software – CRM-Integrated Sales Quoting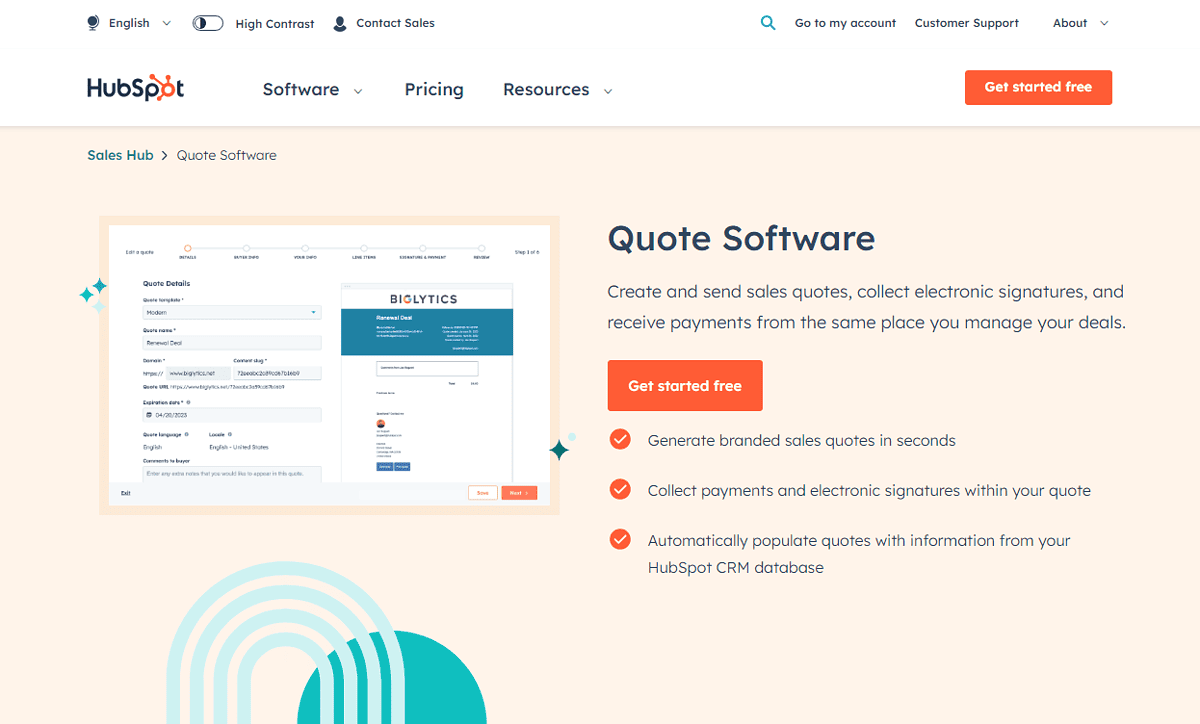 The HubSpot Quote Software is another trusted AI-powered solution for optimizing your sales department's quotation process. As you might expect, this feature connects seamlessly with the well-known HubSpot CRM, making it a natural and easy choice for businesses that already use the HubSpot suite.
This software makes the entire process of generating quotations easy. It offers impressive customization options to ensure personalized quotes align perfectly with your company's message, pricing strategies, and client needs.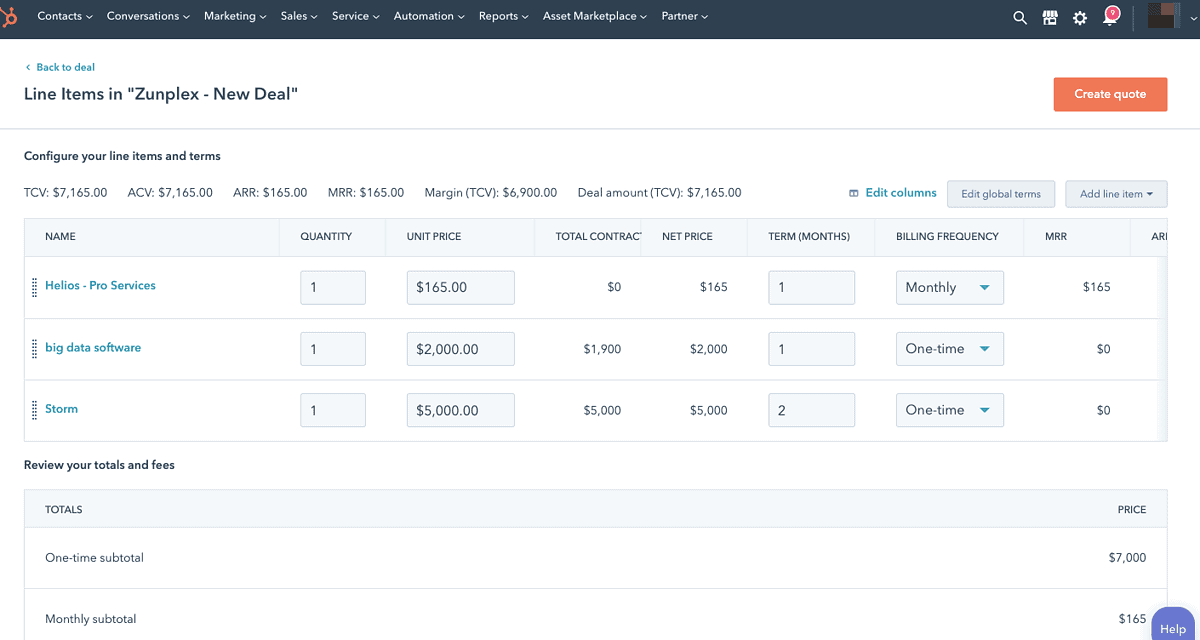 HubSpot's Quote Software analyzes customer data from your CRM information, allowing you to easily create highly customized quotes to improve the chances of closing deals and growing your business.
Pros
Seamlessly integrates with HubSpot's CRM software, simplifying data management
Great customization options for tailored quotes
Cons
To integrate the software thoroughly, you will need HubSpot's entire suite, which can be expensive
3. QuoteRules – Effortless Complex Pricing Management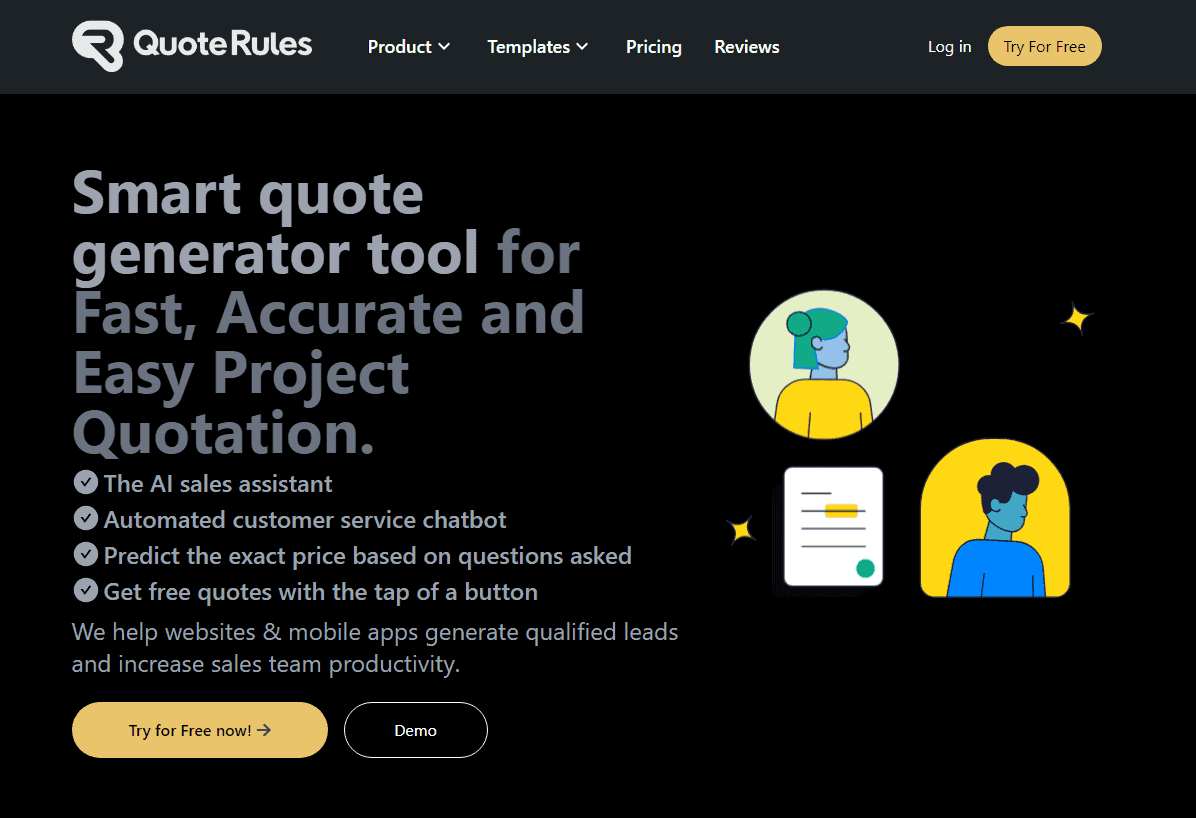 QuoteRules is another AI sales quotes generator designed to efficiently handle complex pricing structures, no matter how big your company is. This software provides accurate and detailed quotations, making it a perfect fit for businesses with intricate product offers.
To streamline the process and make it more immersive, QuoteRules enables you to customize how the AI generates your quotations, ensuring that your company's policies and pricing guidelines are respected.
This app can help simplify the pricing models of businesses in a wide range of subscription-based industries or using tiered pricing structures.
Pros
Efficiently manages complex pricing structures to ensure precise quotations
Offers versatile AI capabilities for businesses that use varying pricing models
Cons
Setting up complex rules will require some users to learn the process at first
4. Proposify – Customizable Professional Quotes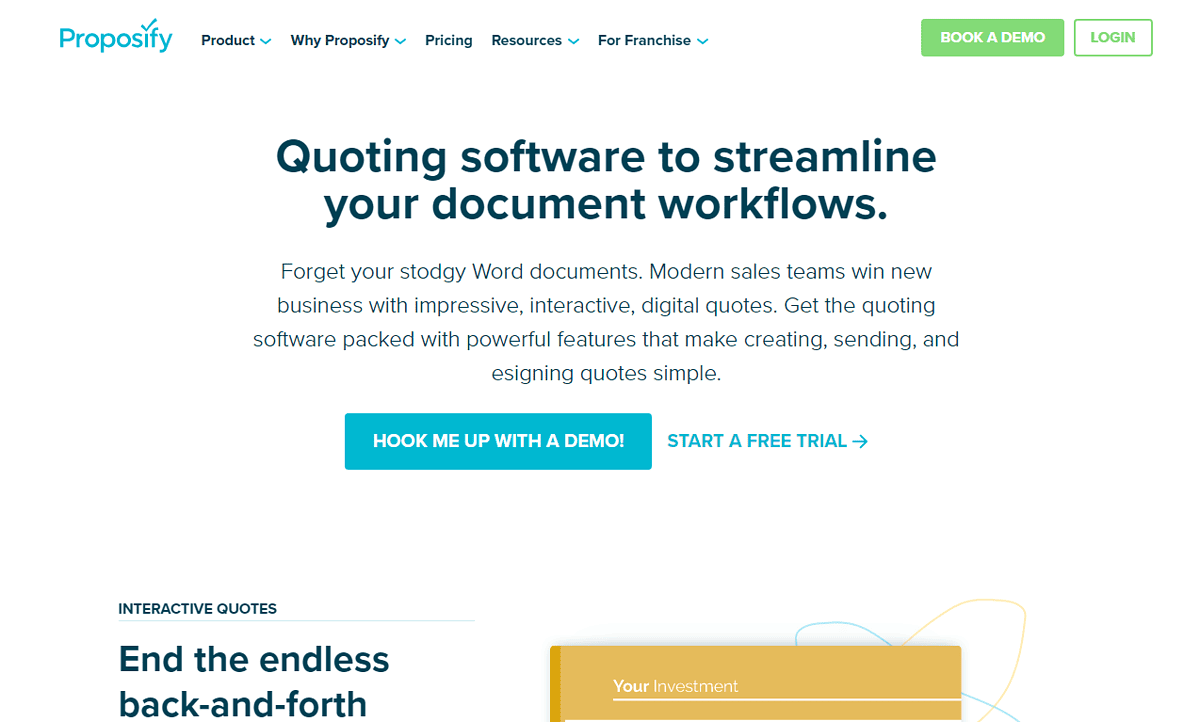 Proposify is another excellent option, known in the industry to provide valid AI-powered sales quotations to businesses of varied sizes. This process is ensured by the built-in algorithms, which allow you to create professional and compelling quotes for any of your company's clients.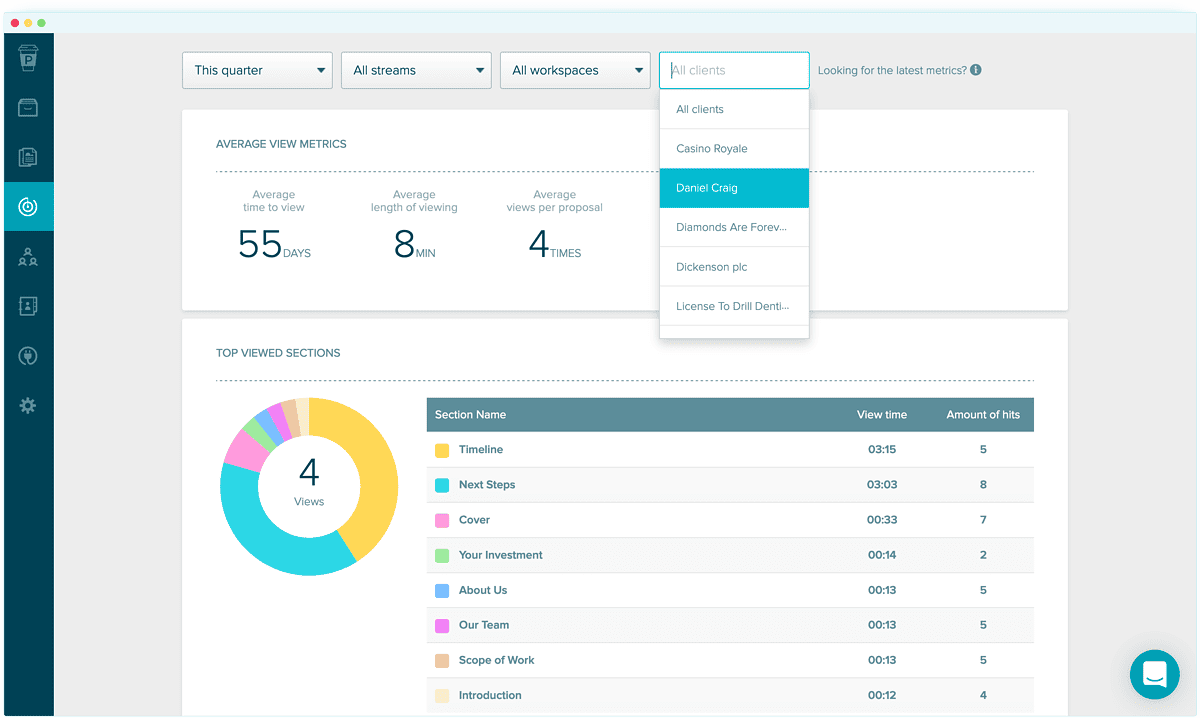 By using Proposify, you can customize your quote generation process with various helpful information, allowing the software to tailor quotations to specific clients and industries.
Pros
Offers unique professional templates that are customizable
User-friendly interface makes it easy for users to create quotations
Cons
Pricing might be on the higher side for some businesses
5. OsmosCloud – Dynamic Personalized Quoting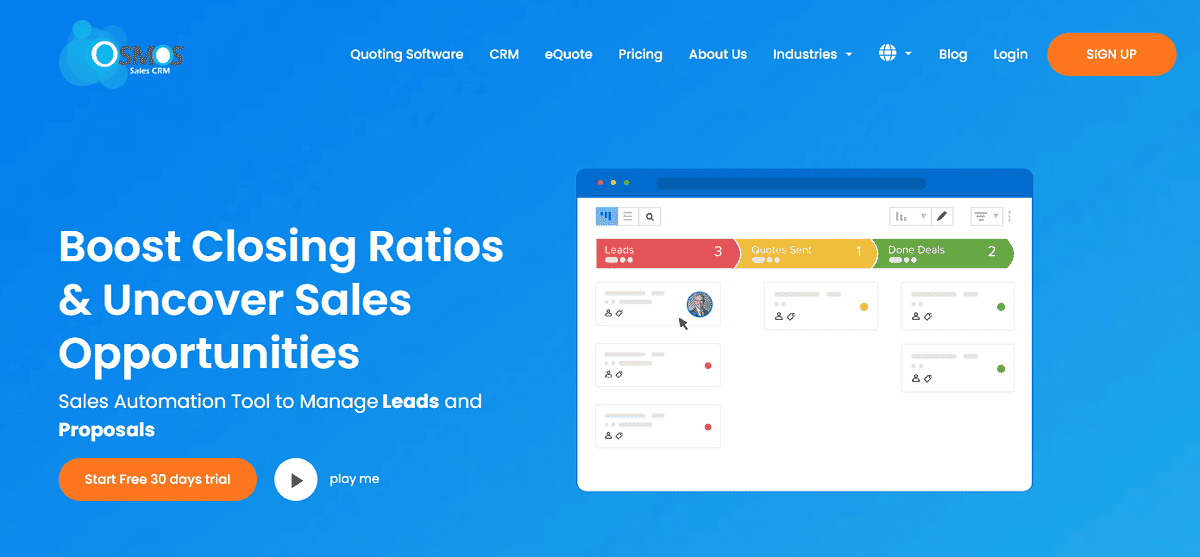 OsmosCloud is a user-friendly AI Sales Quotation Generator that combines efficiency with simplicity. It serves organizations of all sizes, from start-ups to mature corporations, and offers a user-friendly interface.
Thanks to its built-in AI capabilities, your quotations will stay current and accurate even in constantly changing marketplaces, making it easier to be prepared for any market change.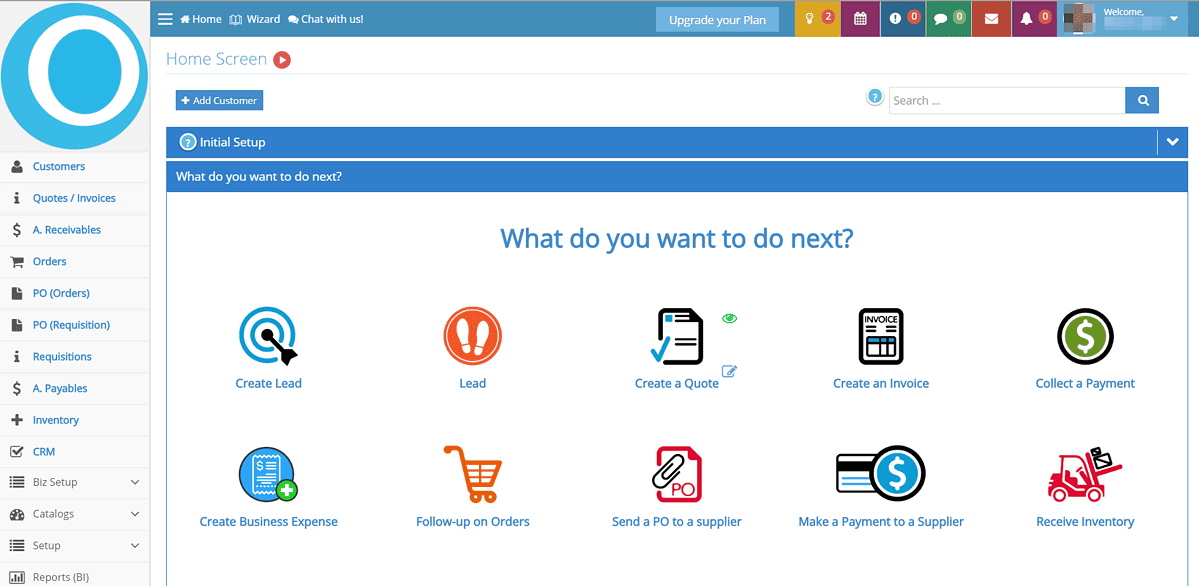 This software produces customized quotes based on customer data, considerably raising conversion rates and making it easier for your sales reps to manage their client portfolio. OsmosCloud is an excellent option if your company seeks a straightforward solution that combines efficiency and customization.
Pros
Dynamic personalization features that ensure quotes are based on real-time customer data
User-friendly interface suitable for users with all proficiency levels
Cons
No real-time pricing features are included in the software
6. Responsive.io – Market-Adaptive Sales Quotations
Reponsive.io is a powerful AI sales quotation generator that lives up to its name by offering its users a dynamic and responsive way to generate personalized quotations. As with other options from this list, Responsive.ai adapts to any market changes in real-time, ensuring that the pricing of your company's services remains attractive to clients.
Responsive.io helps businesses create quotes that align with consumer expectations by heavily emphasizing agility and customization. Its user-friendly layout makes it simple for sales teams to produce effective bids and work quickly.
This tool ensures that your company will always be ready to offer customized quotations that appeal to your clients and are adapted to the current market environment. This ensures you remain ahead of the curve in a supra-saturated and competitive market.
Pros
It can be used to adapt quotations in real time based on market fluctuations
Offers sales representatives the tools required to align with specific customer needs
Cons
This implies a learning curve, especially for beginners in the field
7. ServiceInSync – Service-Centric Quote Automation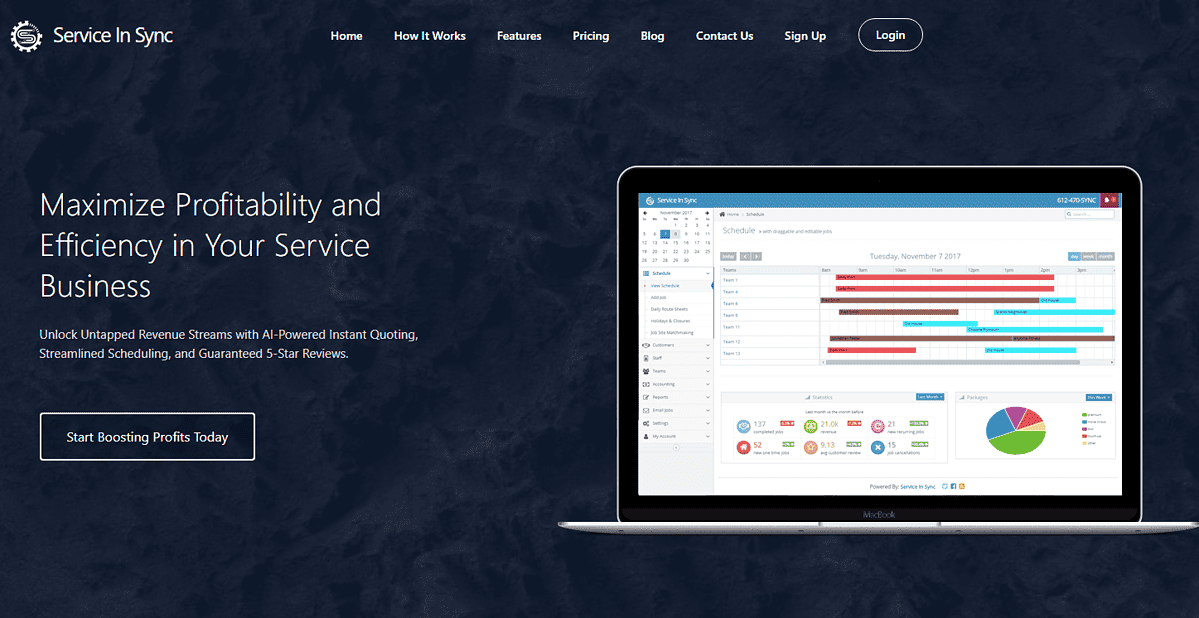 The AI sales quotation generator from ServiceInSync offers users seamless integration with other service-related businesses, making it an excellent choice for companies in the service industry. This software streamlines the quotation process for service-oriented companies, allowing them to create more accurate quotes more efficiently.
ServiceInSync analyses client information and service offerings using AI to produce highly customized quotations that improve customer experience. It is a helpful tool for companies looking to optimize their service quotations while focusing on client happiness and engagement.
Pros
Streamlines the quote generation process to offer service-oriented quotations for businesses
Integrates well with service-related systems and workflows
Cons
Not suitable for companies that offer different pricing methods like subscriptions
---
AI sales quotation generators are revolutionizing the sales process, amongst other similar tools that can take over the customer service side, making it easier than ever to run a business.
While these AI-powered options are powerful tools, they must work harmoniously with a human touch to achieve the best results. As technology advances and AI becomes more integrated into our everyday lives, these AI systems are poised to become indispensable assets for businesses across various industries.
What software did you choose from the list above and why? Tell us all about it in the comment section.