In today's business world, the efficiency of your sales outreach is paramount. With the release of AI, the entire set of rules for sales has changed forever, and contacting and nurturing leads can make or break a brand or company.
Companies have now started using AI for sales prospecting, which makes the entire sales process more accessible and more streamlined. Even more, your sales department can forget about repeating sales calls by using specialized AI for sales calls to streamline the process considerably.
As mentioned previously, there is a wide range of AI sales tools, and we recommend that you explore them all to get a better understanding and be ready to adapt to the ever-changing market. Whether you are focusing on optimizing sales training using AI or any other department, there is an AI tool for that.
This is where AI sales email generator tools come into play, allowing companies and individuals alike to generate amazingly detailed and on-point emails that adapt to the lead's characteristics while promoting the sales department's goal: lead closing.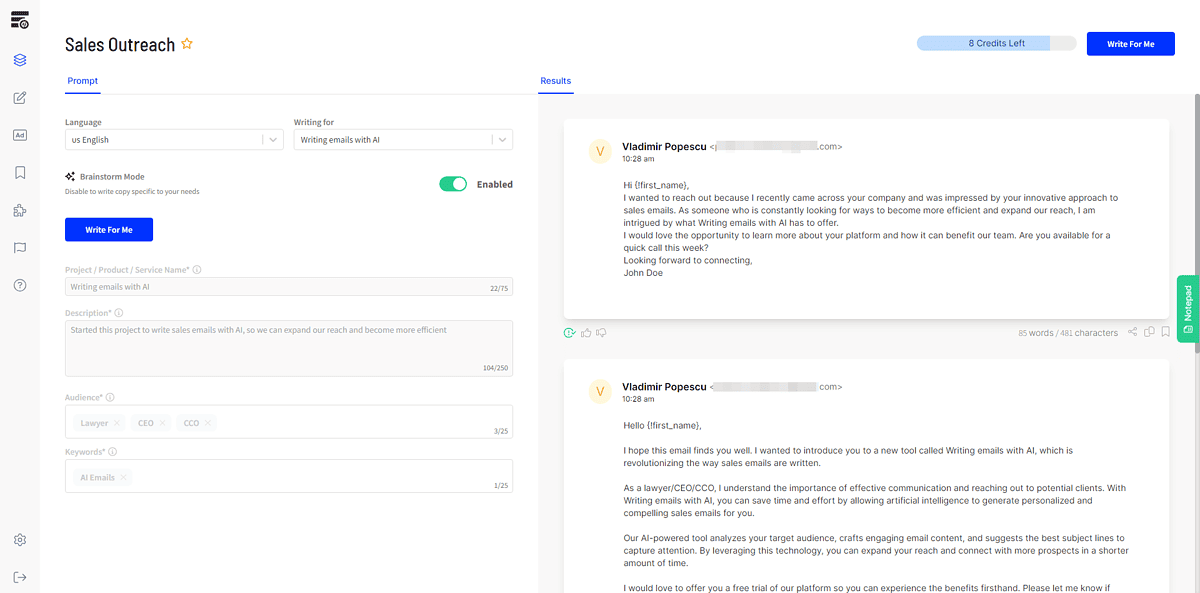 Unbounce offers users access to the Sales Outreach feature, which combines the power of AI with email marketing to help your business approach outreach with personalized efforts and effectiveness.
With this app, you can forget about writing generic and boring emails that often end up in the receiver's spam folder. Unbounce uses the powers of AI to analyze recipient data and craft highly personalized emails that are bound to resonate with your sales leads. Having this level of customization added to the emails will significantly impact engagement rates, making it easier than ever to close deals.
What makes Unbounce stand out is its ability to use the A/B testing feature, allowing you to try different email formats. The next step is to see how the lead continues and optimize your outreach strategies accordingly.
Unbounce integrates with your company's CRM, so you won't need to worry about this topic either. This ensures that your workflow will be streamlined and that your sales and marketing efforts work together harmoniously.
Pros
Creates highly personalized email campaigns
The A/B testing feature helps you preview and fine-tune emails
Integrated perfectly with any CRM system for optimal data management
Cons
The premium features can be costly for small businesses
Even though it is user-friendly, mastering the features will impose a learning curve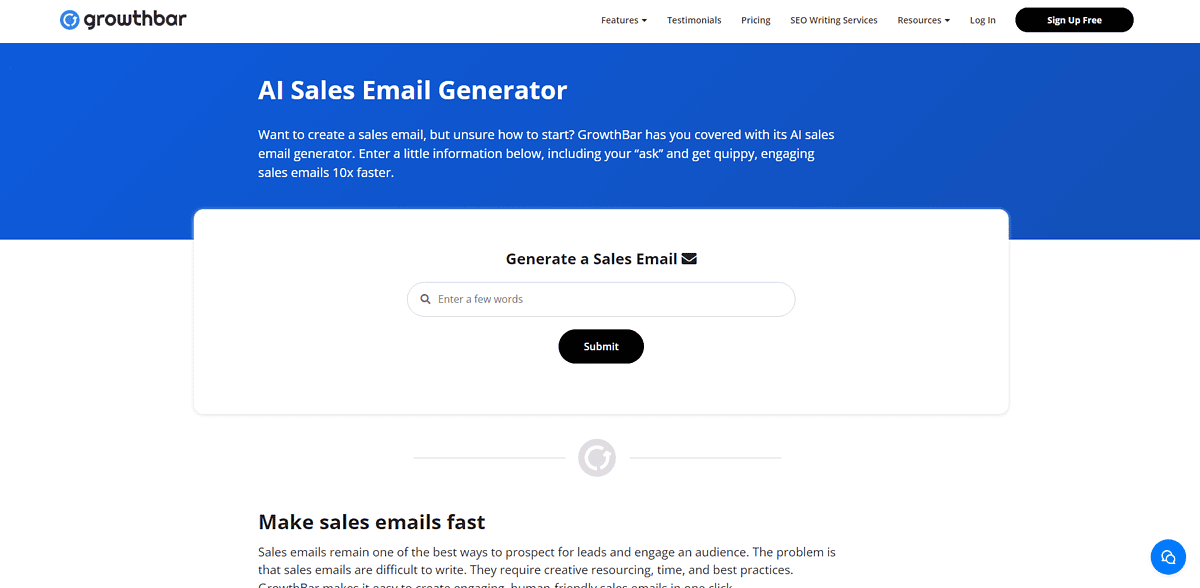 The AI Sales Email Generator function of Growhbar is another game-changer app designed for businesses interested in easily supercharging their email marketing campaigns. This powerful toolset offers a vast library of email templates created by professionals and, thus, makes sure that your emails look great and increases the chances of efficiently converting leads into customers.
One feature that stood out during our testing is the lead scoring capability, which can be extremely useful in streamlining the process of analyzing data. The AI automatically assigns scores to leads based on their behavior and interactions, allowing you to prioritize accordingly.
Growthbar also ensures in-depth email performance analysis to increase this service, allowing you to make decisions based on accurate data and then adapt your marketing strategies.
Pros
Extensive library of expertly designed email templates for excellent lead conversion
The AI-driven lead-scoring system streamlines the process of outreach
Includes detailed email performance analytics, which can improve your campaign
Cons
The premium features might be too expensive for smaller companies
The wide range of features could be overwhelming for beginners
3. Longshot.AI – Highly Customizable AI Sales Emails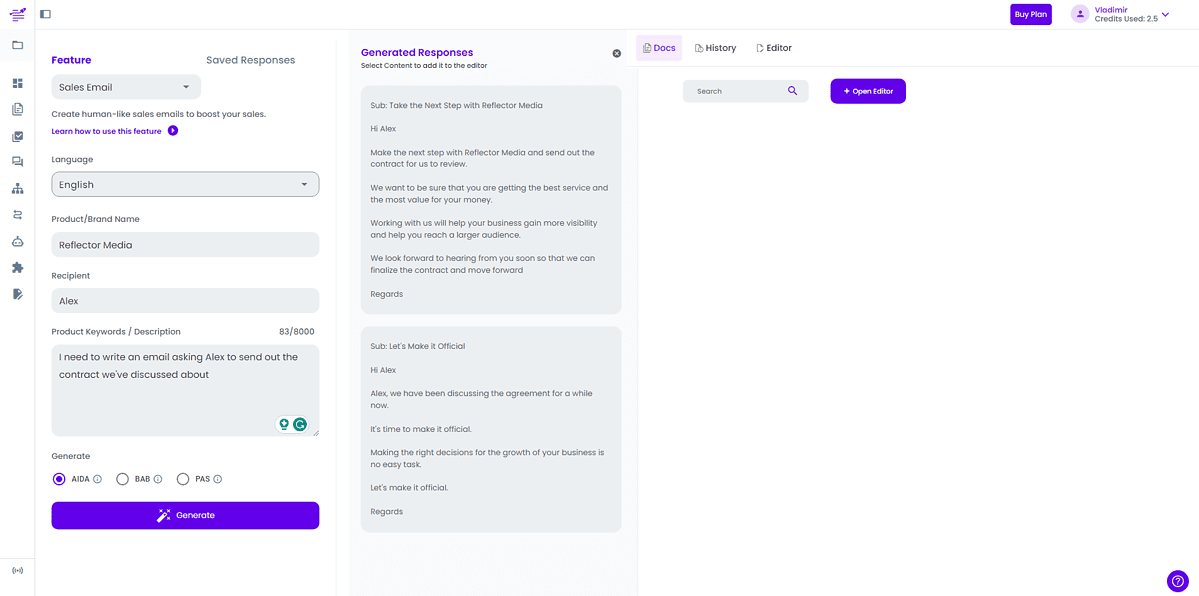 LongShot.AI is another versatile tool specializing in outbound sales email automation and provides businesses with an easy and efficient way to reach their leads at the perfect moment. This is done by the application using AI to employ predictive analytics, thus maximizing the chance that your leads will open your emails and responses will be received.
One of the features of this app that stood out to us during our testing process is the fantastic level of customization offered. You can create amazingly personalized emails using the recipient's data, like their behavior and preferences. This ensures that all interactions are original and highly personalized. To offer these services seamlessly, LongShot connects perfectly with your CRM, providing all customer data is updated and easy to access.
Pros
The predictive analytics ensures that you will always contact leads at the perfect time
It allows for highly customized emails to be created based on email content and the behavior of the recipient
Cons
It might require some time to master the predictive analytics features
Premium features can be expensive, limiting access to small businesses
4. LeadIQ Scribe  – Sales Email Creation Made Easy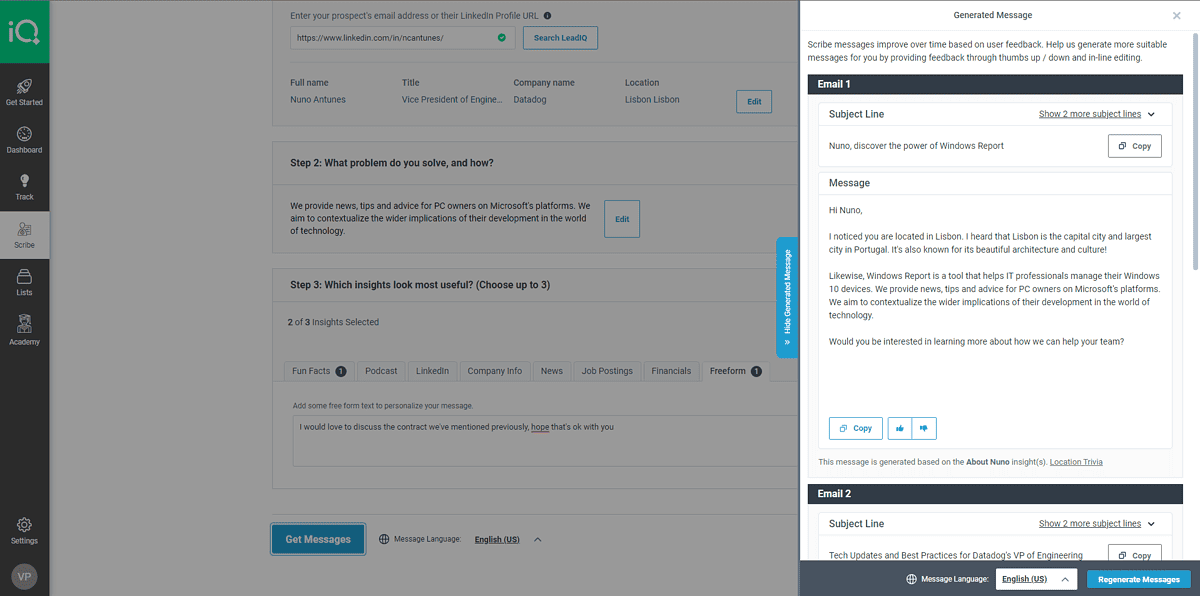 LeadIQ's Scribe is a premium AI sales email generator designed to simplify the lead generation process. This app can make an enormous difference for companies that aim to quickly find and connect to potential customers.
This tool allows users access to an extensive database of leads, which can be opened and completed with even more accurate contact information. This, in turn, saves you time and effort performing the lead research, and the built-in email generator comes perfectly into play once you identify your leads.
The search function makes it easy to identify the leads, and the other features ensure you will craft a fantastic email. All you have to do is enter information in the required fields and then check the produced emails. The app allows you to check which email variant sounds better, and all this information is stored for future situations.
Pros
A vast database that contains potential leads with correct contact information
Email verification features ensure that the best version is sent
Supports team collaboration
Cons
Even though it is vital in lead generation, it might lack some advanced email marketing features found in other tools
5. TextCortex – Human-Touch Messaging on Multiple Channels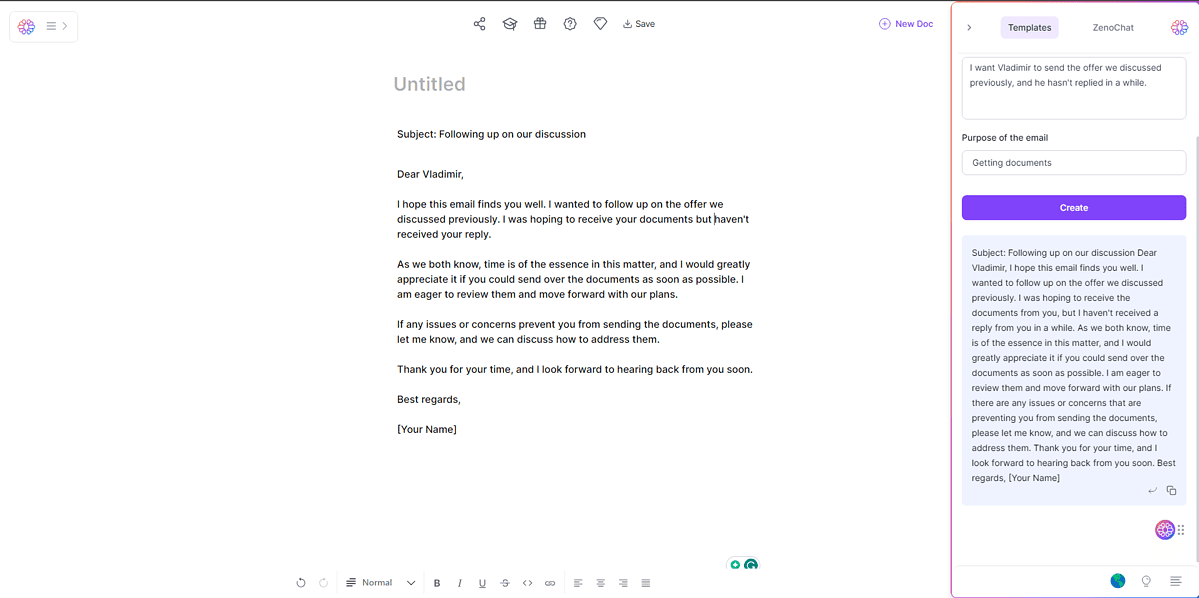 TextCortex is another conglomerate of AI-powered utilities that extends beyond email generation. This powerful app also includes a chatbot and can automate messaging, making it very useful for businesses connecting with leads from various areas within one hub.
The app enables you to create amazingly detailed emails for your leads and use the multi-channel outreach capabilities to engage. You can do this through email, chat, and messaging apps, giving this app a slight advantage compared to similar apps. The advantage is that the leads can be contacted wherever they feel more comfortable, thus increasing the chances of turning a lead into a customer.
This AI-powered app uses natural language processing (NLP) to create emails and messages that sound genuinely human. This small element is critical, as the human touch increases response rates and creates the opportunity for meaningful connections with your leads.
To round out TextCortex, it is worth mentioning that it also supports lead nurturing by enabling you to create automated drip campaigns that keep your leads engaged across time.
Pros
Supports engagement through emails, chat, and messaging apps
Uses NLP to help increase response rates
It can be used to create automatic drip campaigns
Cons
Managing multiple conversation avenues can be tricky and requires a stable strategy and organization
---
Integrating AI into sales email generation has completely changed how businesses interact with their potential customers, so we recommend you take this step as well.
The tools presented in this guide will surely get you started on revamping your sales strategies. We've covered the best AI sales generator tools on the market, so explore them and get back to us with your perspective on their efficiency. You can do so by leaving a comment below this guide.