Welcome to the rebirth of art, where data is the paint and artificial intelligence is the brush, and knowing how to master both can make or break your career. Staying on top of the latest releases in the field is extremely important, and below, we will discuss why, so read on!
AI art generators are redefining how we paint portraits by fusing technology and creativity in a new and original way while making the entire creation process far more efficient. Choosing the best AI art generator for portraits can be cumbersome because of the vast array of options.
AI has permeated the world of art at all levels, and the growth is exponential, so being aware of art generators with high-resolution results or, for an even more efficient experience, AI art generators without login can make a huge difference.
By connection, even the world of monetizing your art has transformed considerably, with people using AI art generators for print-on-demand businesses to create game assets and even AI software for T-shirt designs.
This post will include some remarkable portrait-specific AI art generators. We'll cover what makes them stand out, examine how they're evolving digital art, and discuss their capabilities. So fasten your seatbelts and prepare for an intriguing journey of AI-powered creativity!
What Are The Best AI Art Generators for Portraits?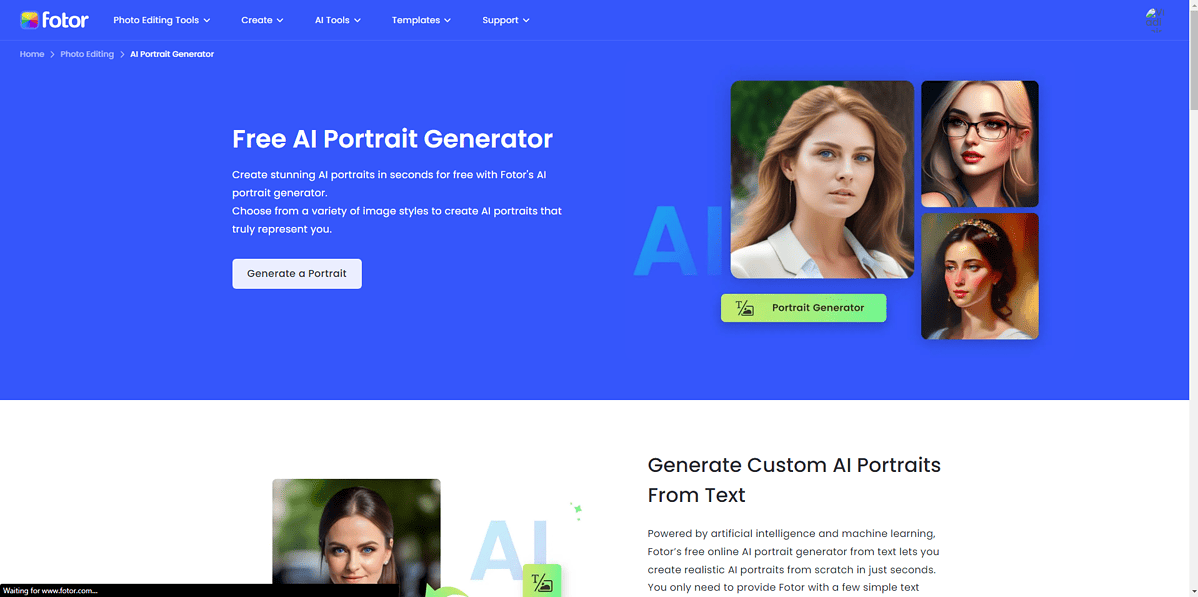 The AI Portrait Generator from Fotor is an excellent tool that has established itself as one of the top portrait-specific AI art creators. This online program is a perfect option for anyone requiring quick and professional-looking photographs because it allows users to quickly generate realistic AI portraits from scratch.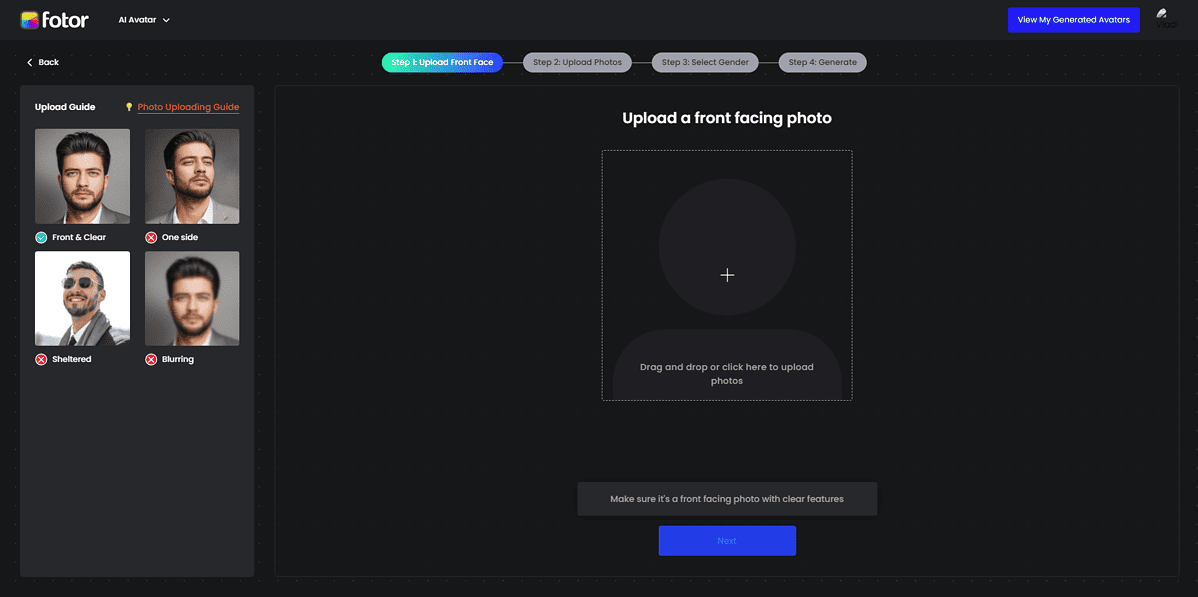 One of Fotor's AI Portrait Generator's notable features is its ease of use. Gender, age, skin tone, hairdo, and apparel are just a few of the straightforward text prompts that Fotor asks for before creating high-quality, expert AI images for you. It may be used by users of various skill levels thanks to its user-friendly design, so there are no limitations.
Furthermore, Fotor's AI Portrait Generator produces impressive-quality portraits. The portraits can be used for various functions because they are realistic and highly detailed. Fotor's AI Portrait Generator provides a robust and practical solution whether you're an artist wishing to experiment with AI-generated art or a company owner needing distinctive portraits for your website or marketing materials.
Pros
Can generate both professional and artistic portraits
Great results with a few customization features
Fast results after the required photos have been added
Cons
The image upload process can be cumbersome because of specific requirements.
Get Fotor's AI Portrait Generator
2. Deep Art Effects – Transform your photos into artistic portraits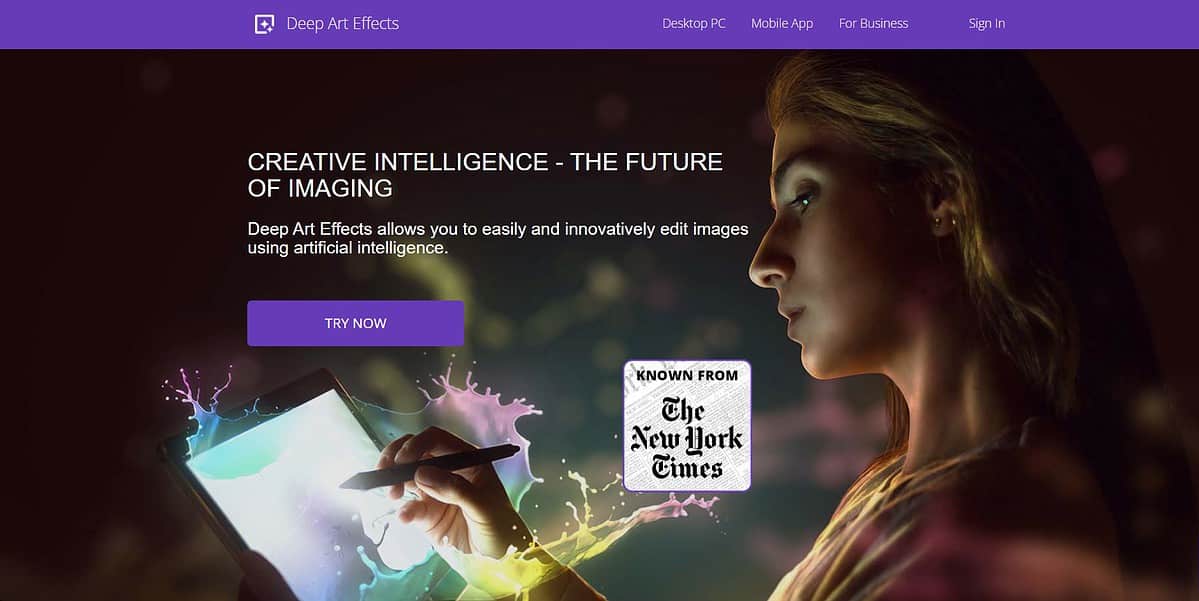 Deep Art Effects is a powerful software that allows you to unleash your creativity and transform your photos and videos into stunning works of art.
This software comes with an innovative style transfer feature, which allows you to use the styles of famous artists to enhance your pictures and portraits.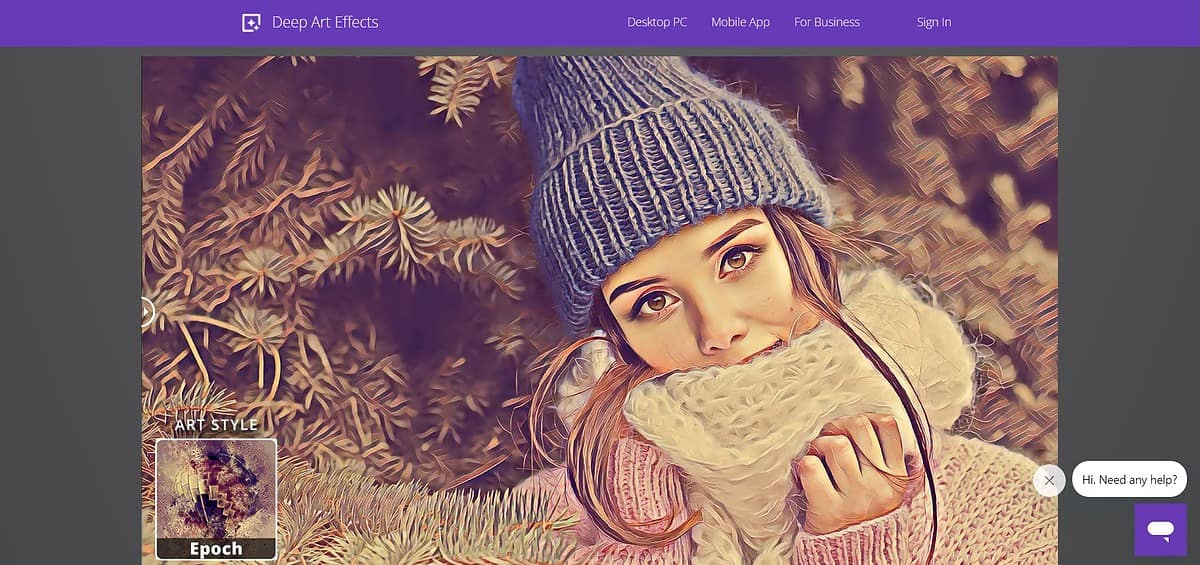 The software is designed to be intuitive and easy to navigate, making it accessible to users of all skill levels. You don't need to be a professional artist to use this software effectively. With just a few clicks, you can transform your photos into stunning art.
Deep Art Effect utilizes intelligent image processing algorithms to analyze and optimize your photos, resulting in sharper details, vibrant colors, and enhanced overall visual appeal. Whether you're working with low-resolution images or high-quality photographs, this tool can help you achieve professional-looking results.
Overall this software is a versatile and powerful software that empowers users to transform their photos and videos, and offers a compelling solution for both professional photographers and casual users.
Pros:
Seamless integration between mobile and desktop versions
Wide range of artistic filters and styles
Enhances image quality
Cons:
Learning curve for beginners
3. Bing Image Creator – Best Overall AI Art Generator for Portraits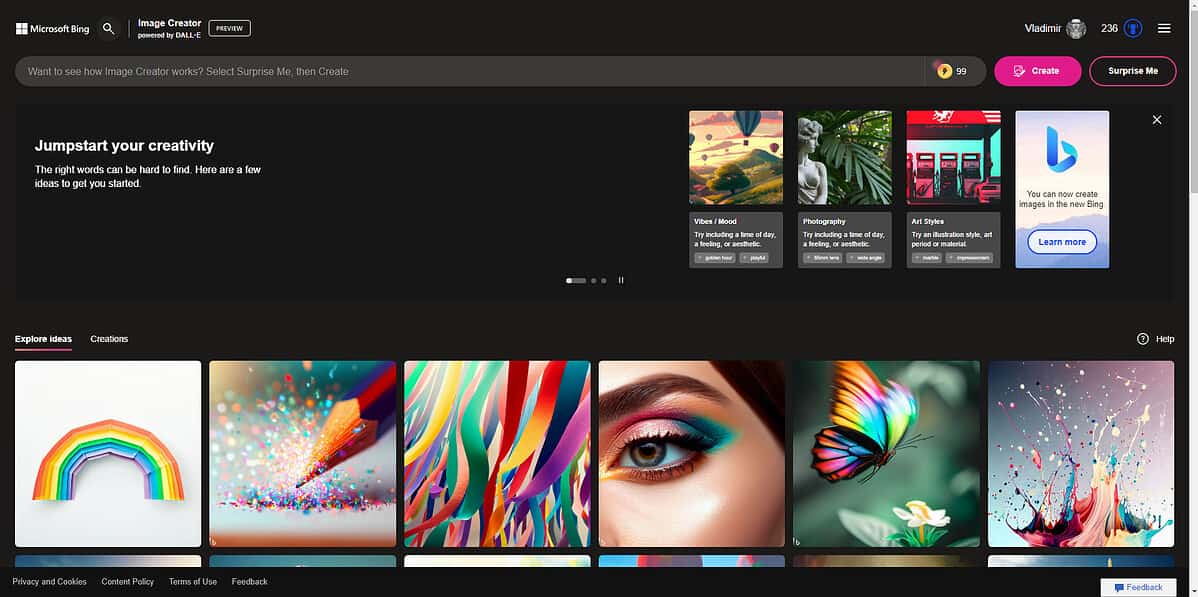 Bing Image Creator is a state-of-the-art application that stands out as one of the most excellent portrait-specific AI art generators. It uses cutting-edge AI technology, an improved version of DALL-E, to quickly produce high-quality photos. Because of its exceptional usability, this application is an excellent option for beginners who have just begun to learn about AI art generation.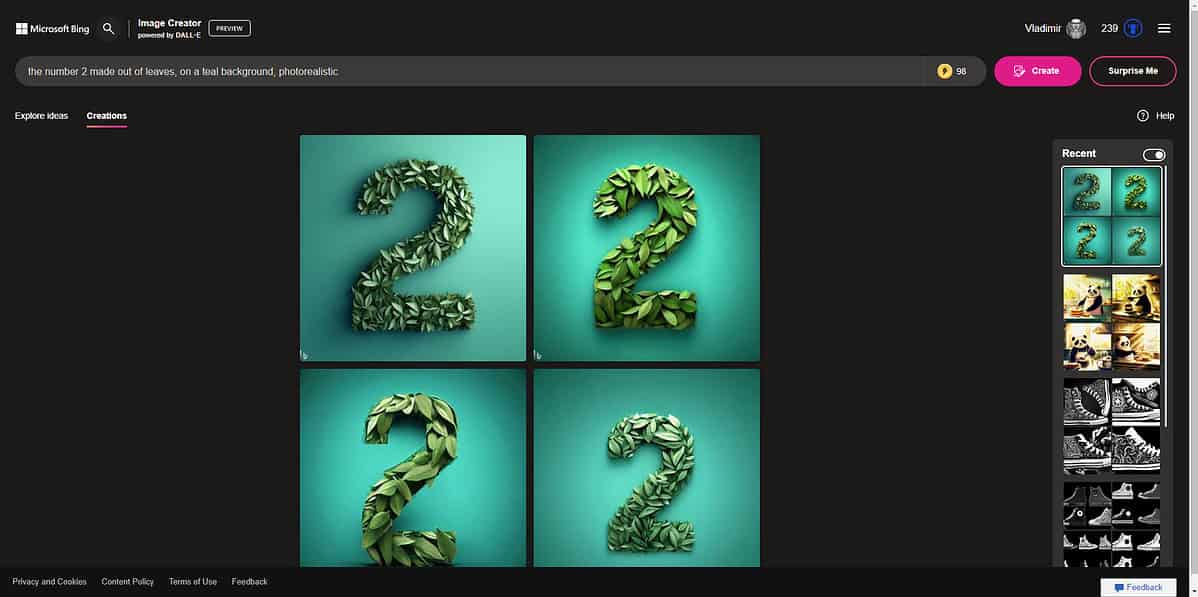 The fact that Bing Image Creator gives users ownership rights to the photos they produce is one of its most unique features, making it the only AI tool with this option. This entails that you can use your created portraits without worrying about licensing difficulties for various uses, including commercial use.
Bing Image Creator has had a massive impact on AI art generation while only in the preview stage. Compared to other tools on the market, it stands out for its capacity to produce high-quality portraits quickly in response to user inputs.
Bing Image Creator is a strong and convenient option for anyone looking to experiment with AI-generated art or company owners needing distinctive portraits for their website or marketing materials.
Pros
High-quality image generation
Text-to-image prompt with good customization options
Easy-to-use interface
Fast image generation
Cons
If you're a heavy user, the boosts might finish quickly, so the processing time will increase
4. DALL-E 2 – Powerful AI Image Generator for Portraits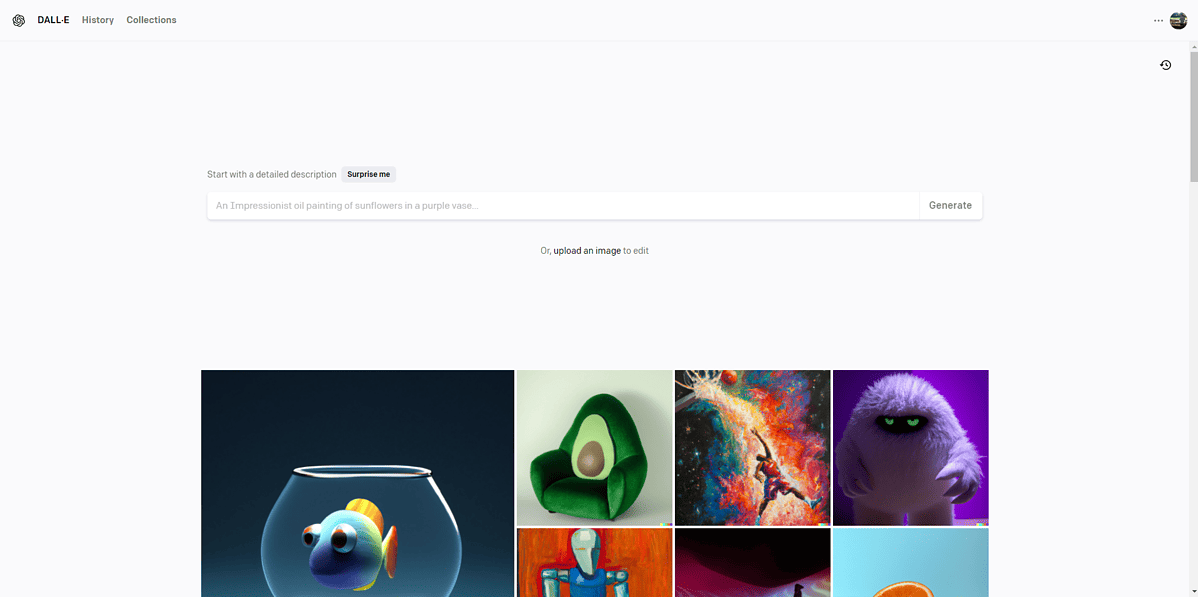 DALL-E 2 is a remarkable artificial intelligence art generator that has significantly impacted the field of artificial intelligence-generated portraits. Using a dataset of text-image groups, this application uses text descriptions to generate realistic visuals. With this exclusive function, users may create highly detailed, personalized portraits by simply providing a description.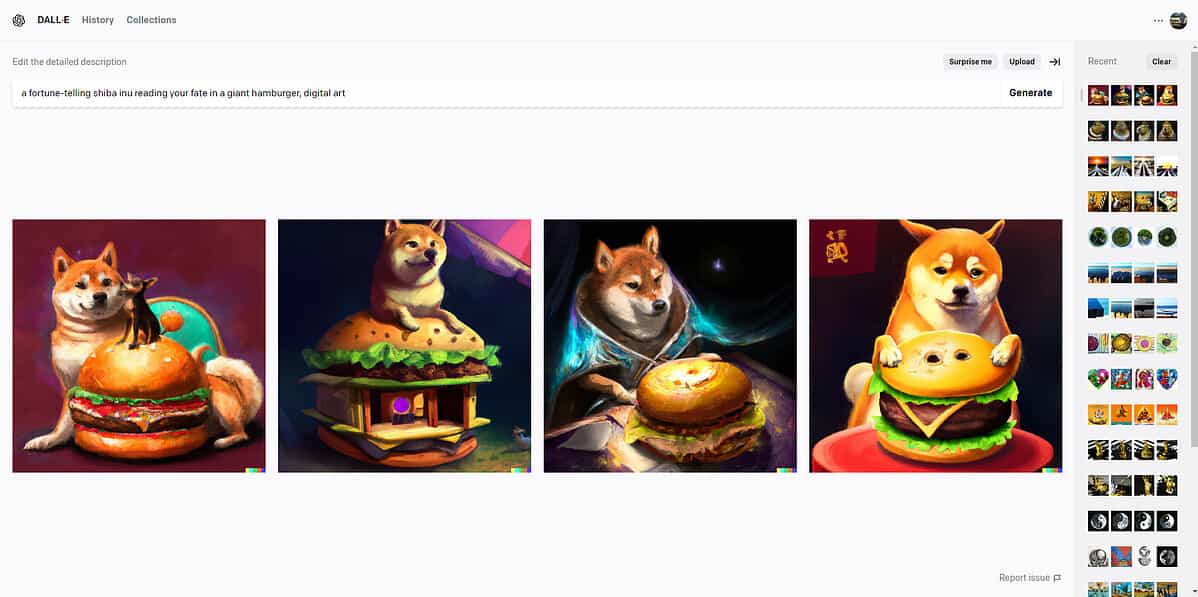 DALL-E 2's extensive accessibility is one of the most notable features of this tool. Thanks to its open access, anyone can easily make original art using the interface, API, and labs.
This software is an effective and affordable option for anyone looking to experiment with AI-generated art or for business leaders who want to expand the company's capabilities.
The older iteration of DALL-E generates photos at 512 x 512 pixels instead of DALL-E 2's 1024 x 1024 pixels, which is something to keep in mind. Due to its capacity to produce incredibly realistic and customized photos, DALL-E 2 continues to be a top option for individuals looking for the best AI art generator for portraits.
Pros
The interface is easy to use by any user
Excellent results from text prompts
Quick image generation
Cons
The prompts need to be specially customized to get specific results
5. DreamStudio – Great Portrait Generation with Customization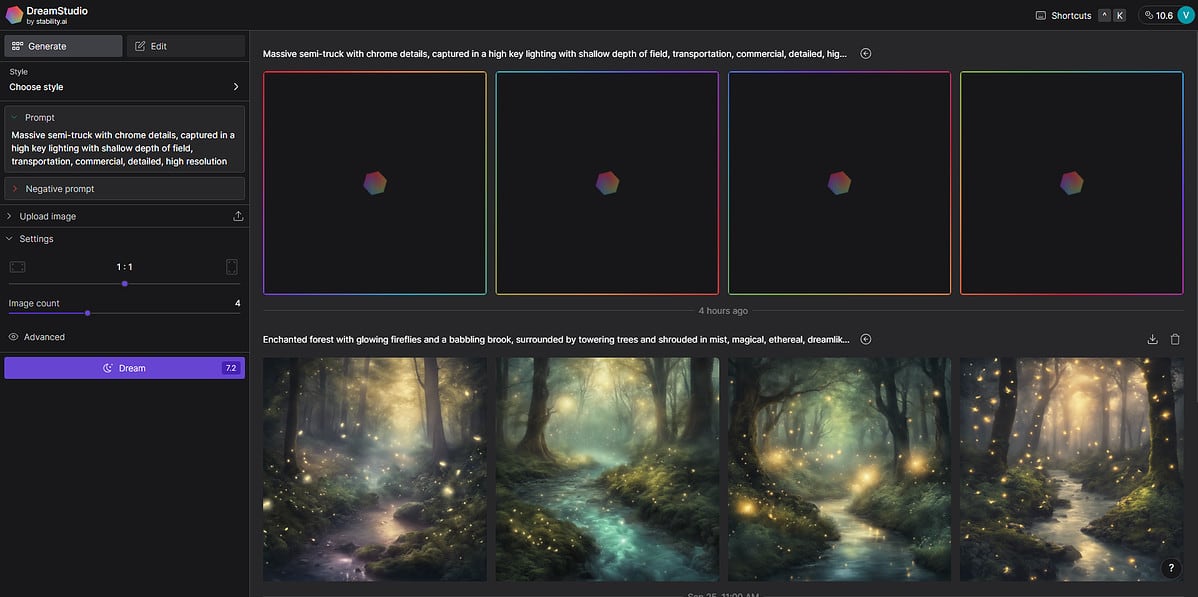 DreamStudio by Stability AI is one of the best AI art generators for portraits and offers an entire arsenal of generative design tools. It enables users to produce photographs using AI and provides excellent flexibility, which is especially useful when making portraits.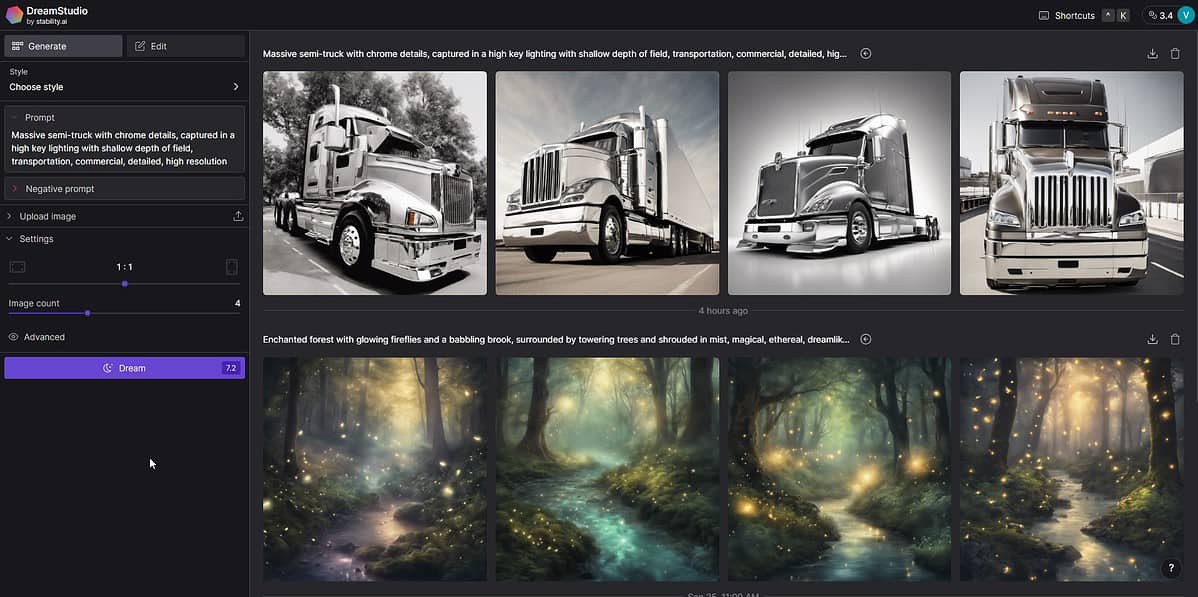 DreamStudio's capacity to produce images from a text prompt is one of its most notable characteristics, and the user-friendly interface also makes it simple to use. You created customized and detailed portraits by simply supplying a description. DreamStudio offers a practical and affordable solution (as opposed to some similar tools), whether you're an artist who wants to experiment with AI-generated art or a beginner in the field.
Furthermore, DreamStudio's images have no license, making it possible to utilize them without limitations for commercial endeavors. This is a huge benefit for companies and individuals who want to use the created portraits in various ways.
DreamStudio is a good option for people looking for one of the best AI art generators for portraits despite being a relatively new player in the industry.
Pros
Instant results that respect the prompt data
Powerful customization features
Includes negative prompt for better image results
Cons
More customization features would help
---
AI art generators for portraits are here to stay. They offer artists and enthusiasts a high-quality method to unleash their creativity and produce unique photographs, artworks, puzzles, and many others. These AI tools have redefined how we create, offered various customization tools for image results, and contributed to the larger public's capacity to express themselves creatively, even without any art-related skills.
One of the most essential elements to remember is that this is only the beginning. As AI evolves exponentially, we can only wonder how the digital world will transform in the coming years. We know one thing for sure: AI-powered software is here to stay, so it was never a better time to learn to use these tools.
Feel free to share your choice with us using the comment section below.