Is Copilot the best AI companion out there? Help us find out by answering a couple of quick questions!
The evolution of print-on-demand business models has made it easier for users to create clothing brands and even great merchandise like T-shirts and AI book covers for their businesses. With the help of AI art generators, users can now create unique, professional designs without the learning curve required to become digital artists. 
AI art generators save users time and resources, as they can generate architecture designs and even instantly produce high-level AI bodies to be used in game design and scene creation. 
Choosing the best AI art generator for print on demand can be daunting, considering the many options, but some great AI art generators for Windows users can help you on this path. 
Whether you are a tattoo artist looking for inspiration or want to use some powerful AI text-to-image generators for fun, there are plenty of options. 
Join us in this article as we explore the five best AI art generator options for print-on-demand services and find your perfect match! 
Is It OK to Sell AI-generated Art on Print-on-Demand Items?
The legality of selling AI-generated art on print-on-demand items is a complicated issue that experts are still considering, and the debate is ongoing. That's so even though the growth and adoption rate is increasing exponentially. One of the primary legal issues when selling AI-generated art is the possibility of infringing on an artist's intellectual property rights.
As the user has generated the respective piece of art using a combination of their imagination and the AI, it all comes down to which art was used to train the AI model. Knowing strictly which pieces of art were used in the training of the model is impossible. This idea poses an ethical question and answers our question:
Yes. It is OK to sell AI-generated art on print-on-demand items only if it does not infringe on existing copyrights or trademarks. But since AI art generators are completely legal to use, utilizing them for your purposes is quite alright.
What is the best AI generator for print-on-demand?
After testing numerous services, here's our list of the top AI tools for the job:
1. Wondr AI – The Overall Best AI Generator for Print on Demand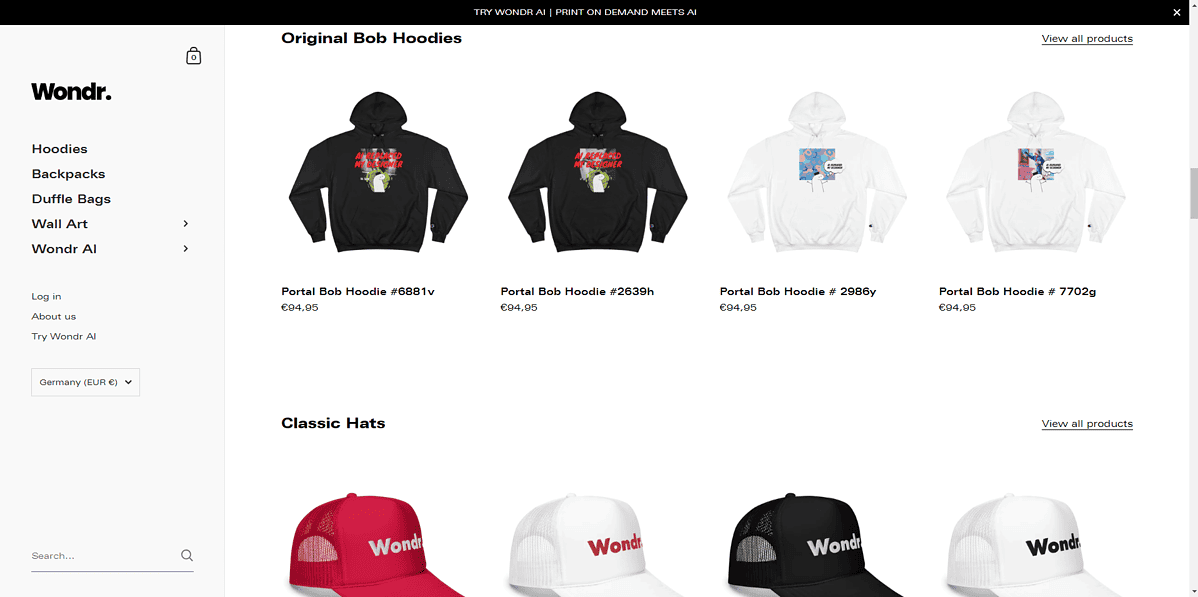 Wondr AI is our best AI art generator for print-on-demand, and this tool has taken the industry by storm. The user-friendly interface ensures that anybody can use the tool without complications. It thus allows any user to create stunning and personalized artwork for their custom merchandise, clothing, and anything in between.
This tool offers a wide range of customization options that are helpful if you're trying to design a t-shirt, poster, or any other print-on-demand product. Wondr AI enables you to customize your artwork until you're satisfied with the results by changing colors, styles, etc., making sure your designs stand out.
Once your account is set up, the app lets you choose which product the platform should automate first. You can choose between T-shirts, hoodies, wall art, puzzles, sneakers, and backpacks.
After choosing the correct item, you must decide which platform you would like the item posted on. Options include Shopify, WordPress, Squarespace, Wix, and others.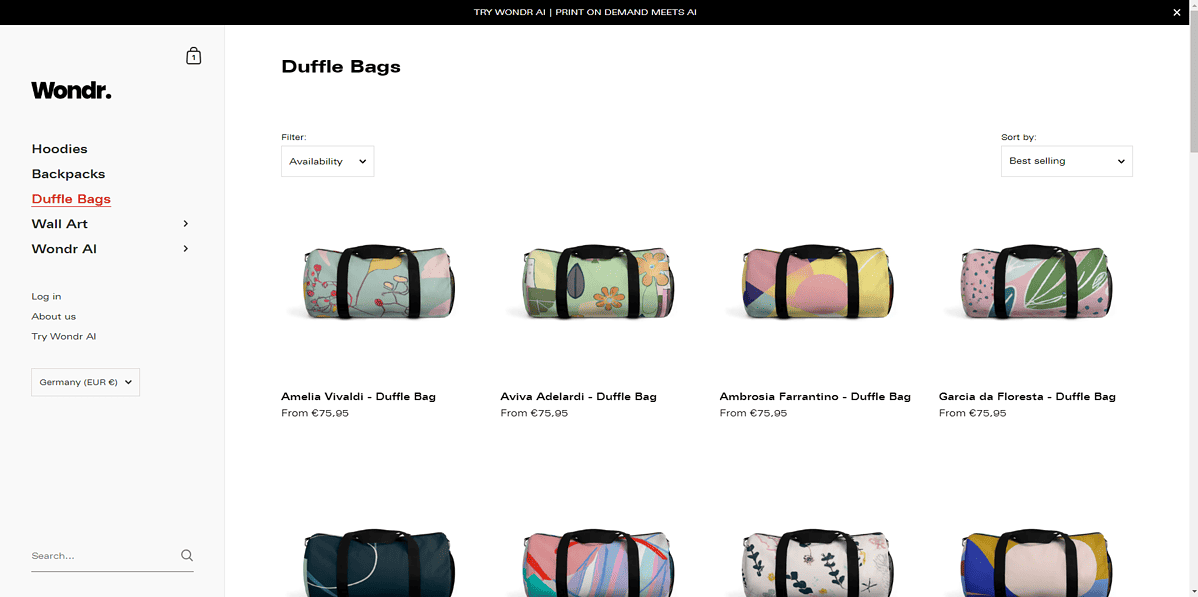 Wondr then takes you through setting up your account, location settings, what platform you want to use for your sales, etc. They even provide a Wondr Masterclass, which teaches you everything you need to know about AI print-on-demand automation.
Pros
Step-by-step setup and training enable everybody to learn the skills for this task
Easy and visual setup process
You can choose from various selling platforms like Shopify, WordPress, Squarespace, etc.
Automatically generate designs, headlines, descriptions, etc.
Distributes products to marketplaces automatically
Automatically creates social media posts with AI
Cons
The prices could be too high for some beginners
2. Creative Fabrica Spark Art – Second-best AI Art Generator with Great Visual Assets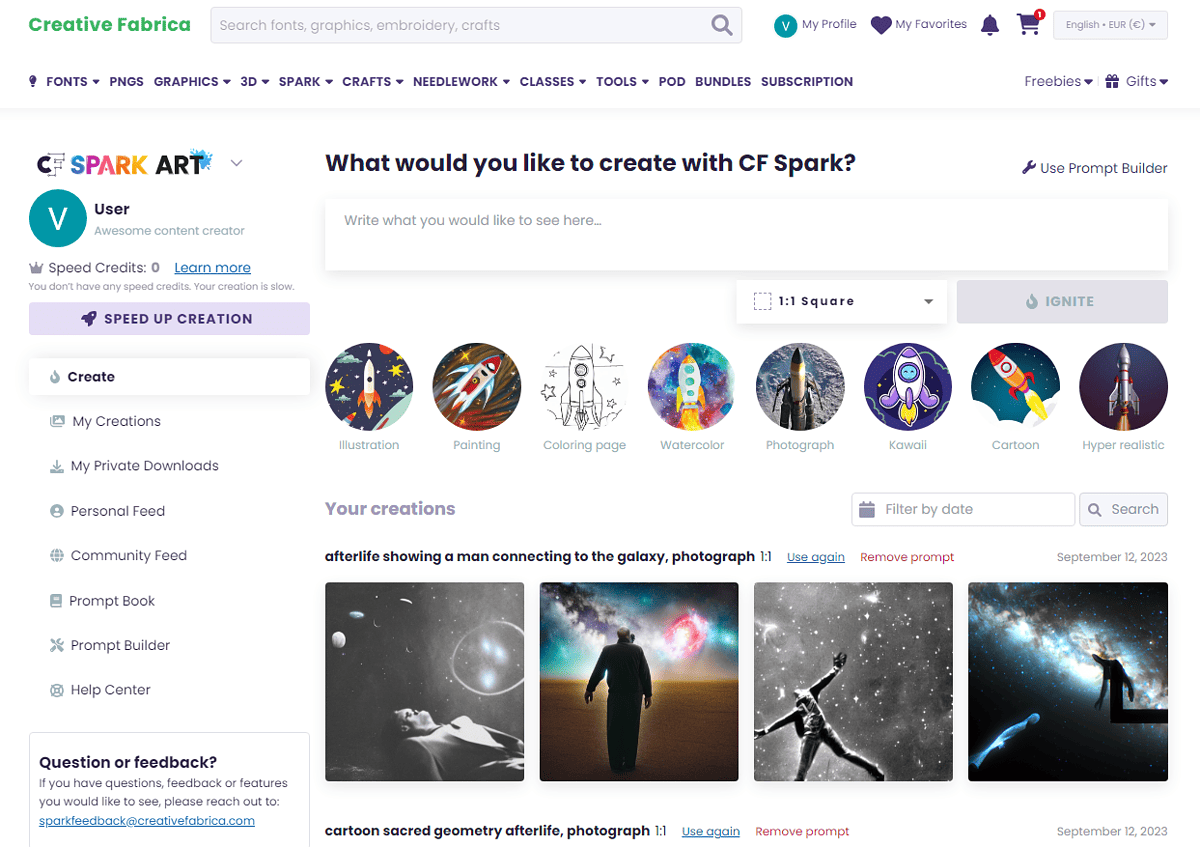 Spark Art from Creative Fabrica is our second pick of the best AI art generator for print-on-demand services. This tool offers excellent AI-powered features that go beyond art generation, providing users access to an extensive library of design elements, visuals, fonts, and templates.
These will surely be useful for beginners and professionals alike, as they allow you a shortcut to a creative day. The sheer amount of assets is enough to make the most demanding digital artist happy, but combining these elements with AI is revolutionary.
These elements cover various topics, including decorative items like frames, typography, pre-designed templates, etc. The only tricky part about this is choosing which one of the 3D elements looks better, which is a significant problem when using AI software.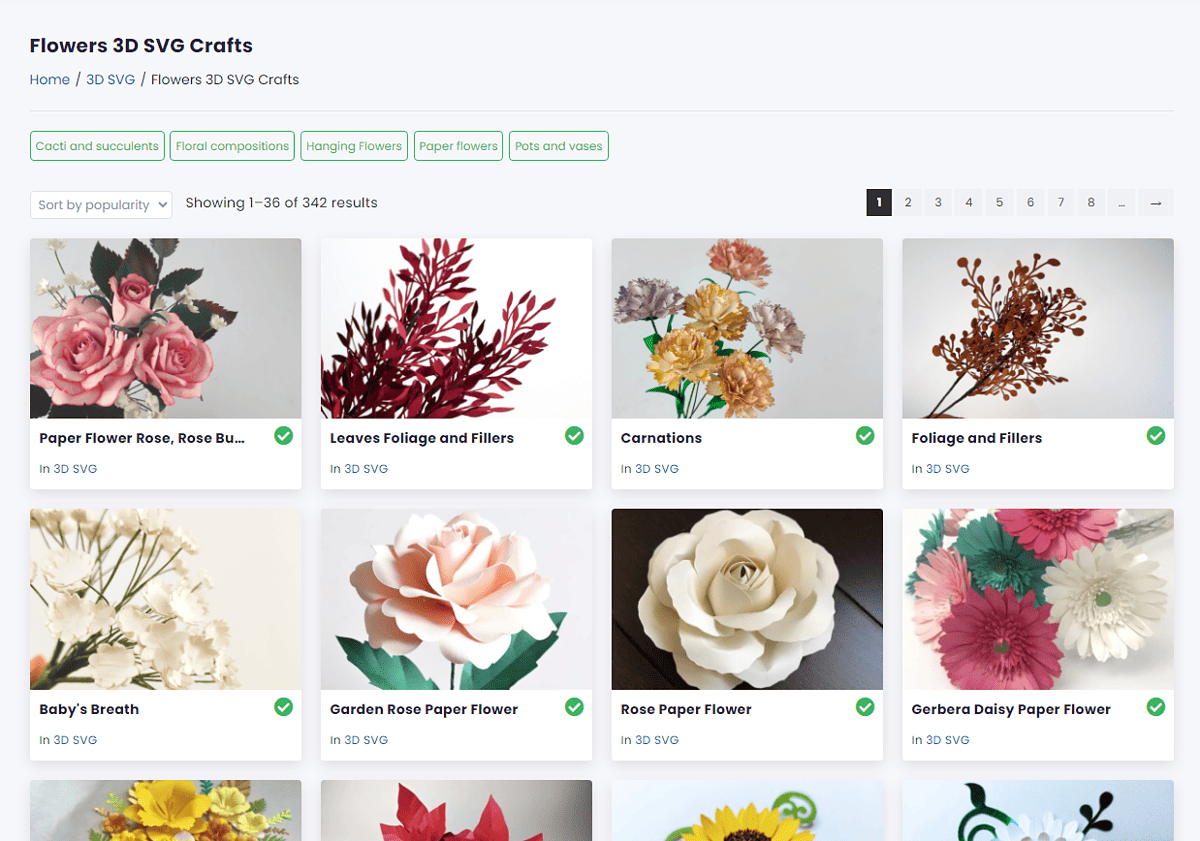 Combining these features with your creativity and the power of AI text-to-image can easily create some fantastic designs.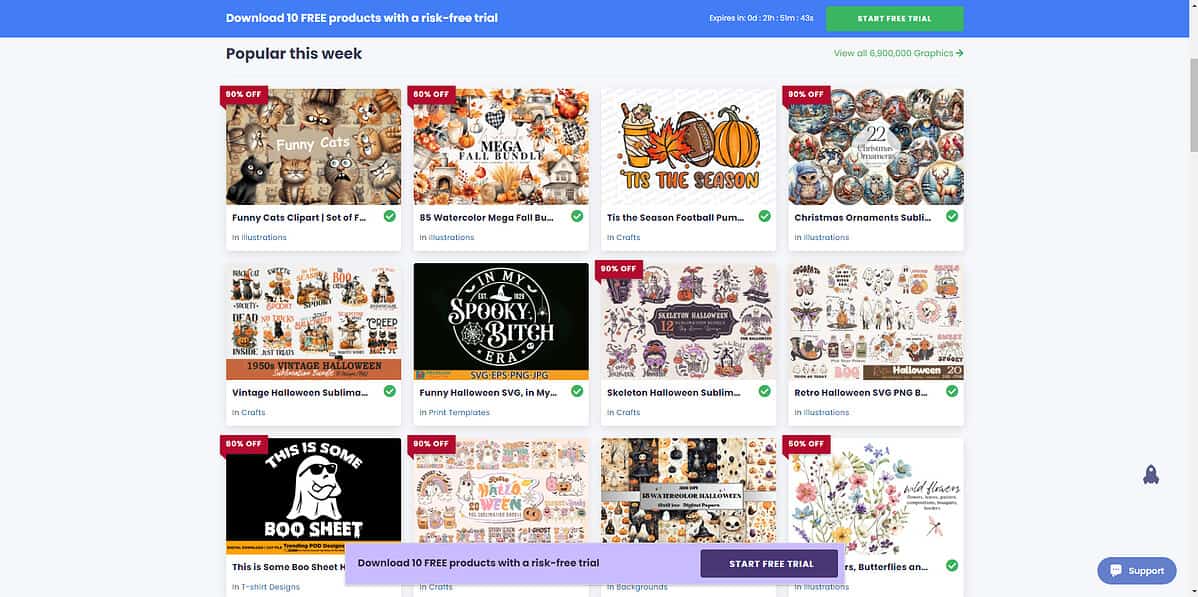 This is where this app's AI art generation capabilities come in, and they do not disappoint. It allows you to easily create artwork, whether you want abstract patterns, intricate illustrations, or a design with a specific theme; the Spark Art app has got you covered.
Pros
Fantastic assets, including decorations, design elements, fonts, etc.
Powerful text-to-image art creation with lots of styles to choose from
Great for creating a variety of print-on-demand items with different styles
Easy-to-navigate menus suitable for all users
Includes a community feed where you can share your work
Cons
Beginners could be overwhelmed by the large number of assets
3. Artbreeder – All-in-One AI Art Generator with Great Mixing Capabilities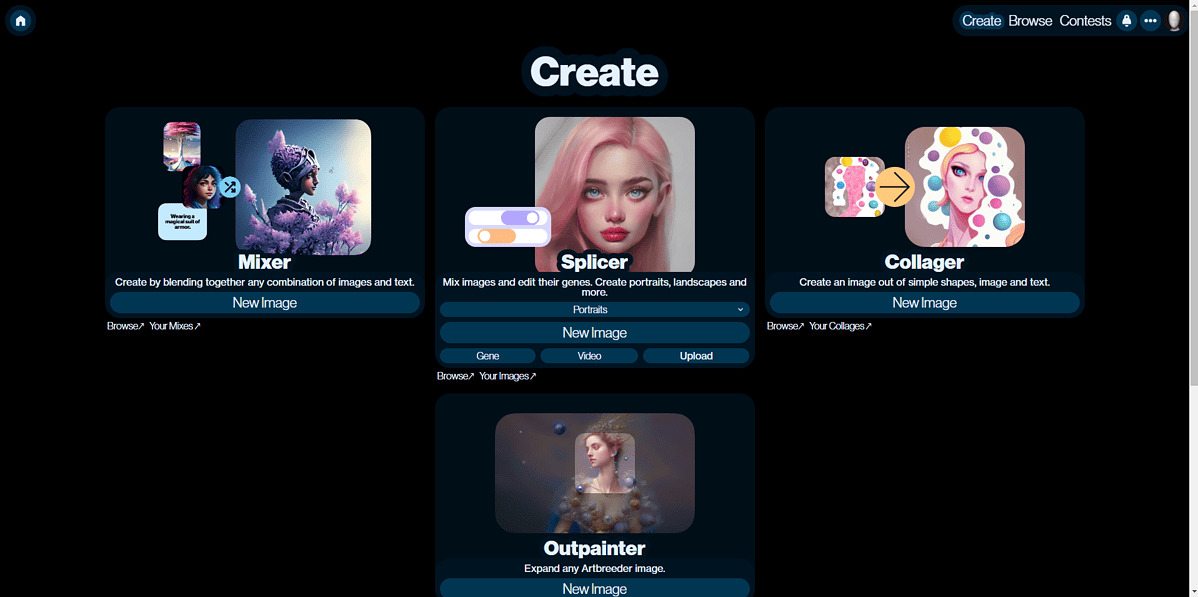 Artbreeder is our third pick for the list of the best AI art generator tools for print-on-demand. This fantastic app is another game-changer AI-powered app that brings users to the forefront of image generation and manipulation. This powerful software allows you to blend and manipulate existing artworks, resulting in an amazingly new and personalized piece of art.
This fresh approach to creating AI art is a fantastic choice for people looking to create unique designs and evidentiate their work from a sea of print-on-demand products.
The software is split into a few different parts, with additional capabilities, but all equally capable and valuable (depending on your exact goals):
As you can see from the images above, you can blend two pictures, mix images, create collages, and even fill in backgrounds for art pieces, making this tool very versatile and efficient.
This app has been placed in the 3rd position only because it doesn't offer specific print-on-demand options, but the level of creativity it can spark makes up for this downside.
Artbreeder allows you to create various worlds using built-in images, text prompts, or art.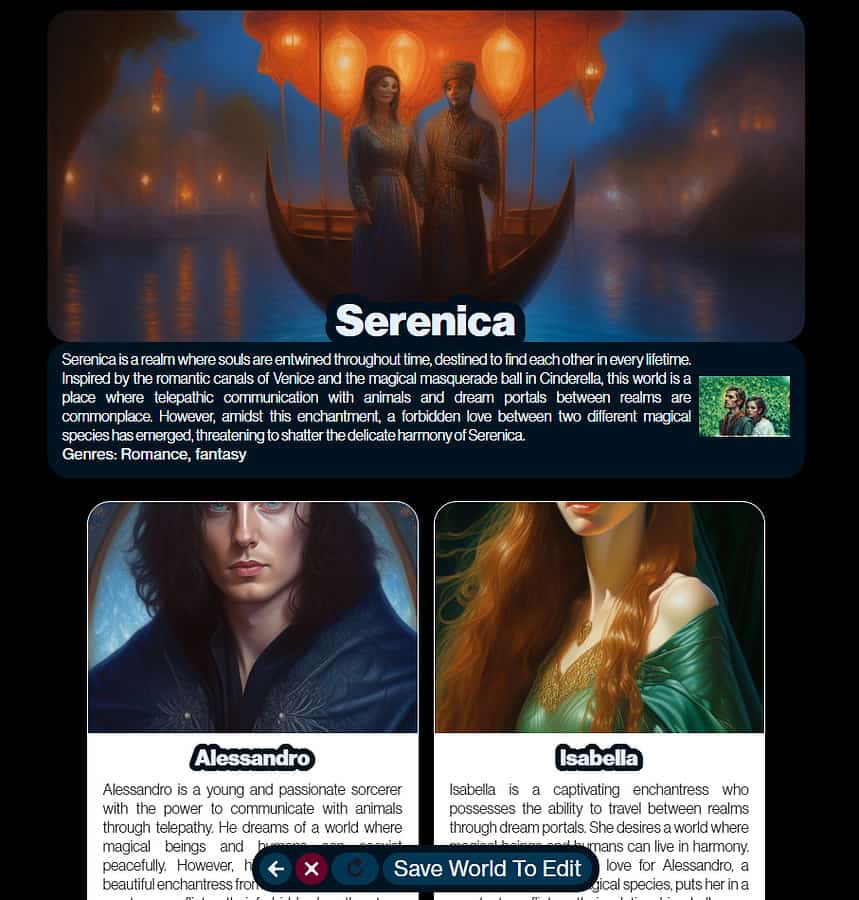 This works by asking you a few questions, which will act as the base of the respective world, making it great for creative people of many kinds.
Pros
It contains a fantastic set of useful AI-powered tools to help you easily combine, splice, and create collages.
Includes access to Labs, which enable you to become a creative director with an AI assistant
Includes Worlds, which enable you to create worlds and characters from scratch
Easy-to-use interface, which is suitable for a variety of users with different expertise levels
Cons
It doesn't include any specific print-on-demand tools but can be very useful in this endeavor nonetheless
4. Runway ML – Comprehensive AI Art Creation Platform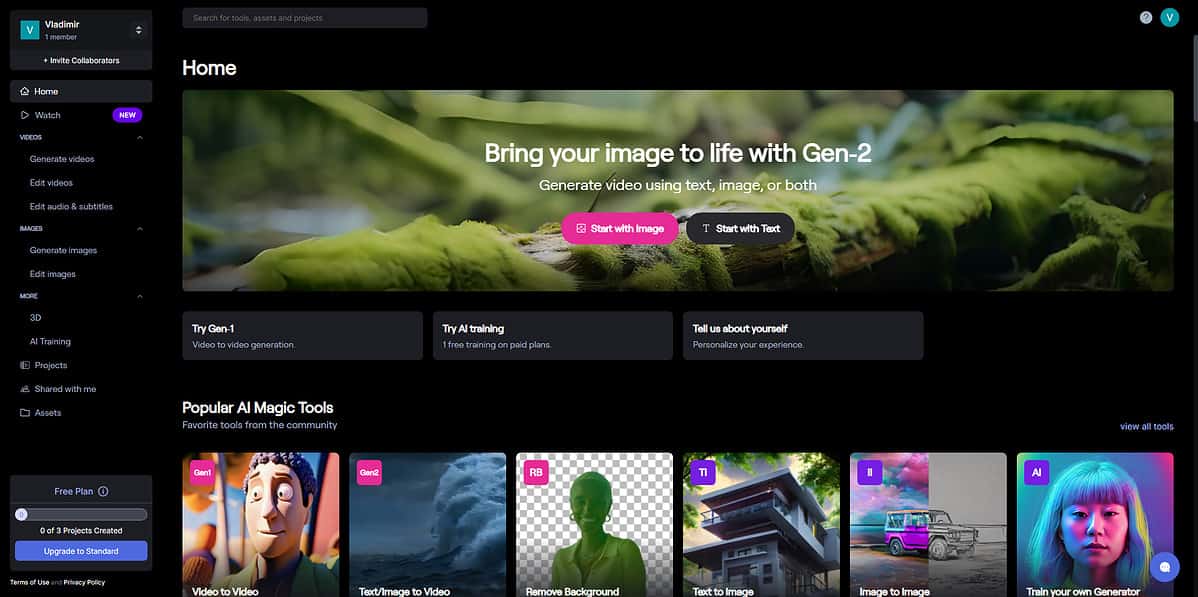 Runway ML offers users a new way to create by compiling an extensive array of AI models designed for creative endeavors. Whether a beginner trying to understand how to create art with AI or an experienced designer, Runway ML offers a powerful playground for creativity.
This great platform allows you to experiment with art without too much effort while also permitting you to push the boundaries of your art to new levels, thus making it an excellent tool for business owners dealing with print-on-demand products.
When you open this website, you will be confronted with a straightforward but necessary decision: either start with an image and work on it to create new concepts, or start with a text prompt and then customize all available options to create unique and inspiring artwork.
The image above offers a helpful overview of all the tools the Runway ML AI provides, making it probably one of the most complete AI-powered solutions for creative people, but with a single issue: it doesn't contain any print-on-demand services as the other apps do.
To round this platform up even better, Runway ML also offers users access to tutorials that can teach anybody to use the software to produce fantastic artwork for any business.

Combining the wide range of AI-powered tools with step-by-step guides and the capability to discover art from other creators and remixes makes this platform one of the best for artists, designers, and game developers.
Pros
Wide range of AI-powered tools that cover all aspects of the creative process
Includes video-to-video, text/image-to-video, text-to-image, image-to-image AI-powered tools
Wide range of step-by-step tutorials for users of all expertise levels
Discover & remix feature allows you to play with other user's AI-powered creations
The platform provides video editing and even subtitle modifications
Great AI-training feature, allowing you to customize how the AI-powered tools react to your inputs
Cons
Even though it doesn't include specific print-on-demand features, the wide range of tools provides artists with AI-powered help
5. Hospot.ai Art Generator – Minimalist-design AI Art Generator with Great Tools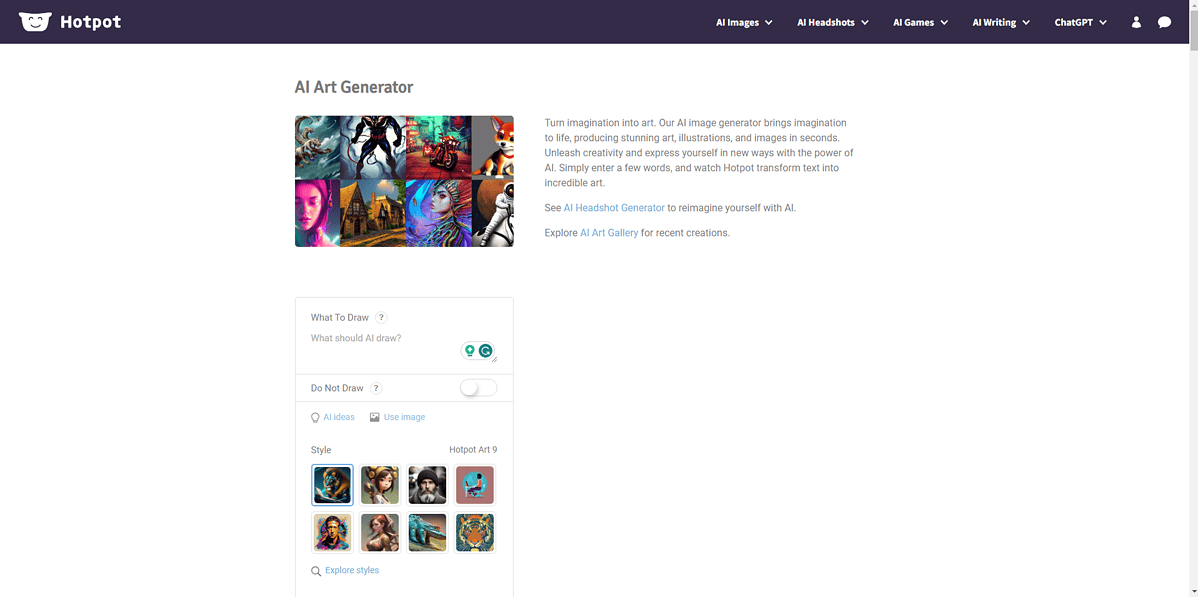 The Hotspot.ai Art Generator tool is our last choice when it comes to finding the best AI art generator for print on demand, and it has this position because when compared with the other software options presented above, it lacks the same complexity and customization options for a print-on-demand business, but still offers some valuable tools.

As you can see from the image above, the AI art generator is just a tiny part of the capabilities of this platform, allowing you to create AI headshots easily, employ AI-powered tools for game creation, remove objects, and even colorize old pictures.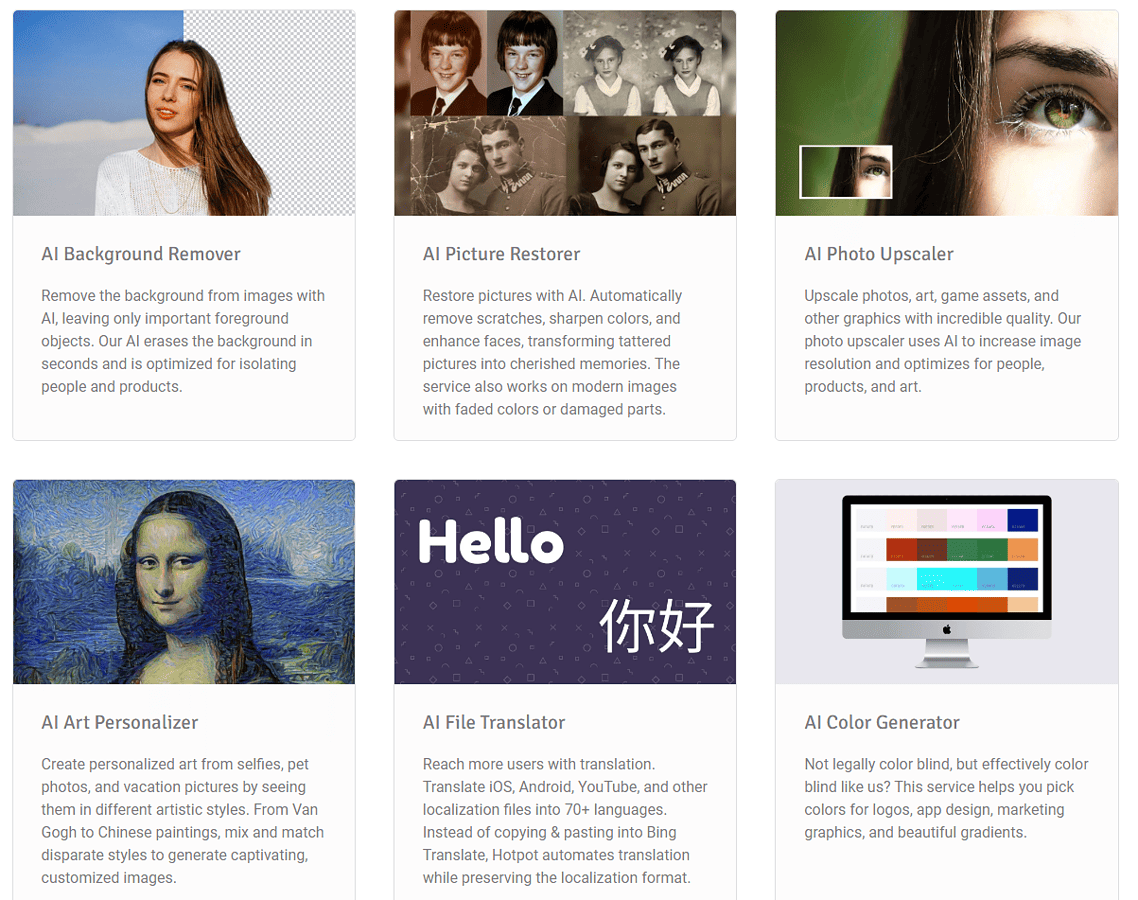 AI art creation process would be complete without being able to remove backgrounds from images, upscale photos, or restore old pictures, and this helpful platform provides access to all these tools.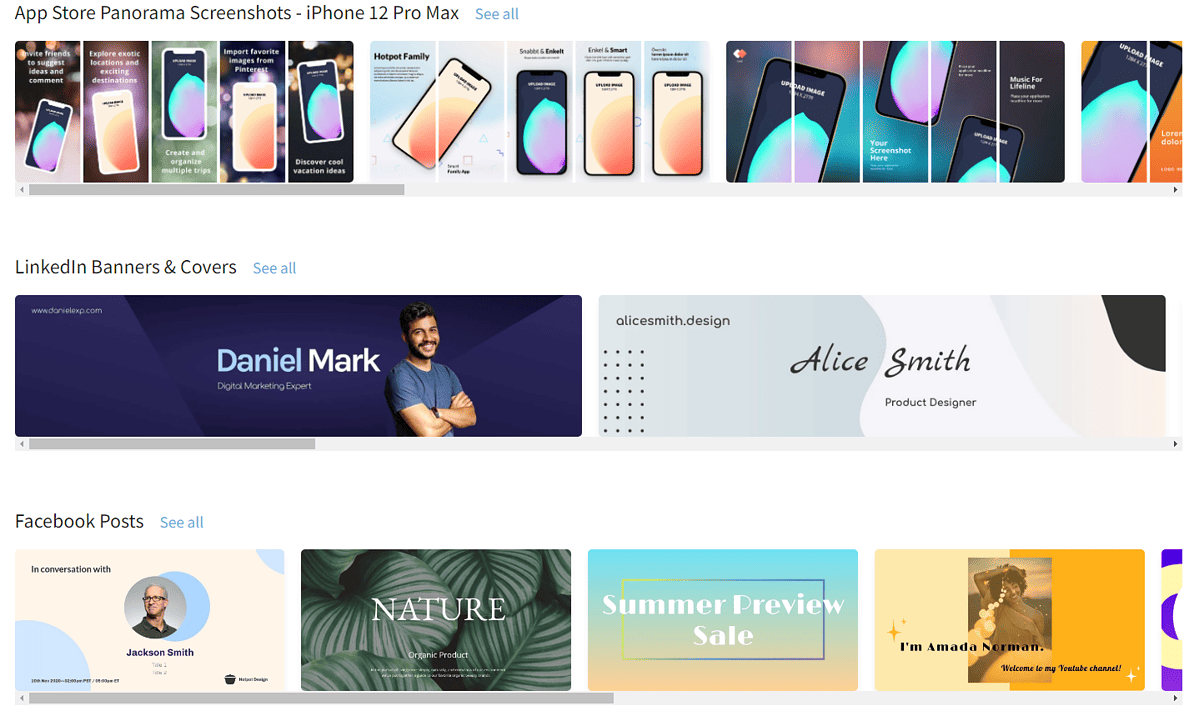 Besides the abovementioned elements, Hotspot.ai can help you create Facebook posts, app store icons, launch screens, etc. – making it an immersive and valuable toolset for any creator.
Pros
Fantastic set of AI-powered tools perfect for print-on-demand businesses
Other valuable tools like background remover, object remover, and upscaling features are present
Allows users to create by text-to-image or image-to-image
Great set of art styles
Can generate more than one image at once
Cons
No specific print-on-demand features, but it makes up for it with a wide array of powerful AI tools
---
The fusion between AI and print-on-demand services has opened up an exciting set of opportunities for creative people, no matter what field they operate in.
AI art generators simplify the creation process, allowing you to test ideas and combine them in a unique and artist-vision-specific manner.
Embrace the power of AI and embark on a journey of art exploration, creation, and inspiration, and ensure that you will always be able to produce one-of-a-kind products that will captivate your customer's attention.