8 Best AI Photo Enhancers in 2023
9 min. read
Updated November 23rd, 2023
Published September 13th, 2023
---
Readers help support MSPoweruser. When you make a purchase using links on our site, we may earn an affiliate commission.
Read the affiliate disclosure page to find out how can you help MSPoweruser effortlessly and without spending any money. Read more
Enhancing your photos has never been easier, thanks to the latest advancements in AI technology. Creators of many types have been helped considerably by AI-powered tools lately, and not using them could cause you to be left behind in this ever-evolving technology.
Some of the creators mentioned above include architects who need some inspiration from AI, allowing them to preview any idea before starting to work on the project. Others use AI to create clothing brands and even to sell AI art on Etsy.
Whether you're a professional photographer or an amateur looking to improve your photos, these AI photo enhancer options will make it a breeze!
We've tested and then included some of the best options on the market in this field and offered readers free and paid options.
| Software | Image Quality Preservation | Ease of Use | Versatility | Speed & Efficiency | Accessibility |
| --- | --- | --- | --- | --- | --- |
| Fotor |  High-quality upscaling | **** | All-in-One Solution | **** | 5 Free Credits |
| Remini AI | Photo Restoration |  ***** | Specialized Features | ***** | 7-Day Trial |
| Vance AI |  Professional Enhancements | ***** | Versatile Editing | ***** |  3 Free Credits |
| Let's Enhance | Quality Preservation | ***** | Versatile Enhancements | ***** | 10 Free Credits |
|  Cutout.pro |  Decent Quality Preservation |  **** | Specialized features | **** | 5 Free Credits |
Get the best out of your photos by trying all this software and choosing which one fits your needs!
1. Fotor – Best Overall AI Photo Enhancer
Fotor offers users an extensive array of photo enhancement tools, making it a one-stop solution for users who want professional results and also novices in the field. The most critical aspect that sustains this is the user-friendly interface, ensuring quick access to any option.
This software includes various valuable tools like 1-tap enhance, which you can see in the image below, AI enlarger, Magic Remove, Background Remover, and other great features.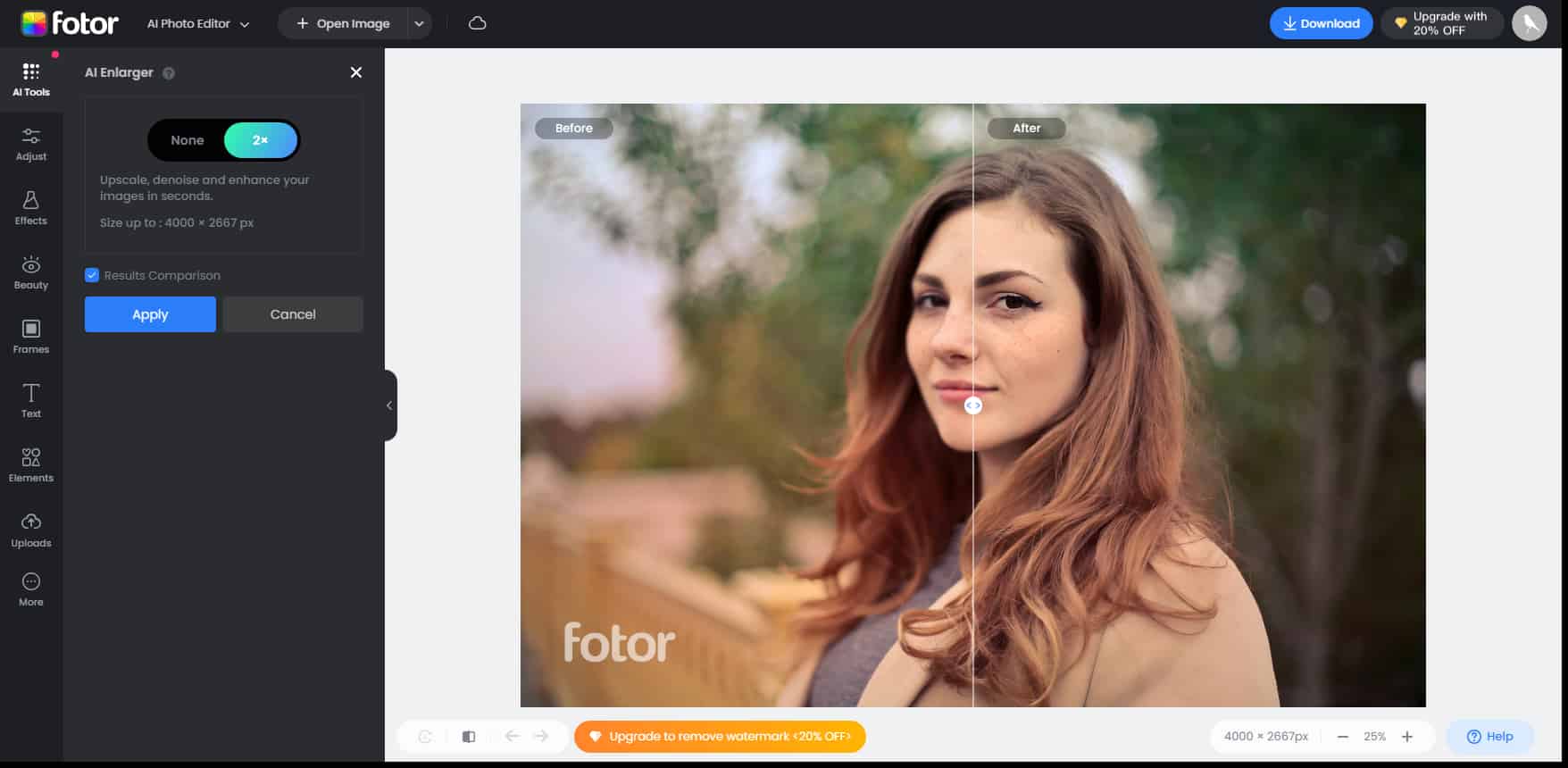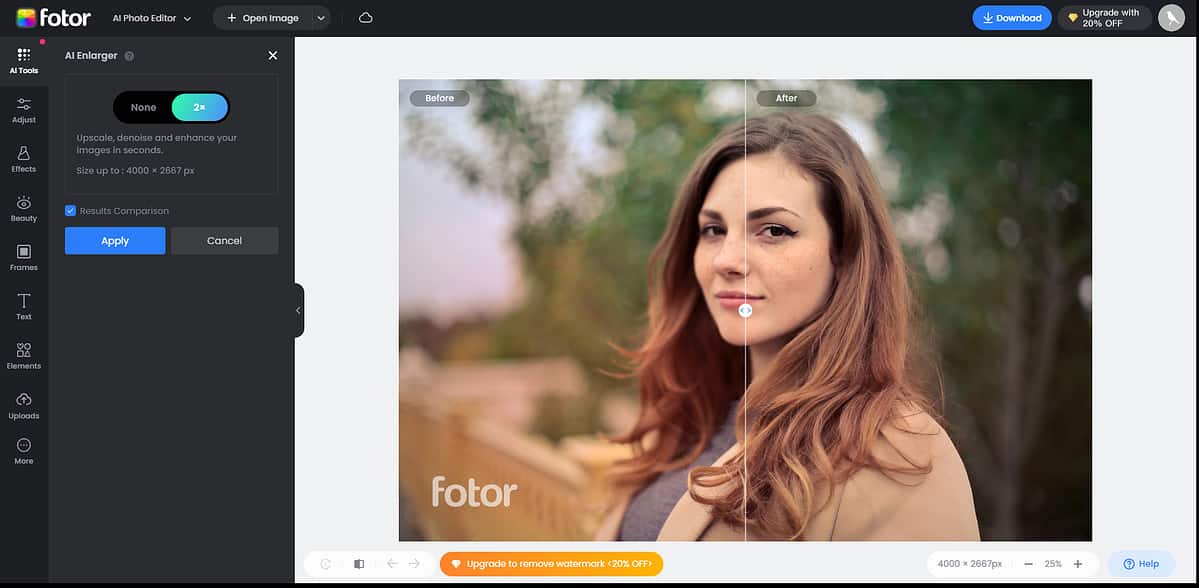 As you can see, the image we uploaded is far more blurry than the one after we used the 1-tap enhance feature of the Fotor software. After making the picture clearer, you can explore all the other AI-powered tools to extend the image, make it bigger, or even remove the background.
Pros
Wide range of editing tools, filters, and effects
Easy for beginners and professionals to use the interface
Great set of creative filters and effects
Cons
You receive five free credits when creating your account (1 credit/edit)
2. Let's Enhance – All-in-One Photo Editor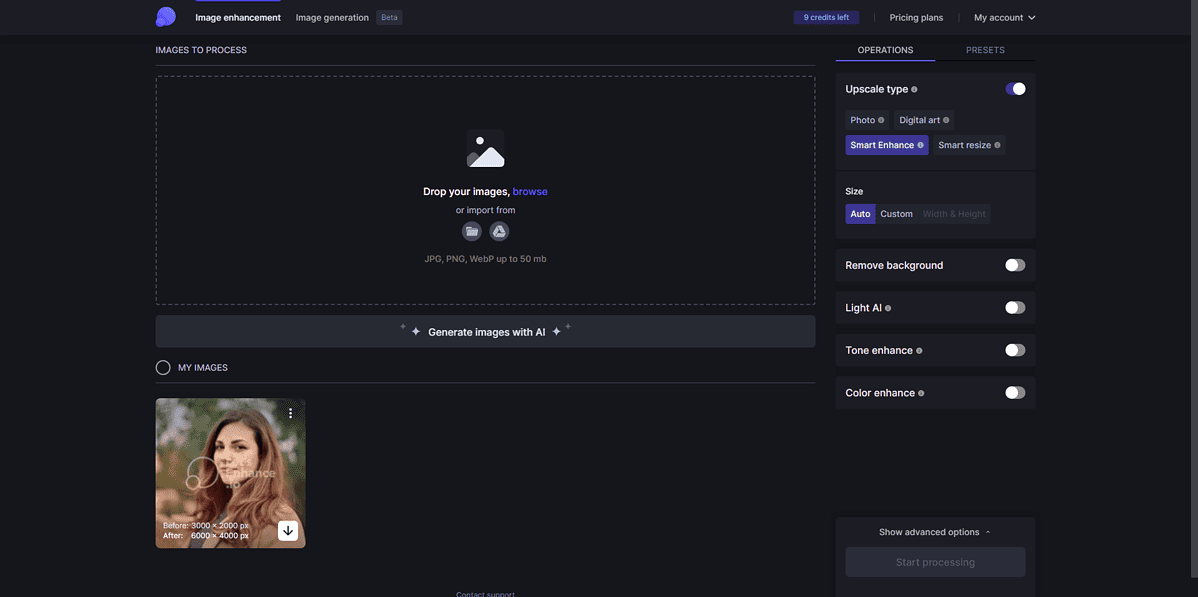 Let's Enhance is one of the best AI photo enhancement apps, allowing users to magnify image resolution without affecting the quality. This makes it a handy tool for photographers and other creators.
This software operates on a user-friendly platform, making it accessible to users of all skill levels to enhance the quality or enlarge images without having any artifacts left behind.
Whether you want to upscale your treasured old family photo or boost your landscape shot's clarity, Let's Enhance delivers excellent results.
Talking about results, the image we uploaded to the app while testing has doubled the resolution of the image we originally uploaded, transforming it from 3000 x 2000 px to 6000 x 4000 px, and the results are excellent!
But don't worry; the watermark is not as big or placed in the center of the photo once you download it, making the image usable.
Pros
Great customization options like photo and digital art enhancers
Includes a Smart Enhance and Smart Resize feature, which AI powers
Can remove backgrounds, edit lighting, enhance the image tones, and even enhance the colors in the images
You get ten credits when signing in (1 credit/edit)
Cons
AI enhancements take a few minutes
The free version adds a watermark to the results
3. Remini – Premium Photo Restoration & Enhancement App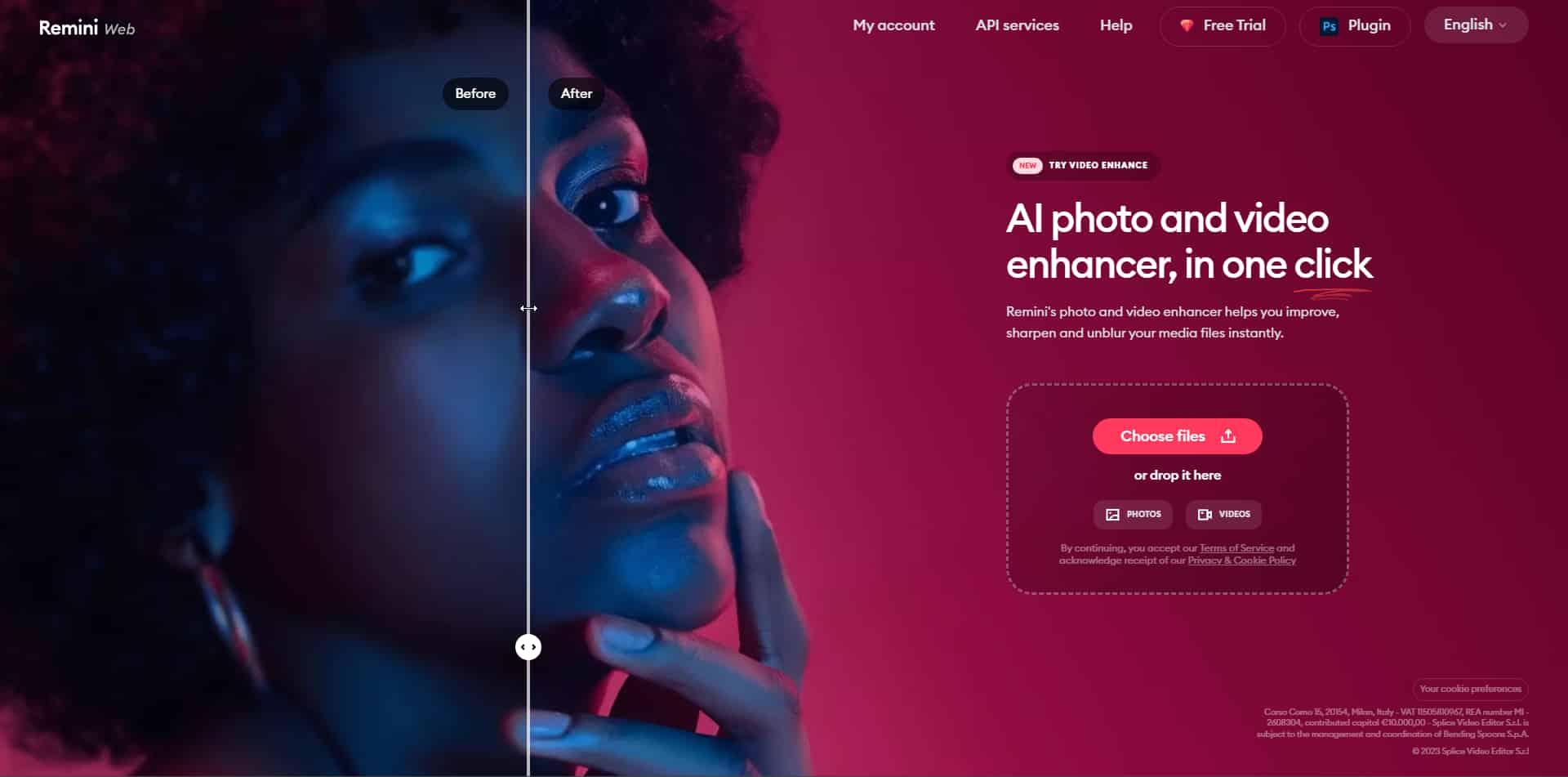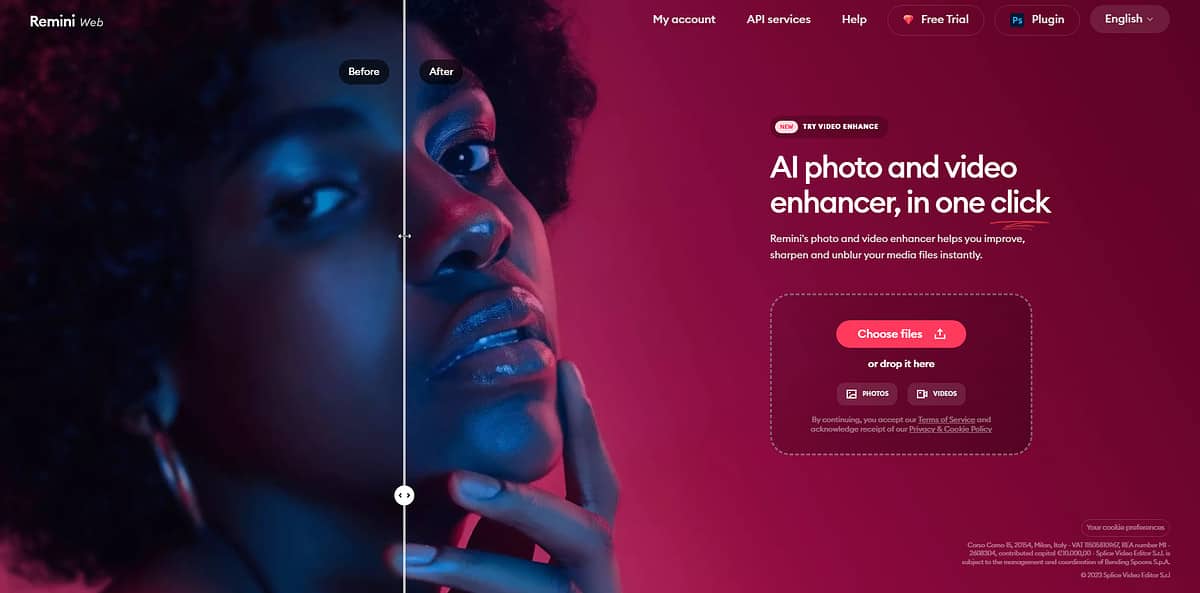 Remini is a powerful software that focuses on photo restoration and enhancements and refreshes old or damaged images with just a few clicks of the mouse.
You could consider Remini a digital time machine, allowing faded and worn photos and videos to be revived with better clarity and vibrancy.
Navigating the Remini interface is extremely easy, making it available to users of all proficiency levels. All you have to do after is drag-and-drop the image you want to enhance, and with a few clicks, you can forget about the blurry picture and enjoy a clearer version.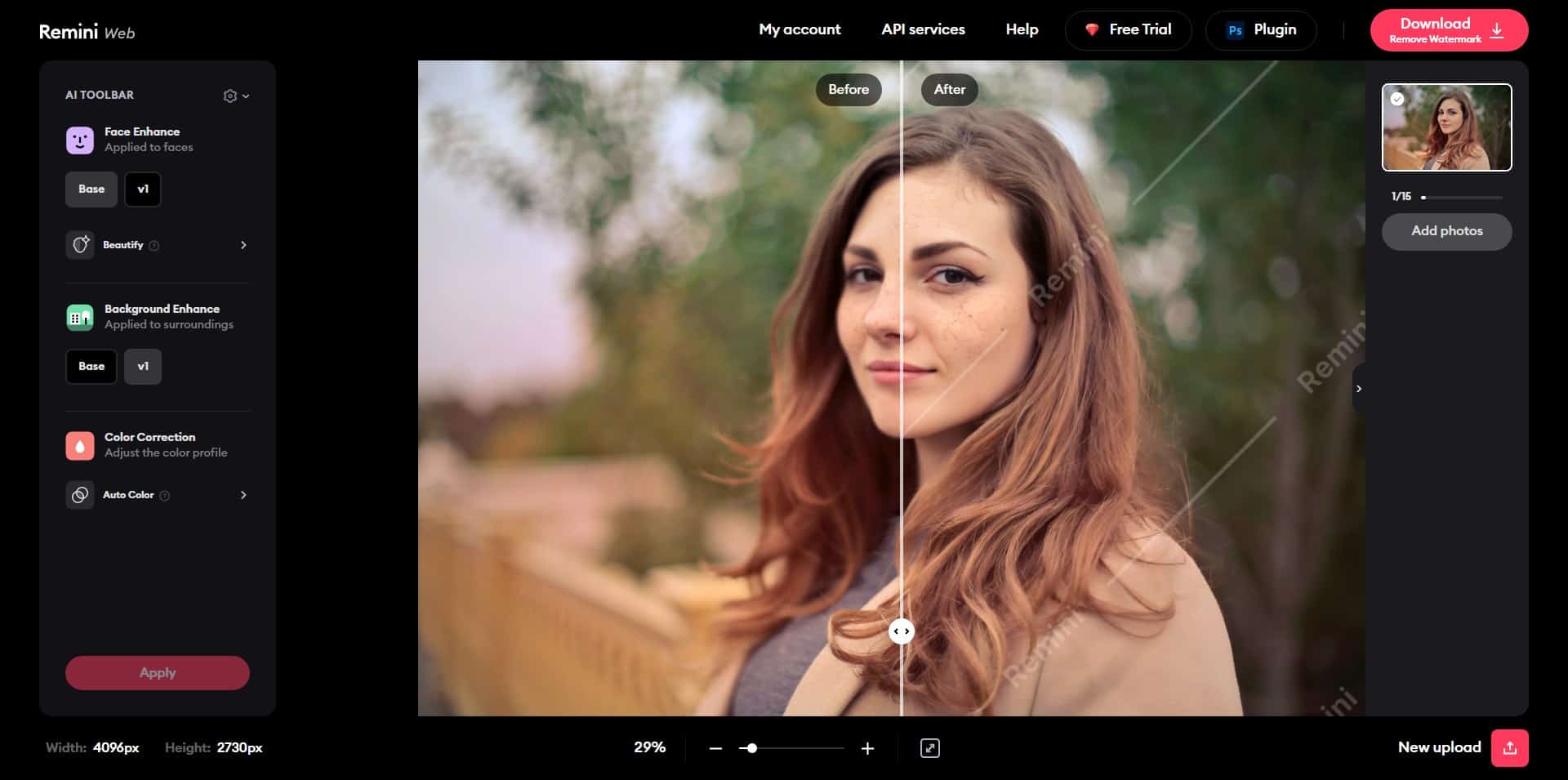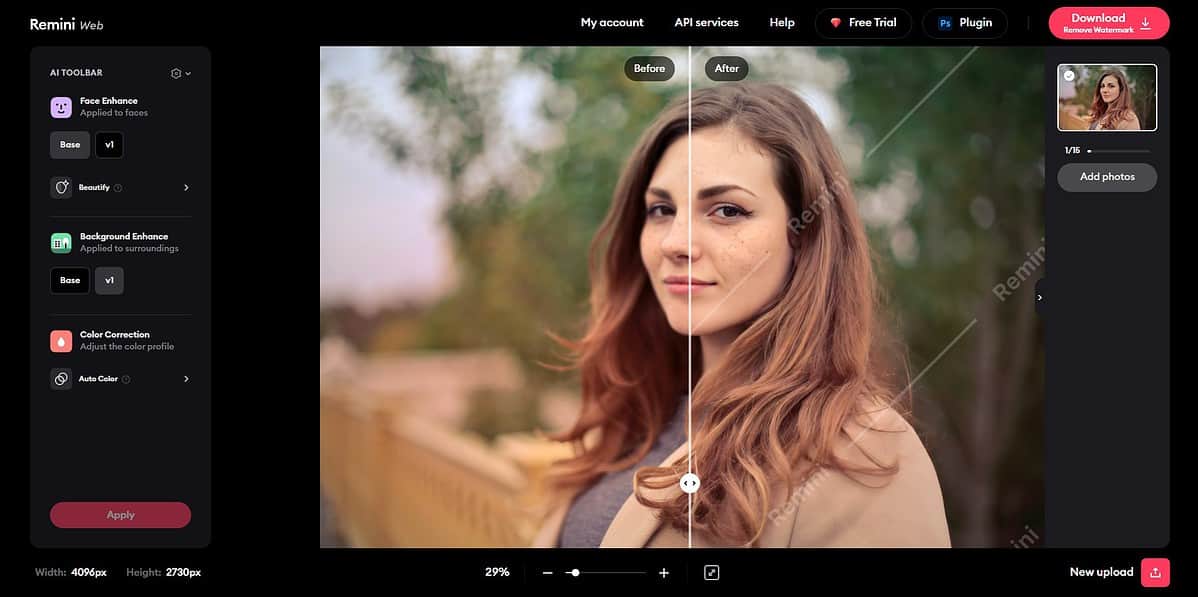 As you can see from the image above, it improved the quality and clarity of the picture and best of all, it only takes a few seconds to do so.
Pros
Allows users to choose between Base and V1 processing images using different AI agents
Can enhance backgrounds
It corrects colors
Offers a free 7-day trial when signing up for a license
Cons
Downloading any improved images can be done only with a license
The free variant has watermarks and doesn't allow the images to be used for commercial purposes
4. Vance AI – Versatile Photo Editing Software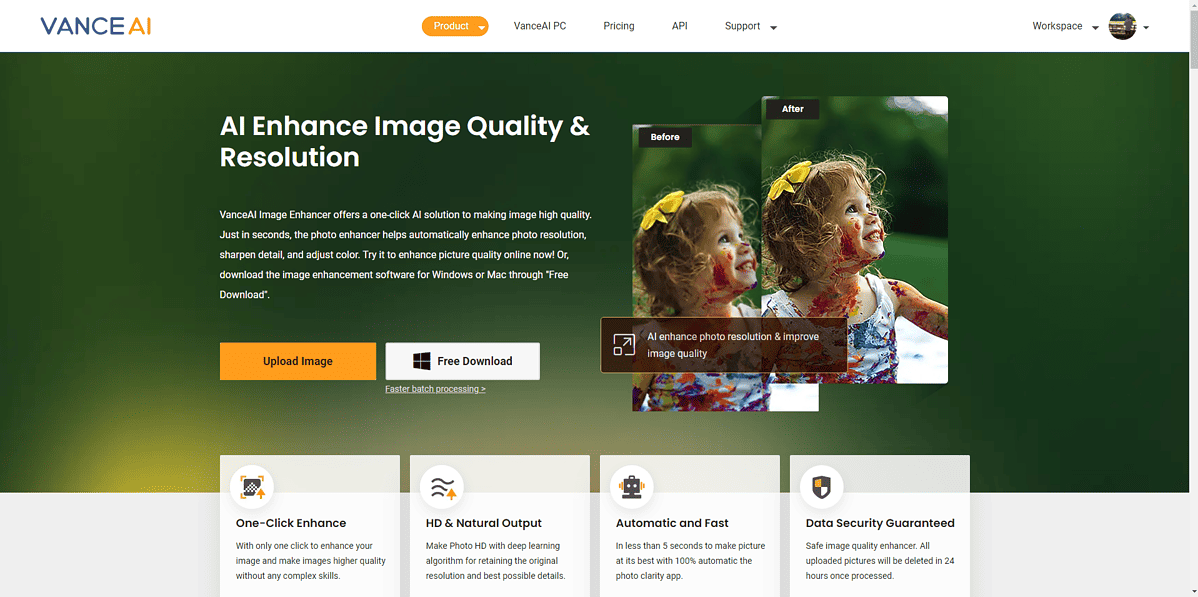 Vance AI offers photographers and image editors a versatile and potent AI-driven photo enhancer that can quickly improve image quality. This software is well-known for its proficiency in background removal, application of filters, and enhancing image quality with great precision.
For users searching for a professional-grade app, Vance AI is a reliable choice that can help them edit captivating portraits, optimize product images for e-commerce, or enhance the visual appeal of their photos.
The user-friendly interface makes it easy to access any options, making this app suitable for all users.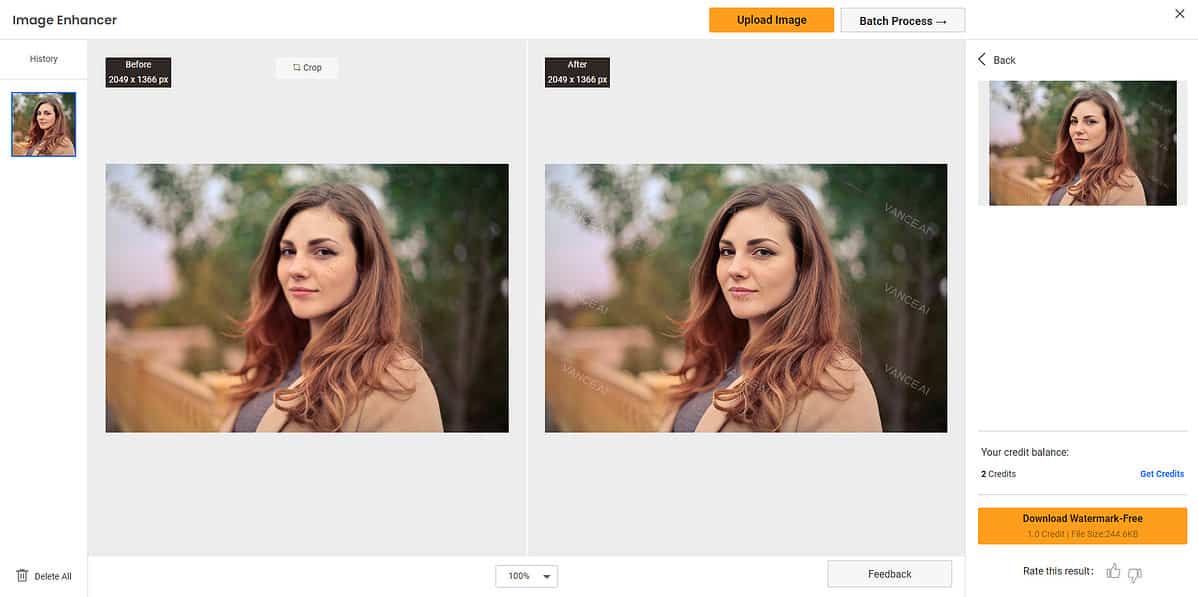 As you can see from the image above, Vance AI made the image we uploaded even clearer than before, proving that it can be helpful for people requiring this service.
Pros
Offers background removal, filtering, and image enhancement
You get three free credits to try out the app
Produces professional-quality results
Cons
Some advanced options are only available in the paid version
The picture can be downloaded without watermarks for one credit
5. Cutout.pro – Precision Image Enhancing Tool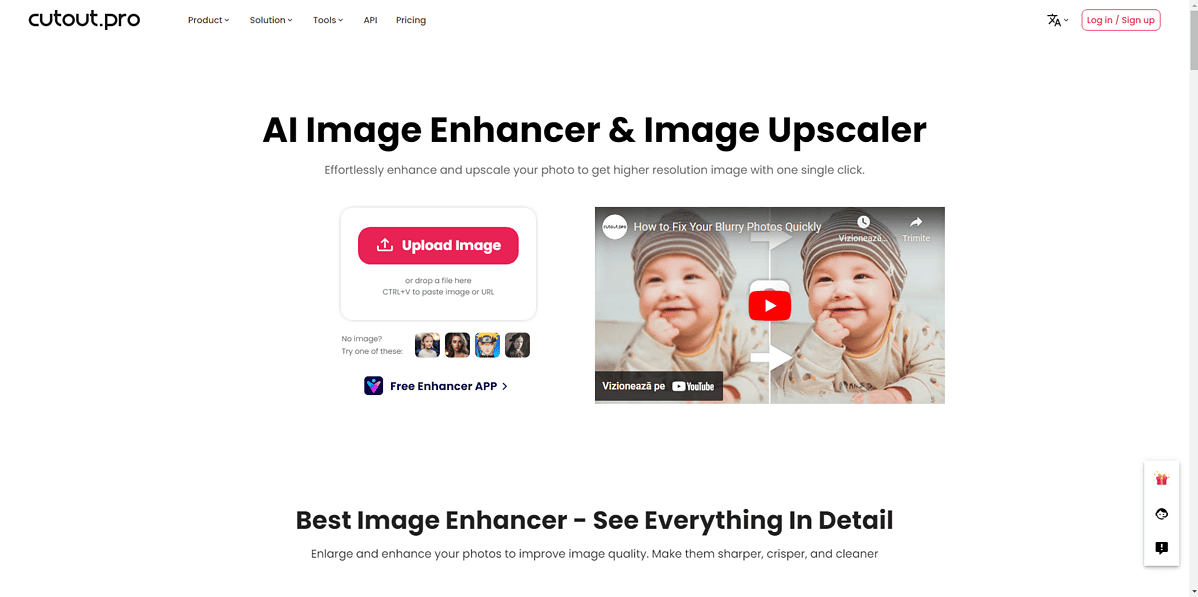 Cutout.pro is another fantastic tool for people looking to improve their photos using AI-powered tools. This great app enables you to use AI to increase image size by up to 200% without losing quality and can even denoise and sharpen your photos automatically.
This tool provides valuable features to graphics designers, e-commerce entrepreneurs, and content creators who are not specialized in photo editing and want an easy and efficient AI tool.
Even more, users can enhance their portraits and even improve photos taken in low light or even at night, allowing you to showcase your talent no matter the time of day. Another helpful element is the AI old photo repair and denoise service, which brings old photos back to life.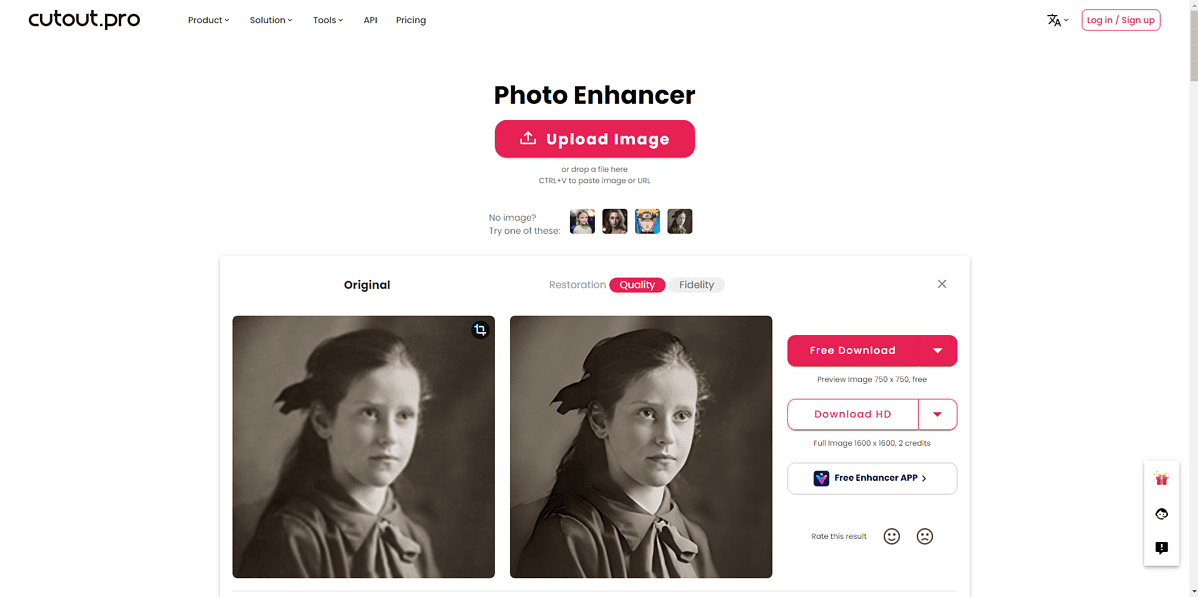 As you can see, Cutout.pro has performed amazingly during our tests, improving this faded old photo and making it clearer and less fuzzy.
Pros
Five free credits are offered to you for free when creating an account (1 credit/edit)
Includes a good background remover
Provides useful features from graphic designers
Cons
Doesn't include as many photo improvements as other options
6. PicsArt – Creative Photo Effects App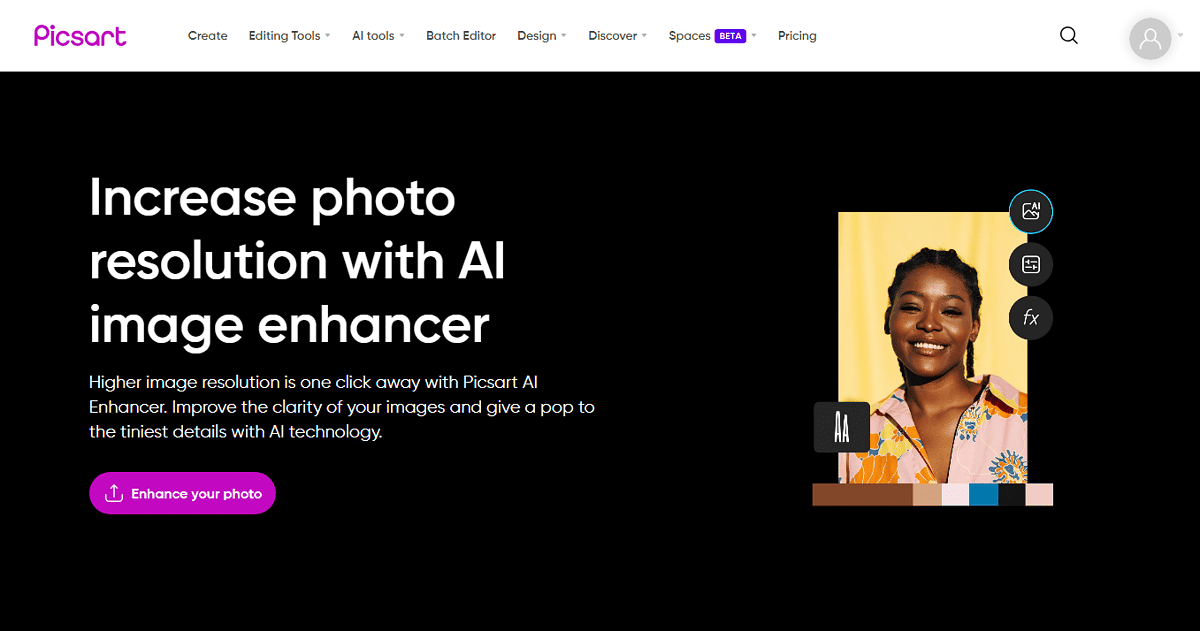 PicsArt is a compelling app that offers users a wide range of valuable features, including creation tools and the capability to enhance your photos with the help of AI-powered tools.
This app offers creators an excellent interface with many effects, overlays, and filters to quickly improve and restore your photos. Whether you want to create surreal landscapes or stylized portraits, PicsArt has a tool for you.
What makes PicsArt stand out from the crowd is its vibrant online community, which allows users to share their creations and even collaborate on projects, helping each other find inspiration.

Even though the picture that we used during our testing wasn't the most unclear, the software has nonetheless made the blurry background far clearer than it was before.
Pros
Great creative filters and effects for photo editing
Powerful online community
User-friendly interface
Cons
Some premium effects and assets require a subscription
7. Deep-Image.ai – Professional Photo Enhancement Software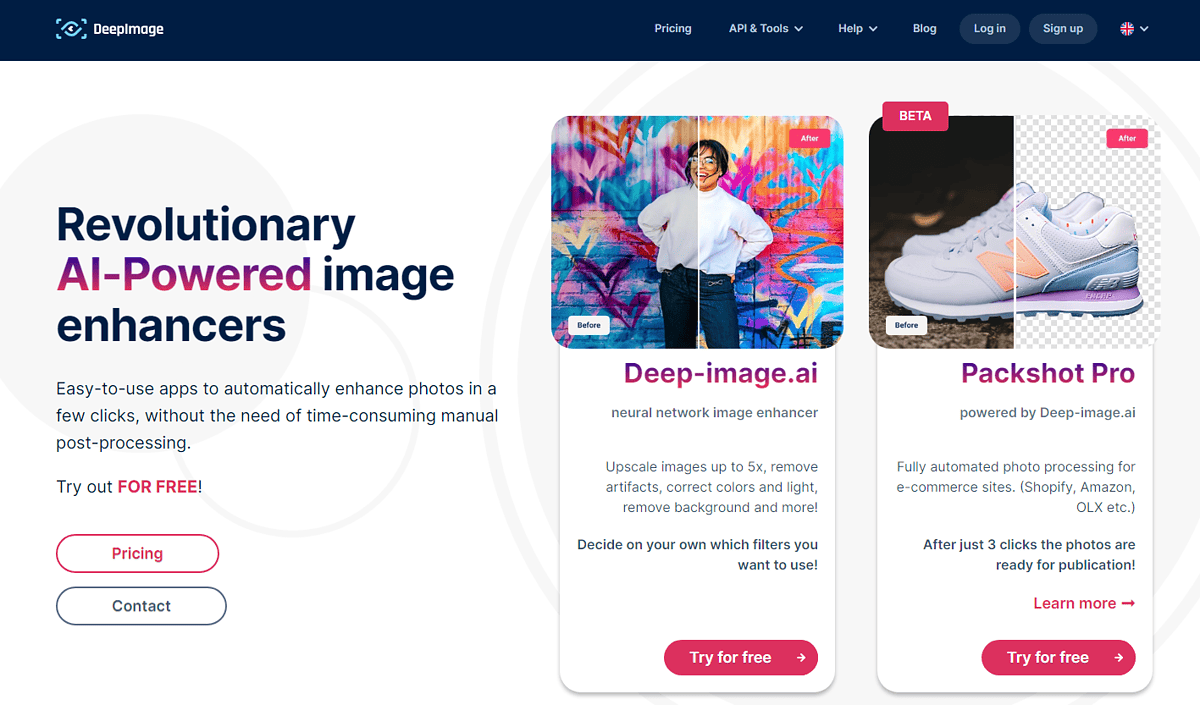 Deep-Image.ai is another powerful tool for creatives and photographers alike, offering access to handy tools to help improve the quality and even size of your pictures with just a few clicks.
This tool enables you to upscale images up to 4 times the original size, helps you add a virtual frame, enhances face details, reduces noise, and can even remove backgrounds for you.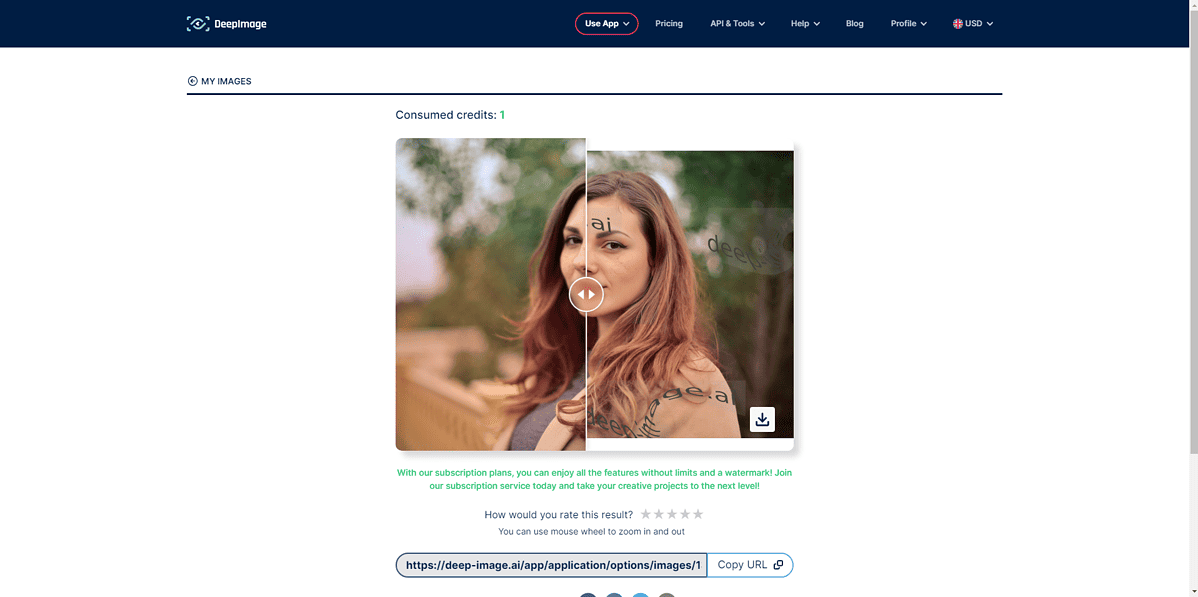 As you can see from the image above, the tool has some excellent capabilities, making the photo used above far clearer than previously. This makes it a valuable tool for people wanting to optimize their images.
Pros
You get five free credits to try out the app (1 credit/edit)
High-quality enhancements great for photographs
Accessible interface
Cons
The free options are limited for this software
Images might have a watermark after download
8. Media.io – Useful Multimedia Conversion & Enhancement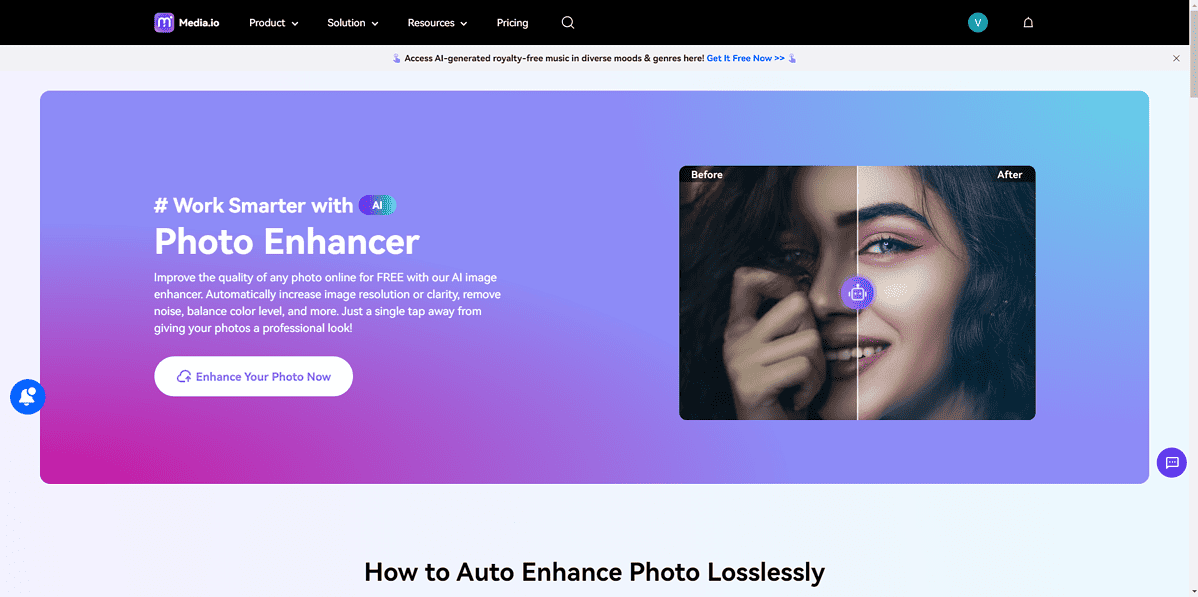 Media.io offers users a wide range of tools to help them modify video and photo files. Still, today, we will focus on this platform's capability to enhance photos and improve their quality. Even though noticeable, the enhancement features of this app make fewer improvements than other software covered in this list.
The app bolsters other valuable features like an image sharpener, portrait enhancer, color correction, restorer, and even an upscaler. Unfortunately, the app only offers you one credit to spend freely, making it even less accessible than other options from our guide.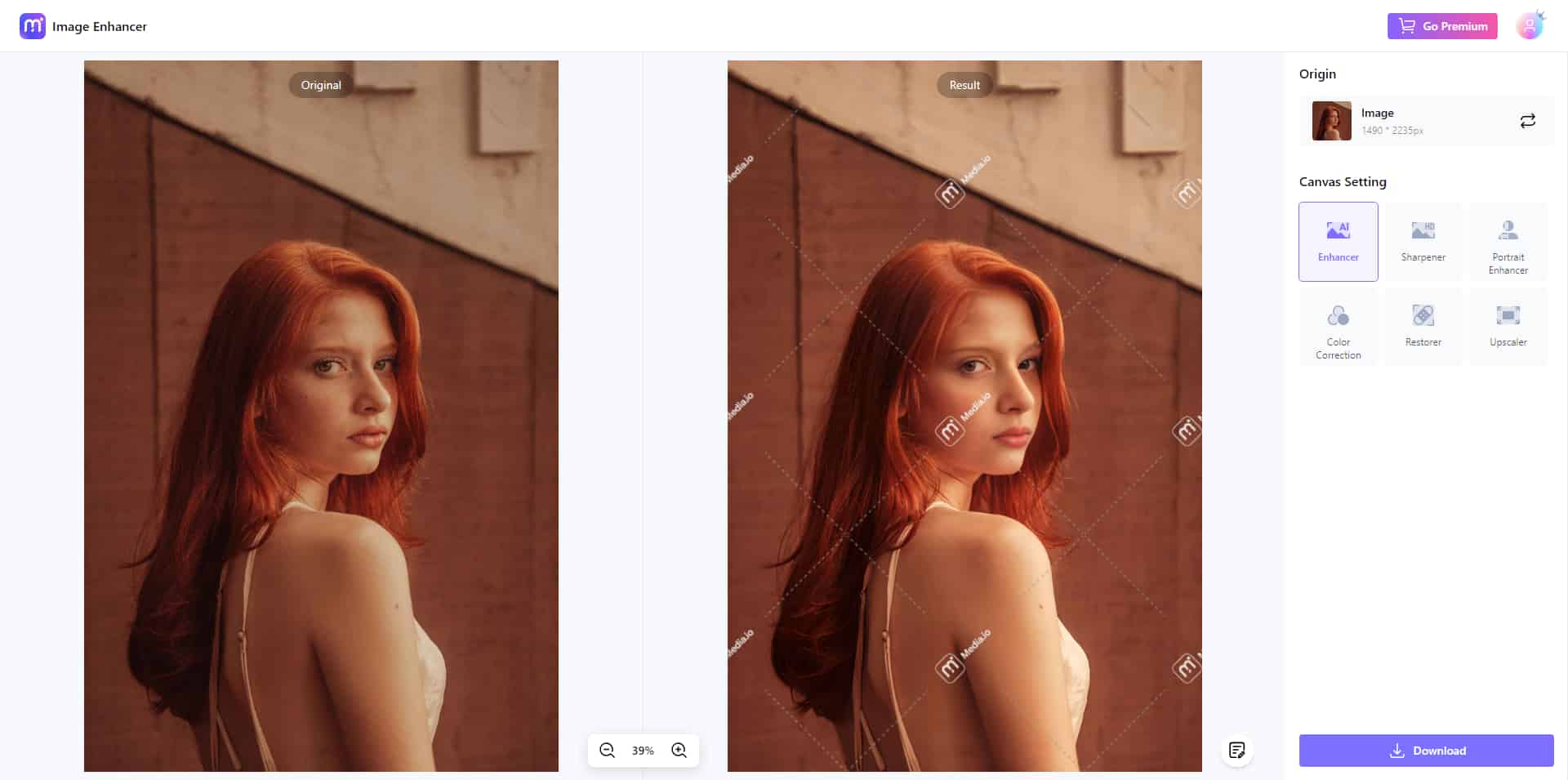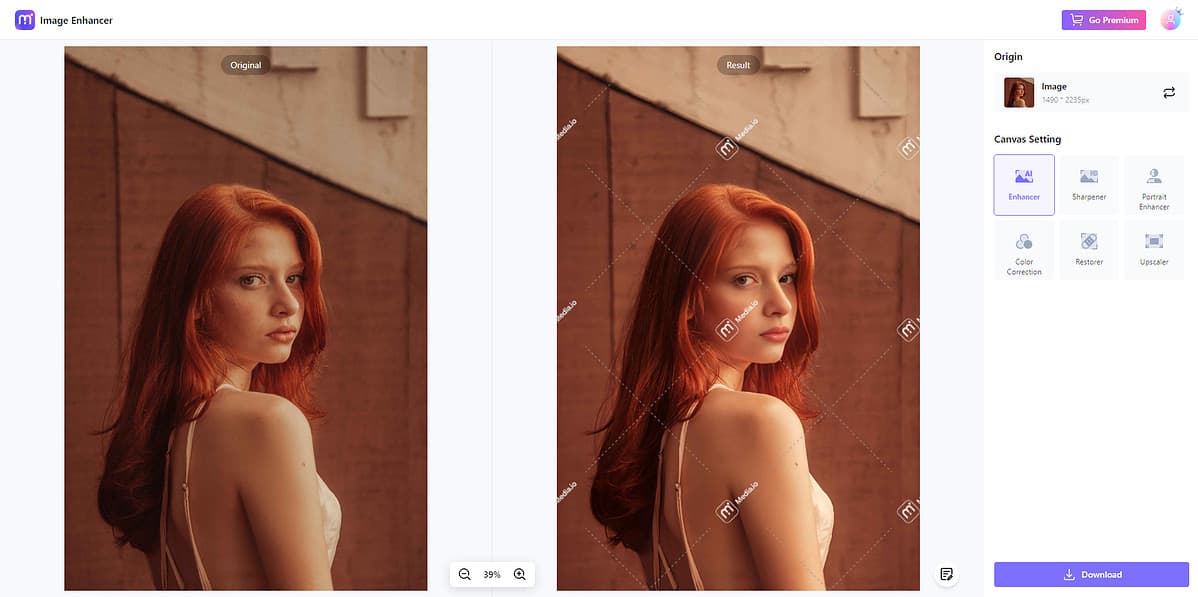 As you can see from the image above, the picture was improved, but it didn't impress us as much as other software options, hence why this only reached the 8th position.
Pros
Offers tools for both photos and videos
Easy to access features from online platform
It can be used on a variety of platforms
Cons
The enhancement level is sub-par compared to other tools
---
These AI photo enhancers are our top pics for this year, offering users a diverse range of features, no matter if you're a photographer, designer, content creator, or simply an enthusiast.
As AI-powered technology evolves, these tools allow you to unlock your creative potential and produce amazing visuals, so check them out!