Are you tired of spending hours creating images for your blog posts or social media accounts? Look no further than text-to-image AI generators! These powerful tools can instantly turn your written ideas into stunning, creative visuals.
In this article, we'll go over the eight best FREE text-to-image AI generators available and rank them based on their performance and features. There are many options to get text-to-image AI free, and plenty that charge a fee. So, let's dive in and explore the world of AI-generated images from the text!
8 Best Text-to-Image AI Generators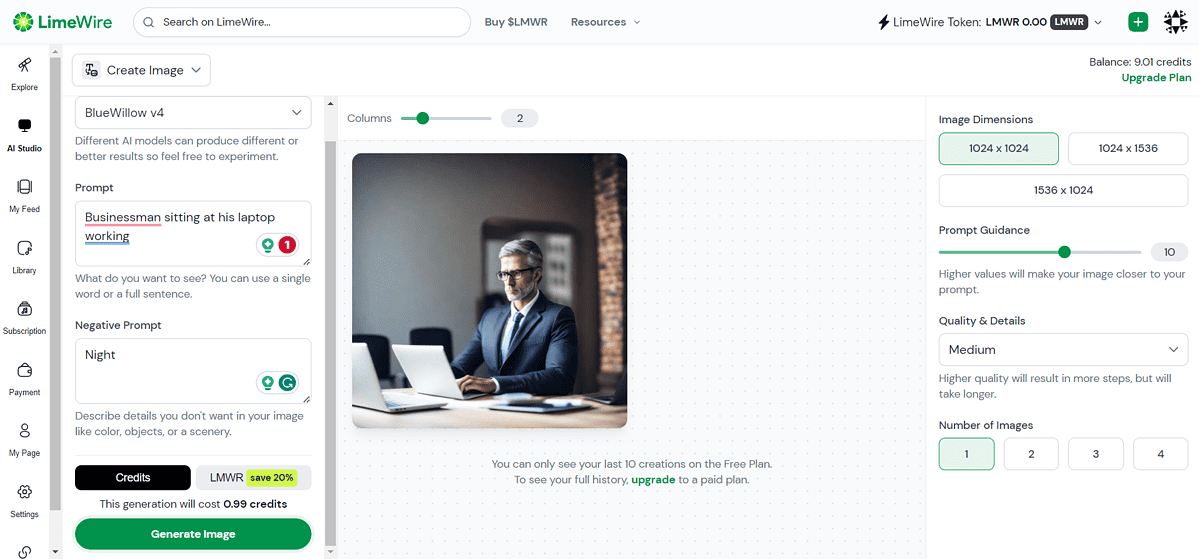 If you're looking for the quickest and most high-quality text-to-image generator out there, LimeWire is probably the best out there. You can log into the tool right away with your Google account and start doing your thing.
In case you need a quick outcome, you just enter the prompt and the negative prompt and hit the Generate Image button. In a few seconds, you will get an awesome-quality image that you may download or publish. You also have the option to edit it and include more elements, change the scene, etc.
There are also options to change the resolution, select the right quality and detail level, or select the number of images you want to generate. There are plenty of features on this free text-to-image generator, but the real surprise is that LimeWire also allows you to generate sound and video with its AI Studio. Ultimately, you will get access to a huge database of artwork created by other users and use them in your projects.
Key Features:
Create unique, creative NFTs that you can publish and sell
Very easy to use, without any knowledge of art and graphics design
Fast AI text-to-image generation
Also available to create music and video using AI prompts
Available on: Web
Price:
Free access and credits-based usage – 10 credits for free.
Paid plans:
Basic plan: $9.99/month – 1000 credits/month
Advanced Plan: $29.00/month – 3750 credits/month
Pro Plan: $49.00/month – 5000 credits/month
Pro Plus Plan: $99.00/month – 11,250 credits/month
You can also buy LimeWire Token (LMWR) using cryptocurrency.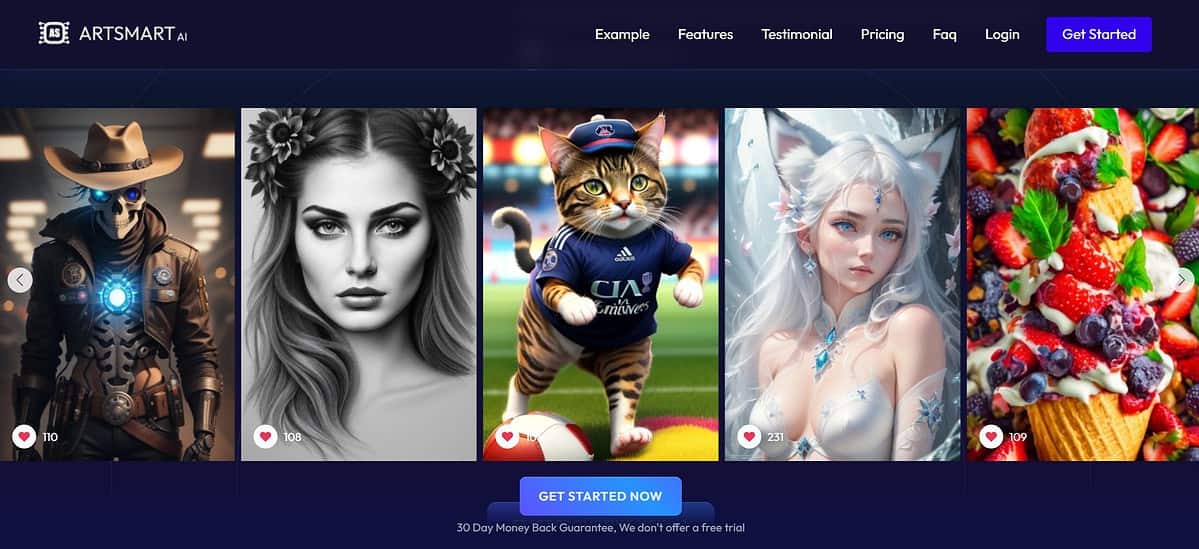 Looking for a state-of-the-art, lightning-fast, and high-quality text-to-image generator? Look no further than Artsmart AI, the leading solution for unleashing your creative potential.
For those seeking quick results, simply enter your Prompt and with a click of the Generate Image button, witness the magic unfold. In no time, a top-notch image, ready for download or publication, is at your fingertips. The versatility of Artsmart AI enables you to make edits, add elements, or completely transform the scene to match your vision.
But that's not all – Artsmart AI offers various customization options. Tailor the resolution, select the desired quality and level of detail, and choose the quantity of images you want to generate.
Unlock the immense potential of a vast database filled with artwork crafted by fellow users.
Key Features:
Playground: Discover the power of AI art and graphics. Generate unique images from prompts.
Upscale: Use AI to turn low-resolution images into high-quality, high-res graphics.
Inpainting: Use a brush to add, remove, or replace objects in an image.
Outpainting: Extend your creativity by continuing an image beyond its original borders.
Tunes: Create your AI Avatars: Generate high-quality, professional-looking AI images for your followers in just 5 minutes!
Remove Background: Remove the background of any image in just seconds.
Hyper Realistic: Build an artistic style characterized by highly realistic graphic representation.
ARTSMART API: Integrate enterprise-grade generative AI content directly into your applications and workflows.
PosePerfect: Manipulate a digital skeleton for absolute control over how the character should be posed with ease.
PoseCopycat: Copy the character pose from another image or upload your image to extract the pose.
Available on: Web
Price:
Basic Plan: 1,000 Images – $19 / month or  $192 / year
Standard Plan (Most Popular): 2,500 Images – $29 / month or $294 / year
Business Plan: Unlimited images – $39 / month or $390 / year
When you purchase annually, you get 2 months for free!
30-Day Money Back Guarantee on all paid plans
Picsart is a premium AI-powered photo and video editing tool that lets you create fancy images based on simple texts. With this tool, you can generate images based on your imagination, using some keywords that come into your mind, and believe us, it will wonder you as well.
It provides numerous editing tools including effects, adjust brightness, upscale, photo editor, and several others. Whether you are planning to write a short novel, or wanting to design a blog banner, this tool does that all and that too in a few clicks.
Key features:
Powerful Photo and Video Editing Tools
Thousands of free images and templates.
With a subscription of Canva Pro, you get access to thousands of templates, fonts, stickers, and tools.
Cross-platform access on both the mobile app and the web.
Millions of high-res stock images for personal and commercial use
Remove and change image backgrounds with a click
Bring movement to your photos with Picsart animation maker
No watermarks whatsoever with option to save your designs as JPG, PNG, or PDF
Available on: Web as well as Mobile
Price:
Monthly: There's a free plan with limited access, Picsart Gold available at $6.08/month, and a team plan at $ 7.29/month.
Yearly: Includes a free plan with limited access, Picsart Gold at $2.02/month, and a Team plan at $ 1.94/month. All plans in the section are billed annually.

Stable Diffusion is a text-to-image model that creates high-quality images from text descriptions. Stable Diffusion's AI model infuses your text descriptions with a series of random fluctuations to generate unique and eye-catching visuals. This process results in high-resolution, photo-realistic images that you can use for your blogs, social media accounts, or marketing materials.
What sets Stable Diffusion apart from other text-to-image AI generators is its versatility. It can generate images of natural scenes, animals, and even abstract concepts like emotions and personality traits. Stable Diffusion is powerful and efficient, making it an excellent choice for businesses or individuals who need high-quality images on a tight schedule. You can include both desired keywords for your prompt and negative keywords that you want to avoid, such as "extra fingers."
Key features:
Open-source project for free
Makes highly detailed and artistically attractive images
No limitation on what you type
Quick output speed
Available on: Web
Price: Free
Free Trial: Yes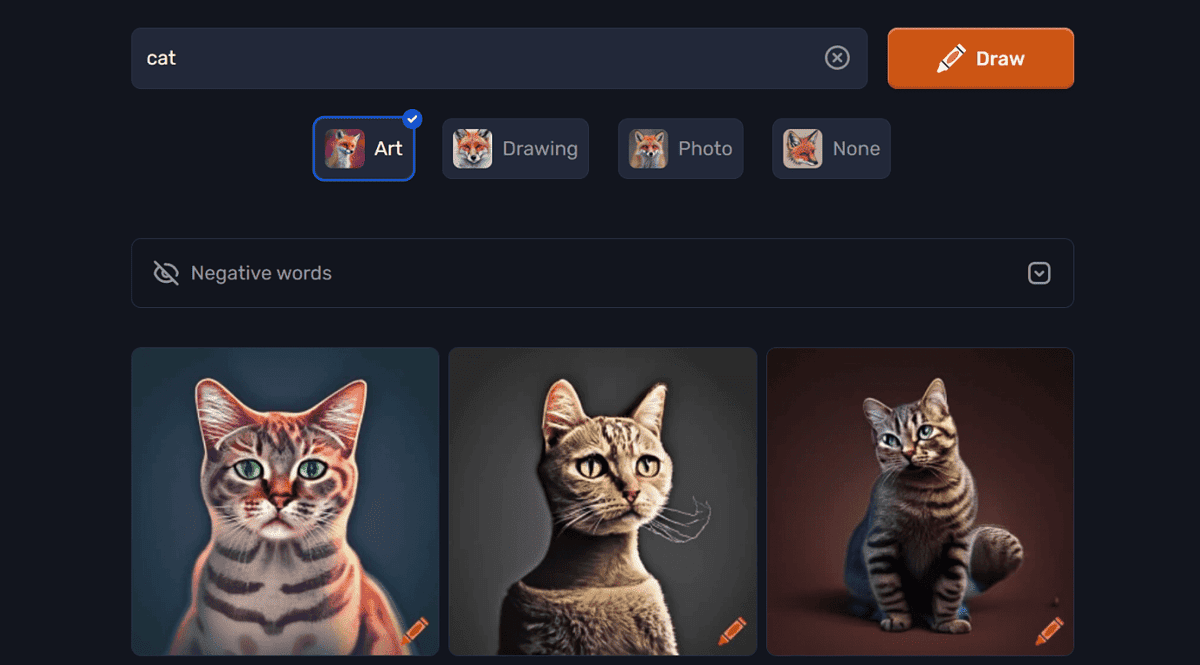 Craiyon, formerly known as Dall-E Mini, is a free text-to-image AI generator that allows users to experience a taste of the power behind the text to image AI generator DALLE-2, without signing up. It's not as powerful, but this AI image generator lets users quickly and easily transform their written descriptions into stunning visuals. Craiyon's AI engine uses deep learning to create realistic and beautiful images of various styles and objects.
Craiyon is an excellent tool for people who want to try out the power of AI image generators for free. Besides, the user interface is straightforward to navigate and doesn't require any technical knowledge or design skills. With Craiyon, you can generate as many images as you want and use them for your blog posts, social media accounts, or any other creative projects.
Key features:
A variety of adjustable picture styles, such as graphics, cartoons, and realistic.
Negative prompt to specify the output
Free version with unlimited access
User-friendly interface
Available on: Web
Price: Starts from $5 per month for unlimited image generations
Free Trial: Yes – Single image generation, with 1 minute render time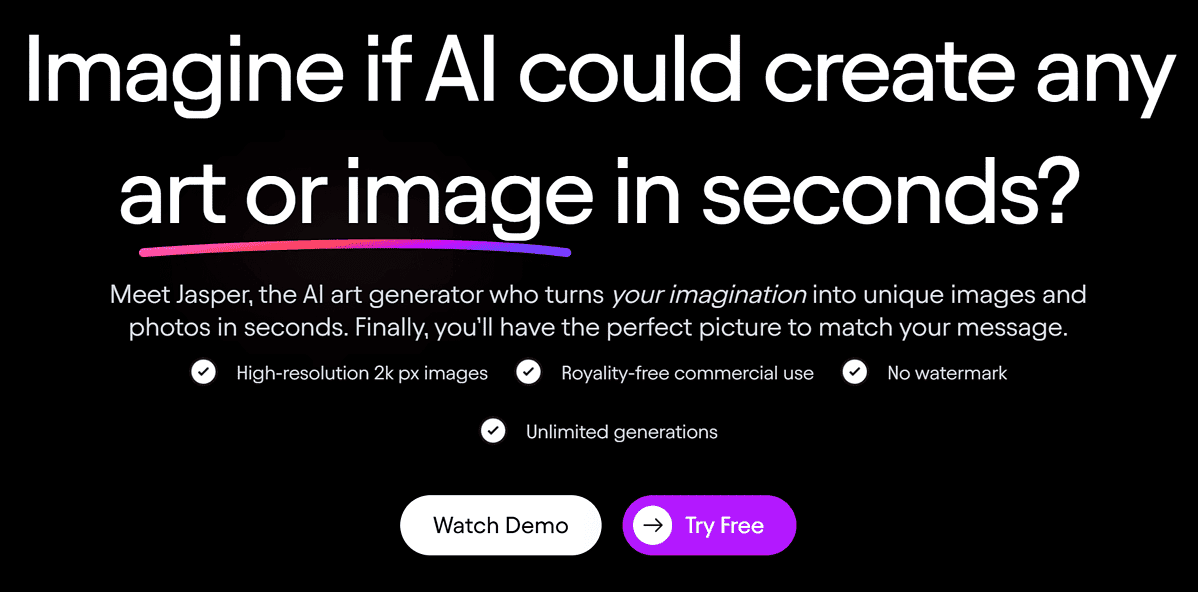 Jasper is an AI image generator from a text that uses an advanced AI model to create stunning images. With Jasper, you can quickly and easily transform your written descriptions into high-quality visuals that captivate your audience. Jasper's AI engine uses a vast database of images to generate unique, attention-grabbing visuals that are perfect for any creative project.
One of the unique features of Jasper is the speed of its text-to-image AI generator, taking just a couple of seconds to render four images at once. Jasper is primarily an AI writers' platform targeting content marketing experts, but the ability to knock out suitable blog images sets Jasper apart from other text-to-image AI generators, making it an excellent choice for businesses and individuals who want to create engaging images for social media accounts, websites, or marketing materials.
Considered solely as an AI image generator from text only, Jasper is the most expensive option in the list, but if you're in the market for a marketing-orientated AI writer at the same time, it's a bargain.
Key features:
Produce impressive images from verbal descriptions
Create photos in various formats, including PNG and JPEG,
Various resolutions options
AI writing and AI image generator in one tool
Available on: Web
Price: $39.99 per month for unlimited image generations and unlimited AI word generation
Free Trial: Yes – with Jasper Art and 10k word credits
Canva Pro is another professional text-to-image AI Generator tool that can create some high-quality images using the texts you provided to it. With this tool, one may easily create some designs with premium features like Brand Kit, Unlimited Content, Background Remover, and more.
This tool provides you access to high-quality stock footage in your videos, adds audio tracks or sound effects, and animates designs with just one click – all at no extra cost. You may use the thousands of high-quality templates available inside it to personalize your images, social posts, presentations, infographics, posters, videos, and more.
Canva Pro lets you design your logo, business cards, branded templates, and merchandise, then print your designs or publish them directly to your social channels. And, on top of this, you get access to Docs, Whiteboards, Presentations, Social, Video, Print, and Websites in all its plans.
All you require is to sign up for its subscription and get access to advanced options like Premium Template, Magic Resize, Brand Kit, 100+ million stock photos, videos, audio, and more.
Key features:
Remove Image and Video Backgrounds in a single click.
Resize designs infinitely with Magic Resize.
More AI-powered design tools with Magic Eraser, Magic Writer, Beat Sync, and more.
Unlimited access to premium templates and 100+ million stock photos, videos, audios, graphics, and more.
Available on: Web as well as Mobile
Price:
Free: Get a free trial for a month.
Yearly: $49.99 for one person.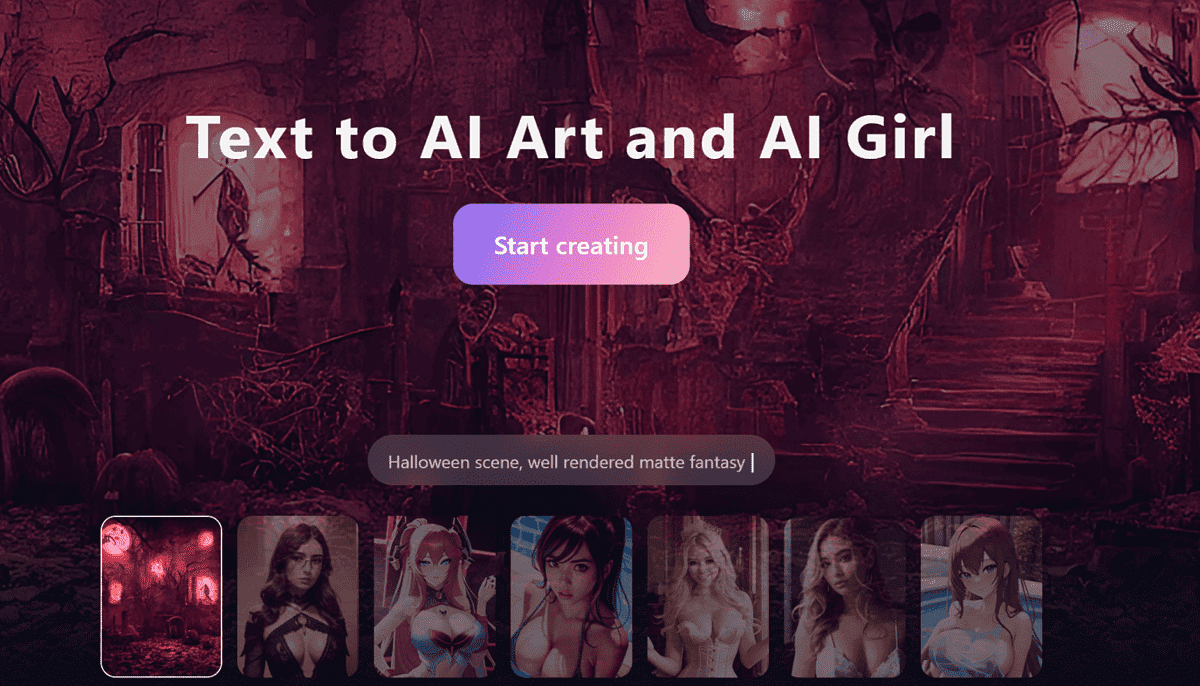 PicSo is a text-to-image AI generator that specializes in producing high-quality images with near-human accuracy. The AI model uses deep learning to create stunning visuals that will satisfy anyone hunting for an AI picture generator from the text.
What sets PicSo apart is its intuitive interface that makes generating images a breeze. It requires no technical knowledge, and the user can create images in minutes without spending a lot of time tweaking details. It also offers features like color palettes, gradients, and custom shapes that users can use to enhance their graphics.
PicSo focuses primarily on the creation of anime girls and realistic virtual girls, with an array of tag options to help you build your prompt – ideal for anyone inexperienced with trying to direct AI to a specific end result.
Key features:
Cartoons, illustrations, and realistic photographs styles
Generates images from photos and videos to anime
Supports more than 20 languages
Easy-to-use interface
Affordable price
Available on: Web/iOS/Android
Price: $49.99 annually / $9.99 per month
Free Trial: 1 free image per day
Which Is The Best Text-to-Image AI Generator?
The answer to this question is entirely dependent on your requirements and tastes. We made a comparison to help you choose the best text-to-image AI generator:
| | | | | |
| --- | --- | --- | --- | --- |
| Tools | Best for | Free Version | Price | Rating |
| LimeWire | Image, sound, and video generation | Yes | Free | 4.9/5.0 |
| Artsmart AI | Text to image generator | No | $19/month | 4.9/5.0 |
| Picsart | Editing and image generator | Yes | $6.08/month | 4.7/5.0 |
| Stable Diffusion | Open-source | Yes | Free | 4.6/5.0 |
| Craiyon | AI drawing | ? | $5/month | 4.3/5.0 |
| Jasper | Image generator | Free trial | $39.99/month | |
| Canva | Editor and text to image | Yes | $49/month | 4.4/5.0 |
| PicSo | AI girl generator | Free trial | $9.99/month | 4.6/5.0 |
FAQs about Text-to-Image AI:
What is the AI that turns text into images?
An AI that turns text into images is a tool that generates images from your words using AI deep-learning technique. All the tools mentioned above can help you fulfill your dream easily.
Is Dall-E free to use?
Dall-E is free to use but with some limitations. You can generate up to 15 images per month for free, but if you want to continue using it, you will need to purchase credits for $15, which will give you 115 credits. Each credit allows you to generate one image.
How much does DALL-E cost?
The cost will depend on how often you want to use it. If you create 15 or fewer images per month, it's free. If you want more, you'll need to buy a pack of credits at $15 for another 115 images.
How does a text-to-image AI generator work?
Text-to-picture AI generators analyze text input and generate related visual images using powerful deep-learning techniques. These algorithms can generate realistic and detailed images from even the most complex language inputs by learning from enormous photos and textual descriptions databases.
Is there a free AI image generator from the text?
Surely, there are a few options like Craiyon and others like Soulgen, which offer a free trial as well.
However, paid AI text-to-image generators have more extensive functionality and powerful production that can assist you in taking your visual content to the next level.
Make Images with Your Creative Text Prompt
Lastly, artificially intelligent text-to-image generators are gaining popularity for creating high-quality images from text. Various AI image generators from text are available, ranging from free alternatives like Stable Diffusion to premium options like Soulgen and PicSo.
We should expect to see increasingly more powerful and complex text-to-image AI generators in the future as AI technology continues to improve and advance.