The emergence of AI body generators has sparked excitement and curiosity among most people, especially those who need these tools for art, games, and other creative types.
Choosing the right AI body generator for your needs is extremely important, as their capabilities vary widely. The AI market is constantly evolving, and now there are AI art generators specifically designed for artists and even AI girl generators.
Among other options, we've also discovered some fantastic AI pixel art generators, which have amazed us with their capabilities. If you're feeling playful and curious, you can even predict your baby's appearance using AI. As you can see, the variety is incredible, and people always find more and more ways to expand AI's capabilities, so this path should be interesting.
Join us on this journey to discover the best innovative tools covering everything you need to create virtual AI bodies to be used in various fields.
1. Generated.Photos – Best Overall AI Body Generator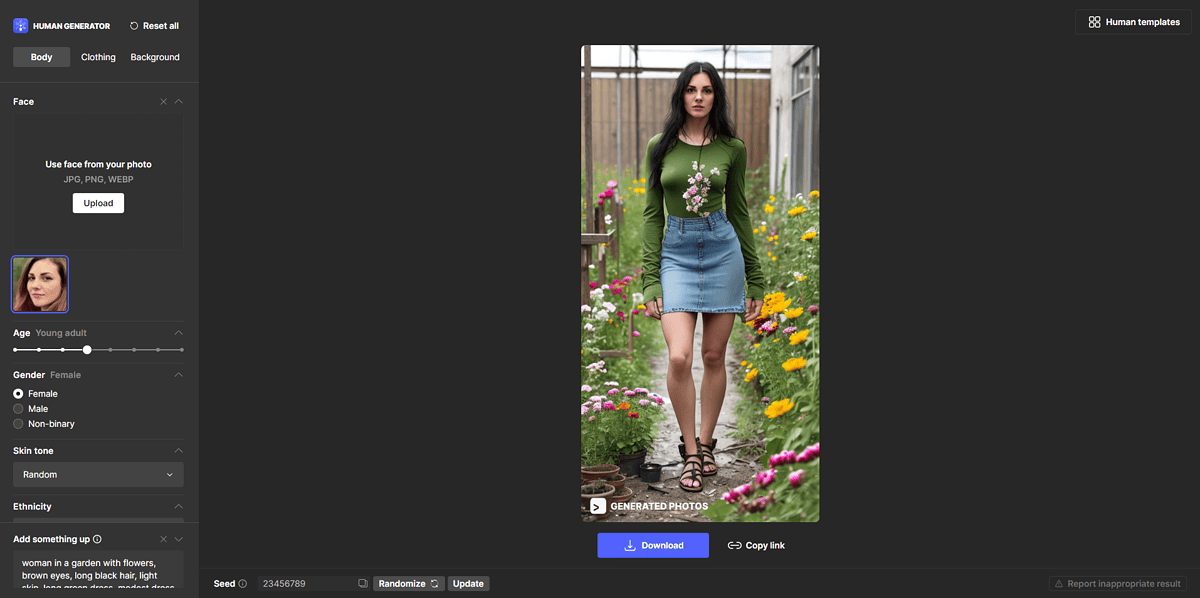 Generated.Photos is a fantastic AI body generator software that offers users excellent results based on their needs and tweaks of the software's features. Its extensive database ensures that you will always get high-quality results, and it also offers a vast array of customization options, making it our top choice. You can set these options from the menu if you need a diverse ethnicity, age group, or body type created, making it intuitive and helpful.
During our testing, the interface is the element that impressed us most, offering clear and easily accessible options that make this a valuable tool for users of varied experience in the field.
You can even upload a photo of your own and customize it by using the options, and you can choose skin tone, clothing, and even the image's background. The changes are amazingly well integrated with the picture, making the result look real.
Whether you're designing marketing materials, characters for video games, or simply being creative, Generated.Photos is a reliable tool to have at your disposal.
Pros
Creates highly realistic human figures
It includes various customization options, like ethnicity, body type, age, etc.
Amazing user-friendly interface
It saves considerable time when compared to classic AI image creation
Cons
It is not suitable for highly imaginative or fantastical character designs
2. OpenArt.ai – Powerful AI-app Suite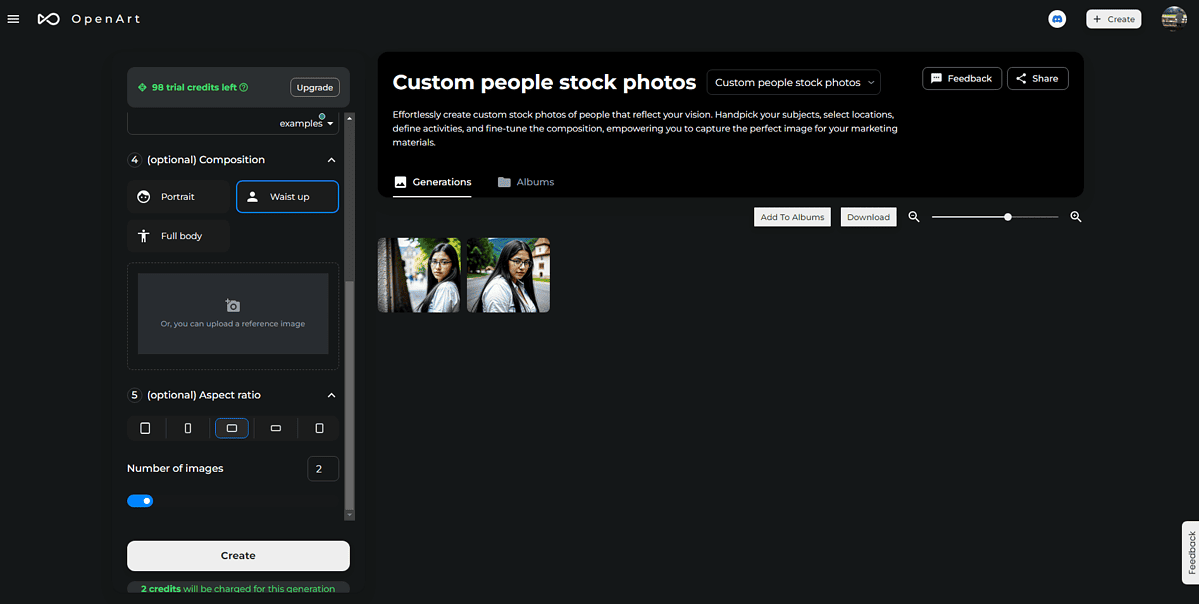 OpenArt.ai is an incredible suite of AI-powered apps that cover a variety of user needs, including sketch-to-image, creative variations, a stock image transformer, a magic brush, and even an AI QR code generator.
Today, we will focus on one specific feature, Custom People Stock Photos, which fits the topic of our guide and provides users with a great way of creating characters.
This app is handy and easy to use, as it allows you to specify the type of character you want to create, select the activity, describe the location, and then choose from portrait, waist-up, or full-body modes. You can also upload a reference image the AI will use to influence the final result.
What amazed us about this software is how real the results seem, and the fact that we can generate more than one image at a time can be advantageous when creating batches of characters for your game or simply exploring what the software can do.
Pros
Fantastic set of AI-powered tools for creatives and beginners
Includes other valuable tools like sketch-to-image, creative variations creator, stock image transformer, etc.
Easy-to-use interface suitable for all skill levels
Amazingly-realistic results
Cons
Might not be the best choice for people trying to create fantastical entities
3. PictoDream – Train Your Own AI & Create Amazing Photos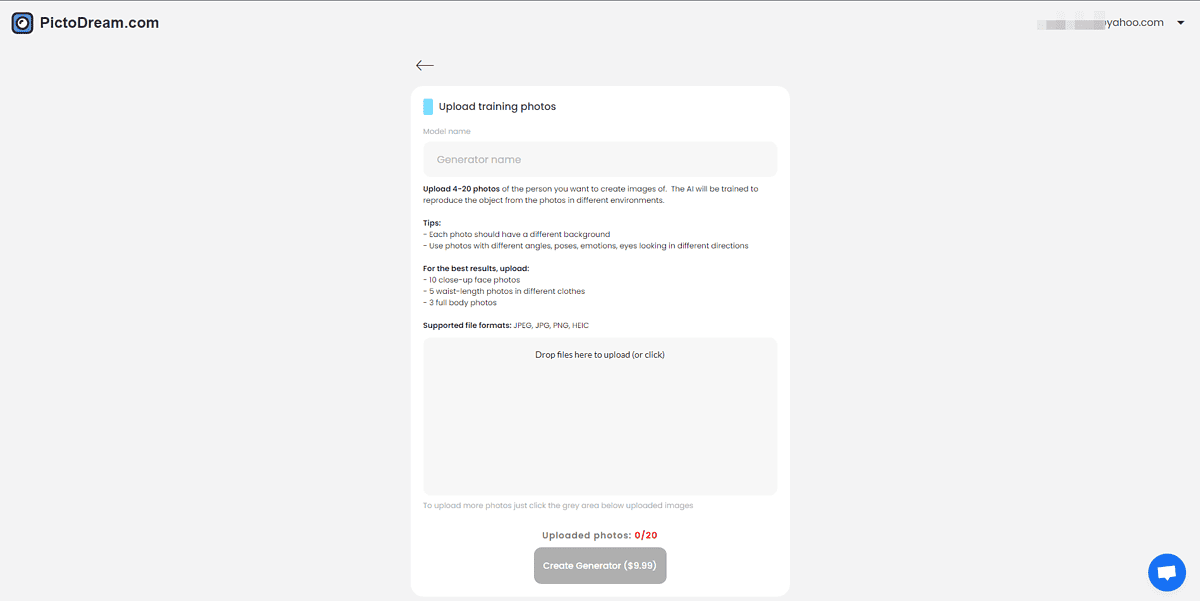 PictoDream is an AI body generation software specializing in bringing your imaginative fantasies to life. This software is a designer's and an artist's dream come true for creating imaginary and unique human (and not-so-human) figures. PictoDream encourages creativity and makes it possible to create captivating and original images, ranging from mythological creatures to mythical entities.
To do so, you will need to upload between 4 and 20 photos to PictoDream, and then the AI behind it will be trained on them to recreate the person, object, or entity in different environments, which are your choosing entirely.
Its capacity to produce incredibly innovative and fantastical character designs is one of its key benefits. It is the perfect option for projects that call for creativity beyond reality. It can inspire you for any assignment or a base on which an entire gaming character could be developed and evolved.
For the best results, the website recommends using at least ten close-up face photos of the subject, five waist-length photos with different clothes, and three full-body photos. This will ensure the AI model you're training has enough data to create any image you want.
Pros
Amazingly qualitative results with a great range of features
Allows you to train an AI model to create any image you want
There are endless possibilities once the AI model has been trained
Cons
It is only a paid service, even though it is accessible
After uploading the pictures, the program requires a one-hour waiting time
4. MakePose – Create Specific Poses & Use AI to Bring Them to Life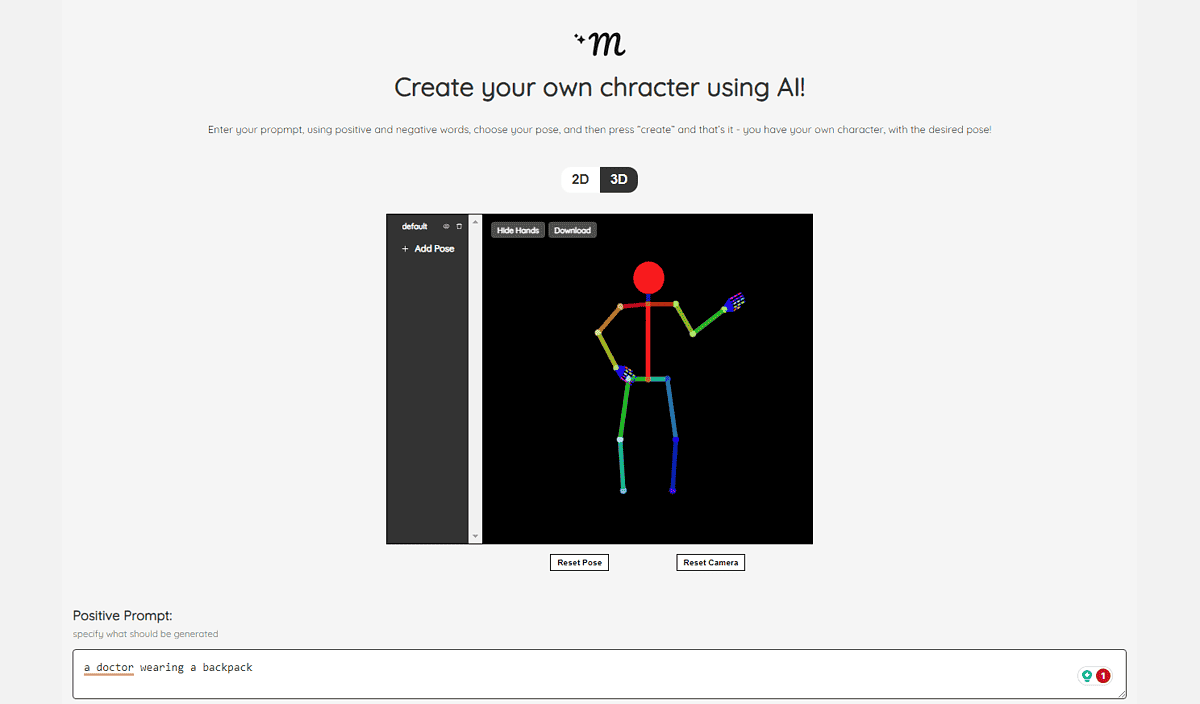 MakePose is your go-to resource for expressive and dynamic poses. This AI body generator software specializes in quickly generating lifelike body postures and movements.
MakePose provides a wealth of dynamic poses for animators, game designers, and anyone who needs images with lots of activity. It saves time and effort by simplifying the process of producing action scenes and character animations.
MakePose allows you to add motion and energy to your creations, bringing your settings and characters to life. Anyone in the animation or game design industries should have access to this indispensable tool for its user-friendly interface and extensive collection of dynamic postures.
For those looking to give their visual content more vitality and realism, MakePose is the solution. It is a crucial tool for AI body generators because of how easily it can produce dynamic stances, so try it out!
Pros
Offers users a fantastic array of dynamic and expressive poses for character-building and other activities
Easy to use interface gives all users a chance to create
Considerably simplifies the process of creating action sequences and animating characters
Cons
Most suitable for projects that need dynamic poses
It might not be the best option for users who require artistic or stylized poses
5. AIBody.io – Perfect for Research, Learning, & Teaching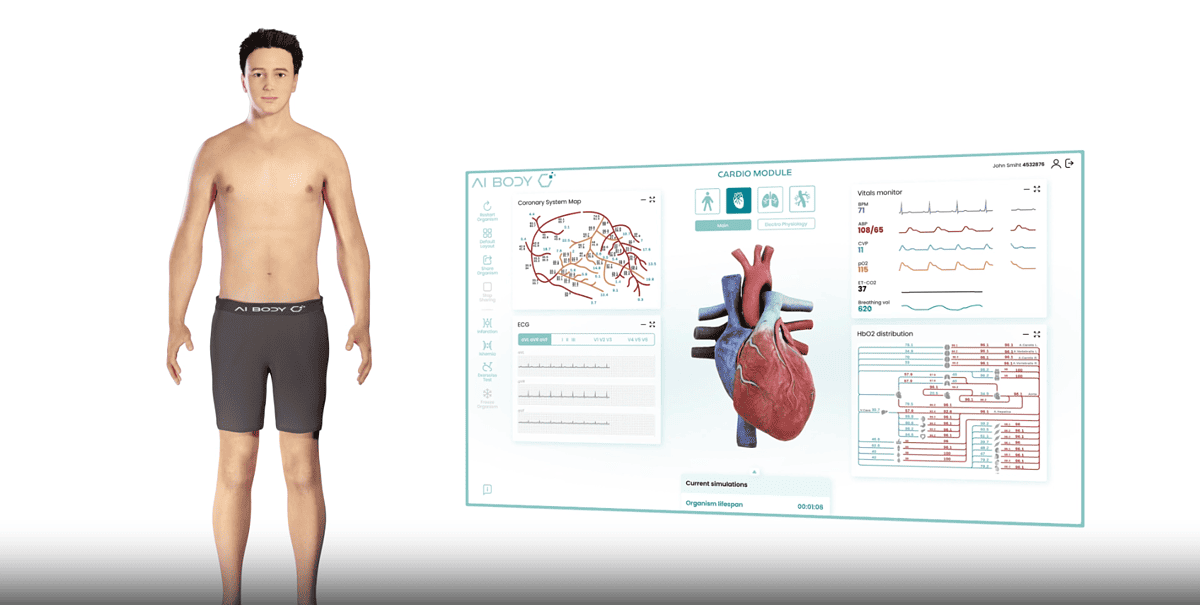 AIBody.io excels when precision and anatomical accuracy are essential. This specialized AI body generator program was created for complex and precise body design projects.
Because of its capacity to produce accurate anatomical images, AiBody.io is an invaluable tool for medical illustrators, educators, and scientists. This software guarantees that every detail is precise while creating instructional materials, medical textbooks, or scientific presentations.
AiBody.io demonstrates how AI can improve the precision and caliber of specialized visual material. Its accuracy and attention to detail make it a priceless instrument for specialists whose job requires anatomical correctness.
Pros
Excellent levels of anatomically accurate body structure
Ideal for medical illustrators, educators, and scientific professionals
Ensures that every part of every generated image is scientifically accurate
Cons
As it is designed for a niche audience, it limits the application to broader creative projects
---
The appearance of AI body generators has considerably impacted the content creation landscape, offering users a more straightforward method to create efficiently. The diversity and innovation from these tools will most likely redefine the content creation process at every level, whether it is static images, dynamic characters, or educational materials.
We are excited to see how this field will evolve, and we hope you want to join us in our exploration. If you're going to, share your choice in the comment section and let us know why you made it and how it affected your tasks.