AI art is taking the world by storm and although some are concerned about how it might impact artists and designers, there's no denying that it's producing some killer tattoos.
If you are a tattoo artist or a tattoo lover looking for your next piece, AI is a great way to spark your creativity and help with the design process, no matter if you are looking for adult AI art generation or AI generated art for animes.
AI art generators come in the form of browser tools, mobile apps, or desktop software and only require simple inputs like a text description or an existing image file.
Don't know where to start? Here are the 7 picks to help you find the best AI art generator for tattoos.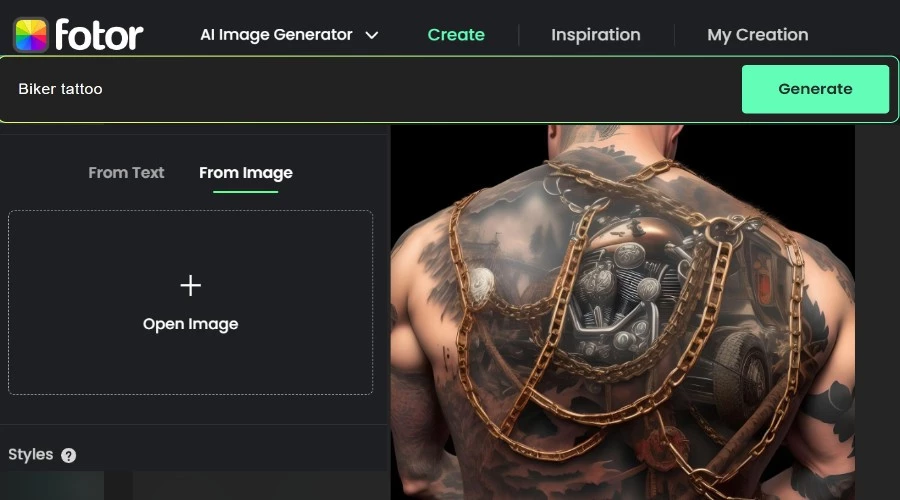 Fotor should be high on your list if you want to create unique designs using artificial intelligence. While the results are already impressive when you use text to describe what you want, things look even more spectacular when you use it as an AI tattoo generator from image.
This requires uploading an existing design or image and letting it work its magic. You can choose from different styles and it will churn out a number of fresh concepts based on the original image.
By approaching it this way, you can create a design that is similar but not an exact copy of an existing tattoo. Moreover, it can also help you formulate ideas even if you don't use the tattoos it generates.
Because Fotor is not used just for tattoos, it can take a little while to master. However, once you get the hang of it, the tool is hard to put down.
Fotor works on credits to generate images, starting from $9.99/mo or $2.99/mo (billed yearly) for 200 credits.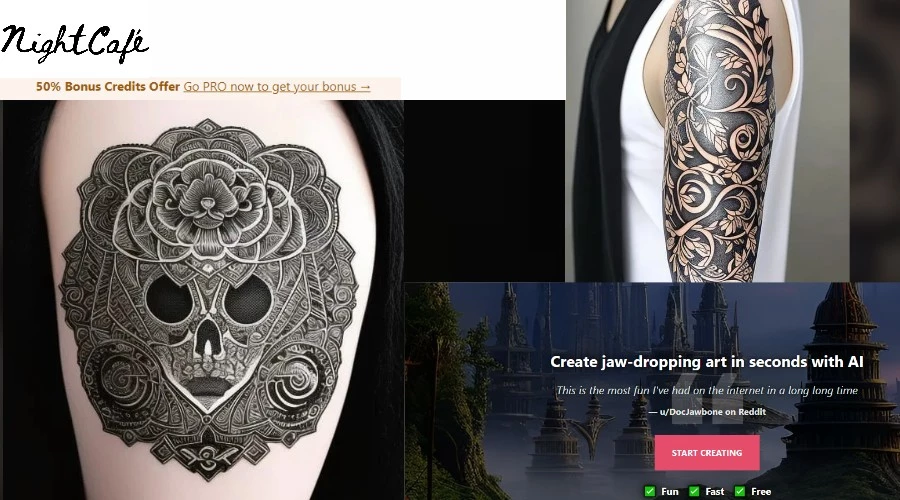 A quick search of NightCafe creations shows that it has already been used extensively as an AI tattoo generator. It works on desktop and via mobile app, and you can pick from all the leading image AI algorithms.
An algorithm is a set of rules used to analyze, manipulate, and generate images, and each has its own style and way of doing things. DALL-E 2, CLIP-Guided Diffusion, Stable Diffusion, Neural Style Transfer, and VQGAN+CLIP can all be used on NightCafe.
For example, Neural Style Transfer requires a style image and a content image. It then reproduces the 'content' from the content image in the 'style' of the style image.
This can be useful for tattoo designs, where you have a unique tattoo style and wish to quickly test what new subjects might look like in that style.
Of course, this is just one example of what can be accomplished with NightCafe. It also accepts text-only prompts if you are completely stuck for new ideas.
The platform is very easy to use and does a walkthrough wizard when you first sign up. If you are looking for a free AI tattoo generator, NightCafe gives 5 free credits a day.
 Plans start from $6/month or $4.79/month (billed quarterly) for 100 credits.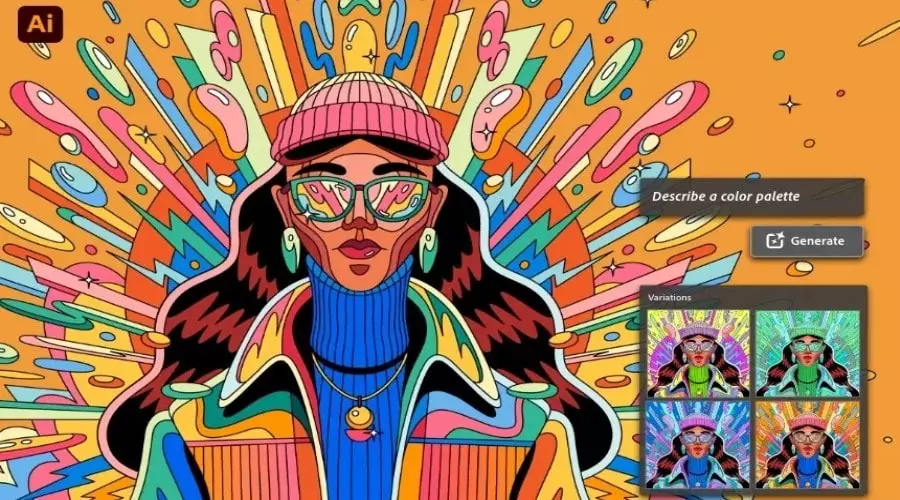 Adobe is a more familiar name for designers, but it too has jumped on the AI bandwagon with its Firefly software.
The suite uses multiple AI models that can be applied to tattoo creations and other purposes like advertising or illustrations. For example, the first model can create images from text, special effects for text itself, and the recoloring of vectors.
After one image has been generated, users can type further commands to refine the results.
Firefly's beginner-friendly interface is separated into the image display in the middle, a field to type prompts at the bottom, and a toolbar on the right where you can refine the style.
This includes a parent-level content type, which for tattoos should either be graphic or art. You might ignore options for lighting or composition, but going through style elements like 'vibrant color' or 'black and white' lets you see your design from different perspectives.
The generative recolor feature is an excellent companion tool for any tattoo artist that wants to quickly try different color variations of their artwork. You can use straightforward prompts like 'red and orange' or be more descriptive. E.g., 'dark and gloomy'.
Click the preset prompts and you don't have to type anything at all.
Overall, if you already use Adobe products when designing or digitizing your tattoo work, adding Firefly to the mix is a no-brainer.
Currently available by joining the free Beta of Adobe Express.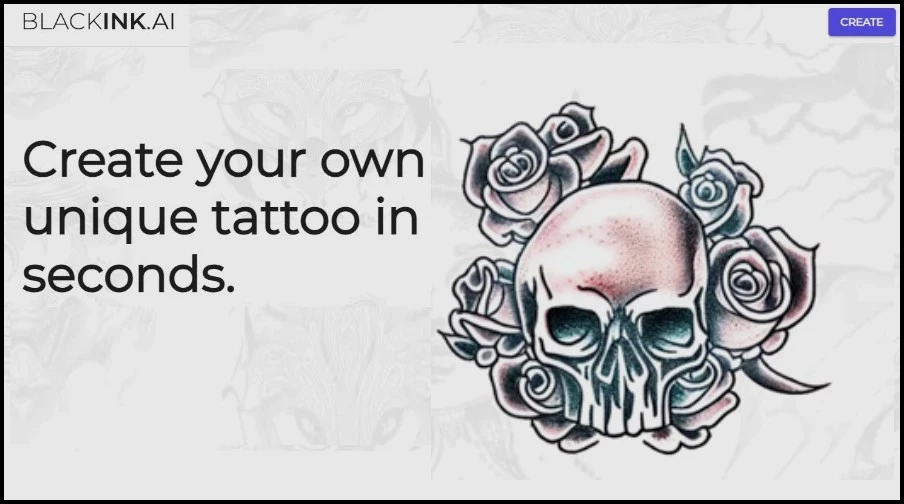 You can use the BlackInk AI tattoo generator online via web browser. It is one of several emerging tools solely for creating unique tattoos via AI. It is aimed at those wanting a tattoo rather than tattoo artists because it doesn't allow you to upload your own artwork.
It simply replaces the old process of browsing the web, Insta, or Pinterest to find something you like, while giving you some input yourself.
All you have to do is describe what you want and choose a tattoo style, then the design is generated within 30 seconds. Choices include things like dot work, Japanese, tribal, and other styles that tattoo lovers are familiar with.
Once created, the image enters the public gallery but you can keep designs private with a Pro account.
Although the AI models themselves are not as advanced as other platforms, you'll find it works much better for tattoos because they need to fit within a simpler design framework to begin with.
Get 5 credits/20 images for free, $5/100 credits, or $15/mo for unlimited designs.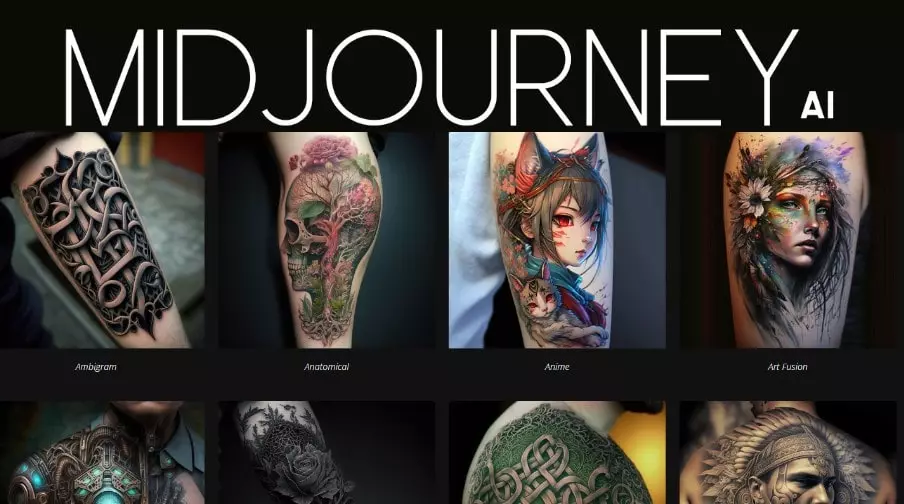 As one of the first popular AI art generators, Midjourney has had a long time to train its algorithms. Today, the results are very impressive and tattoos are just one small aspect of what it can accomplish.
Creating a finished tattoo-ready design takes some understanding of text prompts, but once you get the hang of it, the results are some of the best out there.
The most useful approach is to use a descriptor mixed with a common style. For example, "full moon wolf. Blackwork tattoo style."
It recognizes some of the more famous tattoo artists too, so you can end your prompt with "by Sailor Jerry" for the famous style of the artist by the same name.
Midjourney also accepts existing images or designs, which you can combine with a prompt to fine-tune it into a different style, color, etc.
Plans start from $10/month, or $8/month (billed annually).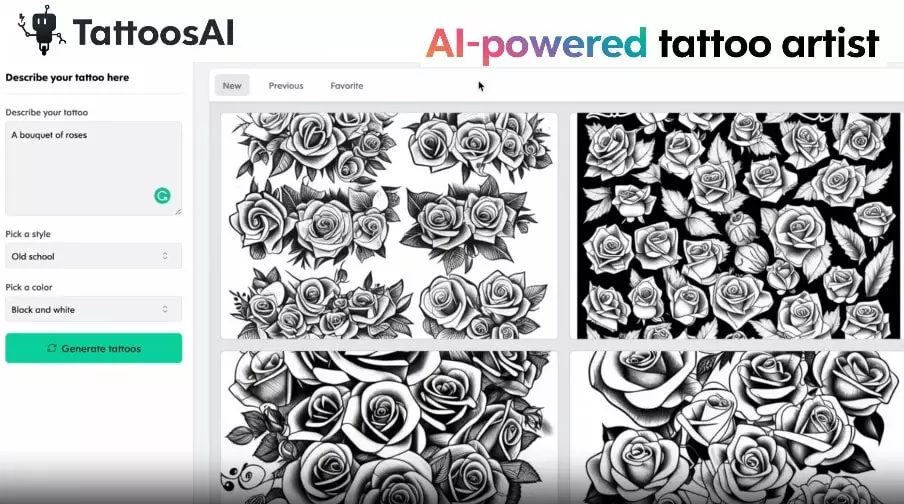 TattoosAI is all about generating ideas. It lets you browse and search its constantly updated tattoo galleries and filter by style, even before signing up.
These are the same styles you can select when generating your own designs and include common ones like surreal, watercolor, and lettering. A 3D option is also available so you can see what the tattoo looks like on the body.
You do not require any artistic skill, only the ability to describe your idea in key terms.
By only accepting text prompts, TattoosAI keeps the process simple. This works well at the ideas stage. However, if you want to feed it your own artwork, you should try one of the more popular AI art generators.
On the other hand, it's perfect if you're looking to get a tattoo and have an idea in your head but you don't like any existing designs.
$7.99 for 7-day unlimited access, or $24.99 for 30 days.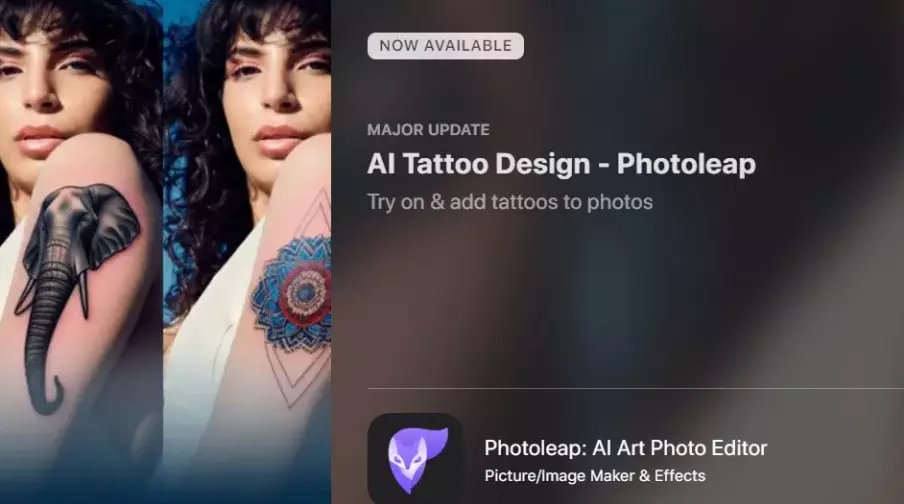 Photoleap is a powerful AI art app for iOS and Android from the same developers as Facetune. One of its recent updates includes 'AI Tattoo Design', which lets you try on tattoos by applying them to your photos.
You don't need any editing skills as the AI takes the tattoo design and applies it with perfect angles and proportions to your target area. It has never been easier to see what a tattoo will look like before you commit.
The main AI art generator has two modes of generating images. The first is the familiar text-to-image, where you describe what you want to see and it generates it in seconds. The other feature, Sketch-to-image, is a bit more useful for tattoos.
This lets you use an in-app sketch or existing image and the AI 'fills in the gaps'. You can even combine it with a text prompt to create something more complex.
7-day free trial, or $39.99/year unlimited access.
Conclusion
Now you've seen our picks for the best AI art generator for tattoos, there's no better time to start creating your own exciting designs.
Whether you are a tattoo artist that wants to get the most out of your existing works or a customer looking for new ink that's tired of the old catalogs, AI can help you breathe new life into your ideas.
What's more, it's still early days. The results will only improve over time.