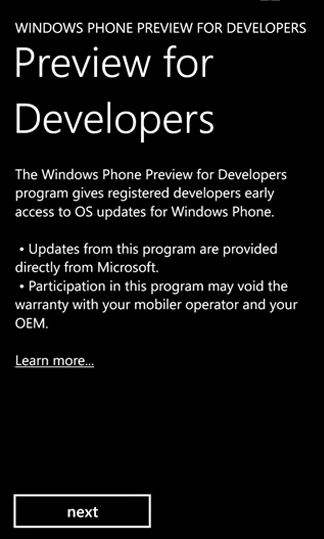 If you missed the news, Microsoft today detailed the upcoming Windows Phone 8 Update 3 (8.0.10512) which we usually referred as GDR3 update. The update includes no.of improvements like support for higher resolution screens, new generation processors, screen rotation lock, tethering over Bluetooth, driving mode, custom ringtone support and more. Microsoft also announced that Windows Phone developers will be able to download the preview version of the OS before the actual roll out. Not just actual professional developers, everyone of us can signup for this new OS preview program.
Find the instructions after the break.
Step 1: First of all, make sure your phone is 'developer-unlocked,' you are a registered Windows Phone Store developer, OR you are a registered Windows Phone App Studio developer.
Your phone is 'developer-unlocked,' and  Windows Phone Store developer:
These two requires you to sign up for $19 annual Windows Phone developer membership program from Microsoft. If you really want to be a Windows Phone developer who can submit apps to Windows Phone Store, do it.
This one is for most of us. Microsoft announced the Windows Phone App Studio program few months ago and it lets you easily build apps for Windows Phone devices. It is so easily designed such a way that, you can develop a working app in few minutes time. Go to the link and signup to be part of that program. It is completely free and doesn't have any validity period.
Step 2:
Make sure you have at least build 8.0.10322.71 in your current device. Go to Settings -> About ->More ->More Information to check the OS version number.
Step 3:
To update your phone, You need to download Windows Phone Preview for Developers  app and install it. Open the app and once you accept the terms and conditions, it allows you to opt your phone in to receive updates.
Step 4:
Once you have installed the Windows Phone Preview for Developers app, head over to your phone's Phone update setting app and check for updates.
Step 5:
Follow the regular phone update procedure to update your device to latest available OS build.
You need to note some info about this program:
– Usually an update will contain both the OS updates from Microsoft and firmware updates from your OEM like Nokia. Since you are signing up for preview program, the preview update will only include the Microsoft portion of the update. Firmware and drivers that are specific to your device will be updated to your phone only when you receive the official update.
– Once you have downloaded the prerelease update on your device, you cannot go back to previous builds. When the update is publicly released for your device, you will once again be in a 'released state.' There is no path back to a prior release/update.
– After you install a preview update, you may void any warranty from your MO and OEM.
–  You can visit the preview program's support forum if you ran into any problem while updating your device.