It's time for another big Microsoft event. The software giant is holding a software and possibly hardware event on October 26th in New York, where the company is expected to talk about the future of Windows 10 and a lot more. Unlike Apple or Google events, there haven't been many leaks about what exactly Microsoft will reveal at its upcoming event. But there has been a few rumors about Microsoft's upcoming announcements, so here's a list of what to expect from Microsoft's Windows 10 event later this month:
The future of Windows 10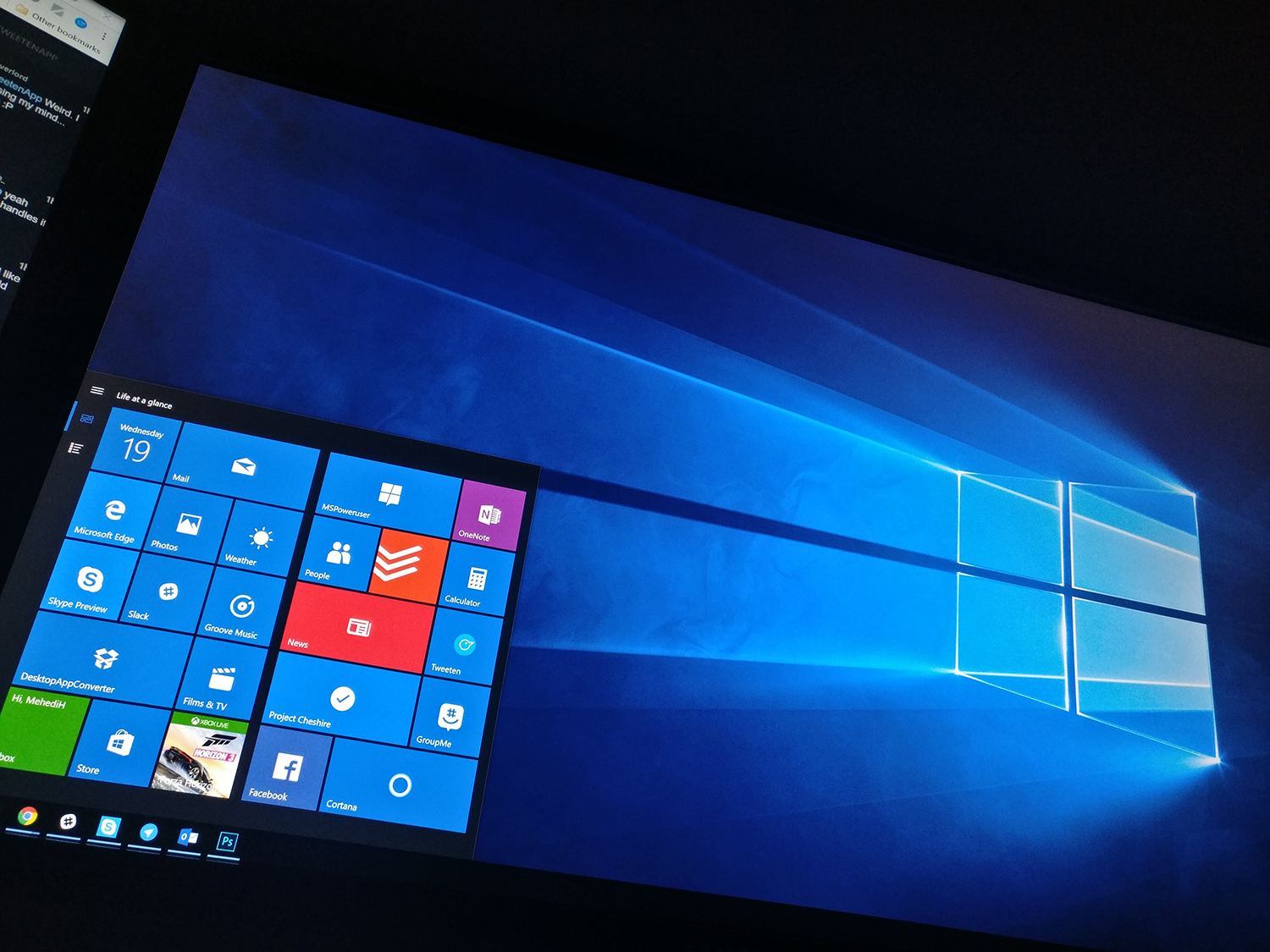 Microsoft's main focus at the event will be on Windows 10, and that's not anything surprising. The company is calling the event a Windows 10 event, so expect most things to be related to Windows 10's future. But what exactly is Windows 10's feature? It's "Redstone 2".
At the event, we expect Microsoft to give us a sneak peak at some of the biggest features coming to Windows with Windows 10 Redstone 2. Microsoft has already released a couple of Windows 10 Redstone 2 builds to those on the Windows Insider program — however, most of these builds do not include a lot of big new features. While we aren't sure what exactly Microsoft will be revealing from Windows 10 Redstone 2, expect Microsoft to talk a lot about productivity-oriented features, gaming on Windows 10, and of course, the Universal Windows Platform.
According to recent leaks, Microsoft plans on adding a feature which lets users sync files, screenshots, or just regular text across all of their devices. For instance, if you share a Word document from your Windows 10 computer, you will be able to access it from your Android smartphone. The feature is reportedly called Bundle, and it's essentially Microsoft's OneClip service which never saw the light of the day last year. Another feature Microsoft might talk about at the event is the return of OneDrive Placeholders. At Ignite 2016, the company gave a sneak peak at how OneDrive Placeholders worked, and we'll likely see more details on the feature's return at this event.
In addition to these, Microsoft should talk a lot about Xbox and gaming on Windows 10. While we aren't sure what exactly the company will reveal at the event, but we suspect Microsoft will talk about some upcoming improvements coming to the Windows Store and Universal Windows Platform for games. As for the Xbox, Microsoft will likely give us a sneak peak at some of the upcoming features to make Windows 10 work even better on the Xbox.
It is worth noting that Microsoft could be working on a brand-new File Explorer for Windows 10, but we doubt Microsoft will talk about that in the event as the new File Explorer is very limited at the moment. If the company doesn't talk about the new File Explorer at the event, we'll likely see it at Build 2017 which should be even more exciting.
As you can see, we don't really know much about what Windows 10 Redstone 2 features Microsoft will reveal at the event. Whatever it is, it should be quite exciting to see Microsoft's plans for the future of Windows 10 at the event. In case you are wondering, Microsoft will possibly release the Windows 10 Redstone 2 update for free sometime in March 2017.
Surface AIO
Microsoft will introduce the new Surface All-In-One at the event, and that's not a surprise at all. Rumors about the Surface AIO started all the way back in June, and we have had quite a few leaks about the device very recently. According to reports, the Surface AIO will come in at three different sizes. The first variant will pack a 21-inch Full HD display, but the other two will come with 4K displays: one of which will be 24-inch, and the other will be 27-inch. There aren't many details about the other specs of the Surface AIO, but we suspect Microsoft will pack the latest Intel Kaby Lake processors in the Surface AIO, and Windows Hello should also be present on the device.
Along with the Surface AIO, Microsoft will introduce new Surface-branded accessories for the Surface AIO. The company is expected to introduce two different keyboards and mouse. The first one will be the ergonomic keyboard and mouse. And the other one is the minimalistic keyboard and mouse which will be very similar to the Microsoft Designer Desktop Keyboard & Mouse. Images of the minimalistic keyboard and mouse leaked recently, and they look just fine: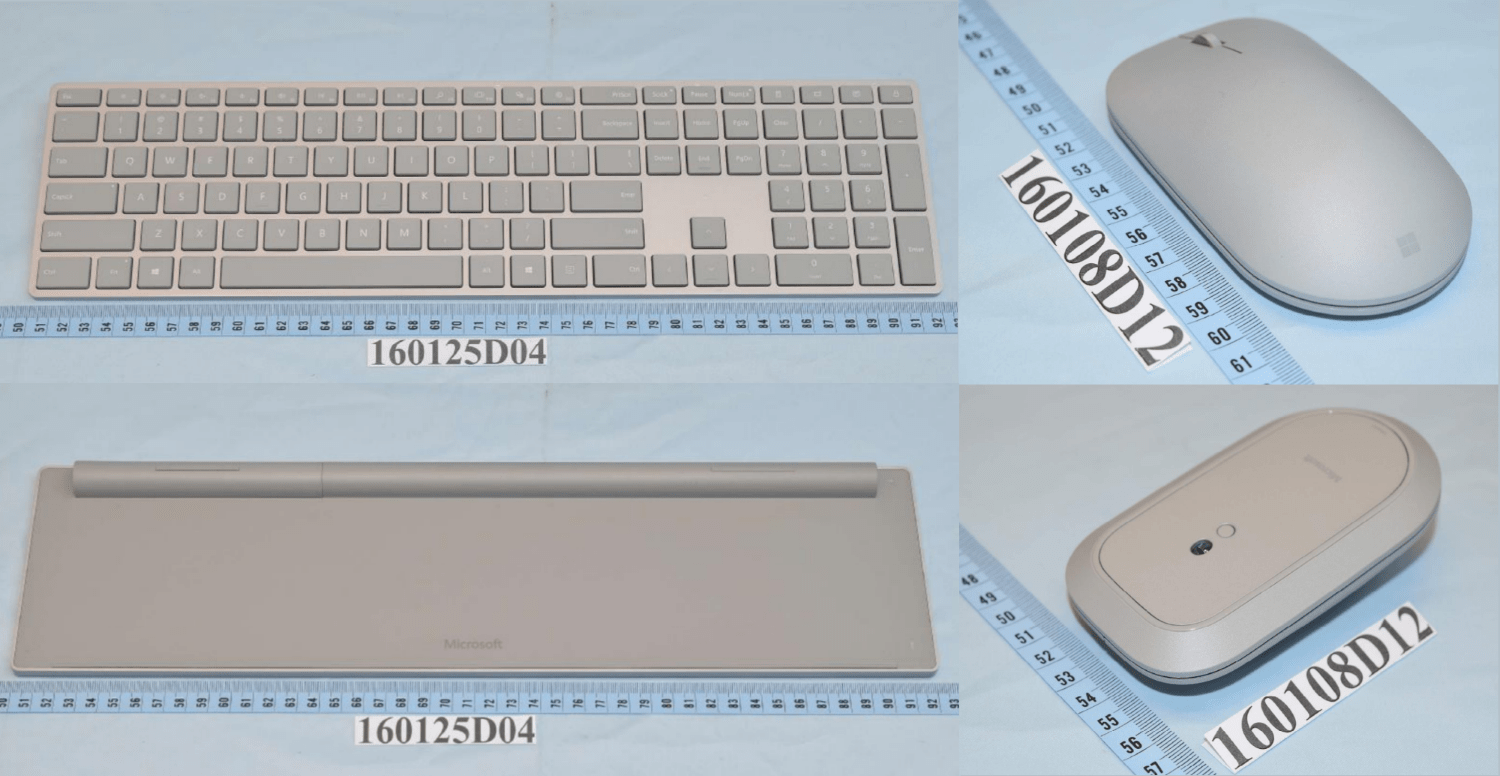 The actual design of the Surface AIO is still unknown, but it should look similar to most other All-In-One devices. Of course, Microsoft may have one or two surprises for us on the Surface AIO, so that will be quite exciting to see.
Surface Pro 4 and Surface Book upgrades
It's been more than a year since Microsoft introduced the Surface Pro 4 and Surface Book. And before we go any further, you should know that Microsoft isn't going  to reveal the Surface Pro 5 or Surface Book 2 at this event. However, the company might announce some refreshed hardware for the existing Surface Pro 4 and Surface Book for those who can't wait for the Pro 5 and Book 2. Firstly, Microsoft will potentially upgrade the Surface Pro 4 and Surface Book with Intel's latest Kaby Lake processors. The new Kaby Lake processors aren't very different from Intel's Skylake processors, but they are expected to improve performance in 3D graphics and add native USB 3.1 support. Additionally, these processors will also improve 4K video playback performance. Along with upgrading the processors, Microsoft may also upgrade the GPUs inside the Book (and maybe the Pro 4) which will also be quite interesting to see.
But what about the Surface Book 2 and Surface Pro 5? Well, these two devices won't be introduced at this event. Microsoft will likely introduce them in 2017 when the company officially releases Windows 10 Redstone 2, and we'll have more info about these devices then. At the moment, all we know about the devices is that they will also Intel's latest Kaby Lake processors. More importantly though, the Surface Book 2 reportedly doesn't include the controversial hinge gap — so you might want to wait for the Surface Book 2.
Microsoft HomeHub
Another interesting thing Microsoft may introduce is "HomeHub". Now, we don't know anything about what the HomeHub actually is, it could be a Windows 10 Redstone 2 feature or a new device from Microsoft. So the next few paragraphs about the HomeHub are pure speculation:
HomeHub is mostly likely a Windows 10 Redstone 2 feature. HomeHub was first mentioned in a Windows 10 Insider Preview Build, and it could be a feature which lets users share devices within the same network. Another guess is that HomeHub could be Microsoft's take on devices like the Amazon Echo or Google Home. In this case, HomeHub could be a device which you can put in your kitchen or anywhere in your house, and be able to ask Cortana questions, set reminders, etc. This would actually make quite a lot of sense as Microsoft's Cortana is the only personal assistant that is available on most of the popular operating systems. For example, if you set a reminder with Cortana on the HomeHub, you will be able to access it from your Windows 10 PC, Android phone, iPhone or Windows Phone — however, devices like the Amazon Echo can't do this.
Once again, there aren't any details about what the HomeHub actually is. We'll have to wait until the event to see what Microsoft's HomeHub is, so keep an eye out for that, too.
Others
There is some other minor stuff which Microsoft might reveal at the event. Firstly, we may finally see the official launch of Alcatel's Idol 4S with Windows 10 device — we exclusively reported about the device back in February 2016, and some more information about the device emerged recently. As we reported, the Alcatel Idol 4S will include a 5.5-inch Full HD AMOLED display, 64GB of internal storage, 4GB of RAM, Qualcomm Snapdragon 820 (or 821), Quick Charge 2.0, and it will be exclusive to T-Mobile in the United States. The device will also come with a virtual reality headset which allow users to experience virtual reality on their Idol 4S.
Skype Teams is another major product from Microsoft which we exclusively reported about recently. Skype Teams is essentially Microsoft's take on Slack, but it will be highly integrated with other Microsoft services such as OneDrive, Office 365, and Skype. Skype Teams will boast most of the features you'll find on Slack, but it will be a much better alternative for businesses who work with Office 365. Microsoft may talk about Skype Teams at the October 26th event, but there is a good chance it may not show up at the event — instead, the software giant may launch it on its upcoming Office event which is happening on the 2nd of November.
As usual, there will be some announcements related to HoloLens. We don't know what Microsoft may talk about at the event, but our guess is that there will be some stuff related to the Windows Holographic Shell — which allows users to use Windows Holographic (aka the HoloLens OS) on their virtual reality headset via their Windows 10 PC. Windows Holographic Shell is expected to arrive next year, presumably with Windows 10 Redstone 2 — so there is a very good chance of Microsoft providing more details about the feature at the event.
And lastly, the firm is also going to show off some Windows 10 devices from its partners such as HP, Dell, Samsung, ASUS, etc.
---
…and that's about it. October 26th will certainly one of the most interesting days of the year if you are a Microsoft fan. We'll be covering the event live from New York City, so make sure to keep an eye on the site!