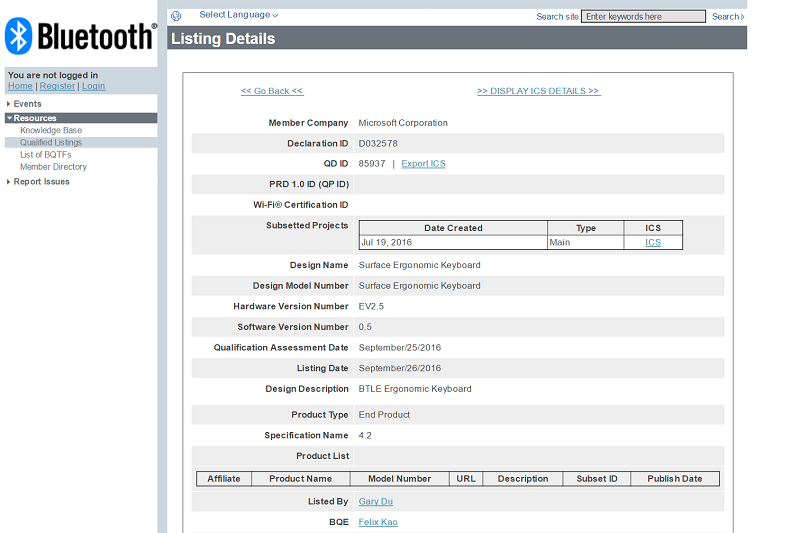 Microsoft's Surface Brand once started life on a table top computer before moving to the Surface and Surface Pro tablets er – laptops – er – hybrids we all know and love. Now Microsoft may be migrating that brand to make a bluetooth enabled Surface Keyboard.
According to a listing on the Bluetooth SIG, Microsoft has worked on a Bluetooth enabled Surface Ergonomic Keyboard.
Details are scarce on the "Surface Ergonomic Keyboard", with nothing but the name and its designation as a being listed – is possible we'll find out more from Microsoft about this at its rumoured October event.
While the Surface devices traditionally connect to keyboards via the connectors at the base, Microsoft may be adopting one of its pre-existing classic ergonomic keyboards for their Surface devices, or perhaps it could be related to the rumoured Surface AIO living room PC. A type cover would be a bit out-of-place for a PCs in that class, and Microsoft may well be interested in brining some of its keyboard expertise to the desktop.
On the other hand, it could well be a mobile keyboard of some sort for Microsoft's Surface Phone, Microsoft is no stranger to mobile keyboards, and making a Surface Keyboard for a Surface Phone does make sense if the device is targeted towards the Enterprise.
Would you buy a Surface branded bluetooth keyboard? Let us know in the comments below.