The advancement of high-quality voice-changing technology has caused a wave of popularity among gamers and VoIP users. The software is perfect for bringing your game characters to life, having fun on chat apps, and disguising your voice for podcasts. Some even use it to give their voice a more professional sound for dubbing work.
If you're looking for the best voice changer for PC, you may be wondering about free and premium options. Here's how the best on the market compare.
Best Voice Changers for PC Comparison
| | | | | | |
| --- | --- | --- | --- | --- | --- |
| Voice Changer for PC | Free or Premium | Number of Voice Filters | Audio Editing & Recording | Voice Cloning | Custom Voices |
| iMyFone MagicMic | From $4.95/mo | 200+ | Yes | No | Yes |
| AV Voice Changer | From $29.95 | 30 | Yes | Yes | Yes |
| MagicVox | $39.95 | 400+ incl effects | Yes | No | Yes |
| Clownfish | Free | 13 | No | No | Yes |
| Super Voice Changer | Free | 15 | No | No | Yes |
| WooTechy SoundBot | $39.95 | 250 | Yes | No | Yes |
| VoiceMod | Premium | 90 | Yes | Yes | Yes |
| MorphVox | 7-day free trial/ $39.99 | 13 | No | Yes | Yes |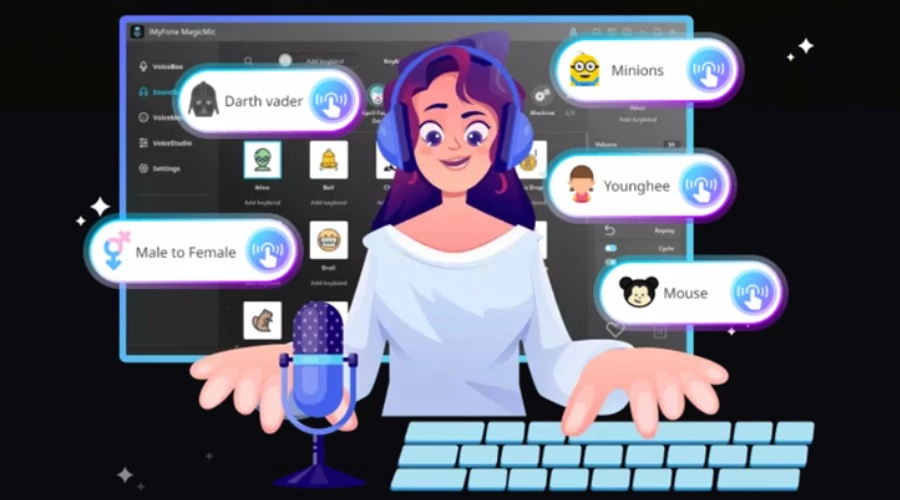 The MagicMic software from iMyFone is full to the brim with features and supports real-time and post-processing voice changing. This means you can change your voice on the fly while chatting and gaming or make a recording for later. It can even apply voice effects to an existing audio file.
In total, there are over 200 full voice filters, 600 special effects, and 200 voice memes, which are short memorable soundbites you can play straight through the microphone.
MagicMic is easy to use and simply takes over your audio input. As long as it's running, you can use it in any game, VoIP program, or recording software. To make things easier, you can even assign keyboard shortcuts, so you don't have to switch between programs.
Have you ever wanted to sound like a celebrity or famous character? Some of MagicMic's most popular voice filters include Darth Vader, Minions, Ghostface from Scream, and Iron Man.
New ones are added all the time, or you can use the software's sliders to create your own custom voice and save it for future use.
You can try iMyFone MagicMic for free on Windows with limited features. Alternatively, you can get a premium license for $4.95/mo, $19.95 per year or $29.95 for a lifetime.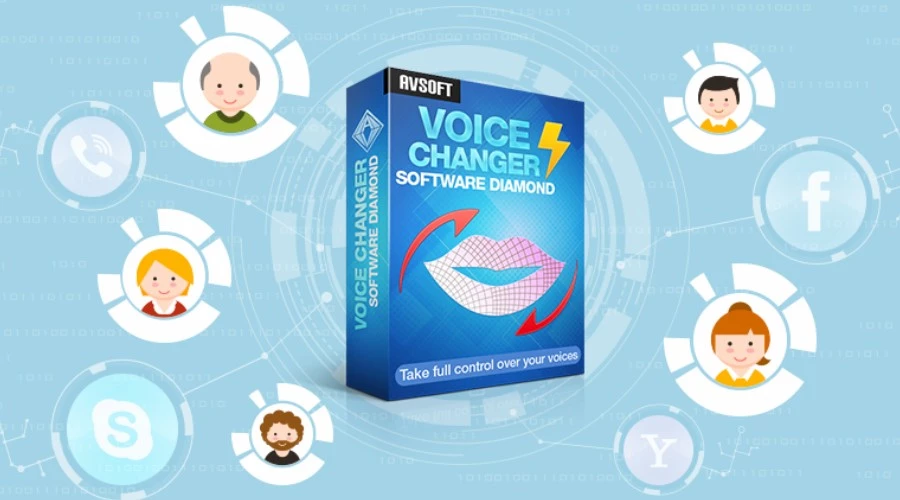 AVSoft Voice Changer is an excellent PC program that lets you change every aspect of your voice in real-time, including age and gender. Endless hours of fun can also be had as a demon, robot, or other voice filter.
Overall, you can choose from 17 non-human voices and 13 human voices, as well as countless third-party add-ons. Moreover, the soundboard lets you input over 100 sound effects and jingles, including ones you've created yourself.
If you just want to tweak your own voice to be slightly deeper or clearer, there is a beautifier mode and sliders, so you can adjust everything to your liking.
Another standout feature is voice analysis, which takes an existing audio file and imitates the voice. You can then use this in real-time to change your own voice to sound more like the celebrity or person on the recording.
AV Voice Changer comes with a ton of useful features, including audio playback, a recorder, and the ability to apply voice effects to audio files. The latter can be done in bulk to save time.
The program has a free limited version on PC, or you can purchase a premium license for $29.95.
3. MagicVox – Biggest selection of voices and effects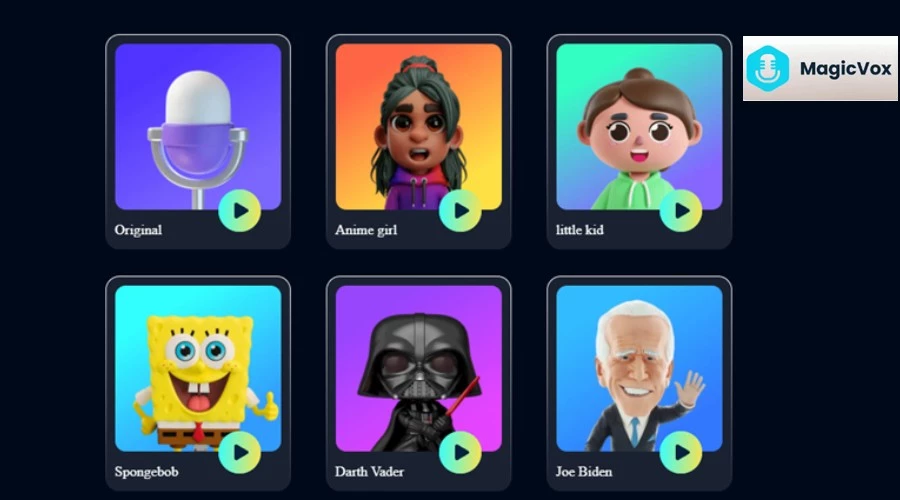 UnicTool's MagicVox software for PC enables you to alter your voice and pipe-in sound effects in real-time. Whether you're gaming or chatting, whatever uses your microphone input is affected.
It supports over 400 voices and sound effects, including everything from simple pitch changes to making you sound like a completely different person or creature.
Simply use the sliders to alter pitch, vocal length, width, timbre, and volume, or click one of the many presets for immediate modulation.
Popular filters include President Joe Biden, Megatron, Kermit the Frog, and Mickie Mouse.
MagicVox also has a soundboard where you can play soundbites, memes, special effects, and even background music directly through your audio input. This adds an extra dimension to online gaming or chatting with friends.
Prepare all this beforehand and assign keyboard shortcuts, and you never have to switch between programs.
For more advanced voice morphing, the studio feature lets you create custom filters. Here, you can also edit MP3s and other files with voice filters, rather than doing it in real-time.
MagicVox is available for free with a limited number of features and effects, but you can unlock all functionality with a $39.95, lifetime plan.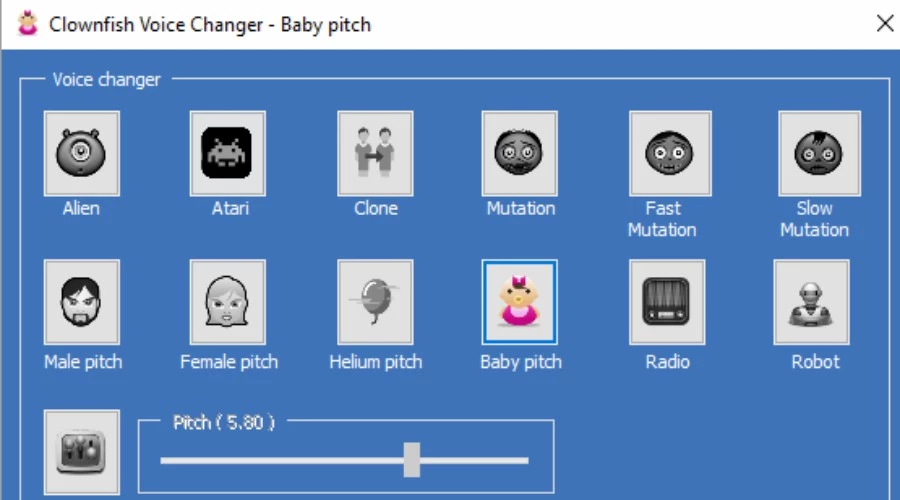 For those on a budget, Clownfish is a free PC voice changer that comes with 12 filters and the ability to change voice pitch on the fly. Presets include Alien, Baby, and Helium.
Simply install the software and it will replace your default mic input, so every application that uses the mic will benefit from voice changing. You can also listen to yourself by checking the hear microphone option, but make sure to use headphones.
What Clownfish lacks in presets it makes up for in customization. The sound player lets you play small soundbites and effects like explosions or a doorbell. The music player lets you play entire songs, ambience, and other background music, without interfering with your ability to talk.
You can add your own files to both of these, so the possibilities are endless. Listen to songs with friends, add more atmosphere to games, or pull pranks with sounds.
Furthermore, it supports Virtual Studio Technology (VST) plugins. These allow you to add virtual synthesizers, audio effects (such as EQ, reverb, and compression), instrument libraries, and sound effects. Thousands of packs can be found on the web, so this feature goes a long way for free software.
Another unique feature is the text-to-speech window. Type or paste text here and listen to it back using your chosen voice. This can be done locally or over the audio input.
5.  Super Voice Changer – Best free custom voice changer for PC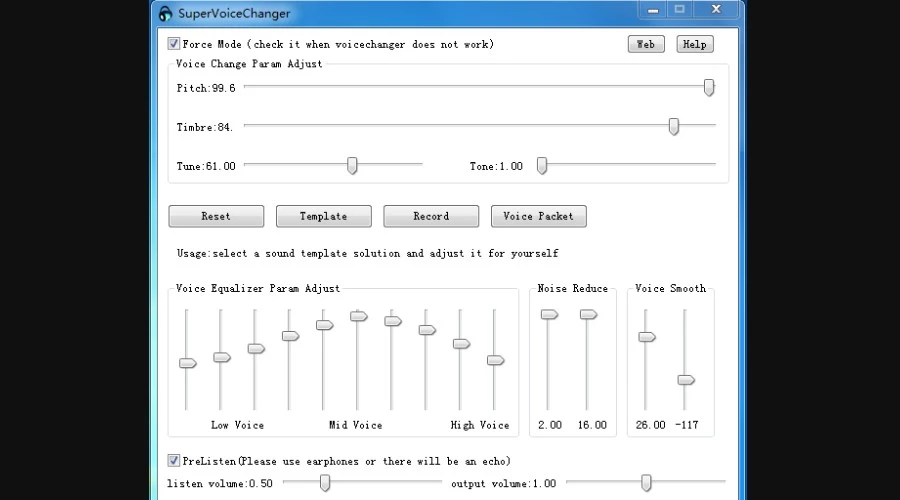 This freeware voice changer doesn't cost a cent and comes with 15 voice templates, including everything from Business Woman to Magnetic Male.
These templates are all presets for its equalizer, which is the main feature of the program. This gives you complete control over your voice, with sliders for pitch, timbre, tune, tone, highs, and lows. There are also noise reduction and voice smoother settings.
You can do this on the fly or save the settings as your own preset. To use any voice in real-time, just select your mic from the dropdown and the effect is applied.
Although it's oddly labeled, the voice packets button actually opens a library of MP3 sound effects and voice memes. Click any of these to play in real-time or you can add your own to the list.
If you're looking for a free and easy voice changer that can play files, this gets the job done. However, it's much more basic than many of the premium programs out there.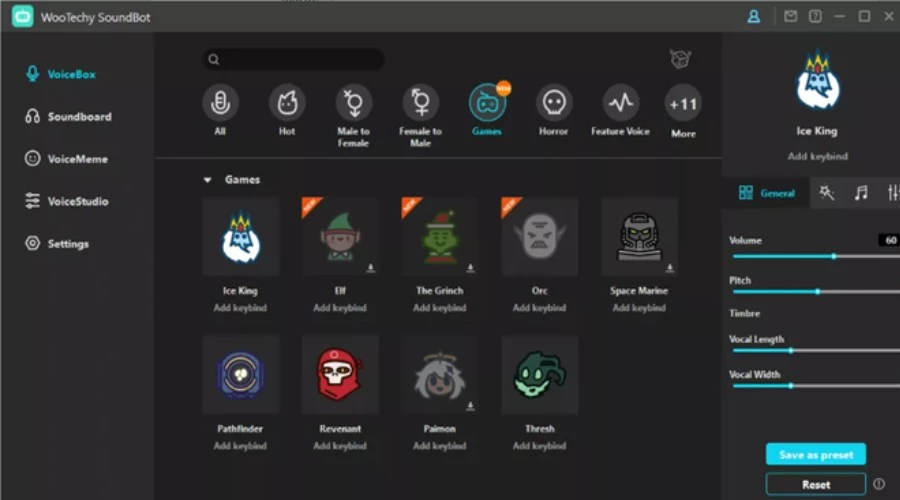 The SoundBot program from WooTechy is a clean and modern voice changer with tons of voices and hundreds of effects built in.
The main filters are found in the VoiceBox and are categorized under games, gender, horror, and others. Click one to immediately alter your microphone input and modify it further with sliders for pitch, timbre, vocal length, and vocal width.
The SoundBoard includes 600 short sounds and effects, while the VoiceMeme tab includes 200 soundbites. Click any of these to play it as if it's coming from your microphone.
You can add your own MP3 or WAV files to either library, easily expanding the number of sound effects. Plus, you can even play full-length songs.
Any audio file can play in the background while still using your mic and assigning keybinds provide a seamless experience. Gone are the days of expensive mixing hardware.
Another impressive feature is the studio. Here you can prerecord audio using any of the other filters and effects and edit files together on a timeline. You can even import existing audio files and apply the same effects before exporting in WAV or MP3.
Overall, this is a comprehensive voice changer and audio editing suite. Try it for free or get a lifetime license for $39.95.
7. VoiceMod – Best AI voice changer for PC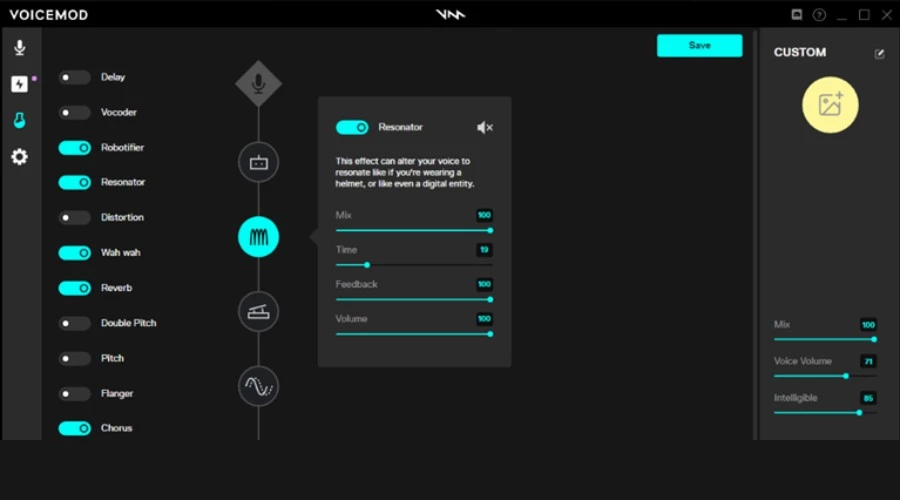 If you're looking for a cutting-edge voice changer for PC, VoiceMod has introduced AI to clone existing voices to use as filters. Simply select a recording of someone speaking, like a celebrity or cartoon character, and it will create a new preset.
Now whenever you speak, it will imitate the voice from the recording. Is it 100% accurate? No. Is it still a lot of fun? Yes!
On top of this, it has all the expected features from a good voice changer, including 90 presets, a soundboard to play clips and effects, and the ability to create your own custom voice profile.
You do this in the VoiceLab, which is one of the most advanced you'll find. It has far more settings than the basic pitch changes found elsewhere.
VoiceMod also has a very active team and community, releasing new sounds and voices every month and providing support for voice changing in games like Roblox.
To set things up, just install the software, toggle the 'hear myself' switch, and when happy make sure 'Microphone (Voicemod Virtual Audio Device)' is selected as the input on any application you wish to use with the voice changer.
A handful of voice presets can be used for free, but to unlock its full capabilities you'll need a premium license.
8. MorphVox – Best premium voice changer with free trial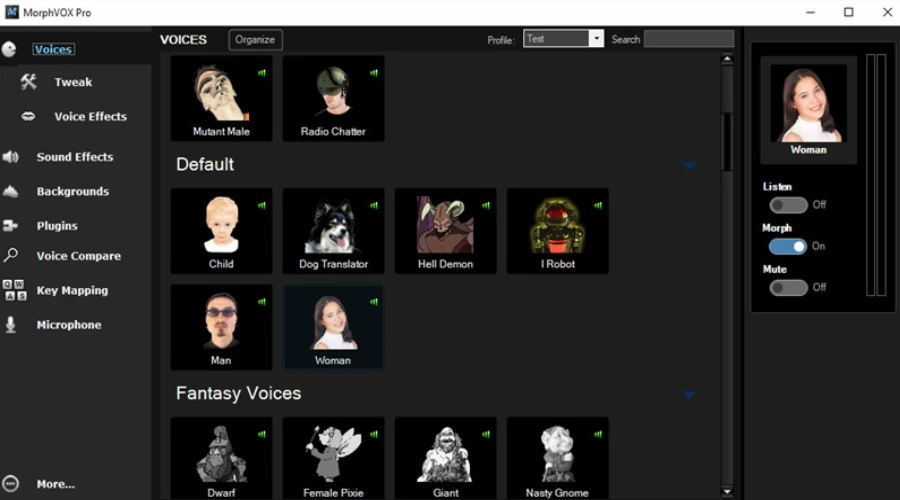 MorphVox is an advanced voice changer for PC that profiles your own voice before applying its filters. This provides a higher quality and more authentic result because it's attuned to how you already speak rather than using the same settings for every user.
Just remember to go to Tools > Voice Learning > Voice Doctor and follow the onscreen prompts to get an initial voice profile.
Popular voice options include Hell Demon, Robot, Pixie, and Ghost. The range of fantasy characters is perfect for fantasy gaming, where you can actually sound like a dwarf or giant when playing.
It also has much more subtle options spanning the male and female gender. You can tweak any of these to your liking and save your own custom voices.
As well as voices, it has a library of background sounds, such as the woods or heavy traffic. You'll also find a huge collection of short sound effects like drum rolls or farts. Any of these can be mapped to different keys for quick deployment when gaming or chatting.
You can try the pro version with all features, voices, and effects for 7 days. Then it reverts to a free limited version or you can pay $39.99 for a license.
Conclusion
The best voice changer for PC depends on your requirements. However, there's a solution for everyone in the list above.
Whether you want a simple free option to have fun during online games or an advanced premium program with AI technology, it's never been easier to modulate and morph your voice on Windows.
On mobile? Why not check out these voice changers for calls.