Online gaming and creation platform Roblox is fun because of its community of users. However, if you want to chat with others over audio, you might not necessarily want to use your real voice. It's also a lot more exciting to morph your voice into something else.
Currently, voice chat is only available in certain games, and you can mute or deafen individual players or everyone in a game.
But what about changing your voice?
While there isn't one voice changer Roblox users necessarily prefer, here are the best on the market.
Comparison of Voice Changers for Roblox
| | | | | | |
| --- | --- | --- | --- | --- | --- |
| Best Voice Changer for Roblox | Free Version | Number of Voice Filters | Soundboard | Custom Voices | Recording |
| MagicVox | Limited features | 400 incl effects | Yes | Yes | No |
| VoiceMod | Limited features | 90 | Yes | Yes + AI | No |
| MorphVox | Limited features/ 7-day full trial | 13 base voice packs | Yes | Yes | No |
| Voxal | Limited features | 50+ | Yes | Yes | Yes |
| SoundBot | Limited features | 250 | Yes | Yes | Yes |
| Clownfish | FREE | 13 | Background music | No | No |
| AV Voice Changer | Limited features | 30 | Yes | Yes + Voice Cloning | Yes |
1. MagicVox – Best voice changer Roblox supports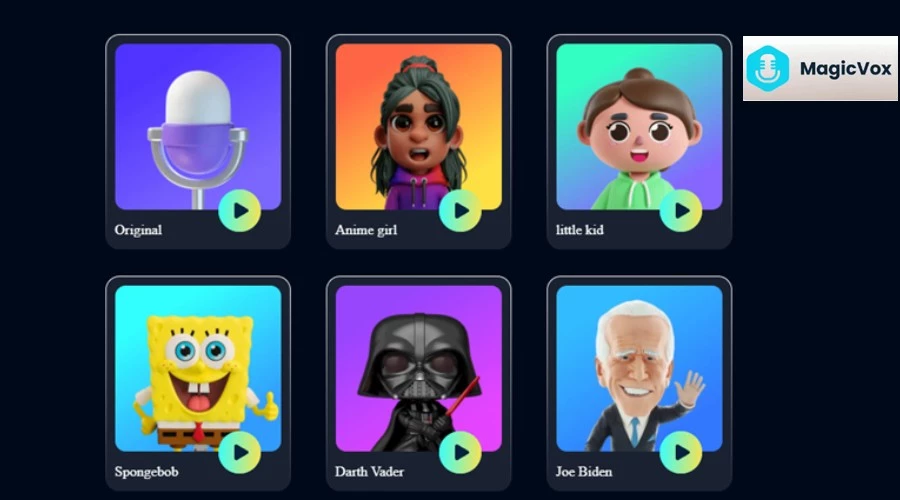 This excellent program from UnicTool allows Roblox players to modify their voices in real-time while communicating with others in the game.
Users can apply various fun voice effects to their microphone input, enabling them to sound like different characters or morph their voices into something completely crazy.
Presets include an unofficial Kermit the Frog, Mickie Mouse, and Megatron. There's even an add-on for Joe Biden!
The toolbar makes it easy to change your real voice settings on the fly, such as pitch, vocal length, width, timbre, and volume.
Meanwhile, you can use a soundboard of effects and phrases that can be initiated by clicking them or applying keyboard shortcuts, so you don't have to tab out of Roblox.
If you want to spend time developing your own unique voice, the studio offers the most advanced features. You can even apply effects to existing audio files.
MagicVox is free to download and try, though it can take a lot of resources alongside Roblox, so make sure your computer can handle it.
2. VoiceMod – Best voice cloning and AI features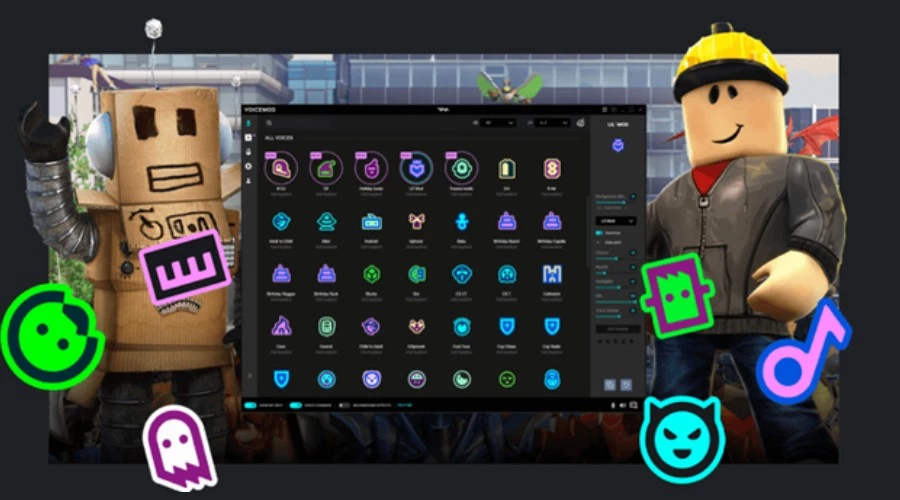 The popular VoiceMod voice changer alters your Roblox characters' voices in real time while the Soundboard helps you create your own unique soundscapes and effects.
To get started, just make sure VoiceMod is running in the background before you launch Roblox. Then once inside, tab back to VoiceMod and select your favorite voice changers and effects.
VoiceMod boasts 90 preset voices, and you can create your own using the VoiceLab, which now supports AI and voice cloning. This can clone your or someone else's voice by uploading recordings.
VoiceMod is set to be your default mic, so if you use other chat apps like Discord while playing Roblox, you can still change your voice effectively.
The software is free forever for most features, but you must purchase a pro account to unlock your own voice creations.
3. MorphVox – Best noise cancellation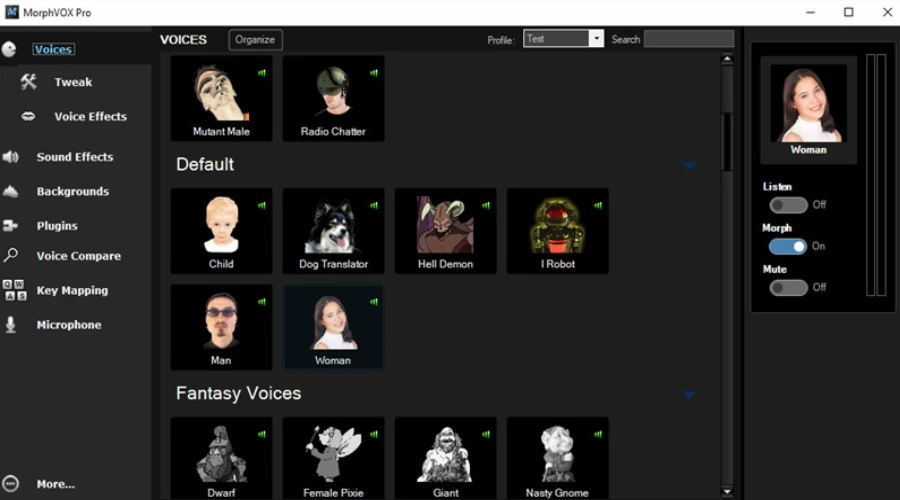 MorphVOX is a popular real-time voice changer app developed by Screaming Bee LLC. It now uses voice-learning algorithms for improved sound quality and has advanced noise cancellation to stop background sounds from interfering.
It can be applied to virtually any activity that uses your computer mic, including sessions on Roblox.
Base voice effects include aliens, monsters, robots, ghosts, and more. It also includes effects for changing gender and age, allowing users to customize their voices to match different personalities or characters.
Users can create and save their own voice presets with specific effects, pitch, and other parameters, making it easy to switch between different voices on the fly.
With the Soundboard, you can add sound effects to your voice, such as explosions, laser sounds, and laughter.
MorphVox has a standard free version with a limited set of voices and features. The quality is also slightly lower. For a one-time $39.99 license, the Pro version comes with voice comparison analysis and tuning and an endless library of voices and effects. You can try this version for 7 days.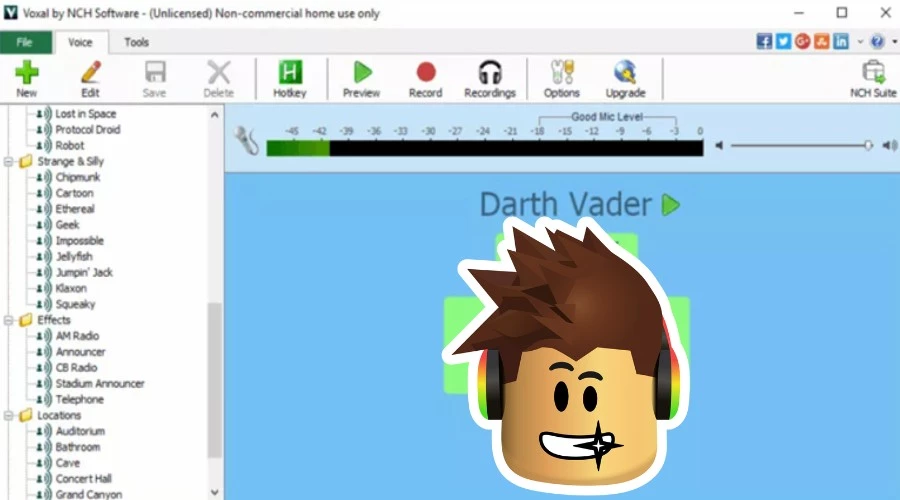 Voxal is a very easy-to-use voice changer that has been around for decades. Its current version is a favorite among Roblox users and other gamers as you can easily alter your voice mid-game.
It has a bit of an old-looking interface, but it works perfectly and has little impact on CPU and memory.
Just fire it up first, then launch Roblox and it will be recognized as your default mic. Then scroll the voice and effects under the folder tree on the left to switch between them. Alternatively, you can set keyboard hotkeys, so you don't have to exit the Roblox window.
Background loops are particularly fun. For example, ambience of the woods, a busy office, or on a train. If you're smart, you can match one of these sounds to your game world for ultimate immersion.
Voxal also comes with an editor to create and modify your own voices and sounds.
You can access a limited version of the software for free, while a premium license is $50 but often discounted to $24.99.
5. WooTechy SoundBot – Best selection of voices for Roblox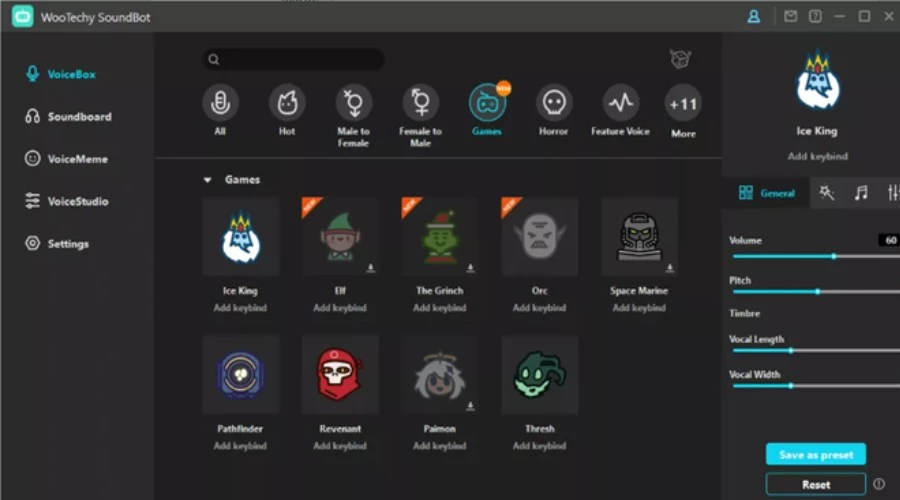 The SoundBot voice changer from WooTechy offers over 250 voices, 200 meme sounds, and 600 effects, all of which can be used in real time with Roblox. You can also apply longer sounds and background loops using the soundboard.
This accepts any MP3 or WAV file, so you can easily add your own custom sounds and even songs to play during Roblox sessions.
Some of the most common voices include anime, Ghostface, and robots. It also supports male-to-female and female-to-male. New filters are released all the time, with the likes of Darth Vader and Iron Man being two of the most popular.
SoundBot has a voice recording feature that you can use during Roblox voice chats. However, it will only pick up your side of the conversation and any other sounds that come from your input.
Features are limited with the free version, but you can pay for a lifetime license for $39.95.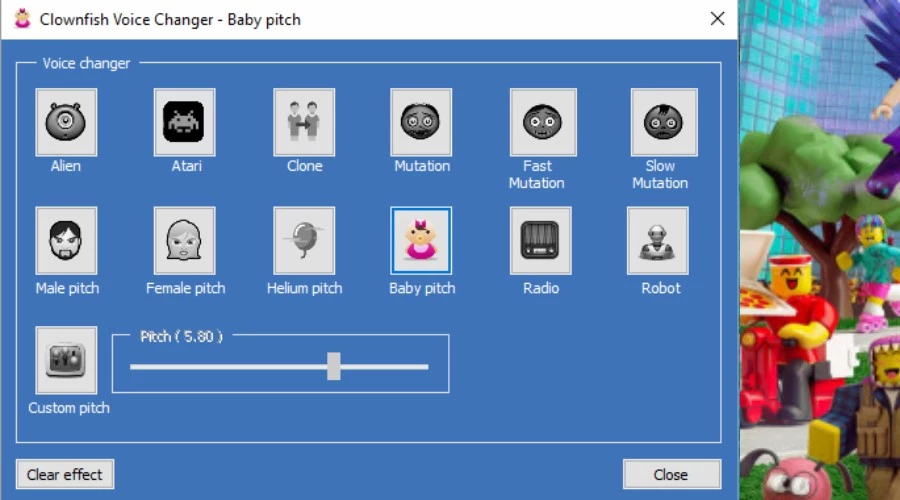 Clownfish is another excellent voice changer that works with any game or app after installation. It's set up at the system level, so you don't have to make any changes within Roblox – it's recognized as the default mic.
To use Clownfish, you must install it on the audio device you want to change. This is usually the default audio capture device, but you can choose others.
Then simply go to Select Voice Changer and you can choose from 12 preset voices, such as Alien, Helium, and Robot. There's also the option to create a custom pitch and add sound effects.
The profile feature lets you save multiple voice setups, so you can quickly switch between them.
While Clownfish lacks the number of voices many other programs offer, the software is entirely free. What's more, it uses VST plugins, so you can add your own effects that you find on the web.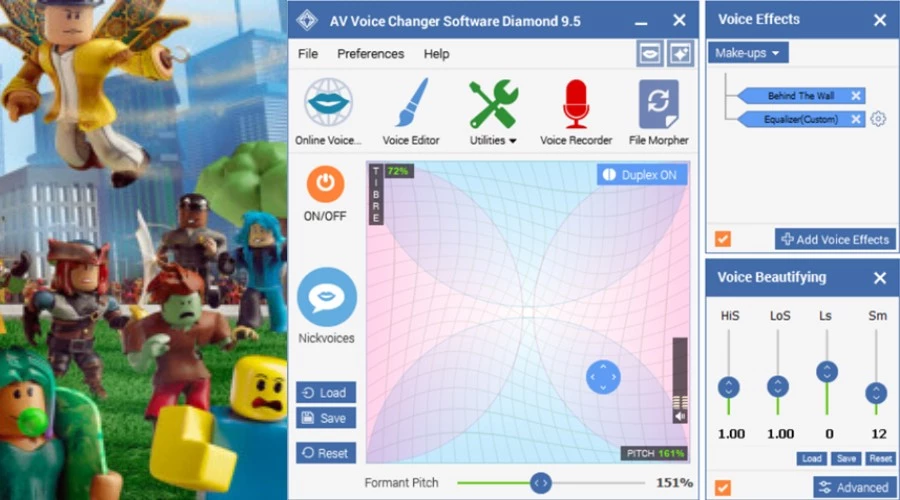 The voice modulator from AVSoft boasts the ability to take total control over age and male or female voice changing. Of course, the most fun is the non-human options like robot or demon.
In total, there are 30 voices including 17 that are non-human, 70 background effects, and 40 plug-in effects.
If you don't want to sound too different from your real voice, the voice beautifier and other morphing settings help you fine-tune how you sound without going overboard.
Alternatively, it can analyze existing audio files and imitate the voice of someone else.
All this applies in real-time which makes it ideal for Roblox voice chat. However, there are a lot of extra tools to use outside of the game. These include a voice recorder, audio player, batch file processor, and more.
AV Voice Changer is always adding new voices and effects to its add-on library, and you can even import add-ons made by third parties.
The software is free to try, or you can pay for premium licenses between $29.95 and $39.95, depending on the desired features.
How to get voice chat on Roblox?
Voice chatting with friends and other users on Roblox can be a fun experience, but a lot of people don't know this setting exists. It's easy to set up voice chat if you are age verified and don't mind other players listening to your voice and starting chats with you.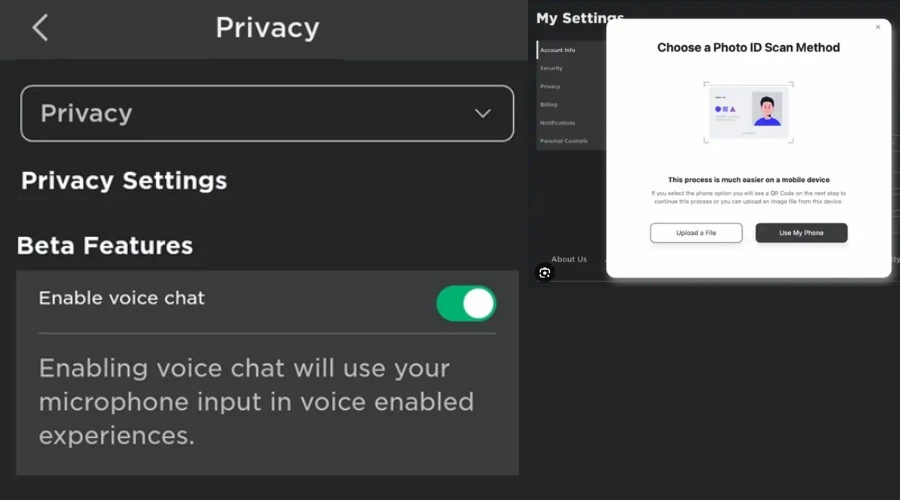 Go to your Account Settings.
Click on the Privacy tab.
Under Beta Features, toggle the Voice Chat selector to ON (This is sometimes called Spatial Voice).
You will need to agree to the Voice Chat Terms of Service.
Once you have agreed to the terms, voice chat will be enabled for your account.
Note: You must be 13 years old or older to use voice chat on Roblox. You will also need to have a microphone and speakers that are properly connected to your computer or device.
If you have yet to go through age verification:
Go to your Account Settings.
Navigate to the Personal tab and age verification will be an option.
Click the button and complete the requirements. This may include the submission of a valid form of ID like a photo of your driver's license.
Remember, you can report players who are using voice chat to harass or bully others.
Conclusion
So, if you ever wondered how others get their voices to sound like that. Chances are, the voice changer Roblox players are using comes from the list above. Download one now and you can quickly morph your voice into something fun or spooky.