Whether you're making prank calls, recordings, or even creating fictional characters, voice changing provides endless hours of fun. Changing a male voice to a female usually involves altering the pitch or choosing a pre-configured voice filter.
Having tested the leading solutions, these are currently the best female voice changer apps for a range of operating systems and use cases.
1. iMyFone MagicMic – Best female voice changer overall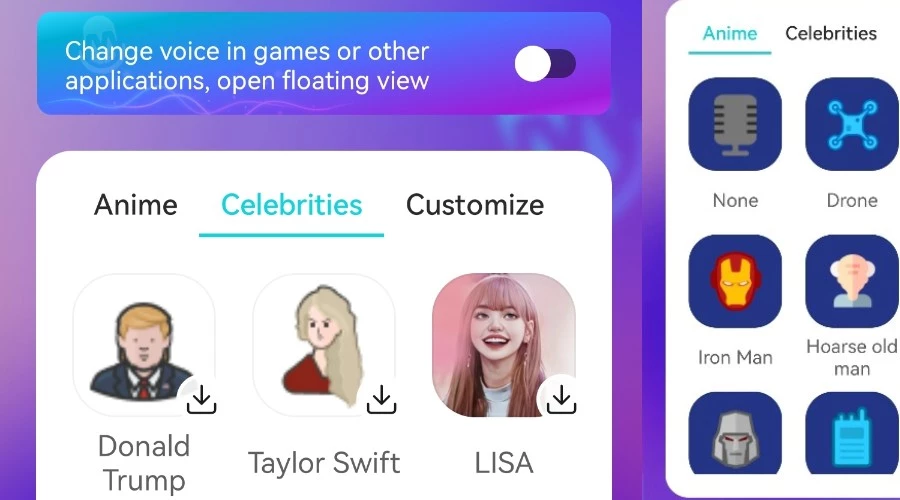 MagicMic is a powerful voice changer by iMyFone that can morph your voice from male to female and vice versa, along with many other filters and effects.
It's available on Android, iOS, Windows, and Mac, and is packed with awesome voice editing features.
To get a good female voice, users have two options. The first is to fire up the app and choose one of the female filters. These are preset voices that can be applied in real-time with one tap.
You can go for a generic woman or try to sound like a celebrity. Options include Taylor Swift, rapper LISA, actress Anne Hathaway, and even Hilary Clinton.
In action, while you're unlikely to fool someone unless you put on a bit of a voice yourself, all of these do a good job of changing pitch, so you sound more female.
Alternatively, you can use equalizer sliders to alter the pitch and other settings of your voice manually, or even upload an audio clip and clone the voice in the clip. Obviously, this will have to be a female but can be anyone from a celebrity to your sister.
The best thing about MagicMic is you can record your voice with these effects, alter existing audio, and use it with other applications. I.e., change your voice to female during an online game or on a messaging app.
Some voices and features are free. However, the pro version unlocks over 700 different filters and effects.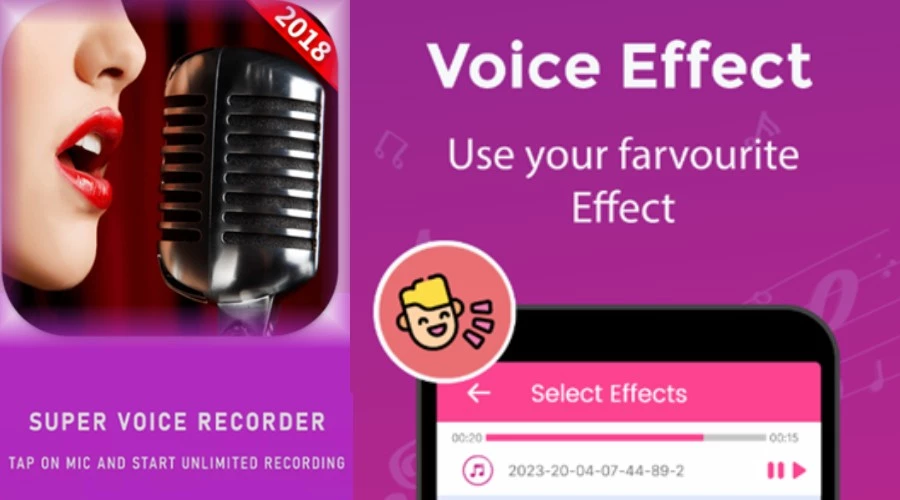 The Girls Voice Changer on iOS is one of the few apps aimed at female voice changing, though it still has other effects too.
As well as standard female voices, you can sound like a baby, or doll, or change the pitch yourself. There are also other fun filters, such as ghosts, monsters, and aliens.
This particular app only has a record mode, so you cannot change your voice in real time. However, this is perfect for listening to yourself back and getting the voice perfect before sending the clip to someone else.
It can also apply effects to existing audio files stored on your device.
The app is fast and efficient, playing back your voice instantly after recording and applying filters and effects in a flash. It also has built-in sharing options, so you don't have to locate the saved file yourself.
Try the app for free and then consider the 1-week, 12-month, or lifetime premium plans.
3. Voice Changer – Best female voice changer for Android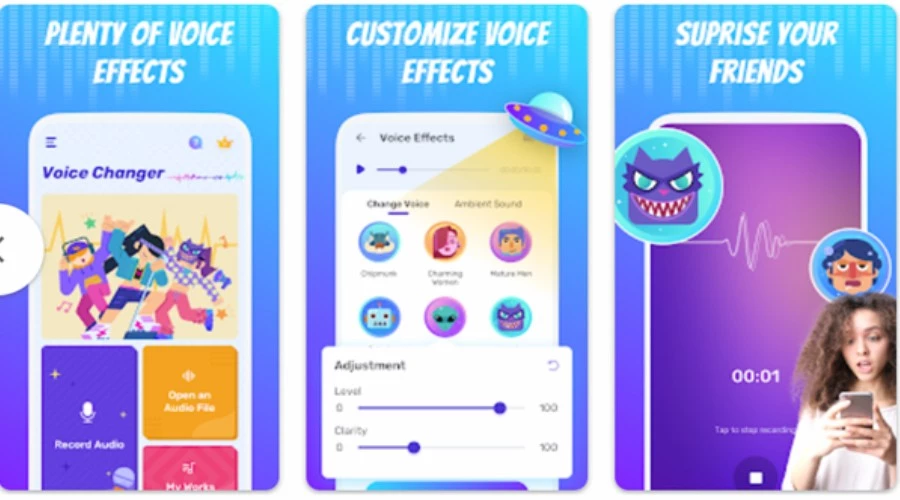 The Voice Changer app has a total of 50 different filters and even more soundboard effects. Female voices include standard woman, 'Charming Woman', girl, and baby. Other fun options include the devil, chipmunk, and angry giant.
To get started, record yourself and choose one of the female or other voices for immediate playback. If you pay for the pro version, you can also apply this in real time while using other apps and games.
To customize the voice there are sliders, which is useful if it doesn't quite sound female enough. Then for extra ambience, choose one of the background effects like noisy traffic or rain.
Unlike other apps, you are free to import your own recorded sounds and songs to use in the background. Existing audio files can also be modified with the voice filters, which is useful if you already recorded something before downloading the app.
If you don't want to record yourself directly, it offers a text-to-speech option. Simply type your message and choose a female or other voice to narrate it.
The premium version unlocks all voices and removes the ads.
4. MagicCall – Best female voice changer for calls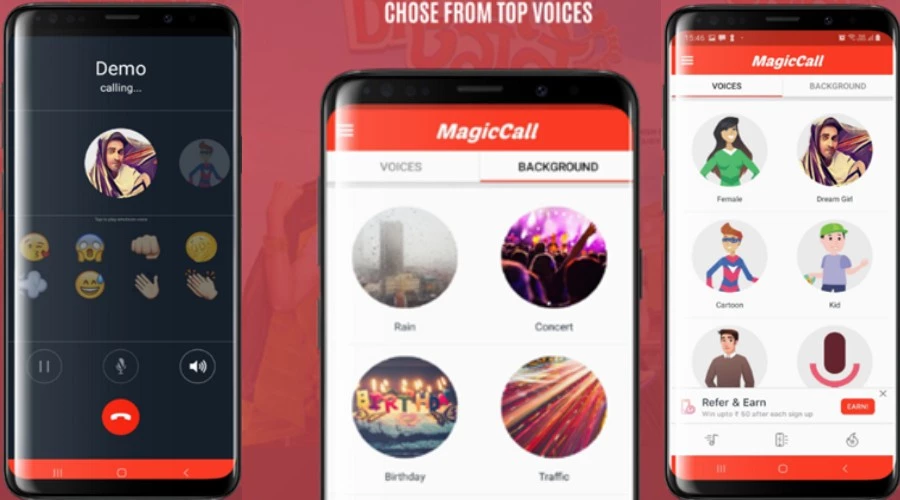 The MagicCall app for Android and iOS can alter your voice to female in real-time, so you can make prank calls or play online mobile games with a different identity. It also has a recorder to save clips for later or to send to friends.
As well as woman and girl filters, there are loads of different scary or cartoony voices to choose from. Just tap any of the icons to instantly switch voices.
For a customized experience, use the sliders to change pitch and other qualities.
There is also a background sound feature, which lets you apply looping ambience or songs to clips or real-time, giving the impression you are somewhere else. E.g., stuck in traffic or out in the rain.
Try the call voice changer app for free with ads or purchase call time to use it in real-time.
5. Media.IO – Best female voice changer online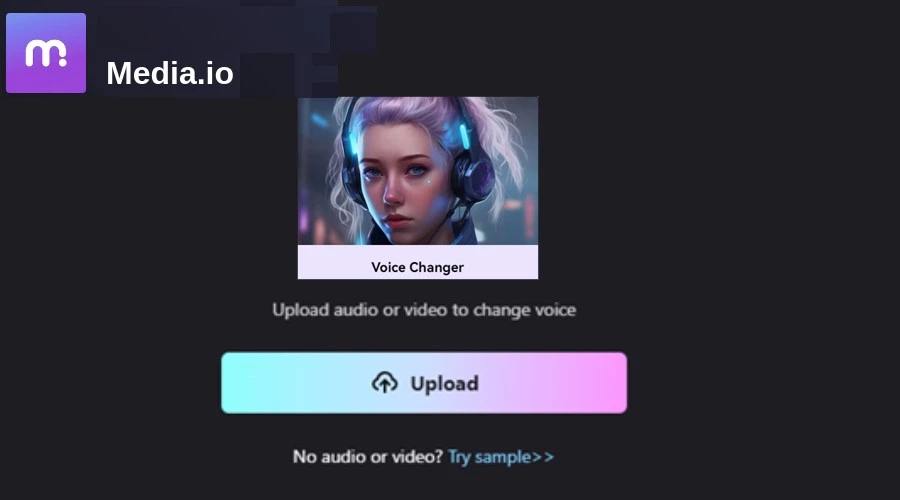 If you want a female voice changer to easily access via the web using desktop or mobile, Media.io is the best solution. It doesn't require any apps or software and is extremely easy to use.
Simply go to the voicechanger.media.io page and upload any audio file to change its voice.
There are loads of effective voice filters that take just one click to convert, from female anime characters to something more authentic. Alternatively, change the pitch and other parameters yourself to create a custom female voice.
Throughout the process, it uses AI to help keep the results realistic. Whether you're a deep-sounding man or a woman that just wants a different speech style, it creates a convincing female voice that's unique to you.
It supports almost any audio and video format, including MP3, WAV, M4A, OGG, AU, MP4, MOV, VOB, MTS, etc. Moreover, it has a full editing suite to change the timeline and combine clips together.
When finished, use the download or share link, but don't leave it too long as it deletes everything within 24 hours for data privacy reasons.
Media.IO's basic voice changer is free, but you must pay for a plan to access full editing features and custom voices.
6. ElevenLabs – Best AI female voice changer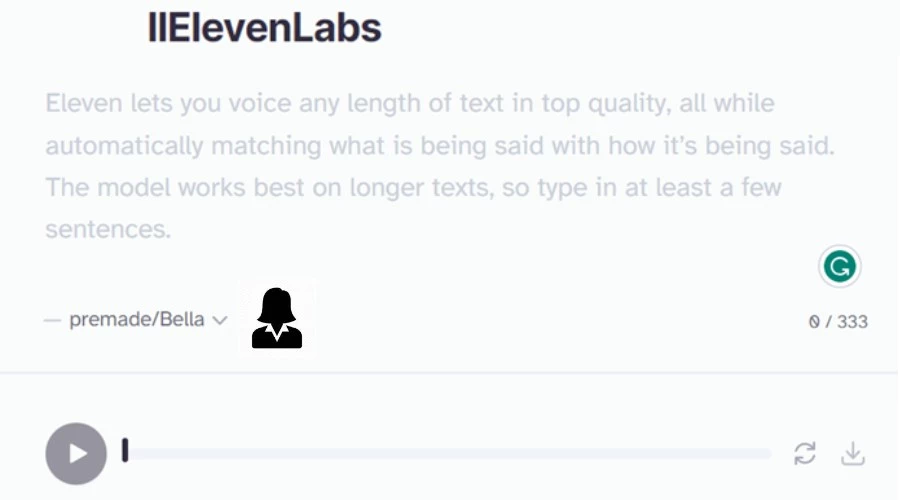 ElevenLabs is a leading AI voice generator that can create realistic female voices using three key methods. Because it's AI, you never even have to use your real voice.
Speech synthesis uses AI to generate authentic human speech from text scripts. All you have to do is choose one of its female voice options, enter your text, listen and change any settings to your liking, and get your finished audio file.
In the Voice Lab, you can use a sample recording of a female voice to clone it. For example, if there's a celebrity voice you like, upload a minute of talking and it will create an AI preset to use for text-to-speech.
In the Voice Design area, you can create your own female voice from scratch by adjusting parameters such as age, country, pace, pitch, accent, etc.
The nature of AI means the results are always unique to you, even if another user applied the exact same settings.
ElevenLabs is available for free with 3 custom voice slots, and 10,000 text characters per month. Premium plans start at $5/mo for 30,000 characters and more custom slots.
7. VoiceMod – Best female voice changer for PC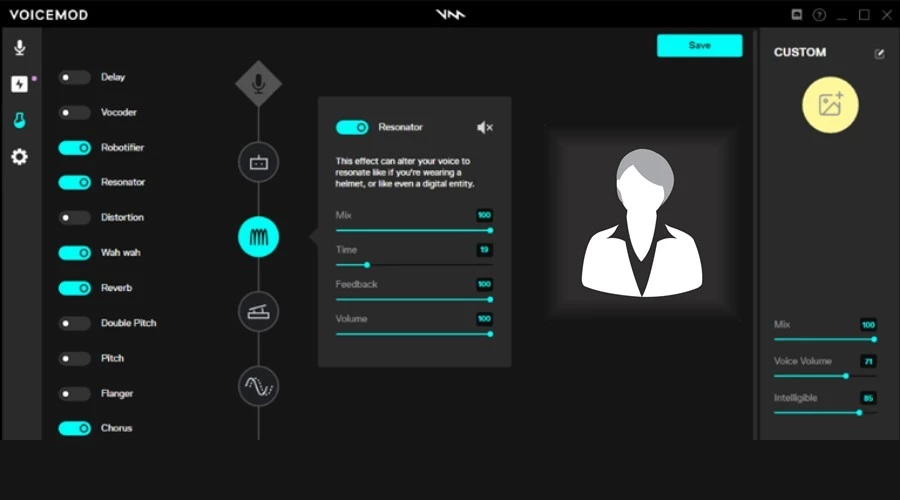 Although mobile apps are convenient, voice modulation on PC is much more effective. One of the best for female voice changing is VoiceMod because of its excellent pre-configured filters and use of AI to clone female voices.
Simply choose an existing audio file of a female celebrity or anyone else speaking and it will create a new filter you can use whenever you want.
VoiceMod works in real-time, meaning any program or game that uses your mic will get your new female voice as if it's really you. Just speak as normal and the listener will hear the filtered version.
To get started, check the 'hear myself' option while wearing headphones. When you like what you hear, choose Microphone (Voicemod Virtual Audio Device) for the mic input on all other programs.
There are more than 90 voices to choose from, many of which are female. The soundboard lets you play clips and effects alongside speech, and you can even create your own custom female voice in the VoiceLab.
However, to get all this functionality you need the premium version. The free version only gives you 6 voices, 5 soundboard slots, and limited customization options.
8. GarageBand – Best female voice changer for music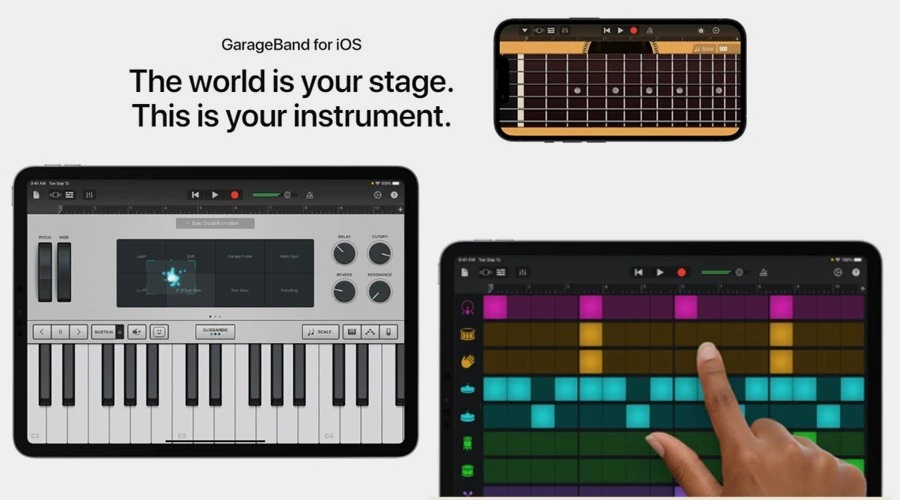 Creating female vocals for music tracks can be a difficult process but GarageBand makes it easy on iOS. It functions as a comprehensive music creation suite, letting you record tracks, and morph male voices into female voices.
It does this by converting pre-recorded vocals on the timeline. This works great for shorter soundbites and electronic music.
The app includes a wide variety of instruments that you can play digitally by tapping the devices, as well as a huge sound library of beats, loops, and samples. Here you can find pre-recorded female vocals too.
Its features also aren't limited just to music. Why not create podcasts or video voiceovers too?
Despite its powerful features, GarageBand is easy to pick up for beginners and makes tasks that were once reserved for musicians, DJs, and audio engineers accessible to anyone with an iPhone or iPad.
If you can tap the screen, you can create music with GarageBand.
9. Clownfish – Best free desktop female voice changer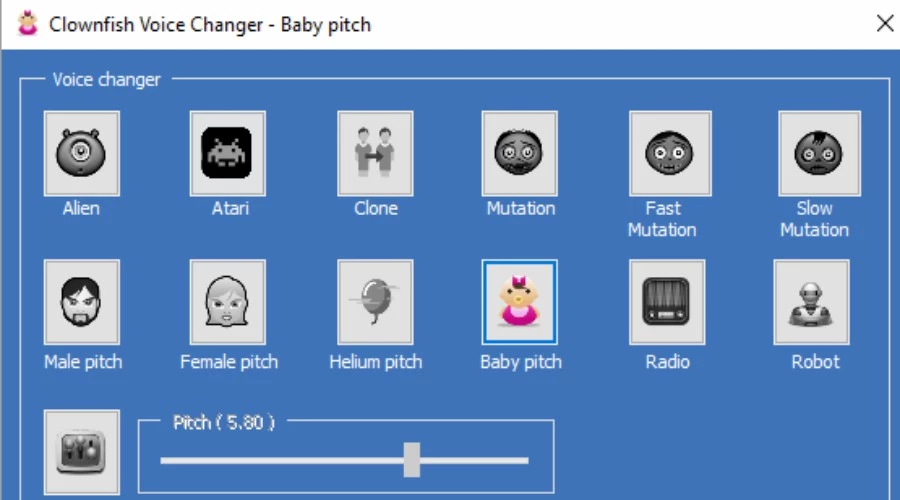 If you prefer desktop apps, Clownfish is available on Windows and macOS. What's more, it's absolutely free, which is rare for voice changers.
The software is installed at the system level, allowing you to select it as the main mic input within any application. This allows you to change your voice in real time for gaming, streaming, chatting, or live podcasts. To create recordings, simply use your favorite recording software and select the Clownfish mic input.
As standard, it comes with female pitch and baby pitch settings. For a more unique experience, you can also tweak the pitch and other settings yourself and save the profile for future use. In some instances, this may create a more authentic female voice.
Because it's VST compliant, it lets users easily add even more female voice filters and audio effects from third parties.
Clownfish also comes with a soundboard for playing sound effects and background music in real time. This adds extra ambience to online games, or you can listen to songs with friends while chatting online.
10. Live Voice Changer – Best Bluetooth and loudspeaker support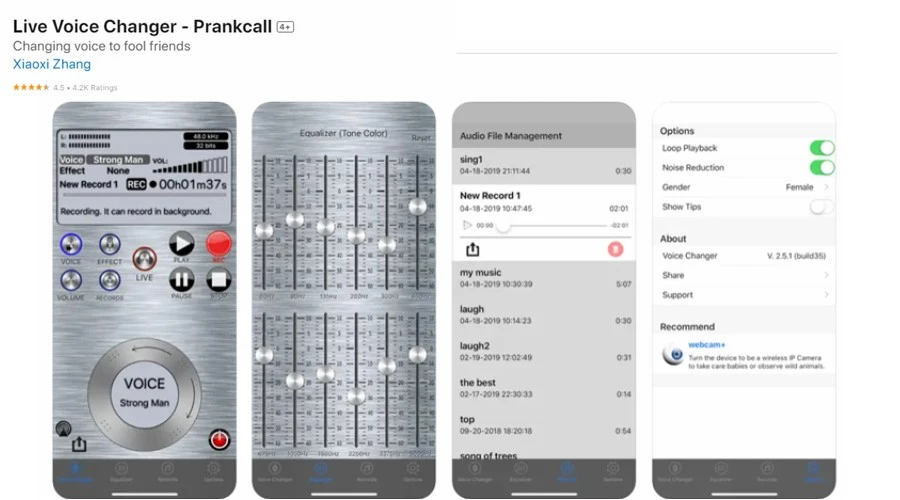 The live Voice Changer app works across iOS, including iPhone, iPad, and Apple Watch. As well as an automatic male-to-female voice changer, its 12-band equalizer provides total control over pitch and other voice settings.
It boasts record and live mic features, where you can swap voices instantly by tapping the icons. Going live is perfect for games and voice messaging apps.
In total, there are 10 voice presets besides female, as well as 15 sound effects. You can also save your own custom voice based on your own unique equalizer settings.
One standout feature is its ability to connect to Bluetooth speakers and wired stereo systems. This essentially gives you a loudspeaker for pranks, driving, or live events, while applying any of the voice effects in real time.
Users can test the app with unlimited 30-second recordings or pay $6.99 for the premium option. This unlocks full recordings and the live mic feature.
Conclusion
Whatever your needs or platform, it's now easy to find a female voice changer app that suits you. Mobile apps are great for calls and pranks, while desktop apps provide more features and editing options.
With the rise of AI, realistic female voices can now even be created from text.