Voice changing software is popular on desktop but what about when using your mobile device? Fortunately, there are now several apps on Android and iOS that can morph how you sound through your smartphone's microphone, including when making cellular and VoIP calls.
Others are designed for prank calls and can play prerecorded audio via live calls.
If you're looking for the best voice changer for calls, these are the top apps to choose from. Some are free or limited, while the best features are unlocked with the premium versions.
1. iMyFone MagicMic – Best voice changer for calls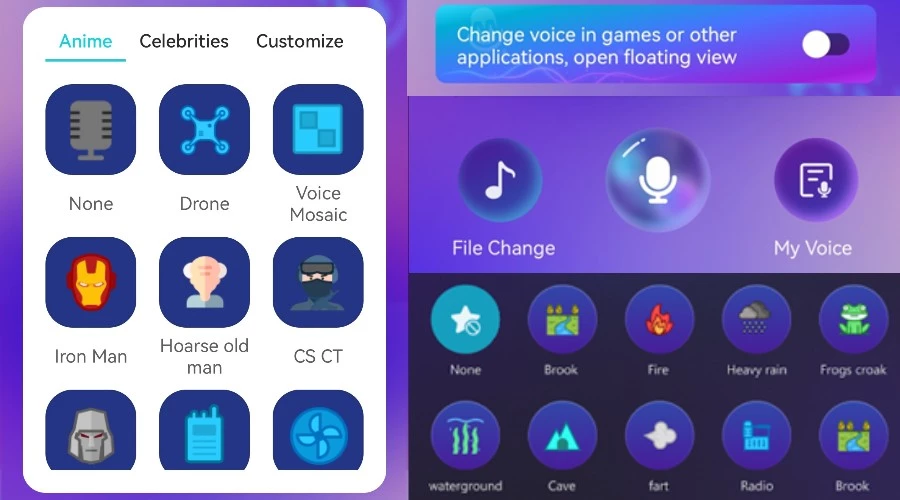 The MagicMic app from iMyFone is available on Android and iOS. Much like the desktop version, it allows you to change your voice in real-time by applying filters to the device's microphone input.
Simply install the app, go through the voice calibration, and then tap on one of the many voices from the library. This includes male and female voice changing, age changing, anime, celebrities, and a wide range of other crazy options.
Use the record and playback feature to hear how you sound and if you're happy, keep the app running and go live on calls and messaging apps to surprise your friends.
The record feature is also useful for making podcasts or creating voiceovers for videos. You can even import an audio file and change the voices with post-processing.
As well as voice presets, you can fine-tune any voice or create a custom voice by swiping the sliders for pitch, tone, etc. There is also a noise reduction feature to ensure the quality remains high.
Why not use the sound effects and background sounds alongside your new voice to completely change the environment? The possibilities are endless.
The free version of MagicMic has most of the features but you are limited to a handful of voice filters and effects. The pro version unlocks over 700 voices and effects, custom voices, and the ability to import audio files.
2. IntCall Call Voice Changer – Best iOS voice changer for calls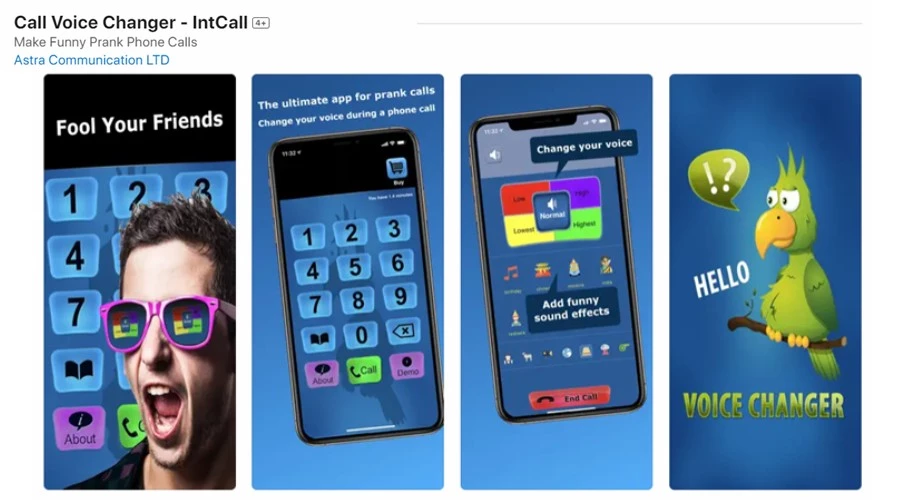 The IntCall Voice Changer for calls uses VoIP to place regular calls to your friends. This is fun for pranking because it doesn't reveal your true identity.
It works in real-time, letting you control the pitch of your voice on the fly. Meanwhile, you can play funny soundbites and effects by tapping the icons during a call. Your friends will be utterly confused when they hear cows mooing or bombs going off while a high-pitch voice talks to them.
Unlike a lot of voice changer apps that glitch and fail, IntCall provides stable calls over the internet. The drawback is, beyond the pitch, it doesn't have a wide variety of voice filters.
It's also currently only available for iOS. Because it's a VoIP service, you must pay for call time or subscribe to a plan. However, new users can try it for free for a few minutes.
3. FunCall – Best voice changer for international VoIP calls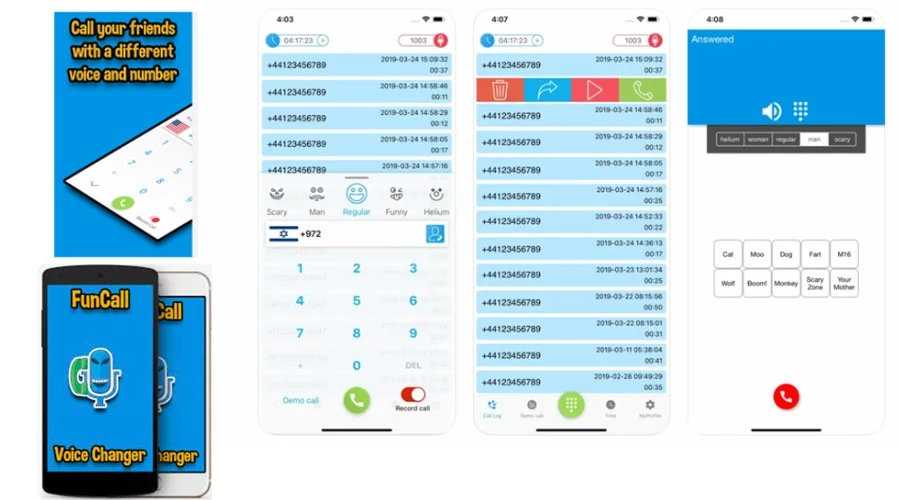 FunCall is a live voice changer for calls and recording app. It is aimed at users that want to make international calls to friends and family with VoIP but has all the features of a fun voice changer too.
It offers 4 hilarious voice filters – a man, woman, high-pitched helium, and a deep-sounding scary option. During calls, you can also tap several sound effects that will play out to the person on the other end. These include a cat, dog, explosion, and traffic sounds.
To record a call, all you have to do is toggle the setting on before making the call and it will automatically start recording when the call is connected. You can then play the conversation back from the call list.
Because this is a VoIP service, you will show up as an unknown number. However, you can still call cell phones and landlines as normal. You just need to have a stable internet connection.
The app works in 150 countries including Africa, Europe, Asia, and Middle East regions. Call time costs approximately $5 for 20 minutes, but you can try it out for 1 minute and there is a demo call option.
4. Live Voice Changer – Best voice changer for calls: effects and features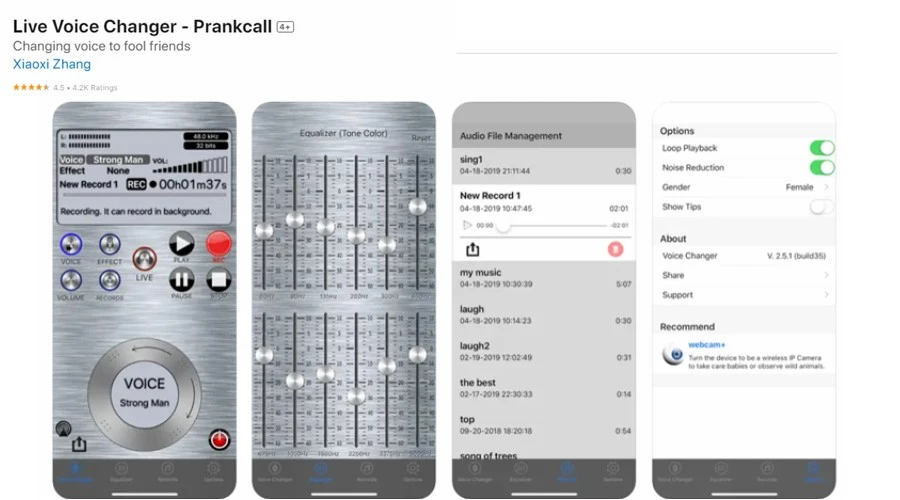 This iOS voice changer for calls has a great interface and gives users full control over how their voice sounds via an equalizer. It supports recording and live mode and lets you easily switch between voices with a single swipe of the dial.
There are 11 preset voice filters including gender swap and Darth Vader, along with 15 reverb effects. The 12-band equalizer can be applied at any time, allowing you to effectively create your own custom voices.
Extra features include Bluetooth and airplay support, and the ability to plug your device into a stereo system and use the foldback function. This lets you talk out your speakers at home or while in your car like a loudspeaker.
The only downside is a lot of features are locked behind the premium $6.99 purchase. You can only record 30 seconds for free and the live mic for calls is not available.
5. MagicCall – Best voice changer for call background sounds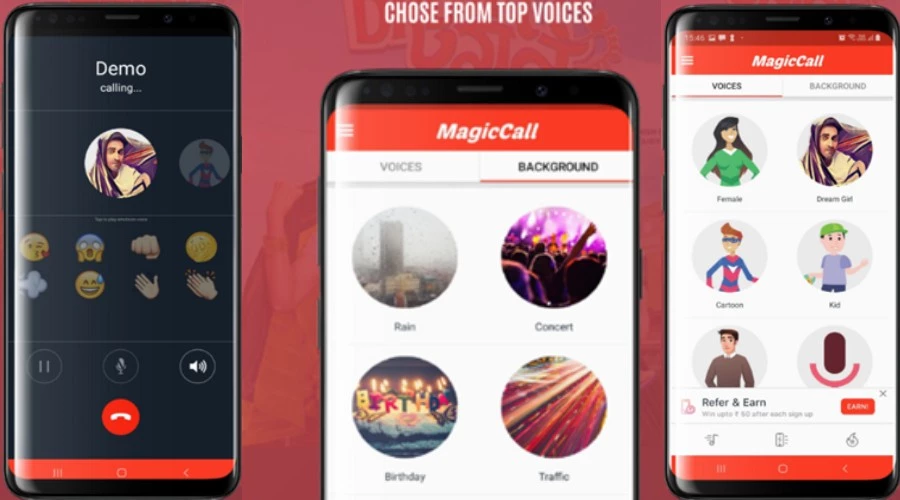 MagicCall changes your voice in real-time for live calls and is aimed at those who want to prank their friends. The app lets you choose from several voice templates, such as cartoon characters, different genders, and even Santa Clause.
You can also change the pitch and other settings for a custom voice experience.
Before making a call, you may want to use the record function to see what you sound like first. These clips are saved and can be shared through messaging apps too.
One feature that stands out is background sounds. For example, you can apply a loop of rain, traffic, or even a noisy concert to play in the background during a call. This is perfect for prank calls when pretending to be in a different location.
MagicCall is available for iOS and Android. You can try the app for free but must buy credits for call time if you want to use it for an extended period.
To get started, provide your phone number or WhatsApp name and enter the code when it's received.
6. Voice Changer – Best voice changer for calls Android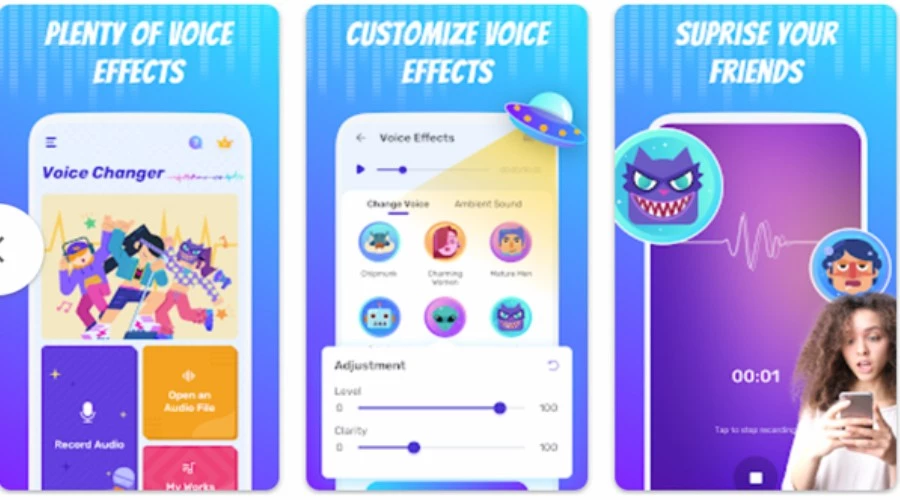 The Voice Changer for calls app is packed with special effects and features and has 50 voice filters to choose from right away. These include different genders like male to female voice changer, robots, aliens, the devil, and more.
To start, it prompts you to record your own voice and then apply the filters to hear what they sound like. When you upgrade to the pro version, you can then use them during calls. The free version limits you to sending recordings via other apps like WhatsApp.
Two sliders help you customize voices by changing how strong the effect is and how clear the voice is. Moreover, you can add ambient sounds like rain, noisy streets, or fireworks.
What's good about the app is it doesn't restrict you only to these sounds. You can import your own audio files, such as songs or other recordings, which you'll find under the My Works tab.
You can also open existing audio files and apply voices and effects to them.
Another fun feature is text-to-voice. This lets you type out a message, which is quickly converted to realistic speech. All the same filters and effects can then be applied before sending it to others as a voice message.
The premium version unlocks full functionality and removes the ads.
Available on: Android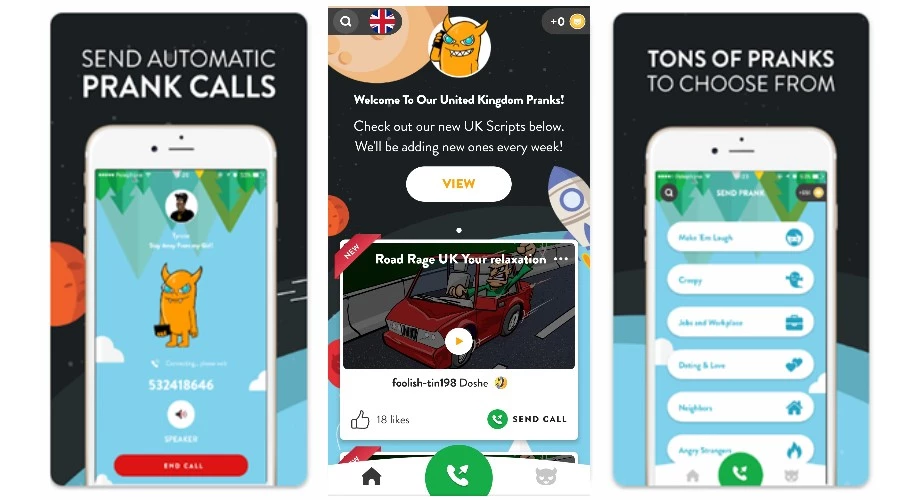 The Ownage Prank Call Voice Changer for calls takes a different approach than most apps. Instead of trying to change your voice in real-time, it has several pre-recorded pranks that play once the call is connected. This makes it more stable, but it is not the same as having a real conversation.
To make a prank call, tap the green send button and then choose a category of pranks. These include funny, creepy, work-related, dating-related, angry strangers, and more. For example, one prank is an angry Uber driver waiting outside.
Different countries have different pranks, so it's more authentic. E.g., UK users get pranks with British accents.
Each prank also has several different versions in different voices. You can playback before sending them, so you know exactly what it will sound like to the person answering.
Next, enter the phone number you wish to send it to, and it will make the call. The only catch is, if the call goes to voicemail, it will still count towards your free or premium credits.
Pranks can be set to automatically record, so you can show your friend and relive the fun over and over.
Ownage runs on a freemium model, where some pranks are free, while others are locked behind the premium version.
Conclusion
Using a voice changer for calls can be both fun and necessary if you want to hide your identity and protect your privacy. For the most fun, prank your friends or record your altered voice and send voice notes.
You can get most of the core features for free using the apps above, but the hilarity really happens when you unlock the premium features.
Although the quality can be quite poor compared to desktop software, AI voice-changing will soon make apps a lot more realistic and you won't even have to use your own voice.