Do you want to generate human speech from text or professional speech from your own recordings? The current wave of AI voice generators makes this possible with shocking accuracy and quality.
They use deep learning algorithms that are trained on large datasets of existing audio to get the patterns, intonations, and nuances of natural language.
The best AI voice generator for you depends on your goals. Do you want to replicate your own voice or that of a famous person? Or do you want a realistic voice that stands by itself?
After carrying out countless tests, these are the best AI voice generators on the market.
Comparison Table
Quickly compare of the best free and premium AI voice generators below:
| | | | | | | |
| --- | --- | --- | --- | --- | --- | --- |
| Best AI Voice Generators | Text-to-Speech | Voice Cloning | Voice over Video | Languages | Free Trial | Free Plan |
| ElevenLabs | Yes | Yes | No | 8 | No | Yes |
| Murf AI | Yes | Yes | Yes | 20+ | No | Yes w/No downloads |
| Resemble AI | Yes | Yes | No | 62 | Yes | No |
| Speechify | Yes | Yes | Yes w/Dubbing | 30+ | 3-day | No |
| Synthesys | Yes | Yes | Yes w/Virtual avatar | 145+ | 3 week | No |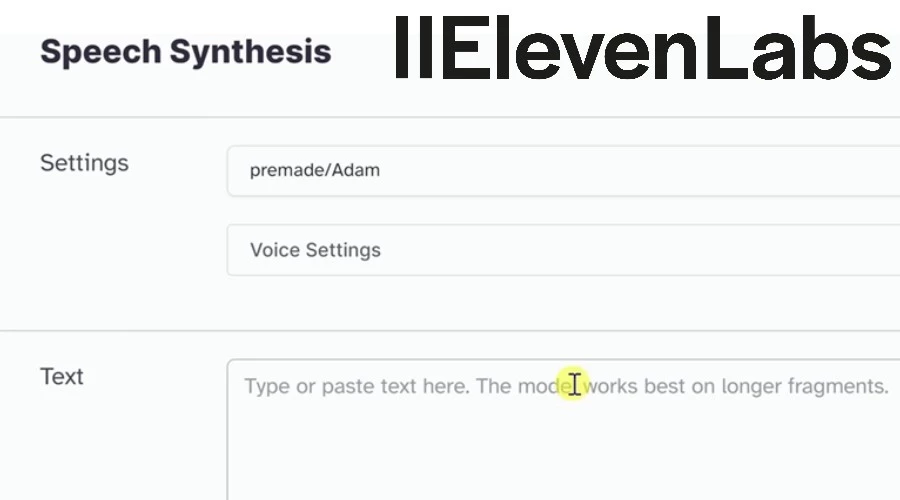 ElevenLabs has two main features. The first is speech synthesis, where you can convert any given text into authentic human speech. Simply select the voice you like, enter the text, and generate.
There are various options to fine-tune the output. E.g., slide the stability to the right and the voice becomes more expressive.
The second feature is VoiceLab, where you can clone a voice from a sample recording. In other words, you can clone your own voice or that of anyone you have a sample of, such as a celebrity. It only has to be a minute long, though the longer the better.
There's also an option that falls in between the two called Voice Design. Here you create a brand-new voice by adjusting parameters such as gender, age, and accent.
You're always guaranteed a unique result because even if someone else applies the exact same settings, the AI generates a different variation.
Now any time you want to synthesize text-to-speech you can select any of your cloned or designed voices. You can also modify your cloned voice using the same parameters available for voice design.
This is useful if you want to obscure your own voice but still maintain a realistic human style.
You can use ElevenLabs for free forever, with some limitations. You get 3 custom voices, and 10,000 script characters per month, but no commercial license. Premium plans start at $5/mo for 30,000 characters and a commercial license.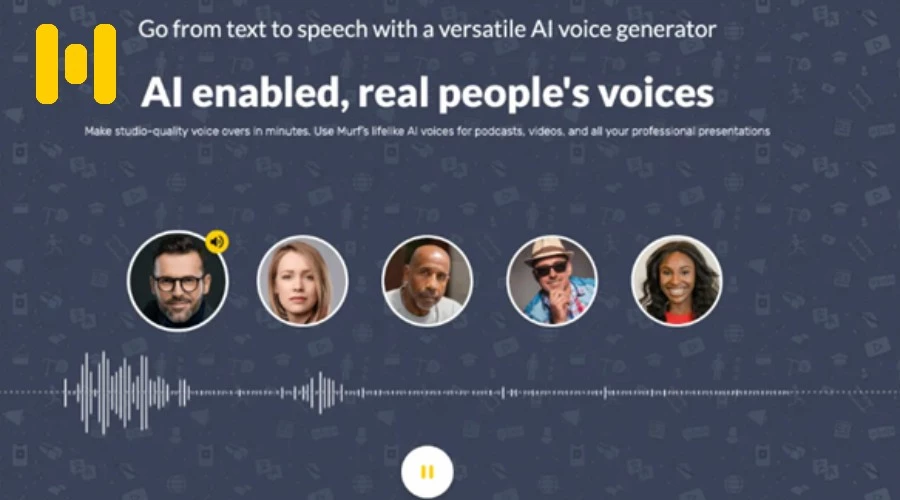 The web studio from Murf AI is an excellent solution for those that want professional-grade voiceovers, with full editorial control.
Rather than hiring a voice actor, you can use Murf AI to generate speech from text or morph your own voice into a unique studio-quality voice.
For text-to-speech, you choose from more than 120 preset AI voices in 20 languages, which form the foundation of your project. Once you have settled on a voice, use the simple editor to highlight words to emphasize, alter the pitch, speed up the pace, and perform other tweaks to get it sounding just right.
The voice changer works by uploading an audio file of your voice, which is then altered by AI, or you can record freestyle on the site for the same effect. Including a script alongside the audio improves accuracy and allows you to make tweaks, but is not a requirement.
While the above services are nothing new, voice cloning is where the real magic happens. By uploading a recording of your voice or a voice you like, Murf uses AI to clone it for future use. This is essentially the same as deep faking.
You can keep the voice close to the original or customize it to your liking. From then on, it's in the bank and you can go back to it for all your text-to-speech projects.
Murf has endless features, allowing you to add voiceovers to video or music, export and share your creations, and easily collaborate with your team.
Whether you're creating podcasts, marketing materials, presentations, or customer support content, Murf AI has a solution for you. Try it now and get 10 minutes for free and then choose from a premium plan between $19 and $99 a month.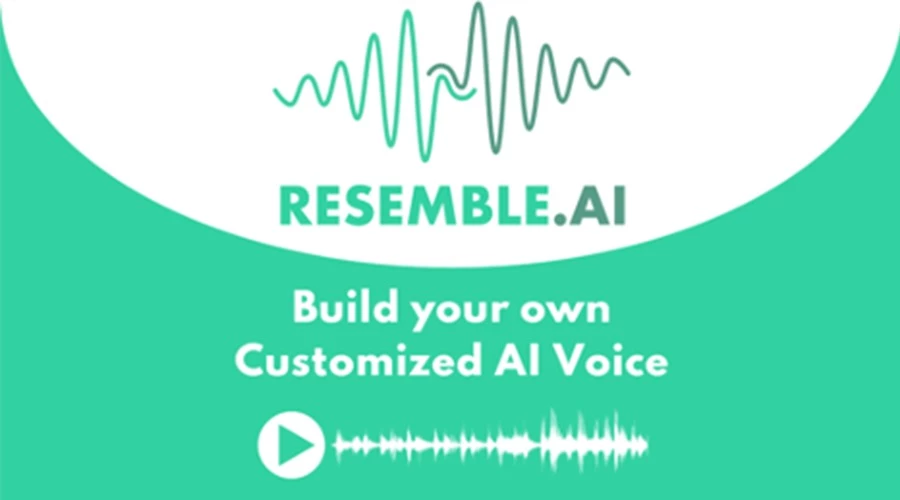 The fast and powerful tools available from Resemble AI let you generate both text-to-speech and speech-to-speech with control over every emotion, intonation, and inflection.
Because it has already been trained on a lot of data, making a portion of the audio angry or happy takes just a few clicks. Moreover, it can localize your voice into 60 different languages without having to know a single word yourself.
Text-to-speech functions as you'd expect. Type or import a written script, making sure it has good punctuation, and the pre-set voices and AI tools quickly generate a realistic human-like recording without ever having to turn on your microphone.
The possibilities are endless as there are over 200,000 different variances. Start with the basics like 'Canadian' and 'Male' and you'll quickly be on your way to creating a one-of-a-kind voice for your project.
Speech-to-speech has two main options. The most powerful is to upload a lengthy audio file (or multiple files) for the AI model to train with. This becomes a cloned voice you can use for scripts or even second-level speech-to-speech files, where your saved voice repeats the words said by the new file in its own style.
Rapid voice cloning only requires you to record a short paragraph via the web interface or app, but it is less accurate. You can improve accuracy by doing 25 different samples.
One stand-out feature is the 'neural audio editor' which is now called Resemble Fill. This lets you quickly modify an audio clip while keeping the same structure. For example, you can switch names, places, or other elements.
This can be useful for building your own applications or streaming ad insertion. "Do you want to buy shoes in London", instantly becomes any product in any city.
The basic plan is $0.006 per second and has limited voices and features. Pro pricing requires contact with the sales team.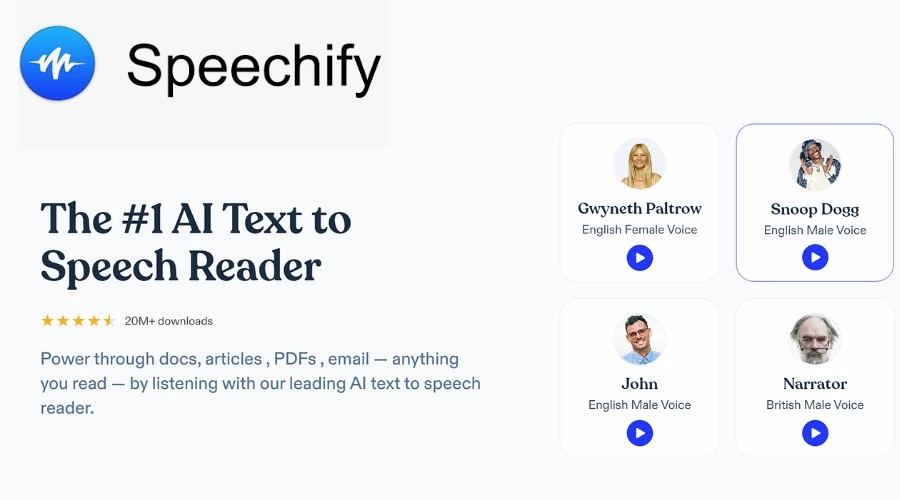 Speechify started out as a clever text-to-speech app that could read any text out loud, including text typed into its platform, scanned pages, and other inputs. Its founder has dyslexia and wanted a tool to help people who struggle with reading.
This is still a main feature of its service and is perfect for anyone that wants to quickly convert text to realistic human speech. It's also available on Android and iOS as an app or via Chrome browser extension.
However, Speechify has now expanded into the full AI voice generator market and added some impressive voiceover and voice cloning features too.
For voiceovers, you simply write a script and choose from over 200 base voices, including men and women with different accents. Customize the speed, emotions, and even how the voice reacts to punctuation. E.g., creating a more natural pause between sentences.
The editing suite lets you add video, music, and other effects so you can create simple yet professional content entirely through Speechify.
Voice cloning lets you upload an audio sample, but unlike other tools, it actually prefers that you record directly into the app for at least 30 seconds. It gives you the passage to read. Of course, this only really applies if you want to clone your own voice.
You can make a few tweaks, but the default option is fairly close to your original recording in terms of cadence and expressiveness. Simply add any text you want your voice to read and then download the audio file.
Another useful feature is AI dubbing. Upload your video and its AI will automatically dub it into other languages.
You can use all of its tools for free, but voiceovers are limited to 10 minutes. Premium Speechify plans start at $11.58/mo, while the voiceover service starts at $59/mo.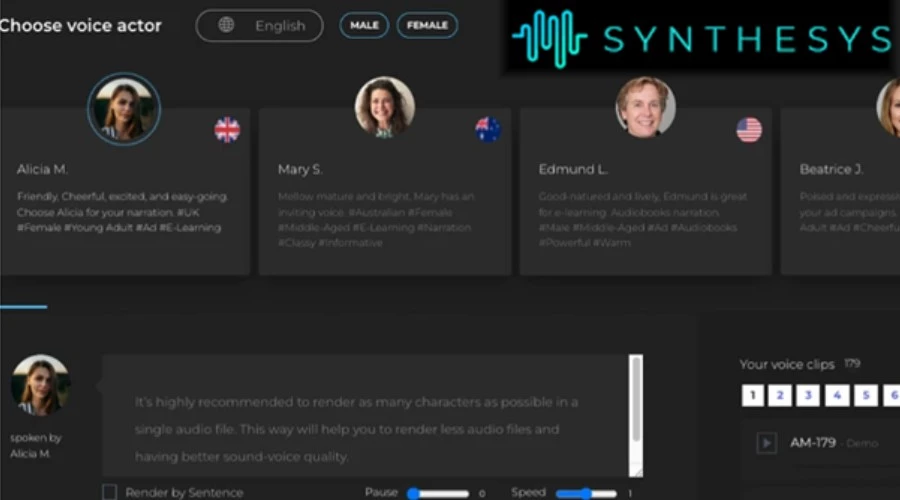 This popular and powerful AI voice generator will let anyone create a professional AI voiceover or video in just a few clicks. This platform is extremely easy to use and as well as cloning your own voice, you can even clone your own likeness as an avatar for videos.
This is useful for website product explainer videos, webinars, and even basic YouTube content creation.
There are over 30 male and female base voices, without a robotic sound in earshot. That's because, on top of training its AI models on a vast amount of data, Synthesys hired real voice actors for professional voice cloning.
It's a bit like hiring the voice actor yourself but without having to wait for them to do the recording.
For text-to-speech it provides a range of tones, languages, and speech styles, letting you generate a fun podcast vibe, serious documentary-style narration, clear tutorial messages, and virtually anything else.
Cloning your own voice takes a while but the results are a cut above a lot of other tools out there. That's because Synthesys engineers will spend a week training the AI model to perfection. Your role is to record up to 30 minutes of clear speech for Synthesys to work with.
It's a premium service but there are lots of little tools to play around with for free to gauge the kind of quality available.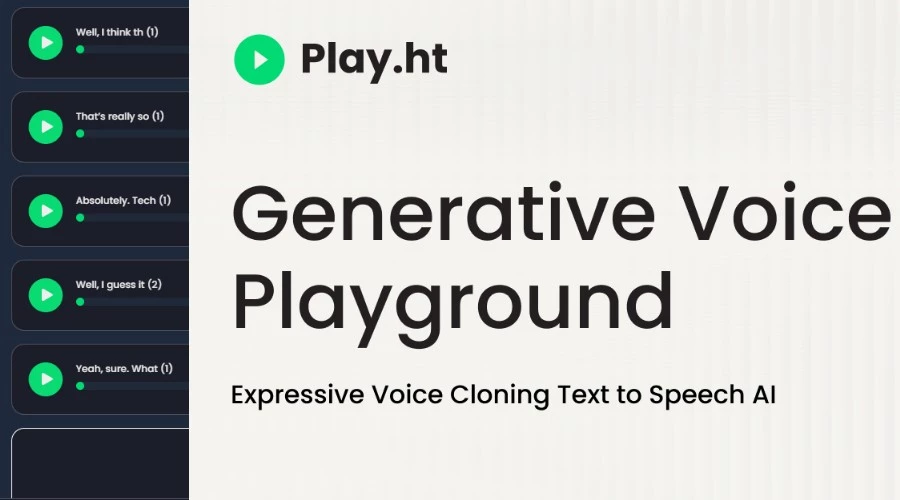 The Play HT text-to-speech editor lets you copy, import, or type your script as is. There are tons of voices, accents, and styles of voices to choose from, including children, which isn't a common feature.
When listening back, if it doesn't pick up the tone based on the words, you can choose emotions like anger, cheerfulness, or excitement. As well as styles like assistant or customer service.
You can also add pauses between words and sentences and change the speed.
One area many voice generators fail is with the pronunciation of complicated words. Play HT fixes this in the simplest but most effective way we've seen. Just type an alternative phonetic spelling!
Voice cloning is also available, so you can use AI to train on your own voice and apply it to future scripts. Using celebrities or other people's voices isn't permitted and a verification process will stop this in its tracks.
For the best results, upload 1 to 2 hours of high-quality voice recordings. It will then take 3-4 hours to process the clone, which is actually pretty fast compared to the industry standard.
Pricing is based on the number of script words and separate voice clones. Plans start from $7.20/mo for 120,000 words per year and 5 voice clones.
As part of its suite of AI tools, LOVO offers text-to-speech with professional-grade voices. Under the hood it uses neural TTS technology with large language models (LLM), the best of both worlds for generating and modifying speech.
Generally, the output sounds natural and authentic. However, even if the odd word or section is a little off, you can fine-tune the rhythm, inflection, breathing, and pauses.
By far the easiest way to correct little hiccups is to use the emphasis option. Highlight a word or short passage in your script that fell flat, click emphasize, and it breathes more life into it.
LOVO has a steeper learning curve than most. The editing area has a full timeline, with multiple layers, and a panel of tools. This feels familiar to those of us who already edit audio, but beginners might find it a bit overwhelming.
For free, LOVO offers 20 minutes of voice generation 1GB of storage, and 14 days of all the pro features. Premium plans range from $19/mo to $75/mo.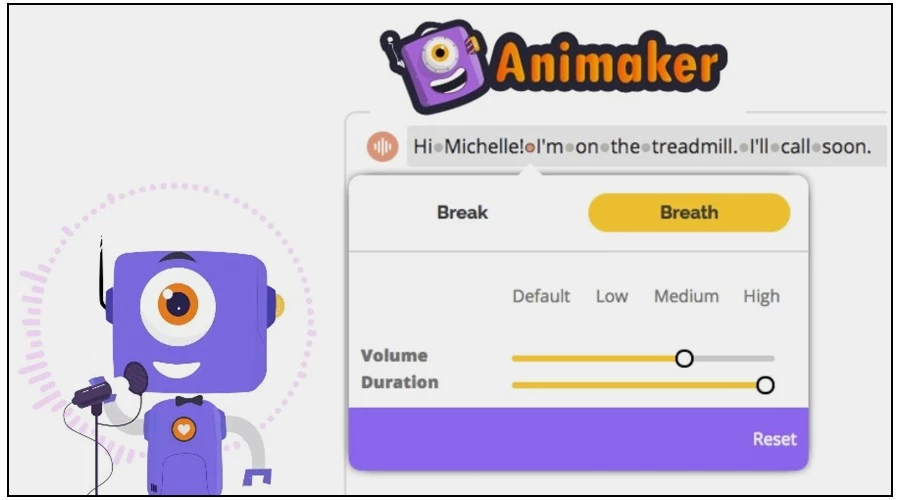 Animaker is an animation tool but it includes a great AI voice generator too. You do not have to create animations to use it.
Its text-to-speech engine supports more than 200 AI voices and 50+ languages. The simple 4-step process involves writing a script, selecting the gender, language, and voice, and then editing it with various AI effects, such as 'newscaster' for a headline news style. Effects even include subtle breathing, you know, like real humans!
Its main drawback is a lack of speech-to-speech or voice cloning. You can only work with text-to-speech. So, no celebrity deep fakes or morphing your own voice. However, if you create video content, its integration with video and animation features are some of the best.
Animaker Voice has a generous free forever plan that gives you 50 AI voices, 2GB of storage, and 5 downloads a month. Alternatively, the Voice Pro plan is $19/mo and gives you 100 downloads a month, all the available voices, and tons of extras.
Pro is the best option if you work in teams because it has excellent collaboration features.
Listnr generates human-like speech from text input using a powerful AI generator, with 900+ base voices to try. Once generated, you can choose to export in either MP3 or WAV for your projects.
Its main voice editing tools are speed, pitch, pauses to create a realistic pace, and pronunciation. Choose from presets or even add your own custom pronunciation to match your accent.
The platform is easy to use. Simply select your language, choose a voice, and type your script. There are different windows for voiceovers and podcast. The dashboard lets you download, embed, and share.
For podcasts, it even has Canva integrated to create cover art and you get even grab the RSS feed to instantly aggregate out to all the pod-catchers.
Voice cloning is not yet commercially available but you can sign up to the beta phase and test out its early functionality. With a 4-minute voice recording it will take approximately 30 seconds to synthesize.
Signing up with Listnr gives users 1,000 free words. You can start using it right away without entering any credit card information. If you like the service, you can upgrade to a paid account, which starts from $9/mo.
Respeecher is not your average AI voice generator as it's aimed at speakers who want to use their voice to direct the content of a cloned voice. I.e., you speaking in the voice of the AI generation
Its developers are aiming to attract everyone from Hollywood bigwigs to videogame creators and have been successful in replicating former President Richard Nixon's voice, earning the team an Emmy award.
In short, it does an exceptional job at voice cloning. At the same time, text-to-speech is not an option here because it claims to still be unnatural and robotic.
Anyone can sign up for a free trial of the base service, which you can try for 3 days. After that, you are charged based on usage, starting at $0.09 /second.
Larger projects can request a demo or contact the sales team with a project. You must provide recordings of the voice to be cloned and of the voice that will be speaking for your project
This is the best option on the market for serious game developers, film & TV production teams, advertisers, etc.
Respeecher makes our list because of its superior results, however, it is not suitable for individuals due to the cost and project selection process.
What is the most realistic AI voice changer?
Having tested many different tools, the most realistic AI voice changer that anyone can access at a reasonable rate is ElevenLabs. Respeecher comes in second. In fact, it has superior quality but is not as accessible.
What is the best free AI voice changer?
If you don't have the budget to pay for a premium solution, the best free AI voice changer options are the free forever plans from ElevenLabs or Animaker. Although there are endless websites with basic text-to-speech tools, the quality, and features do not compare to these.
Conclusion
In just a few years generative AI has advanced by leaps and bounds. If you're looking for the best AI voice generator, there are now countless options that give results almost indistinguishable from real human voices.
You can easily convert text to voice, clone existing voices from recordings, and in some cases, change your voice in real time.