OneNote joins the other Microsoft apps that now use the power of AI. In its recent announcement, the Redmond company introduced OneNote Copilot, which will now accept natural-language commands from users to perform different tasks.
Microsoft's plan to integrate AI into its products and services was shared as soon as the first report about the new Bing surfaced. Now, it is gradually rolling out its products. After the big reveal of Dynamics 365 Copilot (which injects ChatGPT into Dynamics 365 Sales, Viva Sales, Dynamics 365 Customer Service, Dynamics 365 Customer Insights, Dynamics 365 Marketing, Dynamics 365 Business Central, and Microsoft Supply Chain Center) for enterprises, the software giant now gives us OneNote Copilot.
Copilot was first introduced in GitHub to aid programmers and developers by autocompleting code. Microsoft is now implementing the same idea using ChatGPT in its other products, which, in this case, is now on OneNote. This gives the note-taking app its own chat box, where prompts and commands in natural language can be typed.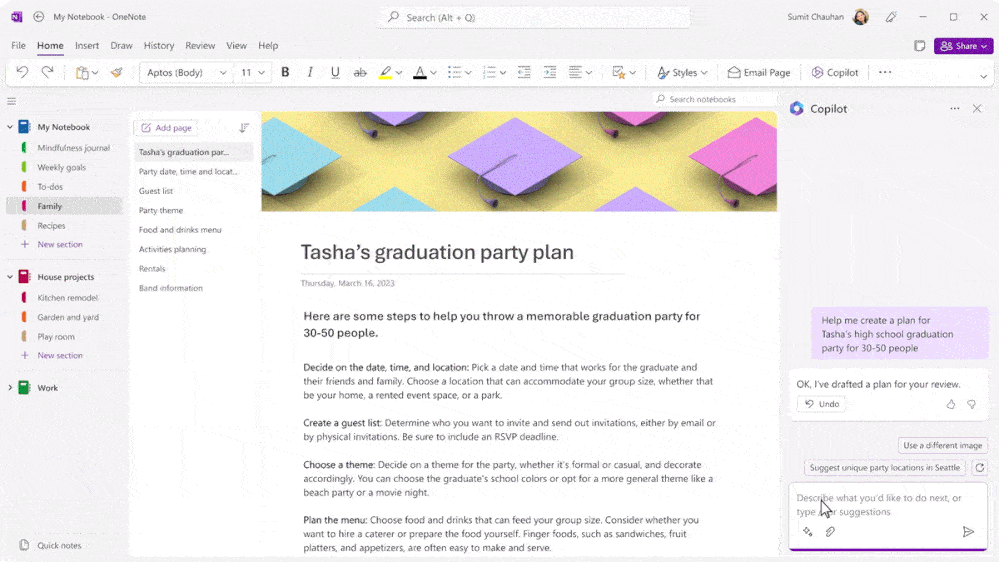 The tasks OneNote Copilot can take a variety of commands. In its demo, Microsoft showed how ChatGPT-powered OneNote provided suggestions and created a to-do list out of the existing texts. Nonetheless, it also said that it could do more than those things and suggested some samples of what OneNote users can try:
Create a plan for my daughter's high school graduation party.

Summarize notes into bullet points on a new page.

Generate a list of topics and talking points to be covered in an annual investor update meeting.

Plan a spring trip to Paris for me, my partner, and my two teenage children.

I'm starting a wholesale coffee bean and roasting company. Give me 10 suggestions for a company name and vision statement.
Aiding OneNote Copilot in performing these tasks is the combination of LLM and the users' data from the Microsoft Graph (notes, calendars, emails, chats, documents, meetings, and more). Nonetheless, like its prior notes in other announcements, Microsoft stressed that the new AI integration observes its AI principles and Responsible AI Standard. Alongside this, given that AI is still far from perfect, the giant said the creation will still prompt everyone "to review, fact-check, and fine-tune content based on their own knowledge and judgment."