Introducing your copilot for the web: AI-powered Bing and Microsoft Edge
Microsoft's revelation about the new ChatGPT-integrated Bing was full of surprises. Here are some bits of information you might want to check out to get a quick summary of all these Bing-related announcements.
Bing has a new version
Bing's new version can now understand questions written in natural language through the use of ChatGPT technology. The rumored GPT4 was not mentioned in the announcement, but the software company said that Bing now runs on the next generation of OpenAI's language model, allowing Bing to provide more accurate and up-to-date information in responses while citing sources. Additionally, Microsoft introduced its so-called "Microsoft Prometheus model," a proprietary way of working with the OpenAI model.
"We call this collection of capabilities and techniques the Prometheus model," said Yusuf Mehdi, Corporate Vice President and Consumer Chief Marketing Officer at Microsoft. "This combination gives you more relevant, timely and targeted results, with improved safety."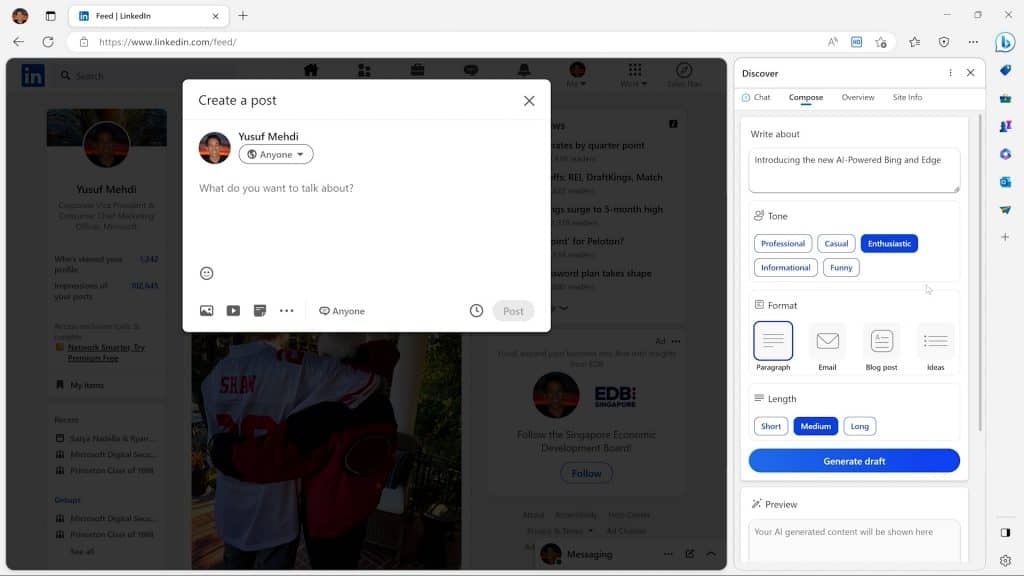 Microsoft announced that it also updated the Edge browser by giving it new looks and AI capabilities, such as a new Sidebar for tweaking AI-generated content.
More relevant search results and a new experience
Aside from the fact that Bing can now understand queries and deliver responses in natural language, another experience includes the addition of the AI application to the core search algorithm. This means the search engine will give users more relevant answers since it can now understand queries better.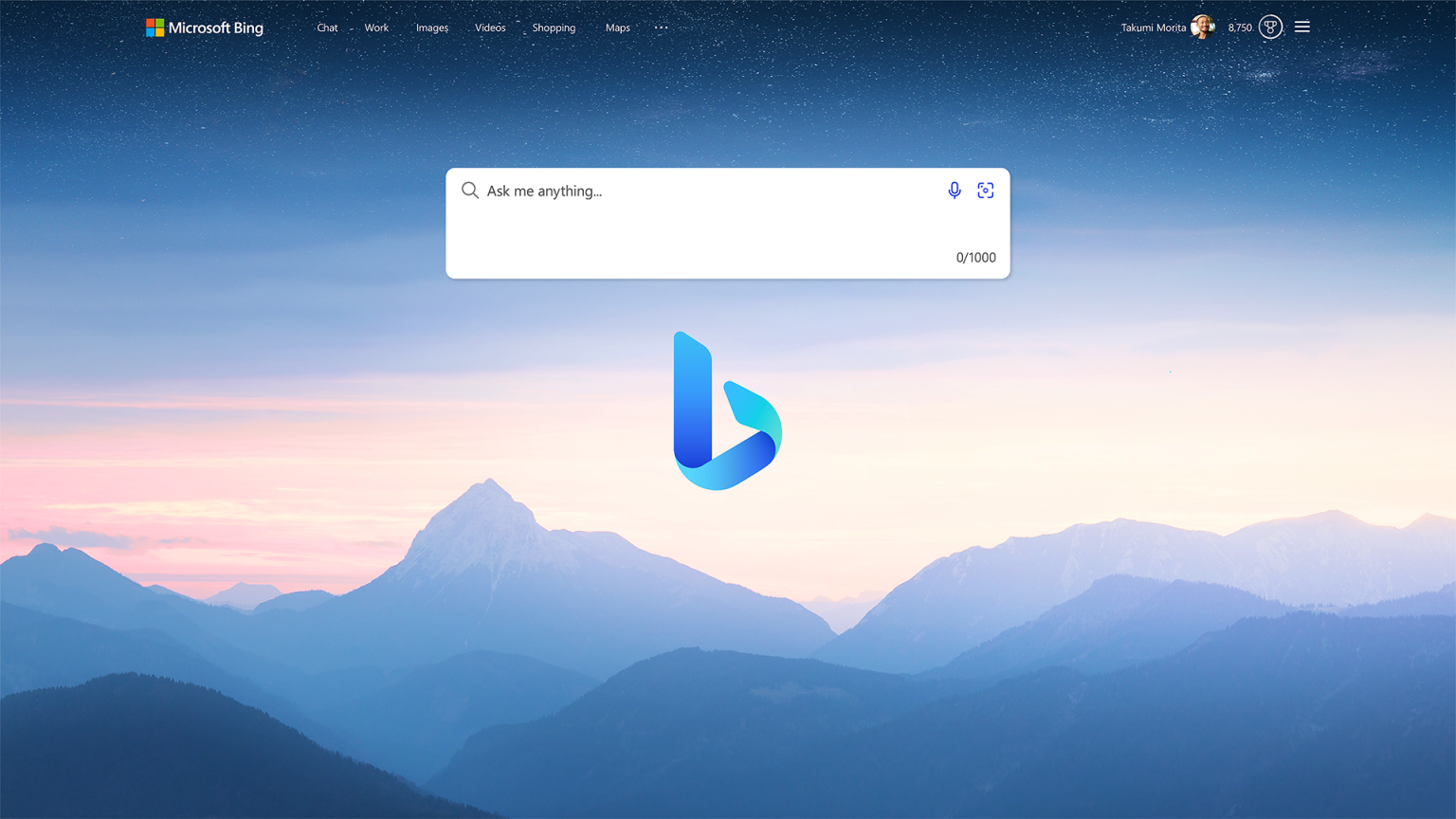 Additionally, instead of the conventional search bar, Bing will now welcome users with a chatbot interface, which encourages natural-language long questions or "interactive chat." There will also be a "new sidebar that shows more comprehensive answers if you want them."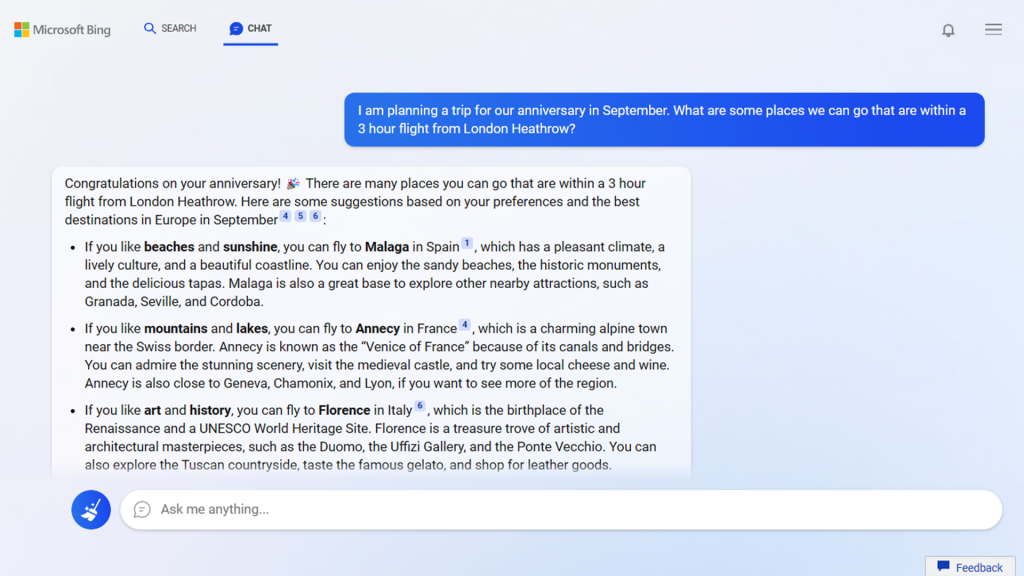 The main highlight of the announcement is Bing's new ability to generate content, including emails, essays, vacation itineraries complete with relevant links, LinkedIn posts, and more. There's also a new Edge sidebar with Chat and Compose modes. The new feature allows Bing users to set the tone, format, and length of the AI-generated content. 
The new Bing is still far from perfect
The introduction of ChatGPT to Bing is meant to give it the intelligent capability to provide details in a conversational manner instead of plain links. Despite this impressive ability to provide "complete answers," Microsoft noted that Bing can still commit mistakes. With this, the Redmond company encourages users of the new Bing "to check the facts."
"Bing tries to keep answers fun and factual, but given this is an early preview, it can still show unexpected or inaccurate results based on the web content summarized, so please use your best judgment," Microsoft explains on Bing's FAQ page. "Bing will sometimes misrepresent the information it finds, and you may see responses that sound convincing but are incomplete, inaccurate, or inappropriate. Use your own judgment and double check the facts before making decisions or taking action based on Bing's responses."
You need to sign up for the waiting list to access the new Bing
Apparently, the new Bing is not yet available to everyone, and those interested need to sign up for Microsoft's waitlist. To do it, go to bing.com/new and click the "Join the waitlist" option. Getting approved for the access, however, might take some time. With this, the trick to being more favorable on the list is selecting the "Access the new Bing faster" button and embracing Microsoft's products. This means setting up Microsoft defaults on your PC.