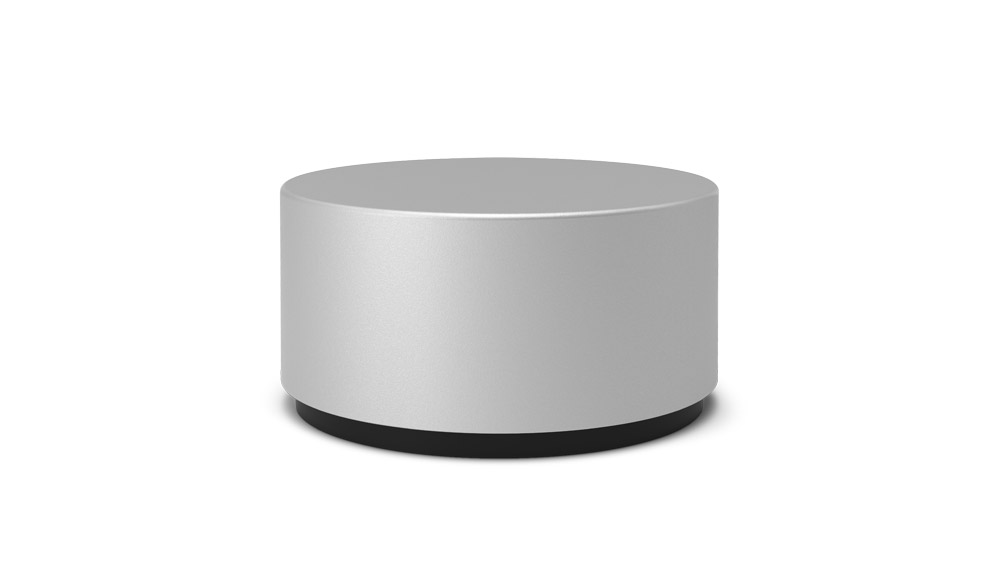 Microsoft today announced Surface Dial, a new peripheral designed for the creative process. It integrates with Windows 10 to work with Surface for a faster and more intuitive way to scroll, zoom and navigate. You can manipulate images, adjust volume, change color hues and much more, all with simple gestures. With Surface Dial in one hand and Surface Pen in the other, the creative process is made more productive and more enjoyable. The Dial also enables a set of unique experiences exclusive to Surface Studio. When you place the Dial directly on the screen, it brings up a set of digital tools specific to the app that is open, allowing people to more seamlessly move through their workflow.
For example, with Surface Dial, artists can change the color or the size of their brush tip as they paint without ever moving the pen away from the screen. The combination of Dial, pen and touch creates a more immersive and tactile way for people to create in digital environments. Partners like BlueBeam Inc., Drawboard, Mental Canvas, Siemens PLM Software, Silicon Benders, Smith Micro Software, Inc. and StaffPad have already optimized their software to take advantage of the new experiences Surface Dial provides.
Surface Dial works off-screen with any PC, laptop or tablet running the Windows 10 Anniversary Update. Microsoft today confirmed that it works well with Surface Book and Surface Pro 4 devices.
Features:
Immersive creating experience. Surface Dial allows you to enter a creative space where the only thing that matters is you and your work. Simply press and hold to access tools and shortcuts, making it easier and faster to customize and do the things you love with software from BlueBeam Inc., Drawboard, Mental Canvas, Siemens PLM Software, Silicon Benders, Smith Micro Software, Inc., StaffPad and more.1 Plus, adaptive haptic feedback lets you literally feel your creativity come to life.
Seamless transitions through tasks. There is no longer a need to click through multiple screens and drop-down menus to accomplish the tasks to get stuff done. Surface Dial puts a range of tools and shortcuts at your fingertips so you can work without interruptions. In addition, Surface Dial enables you to create custom controls that suit your specific needs. With Surface Dial, even everyday tasks are made more exciting: You can change music tracks, scroll through news articles online, and fly through maps — all with a turn of the dial.
Differentiated on-screen features with Surface Studio. When you place Surface Dial on the Surface Studio screen, PixelSense™ technology detects both the presence and position of Surface Dial, adding another dimension of input. Surface Dial allows you to completely reimagine the way you design in the most natural way. Watch as circular menus, a color picker or ruler magically appear on your digital drafting table.
Images:
Tech Specs:
Dimensions: 59 mm x 30 mm
Weight: 145 g (including 2 batteries)
CNC aluminum enclosure
Custom-designed bearing mechanism for rotational smoothness  3,600 points of precision Rotational dynamic feedback
Surface Dial onscreen functionality available exclusively on Surface Studio Surface Dial off-screen functionality optimized for Surface Book, Surface Pro 4
Bluetooth Low Energy
12 months typical (4-hour daily use)
Surface Dial is available for pre-order today in the U.S. through Microsoft Stores, MicrosoftStore.com, select Best Buy locations and at BestBuy.com, and will be available for $99 ERP USD starting Nov. 10.