Update:
Sunset Overdrive has finally been announced for PC. That's right; the Korean Ratings Board, ESRB, SteamDB and Amazon leaks were all completely accurate. It's coming, and that means we can (hopefully) stop reporting on it.
The news was announced today by Xbox's Major Nelson on Twitter. The game will appear on the upcoming episode of This Week at Xbox.
Check out tomorrow's This Week on Xbox when we welcome @insomniacgames' @igTedPrice to talk about @SunsetOverdrive coming to Windows 10 PC. Don't forget your can of OverCharge Delirium XT. pic.twitter.com/2MpNXFTYss

— Larry Hryb ?????? ?? (@majornelson) November 15, 2018
There isn't any news about any Xbox One X enhancements, but hopefully we will get something.
Original Story:
After a rating by the Korean Ratings Board, another rating by the ESRB, a SteamDB listing and an achievements leak, we were pretty sure that Sunset Overdrive's PC port would be announced at XO18. It wasn't, but don't worry because Amazon has us covered.
According to the online store, Sunset Overdrive will be released on November 16th with a pricing of $19.99. The game is not a Windows 10 exclusive like other Microsoft exclusives; Amazon lists the game as available for Windows 8.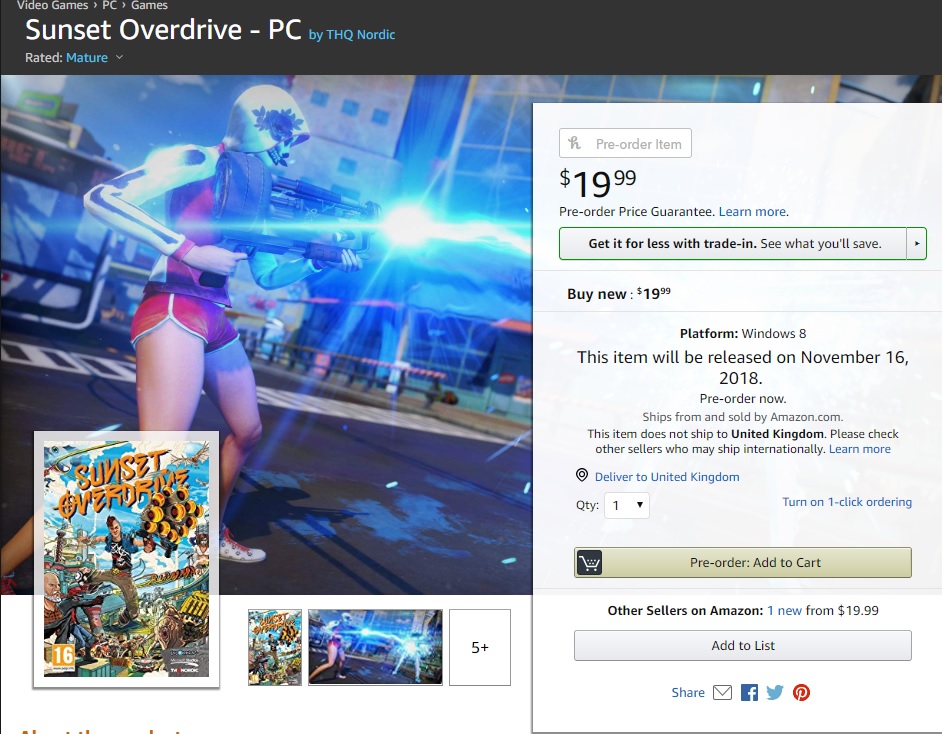 The product description says as such:
"Don't miss the single-player campaign from the game that IGN awarded best Xbox One game of 2014, the game that polygon rated 9 out of 10, and the game that Eurogamer calls "a Breath of fresh air."

In Sunset Overdrive, the year is 2027 and sunset city is under siege. A contaminated energy drink has transformed most of the population into toxic mutants. For many, it's the end of the world, but for you, it's a dream come true. Your old boss? Dead. Your boring job? Gone. Transform the open-world into your tactical playground by grinding, vaulting and wall-running across the city while using a devastating, unconventional arsenal.

With hyper-agility, unique weapons, and customizable special abilities, Sunset Overdrive rewrites the rules of traditional shooters and delivers an explosive, irreverent, stylish, and totally unique adventure. Embrace the chaos of sunset city through a hyper-colorful, post-apocalyptic single-player campaign and two bonus expansions, Mystery of Mooil Rig and Dawn of the Rise of the Fallen machines. Outgun crazed mutants, homicidal robots, and villainous thugs on your journeys with the included Weapons Pack."
I don't know about you, but that sounds pretty official. In fact, this should probably be announced sometime soon.
Source: Windows Central