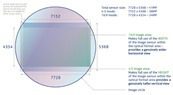 It seems Nokia just can not keep a secret. We earlier had information that revealed that the Nokia EOS with a high megapixel camera was indeed on track, and had a physical description of the handset.
Now Mobilegeeks have had another source confirm to them further details of the handset, including the launch date.
They have been able to confirm that the handset does in fact have a 41 megapixel camera, that will be able to grab 34 megapixel snaps, just like the Nokia 808 Pureview.
They were also able to confirm more details of the new camera interface, Nokia ProCamera.
According to their source the camera interface has been completely redesigned with circular on screen dial controls. You can flick them around to adjust various camera settings. The phone would also supposedly have DSLR like "sounds" when you flick around the settings. There will be a manual mode as well where you can manually adjust all camera settings.
The camera will also be able to record 1080P video in 3 different frame rates.
The rest of the details have already been revealed, but Mobilegeeks note:
The polycarbonate shell clad phone is an absolute engineering miracle and Nokia has done an amazing job at cramming that huge sensor inside a phone that maybe even thinner than the Lumia 920! Sure, the camera housing does protrude a bit – but the clever design which makes the phone taper towards its extremities supposedly masks the entire girth of the sensor. At no point would you feel any kind of bulkiness with the device.
To remind our readers, the previously leaked details were:
The device is made of polycarbonate, and is about as thick as the Nokia Lumia 920 in the middle, but is highly tapered at both ends, giving the impression of a much slimmer device.

The lens housing is round in shape and does not protrude much. The flash is Xenon, and the flash and lens are both smaller than the Nokia 808 Pureview. Next to the flash is a small red LED which may be a focus assist light.

The lens also has an automatic cover that opens when the camera app is started.

The number of megapixels were not marked on the prototype, with "XX megapixels" only being written on the lens housing.

There is a new camera app called "Nokia Pro Camera"with a completely new interface. There is also manual focus available through the app. The regular photo app is also available.

The screen size and resolution is same as 920, and appears to be AMOLED. The speaker holes are at the bottom as the handset.

The handset was much lighter than the Nokia Lumia 920.
According to Mobilegeek's sources the handset is set to launch in the second week of July, i.e. around the 9th of the month.
Read more at Mobilegeeks here.
Are our readers excited? Let us know below.