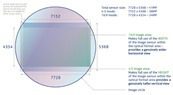 An observant reader managed to sneak a peek at the Nokia EOS and was able to give us a pretty good description of the handset.
The device is made of polycarbonate, and is about as thick as the Nokia Lumia 920 in the middle, but is highly tapered at both ends, giving the impression of a much slimmer device.

The lens housing is round in shape and does not protrude much. The flash is Xenon, and the flash and lens are both smaller than the Nokia 808 Pureview. Next to the flash is a small red LED which may be a focus assist light.

The lens also has an automatic cover that opens when the camera app is started.

The number of megapixels were not marked on the prototype, with "XX megapixels" only being written on the lens housing.

There is a new camera app called "Nokia Pro Camera"with a completely new interface. There is also manual focus available through the app. The regular photo app is also available.

The screen size and resolution is same as 920, and appears to be AMOLED. The speaker holes are at the bottom as the handset.

The handset was much lighter than the Nokia Lumia 920.
I think the description gives a pretty accurate picture of the handset which it seems will not be a major oddity (like the 808 Pureview) but a handset which is pretty usable by the main stream. At this point we do not know when it will hit the market, but Nokia has teased another device later in the summer, so we could be looking at July/August.
Update: We had another source confirm the above info and added that the device will not come in colours, as that would look strange, and that it will unfortunately not support wireless charging, but that it may get wireless charging covers like the NL 925.
Given the description, would our readers buy this device? Let us know below.
Thanks NM for the tip.